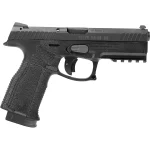 4
Low bore axis

Great ergonomics
Hard to find holsters

Lack of aftermarket
Editor's Note:
The Steyr L9-A2 MF is the second generation of Steyr's M-series of striker-fired, polymer-framed handguns. These pistols have a 17+1 capacity, a 4.5-inch barrel, and a fairly crisp trigger that breaks at around 4.5 pounds. Shooters will enjoy a very high grip and an extremely low bore axis thanks to the aggressive ergonomic choices and grip angle of the L9-A2. Trapezoidal sights, adjustable backstraps, adjustable palm swell panels, and a flared magwell are among the other features found on these guns. All of these features make for a very flat-shooting and soft-recoiling pistol that rides securely in the hand.
Steyr L9 A2 For Sale - Compare Prices
Steyr L9 A2 Features

17+1 capacity

4.5" barrel

Adjustable backstraps and side panels

Black Mannox finish

Trapezoidal iron sights
By The Numbers - Steyr L9 A2
Accuracy
The trapezoidal sights are definitely meant for speed, but they can still be used to squeeze some good accuracy out of the gun.
Reliability
In the first two mags, the slide had a few times where it didn't return to battery by less than a 1mm. This worked itself out after about 30 rounds and never showed up again.
Customization
A full length Picatinny rail allows for accessories, but there isn't much else and holsters are tough to find.
Ergonomics
Although it felt alien at first, the ergonomics are indeed well thought out and the gun has a very low bore-axis.
Overall
Great ergonomics, good accuracy, and a low bore-axis make this pistol a sleeper hit.
Hands-On Reviews & Related Post
Steyr L9 A2 Variations & Comparables
Steyr L9 A2 Upgrades & Accessories
final verdict
"The Steyr L9-A2 is one of the best-kept secrets in the world of striker-fired pistols. It almost looks like something out of Cyberpunk or Robo-Cop, but it sure feels good in the hand. The design allows for an extremely high grip on the gun, resulting in a bore axis that is lower than most guns out there. It has some other quirky features you don't always see, like adjustable side panels and some wild trapezoid-shaped iron sights. Strange design cues aside, the pistol has a pretty good trigger and shoots extremely well. It definitely has a different look and feel than most striker guns out there, which is refreshing in a sea of Glock clones. If you want something a bit different that shoots well and is still reasonably priced, the L9-A2 might be the pistol for you." – Wyatt Sloan
Community reviews
There are no reviews for this product yet.
Add your own rating and help other Pew Pew users pick the right guns