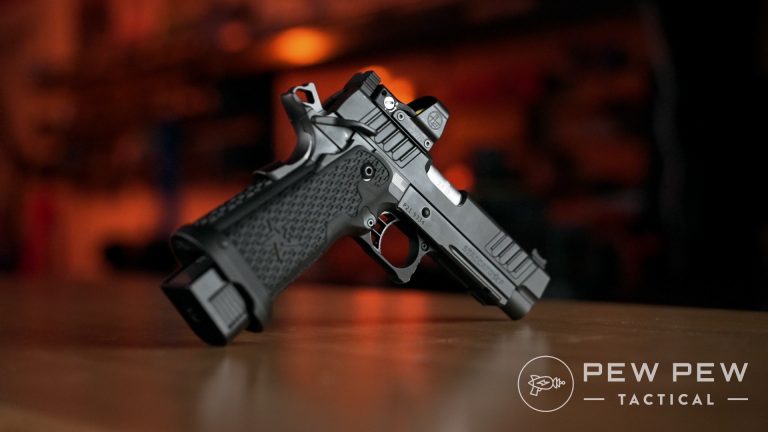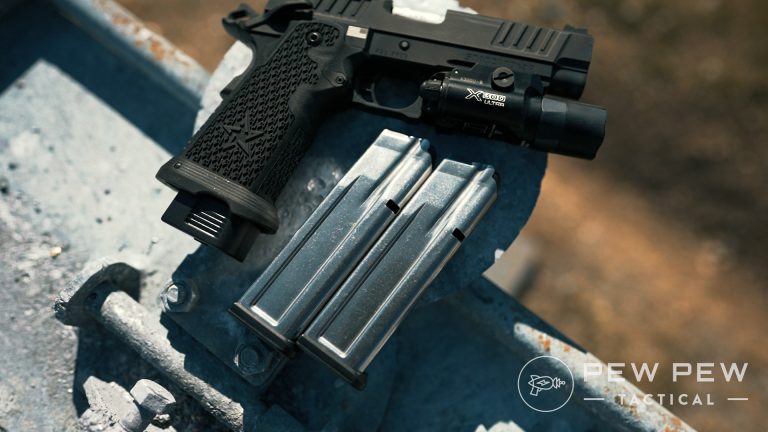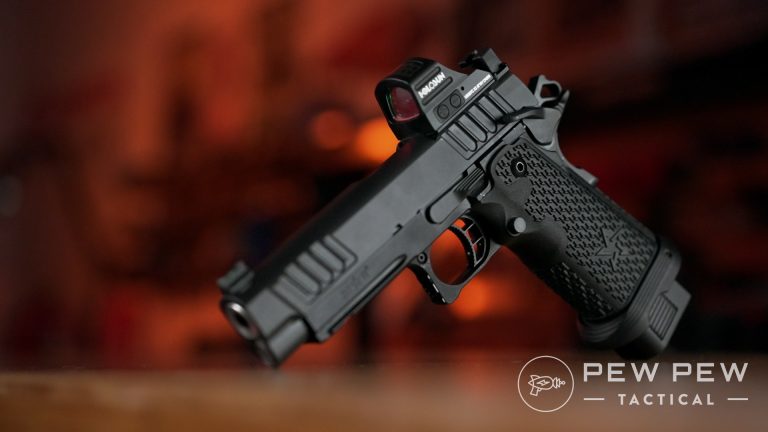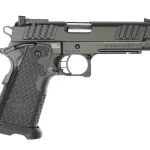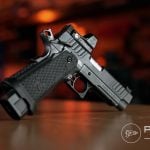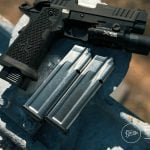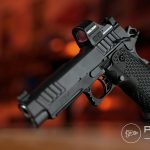 Extremely accurate

Excellent trigger

Low recoil
High MSRP

Magazines are spendy
Editor's Note:
The Staccato P masterfully treads the line between being a duty gun, a competition pistol, and a range toy. It excels in all of those roles thanks to its reliability, accuracy, and extremely soft shooting characteristics. Designed with law enforcement in mind, the Staccato P exceeds the standards of law enforcement department evaluations for accuracy, reliability, and endurance testing. Elite units like the Texas Rangers and US Marshals Special Operations put their trust in the Staccato P as it's approved by more than 667 law enforcement agencies across the country.
Read full review
Staccato P For Sale - Compare Prices
Staccato P Specs
Barrel Length
4.4in / 5in
Magazine Capacity
20rd / 21rd
Magazine Included
2x 17rd & 1x20rd
Magazine Type
Fixed / Removable
Front Sight
Dawson Precision Fiber Optic Front
Rear Sight
Staccato 2011 T.A.S II Rear
Muzzle
Choke Tube / Flash Hider
Safety
Ambi Safety Levers on Trigger
Staccato P Features

17+1 or 20+1 capacity

4.4-inch bull barrel

Fiber optic front sight and fully adjustable rear sight

3-piece modular platform

Steel or aluminum frame available

Optics ready and threaded models available
By The Numbers - Staccato P
Accuracy
An excellent trigger and fitted bull barrel help deliver laser-like accuracy.
Reliability
We had two stovepipes in our testing, but we feel those were ammo-related. No further issues were encountered throughout testing.
Customization
The modular 2011 design means grip modules can be changed. Optics ready and threaded barrel options are also available.
Ergonomics
The gun is comfortable, but the grip is fairly large. Shooters with smaller hands might have to make adjustments.
Overall
Hands-On Reviews & Related Post
Staccato P Variations & Comparables
4.7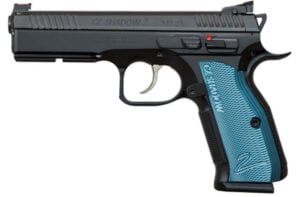 VIEW DETAILS
"The CZ Shadow 2 boasts legendary accuracy, reliability, and shootability. Its ergonomics, phenomenal trigger, and added weight help make this one of the flattest, easiest shooting pistols on the market. If you are looking for an off the shelf ready competition gun, home-defense gun, or a fun range toy, there are few guns that do it better than the Shadow 2." – Johnny B.
Read More
4.5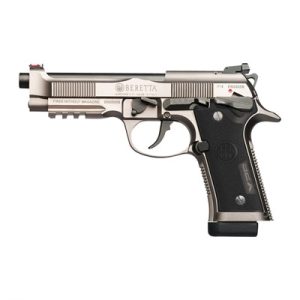 VIEW DETAILS
Beretta's 92X Performance builds on the 92 platform but elevates performance with out-of-the-box ready competition features. The Extreme S trigger feels like a dream while the gun itself brings fast cycling to the table. It's hefty, so be prepared for that, but at the end of the day, you want that in a competition gun for recoil purposes. All in all, this is a solid shooter.
Read More
Staccato P Upgrades & Accessories
final verdict
"Whether you love, hate, or feel indifferent about law enforcement, they can at a moment's notice, be called upon to use a firearm to save their own life or that of someone else. To me, this means the equipment they use must be of the highest quality — Staccato meets that standard. Citizens wanting to harness the P for their own protection needs would be well advised to do so. The accuracy, reliability, and capacity are top-notch." – Sean Curtis
Community reviews
There are no reviews for this product yet.
Add your own rating and help other Pew Pew users pick the right guns