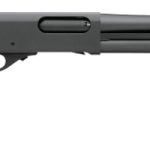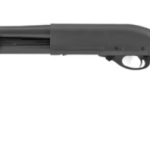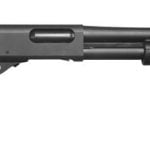 4
Reliable

Plenty of aftermarket
Safety location may bother some users
Editor's Note:
The Remington 870 is one of the most-produced and most well-proven pump-action shotguns of all time. Twin action bars ensure a non-binding, smooth pump operation, and the receiver is milled from a solid billet of steel. Built for defensive use, the tactical models feature an 18.5-inch barrel and either come with a standard 4+1 or 6+1 capacity. A variety of stocks, including wood, synthetic, and adjustable, are available so that users can find a model to suit their needs. A standard non-glare matte finish and a bead sight highlight the simplicity and ruggedness that the 870 Tactical is known for.
Remington 870 Tactical For Sale - Compare Prices
Remington 870 Tactical Specs
Remington 870 Tactical Features

4+1 or 6+1 capacity

18.5" barrel

Solid steel billet machined receiver

Bead front sight

Non-glare matte finish

3" chamber
By The Numbers - Remington 870 Tactical
Accuracy
Accuracy with shotguns is tough to judge. The Tactical models are limited by the fixed choke 18.5" barrels.
Reliability
The 870 is one of the most proven firearms, period.
Customization
There are a ton of stock, barrel, and accessory options for the 870.
Ergonomics
There are various setups to help the user find the right fit, but the safety location feels inferior to that of the Mossberg 500.
Overall
The new Remington 870s have seemingly shucked off the quality control issues that Freedom Group had when they owned Remington. These newer production shotguns seem to have the durability and reliability that older 870s are known for.
Hands-On Reviews & Related Post
Remington 870 Tactical Variations & Comparables
Remington 870 Tactical Upgrades & Accessories
final verdict
The Remington 870 is back. RemArms has seemingly put a concerted effort forward in avoiding the quality control issues that plagued the Remington name while they were owned by Freedom Group. The new 870 Tacticals are rugged and reliable, and hey, they don't seem to be rusting. This means that one of the most proven combat shotguns is back in the saddle and ready to go again. Luckily there is still plenty of aftermarket out there for the 870, and as long as the quality keeps up, the 870 will be a hard shotgun to beat – just as it was for the better part of 60 years.
Community reviews
There are no reviews for this product yet.
Add your own rating and help other Pew Pew users pick the right guns