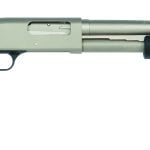 4.5
Marinecote finish

8-shot capacity

Stock interchangeability
Price premium over the base model
Editor's Note:
The Mossberg 590 Mariner takes the standard tried-and-true 590 and adds an eye-catching corrosion-resistant Marinecote finish for those looking to fend off moisture and rust.
Mossberg 590 Mariner For Sale - Compare Prices
Mossberg 590 Mariner Specs
Mossberg 590 Mariner Features

Marinecote finish

8+1 Magazine tube

Full stock and pistol grip included

Bead sight

Cylinder bore fixed choke

Twin action bars
By The Numbers - Mossberg 590 Mariner
Accuracy
A fixed cylinder bore choke and a 20" barrel limit the accuracy potential, but the gun patterns well.
Reliability
Built one of the most proven shotgun platforms on the planet.
Customization
There are a ton of accessories for the 590 series of shotguns.
Ergonomics
Pretty standard pump action shotgun fare here. People with shorter arms may want a shorter stock.
Overall
This is a great shotgun, but whether or not the price increase for the Marinecote finish is worth it is up to you.
Mossberg 590 Mariner Variations & Comparables
final verdict
The 590 Mariner is a proven platform with a coating to help it withstand even the harshest environments. With an 8+1 capacity, you are sure to have enough ammo on hand to take care of just about any situation. It also includes a pistol grip in addition to the normal stock for an added level of user flexibility. Easy to shoot, reliable, and durable, the 590 Mariner is a great shotgun for those who want something that can withstand the elements, time, and anything else you can throw at it.
Community reviews
There are no reviews for this product yet.
Add your own rating and help other Pew Pew users pick the right guns