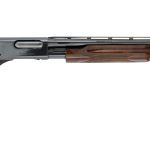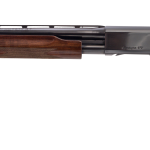 4
Classic styling

Smooth action
Notably higher MSRP than the Fieldmaster
Editor's Note:
Remington, under new management as RemArms, has reintroduced the legendary 870 Wingmaster. At its heart lies the proven dual-action bar 870 action and a solid steel machined billet receiver. The Wingmaster is a step above its Fieldmaster brethren, sporting a high gloss blued finish and figured American walnut furniture. This iconic pump action is ready to bust clays or hunt birds once again and is available in 12, 20, and .410 guage.
RemArms 870 Wingmaster For Sale - Compare Prices
RemArms 870 Wingmaster Specs
RemArms 870 Wingmaster Features

4+1 capacity

Solid steel billet machined receiver

Twin action bars

American walnut stock and fore end

High gloss blued finish

Vent rib barrel

Accepts standard Rem Chokes
By The Numbers - RemArms 870 Wingmaster
Accuracy
It is a shotgun so this is tough to score, but the patterns are appropriate with each choke.
Reliability
The extra care and attention on the Wingmaster makes for a smooth operating gun.
Customization
While there is technically a fair amount of upgrades for any 870 shotgun, this gun isn't really meant to be modified.
Ergonomics
It won't feel like a hand-fitted sporting clays gun, but these point well and are and comfortable to swing and operate.
Overall
RemArms is producing better guns than the Freedom Era Remington products, and the result is an 870 that is much closer to the high quality original bird guns of old.
Hands-On Reviews & Related Post
RemArms 870 Wingmaster Variations & Comparables
4.5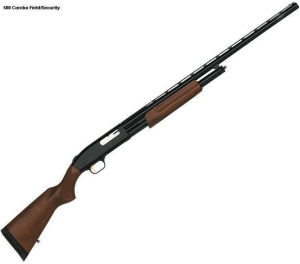 VIEW DETAILS
Usually coming in at under $400, the Mossberg 500 Field/Security pump-action shotgun is one of the most versatile guns you can buy for the money. This gun comes with two barrels, a 28-inch field barrel with interchangeable choke tubes and an 18.5-inch security barrel with a fixed choke. Having both barrels allows you to have a do-all gun that can cover anything from hunting to sporting to home defense. Mossberg makes the barrel change process simple and easy, with a single screw making the barrel swap a 60-second affair that takes no tools. The ambidextrous tang safety makes this gun intuitive for most users, but the rest of the gun is pretty standard fare when it comes to ergonomics. The Mossberg 500 has been the gold standard for basic shotguns since the 60s, and it has the aftermarket to prove that. If you need a shotgun to cover all the bases, this is it.
Read More
5

VIEW DETAILS
The Mossberg 500 has withstood the test of time and is the gold standard when it comes to pump-action shotguns for the everyman. They are reliable, easy to maintain, versatile, have a huge aftermarket, and are extremely affordable. It is likely the most popular shotgun in the United States, and for a good reason.
Read More
RemArms 870 Wingmaster Upgrades & Accessories
final verdict
Remington fell off the wagon in 2008, and it has been a rough recovery since. But under new management with RemArms, things are surprisingly looking up. The new 870 Wingmaster exudes the look and feel of the classic Wingmasters of old and is the next best thing to hunting down a used gun. Attention to detail, build quality, and smoothness the Wingmaster has been known for is seemingly present in these new production versions, which is great news for shotgun enthusiasts.
Community reviews
There are no reviews for this product yet.
Add your own rating and help other Pew Pew users pick the right guns