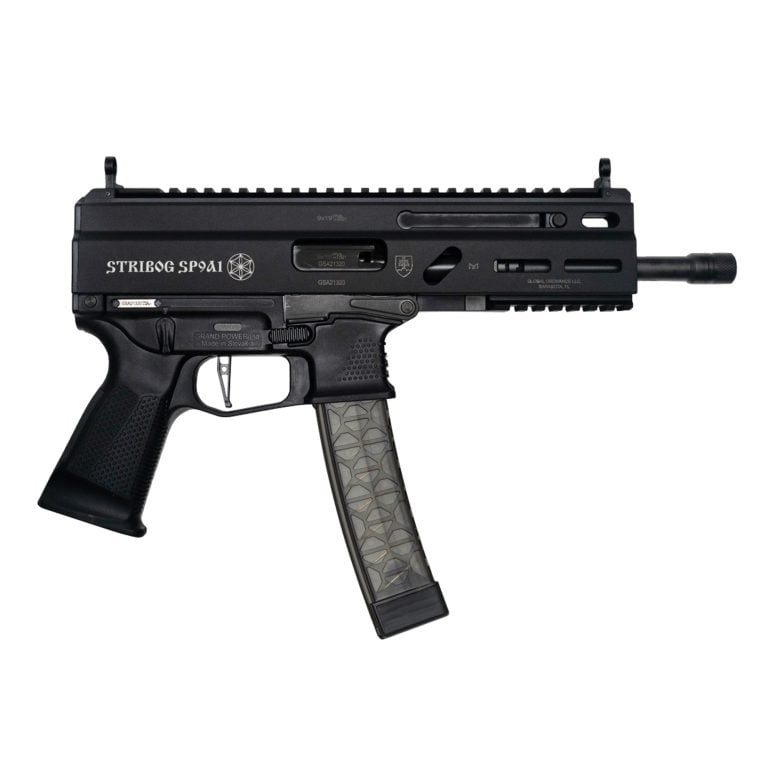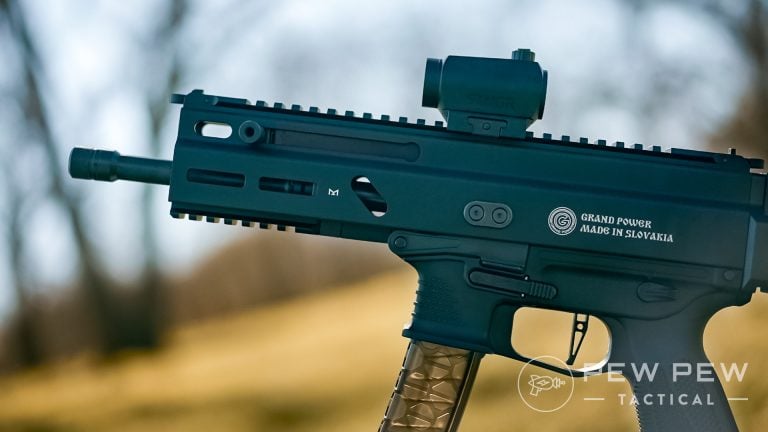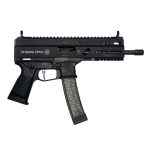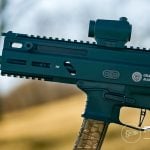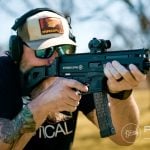 4
Compact

Reliable

Affordable
Direct blowback leads to heavier recoil
Editor's Note:
The Grand Power Stribog SP9A1 is a 9mm pistol/PCC with a non-reciprocating charging handle. These guns feature an 8-inch threaded barrel and an aluminum frame. Utilizing a simple direct blowback design, these guns are rugged and incredibly reliable. Flip-up sights, 30-round magazines, and AR-style controls help make the Stribog an affordable yet feature-rich option in today's market.
Read full review
Grand Power Stribog SP9A1 For Sale - Compare Prices
Grand Power Stribog SP9A1 Specs
Grand Power Stribog SP9A1 Features

8" threaded barrel

Direct-blowback operating system

Non-reciprocating charging handle

Aluminum frame

1x 30-round curved magazine, 2x 30-round straight magazines

Flip-up sights
By The Numbers - Grand Power Stribog SP9A1
Accuracy
Shooting standard 115-grain practice ammo, both guns averaged 1-inch to 1.5-inch groups at 7 yards.
Reliability
Our guns ran extremely well during the course of our testing.
Customization
There aren't a lot of customization options for the Stribogs yet, but that isn't a knock on the guns. They are still pretty new, and aftermarket options are still developing.
Ergonomics
The A1 offers a little more room than the A3S, but the ergonomics are pretty similar to an AR pistol.
Overall
Hands-On Reviews & Related Post
Grand Power Stribog SP9A1 Variations & Comparables
Grand Power Stribog SP9A1 Upgrades & Accessories
final verdict
"The Grand Power Stribogs are a couple of great options if you're in the market for a reliable, accurate, compact upgrade in firepower. Stowed in a backpack or tucked behind a seat, even stashed in the home, these firearms offer quite a defensive surprise to anyone on the other end. When compared to peers in the market, they are thousands of dollars less for similar attributes. While the initial offering was a bit hampered by the reciprocating charging handle, that is no longer an issue with current models." – Sean Curtis
Community reviews
There are no reviews for this product yet.
Add your own rating and help other Pew Pew users pick the right guns