---
Over years of reviewing guns, I've often wondered what the best bang for the buck might be. What's going to provide the biggest amount of reliable firepower in the smallest package?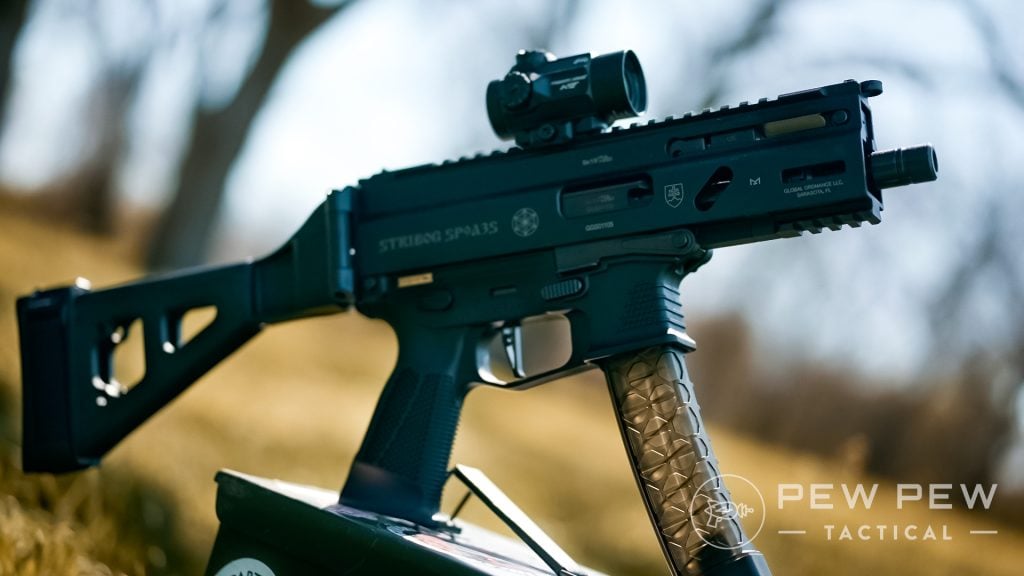 Grand Power recently sent out a couple of candidates for us to test out…
The Stribog SP9 A1 and Stribog SP9 A3S are relatively inexpensive, compact, and have 30-round magazines, so I was intrigued, to say the least.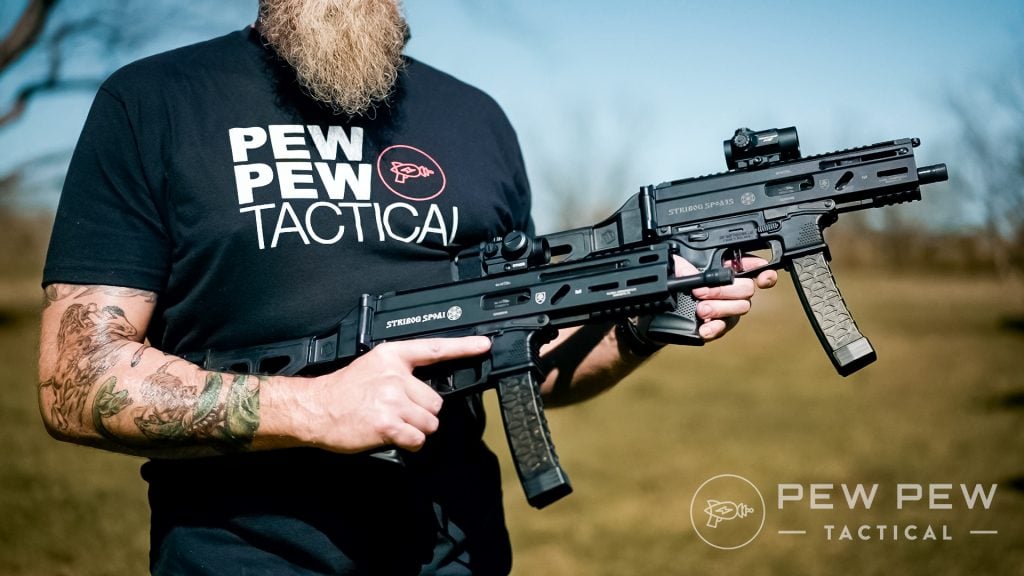 We can agree a compact firearm is easier to carry or conceal, but if it isn't reliable, it's really not worth consideration. Do the Stribogs fit the description for being the biggest bang for the buck?
We took both models to the range to see if they held up to the above standards. So follow along as we walk you through the specs and features and take them to the range.
Table of Contents
Loading...
Stribog SP9 A1 & SP9 A3S Review at a Glance
Pros
Compact
Reliable
Affordable
Cons
Small forend on SP9 A3S
Heavier recoil on A1
The Bottom Line
The SP9 A1 and SP9 A3S were both unfailingly reliable and proved to be decently accurate over the course of testing. Their compact size and folding brace make them formidable firepower upgrades that won't break the bank.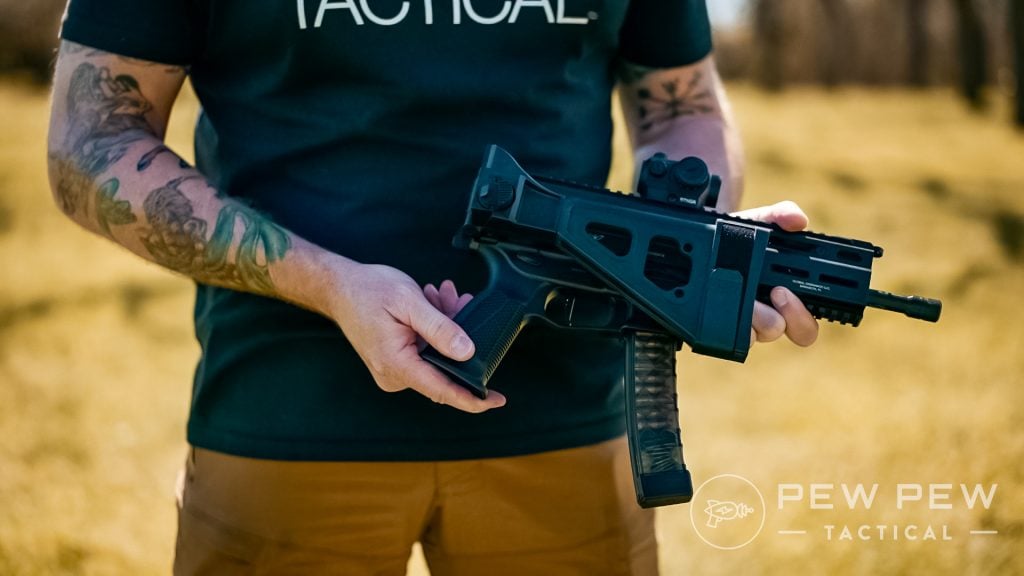 Stribog SP9 A1 & SP9 A3S Specs & Features
SP9 A1 Specs
Caliber: 9mm
Action: Blowback
Width: 2" unfolded, 3.8" folded
Length: 24.5" unfolded, 15.75" folded
Barrel Length: 8"
Height: 8"
Weight: 5 lbs. 10 oz.
Capacity: 30+1
Comes with: Plastic case, (3) 30-round magazines, gun lock, owner's manual
799
at Global Ordnance
Prices accurate at time of writing
Prices accurate at time of writing
SP9 A3S Specs
Caliber: 9mm
Action: Roller delayed
Width: 2" unfolded, 3.8" folded
Length: 22" unfolded, 13.4" folded
Barrel Length: 5"
Height: 8"
Weight: 4 lbs. 12 oz.
Capacity: 30+1
Comes with: Plastic case, (3) 30-round magazines, gun lock, owner's manual
1049
at Global Ordnance
Prices accurate at time of writing
Prices accurate at time of writing
SP9 A1 & A3S Features
SP9 A1

Blowback action
Non-reciprocating charging handle
1/2×28 threaded barrel

SP9 A3S

Roller delayed action
Non-reciprocating charging handle
1/2×28 threaded barrel
Source: Grand Power USA
Stribog SP9 A1 & SP9 A3S Background
Grand Power is a Slovakian company that produces the Stribog. The SP9 A1 was released in 2018 during SHOT Show but did not sell very well initially.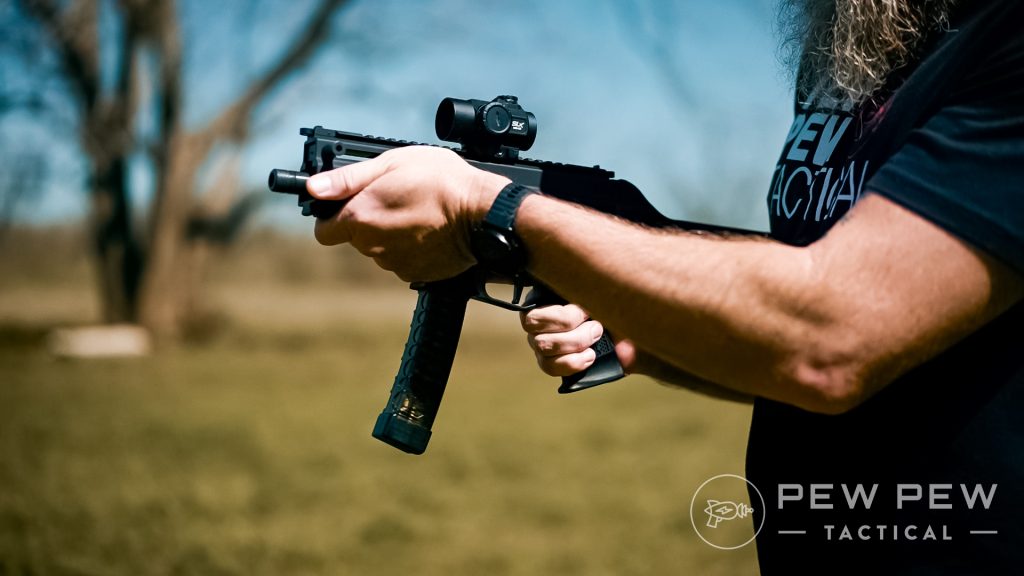 Some of the feedback immediately given was the short forend didn't leave a lot of room for the support hand — especially with a reciprocating charging handle. In later versions, Grand Power updated the charging handle to be non-reciprocating on all models.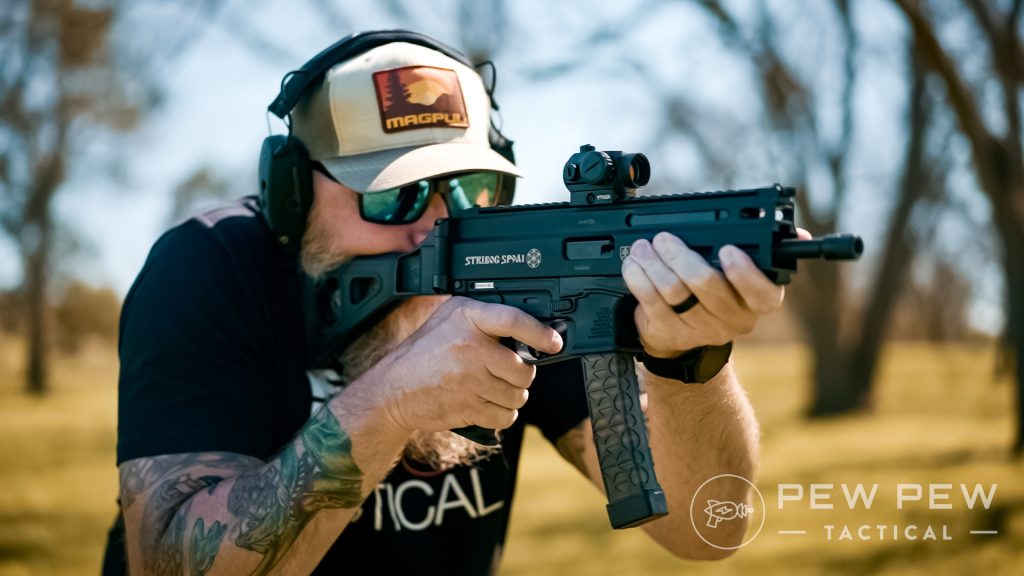 There are four civilian versions currently available in 9mm. The A1, the A3 (roller delayed), the A3G (Glock magazines), and A3S (roller delayed and shorter).
Who Are They For?
This is a pistol caliber carbine that has a definite subgun feel to it. Grand Power wasn't even trying to hide this when they implemented the roller-delayed action similar to the MP5.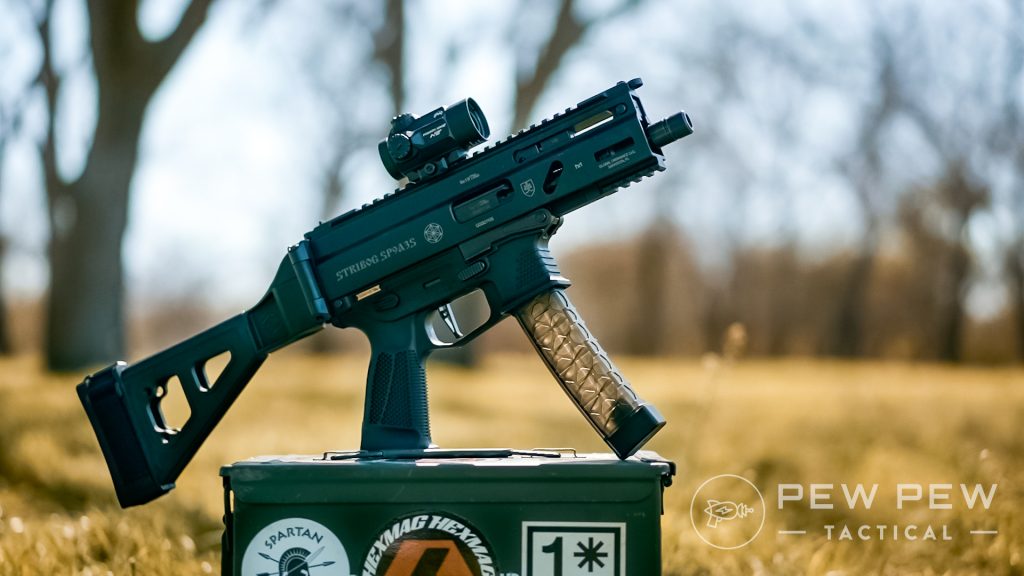 The Stribogs are compact upgrades that can be tucked away with little trouble due to their size. They allow shooters to command a significant increase in firepower when compared to a standard pistol.
They aren't small enough to carry in your waistband, but they will tuck into a pretty small backpack with little difficulty.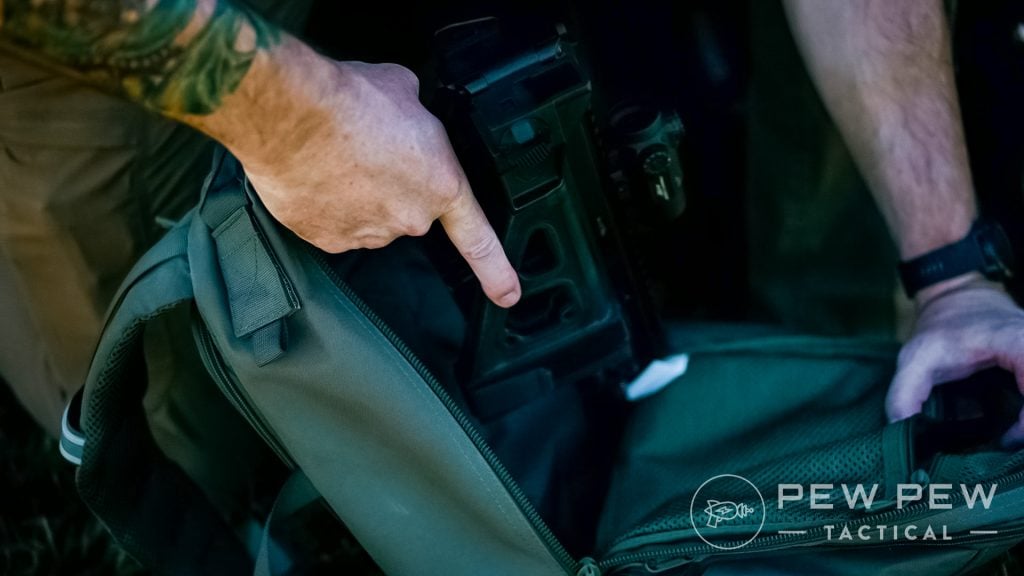 This means you may have 30 rounds of 9mm which you can deliver in a controlled fashion, having four points of contact on the weapon should you shoulder it.
The Stribogs could easily fill the role of home defender or truck gun as they provide accurate fire and are very reliable in function.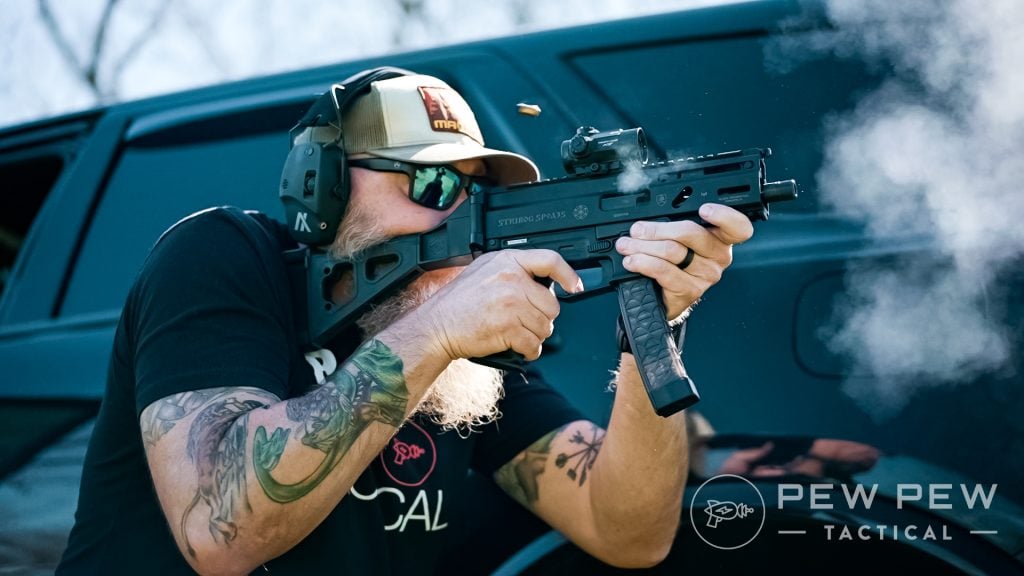 Fit & Feel
Having an upper and lower, there is an AR-15 feel to the gun, particularly with the lower, which has a very similar grip, trigger guard, trigger, and fire controls.
Even the mag release is similar though the bolt release is very different as it is a small ledge you pull down on to activate.
All controls are ambidextrous, having counterparts on both sides, and although the charging handle is only on the left side, it can be reversed.
During testing, I found aftermarket parts that allow the installation of a double-sided charging handle should a shooter prefer it.
In the hand, the Stribogs feel like quality, largely polymer lowers combined with aluminum uppers. Picatinny rails run the entire length of the top and at least a portion under the barrel, forward of the magazine well.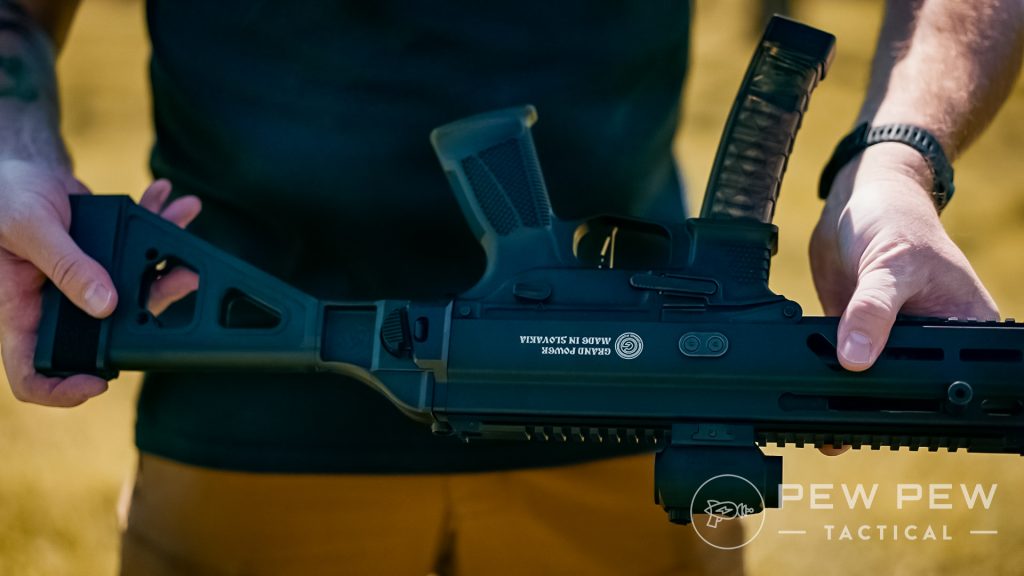 In addition, there are folding, circular, iron sights placed within the pic rail, which are minimal but serviceable. M-LOK slots can be found on the forend, one on each side for the SP9 and two on each side for the longer A1.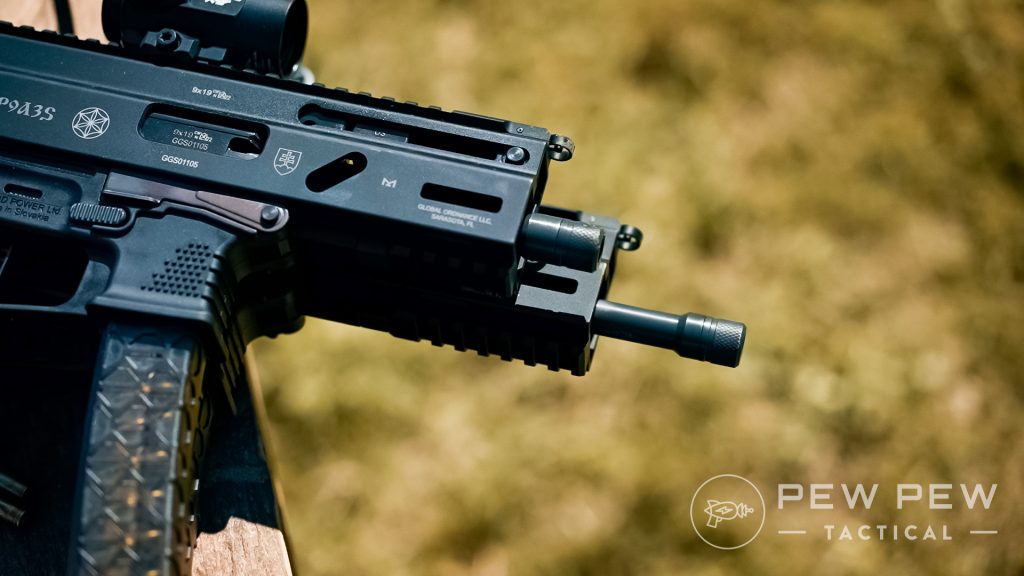 The grip features a medium texture but a comfortable angle that is closer to straight than it is to 45 degrees. The trigger guard is curved down and, although not removable, creates a generous space for even gloved fingers to operate the trigger.
The trigger on both guns featured a flat bow. Pulling back, I felt the tiniest bit of travel before it broke at an average of 3 pounds 8 ounces. Reset occurred almost immediately upon release and was both audible and tactile.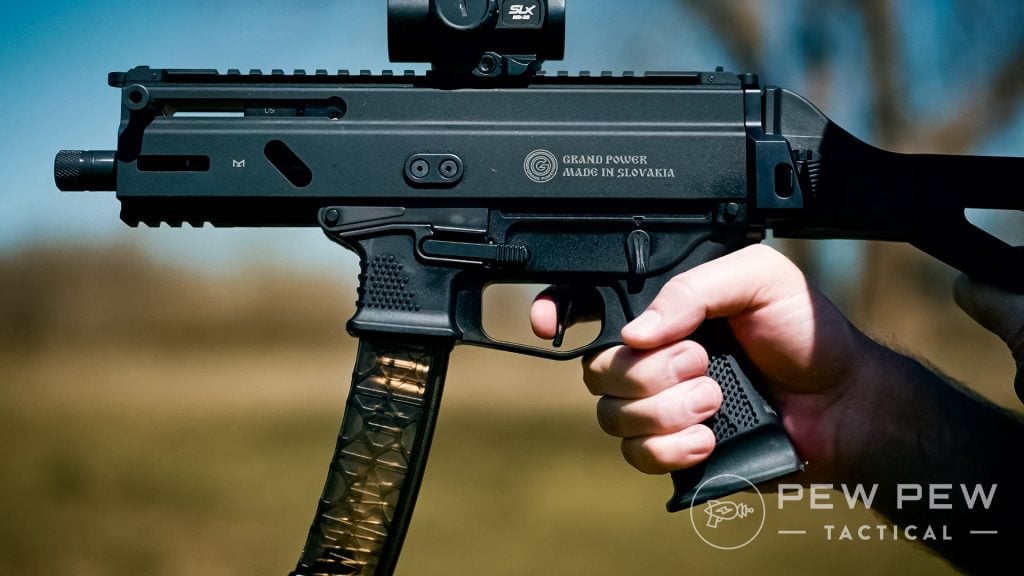 Magazines are wholly plastic but for the spring. They are also semi-transparent and have a nice honeycombed texture on the exterior for enhanced gripping.
One other observation is the plastic case you get is pretty nice. However, as soon as you add an optic, you can no longer use it due to the foam cutout placement.
How Do They Shoot?
Both of these guns are a lot of fun to shoot and similar to .22 LR levels of fun; we found ourselves quickly running through magazine after magazine, then having to reload.
This took some time, given the 30-round capacity, so it brought sharply into focus the quickness of shooting and slowness of reloading.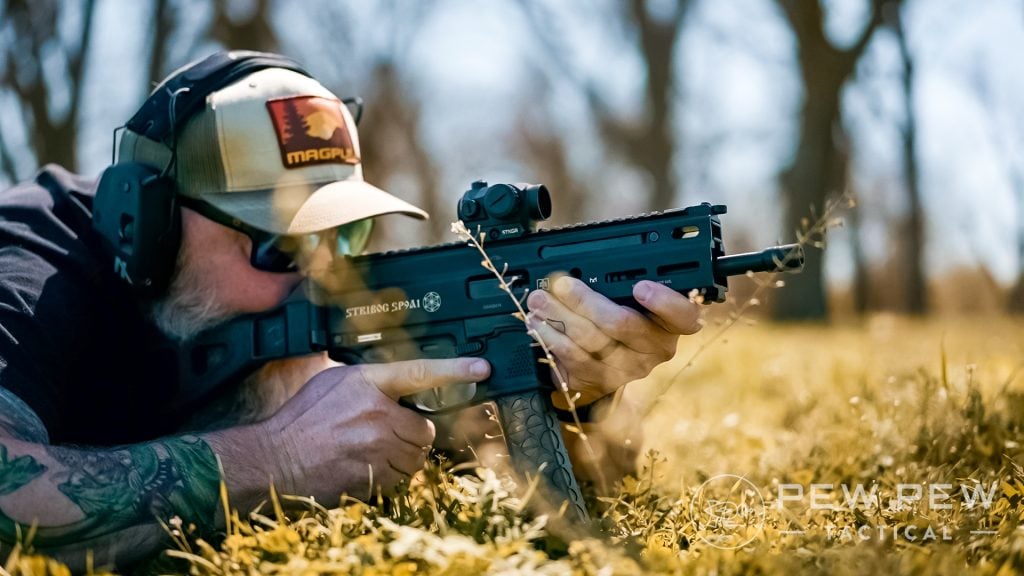 Both guns shot extremely well, and the differences between the two were small but noteworthy. Since the triggers felt exactly the same, I shot 3-shot groups from 7 yards to test accuracy.
They performed about the same, creating groups that averaged between 1 inch to 1.5 inches. The A1 has a 3-inch barrel length advantage, but it didn't seem to make much difference at this close distance.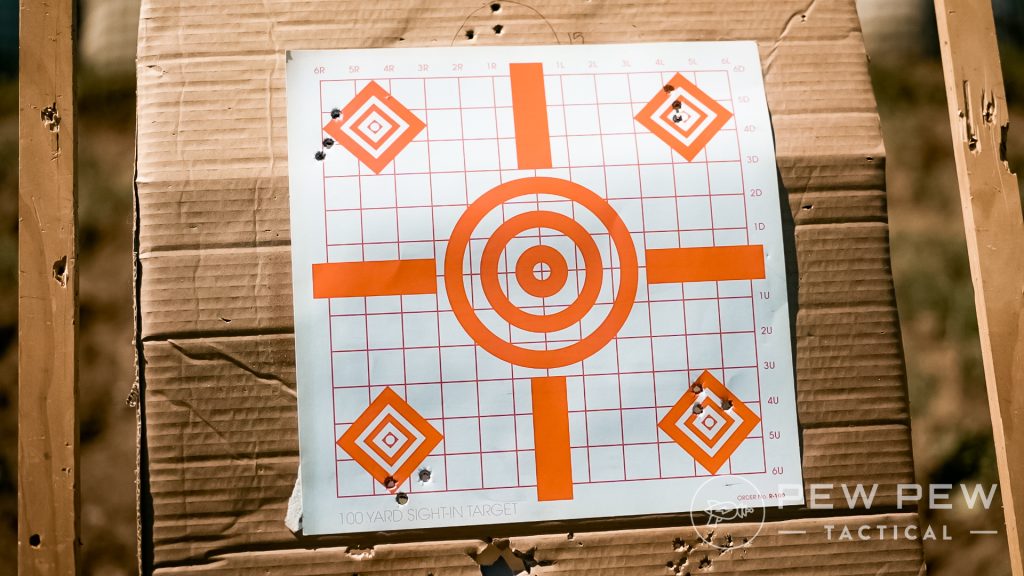 Recoil was a different story. The A3S enjoys a roller-delayed action, and I found this created a softer recoil impulse when compared to the A1's blowback.
Neither was difficult by any stretch of the imagination, but when shouldering both guns, the difference became more pronounced. The SB Tactical brace bent a lot more when rapidly firing the A1.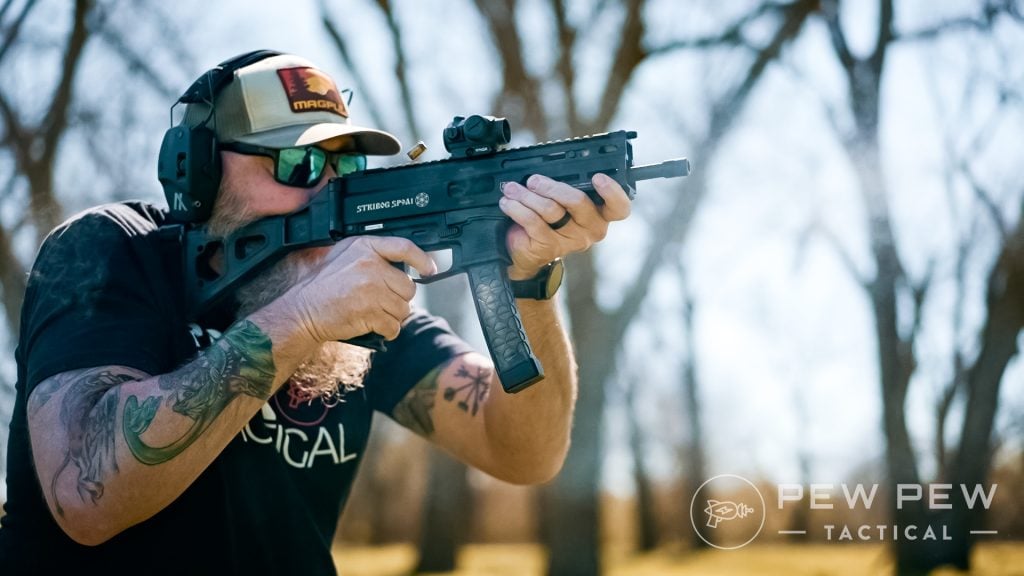 As far as reliability was concerned, the guns were absolutely flawless. We had a lot of fun shooting them and put around 500 rounds through each gun with no issues feeding, firing, or ejecting.
Reloads smoothed out with practice, and I appreciated the flared magwell in the lower. Magazines inserted smoothly, fed reliably, and dropped cleanly when released.
What Sets Them Apart?
The first thing that stands out when comparing these with similar firearms is the price. Considering comparable offerings from B&T and H&K are thousands of dollars, much more than the Stribogs.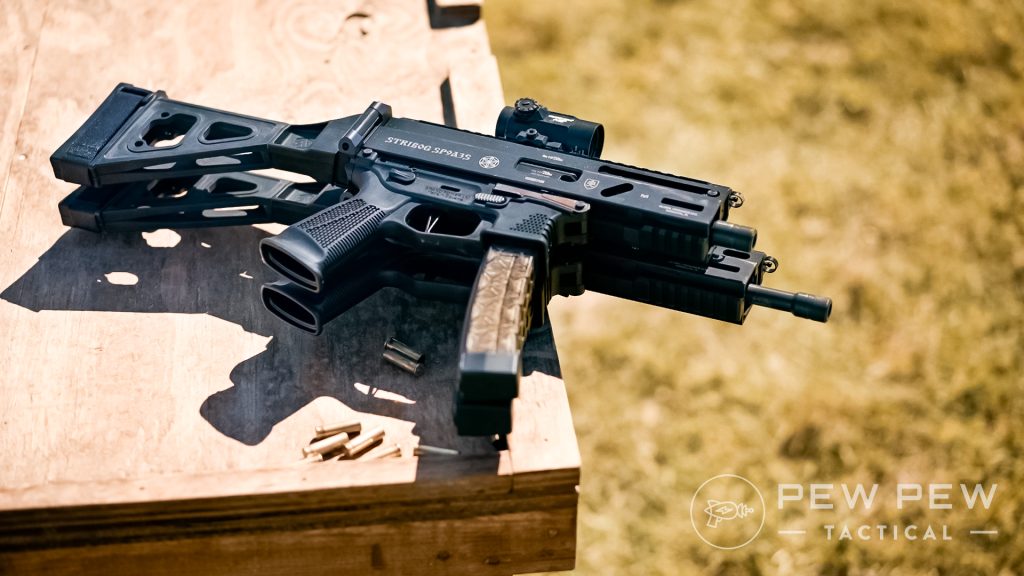 When contrasting the A1 and the A3S, the A1 has more real estate but is a little bigger (of course) and slightly harder to conceal.
The A3S is more compact and easier to conceal, but it doesn't leave a lot of room for your support hand behind the muzzle.
Finally, the recoil impulse is quite a bit smoother on the A3S when compared to that of the A1.
| | | |
| --- | --- | --- |
| | SP9A3S | SP9A1 |
| Overall Length | 16.69″ | 14.74″ |
| Barrel Length | 5″ (threaded) | 8″ (threaded) |
| Width | 2.24″ | 2.24″ |
| Capacity | 10, 20, or 30 rnds | 30 rnds |
SP9A3S vs. SP9A1
By the Numbers
Reliability: 5/5
As referenced above, the guns ran extremely well during the course of our testing.
Ergonomics: 3/5
The A1 offers a little more room than the A3S, but the ergonomics are pretty similar to an AR pistol.
Accuracy: 4/5
Shooting standard 115-grain practice ammo, both guns averaged 1-inch to 1.5-inch groups at 7 yards.
Customization: 3/5
There aren't a lot of customization options for the Stribogs yet, but that isn't a knock on the guns. They are still pretty new, and aftermarket options are still developing, with Grand Power offering options on their site, as well as aftermarket companies.
Value: 4/5
The A1 sells for around $800, and the A3S is roughly $1,000. This makes them very competitive.
Overall: 4/5
799
at Global Ordnance
Prices accurate at time of writing
Prices accurate at time of writing
1049
at Global Ordnance
Prices accurate at time of writing
Prices accurate at time of writing
Upgrades for Stribog SP9 A1 & Stribog SP9 A3S
Again, support is still developing for Stribogs, but perhaps the largest array of options consists of what brace you want to add. The option to SBR them is also open should the legal process be followed.
You can learn more about what's going on with pistol braces in our guide!
114
at STNGR USA
Prices accurate at time of writing
Prices accurate at time of writing
For our review, we added two different optics — the Axiom II from STNGR and the Primary Arms SLx MD-25.
Both of these optics offer great features at a couple of different price points while providing compact targeting.
169
at Primary Arms
Prices accurate at time of writing
Prices accurate at time of writing
Final Verdict
The Grand Power Stribogs are a couple of great options if you're in the market for a reliable, accurate, compact upgrade in firepower.
Stowed in a backpack or tucked behind a seat, even stashed in the home, these firearms offer quite a defensive surprise to anyone on the other end.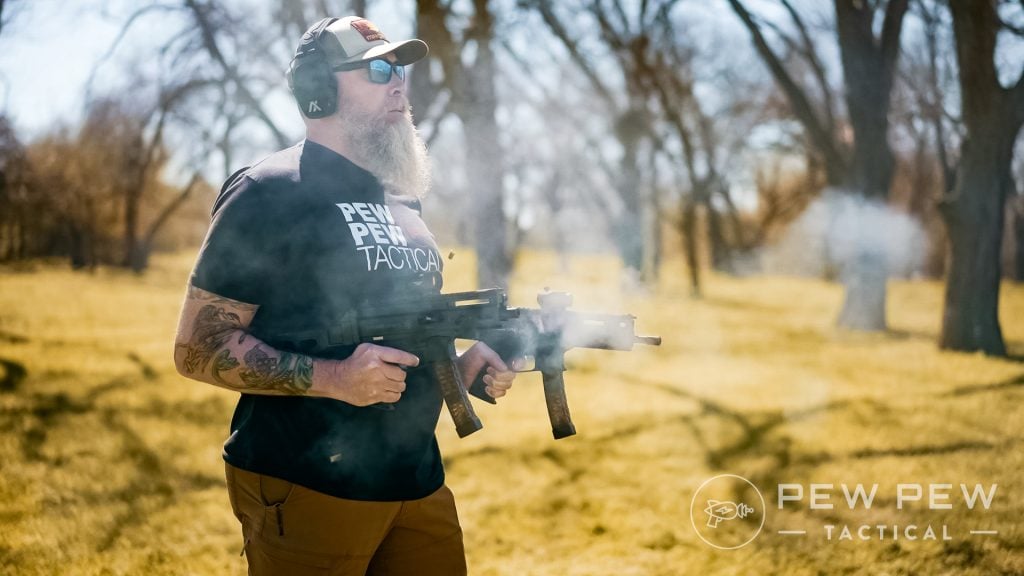 When compared to peers in the market, they are thousands of dollars less for similar attributes. While the initial offering was a bit hampered by the reciprocating charging handle, that is no longer an issue with current models.
In fact, the Stribog lineup continues to evolve and grow. Now you can enjoy their Stribogs in a couple of different sizes and even feed them with Glock mags if that floats your boat.
Which Stribog will you be adding to your quiver? Let us know in the comments below. For more PCC offerings, check out our 12 Best Pistol-Caliber Carbines (PCC): 9mm & Beyond.