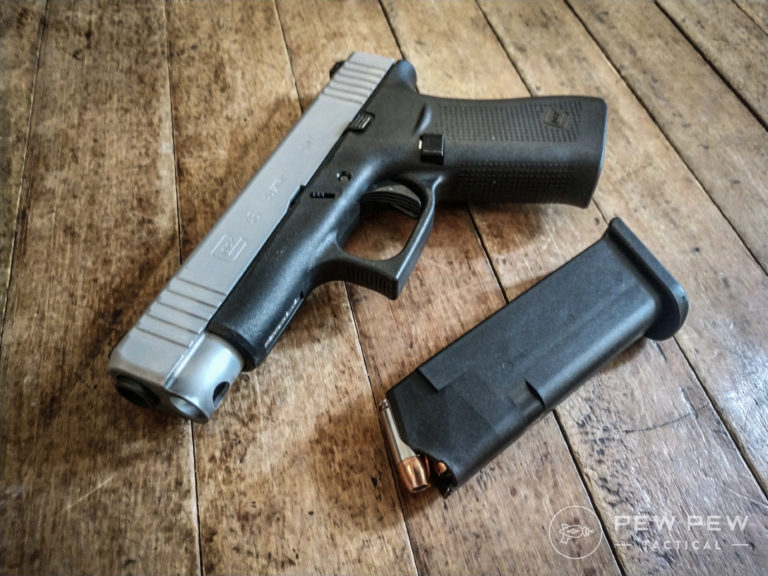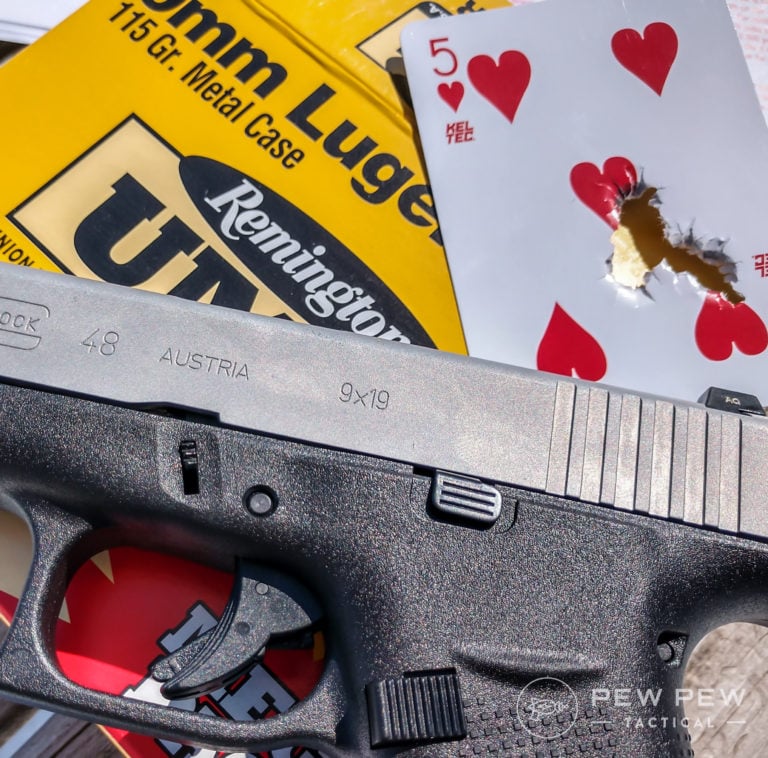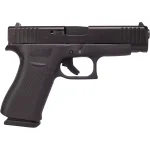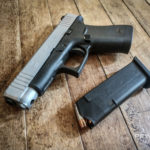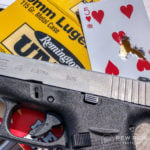 4
Reliable

Thin

Good aftermarket
Mediocre trigger

Plastic sights

10-round capacity
Editor's Note:
The Glock 48 takes the universal standard Glock 19 and slims it down into a more concealable but still easy-to-shoot platform. A barrel length of 4.17 inches, a standard capacity of 10 rounds, and an overall width of only 1.1 inches. An overall weight of 20.7 ounces helps keep things relatively light, further improving the ease of carry. Although the trigger is the standard mediocre 5.5-pound Glock affair and the capacity is lower than some of the competition, it makes up for that in reliability and aftermarket.
Read full review
Glock 48 For Sale - Compare Prices
Glock 48 Features

10-round capacity

nDLC finish

Glock Marksman Barrel

Front slide serrations

Reversible magazine catch

Glock Safe-Action trigger
By The Numbers - Glock 48
Accuracy
Accuracy is solid for its size, but nothing earth-shattering here.
Reliability
When using OEM magazines, the reliability is outstanding.
Customization
Glock pistols have one of the largest aftermarkets.
Ergonomics
Some of the blockiness of the Glock is offest by the thinner grip. Controls are easy to reach and the gun feels decent in the hand.
Overall
The G48 is a solid, reliable option for those who want something a bit thinner than the industry standard Glock 19.
Hands-On Reviews & Related Post
Glock 48 Variations & Comparables
Glock 48 Upgrades & Accessories
final verdict
If it seems like the G48 is just a thinner, single-stack G19, it is; but that isn't a bad thing. Some people struggle to easily conceal guns due to their width, but plenty of people also don't want to have to step down to a tiny pocket pistol to offset that. With the Glock 48, you get to retain a full-length grip and longer sight radius while improving concealability by going down to a single-stack gun. Everything comes together to provide a thin, shootable pistol that enjoys all of the legendary Glock reliability users expect. Downsides include the standard Glock things like a mediocre spongy trigger and plastic sights, but these are easy to overcome with the near-infinite aftermarket for these guns.
Community reviews
There are no reviews for this product yet.
Add your own rating and help other Pew Pew users pick the right guns