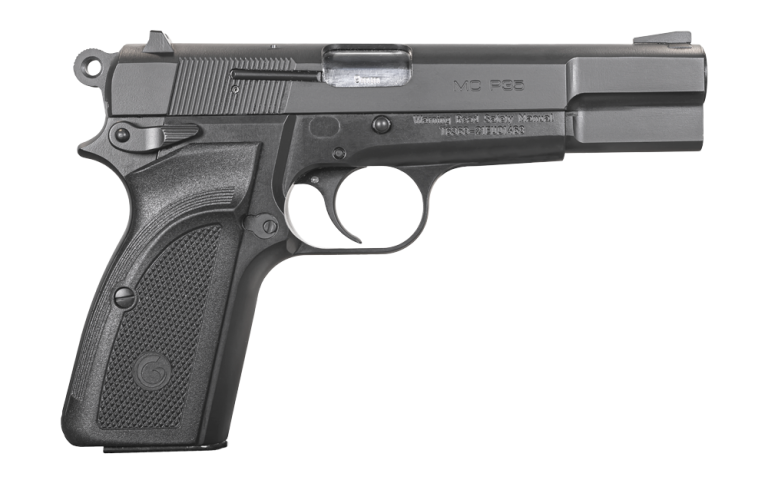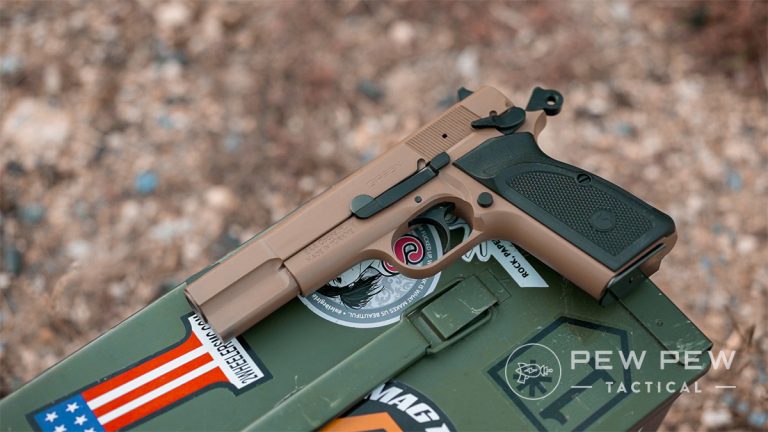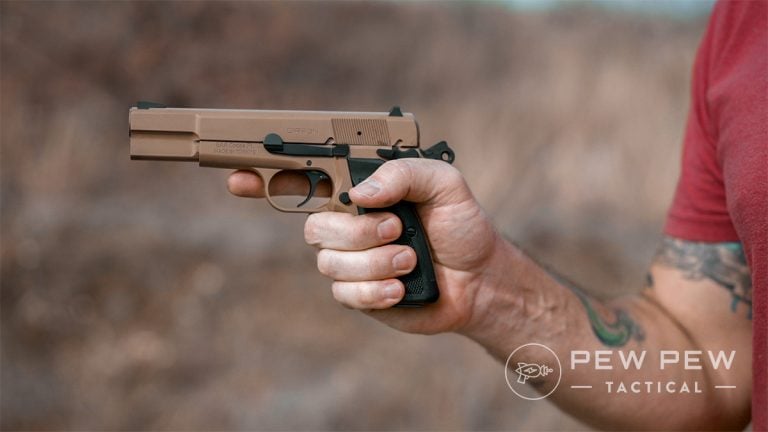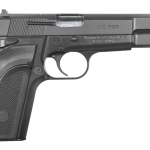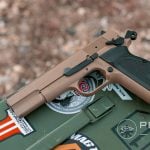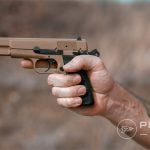 Classic styling

Reliable

Price
Magazines don't drop free

Trigger is not great
Editor's Note:
The Girsan MC P35 brings that classic look and feel of the Browning Hi-Power, but at a price that anyone can appreciate. It may not be as nice as the originals, but it definitely captures the essence of the Hi-Power while providing a reliable shooting experience.
Read full review
Girsan MC P35 For Sale - Compare Prices
Girsan MC P35 Features

Ambidextrous safety

Slim trigger

Synthetic checkered grips
By The Numbers - Girsan MC P35
Accuracy
A better trigger and better sights would help here.
Reliability
Once our user-induced grip issues were solved, the gun ran flawlessly.
Customization
Options are somewhat limited despite the age of the design. Some people opt for better sights, grip slabs, trigger work, and more.
Ergonomics
Ergonomics are good, but the slide release can be tough to reach
Overall
Hands-On Reviews & Related Post
Girsan MC P35 Variations & Comparables
4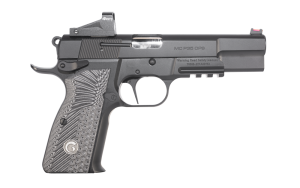 VIEW DETAILS
For those who love the classic styling of the Browning Hi-Power but want a modernized version, Girsan has you covered. Improved ergonomics, a better trigger, and the ability to mount optics help breathe new life into an older platform. Not to mention, the price is affordable for what you get.
Read More
final verdict
"While I wouldn't suggest the MC P35 series as the only gun a person should buy as a defensive carry, they are great copies of one of Browning's final ideas and a fine testament to his legacy." – Sean Curtis
Community reviews
There are no reviews for this product yet.
Add your own rating and help other Pew Pew users pick the right guns