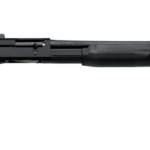 Convertible shotgun

A good value between the M2 and M4

Very versatile
No optics rail

Tough to find in stock
Editor's Note:
"The Benelli M3 is my favorite shotgun of all time. It might be the most capable and versatile shotgun on the market. And it's one of the rare convertible shotguns, A convertible shotgun is one that allows the user to swap between a semi-automatic action and a pump action. The benefit of the M3's system is that you can use any shotgun round on the market. The pump-action mode allows it to cycle low recoiling rounds that won't cycle in a semi-auto action." — Travis Pike
Read full review
Product Features

Convertible shotgun

Tactical configuration

Ghost ring sights
Product Description
The Benelli M3 occupies the space between the M2 and M4. It's a convertible shotgun meaning that it can swap between semi-auto and pump-action. Only downside is no optics rail.
Benelli M3 For Sale - Compare Prices
By The Numbers
Accuracy
Very accurate and definitely pings targets
Reliability
There's a reason law enforcement all over the world use this model.
Customization
No rail, so a bummer
Ergonomics
Feels and shoots fantastically
Overall
Hands-On Reviews & Related Post
Benelli M3 Variations & Comparables
4.5

VIEW DETAILS
"Benelli's M4 is what we would call a good Italian auto shotgun. It's the best combat shotgun on the market and would do phenomenal in a home defense setup or tactical arena. This autoloader looks great, runs smooth, brings that cool factor we all like from our guns. Most importantly, you can trust your life to it." – Johnny B.
Read More
final verdict
The Benelli M3 is the sibling of the M2 and M4 — nestling in that nice middle area. It offers plenty to keep things interesting though. In fact, it's a favorite around the Pew Pew office.
Community reviews
There are no reviews for this product yet.
Add your own rating and help other Pew Pew users pick the right guns