You don't have to be a hunter to enjoy the thrill shooting long-range rifles.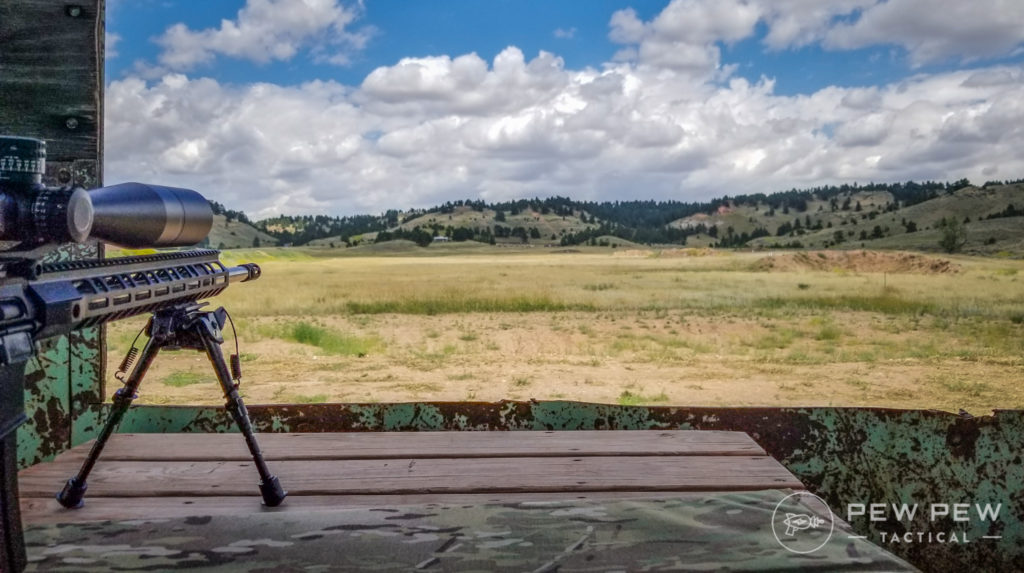 Personally, I find bench rest shooting to be one of my favorite past times.
There's just something magical about shooting a target 800 yards away. For me, it's a feeling of excitement and accomplishment that can't be replaced any other way.
Whether you're a hunter, an aspiring competitive shooter, or just someone who grew up watching the movie "Sniper" one too many times as a kid, you're going to need a quality rifle in order to hit those long-range targets.
And we've got just the list to get you shooting the wings off a fly in no time.
Choosing the Best Long-Range Rifle (For You)
Ready to jump into the exciting world of long-range shooting? Here are a couple of things you should know before spending money on a good rifle.
Sharpshooting is a skill: Spending money on an expensive rifle and scope doesn't automatically make you a good long-distance shooter.
Find a cartridge that works for you and stick to it: The .308 Winchester is a good long-distance round, which is why it's one of the most popular cartridges out there for sniper rifles. Other great distance rounds include the .300 Win Mag, .338 Lapua, and the ever-popular 6.5 Creedmoor.
Bolt-action is your friend: While a trusty semi-automatic precision rifle is certainly handy for when you need to quickly engage a target, your bolt-action is more than enough to handle that long-distance buck or paper target. Also, bolt-action rifles are less likely to malfunction than their semi-auto counterparts.
Now that we've got that out of the way, let's look at some rifles that'll help you improve your marksmanship.
Best (Obscure) Long-Range Rifles
1. Howa Long-Range Rifle
For those of you who don't know, Howa is a Japanese machinery manufacturer that dabbles in a little bit of everything from construction equipment to industrial tools.
But what Howa is especially known for is their line of civilian and military-grade firearms, which not only have a historical significance but are also used by the current Japanese Self-Defense Forces.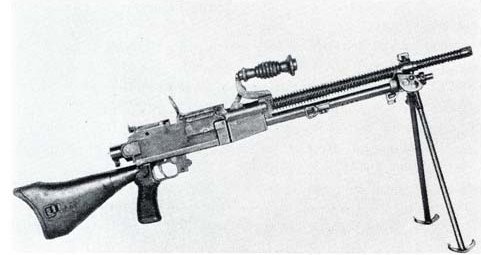 For most people, Japan isn't a country that comes to mind when you think of firearms. In 2007, the gun ownership stats were 0.6 guns per 100 people.
And while Japan doesn't feature often in discussions of modern firearms, that doesn't mean that Howa's rifles should be overlooked.
In fact, Howa's Long-Range Rifle (MSRP: $1,015, $1,300 Scoped) is one of the most budget-friendly long-range rifles that you'll come across.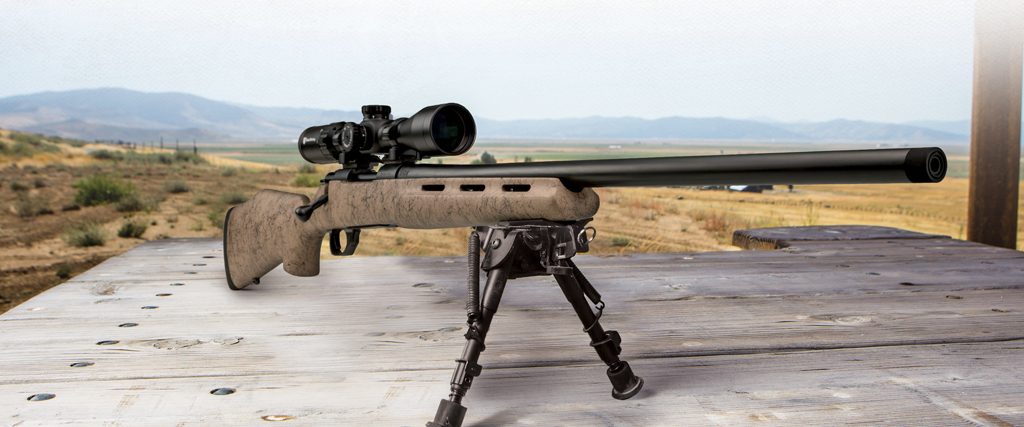 Designed as modified Howa 1500, the bolt-action Long-Range rifle is sold in the United States by Legacy Sports International. It comes in the two popular long-range calibers, the .308 Win and the 6.5 Creedmoor, and is just an all-around great gun to fire.
There's a lot to love about the Long-Range Rifle. For starters, it comes standard with a 26" threaded barrel and thread protector, 1" Pachmayr Decelerator recoil pad, and an optional Diamond 4-16X 44 scope by Nikko Stirling.
Howa is so confident that their gun is a top performer that they guarantee sub-MOA performance at 100 yards, as well as long-range precision and accuracy.
But if you've shot a Howa rifle before, you already know that it's a smooth-firing gun.
2. Bergara BCR15 Long-Range Hunter
Spanish manufacturer, Bergara, has become known among firearms experts as some of the world's top barrel makers. Still, you probably not going to come across too many buddies with a Bergara rifle just chilling in their gun safe.
Those of you who know a thing or two about Bergara rifles already know two things: they're super accurate and super expensive, and the latter is the reason why your average shooter doesn't have one.
However, if you do have the money to spend on a top-tier long-range rifle, the Bergara BCR15 (MSRP: starting at $4,000 without upgrades) is certainly a good choice.

The cool thing about the BCR15 is the way the gun looks. You get a lightweight stock with vertical pistol grip and marble camouflage finish that comes in your choice of black, olive, or tan. And the Pachmayr Decelerator pad that comes already installed is a nice little bonus as well.
The BCR15 has a barrel length of 24" and weighs a total of 8.5 pounds. It also comes equipped with a Picatinny rail system mounted on the top of the receiver, but scopes are sold separately with the custom build option.
Overall, the BCR15 is a solid long-range rifle for any elk hunter or long-range competitive shooter. For $4,000, it fires exactly as you'd hope it would – smoothly.  
3. Browning X-Bolt Hell's Canyon Long-Range
The Hell's Canyon Long-Range is a long-range rifle designed for the marksman who's not afraid to put their gun to work. This rugged rifle is designed for the hunter or competitive shooter who enjoys spending countless hours with their finger on the trigger.
1062
at Brownells
Prices accurate at time of writing
Prices accurate at time of writing
Browning designed the Hell's Canyon Long-Range with one thing in mind: long-distance precision. This is achieved thanks to an upgraded barrel system, which is a free-float barrel that's been hand chambered for maximum accuracy and craftsmanship.
Also, it doesn't hurt that the barrel, bolt, and receiver have been given a generous Cerakote coating that protects them against corrosion and harsh elements – a must have for some!
Weighing in at just over seven pounds, the Hell's Canyon Long-Range rifle is light enough to take with you on those all-day hunts.
It has a 26" fluted barrel that is threaded and ready for your muzzle brake or suppressor. Other features of the Hell's Canyon Long-Range include an Inflex recoil pad, adjustable trigger, and either a three or four-round capacity magazine (depending on the caliber).
Browning has more than 100 years of experience manufacturing quality firearms, so you already know that the X-Bolt Hell's Canyon Long-Range (and the Hell's Canyon Speed) lives up to its reputation of being a top-performing bolt-action rifle. And it also doesn't hurt that the gun looks great.
4. Savage Model 11/111 Long Range Hunter
The Model 111 Long Range Hunter (MSRP: Starting at $1,170) is part of Savage's specialty series. This high-end rifle includes two of Savage's most popular features: AccuTrigger and AccuStock, which allows for better rifle optimization and customizability.
570
at Brownells
Prices accurate at time of writing
Prices accurate at time of writing
Another great feature of the Model 111 is that it's one of the few quality long-range rifles that comes with its own adjustable muzzle brake. While muzzle brakes might not necessarily make or break your rifle, having one included with your purchase certainly does sweeten the deal.
Overall, the Model 111 is just a brilliantly designed rifle that has been engineered for convenience and precision. Some of its stand-out features include:
Hinged floorplate for quick reloading.

Fully-adjustable AccuTrigger system that gives the shooter complete control over their trigger preferences.

Adjustable AccuStock design that maximizes comfort for shooters of all sizes.
Savage rifles have the reputation for being some of the best out-of-the-box guns on the market, and the Model 111 Long Range Hunter is no exception. If you're looking for an affordable hunting rifle that can take down game at those extra-far distances, you can't go wrong with the Model 111.
Just check out this bad boy in action
5. Barrett Fieldcraft Hunting Rifle
When most people hear Barrett, the first thing they think of is the M82A1, Barrett's iconic .50 caliber anti-material rifle.

While this powerhouse of a gun is great to be known for, Barrett also specializes in a number of conventional long-range rifles as well. Among these is the Fieldcraft (MSRP: $1,800), a lightweight bolt-action sniper rifle designed for maximum performance.
Equipped with a durable, lightweight carbon fiber stock, the Fieldcraft is built for durability and long-haul hunting trips. Weighing between five and six pounds, the Fieldcraft is light enough to lug around without effortlessly but built with a stainless steel design that's built rugged and able to withstand whatever wear and tear you throw at it.

Traditionally, Barrett has focused on creating superior tactical rifles. The release of the Fieldcraft is doubly special because it's not only a superior long-range rifle, it also signals Barrett's entry into the hunting market. If you're looking for a well-rounded rifle that's not too expensive, offers a variety of calibers to choose from, and above all, is a Barrett, then you can't go wrong with the Fieldcraft.  
I should note that the barrel sizes of the Fieldcraft have been a point of contention for some shooters, and only the last four calibers come with a 24"-barrel.
Other features include four-round magazine capacity, left and right-handed configuration, and optionally threaded barrels for short-action rifles.
6. Remington Model 700 (Long Range Variants)
Okay, okay. The Remington 700 isn't a gun that should be classified as one you "probably don't own," but it is an accurate rifle that needs no introduction.
All you need to know is that it's been consistently one of the most iconic, dependable, and widely-used long-range rifles since 1962. Nuff said.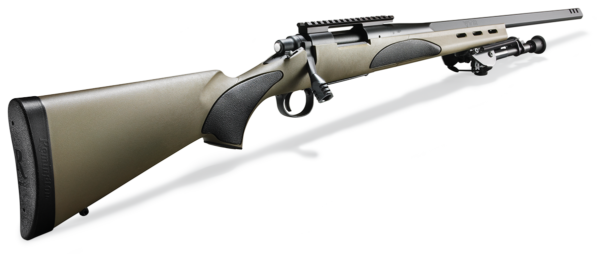 There's too much about the Model 700 to cover in such a short space. If you're interested in learning more about this timeless American rifle, make sure to check out our Remington 700 Buyer's Guide for an in-depth review that does this gun the justice it deserves.
And We're Off
And that concludes my list of long-range rifles. 
If you came across this page while researching for your first long-range rifle purchase, don't forget to check out our guide to choosing the perfect scope as well. You might also be interested in spending a little bit of money on a rangefinder also –if so, we've got you covered.
Are you shooting with any of the rifles mentioned? Make sure to let us know what you think about them. Feel free to tell us about your favorite long-range rifle as well!