North American Arms, out of Provo, Utah, has made quite a name for itself.
Not only do they make a couple of old-school DAO steel pocket semi-autos in .32 ACP and .380, but they also produce revolvers.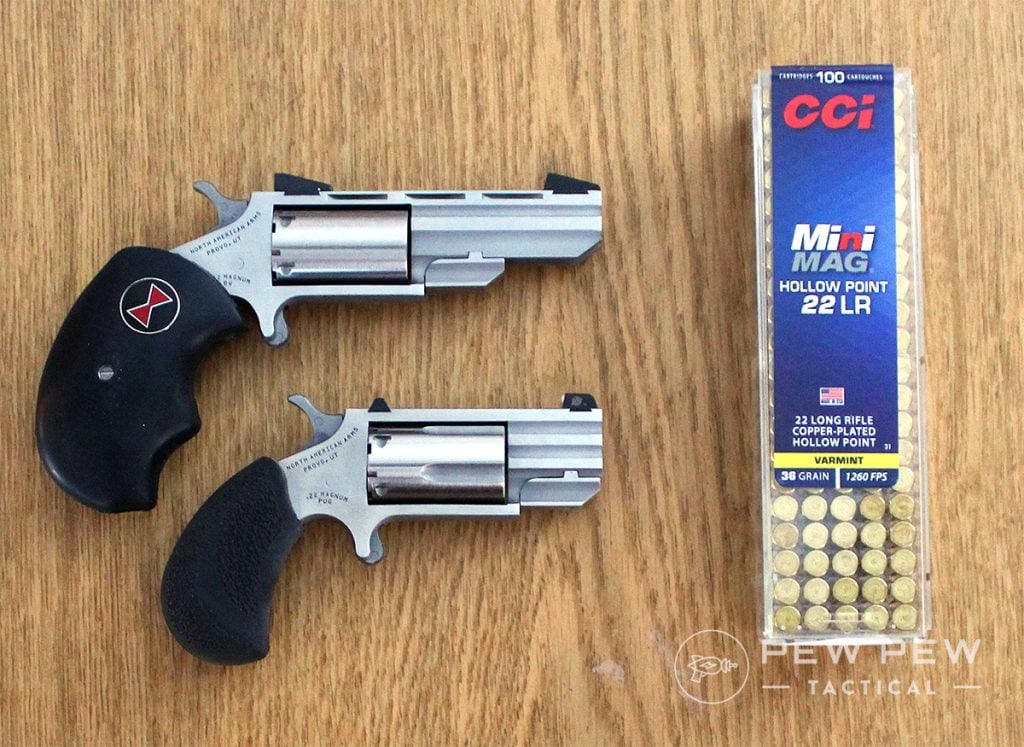 You might be asking, OK – so what? A bunch of companies make revolvers; what's the deal?
You can hold these in your palm and still have some extra hand left over. If you are looking for the ultimate hideout pocket gun, these might be your ticket.
I received two of their revolvers for review, the Black Widow and the Pug, so let's take a look!
Table of Contents
Loading...
NAA Mini-Revolvers Review at Glance
Pros
Extremely small
Two cylinders for each gun (.22 LR and .22 Magnum)
Positive lock-up with safety notches between the chambers
Great sights
Tons of accessories available
Great customer service and a lifetime warranty for the original owner
Locking metal case included
Cons
5-shot cylinders instead of 6
Cylinder and pin replacement can be a touch dicey after takedown until you catch on
Reliability can be an issue with certain ammo

The Bottom Line
The NAA revolver line is designed for one basic purpose: they are backup guns for deep concealment.
Chambered in .22 (Short, LR, and Magnum), the Pug and Black Widow are made of stainless steel. Fit, finish, and build quality are top-notch. They are affordable and have a plethora of aftermarket accessories available and excellent customer service.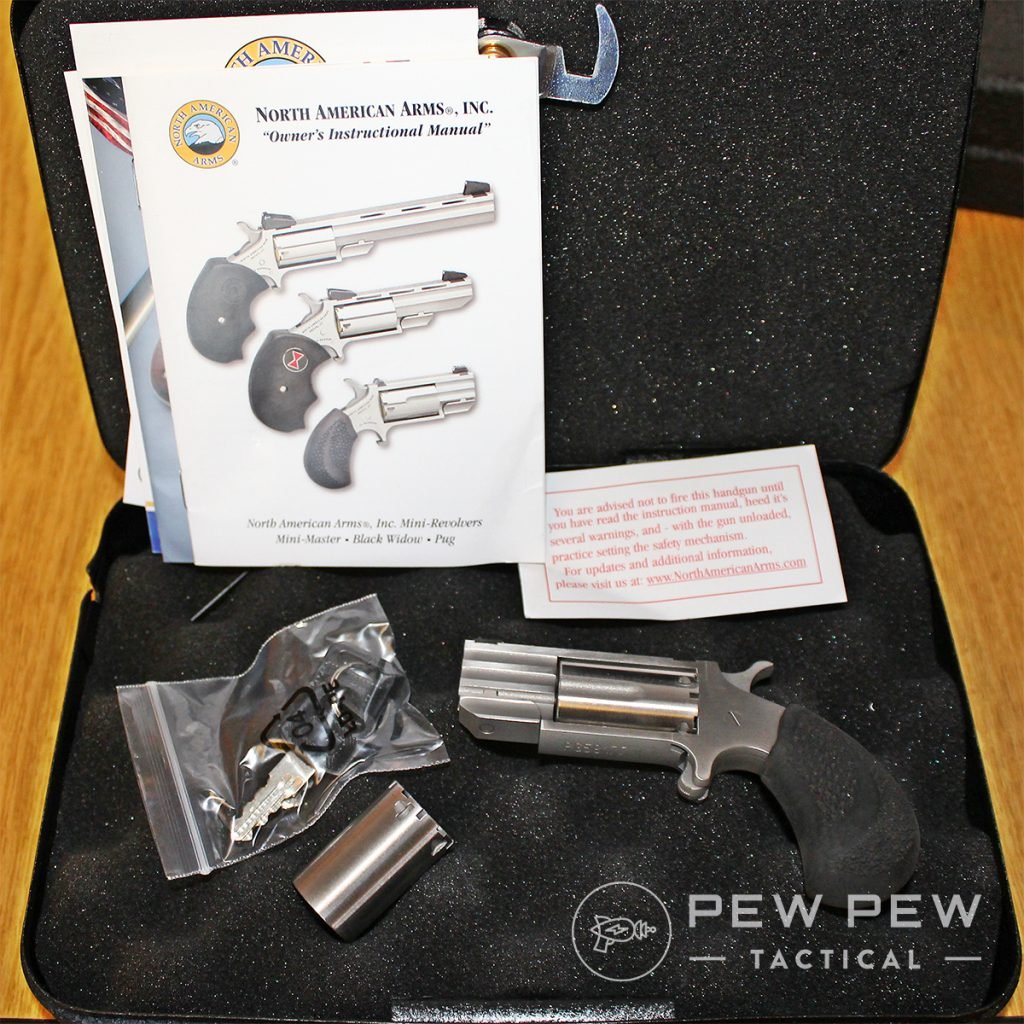 Specs & Features of the NAA Pug & Black Widow
Specs (Pug)
Caliber: .22 LR/.22 Magnum
Trigger Pull Weight: 6 lbs., 6 oz.
Width: 1.06"
Length: 4.56"
Barrel Length: 1.0"
Height: 2.81"
Weight: 6.4 oz.
Capacity: 5
Specs (Black Widow)
Caliber: .22 LR/.22 Magnum
Trigger Pull Weight: 4 lbs., 7 oz.
Width: 1.0"
Length: 5.88"
Barrel Length: 2"
Height: 3.69"
Weight: 8.4 oz.
Capacity: 5
Features
Single-action, 5-shot revolvers
Includes both LR and Magnum cylinders
Pug features XS White Dot front sight; Black Widow features 3-dot sights; night sight available
Safety notch between chambers allows the gun to be carried fully loaded
Grips: Pug, black pebble rubber; BW, three-finger smooth rubber (well, two-and-a-half anyway)
Lockable hard case included for each gun
Source: NAA Firearms
341
at Kygunco
Prices accurate at time of writing
Prices accurate at time of writing
307
at Kygunco
Prices accurate at time of writing
Prices accurate at time of writing
NAA History
North American Arms was founded in 1972, originally as Rocky Mountain Arms. Two years later, the company was sold to new owners who renamed it North American Manufacturing and, later, North American Arms.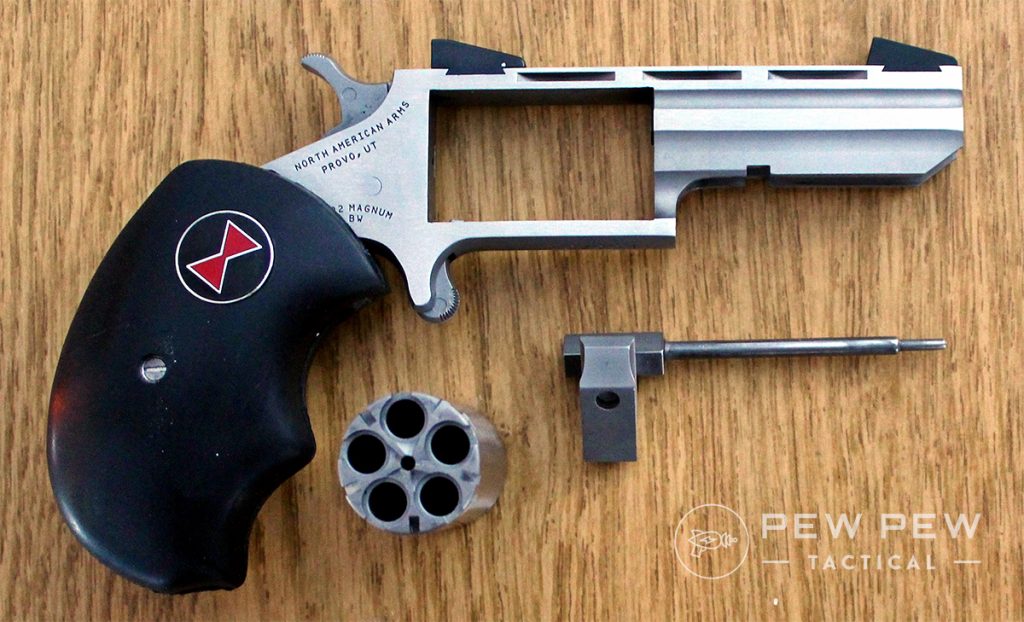 Having bought the design for mini-revolvers from Freedom Arms in 1990, they further enhanced the little guns by re-designing the cylinders to include a safety notch between the chambers. This allowed the guns to be safely carried with all five chambers loaded.
In 1997, NAA branched out and started producing their Guardian line of semi-auto pistols.
These guns are chambered in .32 ACP and .380 ACP. Like their revolvers, the Guardians are made of stainless steel.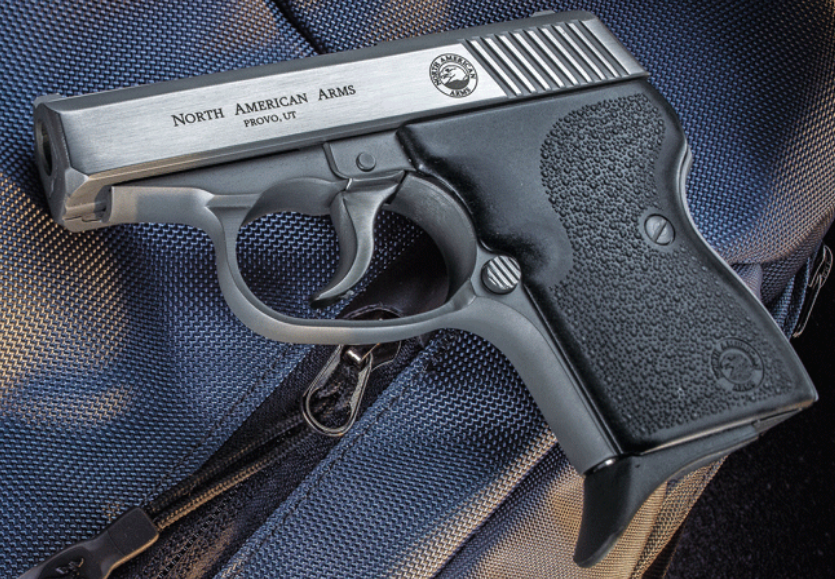 The company is big into manufacturing, producing a dizzying amount of models and trims when it comes to their revolver lineup.
Who Is It For?
NAA guns (both semi-autos and revolvers) are geared toward self-defense.
Who might carry one? Anyone who has a spare pocket or room in a purse…men, women, LEOs, medical personnel, realtors, farmers, hunter — practically anyone.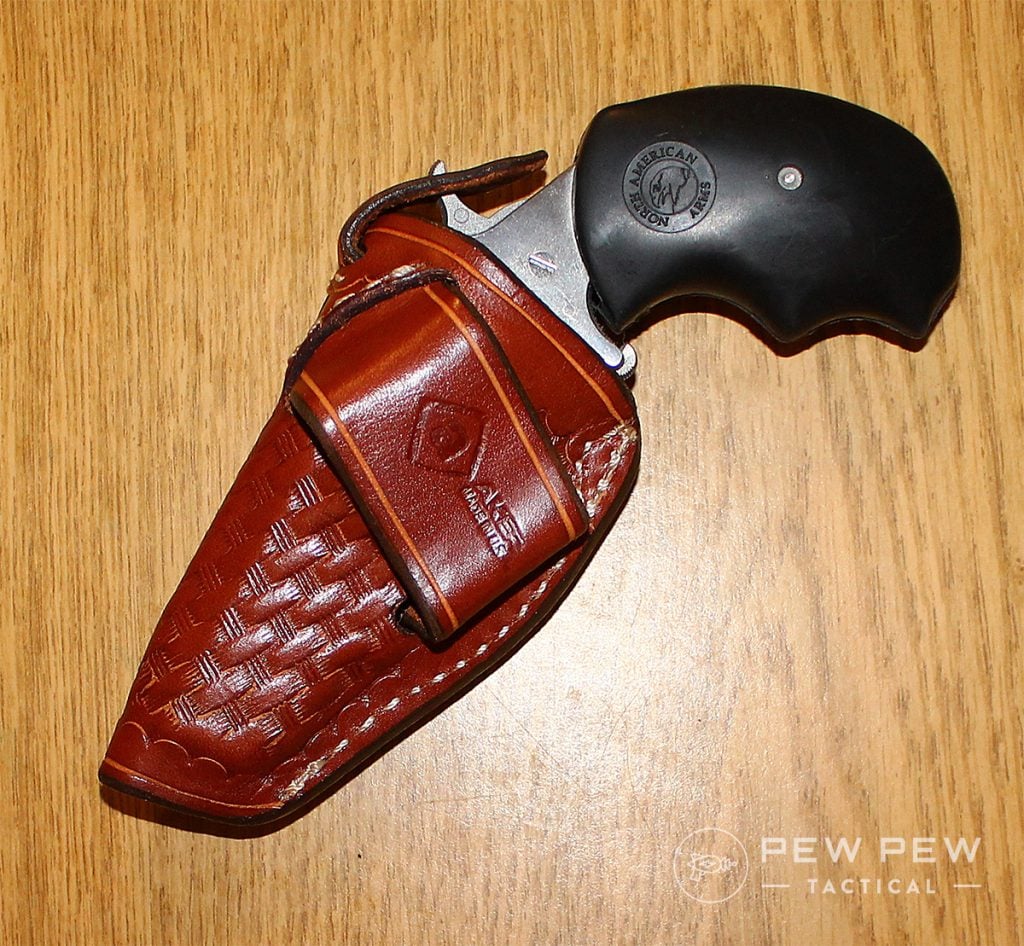 The shorter-barrelled models easily fit in a pocket and take little effort to bring along.
Even though some will say that all NAA guns are "mouse guns," I have always contended that the gun with you, regardless of caliber, is better than the gun you left at home.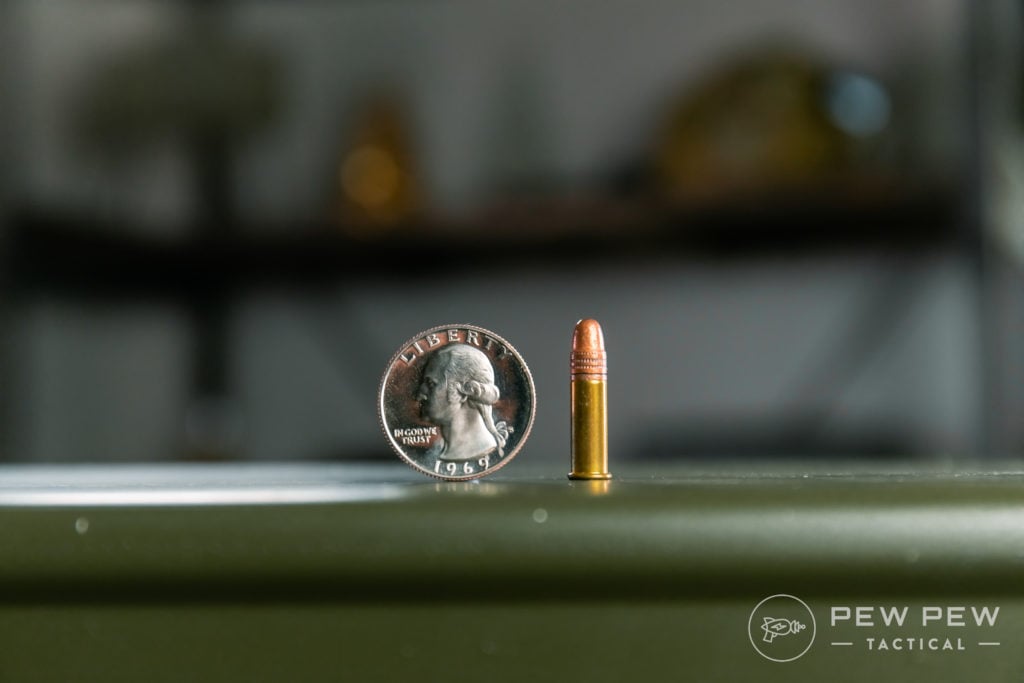 Some folks are more likely to carry if they can quickly stash a gun in their pocket rather than strapping a larger holster on.
Living in the boonies, I could also see taking something like the Black Widow outside with me when I'm checking our chickens or wood boiler.
Mini Revolvers Fit & Feel
This category is so subjective I almost hesitate to write about it, but here goes.
These guns are so tiny that normal descriptions of fit and feel don't apply.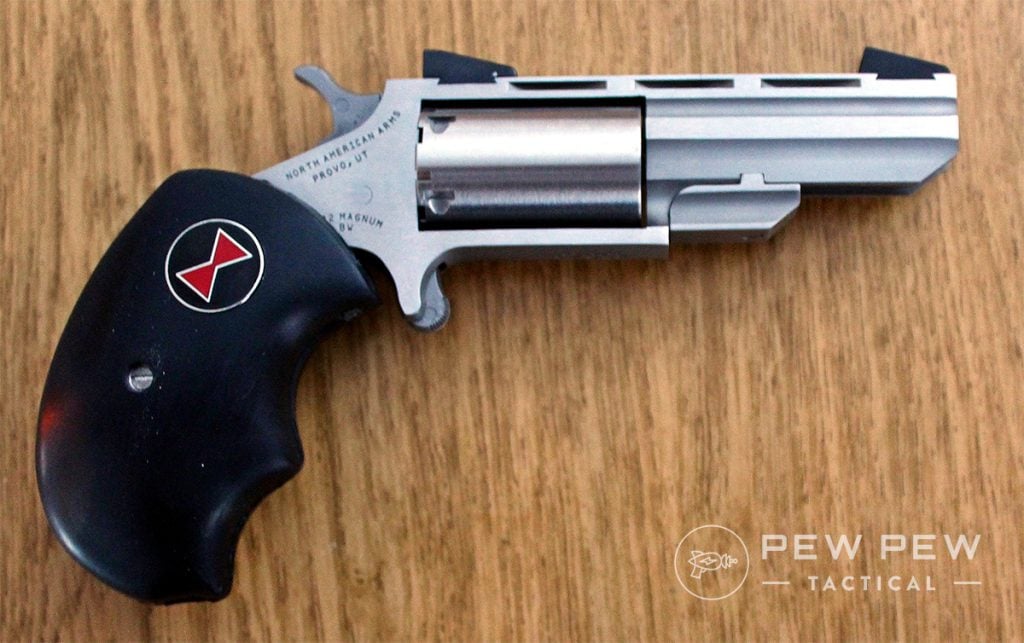 Let's just say that the Black Widow, with its longer two-and-a-half finger grip, was more comfortable to shoot.
I had the Pug almost jump out of my one-finger grip when shooting magnums, but that's probably just me.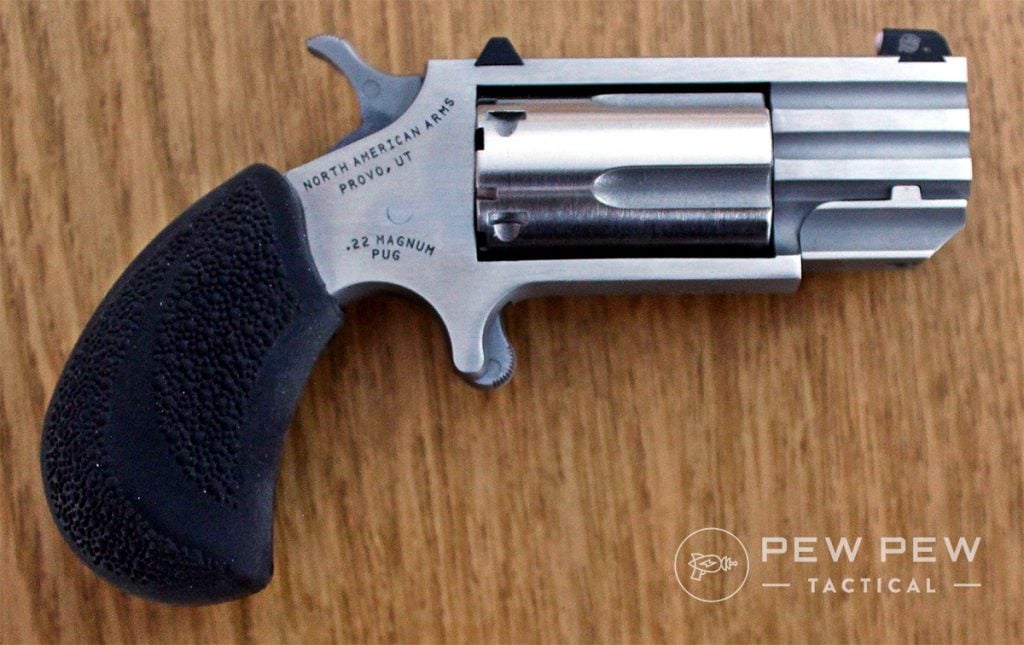 For what they are, they handle fine once you get a grip on how to do it (sorry, pun intended).
How Do They Shoot?
I shot both guns at my backyard range, at 7 yards.
Let's face it — these are tiny backup guns meant for bad-breath distances, so trying it any further is not necessary.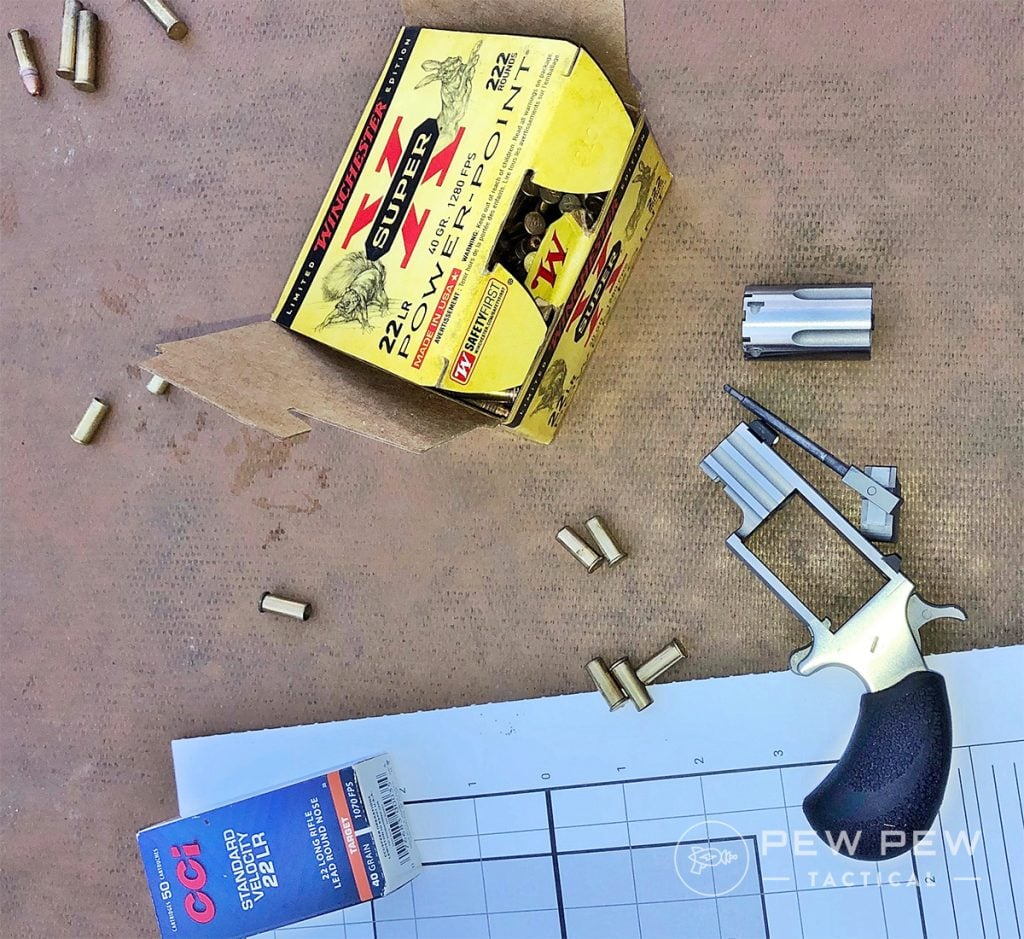 I shot two CCI loads, .22 LR 36-grain HP MiniMag and .22 Magum 40-grain MaxiMag. I also fired Winchester 36-grain HP, some Aguila, and a few Norma rounds. They all shot fairly well.
It should be stated that NAA has a few suggestions about ammo, so consult the owner's manual before stocking up.
I shot CCI loads in both guns since that was the only .22 Magnum ammo I had, and I bought the LR specifically to try in these little guys.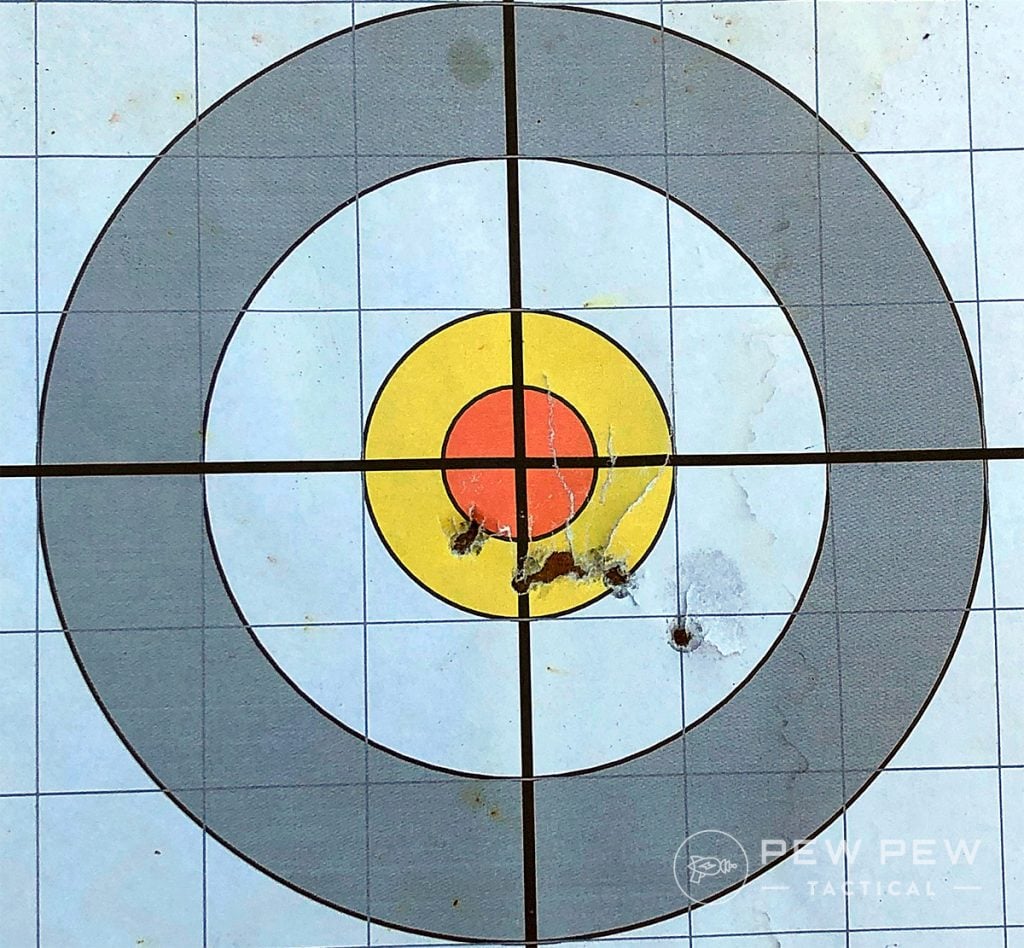 I had a few failures to fire. I was not concerned about that, as I only tried a few brands of ammo, but I had to list this as a "con" above, even though rimfire can be notoriously finicky.
If I were to carry this revolver seriously, I would experiment with several loads to determine which was the most reliable and accurate.
The Pug exhibited a tendency to keyhole some shots, but accuracy was very good overall — it was similar to the Black Widow target above.
I talked to a company representative about the keyholing, and she said that it happens from time to time due to the very short 1-inch barrel.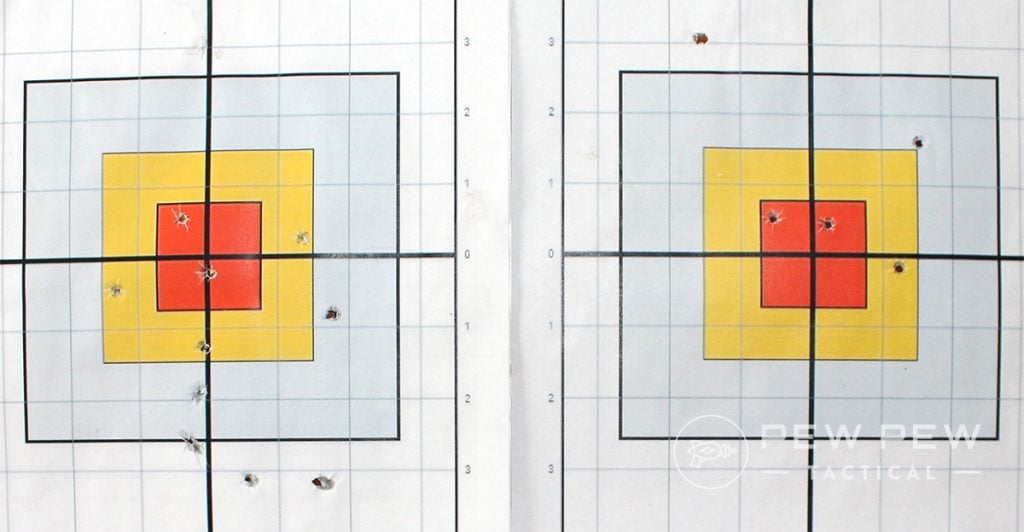 A .22 bullet going almost 1,000 fps will still get a bad guy's attention, even if it hits sideways.
Experimentation with other types of ammo would likely yield results that would undoubtedly be different than mine.
The 1-inch barrel of the Pug made it a bit more difficult to shoot accurately, and there's only so much grip to grab hold of. But once you get used to holding it, you might like it.
Just make darn sure that you keep all body parts behind the muzzle, as it's easy to have a finger or thumb next to it. You will likely have to modify your grip if you use a "thumbs forward" style.
Mini Revolver Ballistics
I imagine you are wondering about the velocity on a .22 with a 1 or 2-inch barrel. Luckily, NAA has a full set of ballistic tables for various models.

The LR load averages 865 FPS between two guns. That's about 60 ft/lbs of energy, which compares very closely with the .25 ACP and is about half the energy of a .32 ACP.

In terms of the magnum load, we see that it produces 988 fps between two guns. That equals 87 ft/lbs of muzzle energy, matching that of the .32 S&W.
If you own one of these revolvers, you might consider finding a magnum load that works reliably and shoots close to point of aim. You can always slip the LR cylinder in for some cheaper practice.
What Sets NAA Revolvers Apart?
The NAA mini-revolver line is unique in the industry.
I did a search for .22 mini-revolvers, and every hit that came back was NAA. They have literally zero competition that I could find for a 5-shot revolver that fits in a belt buckle.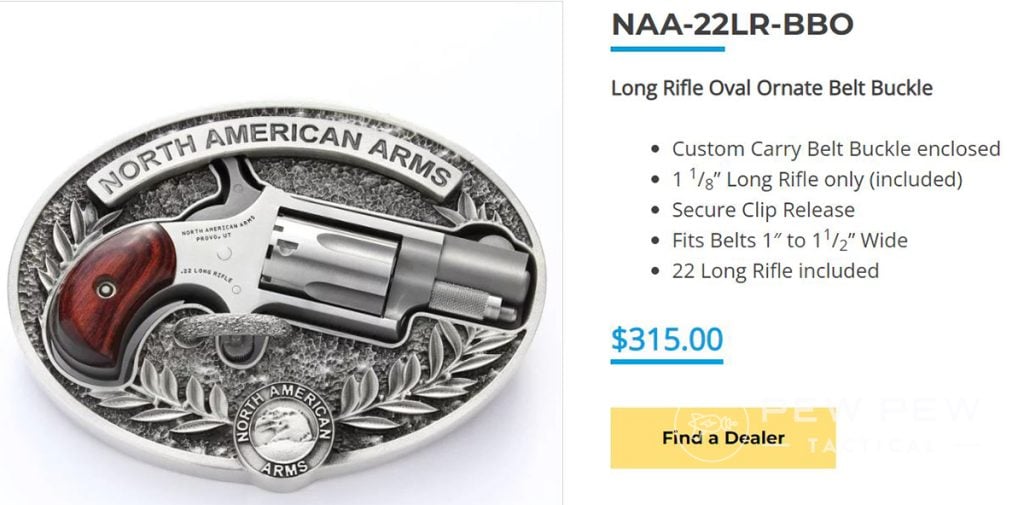 The only thing I could think of that was even close was the Bond Arms line of two-shot "derringers" (perenially misspelled).
They are larger than the NAAs and weigh more, but they still make for solid pocket pistols.
By the Numbers
Reliability: 3/5
The guns failed to fire a few times, and the Pug had some issues with keyholing.
Ergonomics: 5/5
These guns fit well in the hand for their size, especially the Black Widow.
Accuracy: 4.5/5
For what they are, they have really good accuracy.
Customization: 3.5/5
There are a ton of grips, holsters, and accessories out there.
Value: 4/5
For a street price of around $350 each, you can have a revolver that fits in a pocket (or even two of 'em).
Overall: 3/5
Upgrades
If you want to pack your NAA mini, there are options from DeSantis.
I was impressed by the quality of all three holsters — these are not cheap knock-offs; they are the real deal.
Black Widow Pocket Holster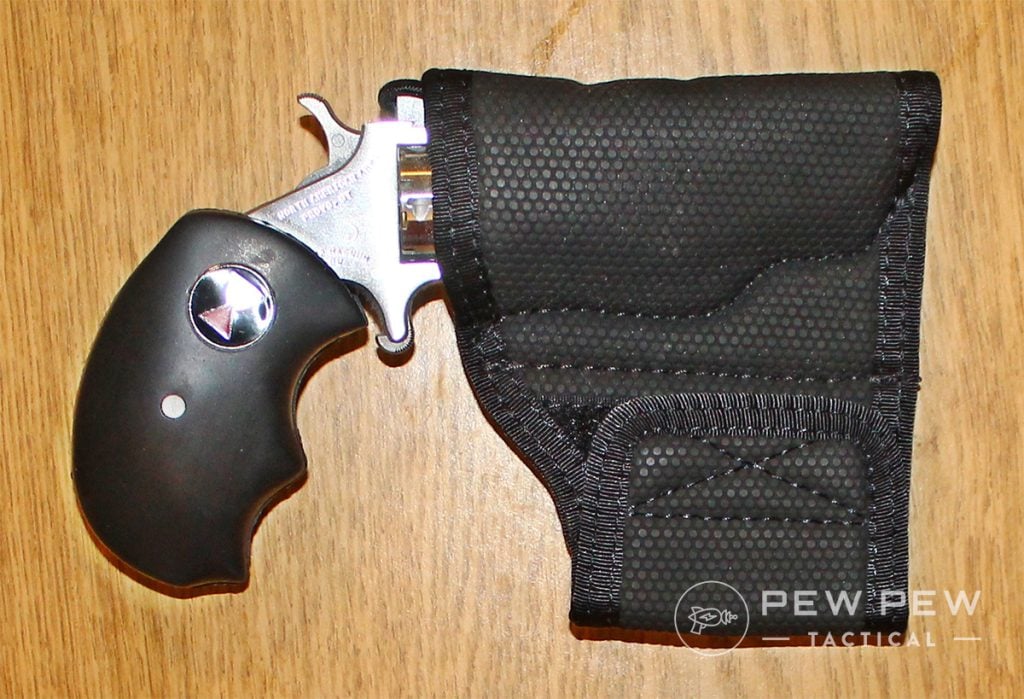 The DeSantis Pocket Pug Holster works well and does what it's supposed to — keeping the gun upright and safe.
There's a loop to go over the hammer if you desire (a feature also on the basket weave model). Not bad for under $35.
33
at Amazon
Prices accurate at time of writing
Prices accurate at time of writing
Pug IWB Holster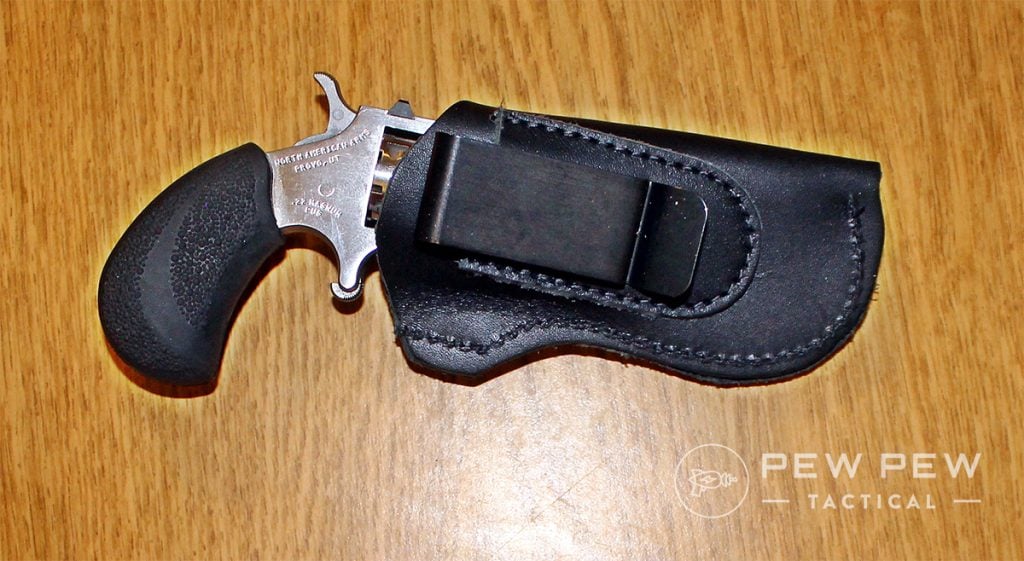 If you are the IWB person, here's a holster right up your alley. It's made for the Pug and comes complete with a belt clip.
38
at OpticsPlanet
Prices accurate at time of writing
Prices accurate at time of writing
Final Thoughts
Are you one who gets a bit tired of strapping on a holster every day? Ever want a minimalist gun that wouldn't be out of place when you're running or wearing shorts?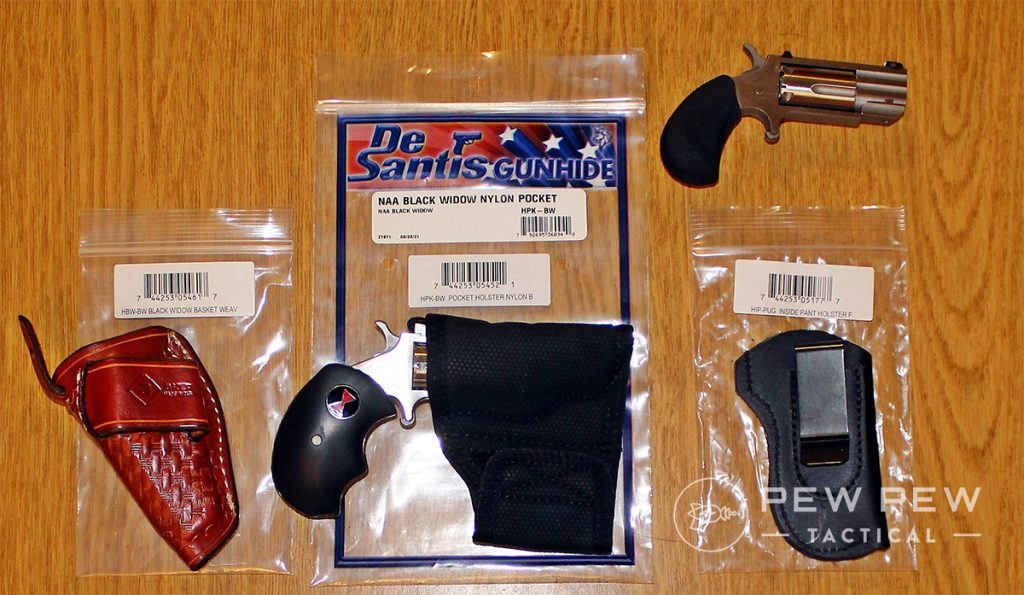 I understand that a .22 rimfire is not ideal for a concealed-carry caliber, but if you answered "yes" to any of the above questions, you might want to try one of these guys.
341
at Kygunco
Prices accurate at time of writing
Prices accurate at time of writing
They would not be my go-to for concealed carry, but as a pocket backup to my Hellcat or Ruger LCP Max, they make a lot of sense. They also work if you have to go outside and do chores but want a little something with you.
307
at Kygunco
Prices accurate at time of writing
Prices accurate at time of writing
What do you think of the NAA mini-revolvers? Let us know in the comments below. Like .22 LR pistols, but want something a tad bigger? Check out our guide to the Best .22 LR Pistols & Revolvers for Pocket Carry!