Keeping first aid gear on hand is one of the most important steps you can take to ensure that your family is as safe as possible.
The problem is that it can be hard to find a quality bag that actually has the gear that you need to take care of day-to-day problems and keep people alive in the case of serious emergencies.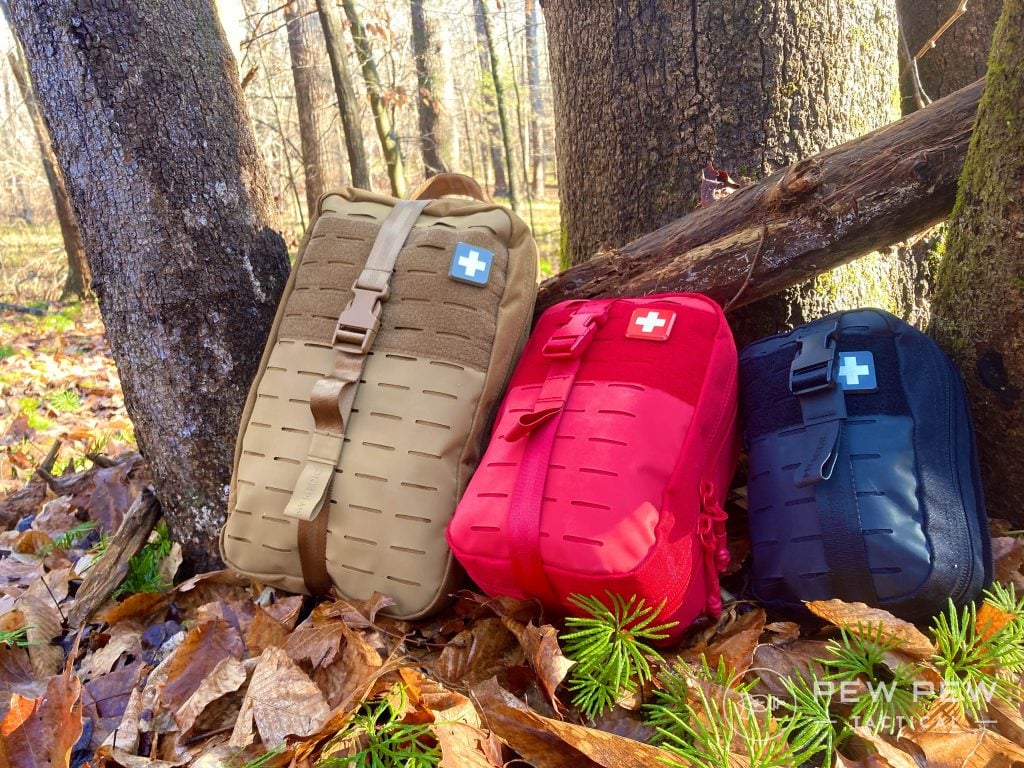 We here at Pew Pew Tactical checked out three different IFAK kits from MyMedic to see if they could help you to better protect the loved ones around you.
So keep reading as we detail what's in each bag and whether they are worth your money.
Summary of Our Top Picks
Best Kit for EDC

Got all the basics you need for an everyday carry first aid kit

Best Car Kit

Stocked with lots of items you'd need out of a car pack, good value for what you get

Best for Home

Pro kit is stocked with lots of extras in a large, roomy bag that make it perfect for a home setting
Table of Contents
Loading...
What We Tested
The three IFAKs we analyzed were the MyFAK Mini Pro, the MyFAK Pro, and the MyFAK Large from MyMedic.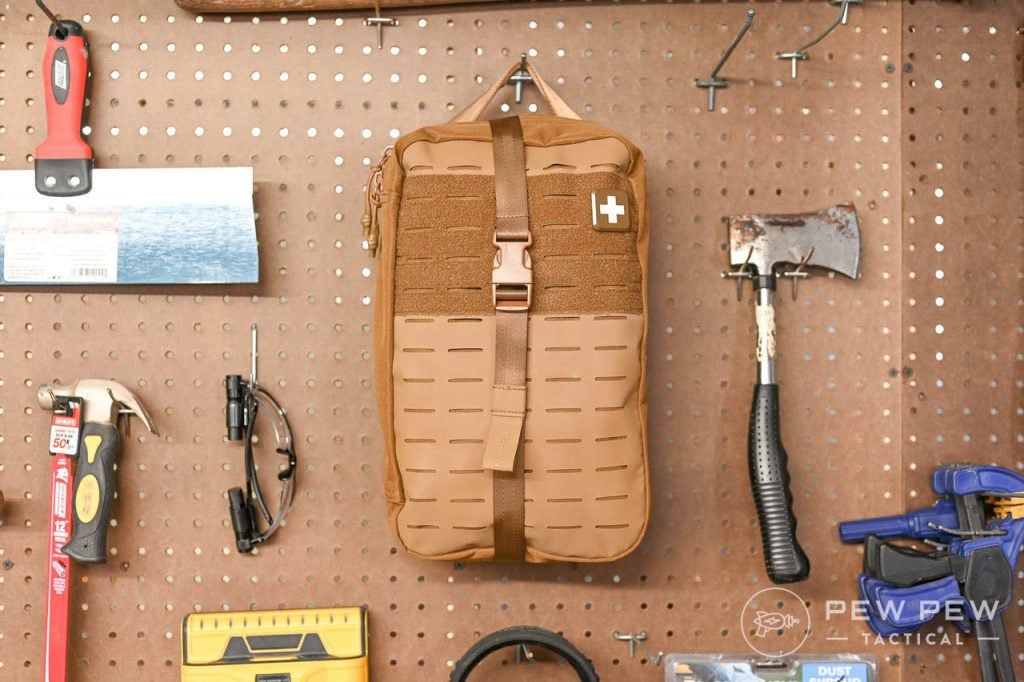 All of the MyFAK bags offer similar features, and they're some pretty cool ones.
Each bag has MOLLE webbing on both the front and the rear of the bag, making it incredibly convenient to attach these to any existing MOLLE rigs.
Tear-away back panels mean you don't have to fumble through the gear while it's still attached to your person or take off your belt and chest rig to access everything.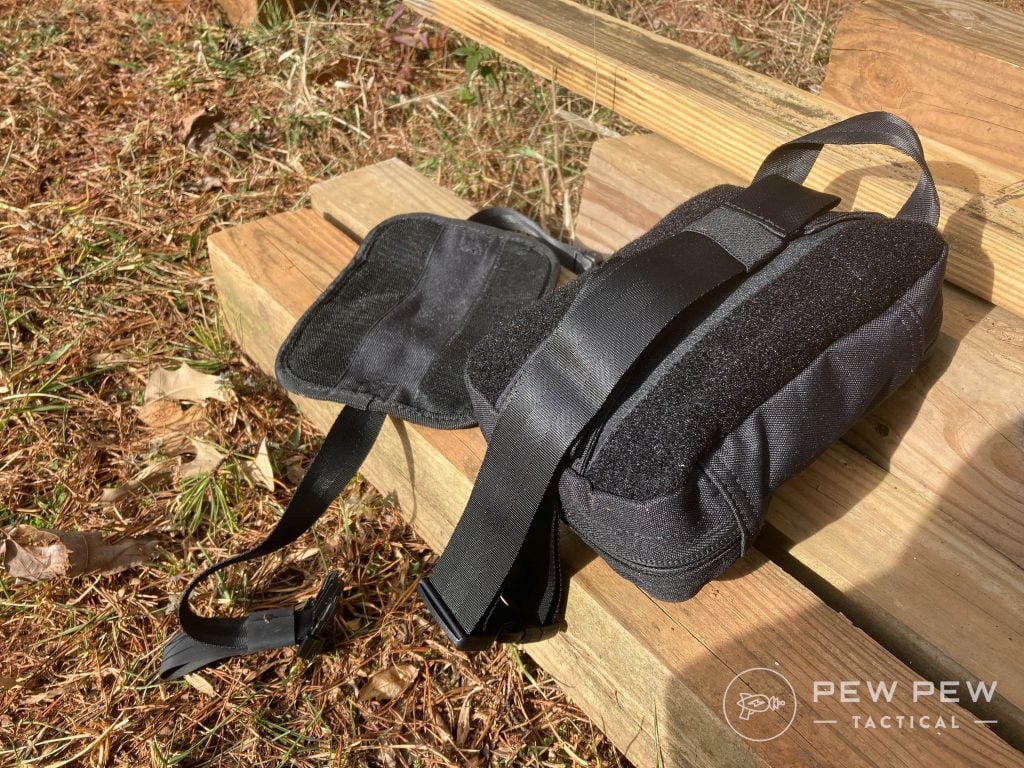 All you have to do is grab the front of the bag and pull. The MOLLE attachment point will stay attached to your belt, but Velcro backing will allow you to completely separate the bag so that you can lay it on the ground, open it up, and start treating the injury as quickly as possible.
A number of pockets are also present, all of which are see-through for easy item identification.
It's a great design across the board. But what about the guts?
MyFAK Mini Pro: Best Kit for EDC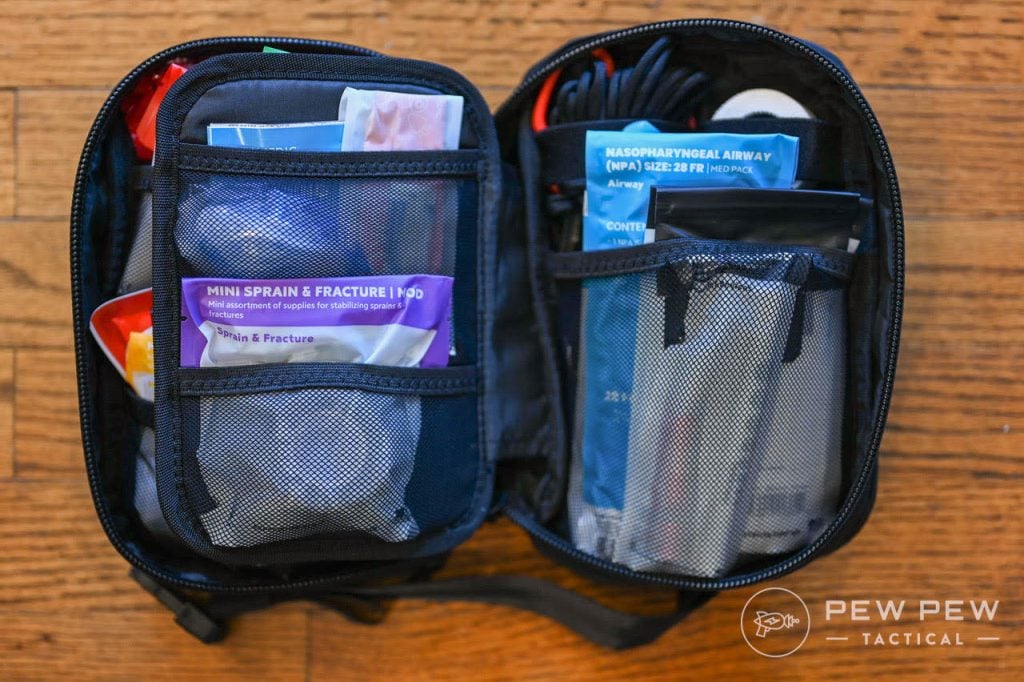 Given the increasing number of crazy events that keep happening in the modern world, I think carrying a med kit with you every time you leave the house only makes sense.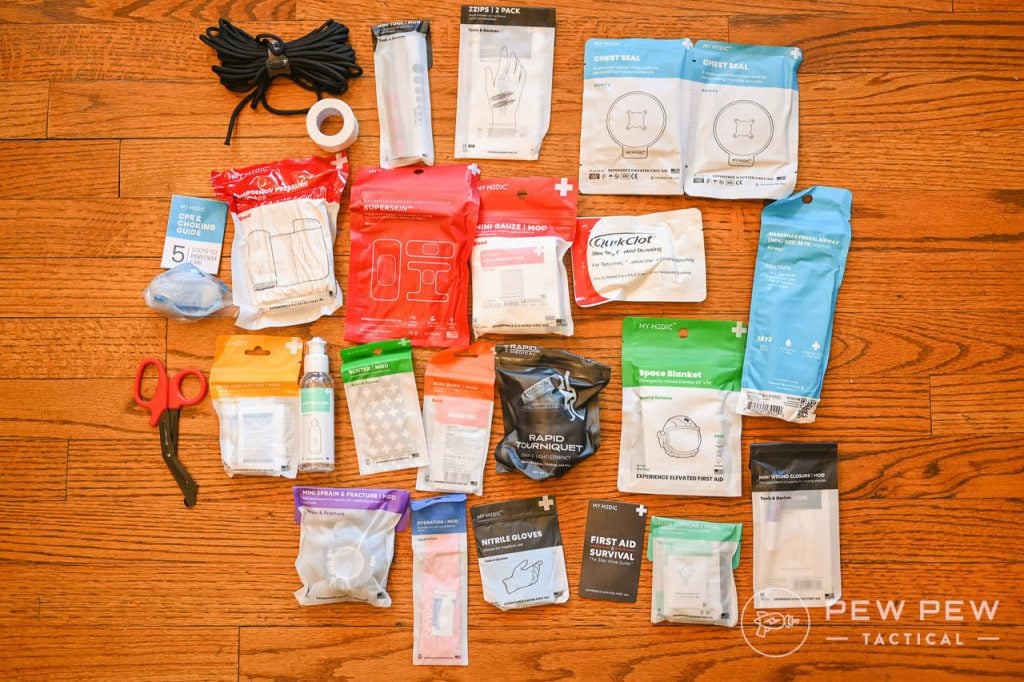 But if you're going to make that effort, you want to ensure that you're carrying a quality kit. And for that, I found the MyFAK Mini Pro to be an excellent choice.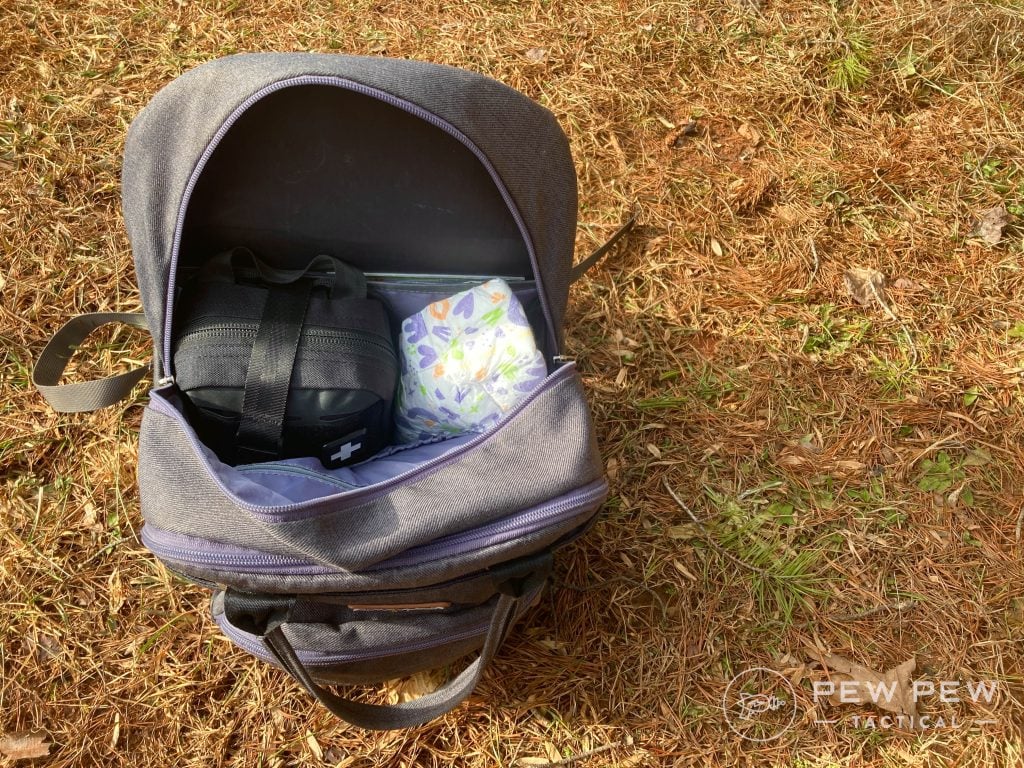 This isn't something you'll be able to stuff into a pocket, but it does fit perfectly into a bag.
Whether you regularly carry a backpack, purse, or diaper bag around town, this bag will fit inside, giving you plenty of ability to deal with a wide array of medical issues without having to run back to your car to get your medical kit.
Best Kit for EDC
224
at MyMedic
Prices accurate at time of writing
Prices accurate at time of writing
MyFAK Pro: Best Car Kit
The MyFAK Pro is the flagship product of MyMedic.
It's an incredibly well-stocked medical kit that is a convenient size, carries gear that will help you save a life, and address a wide variety of medical issues.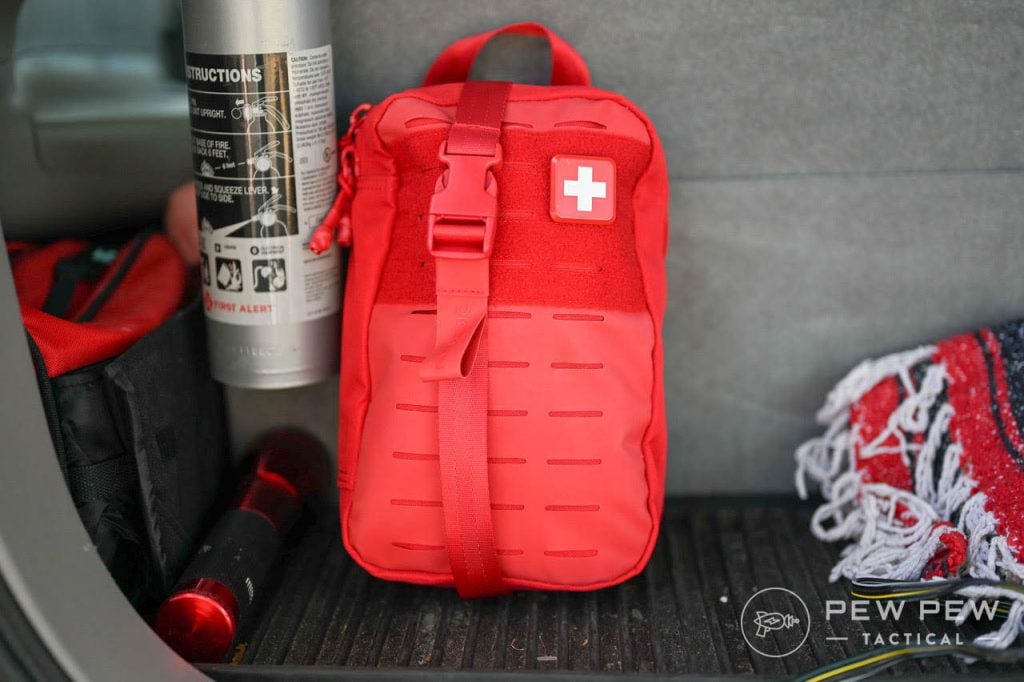 Of all the bags, this one was my favorite, and I think it makes for one of the best car first aid kits out there.
If you find yourself torn between picking either the MyFAK Mini Pro or the MyFAK Pro, here are the things that the MyFAK Pro has that the Mini Pro does not:
1 4×4" Burnshield dressing
1 glucose gel
1 compressed gauze
2 sting relief wipes
1 iodine prep pad
1 ammonia towelette
1 NPA 20 Airway Medpak
1 small cold pack
1 triangle bandage
1 2" elastic bandage
2 3×4" non-adherent pads
1 1×3" bandage 30-pack
Think about the number of injuries this allows you to treat.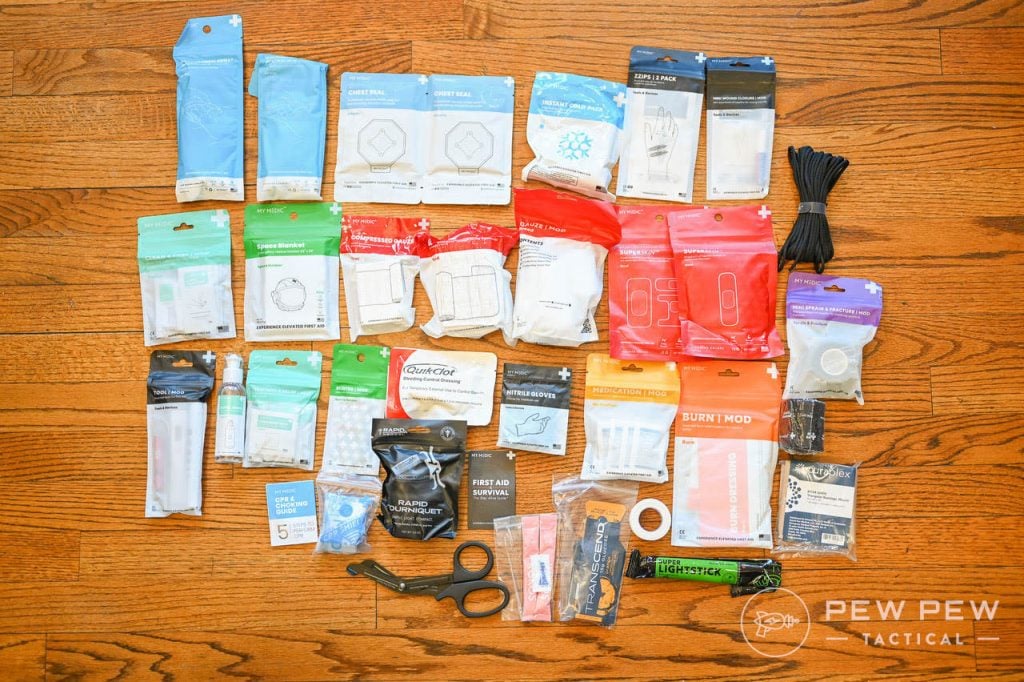 Of all these, I was most excited about the burn dressing, the glucose gel, the cold pack, and the airways.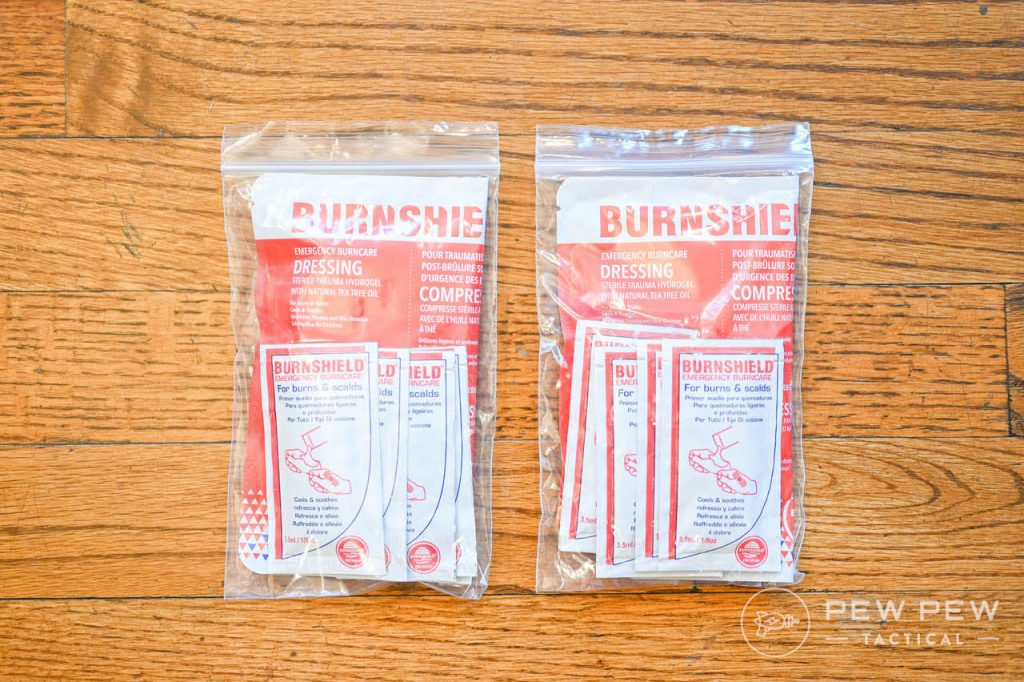 Glucose gel is vital if you spend a lot of time around diabetics, and it's something I've had to use numerous times with friends.
If you regularly find yourself on the local bike/hiking trail, sooner or later, you'll come across somebody with diabetes who has low blood sugar. That little gel pack could easily save a life.
Cold packs are great for the Tim Taylor's in your life. Or, you know, if you're the Tim Taylor.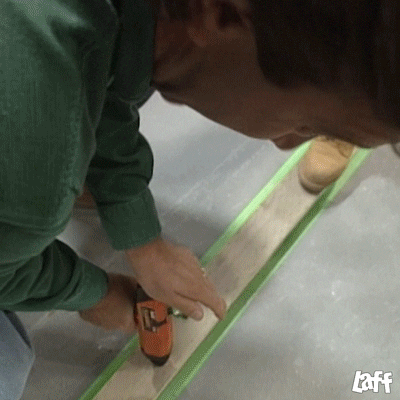 Best Car Kit
299
at MyMedic
Prices accurate at time of writing
Prices accurate at time of writing
MyFAK Large: Best Home Kit
The MyFAK Large was, shockingly, the largest of the three bags I reviewed and is easily the most well-organized of the trio.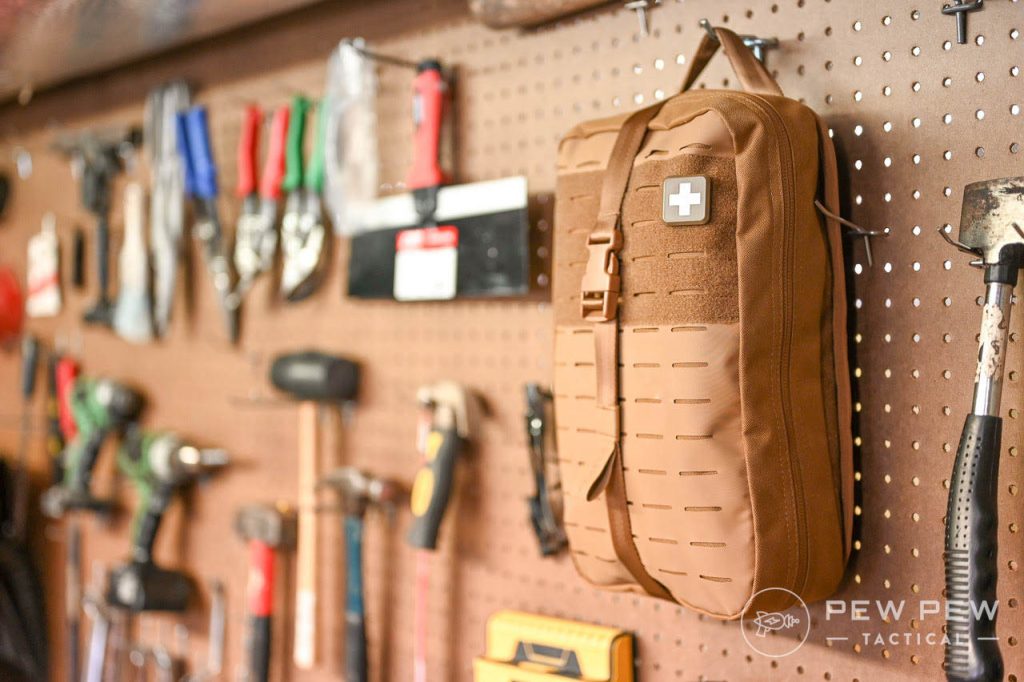 Opening up the kit and finding exactly what you're looking for as fast as possible is easier with this bag than with any of the others. Not that the others make this process difficult, but the sheer size of this bag aids in the process.
If you get the MyFAK Large, I think you will want to spend the extra money to invest in the Pro version, which includes extra gear to help with serious trauma situations.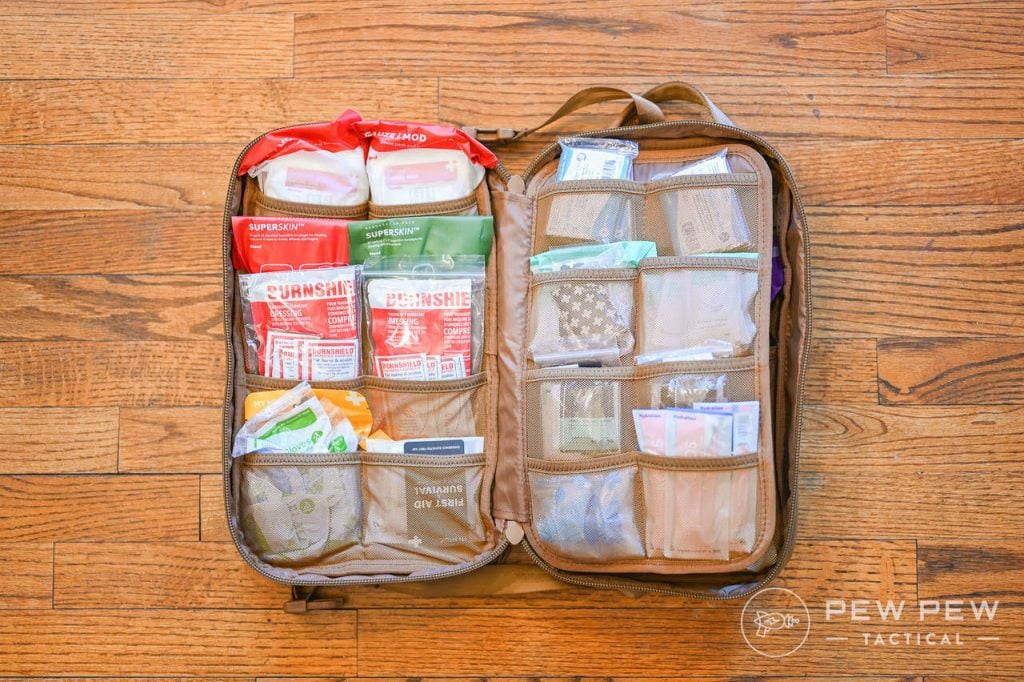 Here's a list of items included in the MyFAK Pro that are missing from the regular MyFak Large:
Tourniquet
Mini emergency pressure bandage
QuickClot gauze
Compressed gauze
Paracord
Lightstick
Glucose gel
Chest seals
NPA 28
NPA 20
Zzips
As you can see, there is quite a bit missing if you don't opt for the Pro version. While the standard Large didn't have any products that the MyFAK Pro did not, it did have more sets of that gear.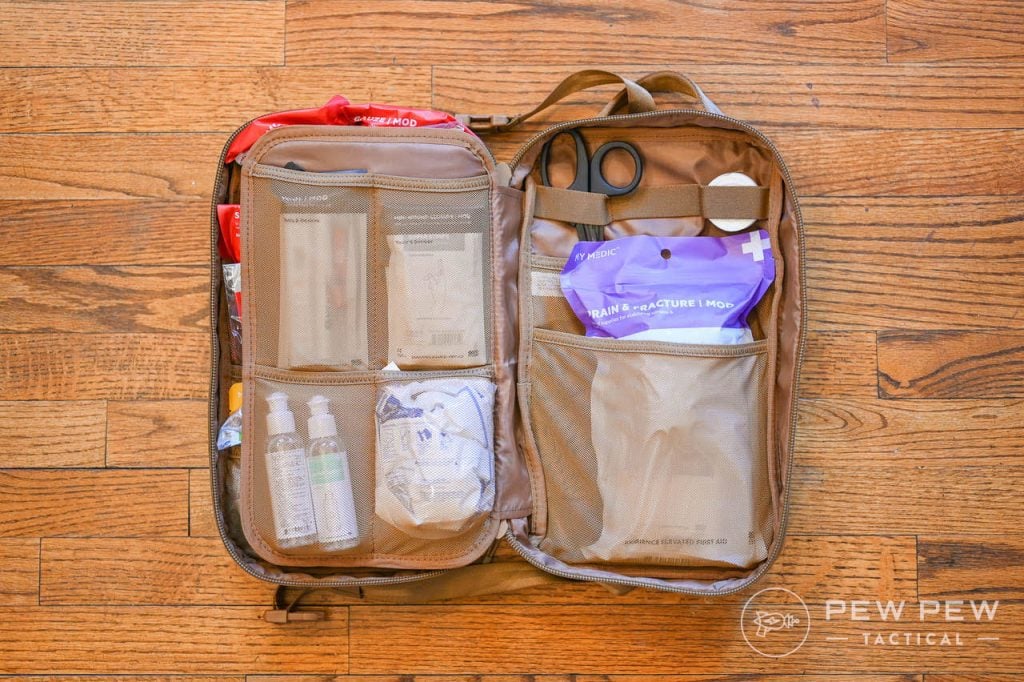 For example, while the MyFAK Pro has a cold pack, the MyFAK Large has two cold packs.
This leads me to believe that this kit would best serve you when placed with your other medical gear in your home.
For minor bumps, cuts, abrasions, and burns, the MyFAK Large works great. If you're talking about walking upon the aftermath of a farming accident, you're going to want something else.
Best for Home
399
at MyMedic
Prices accurate at time of writing
Prices accurate at time of writing
What do you think of the MyMedic MyFAK Large Pro? Rate it below!
Downsides
The only real complaint I have about the Pro kits is the tourniquet. The more I learn about tourniquets, the more I like the design of CAT tourniquets. What you find inside the Pro kits, instead, is a RATS tourniquet.
These style tourniquets are very difficult to apply one-handed and don't seem to offer as good of blood loss control.
EDITOR'S PICK
29
at LAPG
Prices accurate at time of writing
Prices accurate at time of writing
I get why the RATS was included — they're much more packable than a CATS tourniquet, and space is at a premium in these bags.
But, if I did have to pick something here that I wasn't 100% a fan of (and I do have to look hard here to find that), this would be it.
Which Kit Is Right For Me?
Out of the three bags I reviewed, I have no qualms about saying that the MyFAK Pro is the best.
It's small enough that it's convenient to keep close at hand and allows you to treat the greatest number of medical issues out of the three bags I reviewed.
299
at MyMedic
Prices accurate at time of writing
Prices accurate at time of writing
Not only does it have the lifesaving gear the MyFAK Mini Pro does, but it has additional lifesaving gear included within it as well.
If you're going to carry medical kits with you and strategically position them throughout your life, then you will want to make sure that they can serve as a first responder-style bag to some measure.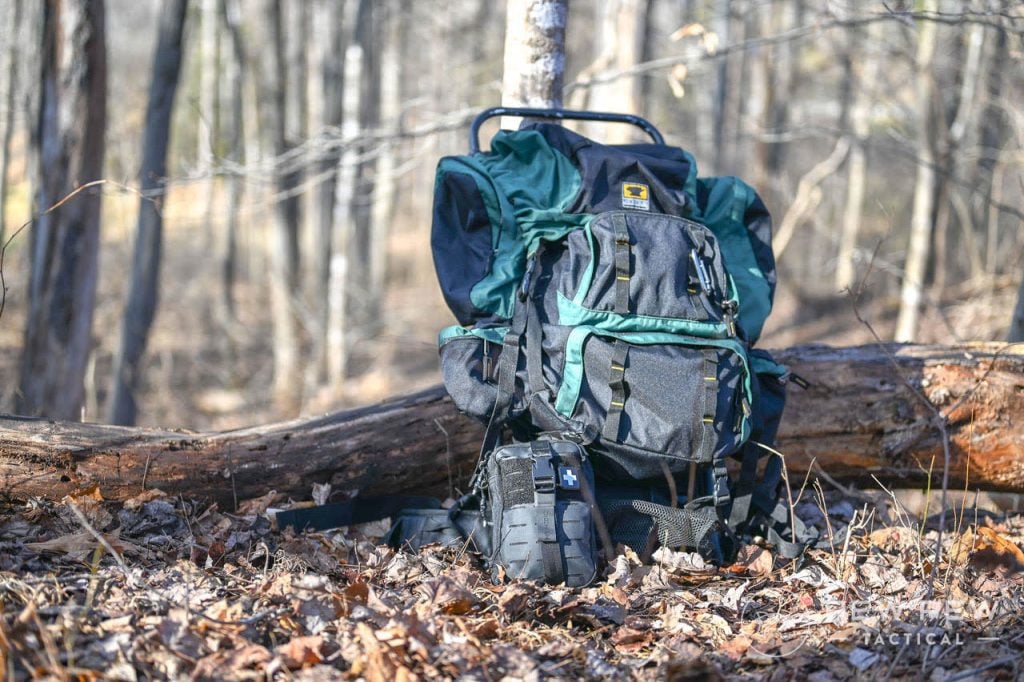 The ability to stop somebody from bleeding to death is a very practical thing to have equipment for. (You can delve further into this subject with this article here.)
The MyFAK Mini Pro and the MyFAK Pro can help you do this.
I highly recommend putting a MyFAK Pro in each of your family's vehicles and a MyFAK Mini Pro in each family member's EDC bag, purse, and diaper bag.
224
at MyMedic
Prices accurate at time of writing
Prices accurate at time of writing
If you think that the kits are bulkier than what you desire to carry, then at the very least, I would encourage you to check out the EDC kits MyMedic offers.
Secondly, I recommend becoming familiar with how you have the inside of your bags laid out.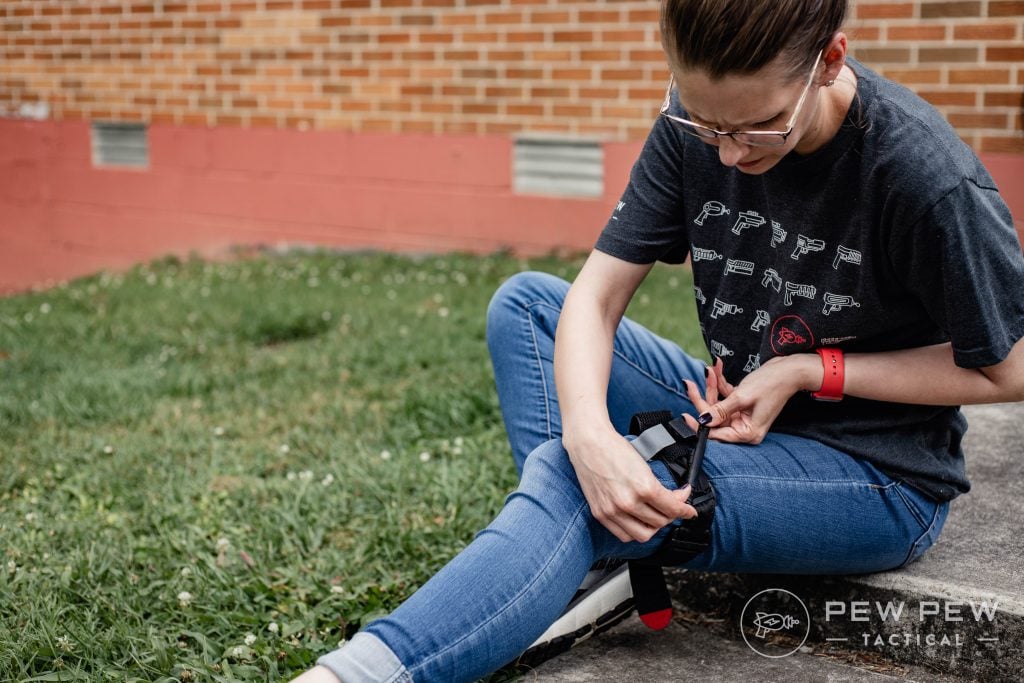 If you are, you'll be able to render aid much faster than if you have to dump out the entire bag to find what you need.
Lastly, I highly recommend getting some degree of medical training.
PPT Editor-in-Chief Jacki listed some of the best medical courses out there, and I highly recommend getting yourself signed up for one.
Final Thoughts
MyMedic makes some fantastic kits, and the MyFAK line is no exception.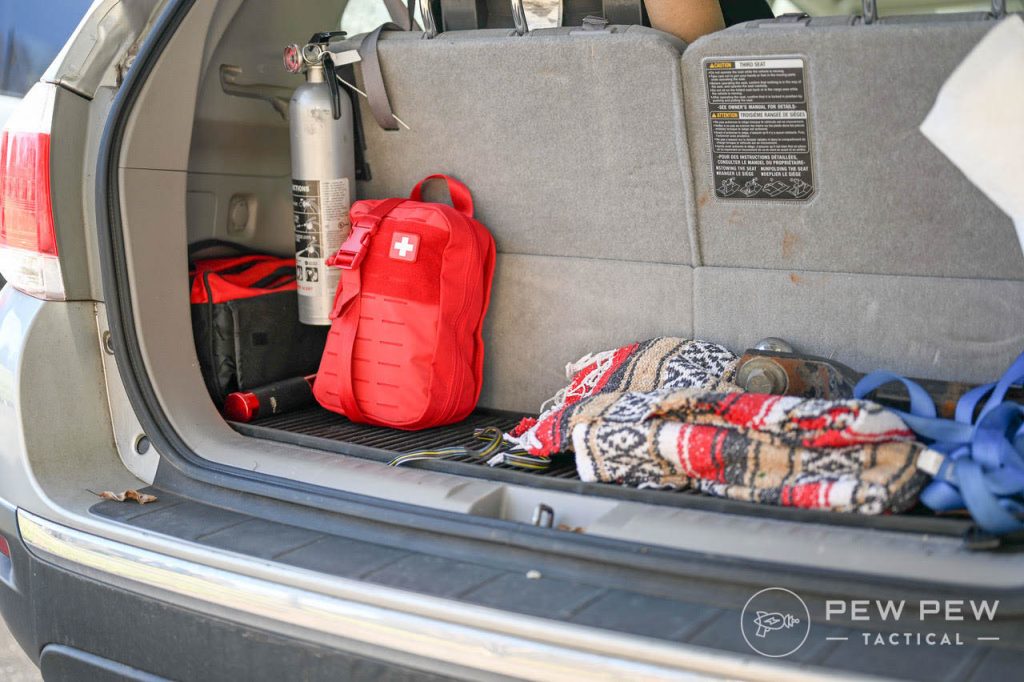 Whether you're looking for something for the scrapes and bruises at the playground, car accidents, or for responding to potential combat-related trauma, MyMedic can help you to be better prepared.
What do you think? Let us know in the comment section below. Interested in carrying a medical kit on you daily? Check out our guide on EDC Medical Kit: List & Carriers!