I have a few favorite action flicks…I love Aliens, Terminator 1 and 2, and of course, Predator.
Predator was one of my favorite, ultra-violent VHS flicks that my parents didn't seem to care that I was watching.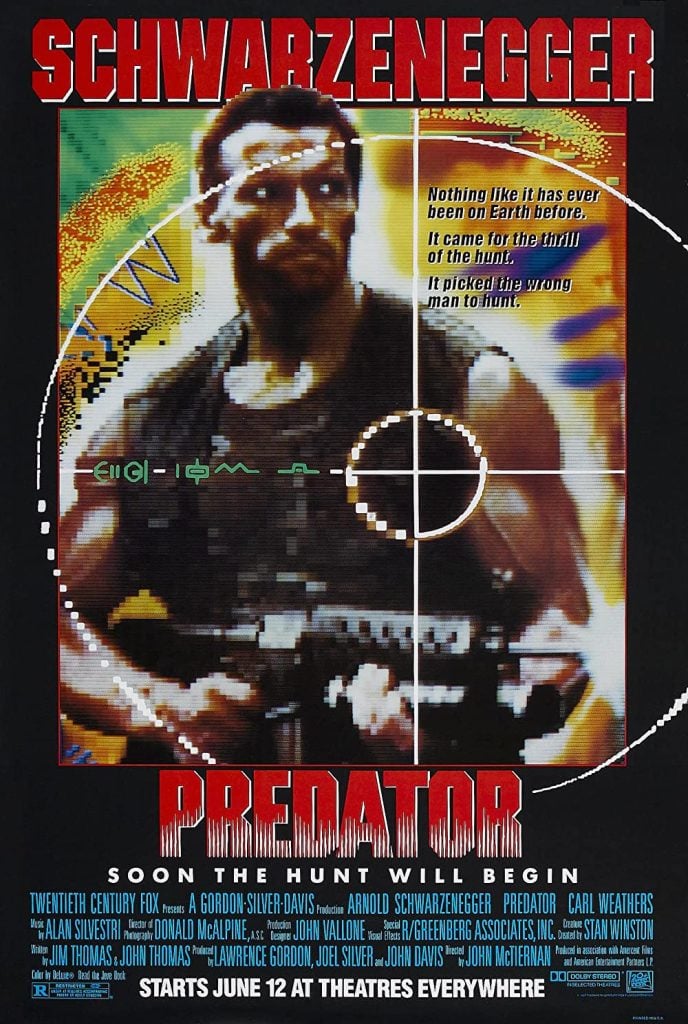 It's chock-full of awesome guns, including Ole Painless, the M60, MP5, and the subject of today's article…Billy's rifle.
Or should I say Billy's rifle and shotgun?
Predators Become Prey
Predator is an unashamed action flick. Well, in the beginning, anyway.
What I love about the film is that it's really two different films.
The first third or so sees a CIA team made up of Arnold Schwarzenegger, Carl Weathers, Bill Duke, Jesse Ventura, Sonny Landham, and more on a rescue mission in the jungle.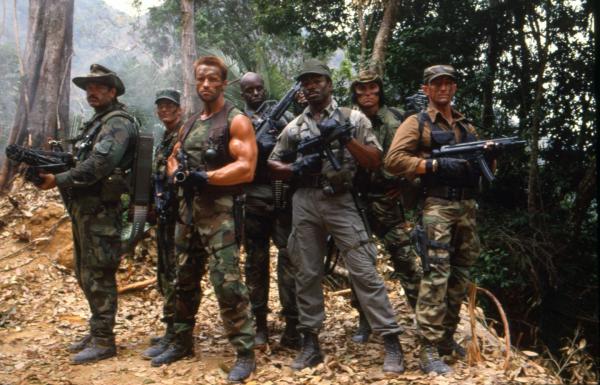 This portion of the film offers big guns, bulging biceps, and the best guns the 1980s had to offer.
The team finds slain comrades and get their vengeance on an insurgent camp complete with Soviet advisors.
Around this time, the movie switches and the tone goes from "look at these invincible badasses who can take anyone on" to getting picked off one by one. The film shifts to a thriller with horror elements as the commandos face off with an otherworldly hunter.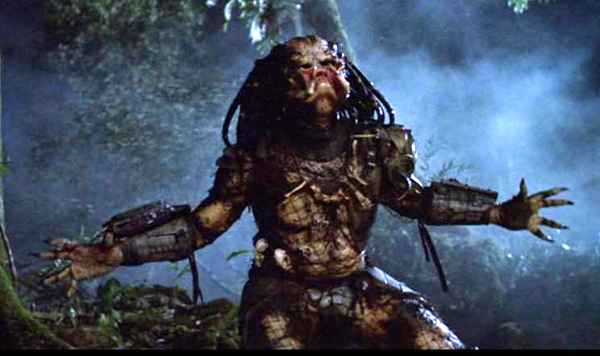 They wield some fearsome weaponry, but it never seems like it's enough to take on this invisible, alien hunter.
My favorite character was always Billy. He was the scout, tracker, and reportedly "Ain't afraid of no man."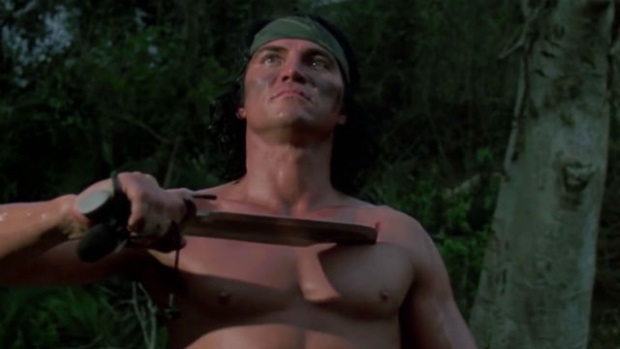 There's Something In Those Trees
Billy and Dutch both wield M16 lookalikes in the form of Colt SP1 rifles.
The Colt SP1 was the first commercial production of the AR-15 and predated the replacement of the M14 by quite a few years.
The SP1 rifles in the film are slab-side AR-15s, which means they lack a forward assist and have a very small brass deflector.

These early rifles have M16A1 birdcage flash hiders, and Billy's features polymer handguards, fixed iron sights, a full-length stock, an under-mounted shotgun.
The use of full-length rifles is interesting. Surely as commandos in the jungle, they would know the benefits of the shorter, lighter CAR 15 rifles.
That said, it's tough to mount a shotgun under the shorter barrel of the CAR 15. Plus, this movie is all about big dudes with big guns.
Unlike a lot of modern AR-15s, the SP1 rifles were quite light (7-ish pounds) and very handy little rifles.
Obviously, what sets Billy's rifle apart is the presence of an under-barrel shotgun, specifically a Mossberg 500. Why they used a Mossberg, I have no idea.
The tang safety is placed in a tough-to-reach location.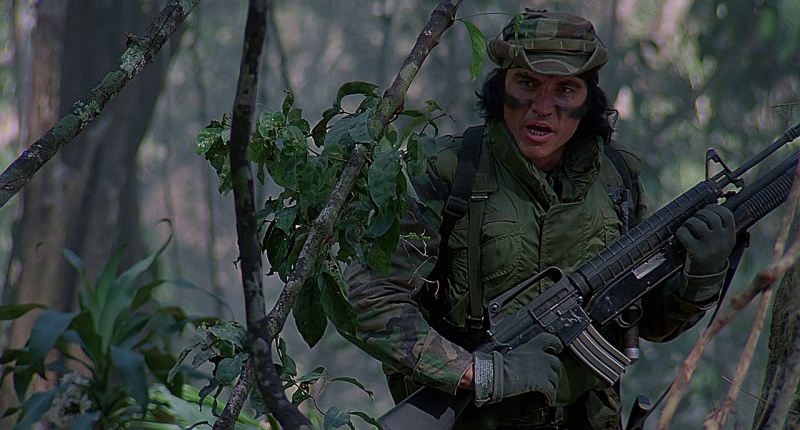 This pump-action addition seems to have an 18.5-inch barrel, and it protrudes a good deal further than the barrel of the SP-1.
It has Masterkey vibes, but it's the Dollar Store brand of the Masterkey. What we get is a weird, heavily unbalanced weapon with a shotgun that is almost impossible to utilize comfortably.
The Jungle
So does Billy use his weapon effectively and realistically? Yes and no. Clearly, these guys are efficient as they chew through a guerilla camp with style.
They dominate this firefight, but well, it seems like they didn't get much firearms training — everyone just fires from the hip…sometimes at full auto. Billy does the same with his SP1.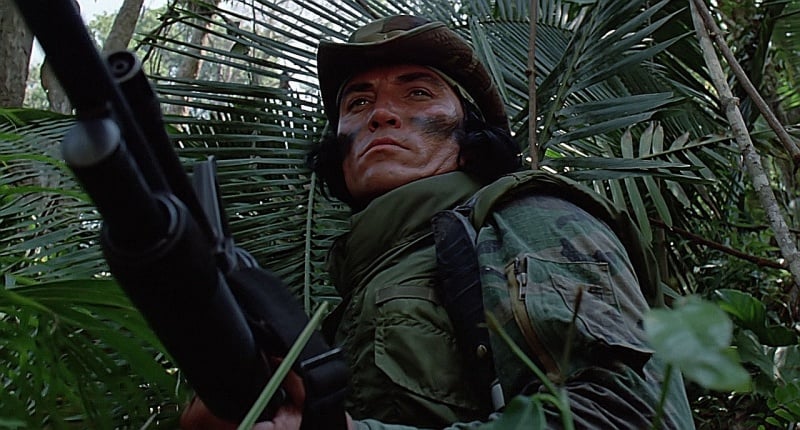 None of the gun handling in this film goes beyond what you'd expect from a pulpy action movie.
Hell, in one scene, we see a character shooting an MP5 with one hand and a grenade launcher with another. Billy blazes away.
He does seem to use his shotgun twice…maybe. When they fire into the jungle randomly, Billy apparently fires a load from his shotgun if you watch closely.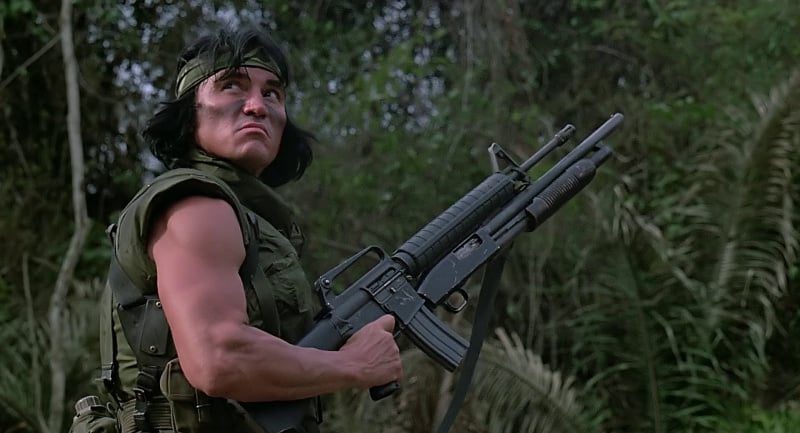 An under-barrel shotgun makes a lot more sense for breaching than fighting, and the gun really has no place in the jungle…but it is cool.
This is part of a weekly series on Pew Pew Tactical dedicated to the guns of TV and film. If you'd like more of this content, drop us a comment below. In the meantime, check out last week's pop culture dive with "RoboCop" & the Auto 9.