I grew up consuming media without much adult supervision. We had stacks and stacks of VHS tapes, and I cruised through a ton of 80s, and 90s action flicks as a child.
One of my favorites action flicks of this time was RoboCop.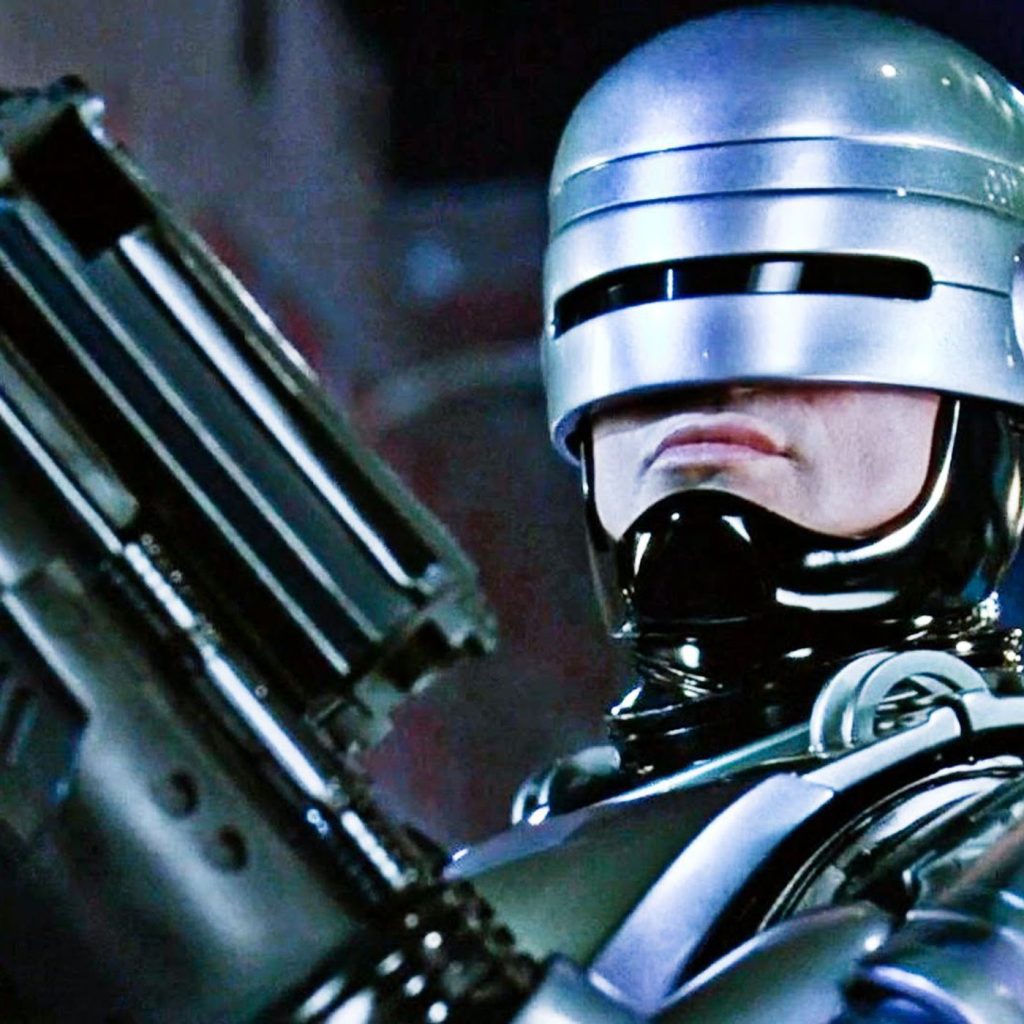 RoboCop was a hyper-violent film series starring a police officer who is brutally gunned down but brought back to life as a cyborg who enforces the law!
The films are pure cyberpunk-style dystopia with large corporations, corrupt government, and violent criminals.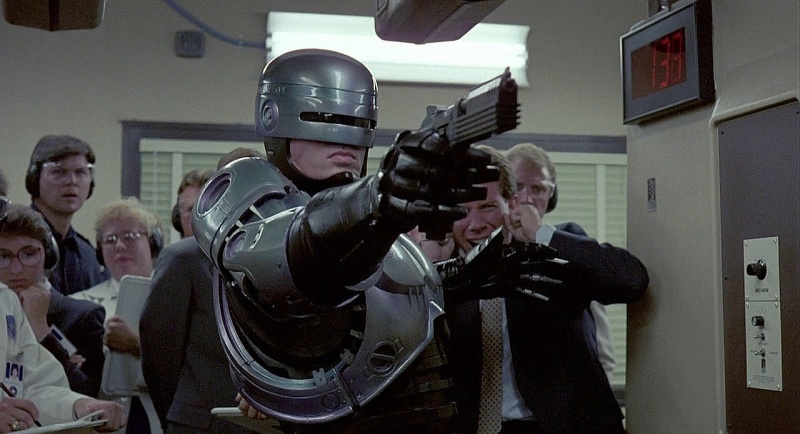 A big part of RoboCop was the Auto 9. The Auto served as RoboCop's sidearm of choice and was a very distinct "hero" gun. 
So let's dive into the Auto 9 and RoboCop a little further…
I'd Buy That For a Dollar.
RoboCop is a sci-fi filmed through the lens of the filmmakers coming out of the late 1970s and the 1980s.
This period was a violent time in the United States, and our view of the future was grim.
So it's no surprise this film takes place in a near-future Detroit plagued by violent criminals and an overwhelmed police force.
Since the police can't get the job done, the Omni Corporation reaches an agreement with the city to run the police force. 
Thus, a project to produce robotic police forces begins…including the famed ED-209.
However, they settle on a combination of recently slain police officer Alex Murphy and robotics to produce the law enforcing cyborg known as RoboCop!
Though the film series takes place in the near future, we don't see many high-tech blasters — it's all about pump shotguns, Uzis, and MACs.
RoboCop has his famed Auto 9 series handgun while bad guy goon Boddicker carries a futuristic Desert Eagle and later wields the Cobra Assault Cannon made from a Barrett M82.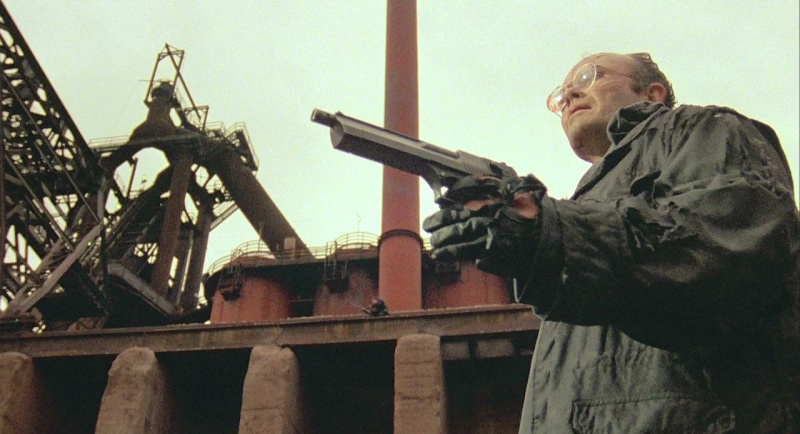 The Future of Duty Sidearms?
The Auto 9 is RoboCop's massive machine pistol that he wields extremely well.
Through the power of robotics and technology, he can often handle it one-handed and even shoot it accurately without visually aiming.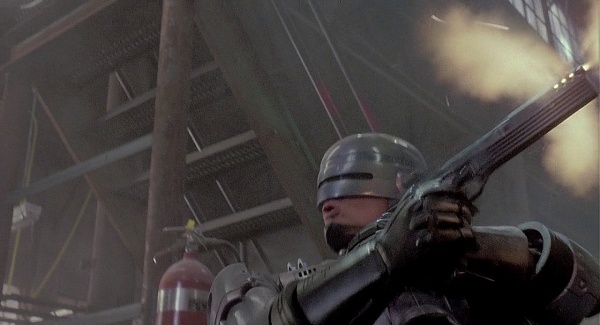 In real life, the Auto 9 is a Beretta 93R dressed to the nines.
The front half looks futuristic, but if you look at the rear of the gun, it's clearly a Beretta. The massive trigger guard signifies it's a 93R and not a converted 92 series.
In real life, the Beretta 93R made a machine pistol out of the 92 series, firing in semi-auto or in 3-shot bursts.
Beretta pictured the gun being used by close protection specialists who needed something with more firepower than a handgun but with similar concealability.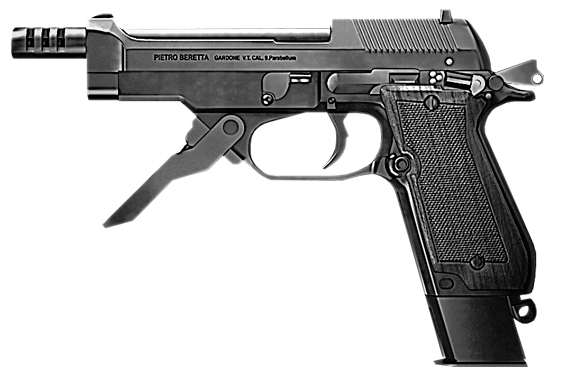 Like most machine pistols, it was found to be unwieldy…at least by mere mortals! RoboCop wields it like an absolute champ, though.
I'll give credit to the prop and armory guys. They made the Auto 9 both cool and practical, at least as far as sci-fi props go.
On the front, they added a big compensator and barrel shroud, but remembered to include a front sight on a vent rib. To keep it practical, they enlarged the rear sight. The grip was also extended.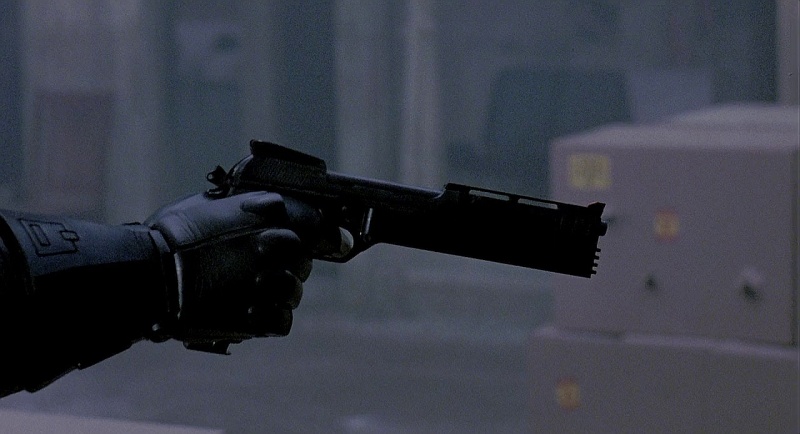 In general, the gun was huge.
Fun fact: RoboCop was originally set to wield a Desert Eagle, but the director found it too small. (I've never heard a Desert Eagle described as small…)
849
at Palmetto State Armory
Prices accurate at time of writing
Prices accurate at time of writing
The Auto 9
RoboCop absolutely chews through bad guys with the Auto 9. He controls the gun as it fires its three-round bursts with a single hand and never seems to miss.
Heck, his computer parts mean he doesn't even need to aim.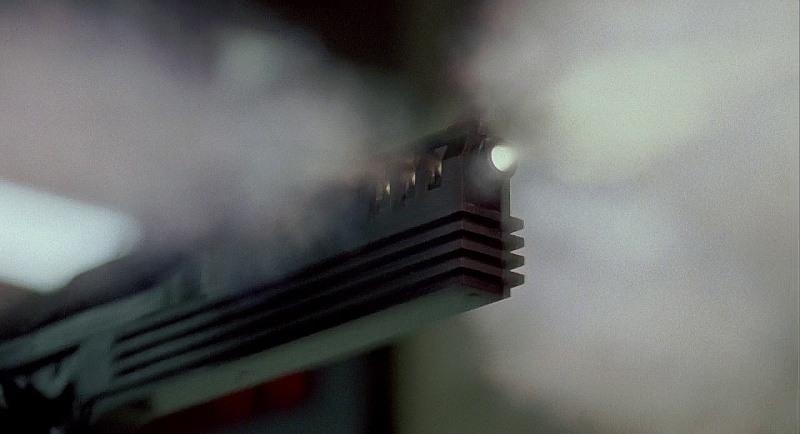 The compensator delivers an extremely bright muzzle flash that's incredibly distinctive and gives the gun its trademark look as it fires.
It certainly looks rad, but for many of us, it would likely cause issues shooting at night. RoboCop's visor seems to do a good job at tossing flash to the side. 
Conclusion
The Auto 9 sticks around for RoboCop 1 and RoboCop 2, but in RoboCop 3 they use a Beretta 92. 
In the RoboCop series and later TV movies, the Beretta 93R comes back.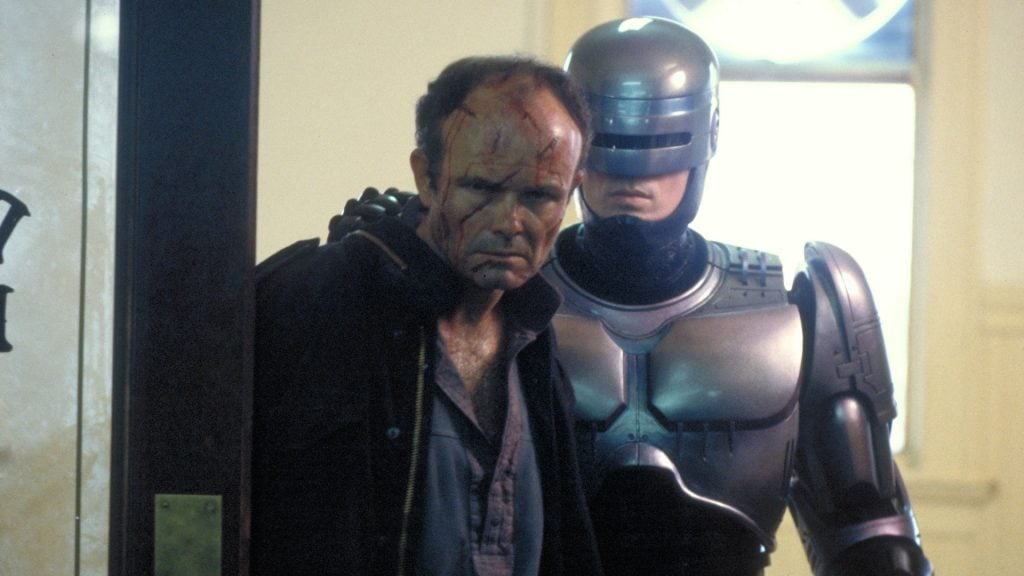 Although in this much less violent series, he shoots objects rather than people and kind of Macguyvers his way out of situations…with a gun. 
This is part of a weekly series on Pew Pew Tactical dedicated to the guns of TV and film. If you'd like more of this content, drop us a comment below. In the meantime, check out last week's pop culture dive with "The Professional" & the Beretta 92FS