Johnny B got one in hand from GunPrime to test out! Make sure to take a look at the full video review and subscribe to Pew Pew Tactical!
---
In a post-Sig P365 world, just about everyone is coming out with a slim, streamlined, 9mm sub-compact CCW gun.
Well, now it's FN's turn with their FN 503!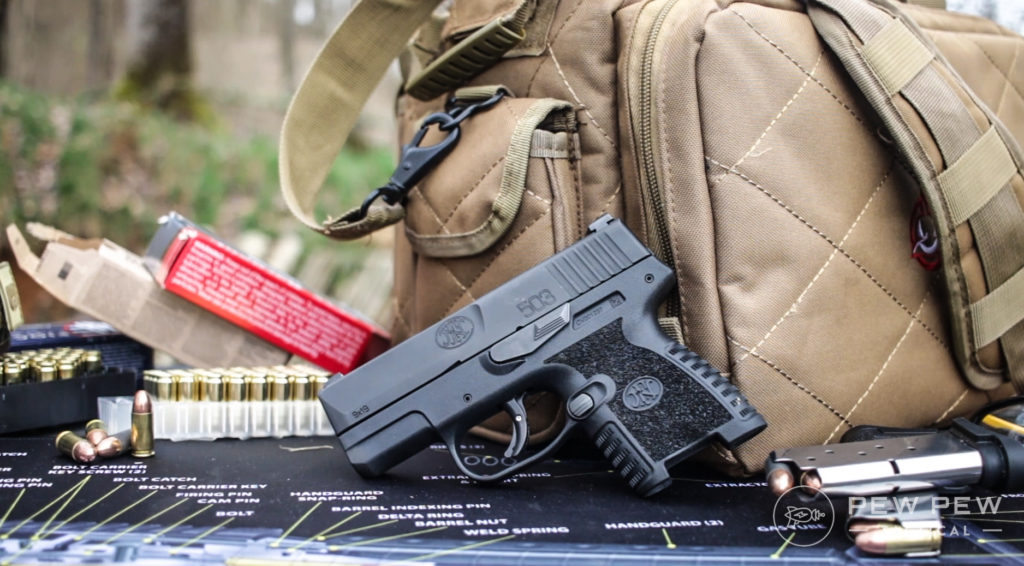 Since before World War I, FN has been one of the top names in firearms, but past performance can't guarantee future results — so does the FN 503 really stack up against the competition?
And if it does…is it the right one for you?
Table of Contents
Loading...
FN 503 Review at a Glance
Pros
Great factory sub-compact trigger
Very compact and concealable
Good ergonomics even with large hands with the extended mag
Cons
Needs some "breaking-in" of about 100 rounds for the gun to shoot reliably
Lower capacity mags – 6 rounds for standard, 8 rounds for extended
The Bottom Line
Overall this is a great compact gun. After a break-in period, this gun ran without any issues. Compared to other sub-compact guns, the FN 503 is a great choice given the crisp factory trigger, reliability, and price point.
Facts And Specs
The latest and greatest thing in compact firearms is basically the Sig Sauer P365, with how incredibly popular it has become — everyone is now trying to come out with their version of the lean and mean sub-compact CCW.
FN America, the USA arm of FN Herstal, released their FN 503 just this month and so far it lives up to what we would expect!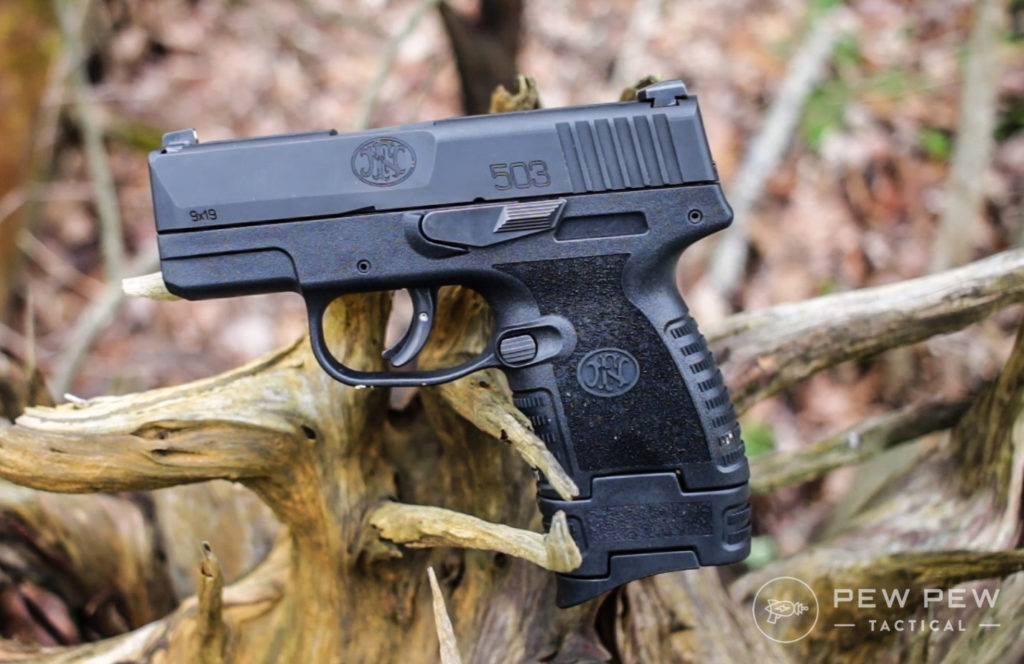 Looking at the spec sheet it seems simple, but the attention to detail can be found in almost every manner from the outstanding trigger (for a sub-compact) to the great ergonomics.
While ours needed a break-in period of about 100 rounds, outside of that the FN 503 has been reliable and super accurate.
Specs
Caliber: 9mm
Operation: Striker fired
Capacity: 6 or 8 round magazines
Barrel Length: 3.1″
Overall length: 5.9″
Height: 4.6″
Width: 1.1″
Trigger Pull: 5-7lb
Sight Radius: 5.1
Unloaded weight: 21 oz
MSRP: $579.00
Features
Striker-fired autoloader
Metal trigger
Slim profile
3 dot sights
Comes with 6 round and 8 round extended mag
Source: FN America
How Does It Shoot?
Out on the range, Johnny has put the FN 503 through its paces and has come away very impressed with the gun.
While everything on the FN 503 seems familiar and almost standard, it is the execution and quality that allows it to stand apart from the herd. The top of the list — this awesome trigger.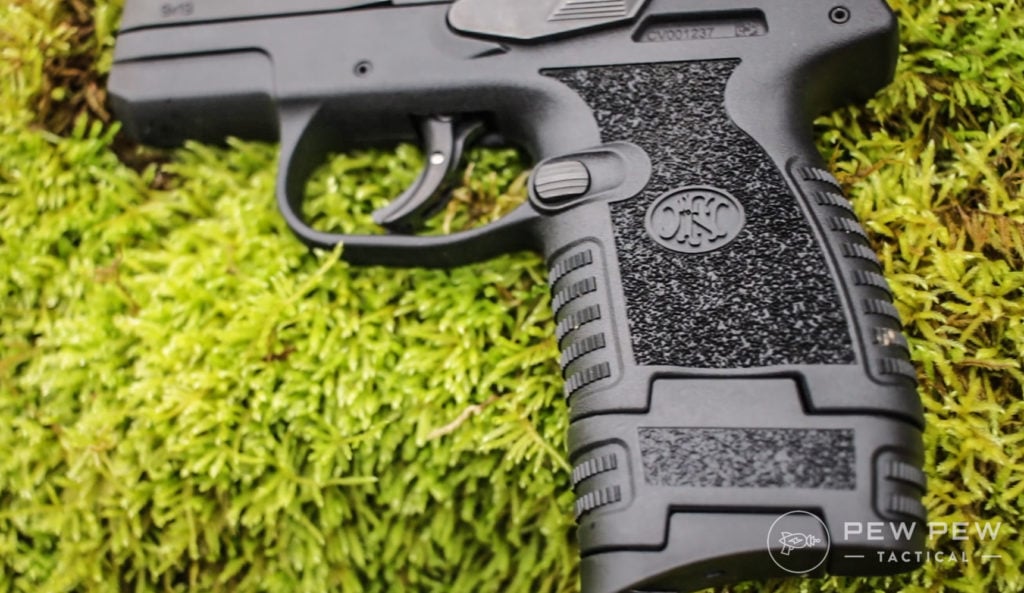 Most sub-compact guns have mushy and fairly unimpressive triggers. Between trying to make the gun extra safe and keeping the price reasonable, it's hard to stick a great trigger in such a small package.
FN has worked some magic though and produced probably the best factory sub-compact trigger on the market. The pull is smooth, reset crisp, and the break is like glass.
Sights on this is a standard 3-dot set up, while some night sights would have been nice right out of the box the standard white 3-dots are acceptable.
Best 9mm Range Ammo
20
at Palmetto State Armory
Prices accurate at time of writing
Prices accurate at time of writing
Fit & Feel
Comparable Size
Spec sheets are nice, but they can't really tell the whole story. So we put the FN 503 against some of the other giants in the category for you to get a better idea of just how small this sub-compact is.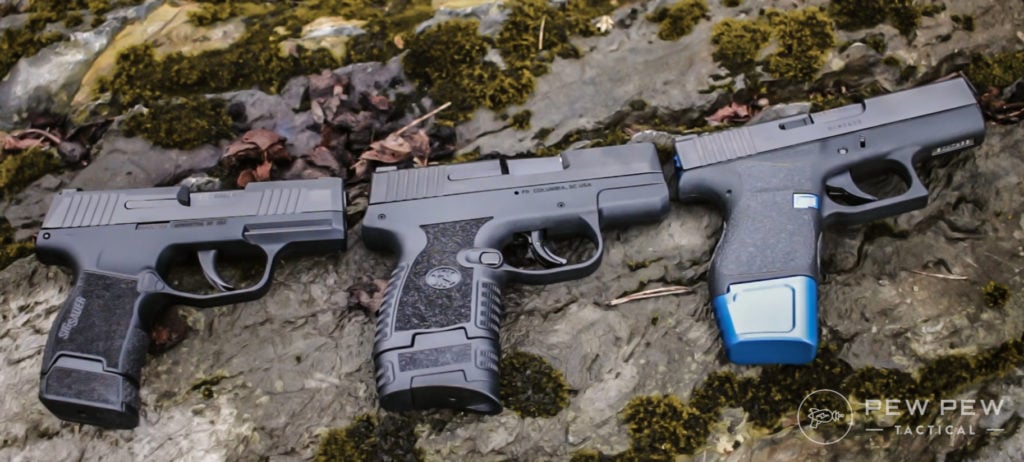 Slightly larger than the Sig Sauer P365 and slightly smaller than a Glock G43 the FN 503 strikes a nice balance between the two.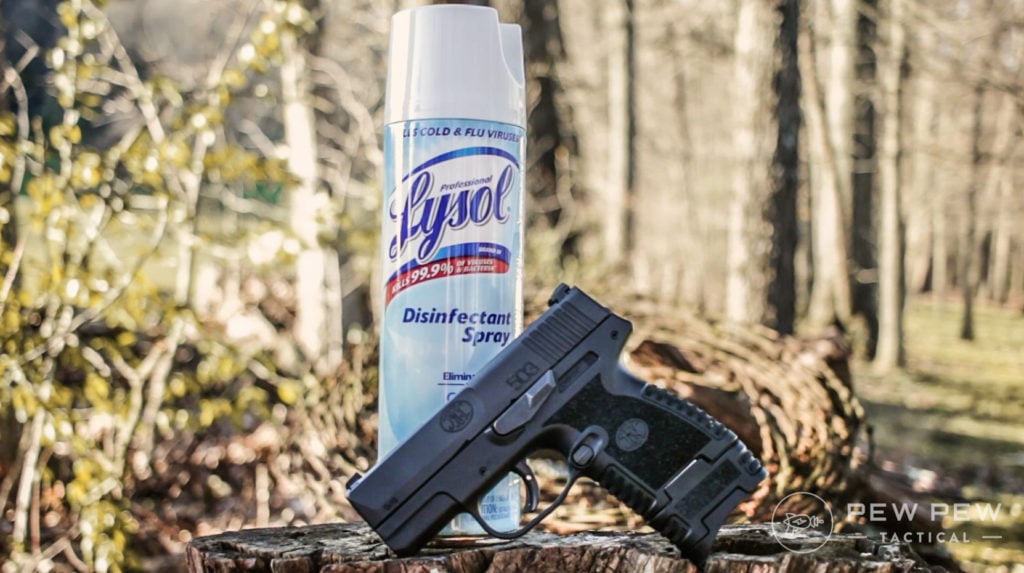 Ergonomics
One of the best things about this little shooter is the ergonomics! The grip is a bit longer than most sub-compacts and allows even shooters with large hands to get a full and proper grip with the extended magazine.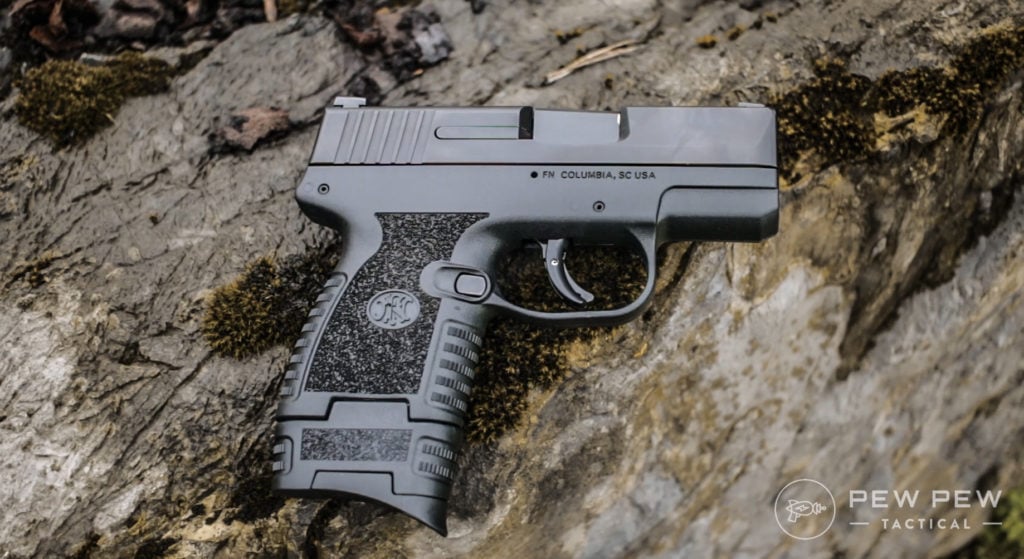 If you're worried about keeping the FN 503 as small and concealable as possible, you can opt for the standard capacity magazines.
The magazine release is marketed as being "oversized" but it feels fairly normal-sized to us, however that is saying something since this is a sub-compact CCW.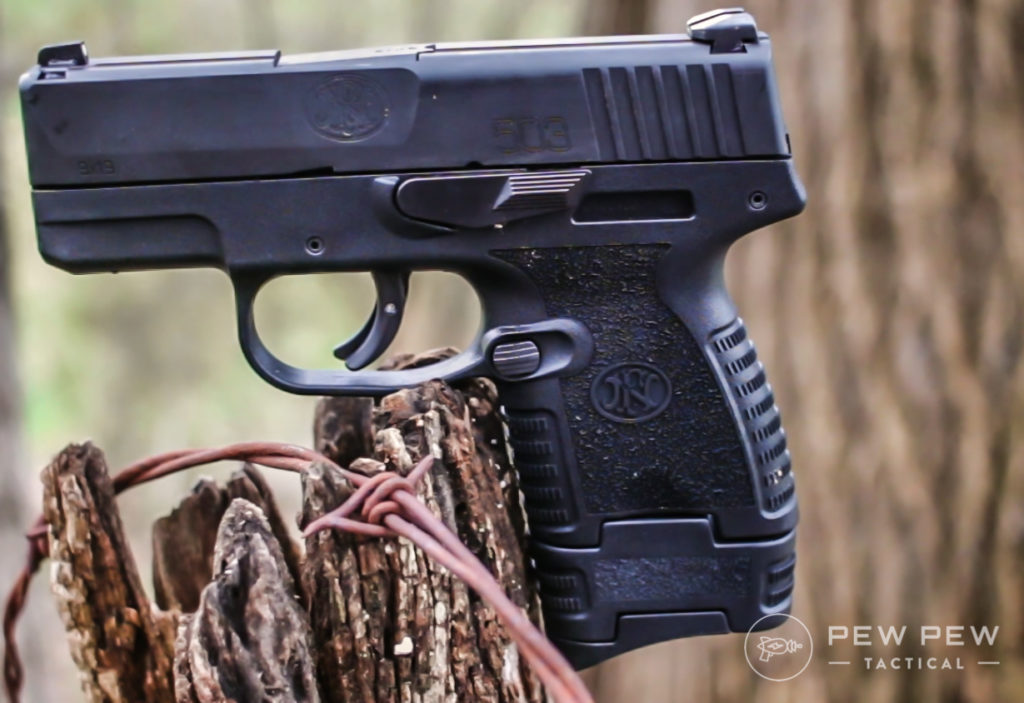 What is definitely oversized is the slide release, lots of meat on it for you to get ahold of with ease.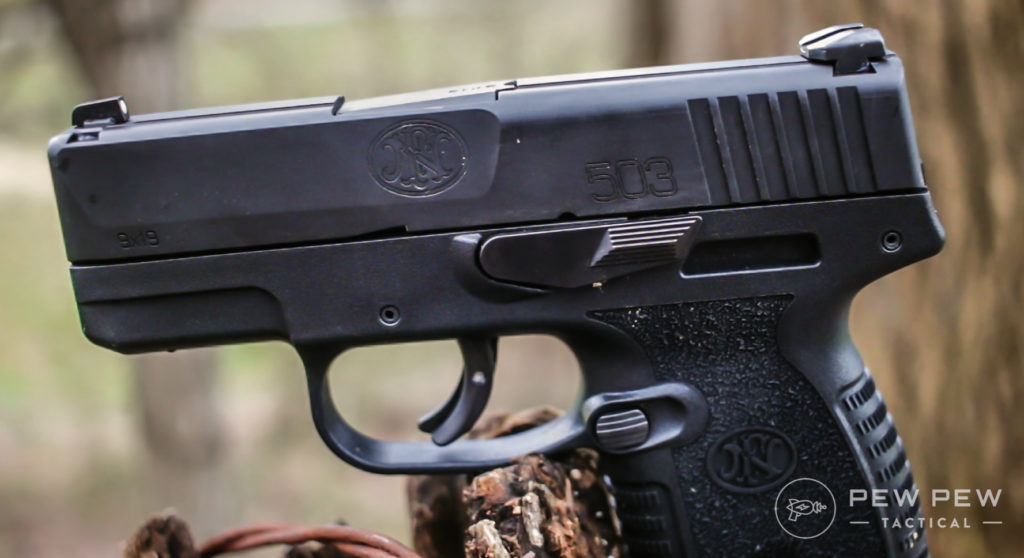 Who Is It For
Everyone.
If you need a top tier CCW, the FN 503 needs to be in the consideration.
With an outstanding trigger, great ergonomics, and coming in at a very reasonable price point — this is a gun that simply delivers.
495
at Palmetto State Armory
Prices accurate at time of writing
Prices accurate at time of writing
Issues?
As nice as the FN 503 is, it does have some shortcomings.
First off there were two malfunctions during the first 100 rounds.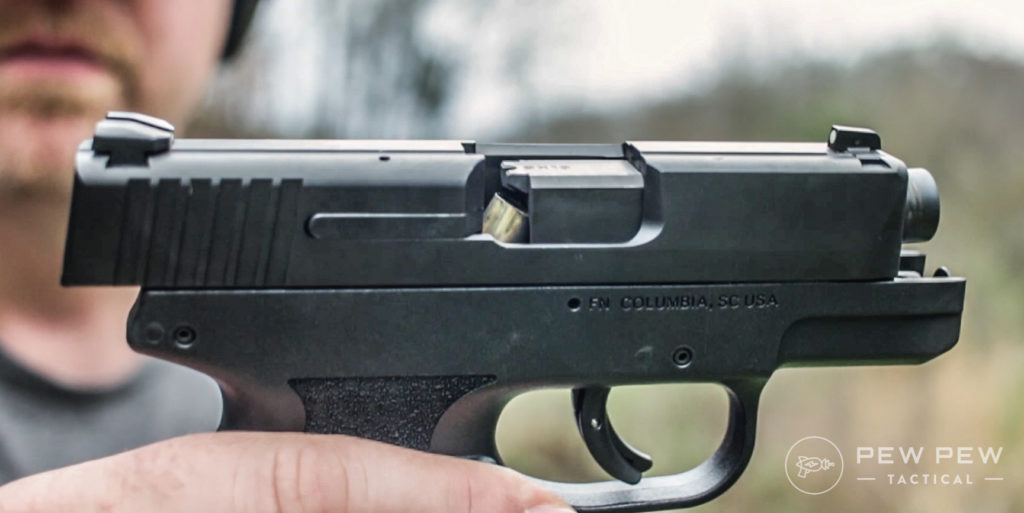 It's always nice to have a gun work perfectly out of the box, but a short break-in period isn't uncommon either.
After the first hundred rounds though the FN 503 has been flawless across a range of ammo.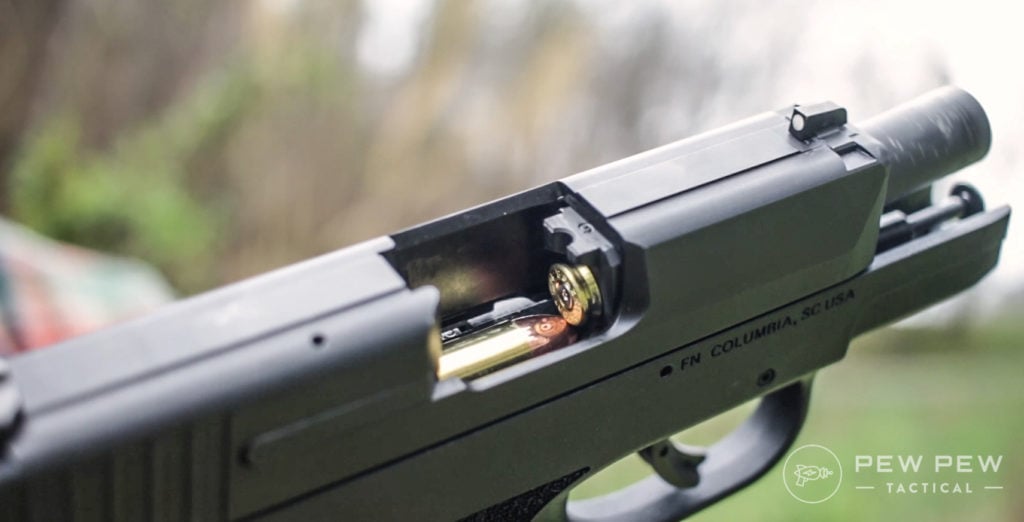 The second issue is the magazines only holding 6 rounds standard or 8 rounds in the extended mags.
Being slightly larger than the Sig P365, it's disappointing to see such a limited magazine compared to the P365 with its 10 round standard and 12 or 15 round extended magazine options.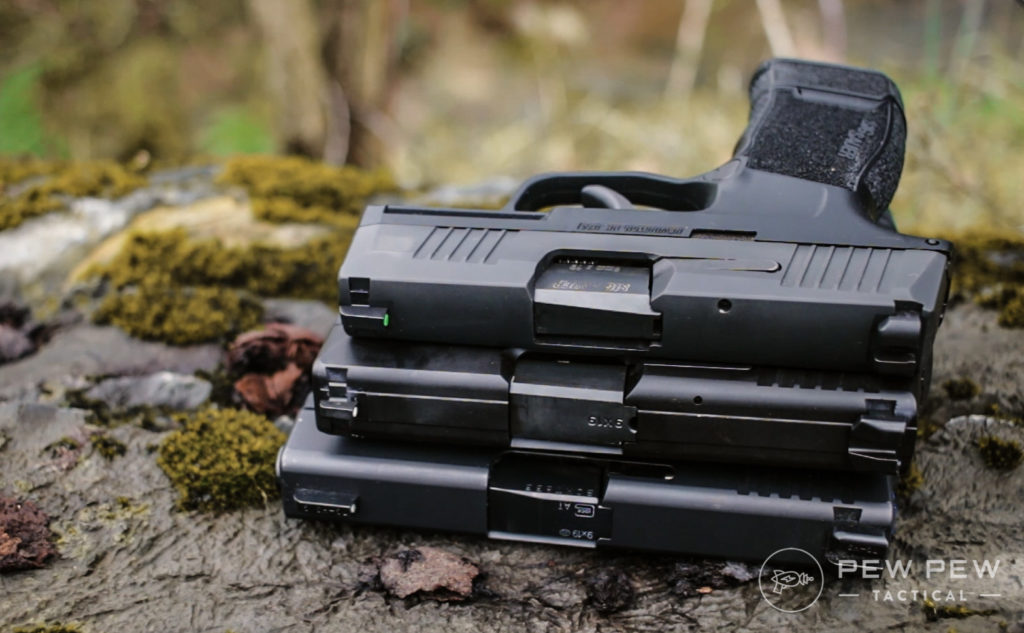 Other entries into this category of post-P365 sub-compacts include the Springfield Hellcat with its 11 round standard mag and the Mossberg MC2c featuring a 13 round standard magazine.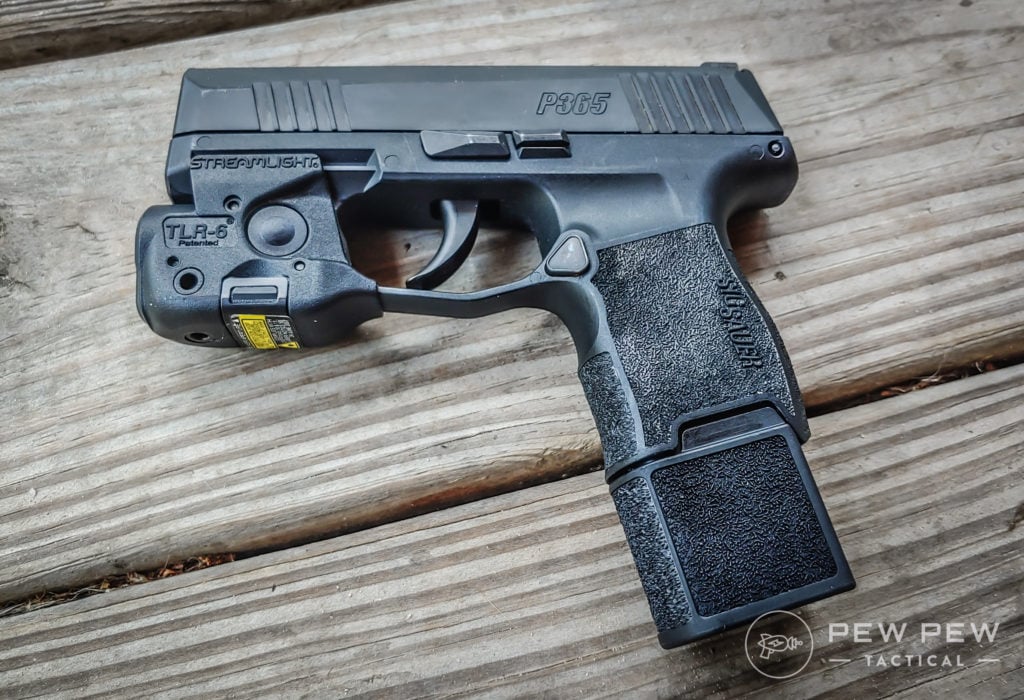 However, it does do better than the Glock G43's 6 round standard while keeping the size smaller — but even the Glock has magazine extensions that can bring the magazine up to 10 rounds.
The FN 503 is very new to the market right now so we might see better aftermarket options for larger magazines soon.
By The Numbers
Reliability: 5/5
Other than some breaking in over the first 100 rounds, zero issues. It runs.
Ergonomics: 4/5
With the extended mag in, this one ain't half bad. Extra points for that oversized slide release.
Accuracy: 4/5
You won't win any marksmanship awards with a 3″ barrel, but for a CCW you'll be on target.
Customization: 1/5
Uh, you could paint it?
Value: 4/5
Excellent sights, great accuracy & reliability for $450ish? Yeah that'll work.
Overall: 4/5
One of the slimmest 9s on the market, FN has a winner with the new 503. Just buy extra mags.
40
at FN Store
Prices accurate at time of writing
Prices accurate at time of writing
Final Verdict
FN never really makes a bad gun and the FN 503 is no exception. Outside of a short break-in period, it has been reliable and great to shoot. The truly amazing trigger makes this a much nicer gun to shoot out of the box than many other options on the market right now.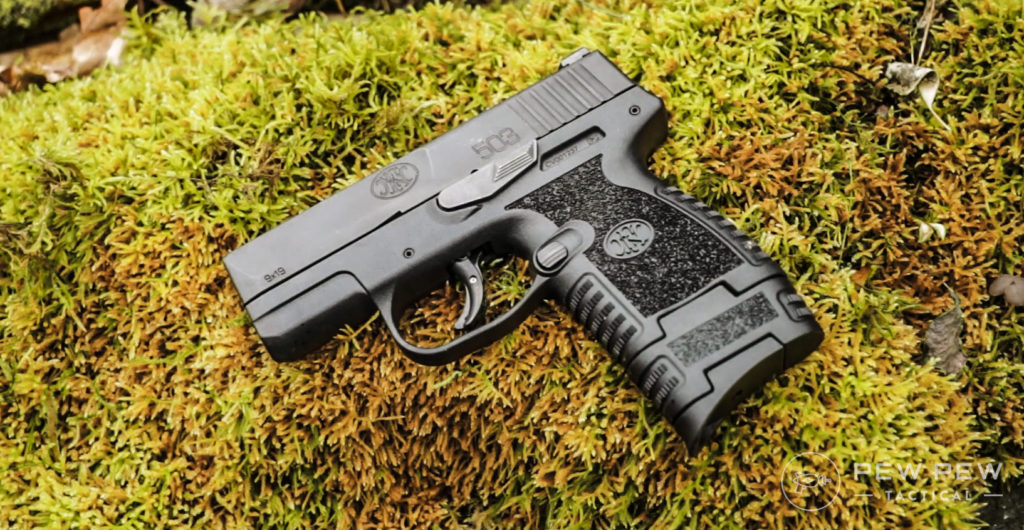 But the magazine capacity does hold it back, we hope to see that change soon but for right now at least if more rounds on your person is important to you — the FN 503 does fall short.
495
at Palmetto State Armory
Prices accurate at time of writing
Prices accurate at time of writing
If you still haven't checked out the full review video…
What do you think of the FN 503? Looking to pick one up soon? What about the other post-P365 options like the Springfield Hellcat or Mossberg MC2? For more awesome CCW reviews, take a look at the Definitive Concealed Carry Guide!