Red dots are all the rage right now, and it seems like just about everyone rocks one on their favorite gun.
Well, the folks at Crimson Trace dive deeper into the red dot pool with a whole lineup of optics called RAD.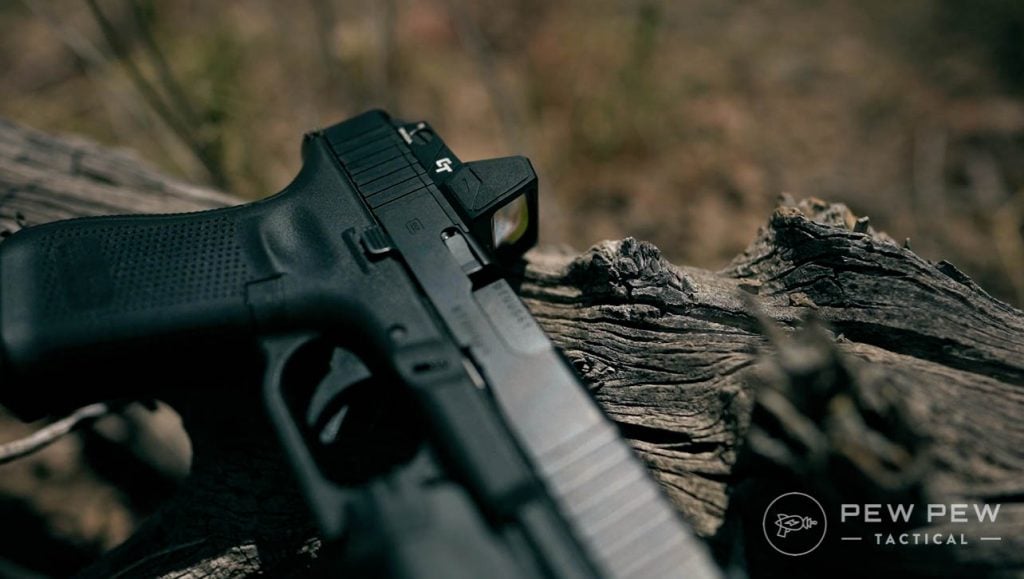 Normally, I see companies release a new product to fill a need, but Crimson Trace hopes to scratch every red dot itch with a slew of devices – 10 to be specific.
For the sake of clarity, the Rapid Aiming Dot consists of three basic body sizes…a micro, pistol, and long gun size.
Just like Goldilocks, you should be able to find the one that's right for you.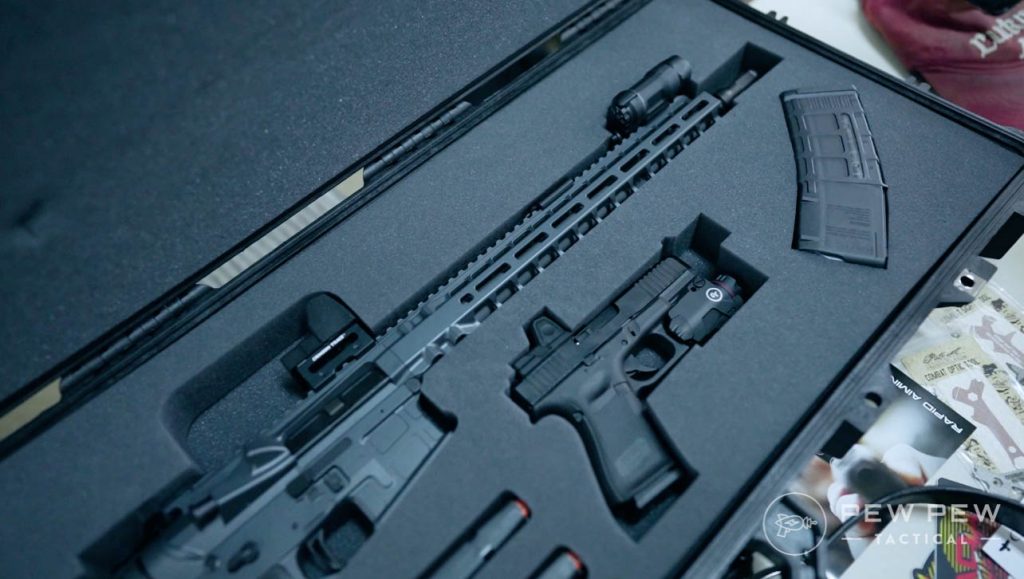 I got to test the RAD out recently at Gunsite Academy, putting these optics through the wringer. And today, we're going to look at one of those models – the Crimson Trace Rad Pro.
This red dot is a premium, full-size pistol option, but can it compete with the bevy of other red dots on the market?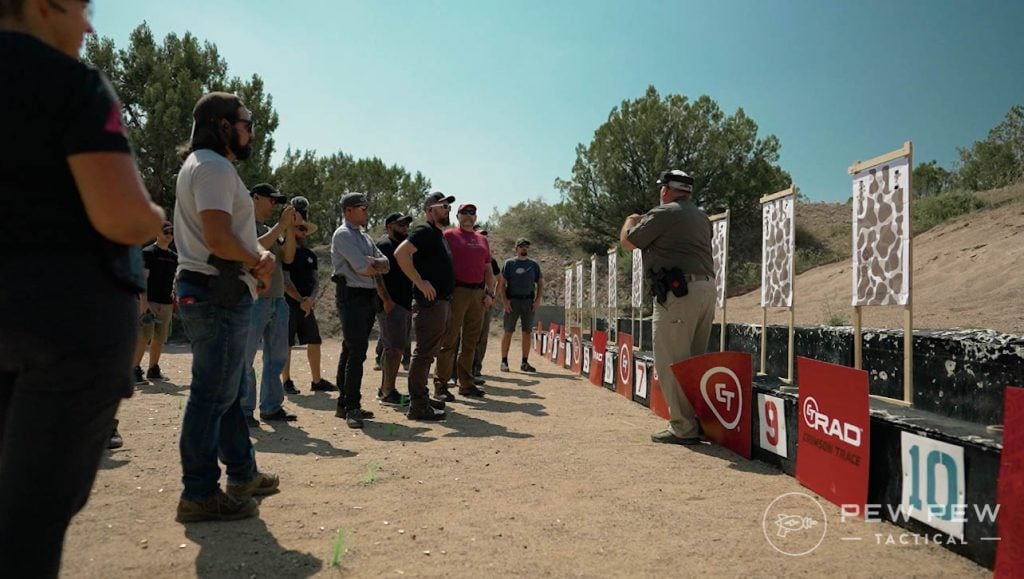 We'll find out. I'll run you through the specs and features and then talk about how it stood up to some training at Gunsite.
If you want to see the Crimson Trace RAD Pro do its thing, check out the full video review below.
As always, head over to Pew Pew Tactical's YouTube channel for more guns and gear!
Table of Contents
Loading...
RADical Man
I tested out the RAD Pro for this review, which is an open reflex sight for full-frame pistols.
The red dot in this unit is red and sized at 3 MOA.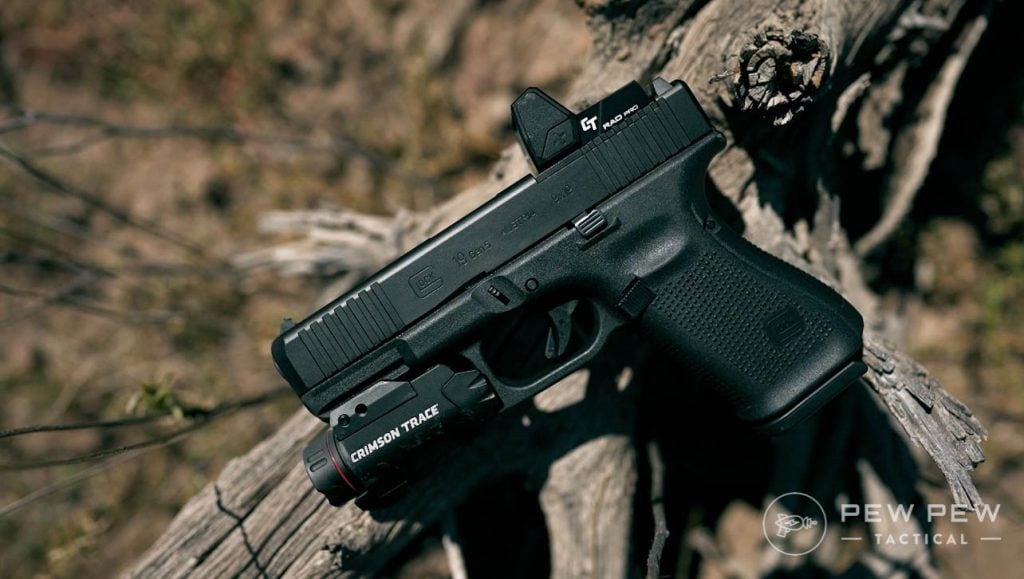 It's an upgraded model from the standard RAD – that Pro signifying it's got some extra features.
This red dot boasts a great feature set, including an ambient light sensor, shake awake-on, and auto-shutoff after 8 hours.
Best Red Dot for Mid-Size/Full-Size Pistols
329
at OpticsPlanet
Prices accurate at time of writing
Prices accurate at time of writing
Worth mentioning, it also offers the ability to shut off after 2 minutes of no movement.
While that might not seem like much, features designed to conserve energy actually keep you from the hassle of having to swap batteries frequently.
In fact, Crimson Trace says the RAD Pro serves up 20,000 hours of battery life on a CR1632.
Notably, the battery is housed in a top mount on the Pro, so you don't have to remove the optic to swap out.
On the other hand, the standard RAD offers a bottom mount battery.
Features
Adding to the lineup, the Pro also comes in red or a green dot option. Brightness settings range from eight daylight settings to two nighttime.
The body of the RAD is made from 7075 series aerospace aluminum. Crimson Trace says it's 30% stronger than the 6061 series aluminum other manufacturers use.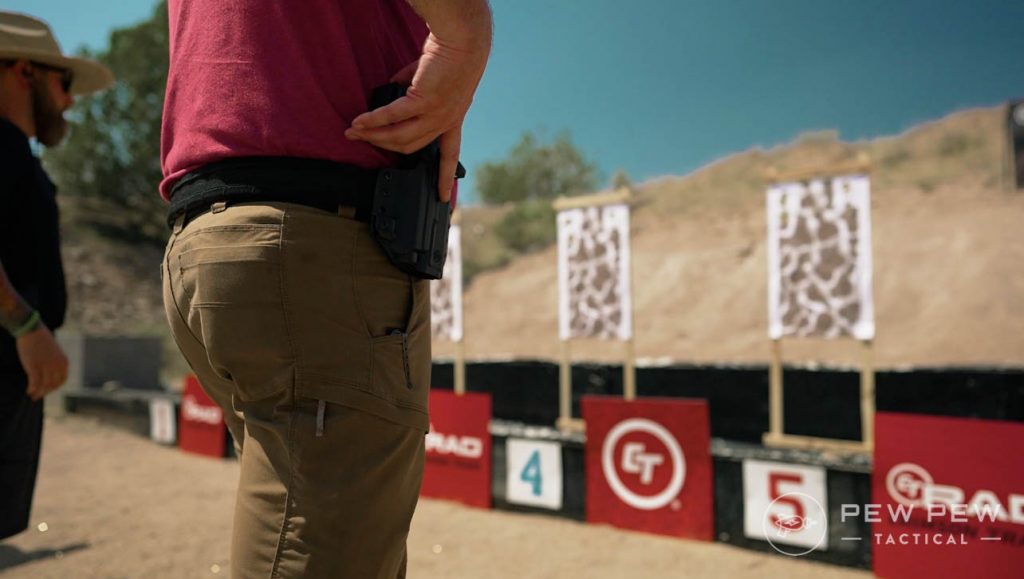 In addition, the multi-coated lens of the Pro features a recessed window for protection. The top strap of the housing is designed to deflect force should the optic fall.
Crimson Trace told us the RADs are "severely tested," suffering 5,000 cycles on a shock tower.
Additionally, the RAD family comes with the Crimson Protect Lifetime Warranty.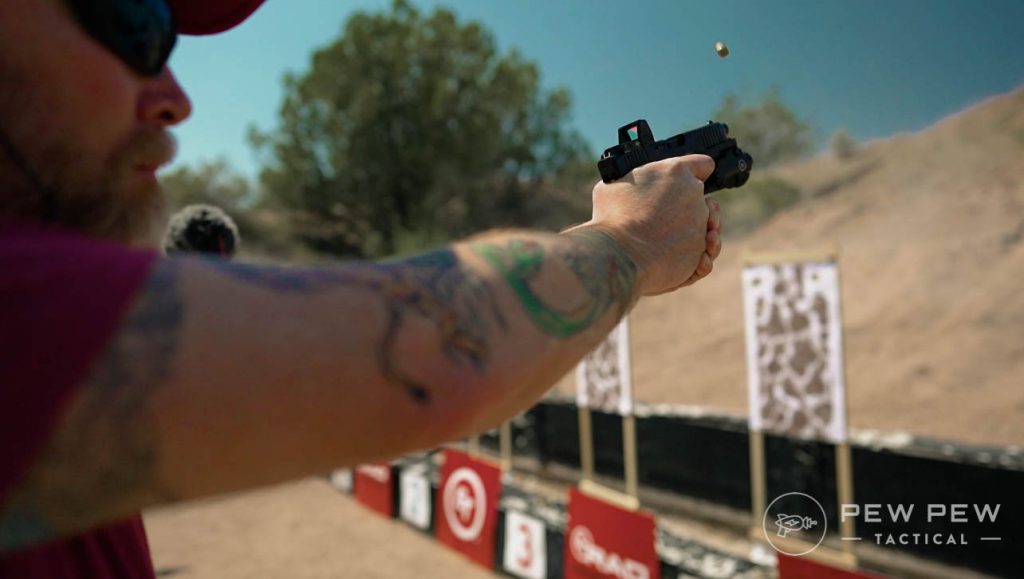 Testing & Training
Crimson Trace was kind enough to provide a Gen 5 Glock G19 with a RAD Pro mounted for training at Gunsite. Train we did!
Fortunately, I attended a 250 Pistol Course a few years back, so I was familiar with a lot of Gunsite's curriculum.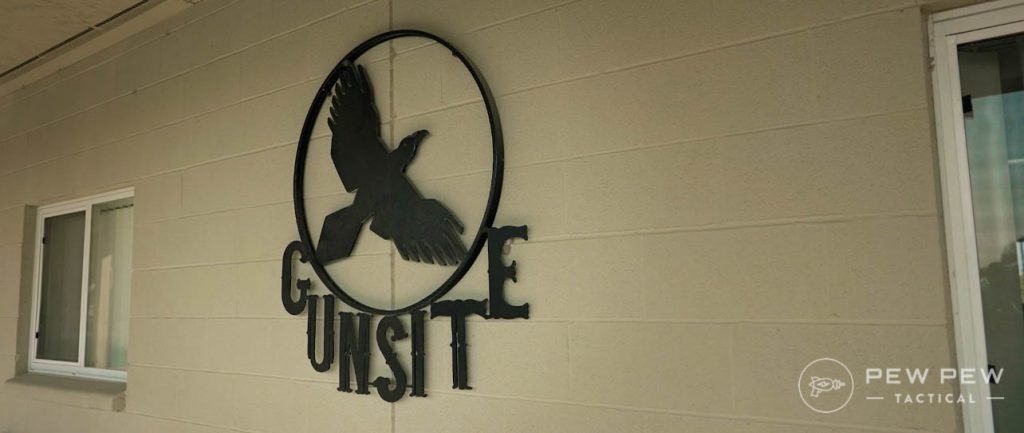 I zeroed my optic, then started working drills.
Right away, I noticed and appreciated the viewable area of the RAD. It was generous without being enormous.
The RAD allowed me to quickly get on target after drawing from the holster.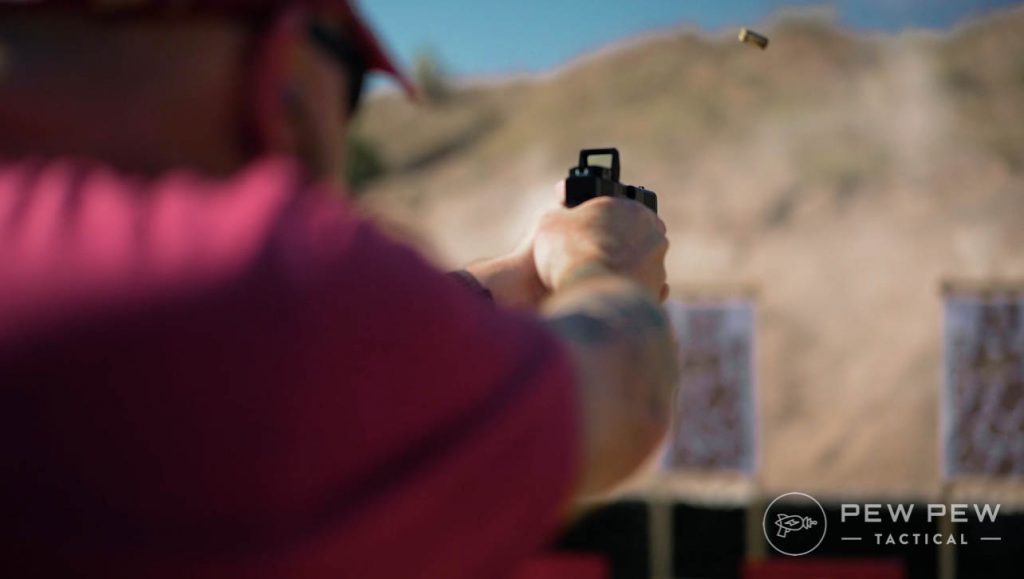 I was also able to "ride the dot" through recoil and quickly reacquire sight picture for follow-up shots.
We spent time shooting center mass, then closing with headshots with the Mozambique Drill.
Delightfully, the red dot of the RAD Pro aided my ability to find and hit center mass, then move the dot up to the head for the stopping shot.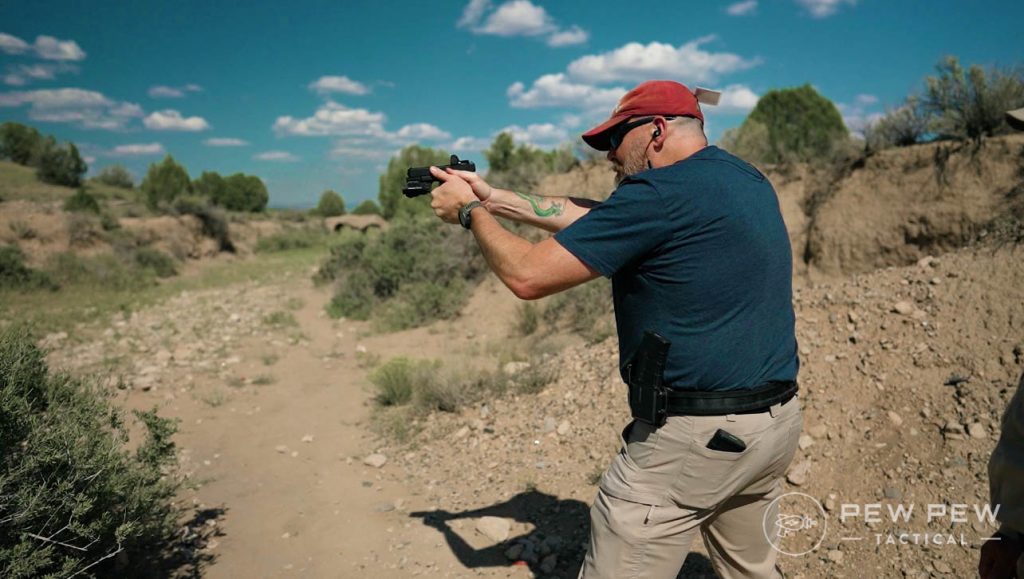 Under the Cover of Dark
When the sun goes down at Gunsite, the shooting doesn't stop.
After a thorough briefing from instructors, we again set out on the line to use our RAD Pros in the fading twilight.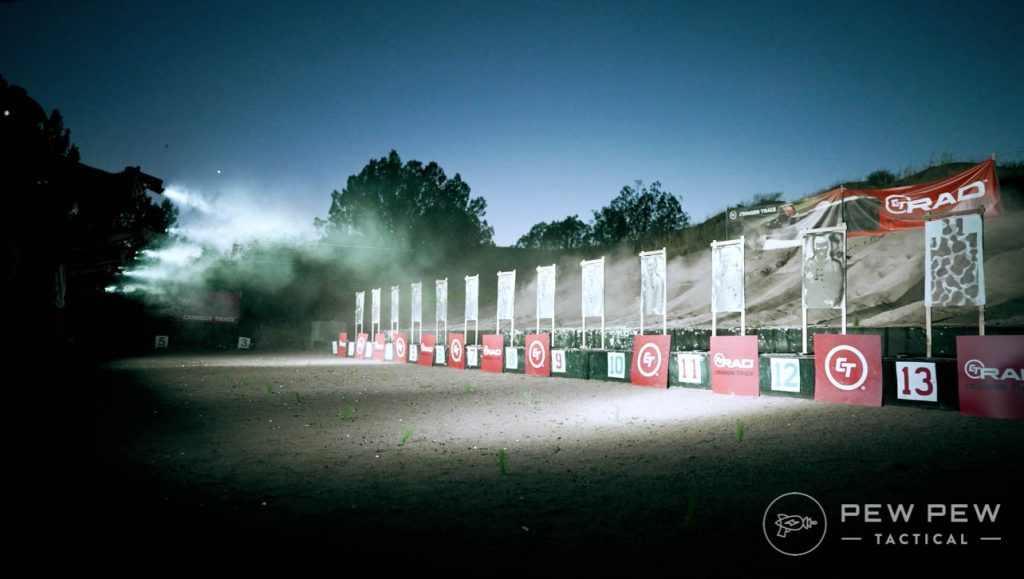 The auto-brightness feature did a great job of detecting ambient settings.
But I appreciated the tactile buttons on the sides of the housing the most. This allowed me to adjust brightness manually.
Things also got punched up a notch when we started using the Crimson Trace weapon lights mounted to our Glocks.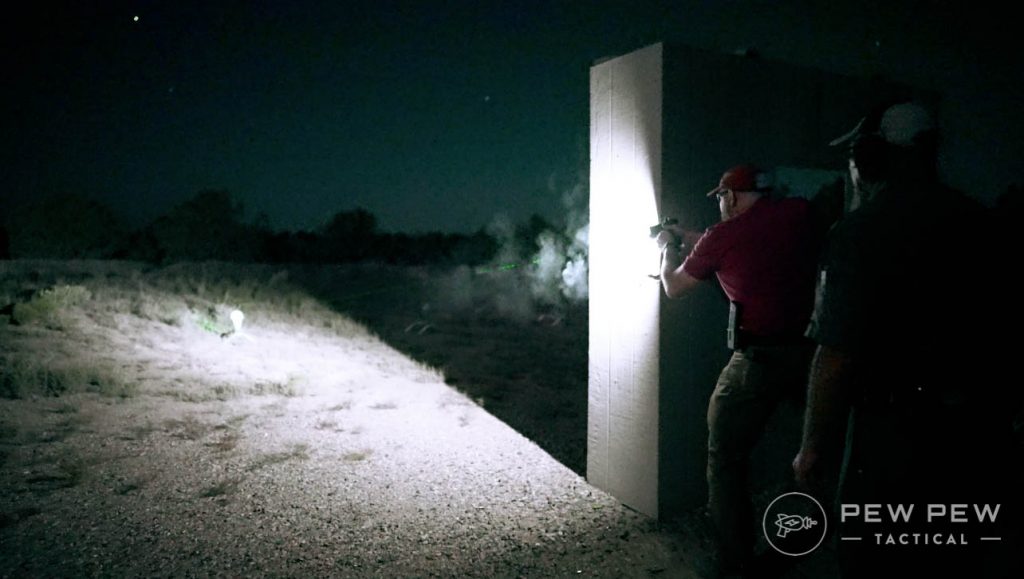 The CMR-207G Rail Master Pro has a couple of great features that make it ideal for lights-out work.
First, it has two paddle switches in the rear accessible from either side of the trigger guard.
168
at OpticsPlanet
Prices accurate at time of writing
Prices accurate at time of writing
A quick stab would turn the light on, and holding the button down would allow momentary control of the 400-lumen beam.
That might be fun enough for some, but the Rail Master Pro also has a green laser.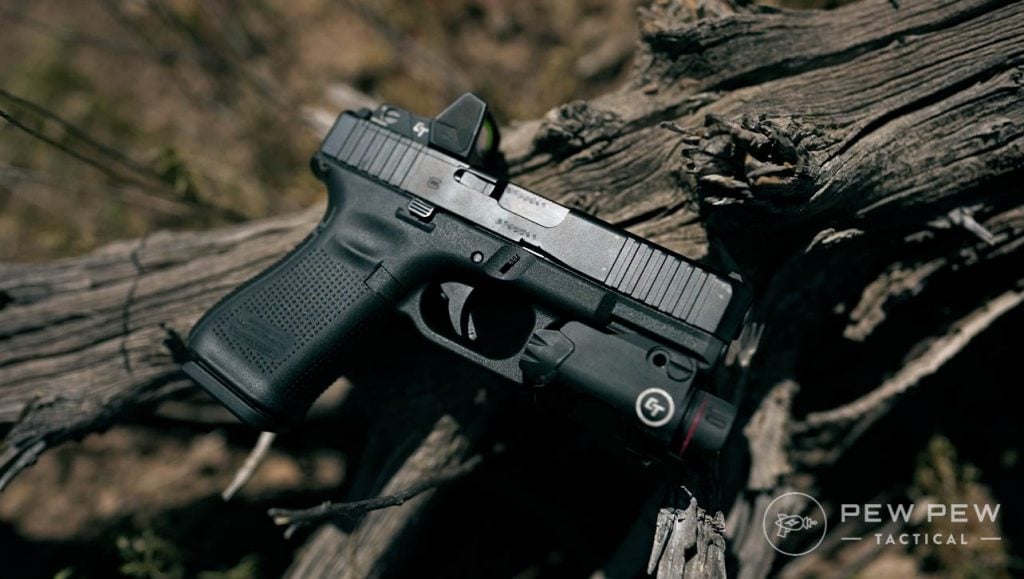 With a little adjustment on windage and elevation, I got dialed in and continued drills into the night.
The way mine came together, my red dot from my RAD Pro completely covered my green dot from the weapon light as I looked through the RAD.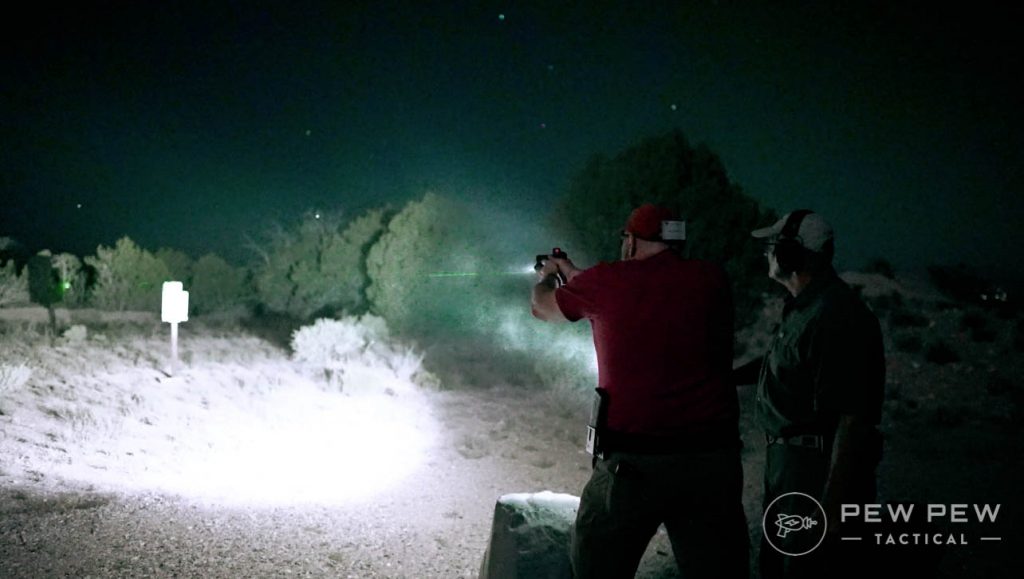 However, I could imagine scenarios where I might rely on the externally projected laser for a shot, should the RAD go down or somehow be occluded.
We went through more training and even ran a few courses of fire. The RAD Pro ran reliably the entire time.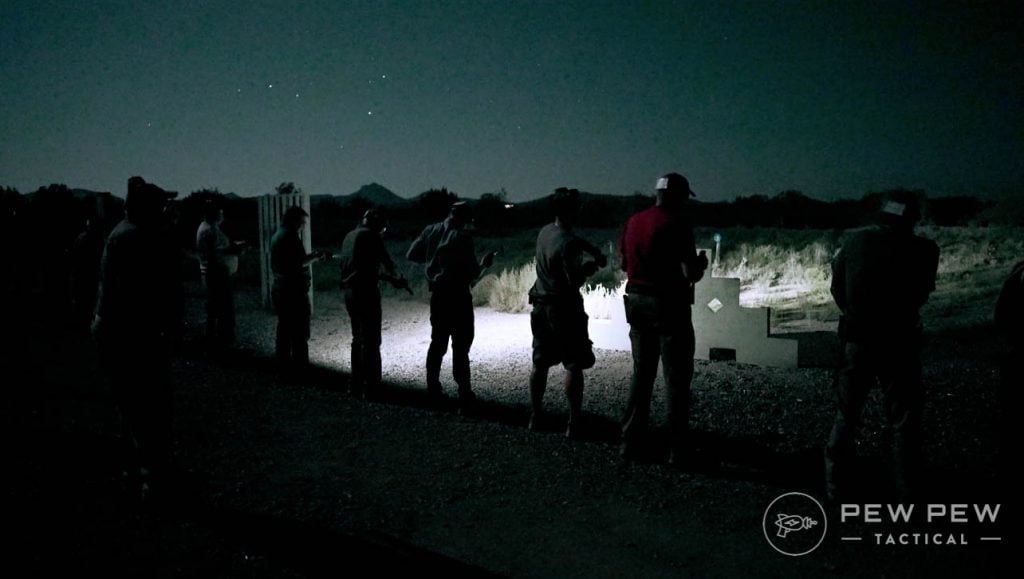 By the Numbers
Ergonomics: 4/5
Atop the Glock G19, the RAD Pro looked sleek and felt great. The buttons were tactile – which came in handy during low light.
Features: 5/5
I was impressed with the features and capabilities offered by the RAD and the Rail Master weapon light. The two paired together really helped me sail through a low light run that might otherwise be very challenging.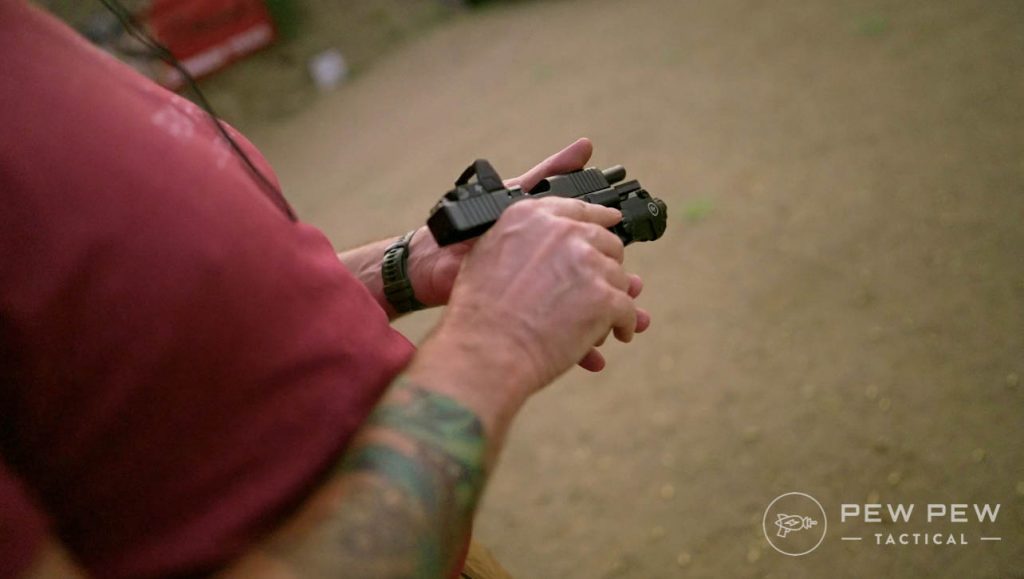 Reliability & Durability: 4/5
There was no flickering, no discernable shift in zero, and I had predictable results each time I brought my weapon up to target. The brightness, set on auto, performed well in various lighting situations, but I always had the option to bump it up or down to my preference.
While I did not abuse the optic, I did not baby it either. I drew from a holster, shot, reholstered, and repeated this process a whole lot during our hours on the range.
Value: 5/5
RAD red dots fall between $200 to $400, meaning there's an optic for nearly everyone. Personally, I lean towards the higher end because more features mean more options. However, the lineup seems solid regardless of where you buy-in.
Best Red Dot for Mid-Size/Full-Size Pistols
329
at OpticsPlanet
Prices accurate at time of writing
Prices accurate at time of writing
Overall: 4/5
Crimson Trace's RAD Pro seems to be a great option for those looking for a red dot to mount on a mid-size to full-size pistol frame. It held up during my training and was a pleasure to shoot with.
Conclusion
By the end of a pretty intense two days of training, the Crimson Trace RAD Pro left me with a great impression.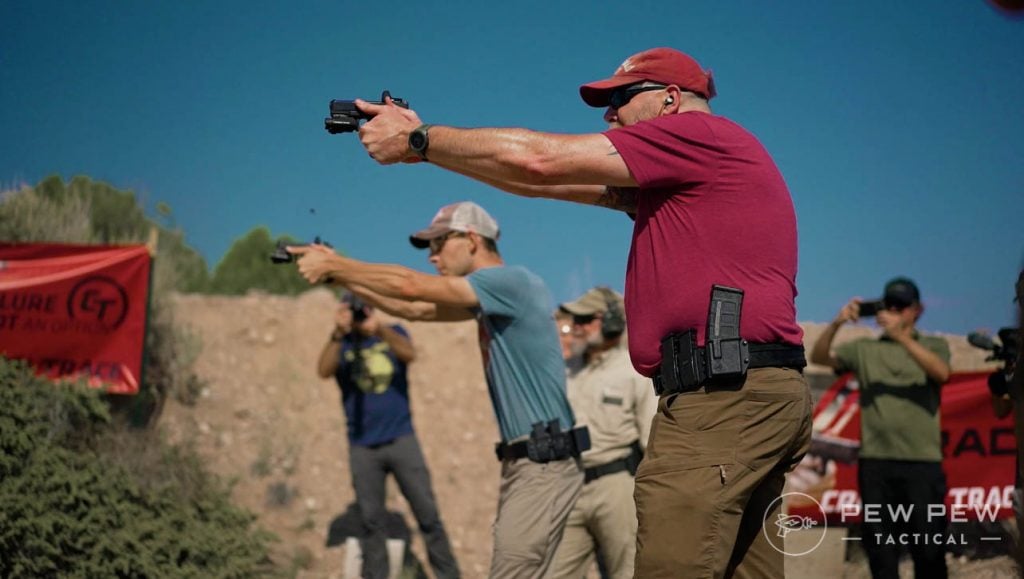 The performance of the unit I tested was solid, and I had no major hiccups. If you're looking for a red dot for your favorite pistol, look no further than the Crimson Trace RAD Pro.
To see more about my time at Gunsite with the RAD Pro, check out the video below.
What do you think of the RAD Pro? Let us know in the comments below. Need more pistol red dot options? Check out our list in the Best Pistol Red Dots.