When I take a trip to my local gun store, I can usually find AR-15s, AK series rifles, some KelTec bullpups, and heck, even a sweet micro uzi pistol.
Do you know what I can't find?
Tactical shotguns.
Okay, fine. That's a slight exaggeration…well, so long as you're in the market for pricey Benellis and Berettas.
But what about the Mossberg 500/590s, Remington 870s, and other common shotgun platforms?
This has been one helluva year, and gun store shelves are best described as bare.
Tactical shotguns are seeing a bit of a resurgence as people scramble to arm themselves in the wake of COVID-19 fears, civil protests, and a contentious election season.
Whatever their reasons, many people are being introduced to shotguns for the first time, and that, at least, is great news!
Tactical shotguns are fantastic home defense weapons that are designed for close-quarter shooting.
The most popular models – and the ones flying off the shelves – are pump-action shotguns, which are relatively user-friendly and reliable.
They also avoid most gun bans, making them a primo choice for anyone living in a state with strict regulations.
If you are new to guns, or just new to shotguns, you may have some questions about home defense essentials. These are the accessories your weapon needs to be the most successful in an emergency scenario.
We've got you covered.
Today, we're going to review the must-have items you need to turn your weapon into an effective home defense shotgun.  
The Shotgun Conundrum
Unlike the super-customizable AR-15, there is no universal design that allows shotguns to share accessories.
For example, a Daniel Defense can swap parts with a BCM, but a Remington can't switch parts with a Mossberg.
To make matters worse, manufacturers primarily design gear and accessories for the most popular shotgun models.
In other words, finding purpose-built accessories for guns outside of crowd-pleasers like Remington, Mossberg, Berretta, and Benelli can be challenging.
It sucks, but don't let that factor turn you off shotguns.
When it comes to home defense, you need a reliable and effective weapon. A shotgun delivers a terminally devastating payload that could save your life and protect your loved ones.
For a detailed examination of the shotgun as a home defense weapon, I recommend jumping over to Best Home Defense Tactical Shotguns [Hands-On], where we explore what a tactical shotgun is, how it works, and which models excel in defensive situations.    
To help you get the most out of your tactical shotgun, I've created a list of the top accessory and ammo options for both popular and not-so-popular platforms.
And don't worry about trying to save money. I have selections for even the most budget-conscious shotgunner!
Best Self-Defense Upgrades
1. Shotgun Light
All home defense weapons need a light. It's an absolute requirement, not an option.
I understand wanting to save money by foregoing accessories for a weapon that is purely for home defense. If you're lucky, you may never even need to use it.
But this isn't one of the accessories you can afford to sacrifice.
You need a light that can assist in the positive identification of a threat. If there's a dangerous intruder in your house, you might only have one chance to make that perfect shot.
And if it's not an intruder, you definitely don't want to fire.
Always remember that tactical shotguns are designed to take down a target. Without positive identification, you don't pull the trigger.
Finding and equipping a dependable shotgun light can be tricky, especially if you're trying to outfit a pump-action shotgun.
The moving parts and two-handed design can make it difficult to mount a light. It also kills the ability to use pressure switches, so you have to be selective in how you approach it.
Home defense lights don't have to be spotlights; in fact, when you're inside a house, a good amount of spill can be better than a torch-like beam.
The light fills a larger area and illuminates objects in your peripheral vision. This feature can be advantageous if you're facing a late-night surprise.
While there are many options out there, I recommend aiming for a model that shines bright but isn't overpowering and painful – you don't want to help an intruder by accidentally blinding yourself.
Because lights are so damn crucial for home defense, I'm including options at multiple price points that work with different types of shotguns.
Best Option: Surefire DSF
The Surefire DSF was the first purpose-built shotgun light to see widespread success.
This compact and durable light replaces the pump on your shotgun with a convenient all-in-one unit.
The Surefire DSF series generates 200 lumens when set to low mode and a blinding 600 lumens at its max setting.
Personally, I like that the controls are entirely ambidextrous and easy to engage with your thumbs or point fingers.
With top-notch ergonomics, the Surefire DSF delivers bombproof performance. The DSF is the light of choice for many armed professionals, and yours truly wields one on his Remington 870.
The Surefire DSF packs a punch and is available for both the Mossberg 500/590 series and the Remington 870.
If I had to pick a downside, it's that the price might bring a tear to your eye, and not in a good way.
Affordable Option: Streamlight TL Racker
Streamlight is taking on Surefire with the TL Racker series of shotgun lights.
Like the DSF, the TL Racker is an all-in-one unit that incorporates a powerful 1,000 lumen light into the pump of your shotgun.
It is gloriously bright and runs for about 1.5 hours.
The TL Racker is a great option for new shotgunners or people who prefer a light with straightforward controls.
When it comes to home defense, you need a light that's easy to operate in a pinch. With the TL Racker, you rely on ambidextrous switches that are conveniently located on either side of the pump.
Another detail that I like – particularly for a home defense light – is that you don't have to worry about remote cords or snag hazards.
The TL Racker is rated IPX7, which means that you can theoretically submerge it for about 30 minutes before the water becomes an issue.
I'm not sure if this matters for a home defense weapon, but it's a noteworthy feature.
For the record, I haven't tossed one in the water for 30 minutes, so I can't say if this claim is true or not. If you've tested this rating, accidentally or otherwise, please feel free to share your story in the comments below.
Kudos to Streamlight for designing this light with an aggressively textured, impact-resistant nylon body. This powerful little bad boy can take a beating!
The Streamlight TL-Racker is available for the Remington 870 and the Mossberg 500/590.
Inexpensive Option: Axeon Shotlight
If the TL Racker is outside of your budget, then feast your eyes on the Axeon Shotlight.
This model's claim to fame is that it replaces your gun's magazine endcap with an inline light. It's a great design choice that keeps your shotgun balanced, lighter, and slicker.
Unfortunately, the ergonomics are a bit more complicated than a pump-mounted light.
The good news is that this light reduces or downright eliminates barrel shadow. But it can be tough to reach and requires proper training to use effectively.
On that important note, you should make time to practice with your shotgun and all of its accessories. Not just once or twice, but fairly often to keep your skills in tip-top shape.
Home defense is all about planning for potential threats. You don't want to be caught ill-equipped or unprepared.
The little Axeon pumps out 120 lumens of light and is powered by one CR123A battery. That may not be bright enough for everyone, but it isn't bad for a home defense weapon.
Plus, it's crazy affordable at about 50 bucks retail.
The Axeon will fit a Remington 870, Mossberg 500 (not 590), and the Winchester 1300.
Uncommon Option: Streamlight Mount & Light
But what if you don't own a Remington 870 or Mossberg 500 series gun? The lights on this list probably won't work for you.
Well, I have a solution, and by "solution," I mean the Streamlight Mag Tube Rail TL that I have equipped on my Benelli M4.
This simple little rail attaches to the magazine tube and allows you to mount the light in any which way you please. Pretty sweet.
As for the light, I suggest the brand new Streamlight TLR RM2. This powerful 1,000-lumen light is specifically designed for long guns.
The Streamlight TLR RM2 is lightweight, durable, duty capable, and perfectly suited for home defense.
It's bright enough to blind a potential intruder and has a wide spill that caters to your peripheral vision.
With that punishing beam of light, you should be able to positively identify any type of threat.
I can't say that I have any complaints when it comes to ergonomics. It has a compact ramp style design that accommodates a pressure pad cable and a large, rubberized button that's easy to access.
If you're on the fence or want a more in-depth look at this light, I invite you to mosey on over to [Hands-On Review] Streamlight TLR RM1 and RM2.
I tested this light in my home and backyard to get a solid idea of its advantages and limitations as both a general optic option and home defense light.
2. Ammo Side Saddles
All shotguns share a considerable weakness that ties into their general design. It's unavoidable, and the only thing you can do is prepare for it.
The problem? Limited magazine capacity. If you are topped out at nine rounds, you are doing damn good.
The easy fix is to carry a little extra ammo. That said, shotgun ammo is heavy, bulky, and inconvenient to cart around, so you definitely need to find the right equipment.
Again, if this is solely a home defense weapon, it's unlikely that you'll ever need to reload. But you still need to make plans for those unlikely scenarios.
The great news is that gear companies have tackled this problem by manufacturing side saddles and other ammo carriers.
Best Option: GG&G Side Saddles
As far as durable, military-grade, butt-kicking side saddles go, the GG&G models are incredibly impressive.
These aluminum side saddles are remarkably well made and engineered to hold shells at a 15-degree angle.
The more natural and less complicated things are, the better. This angle matches your hand and makes it easier to quickly retrieve the ammo and feed it into the shotgun.
The GG&G side saddles are outstanding and come in 4-, 5-, and 6-round models. They are produced for the Remington 870/1100/1187 and Mossberg 930 and 500 series of shotguns.
Affordable Option: TacStar Side Saddles
TacStar is a Lyman company that produces excellent accessories for Mossberg, Remington, and Winchester shotguns.
I've been a big fan of this company ever since I tossed one of their side saddles on my 930 SPX.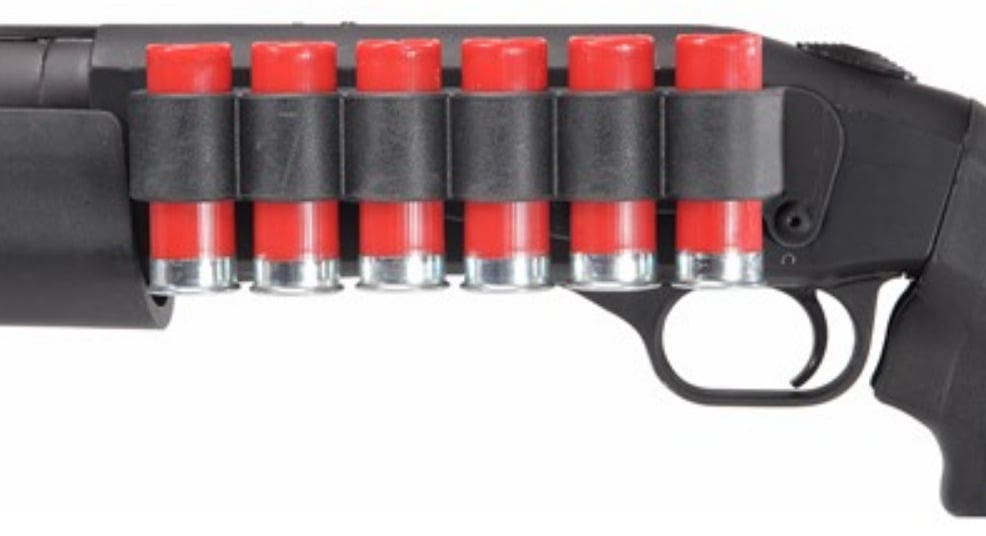 TacStar's high-quality polymer side saddles bolt directly onto the shotgun receiver and provide outstanding retention. No gunsmithing is required!
The shell carriers are durable, weatherproof, and easy to install.
Just take a few minutes to screw the aluminum mounting plate onto your gun, and you're ready to go. Your order includes all the mounting hardware you'll need to complete the job.
There are a few different models to choose from, but they all facilitate quick and convenient reloads.
Not only do these side saddles come in a variety of models and sizes, but you also get to choose what capacity and weight you want to work with.
TacStar produces side saddles for the Remington 870 and 110 series, the Mossberg 500 series, the 930 series, the Winchester SX3, and the Winchester 1200/1300, the FN TPS.
Uncommon Options
So, what options are available if you have a "weird" gun?
As a fellow collector of bizarre weapons, I understand how difficult it is to find worthy accessories. Yeah, I'm looking at you, Stevens 320.
Your first option is the Neoprene Buttstock Shotgun Shell Holder, a simple butt cuff from Uncle Mike's.
It's a nylon sleeve that stretches over the stock and accommodates five rounds of 12 gauge ammunition.
In all honesty, this is a hit-or-miss shell holder. You'll either love it or hate it. Just by looking at it, you can tell that the design doesn't favor swift and convenient reloads.
But hey, it's cheap and works for most shotguns – looking at you again, Stevens 320.
Not quite floating your boat? Try Esstac's Shotgun Cards.
Esstac's Shotgun Cards attach to the receiver with separately sold Velcro strips. They are sold in different sizes and, depending on the size you buy, can hold up to 4-7 rounds of 12 gauge shells.
This option is more like a traditional side saddle, but with a Velcro mounting.
I prefer it to the Neoprene Buttstock Shotgun Shell Holder because it makes for a quicker reload.
If you aren't feeling any of these side saddles, or want something closer to a bandolier, read Best Shotgun Ammo Carriers: Side Saddle, Pouches, & Bandoliers.
3. The Perfect Sling
Slings are a must-have accessory for home defense for two reasons:
The sling gives you extra support and allows you to release your gun to use your hands. You may need to grab a kid, open a door, call the police, etc. With a sling, you can do whatever you need to do without dropping the weapon.
If someone grabs you and tries to take your gun, the sling ties it to your body. You might not be able to use it, but neither can they.
Now that you understand the importance of slings, let's get to our list!
Best Option: Blue Force Vickers Padded Sling
My darling, my love, my life.
The Blue Force Gear Vickers Sling is my all-time favorite sling. No, really. Check any of my review blogs.
This sling has been around the world with me twice, and I swear by it. Most of my guns wear a Vickers Sling, and the padded model is an excellent choice for increased comfort.
The Vickers Sling reigns as champion in a crowded market because it's instantly adjustable. It can go from incredibly tight for hands-free use to straightaway loose for maximum mobility.
And it's built tough. Super tough. You can drag it to class after class, and it will just keep on going.
Affordable Option: Magpul MS1 Sling
It's Magpul, y'all. It works, it works well, and it keeps up with everything you can toss at it.
Like the Vickers Sling, the Magpul MS1 is a quick-adjust model that instantly changes length to meet your needs.
It's affordable, robust, and an excellent companion to your Magpul SGA furniture.
Inexpensive Option: BluCollar Tactical 2 Point Patriot Model
If you want something simple, and I mean simple, allow me to direct your attention to the BluCollar Tactical 2 Point Patriot Model sling.
It's a 2 point sling that measures out to 70" at its max length. Sure, its not fancy, but it doesn't need to be. We're here for cheap, functional, and durable.
BluCollar Tactical 2 Point Patriot Model is Berry Compliant and made entirely in the USA. It will get the job done without breaking the bank.
4. An Effective Sight
There's a popular misconception that you can't miss with a shotgun. No matter what you see in movies and television, this is absolutely not true.
Shotguns are pretty great at hitting things, but you still need to aim with accuracy and intent.
I'm willing to bet that your shotgun already has some type sight; in fact, most models come with a bead sight out of the box.
But bead sights are small and can be difficult to use in the dark. If that's the problem with your sight, then it might be time to consider an upgrade.
When it comes to home defense, you need the best of the best.
In this section, I'm going to list three great sights that can help you make that quick and accurate shot.
Again, our focus is strictly on options for home defense. If you would like to learn more about the different types of shotgun sights and their capabilities, head on over to 9 Best Shotgun Sights: Iron, Ghost, Red Dot, Scope.
Best Option: Holosun HS507C-V2
The Holosun HS507C-V2 has earned its place as the top dog for one simple feature: the reticle.
Or should I say reticles? This red dot has three reticles (Circle Dot, 2 MOA Dot, and 32 MOA Circle), but the one that matters most is the 32 MOA circle.
You can pattern your chosen load at various ranges to figure out where the pattern falls outside of the 32 MOA ring.
For example, start at 5 yards and then keep moving back 5 yards at a time until your pattern is shooting outside of that reticle.
Say that happens at 35 yards; now you know that at 35 yards, you can just lay that circle on whatever it is you want to frag, and you're good to go.
That's certainly cool, but what makes this model shine as a home defense sight?
The Holosun HS507C-V2 is a very small optic with 12 different brightness settings, including an option that's compatible with night-vision devices.
It also incorporates Holosun's Solar Failsafe feature, which automatically adjusts brightness settings to match ambient light conditions.
Say you have to rush inside or outside to defend against a home intruder. When your life depends on a single shot, you don't have time to fiddle with a sight's settings.
The reticles on the HS507C-V2 will dim or brighten as needed.
This optic can last over 50K hours off a single battery and is designed to absorb the recoil of a shotgun.
And if the battery does fail, the Solar Failsafe feature might kick in to power your red dot – it's solar-powered, so it depends on how much sunlight it gets.
While we're on that topic, these are great features, but you don't want to heedlessly rely on them in a crisis. Check that battery every so often to ensure that it's ready for the unexpected.
The Holosun HS 507C-V2 has proven to be a very capable device that is well worth the price tag. It's small and light, making it a great optic for a lightweight, easy to handle home defense shotgun.
Affordable Option: XS Sight Systems Big Dot Tritium Sight
If you own a Remington 870 or Mossberg, then XS Sight System's Big Dot Tritium Shotgun Bead is for you.
I slapped one on my Ultimate Shockwave and have zero regrets. It's an outstanding option for shotgunners who prefer good ole iron sights.
Despite its "Big Dot" title, this sight is actually pretty small, about the same size as a standard bead. It offers both day time visibility and night time vibrancy.
The large white circle is perfect for normal shooting, and that tritium vial glows brightly when lights are low, and the tension is high.
Installation is a little bit of a process, but it can be done at home with minimum fuss. Fortunately, it comes with all the parts you'll need to affix it to your shotgun!
Inexpensive Option: XS Big Dot
For about half the price of the night time optic, the XS Big Dot bead is a standard high visibility front sight.
This bead might be cheap, but it's a good friend to have in a defensive situation.
It's a bright yellow that catches the eye and ensures your bead touches the target without a whole lotta difficulty.
Size-wise, it's much larger than a standard bead, and the high visibility design makes it easy to find.
The Big Dot bead has the same installation procedure as the night sight model and is also limited to the Remington and Mossberg shotguns.
5. Ammo Selections
Last but not least, we have to talk about the ammo you choose for home defense.
For shotguns, I live the buckshot life.
Birdshot is for birds, not assailants. And slugs make the shotgun a rifle; I'd rather just use a rifle if that's the case.
I prefer 2 ¾ inch buckshot to maximize capacity while taming recoil. There are two loads I favor depending on the type of shotgun I'm wielding.
For a pump gun, I like Federal Tactical LE with FliteControl Wad: eight pellet buckshot, reduced recoil.
For semi-autos, I prefer Hornady Black or Hornady Critical Defense.
Don't overthink your options here – both Hornady loads are exactly the same; they just have different names.
The Hornady loads use the Versatite wad, which is identical to the FliteControl wad. Both deliver unbeatable spreads and are extremely accurate, reliable, and well made.
They are the pinnacle of shotgun ammunition and excellent options for home defense.
Regardless of the ammo you choose, get out there and pattern your stuff, ladies and gents.
Without patterning and knowing how a load works in your shotgun, you can never be sure of just how capable the round will be in a defense situation.
Want to learn more about shotgun ammo for home defense or regular target practice? Curious about the differences between birdshot, buckshot, and slugs?
We reviewed various shotgun loads to determine what makes a good defensive round in Best Shotgun Ammo [2020]: Home Defense & Target Shooting.
Conclusion
These are my personal home defense shotgun necessities.
From sight to saddles to ammo, every item on this list plays a critical role in making your shotgun an effective weapon.
And while it can be difficult to find purpose-built accessories for less popular models, I think we've covered a few alternatives that will serve you well.
You can't take any chances when it comes to home defense.
Like any endeavor, you can't just rely on tools and gear to make up for your skills…or lack thereof, especially when the safety of your home has been compromised.
Take your shotgun and its accessories to the range and practice, practice, practice! If this is your home defense weapon, you need a thorough understanding of its capabilities and limitations.
These are my home defense shotgun essentials! Do you have any other go-to options for your gun? Let us know in the comments below.
And if you're new to the good ole scattergun, check out our comprehensive Shotgun Reviews page to explore different models, learn about upgrades and gear options, and read detailed ammo comparison reports.