Cloud Defensive and Modlite have broken down barriers in the modern weapon light market, ensuring what makes a good weapon light is no longer just about the lumens.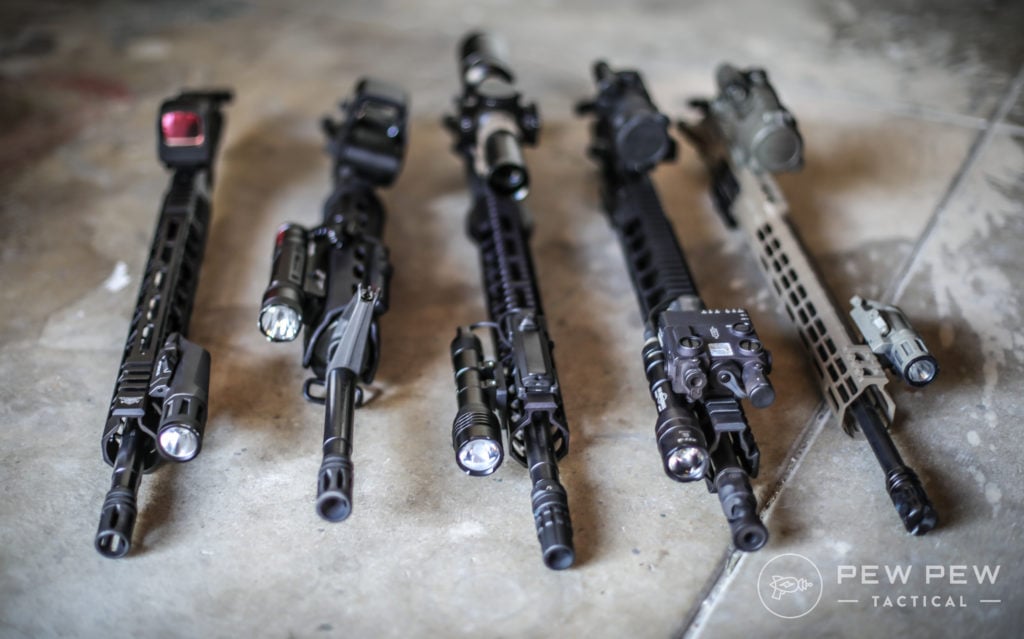 Nowadays, it's all about candela.
Sure, lumens still have a place in the light world, but candela is king.
Lights like the Rein Micro exemplify this concept, mixing both a high lumen count with an extremely high candela count.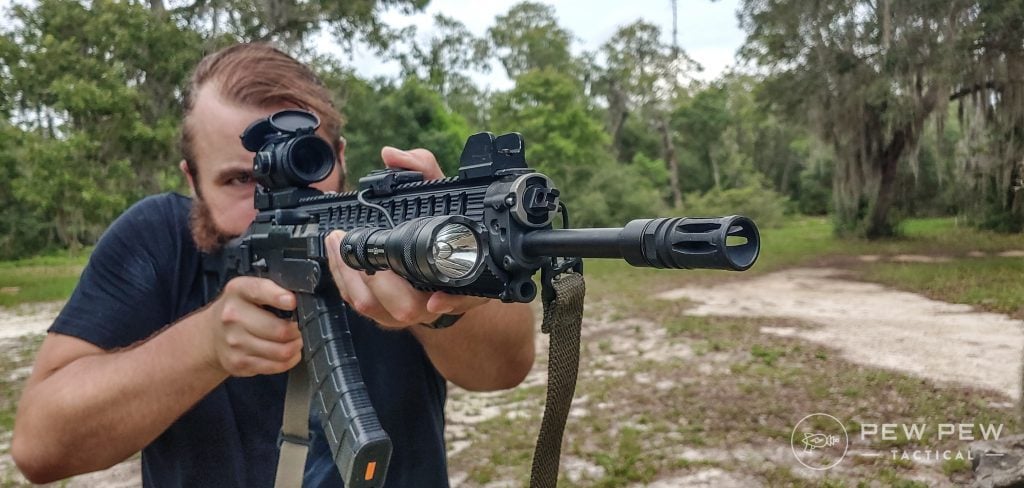 And that's what we're here to talk about today – the Rein Micro.
The Rein series from Cloud Defensive pushes past what most lights are capable of, and it seems as if the Micro carries on that tradition.
But how well does the Micro handle?
369
at Cloud Defensive
Prices accurate at time of writing
Prices accurate at time of writing
I took the Rein Micro for a test to see if it lives up to the Cloud Defensive name and if it's a worthy addition to your light collection.
So, follow along as we take a closer look at the Rein Micro.
Table of Contents
Loading...
Breaking Down the Rein Micro
Cloud Defensive is no stranger to criticism, namely that their lights feel large and heavy.
Admittedly the OWL is a chunk, and the Rein Standard is basically a lightsaber hilt.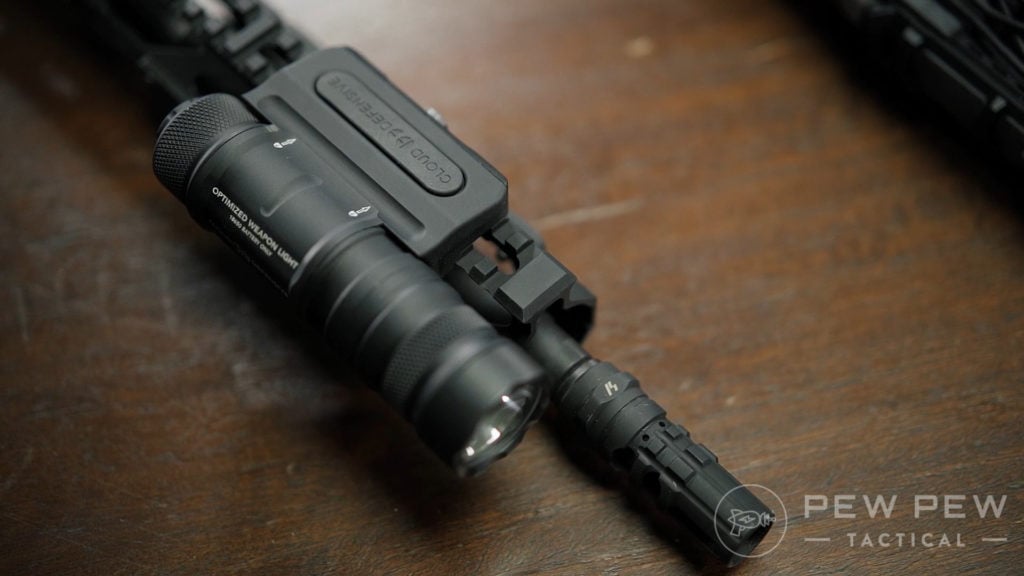 While the Rein Micro mimics the standard Rein in most ways, it shrinks the design down to a more manageable size weighing a mere 5.75-ounces with the battery.
And if you mix in the complete kit with mounts and pressure switch, you get a total weight of 7.48-ounces.
For comparison, the Rein Standard weighs 8.54-ounces with the complete kit. An ounce and some change feel nice.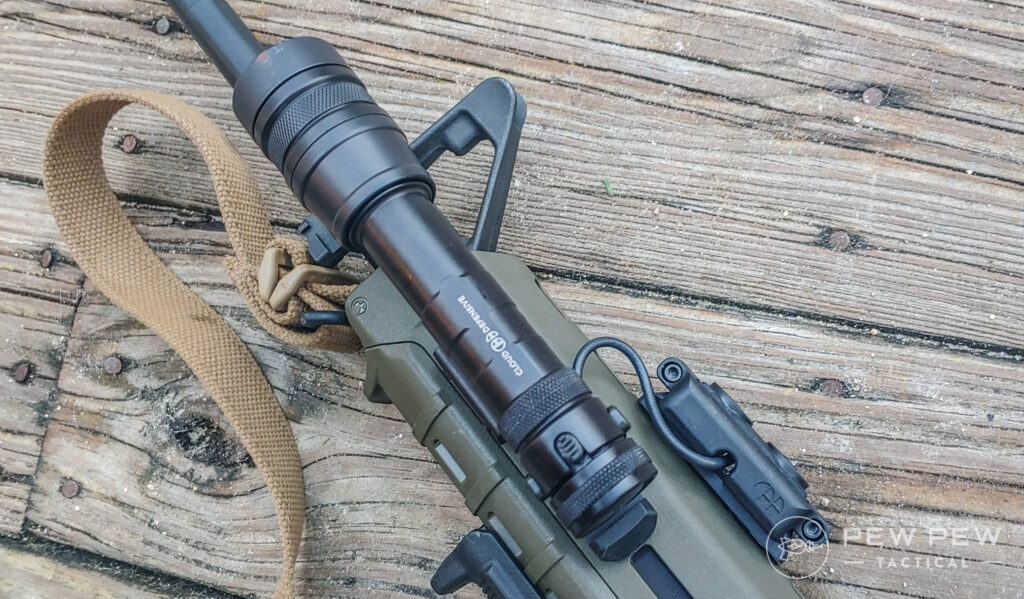 That said, I don't think weight is the main advantage of the Rein Micro.
The Rein Micro features an overall length of 4.97-inches, while the Rein Standard measures out to 6.172-inches.
An inch makes a big difference when you try to outfit an SBR, braced pistol, or the like.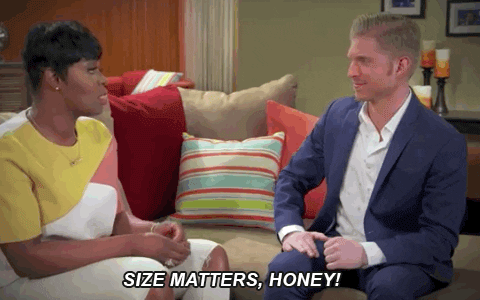 A smaller light works better on smaller weapons. If you are outfitting a PDW-sized gun, then the Rein Micro makes a ton of sense.
Strapping 6-inches of flashlight on a CZ Scorpion takes up most of your handguard, so trimming some of the size down makes a big difference.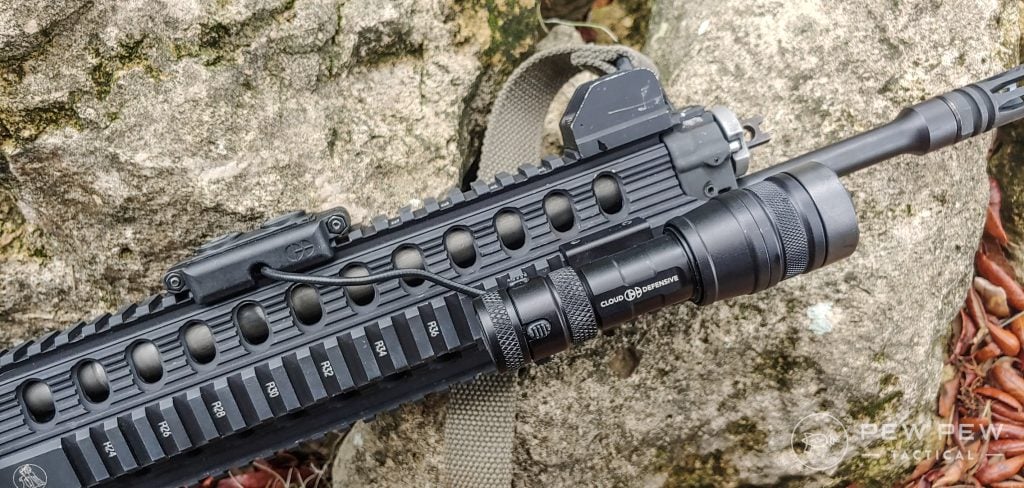 Now some of you are probably asking if you trim size does that mean that you're also cutting power?
Well, yes, but only a bit.
You're still getting a lightsaber effect with its 1,300 lumens and 55,000 candela. For comparison, the Rein Standard hits you with 1,400 lumens and 60,000 candela.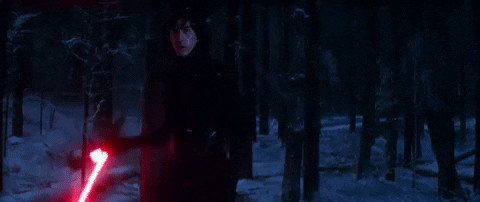 Battery-wise, it uses a 18350 — rechargeable and much smaller than the 18650 utilized in the standard Rein model.
You'll see a big difference in runtime, though. The Rein Micro taps out at 35 minutes compared to the 120 minutes of the Rein Standard.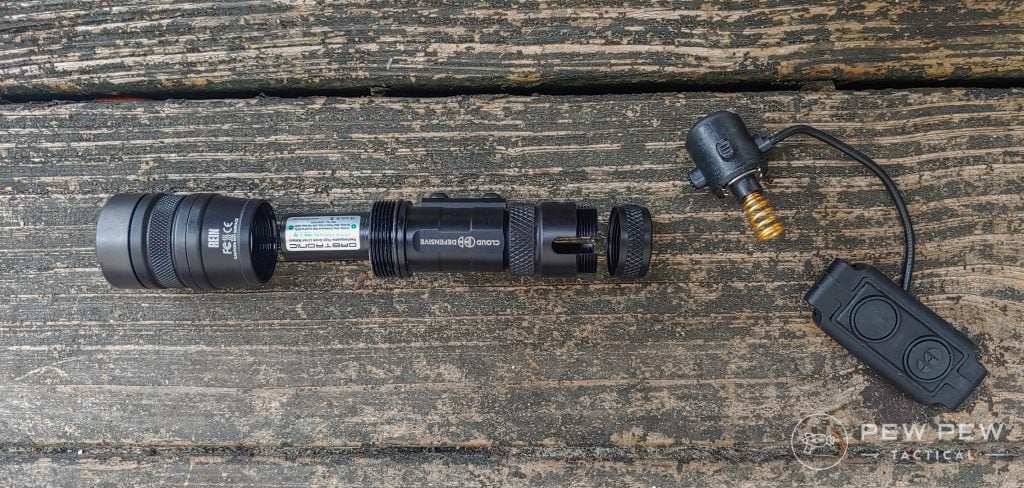 Features and Ergonomics
There's a lot to love about the Rein Micro, and one of my favorite features is the portion where the pressure switch connects to the light.
It goes well beyond a port.
A port that accepts a switch is fine, but it does open up the possibility of the cord accidentally disconnecting.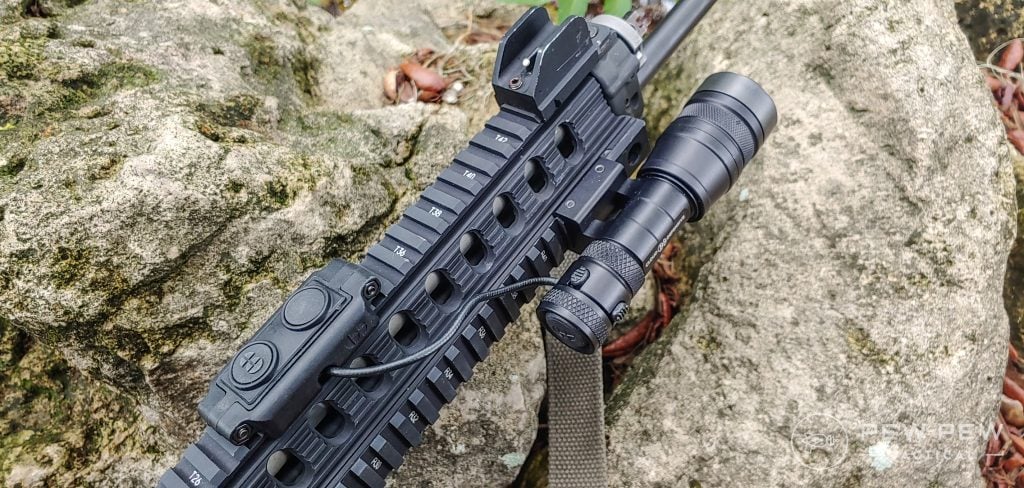 Cloud Defensive's design made this impossible (well, unless you have a pair of wire cutters).
The switch and tail-cap are an all-in-one design inserted into the Rein Micro and then secured by a screw-on cap.
You can position the cord in four ways, allowing users to position the switch where they want and also granting better cable management.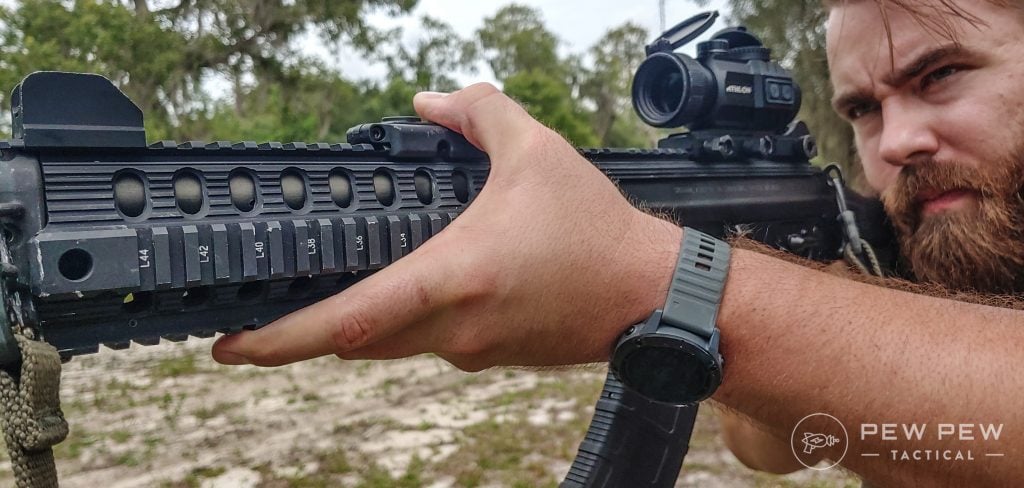 The 5-inches of cord are more than enough for my needs.
Once mounted, you can still use a clicky tail-cap to activate the light or use the Cloud Defense switch. Both offer momentary and constant modes.
A half-press activates the momentary mode with the tail-cap, and a dedicated full click moves it into constant mode.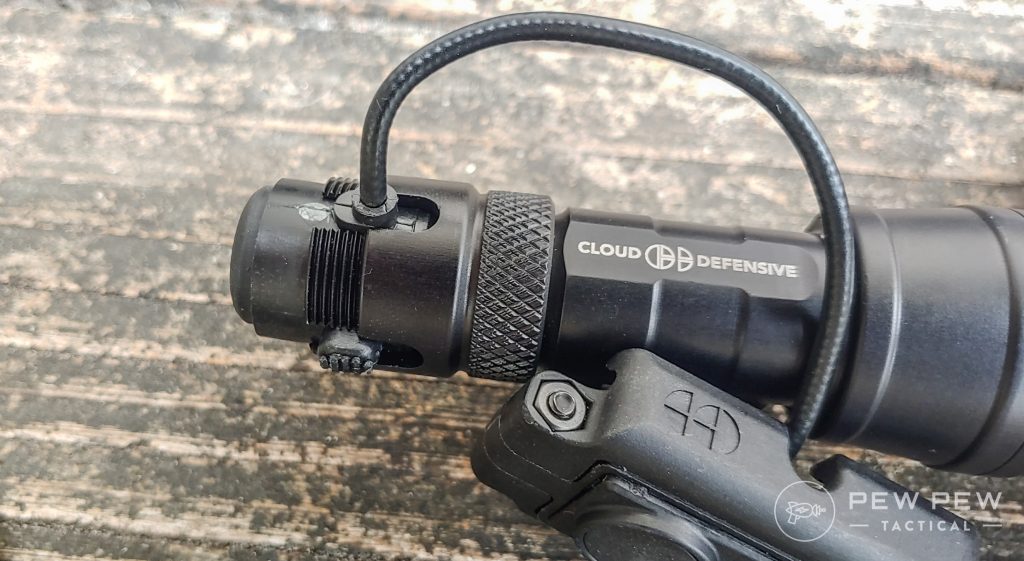 The pressure switch offers two buttons — one dedicated to momentary and the other to constant modes.
Dedicated texturing means you instantly know which button does what.
Putting the Rein to the Test
With the Rein Micro, you get a beam that's more warm than cool. It appears yellow and looks a lot like the old school Maglite beams, except much brighter and more powerful.
Warm beams offer numerous benefits over cool beams – like better color perception. Thanks to that warmer beam, I can see everything in vivid detail.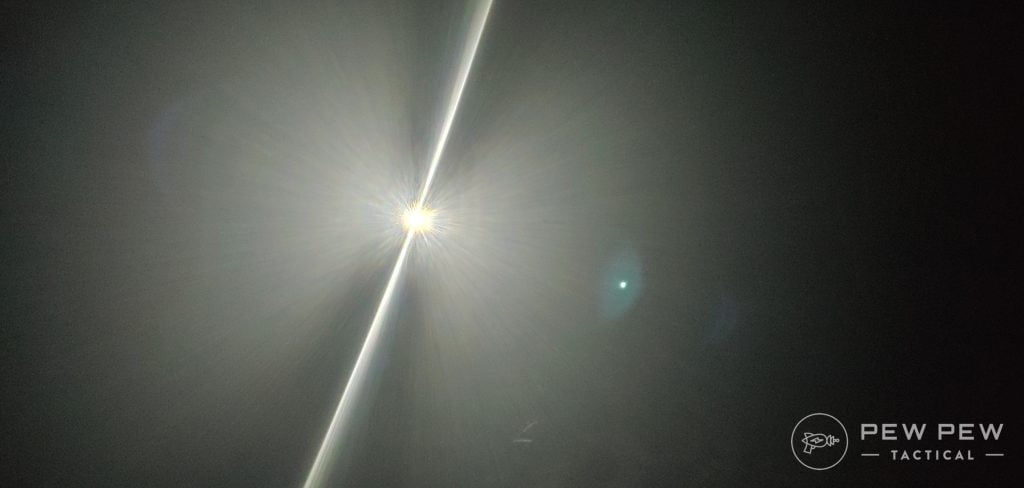 Living in a rural environment, I get lots of nighttime intruders, most on four legs. I've used the Rein Micro's beam to investigate critters at night.
Most often, I come upon a dog or deer, but occasionally I find a coyote.
When I shine the beam outwards, I can easily make out the fur color of whatever I'm looking at.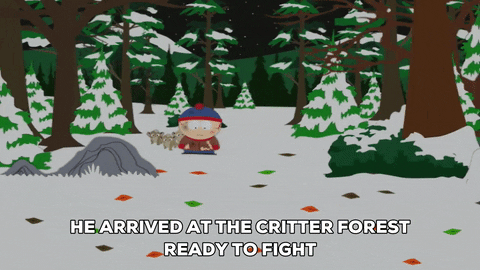 And that beam provides a wide hotspot that packs a punch.
The Rein Micro offers tons of range but isn't so focused that it compromises peripheral vision. In fact, the beam is surprisingly wide and will fill a room with light.
For that reason, it's perfectly capable as a home defense light.
In my home, it lights up one side of the living room to the other.
And bonus, the high lumen and candela count doesn't kill your vision or make it difficult to see inside your home.
The Range
Now let's take this little beast outside and see what happens when we run it at night.
In my experience, my yard spotlight has proven to be quite effective for finding animals both big and small at night.
That big, powerful hotspot illuminates an area perfectly.
Combining the power of the Rein Micro with a magnified optic is the best way to take advantage of its power.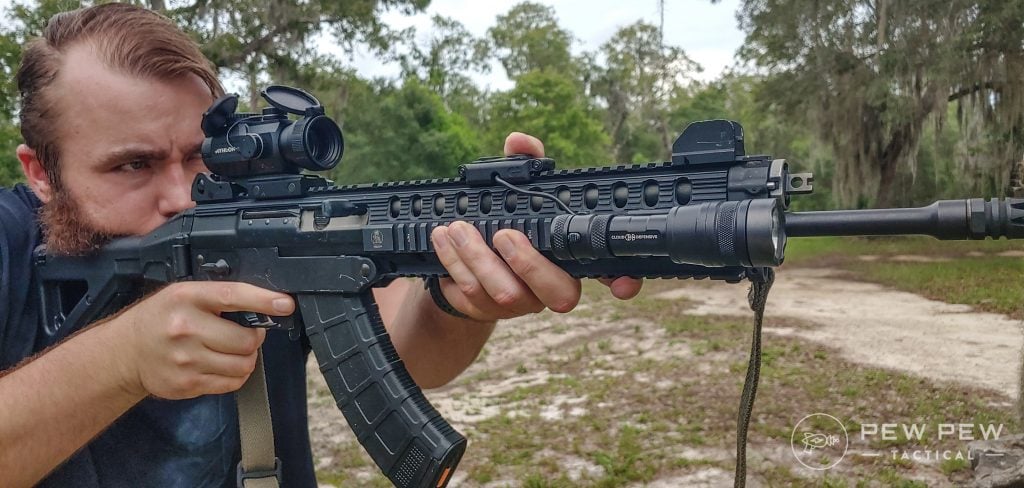 So, I took the Rein to a variety of ranges to see what it can do. As always, my poor Ivan target was my victim.
I don't think weapon lights can feel anger, but it really seems like the Rein Micro hates darkness — like to an extreme degree.
It punishes it, destroys it, and dissolves it.
At 25-Yards
At 25-yards, the light grants me a stunning HD-level view of poor Ivan.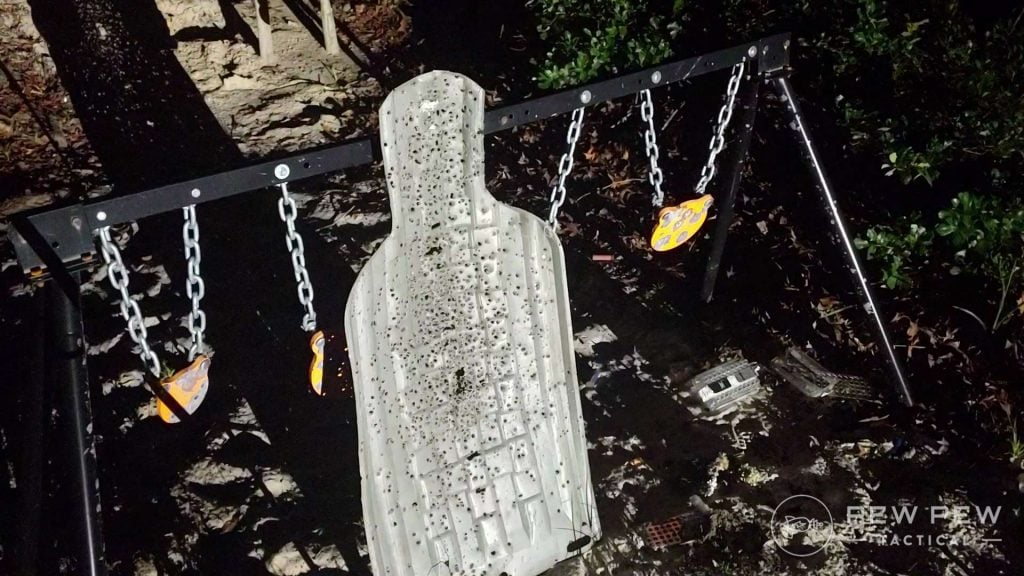 His armless figure can do nothing to block the rays of hate and discontent the Rein Micro shines! I can see him and a rather large area around him in vivid detail.
Nothing or no one is safe from the Rein Micro's beam of power!
At 50-Yards
From 25- to 50-yards, I didn't see much of a performance difference.
The light was still brilliant, beautiful and hit Ivan with a beam of intense brightness. This isn't the beam of light you want to go towards either.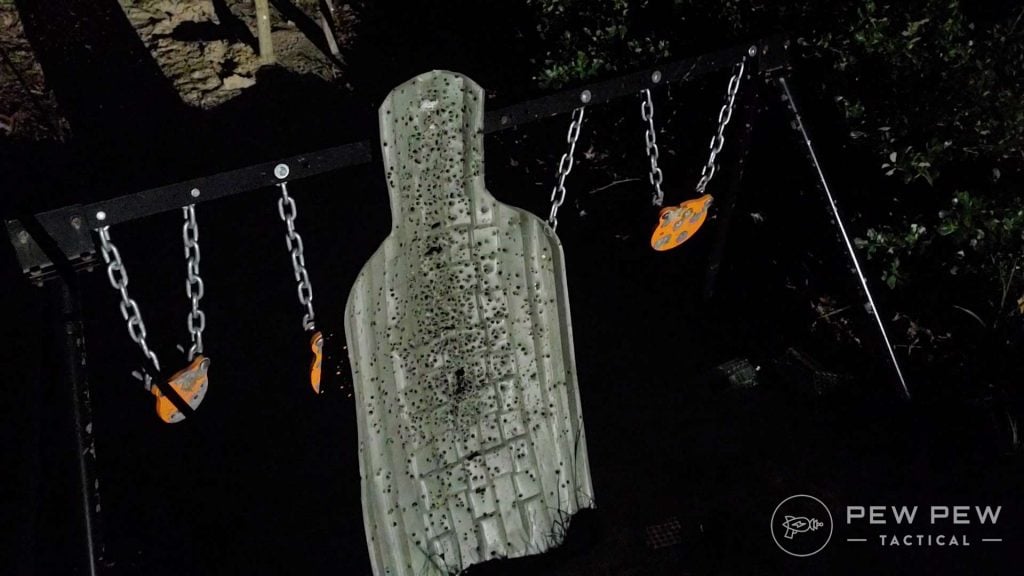 From my perspective, I could still very clearly see Ivan and the world around him.
He was cascaded in bright light, and I could pick out all his poor bullet holes.
The man has lived a rough life, and it's not getting any easier.
At 100-yards
Let's go further and hit that 100-yard line. From back here, I used my SwampFox Trihawk (a fixed 3x prism) to see my target.
(Psst…PPT readers get 20% off optics at Swampfox with code PewPew20 if you find yourself in need of the Trihawk.)
329
at Swampfox
Prices accurate at time of writing
Prices accurate at time of writing
Without the prism optic, I could see the green outline of Ivan with ease under the beam of the Rein Micro.
With the prism, I could see him in greater detail…enough to establish PID if necessary.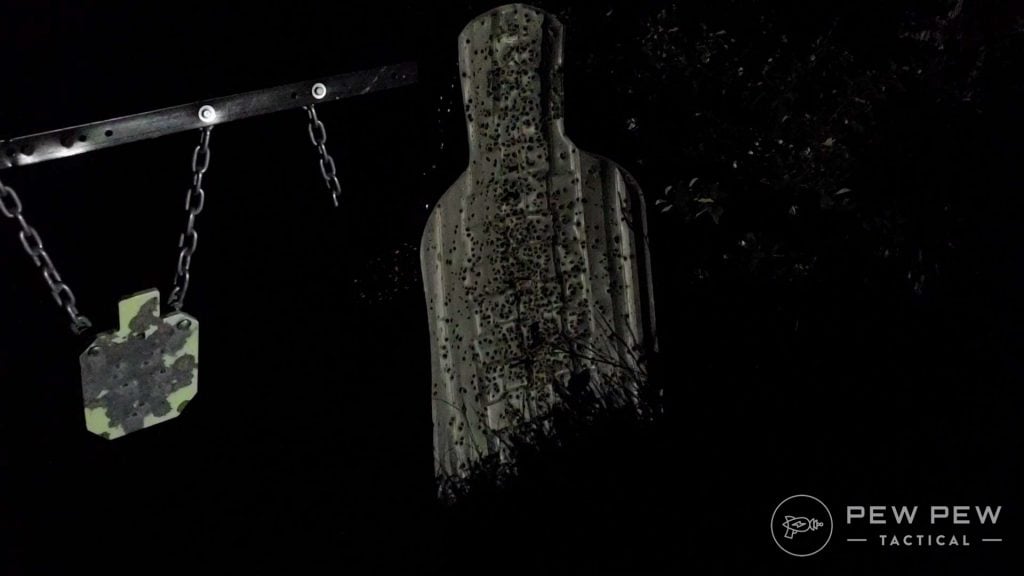 Photonic Barriers
First, what's a photonic barrier?
It's a visual barrier created by another light source, and these pop up in a multitude of ways.
Two of the most common is a barrier of light between you and something you need to see and something you need to see shining a light at you.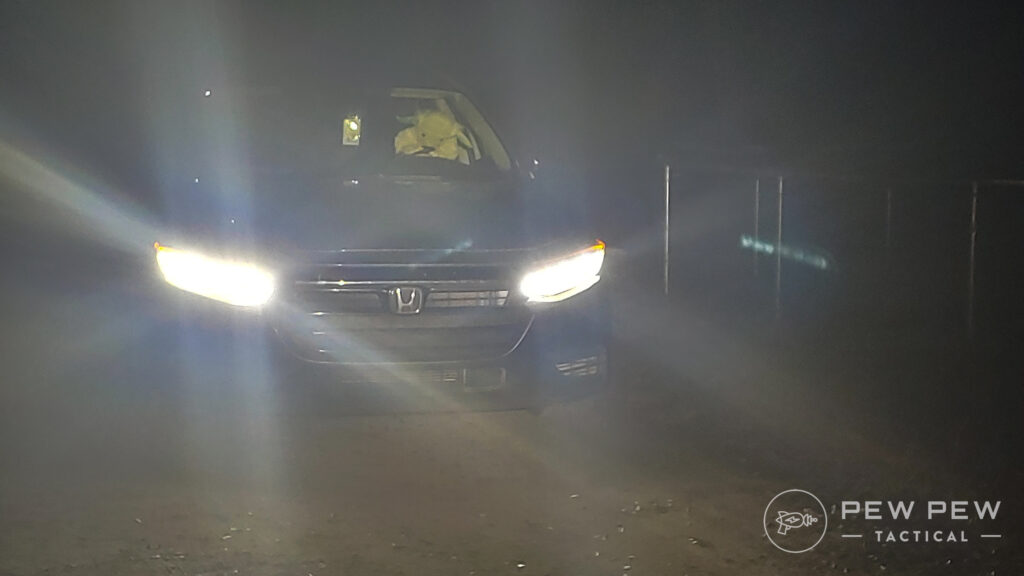 I tested both.
This time Ivan got to light me up with a 500-lumen handheld light. Then I fired back with the 1,300-lumen light and completely washed his out.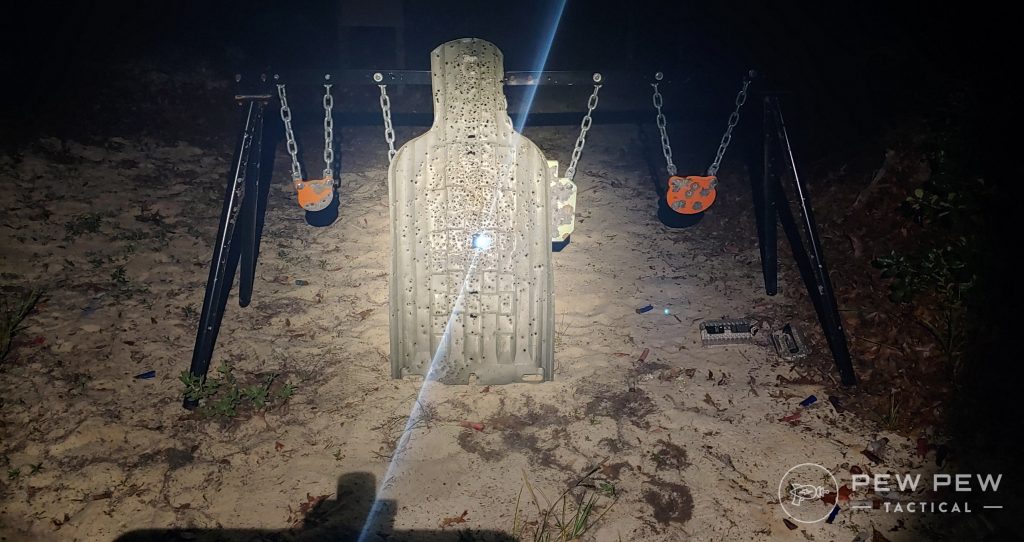 He didn't stand a chance.
Then I took a blast from a dismounted Rein Micro myself and felt his pain.
(For the record, neither I, Pew Pew Tactical, nor Cloud Defensive recommends getting in front of a Rein Micro.)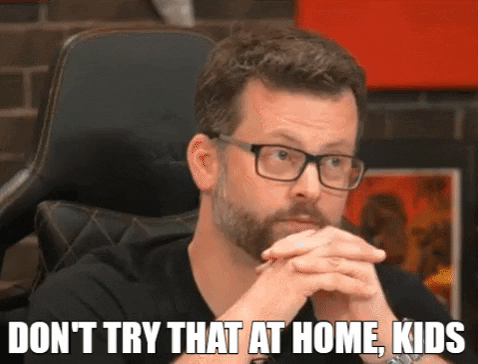 It is a punishing amount of light to be hit with. You want to throw your hands up and surrender, block the light, and get away from it.
My second barrier came in the form of large overhead lights.
I stood under my barn lights and looked around the area. The light above me created a photonic barrier, making it difficult to see very far beyond the barn itself.
Even 10-yards or so outside, the light can prove difficult to see.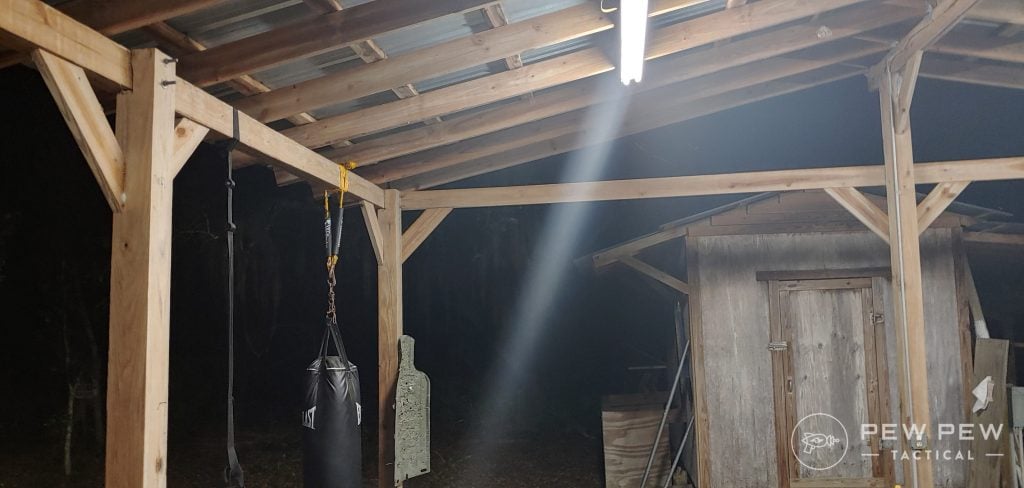 So, I hid Ivan outside the realm of the barn light and went looking.
The Rein Micro cut through the barrier and the darkness and found him trying to use his natural green color to camouflage himself.
Sadly, he became a victim of the Rein Micro's not-so-micro beam.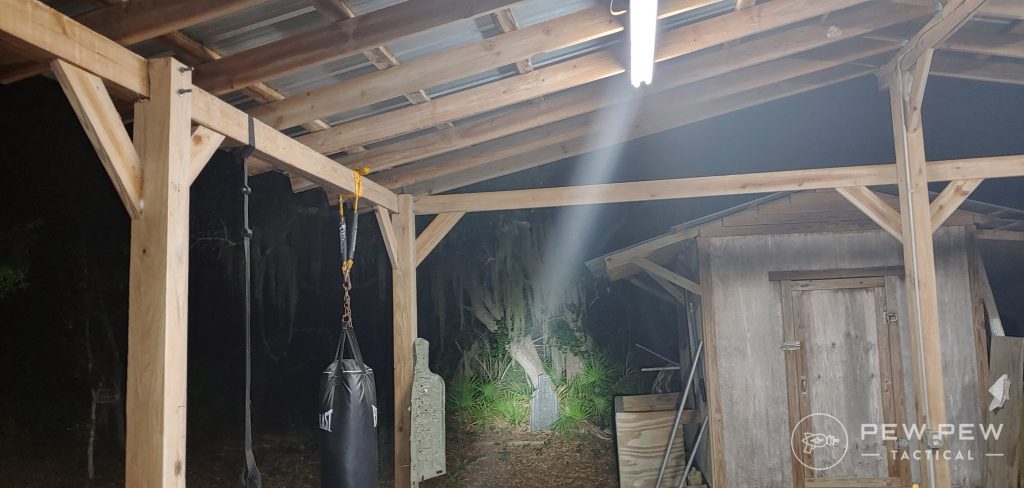 Roughing It Up
I follow a little Facebook page called That Shotgun Blog. The author there recently made me aware that some batteries cannot withstand the force of 12-gauges.
Obviously, I tossed the Rein Micro on a Benelli M4 and started shooting to see what would happen.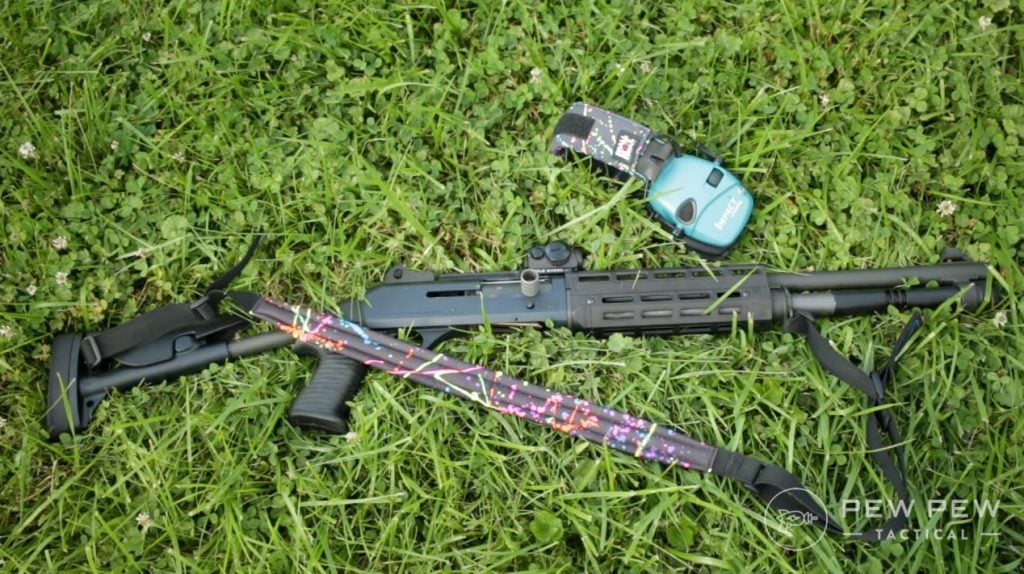 I tried it out with buckshot, birdshot, and a few slugs, and I shot fast little rest between loads.
Slug—wise, all I have is low recoil, but buckshot is my full-powered.
After 100 rounds between the three ammo types, I worked the light, examined the battery, and saw zero issues.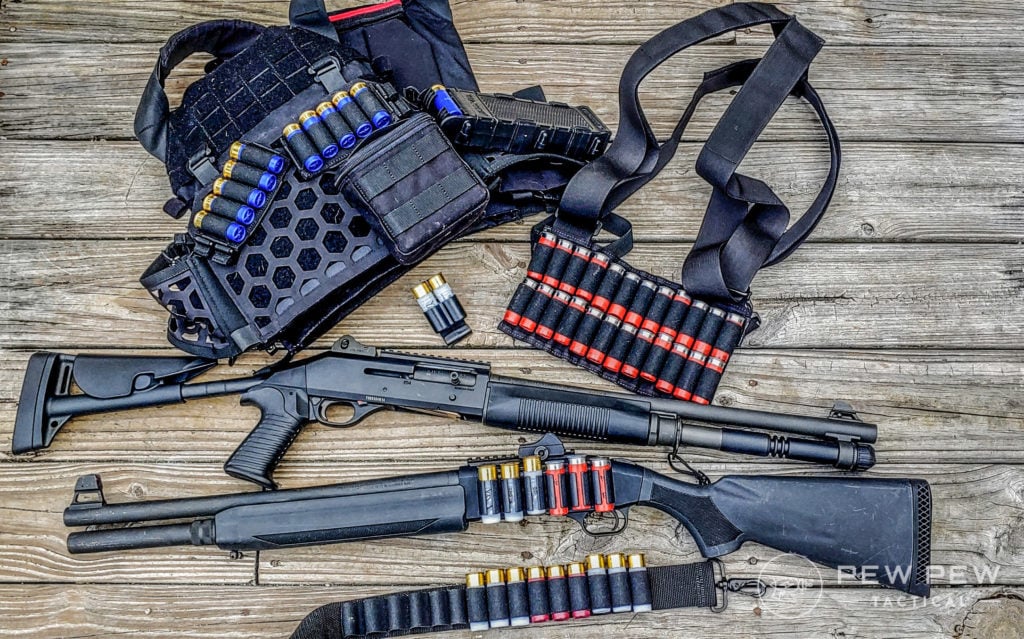 And that's likely because Cloud Defensive beats the heck out of their lights.
Their Instagram page shows them hit with hammers, dropped several stories, and taken swimming.
These things are tougher than any drop test I'm going to put them through.
By the Numbers
Reliability: 5/5
This thing doesn't fail, flicker, or flutter under recoil. Even when faced with a 12-gauge shotgun, it keeps on. Cloud Defensive crafts these lights to be half-light, half impact tool, and it shows.
Ergonomics: 5/5
Trimming a little weight and size makes this light a little more manageable when compared to the standard Rein. The tail cap and pressure switch work brilliantly and provide excellent controls.
Looks: 5/5
Milling and anodization are sharp and clean. Cloud Defensive ensures the lights meet a certain degree of quality, even on the outside.
Value: 4/5
It's a pricey light, but the complete package does make it very plug-and-play friendly. While it beats the ergonomics of the Rein standard, it brings less power and runtime but costs the same as the standard Rein. For that reason, I took a point off.
369
at Cloud Defensive
Prices accurate at time of writing
Prices accurate at time of writing
Overall: 4.5/5
The Rein Micro provides space-age power to the weapon light world. It does so in a very compact package that makes it easy to save a little rail space. When you want the very best, you want a Rein, and the Rein Micro keeps things nice and short.
Conclusion
Though little, the Cloud Defensive Rein Micro offers SBRs, braced pistols, subguns, and even shotguns with a compact but powerful weapon light.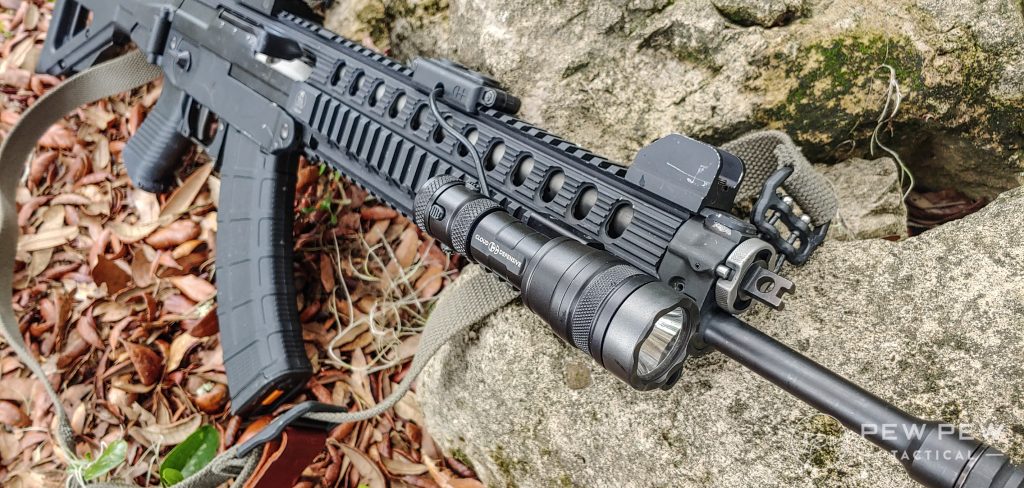 This light brings an unbeatable range and a brilliant amount of power. Add in the bomb-proof reliability, and you get a weapon light worth its weight in gold.
What do you think of the Cloud Defensive Rein Micro? Let me know in the comments below. For more lights, check out our guide on the Best Tactical Flashlights Under $100.