While some say there's nothing more American than apple pie, I myself am partial to another American classic…the Bowie knife.
Widely recognizable, this is the blade that helped forge America into the land it is today.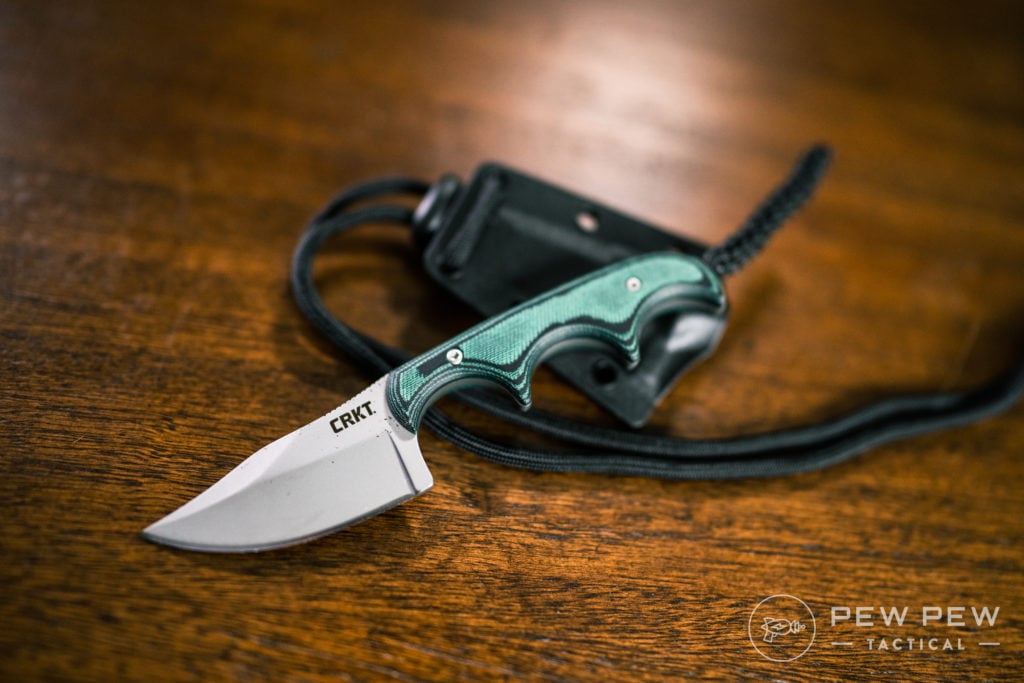 But where did this blade come from, and how did it gain such a legendary mystique?
To discover the truth behind the Bowie knife (pronounced boo-ee), one must first delve into the history of the man behind the moniker.
So, let's start our search there with one of the most legendary Americans of all time.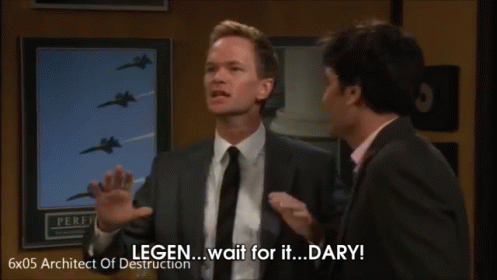 We'll dig through some history, talk about what led the Bowie to success, and even pass on some of our favorite models!
Keep reading…
Table of Contents
Loading...
Where It Began: Jim Bowie
September 19, 1827, in the rough-and-tumble town of Natchez, Mississippi, on a sandbar in the river, two men – Samuel Levi Wells and Dr. Thomas H. Maddox – prepare for a duel of honor.
While it's not clear who, one of the men insulted a woman the other deeply cared about –the insult deemed gross enough to warrant a fight to the death.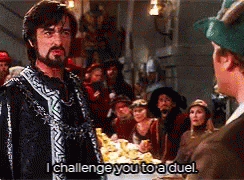 True to the custom of the times, both men brought along a small entourage of close friends.
These men ensured the duel was fairly fought and the injured party taken care of.
Though he didn't know it at the time, Samuel Wells had a future American icon by his side – Jim Bowie.
After each duelist fired off two rounds – missing each time – Wells and Maddox decided to let bygones be bygones and shook hands.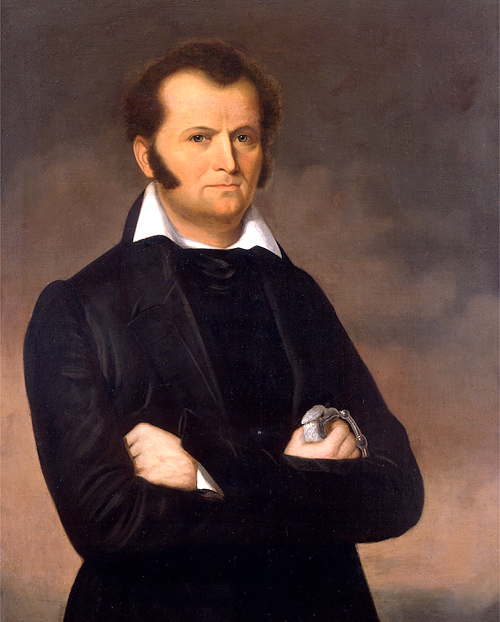 Whether the men missed on purpose or not, something happened – we're not sure what – spurring each man's entourage into a general melee.
In the brawl, one of Dr. Maddox's men took a shot at Bowie.
Enraged, Bowie drew his knife to chase down the assailant but was shot in the chest in the process.
Things seemed grim for Bowie as he was then clubbed with a pistol and shot twice more. Things didn't end there for Bowie, as he fell to the ground and then attacked by two men with sword canes.
It was here that Bowie's natural toughness gained notoriety.
As the first assailant attacked, Bowie slashed open the man's gut with his knife.
The second assailant stabbed him in the hand before impaling him through the body as well.
While impaled, Jim Bowie grabbed the man's coat, pulled himself up off the ground, and sunk his knife through the man's heart.
Despite being pistol-whipped, shot multiple times, and possessing numerous stab wounds, Bowie survived.
As he grew stronger, his legend did as well.
Failed Hit
After the press caught on to what became known as the Fight of the Vidalia Sandbar, Bowie's prowess as a knife fighter gained ground.
Captivated by the story, men throughout America wanted to purchase "Bowie" knives of their own.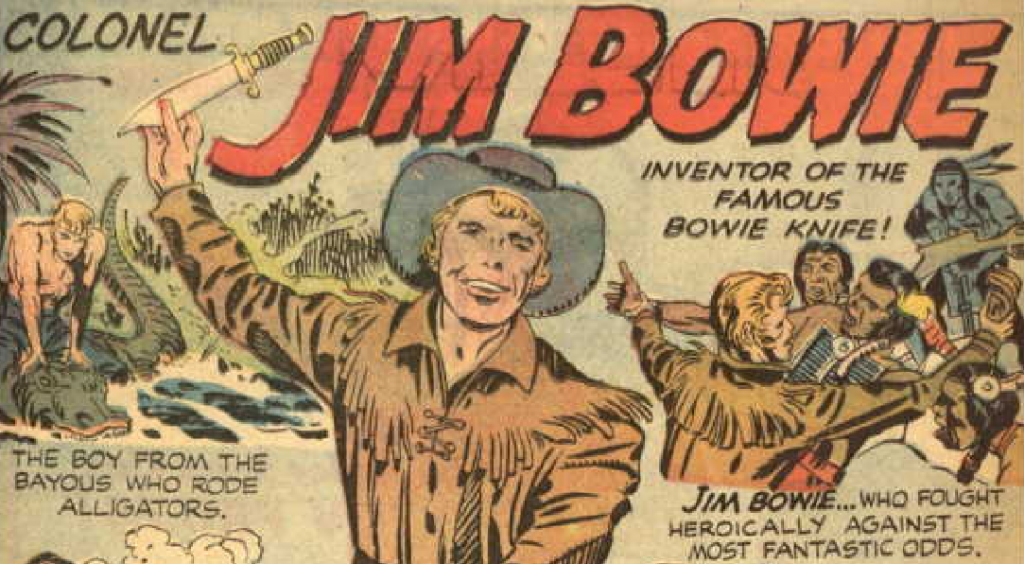 (Worth noting, the sale of Bowie knives was outlawed in the state of Tennessee a year after the Vidalia Sandbar fight.)
However, Bowie wasn't done yet…He still had other adventures in store that would further cement the future of his now-famous knife.
After heading to Texas, three assassins were sent to kill Bowie. With a rather vivid memory of how his last knife fight ended, Jim Bowie made a much cleaner job of things the second go around.
The first assassin was deftly decapitated by Bowie's knife – proving the heft behind this blade could pack a formidable punch.
As the second assassin approached, Bowie disemboweled him with the blade, leaving a pool of intestines at the man's feet.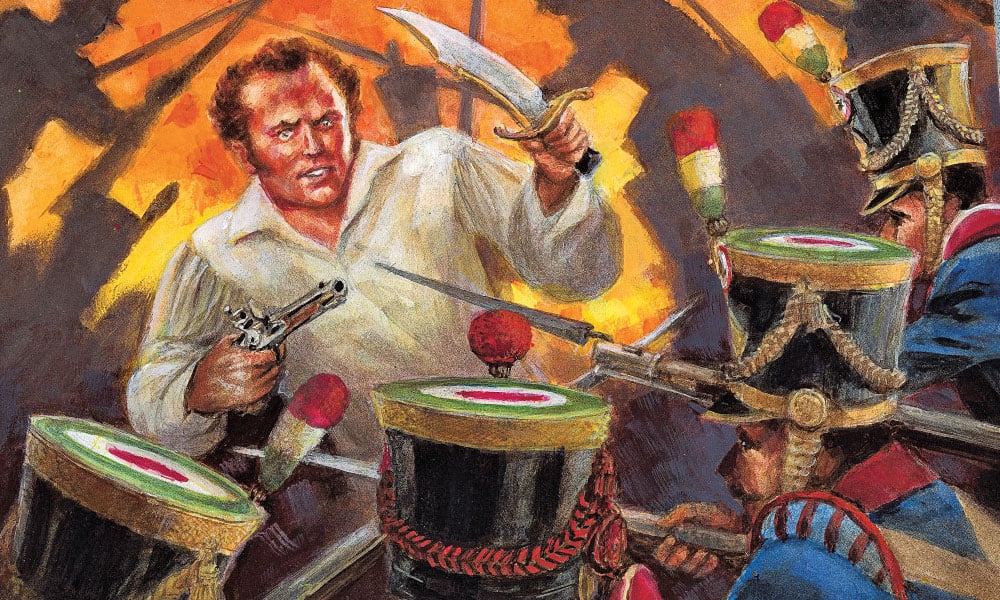 Then it was the third man's turn. Jim Bowie split the man's skull open from top to bottom with one well-served chop.
Once more, the public was enthralled.
The desire for Bowie knives took hold, and the knife began popping up all over the American frontier.
American Frontier
Bowie knives were ever-present throughout the American wilderness.
In 1847, American historian Francis Parkman wrote, "American backwoodsmen in brown homespun, the well-beloved pistol and bowie-knife displayed openly at their sides."
Not long afterward, in 1866, John Bratt would write, "Nearly every man carried one or two revolvers on the well-filled belt of cartridges around his waist, besides a bowie knife sometimes stuck in his belt and sometimes stuck in the top of his high-legged booth."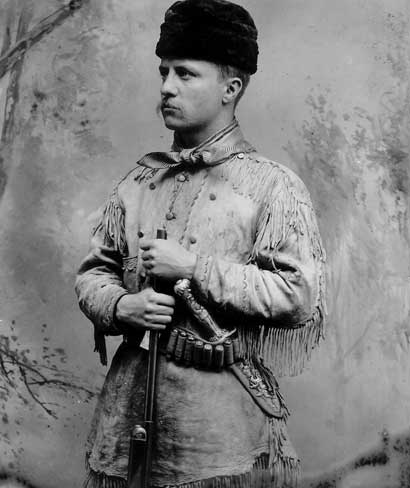 Ten years after Bratt's comments, it appears that the presence of the bowie knife was still going strong as Texas Ranger James B. Gillett wrote, "For arms, the Ranger after 1877 carried a Winchester rifle or carbine, a Colt's .45 revolver, and a bowie knife."
So it seems that no matter where you went in the American frontier for at least 50 years, the Bowie knife was sure to be nearby.
The Search for the Brains Behind the Bowie Blade
Perhaps it's the search for the creator of the Bowie knife that is filled with more mystery than any other facet of the blade's existence.
Frankly, we don't really know who first made the Bowie.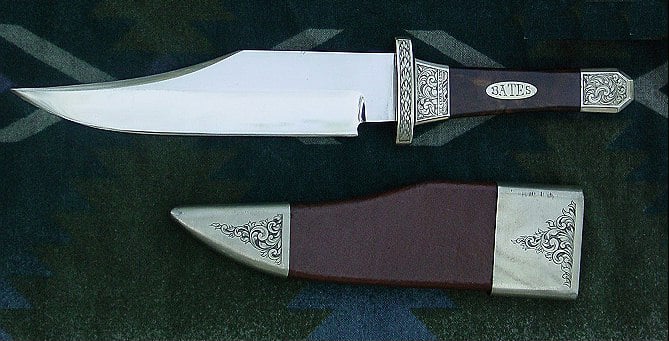 A lot of theories exist, but who first crafted the Bowie has perhaps been lost to the sands of time.
What historians have determined, however, is who most likely was responsible for the initial design.
James Black
Perhaps the most well-respected theory falls to American knife maker and blacksmith James Black.
In 1841, the Washington Telegraph attributed Black with "inventing this far-famed deadly instrument."
Black owned a booming Bowie business in the years after these knives became famous. He used a distinctive method for creating a knife that was not only strong and durable but also flexible.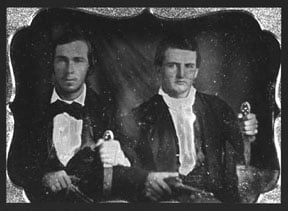 This resulted in a well-sought-after blade that could handle just about anything thrown at it.
No other blacksmith of the time could replicate Black's techniques, and he kept his methods an absolute secret. He even went so far as to do his work from behind a leather curtain.
In 1839, however, Black was left virtually blind after being beat by his father-in-law. (Black married his late wife without her dad's consent.)
As a result, he quit making knives.
In 1870, Black passed on the secrets of his methods to his caretaker, family member, and future Arkansas governor, Daniel Webster Jones.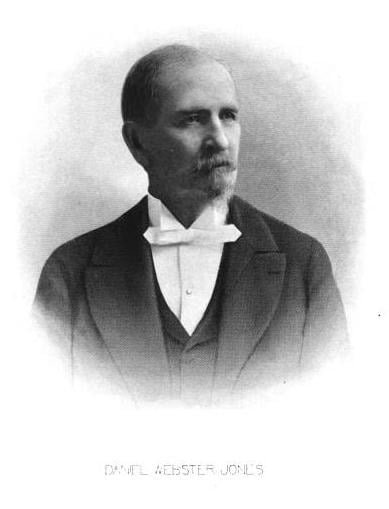 However, by this time, Black suffered from dementia. After rubbing his forehead until it bled, Black loudly proclaimed, "It has all gone from me!"
All that Black could remember was that there were ten distinct steps involved in making his iconic knife.
Black died not long after, taking his secrets to the grave with him.
Rezin Bowie
Jim Bowie's older brother Rezin is also suspected of being the originator of the well-used blade.
On April 10, 1827, Rezin went so far as to get a notarized statement in Marksville, Louisiana, that he was, in fact, the originator of the bowie knife.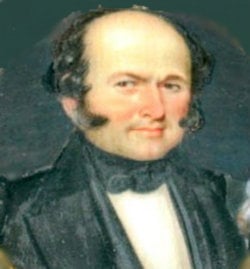 His statement read, "The first Bowie knife was made by myself in the parish of Avoyelles."
What's interesting about this, though, is that this was several months before the Vidalia Sandbar fight.
Why would Rezin have sought to garner a name for himself by stating such a knife design was his when it wasn't even famous yet?
After a product has proved itself useful, "inventors" are prone to come out of the woodwork.
Yet, Rezin claimed the Bowie as his own work before there was even opportunity for fame.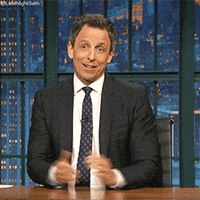 Jesse Clift
Further adding confusion to the story is the presence of Jesse Clift.
He allegedly used the Rezin's design to craft the first Bowie knife out of an old file.
Further proof of this comes from a recently discovered letter to Colonel David F. Boyd on September 14, 1885.
It says, "This instrument, which was never intended for ought but a hunting knife, was made of an old file in the plantation blacksmith shop of my grandfather's Bayou Boeuf plantation, the maker was a hired white man named Jessee Clift, he afterwards went to Texas."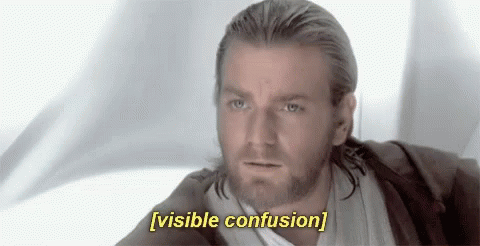 Adding further confusion to this tale is Jim Bowie's other older brother, John.
He claimed the knife used during the famed sandbar fight wasn't Clift's knife at all, but instead a knife crafted for Jim by a blacksmith named Lovell Snowden.
The Utility of the Bowie
Aside from its famed namesake, the Bowie grew to such levels of popularity due to possessing a very functional blade for frontier living.
The straight edge of the blade close to the handle made the knife perfect for daily cutting chores in a similar manner as the Finnish hunting knife, the "puukko."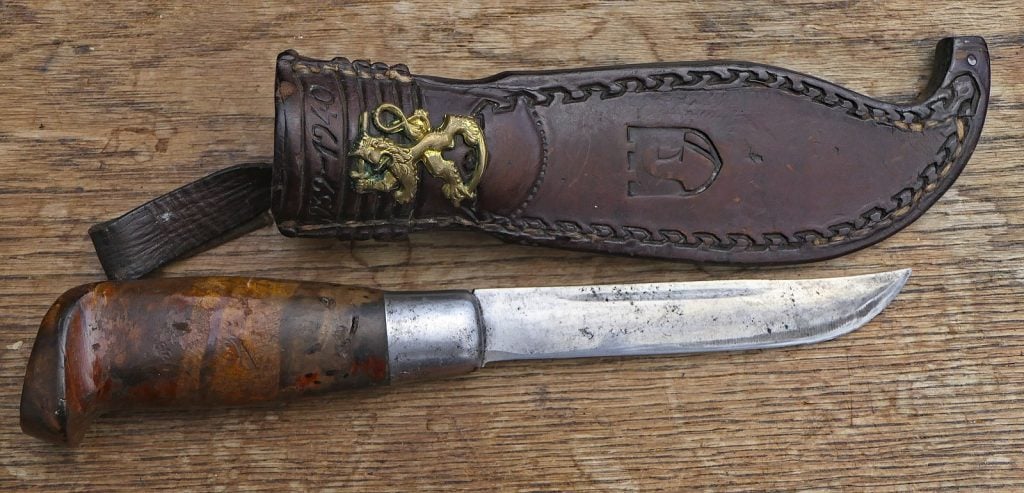 When it came to fighting against another armed opponent, the Bowie seemed to source inspiration from another ancient blade – the Scottish dirk.
The back of a Bowie often features a thin inlaid piece of soft metal (usually copper or bronze) to catch an opponent's blade and then disarm them.
The sheer size and length of the blade made this a respectable method of chopping wood as well.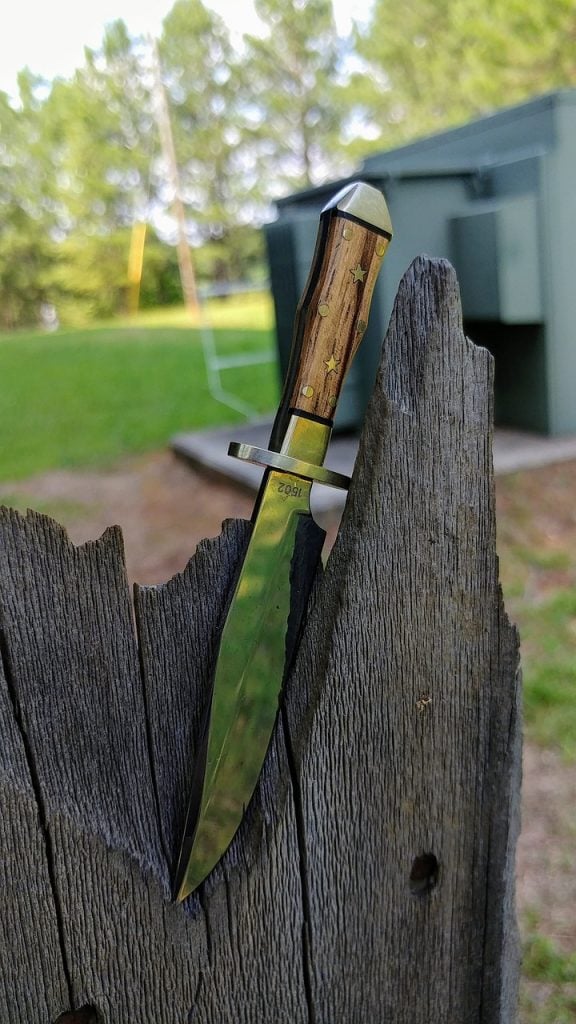 Regardless of how it's used, odds are the Bowie can accomplish the task at hand.
Bowie Varieties: The Spice of Life
Just like with virtually any other weapon in history, it wasn't long until other varieties appeared in number.
Sheffield Bowie
Perhaps the most common variant, and certainly the oldest, is the Sheffield Bowie.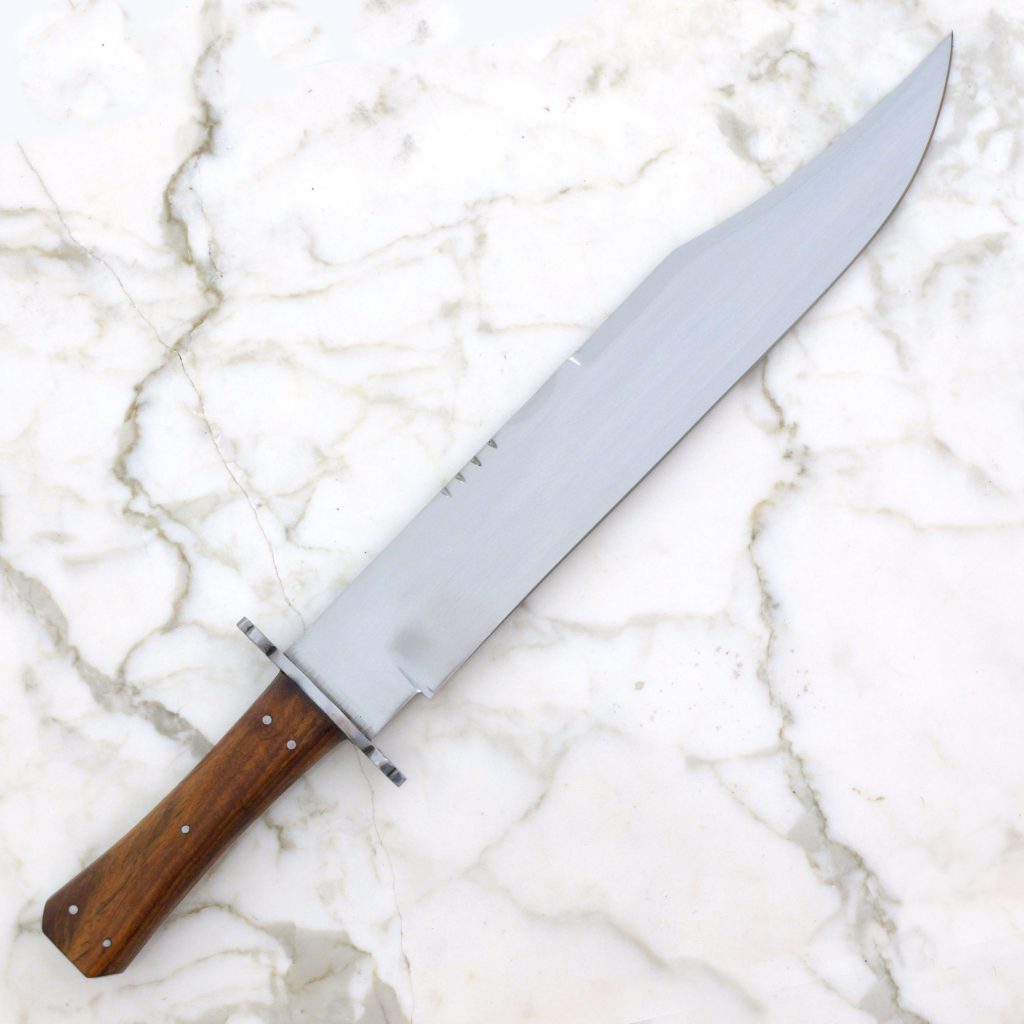 By 1850, the Bowie craze spread to England. Our neighbors across the pond began mass-producing Bowie knives for the American public.
They crafted knives with a double edge at a factory in Sheffield.
D-Guard
Since then, any Bowie with some or most of the back of the blade sharpened is referred to as a Sheffield Bowie.
The Civil War's start in 1861 brought the Bowie to the battlefields and a new version of it as well.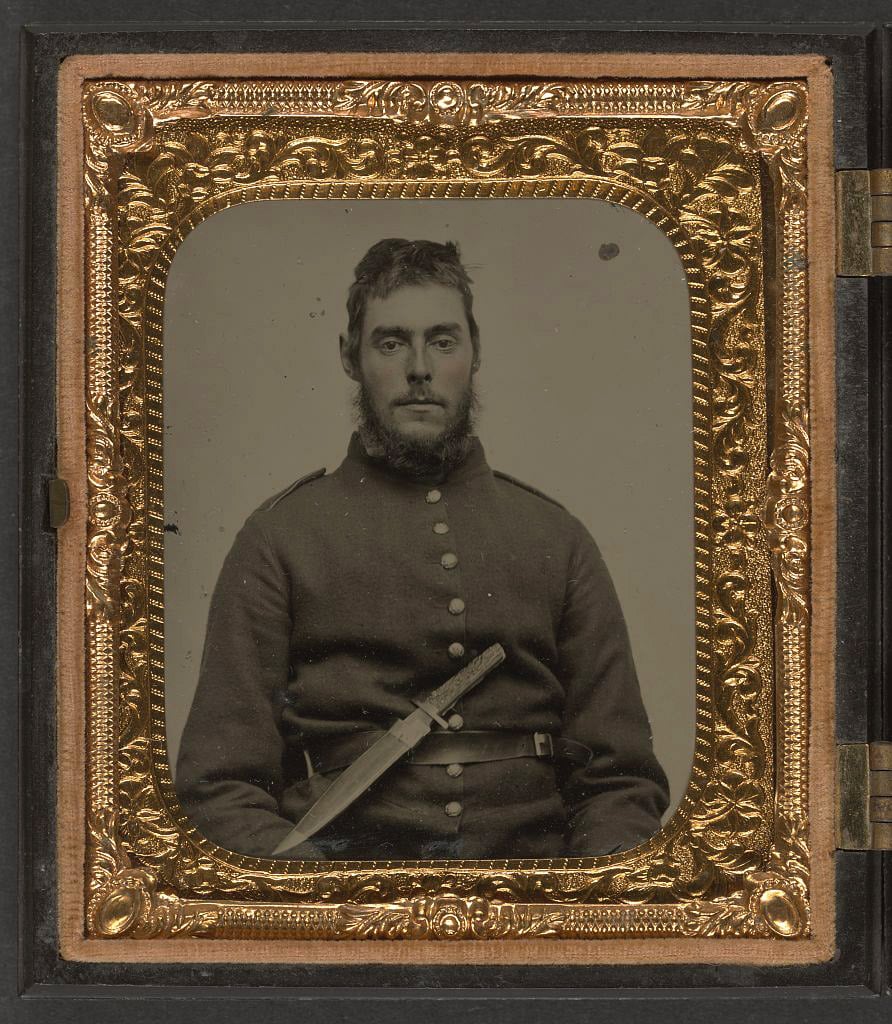 Confederate soldiers were fond of using a "D-Guard Bowie" with an absolutely massive finger guard as part of their daily kit.
Typically, these variants were crafted out of old farm scythes or saws. These versions can still be found for sale today.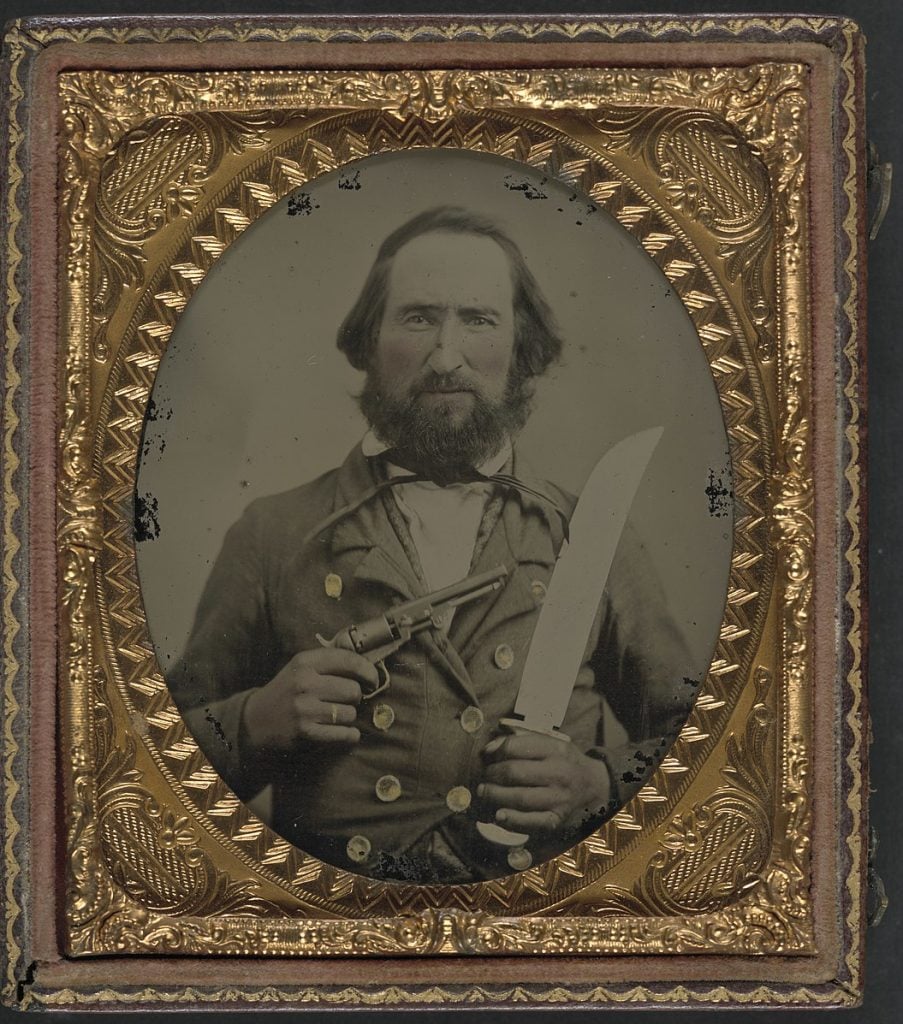 Sawtooth-Backed Bowie
It wasn't until the 1970s that other designs surfaced…courtesy of a Hollywood hit – Rambo.
Sylvester Stalone's use of a sawtooth-backed Bowie caused a slew of copycats to hit the market.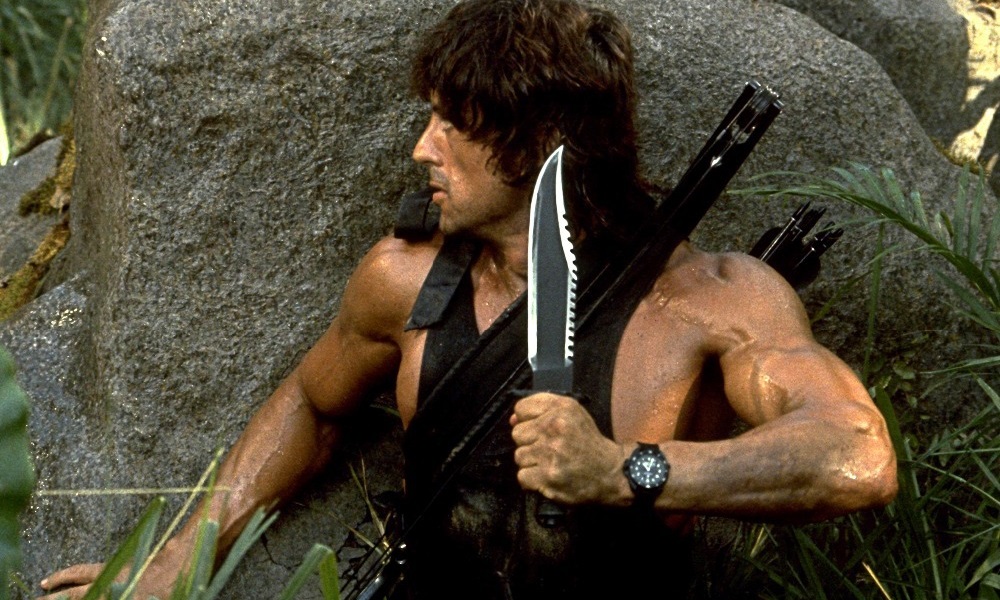 This continued as the survival market took hold in the U.S.
Specialized sawtooth-backed Bowies with a hollow handle full of various outdoor gear (e.g., a compass, whistle, fishing line, matches, etc.) were released and advertised as "Survival Bowies."
While these knives are questionably made at best, they're rather pervasive. Forms of them can be found in just about any knife catalog out there.
Best Bowie Knives
If you're in the market for a Bowie knife, the choices can quite frankly grow to be overwhelming.
That's why we at Pew Pew Tactical have taken it upon ourselves to fully examine the market for you!
After researching the field extensively, here are the best Bowie knives on the market.
1. Condor Undertaker
The Condor Undertaker is perhaps one of the most classic-looking Bowies on this list.
Holding it will make you feel like you're holding a piece of American history in your hands.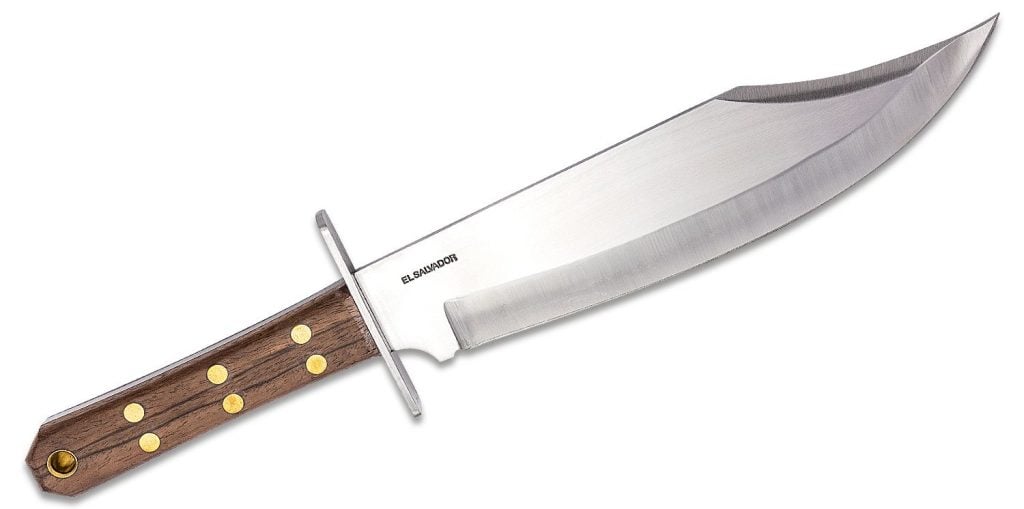 Coming in at 19.5-inches long and weighing 1.5-pounds, this is a big knife.
It comes with a brown leather belt sheath and a walnut wood handle in the classic coffin shape as well.
If you're looking for a more historical approach to the Bowie, this is it.
90
at Amazon
Prices accurate at time of writing
Prices accurate at time of writing
2. Cold Steel Black Bear Bowie
It's hard to beat a Cold Steel blade, especially when they come in at around $20.
If you're looking for a wallet-friendly Bowie that you can strap to a bug out bag somewhere, you're probably going to like the Black Bear.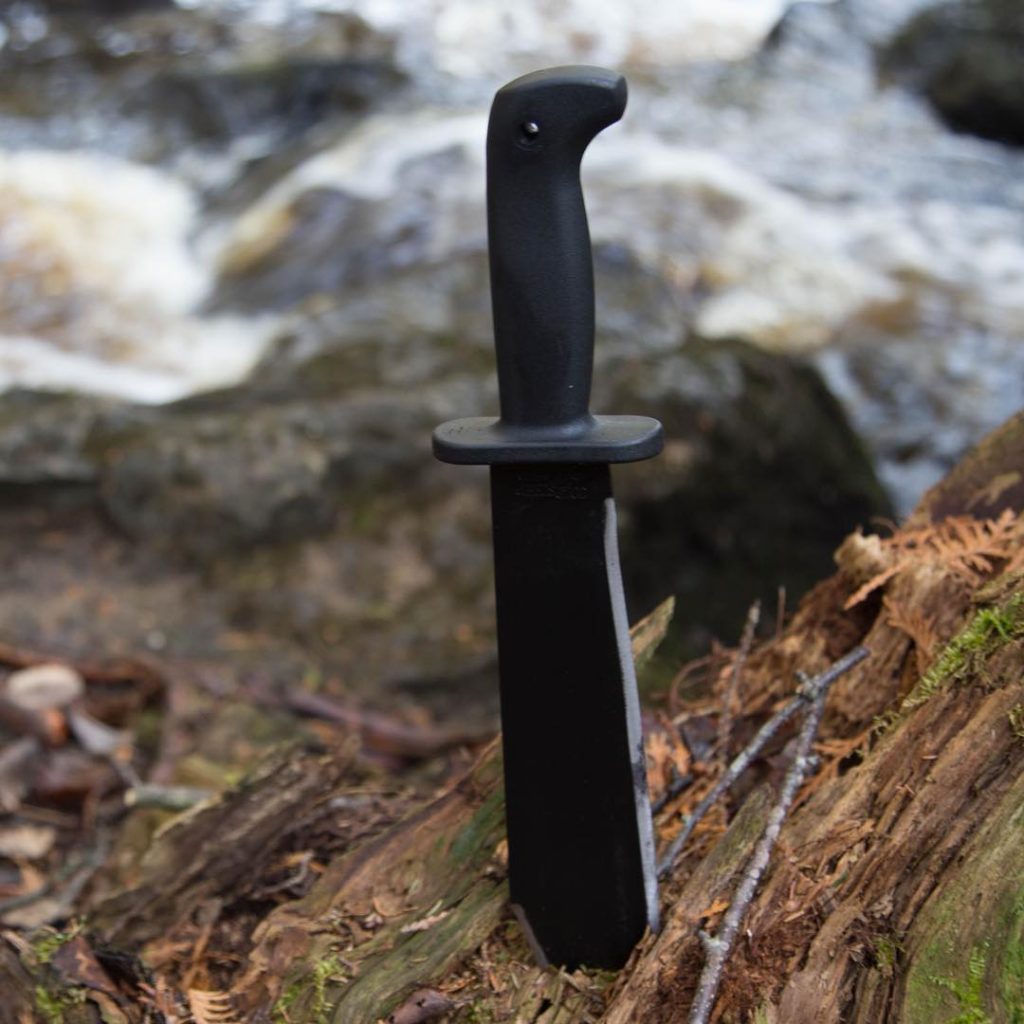 This knife measures 20-inches long and weighs a little less than a quarter of a pound.
This means you can carry it deep into the woods without sacrificing a lot of weight from other gear.
While the Black Bear most likely will need some sharpening once it arrives at your door, the full tang blade and the reputation behind the brand mean this knife will take a beating.
30
at Amazon
Prices accurate at time of writing
Prices accurate at time of writing
3. Cold Steel Marauder
Another beautifully crafted blade by Cold Steel.
While nowhere near as long as the Black Bear – this one is only 14-inches long — the Marauder features a bit more heft to it, as it weighs a pound.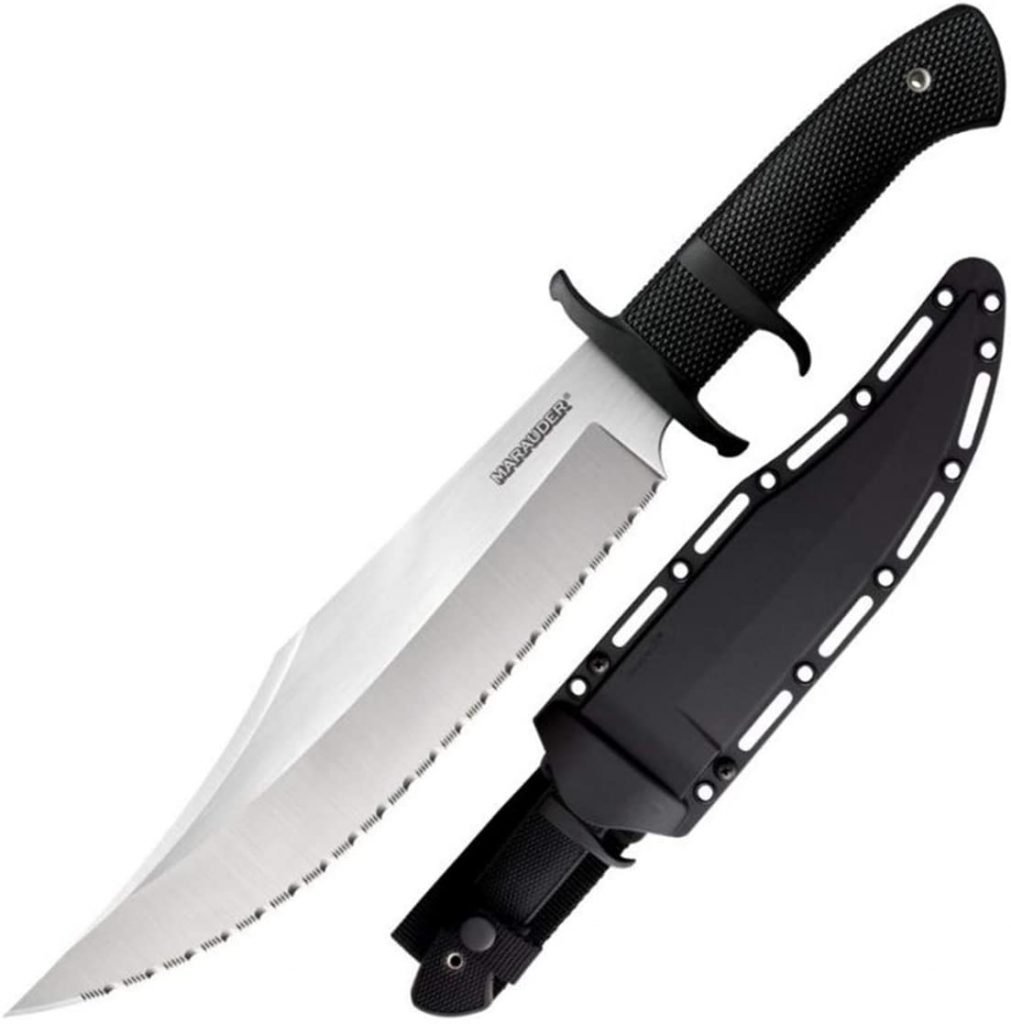 The extra finger guard on the handle means you can get a good grip on it.
And the Japanese stainless steel will permit you to use this knife day in and day out.
You won't have to worry about the elements or corrosion damaging your blade.
96
at Amazon
Prices accurate at time of writing
Prices accurate at time of writing
4. Ontario Knife Company Marine Raider
It's hard to beat the price of this blade. For around $60, the Marine Raider is a great Bowie.
It comes in at 14-inches in total length with a weight of 1.5-pounds. So, this one has some heft.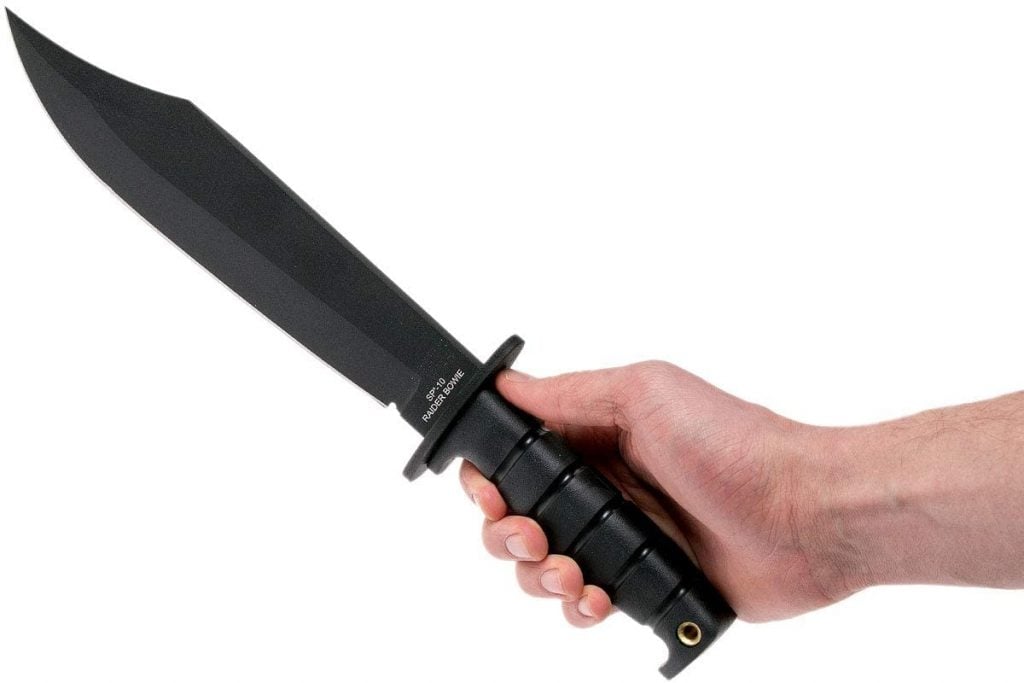 Which I suppose is good if you need need to chop through small limbs and kindling with ease.
It comes with a Kraton handle as well. This means you'll have no problem hanging onto this blade even if the weather outside proves inhospitable.
61
at Amazon
Prices accurate at time of writing
Prices accurate at time of writing
5. Ka-Bar Becker BK9 Combat Bowie
While most certainly a modern take on an old classic, the Ka-Bar Becker BK9 comes in as easily the most popular Bowie on this list.
Measuring 15.25-inches, this long knife weighs just a little over a pound.
Using 1095 Cro-Van, the blade is very easy to sharpen while out in the woods.
But you're going to want to regularly oil this one in order to prevent corrosion.
108
at Amazon
Prices accurate at time of writing
Prices accurate at time of writing
What do you think of the Ka-Bar Becker? Let us know by rating it below!
Conclusion
The history of the Bowie knife is as about as American as it gets.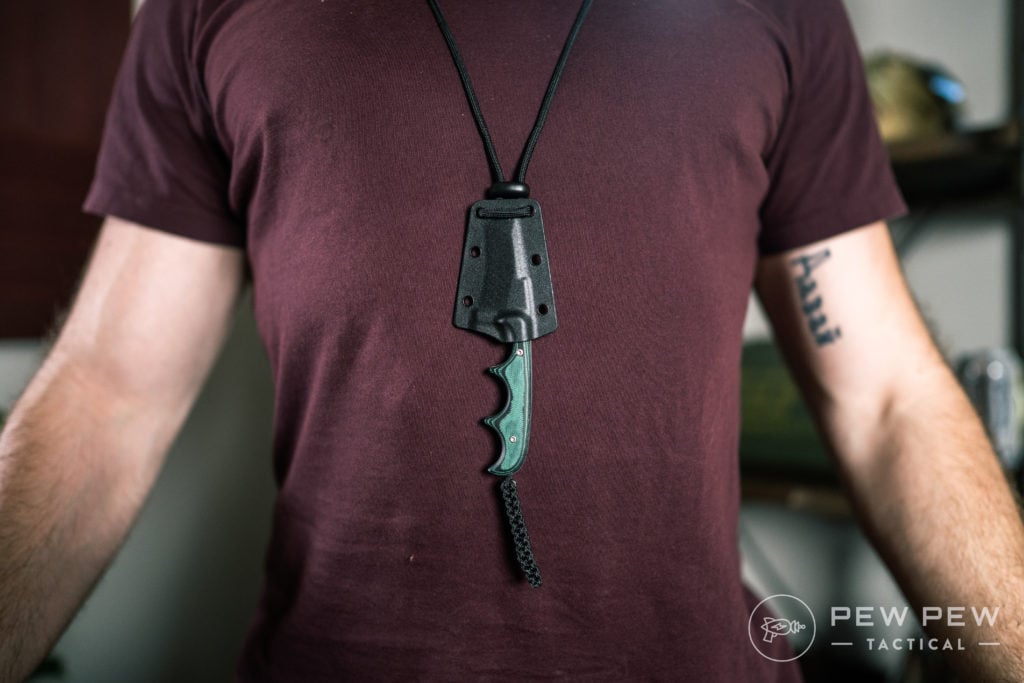 If you're looking for a quality blade that's stood the test of time and used for just about any task, it's hard to go wrong with a quality Bowie knife.
Americans have used these knives for almost two centuries now, and I think by this point, it's safe to say that this knife is here to stay.
What are your thoughts on the Bowie knife for wilderness survival or camping? Let us know in the comments! Now that you're spun up on the Bowie, how about learning about another cool edged weapon – the Tomahawk.