.22 Long Rifle is the most fun for your money you can possibly have with firearms, but you still need a great gun to run it!
Kel-Tec has a long history of making some wacky guns, some of them are great and some of them… not. But a .22 LR competition pistol with a 33-round magazine?!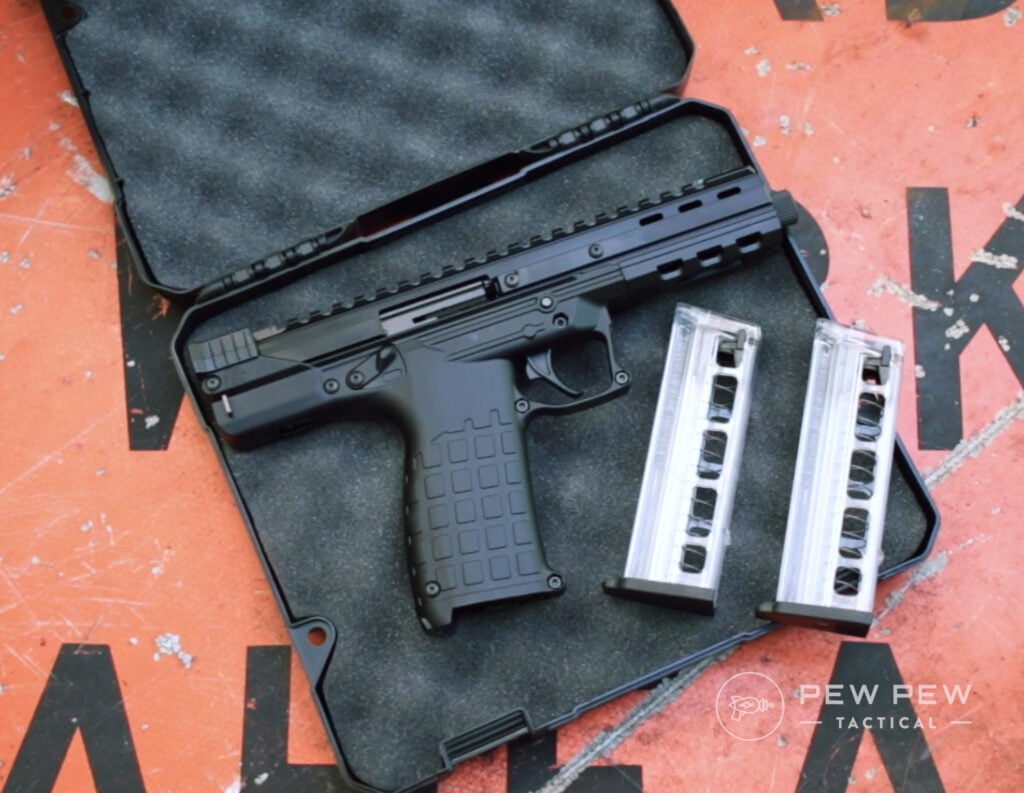 Is it a new peak of awesomeness or a new low for a brand with some questionable history?? Johnny took it to the range and found out.
For his complete video review, take a look at the link below!
If you like that sort of stuff, make sure you subscribe to our YouTube Channel!
Table of Contents
Loading...
Specs and Features
A space-age, polymer semi-auto pistol in .22 LR with a quad-stack 33-round magazine, fiber optic sights, and a threaded barrel — this little guy sure is interesting to say the least.
Designed for competition and plinking, Kel-Tec really did a lot to push the limit of the design and explore new ideas.
At 1.5 pounds unloaded, the CP33 is reasonable lightweight — but at 10.5" overall length, it's kind of long feeling. Though due to the design and having much of the length sitting over top of your hand and wrist, it controls and acts like a shorter pistol.
The nice thing about this long design is that it simply eats recoil and gives you a much longer sight radius, really helping to maximize what you can do with the fiber optic sights.
They also include a threaded barrel as standard (looking at you, Glock…) so you have the option of throwing a comp or suppressor on it.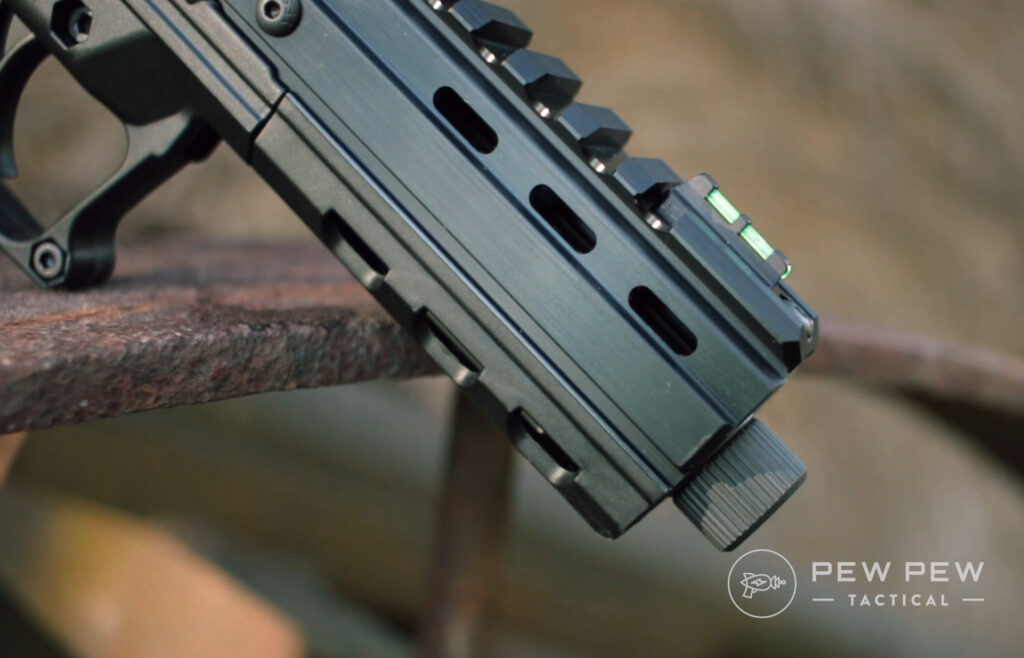 Like I mentioned before, magazines are a quad-stack design that hold 33-rounds each. That's a lot of plinking that can be done on a single mag, it's also perfect for things like .22 LR pistol competition or steel challenge.
599
at Palmetto State Armory
Prices accurate at time of writing
Prices accurate at time of writing
On The Range
Johnny invited Uncle Ricky out to help test out the Kel-Tec CP33 and the report back from them both is that this gun is awesome!
While they did have some failures to feed on the first round in the magazines, every other round ran flawlessly every single time. That's really good for .22 LR — especially that cheap stuff they were using.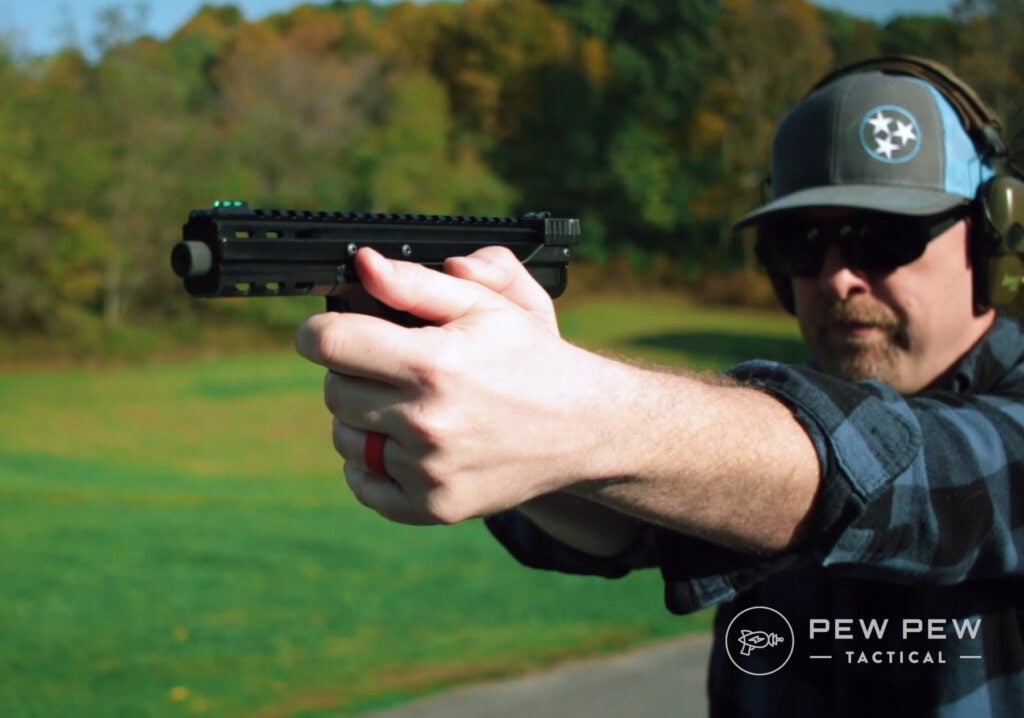 Recoil is predictable nil.
The sights are simply fantastic with being bright and easy to acquire. While the top does sport a full length 1913 rail for optic mounting, you might find it unnecessary with how good the sights are.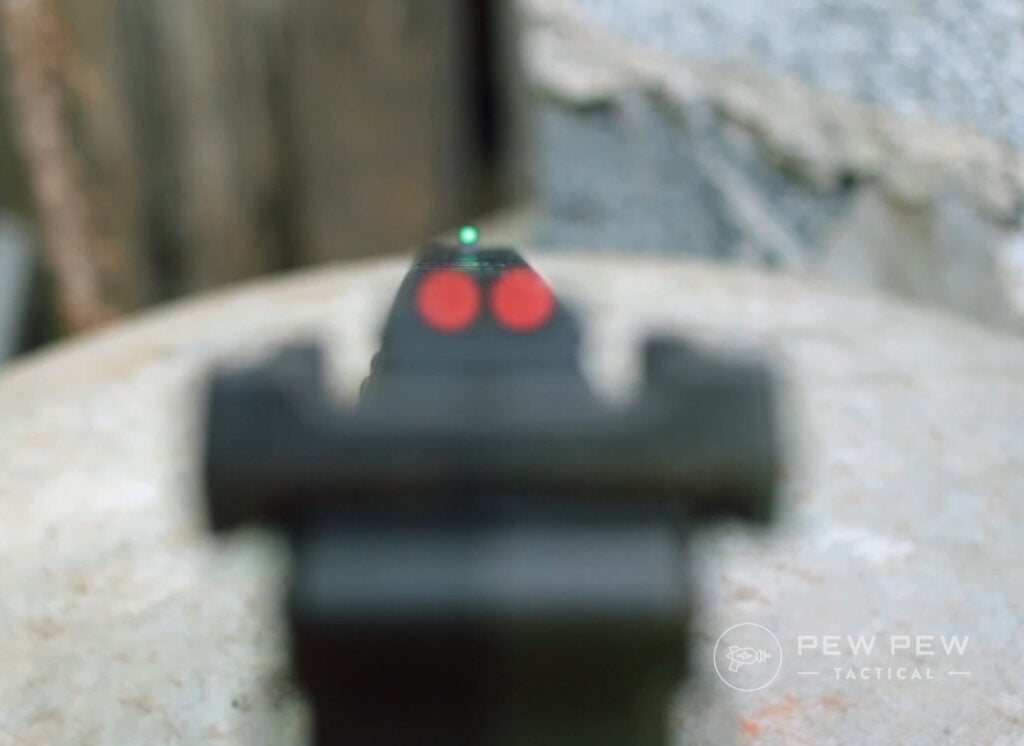 With the aggressive use of plastic to make the CP33, it does feel a little like a toy in your hands.
But then again… it kind of is. This isn't for duty or CCW or even home defense, this is truly a fun pistol designed for competitions and plinking with friends.
You could use it for some small game hunting also, but that's about as far as "serious" use goes for it.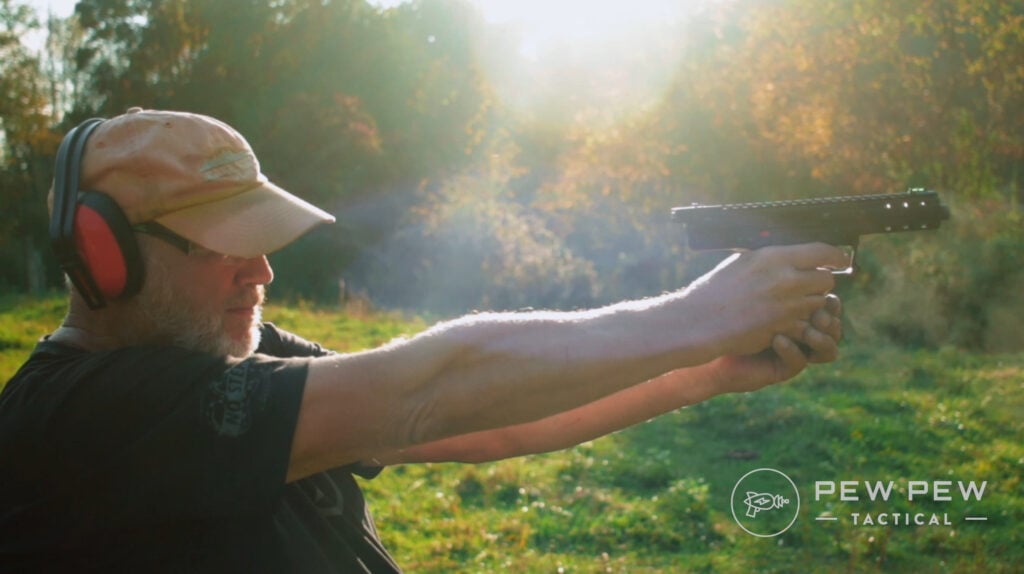 The trigger and the heel magazine release though… not fantastic. More about that soon.
Who Is It For?
Literally anyone. It's a plinker and competition shooter, if you can pull a trigger — this is for you.
Great for new shooters that don't want to stop to reload magazines all the time, also perfect for things like steel challenge shooting, or just getting a lot of reps in with a pistol as a training tool.
The CP33 is a gun that can do a lot if you let it. For the price, it gives you a ton of options in a simple package.
While it won't win you any Olympic bullseye competitions, it's plenty accurate for most other applications.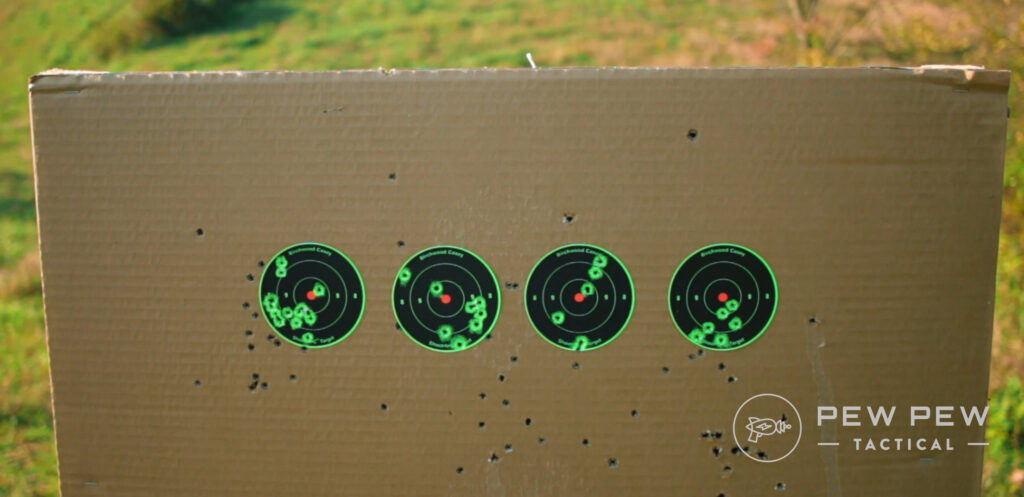 Even with old and very cheap ammo, Uncle Ricky was able to shoot decent groups on 3" targets at 7 yards while shooing standing freehand.
What's The Catch…
All of this said — it's not perfect, but nothing ever is. The heel magazine release is a little weird and not the coolest of ideas. While it's fine and nothing wrong with it, it will take a little getting used to.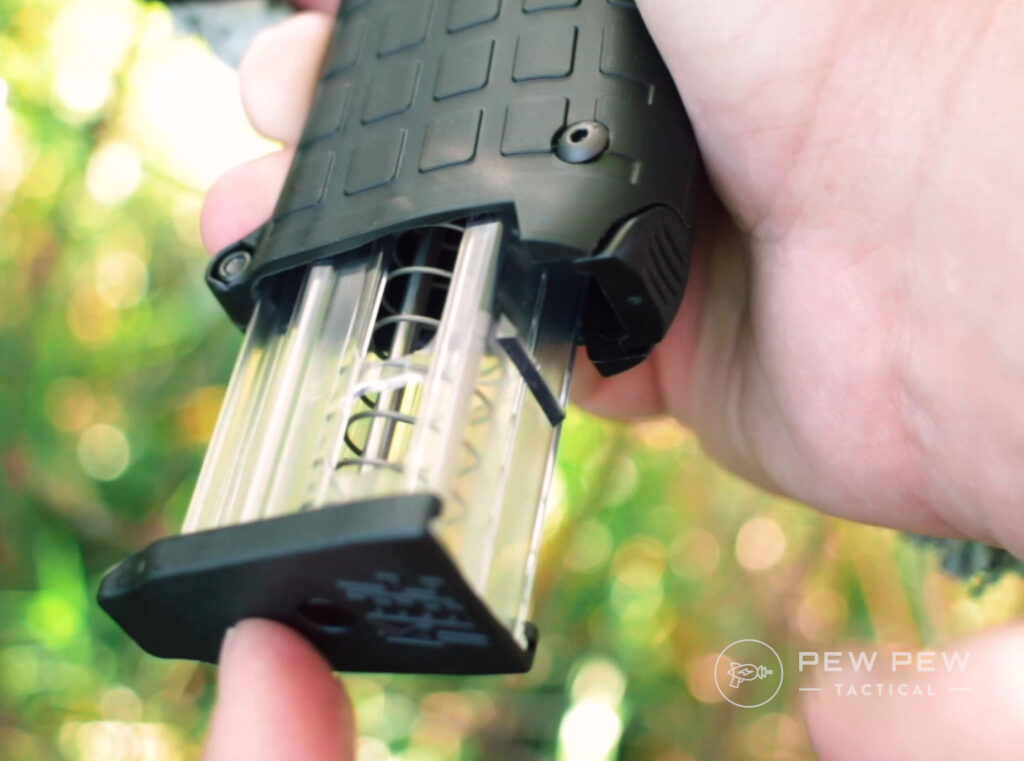 With the aggressive use of plastic, Kel-Tec decided to even make the trigger out of plastic. A consistent issue with plastic triggers is that they flex, always.
The CP33 is no different. With a trigger pull that is crisp mechanically, the trigger introduces a bit of flex that makes it feel like a worse pull.
There is also a good bit of over-travel and slop at the end, not great but not a huge deal either.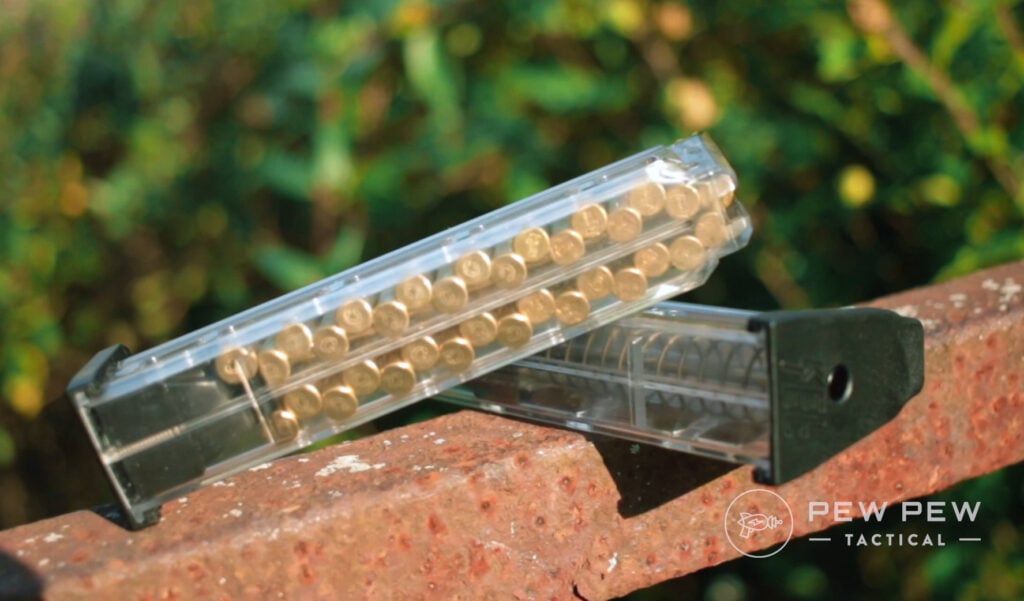 33-round quad-stack magazines are cool, but at $55 apiece for extras — that will put a hurt on your wallet fast. Thankfully, since each mag holds 33-rounds, do you really need more than 2 mags?
50
at MidwayUSA
Prices accurate at time of writing
Prices accurate at time of writing
By The Numbers
Reliability: 3.5/5
Other than struggling a few times with the first round, it ran like butter.
Ergonomics: 3/5
Grip angle is good, and the charging handle is GREAT. But some of the controls take a bit to get used to…especially that mag release.
Accuracy: 4/5
It's a competition 22LR…it had better be accurate. Which it is.
Customization: 3.5/5
We'd rather be able to swap out the trigger, but you do have that full rail up top, and some M-Lok in the dust cover.
Value: 3.5/5
You get a smooth-shooting, accurate range/competition gun in the mid-$400s. We call that OK…but we wish it came with a third mag.
599
at Palmetto State Armory
Prices accurate at time of writing
Prices accurate at time of writing
Overall: 3.5/5
No way around it, the CP33 is a little funky. But what piques our interest is how smooth it shoots. To say it's a "totally unique shooting experience" may be hyperbole…but it's close
Parting Shots
The KelTec CP33 is a fun .22LR plinker. A great range gun for training or relaxed competition. It's no duty or CCW gun, but not everything that goes boom needs to be. Lots of plastic and some failure to feeds on the first round but it's hard not to love the high-capacity and adequate accuracy.
And in times like these, it doesn't hurt to have an inexpensive way of getting out and doing some shooting.
What is your go-to "fun" gun? How do you feel about Kel-Tec's CP33? Let us know in the comments!
For some more .22 LR action, take a look at the Best .22 LR Rifles!