MREs, or Meals-Ready-To-Eat, have an air of mystique about them within the civilian world.
We all know they're used in the military, but did you know you can buy them as well?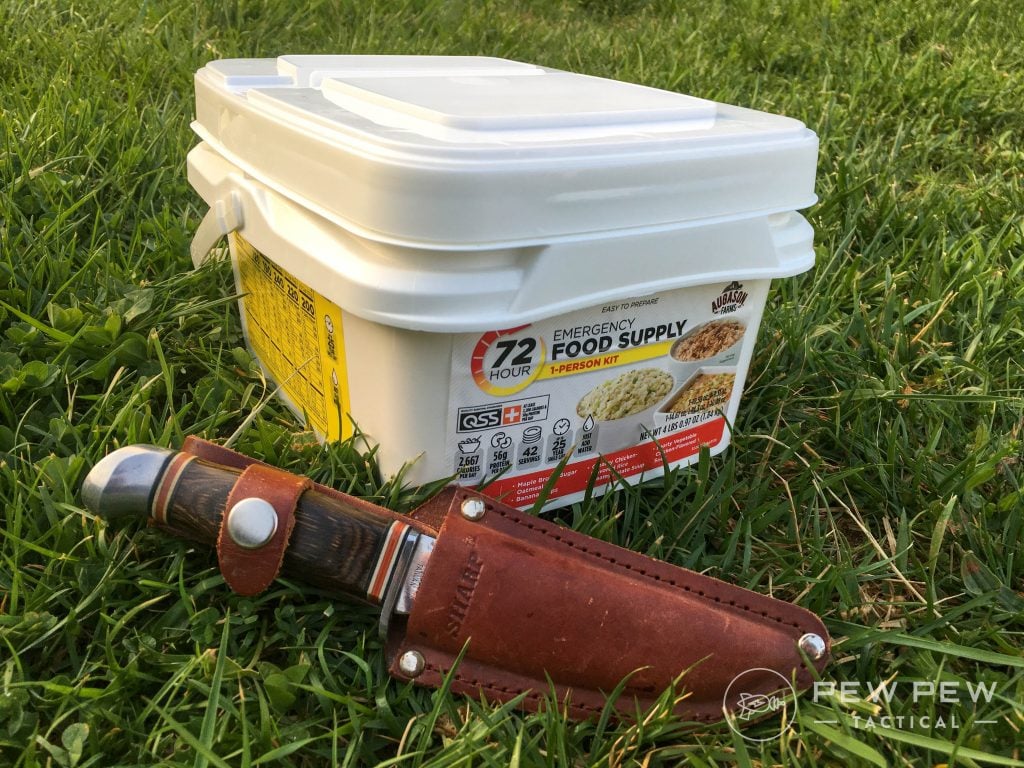 As interest in prepping exploded post-2020, so has the market for MREs.
People have since realized storing food isn't such a bad idea after all. And perhaps you're one of these people!
If so, it can be slightly overwhelming when you first begin your search for the perfect MRE for your family.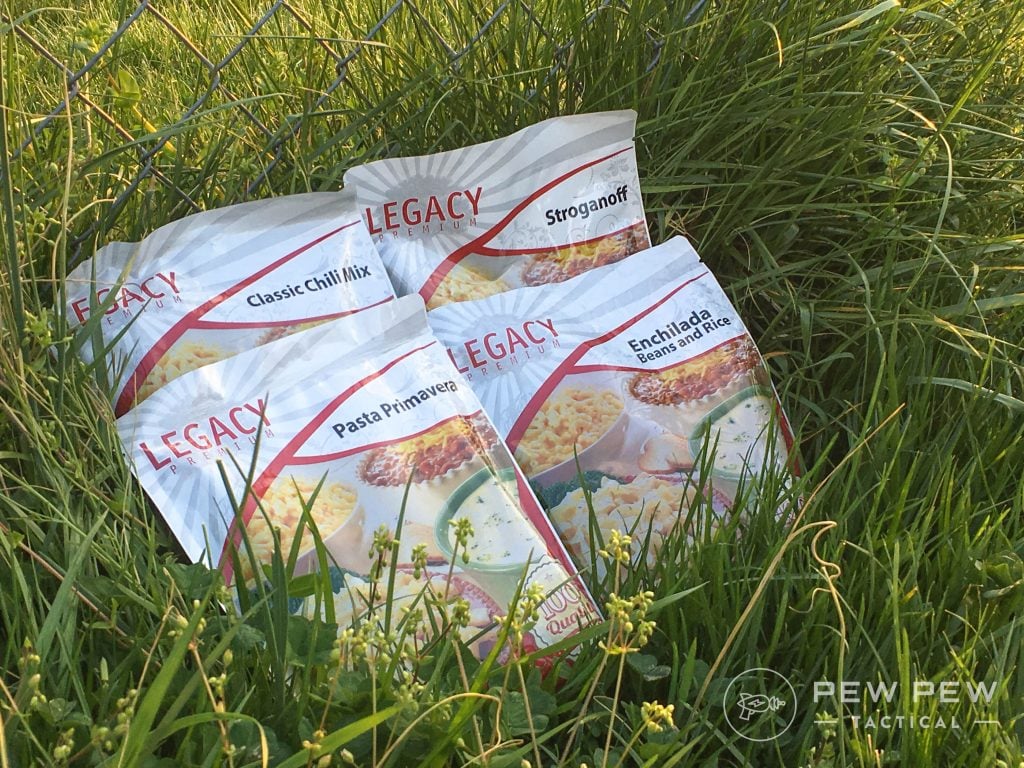 To help alleviate the stress, I've done all the hard work for you!
So, take a gander, and I think you'll find that the best MRE for you may be slightly different than what you originally thought after all.
Summary of Our Top Picks
Table of Contents
Loading...
MRE Brands Tested
After approximately a kajillion hours of research –actual scientific measure — I concluded the following list of brands represents the cream of the crop within the MRE world.
They've all sold thousands of MREs and feature overall great reviews. Not to mention, these consistently popped up all over the internet.
So, I gave the following a try.
How We Rated the MRE Kits
In order to fairly review each of these MRE brands and kits, I considered a few factors.
Taste
If it tastes bad, you won't eat it. Plain and simple. Just because you're fighting off zombies by day does not mean you want to go home to cardboard at night.
With that in mind, I looked for meals that cooked evenly all the way through, brought some spice or variety, and well, just tasted yummy.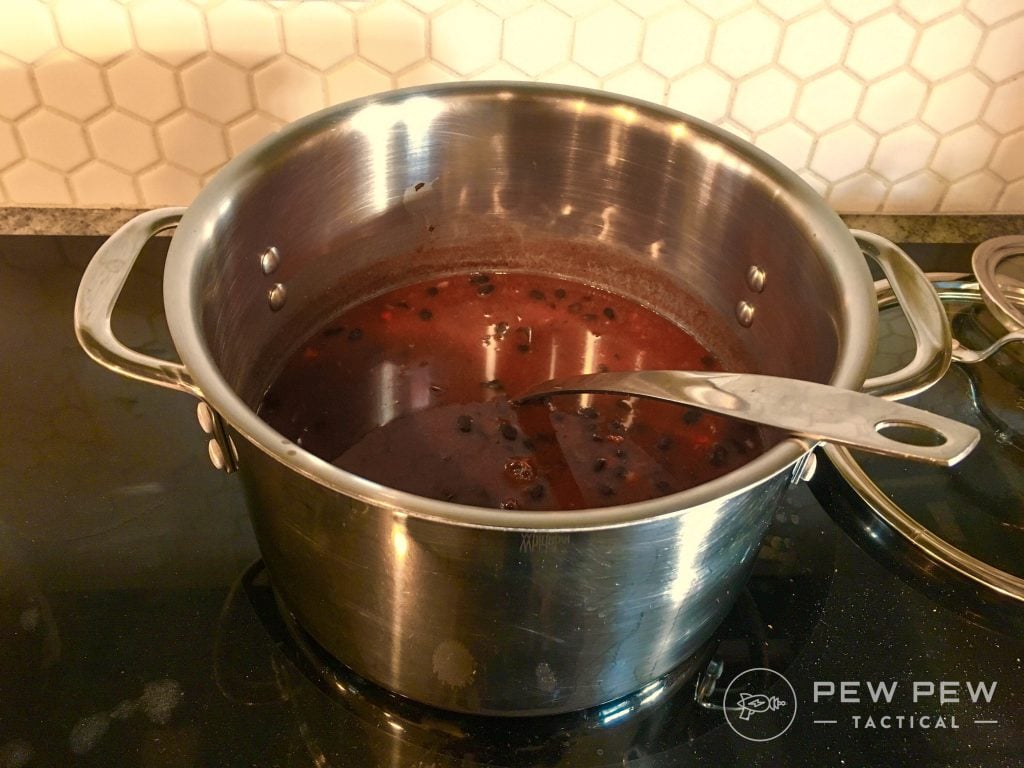 I also made this a family project, enlisting other members of my household to taste test and give their opinions.
Calorie Content
When you're out in the field all day — whether that's camping or an SHTF situation — you need meals with a high-calorie content.
And, frankly, that's the whole point of an MRE. It delivers a high caloric meal, so you have the energy to survive (or hike, whatever the case).
So, when looking at each brand, I totaled up the calories to see which would keep you going the best.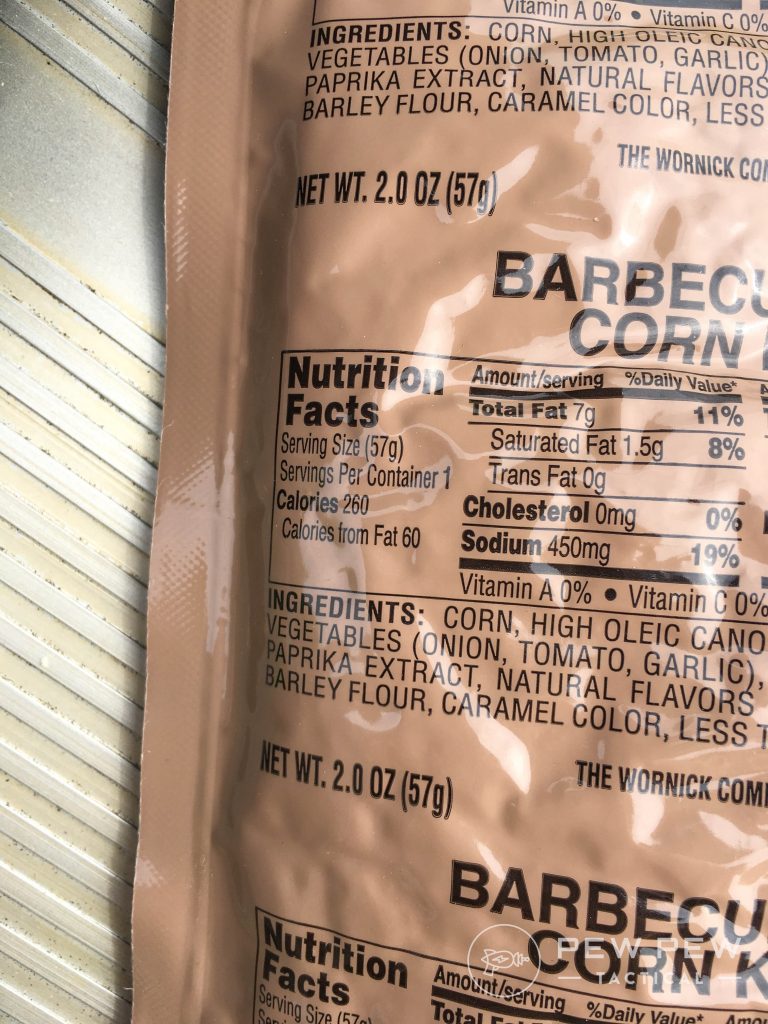 Overall Health & Nutrition
Ok, yeah, in a post-apocalyptic world, you probably won't be thinking about MSG…but overall nutrition is important!
Junk food might provide momentary highs, but they are followed by crushing sugar crashes. Not to mention, you need to fuel your body for survival.
When reviewing these meals, I went right to the ingredient list. Could I pronounce and easily recognize ingredients, and were they free from things like soy or other additives?
Convenience
Look, if you're bugging out, you won't have your George Forman grill. Sorry to break it to you.
So, kits that come with their own means of cooking food are extremely important! I took a look at each of these brands from the standpoint of limiting additional cooking gear in your backpack or BOB.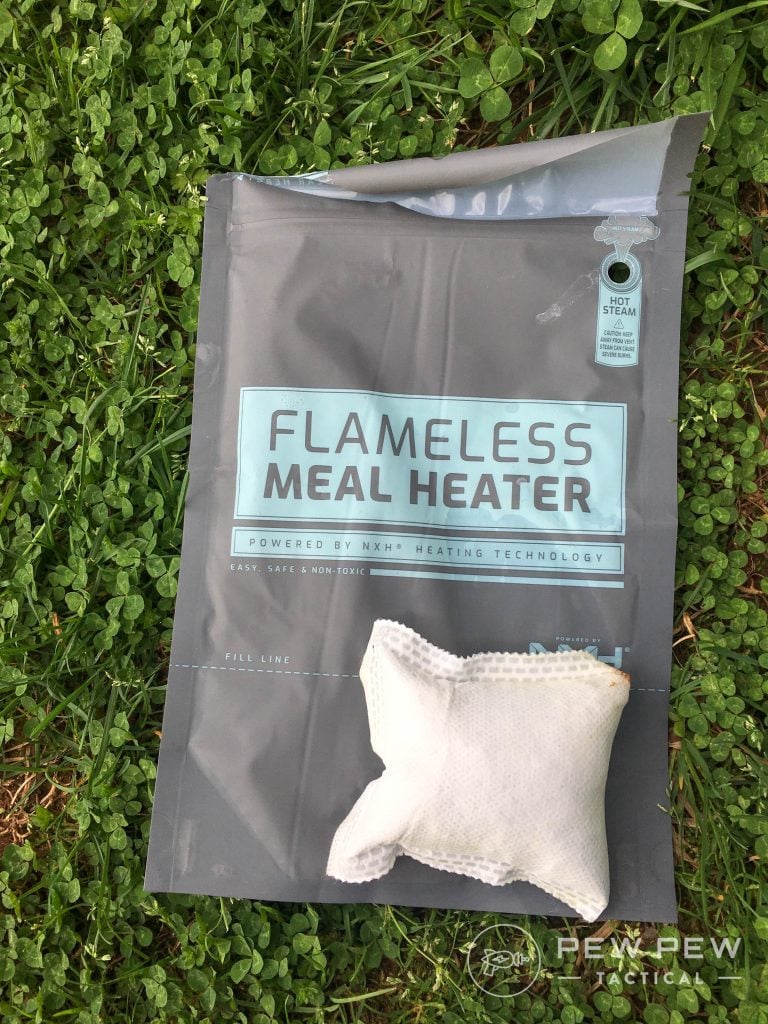 Bang for Your Buck
We can't all be Bill Gates, so I'm not here to sell you the most expensive thing. Value is important around these parts.
With that in mind, I tailored the list to brands that bring the most bang for your buck while also balancing all the other considerations listed.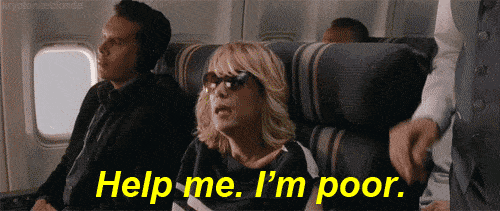 10 Best MREs (Meals Ready to Eat)
Without further ado, I present the top 10 MREs. Under each brand, you'll see the flavors I tested as well as one to two meals I felt stole the show!
1. Military Surplus (Hawaii Prime)
Contains:
Brisket Entrée
Vegetable Crumbles with Pasta in Taco Style Sauce
Chile with Beans
Spaghetti with Beef Sauce
Coming in at the #1 slot are the Hawaii Prime MREs. Out of all the military-style MREs, these were easily my favorite.
They tasted great! And they all cooked in 10 minutes.
There was an average of 1,250 calories/meal, and these meals all contained their own heaters.
Looking for something that is calorie-dense? This should be your go-to MRE.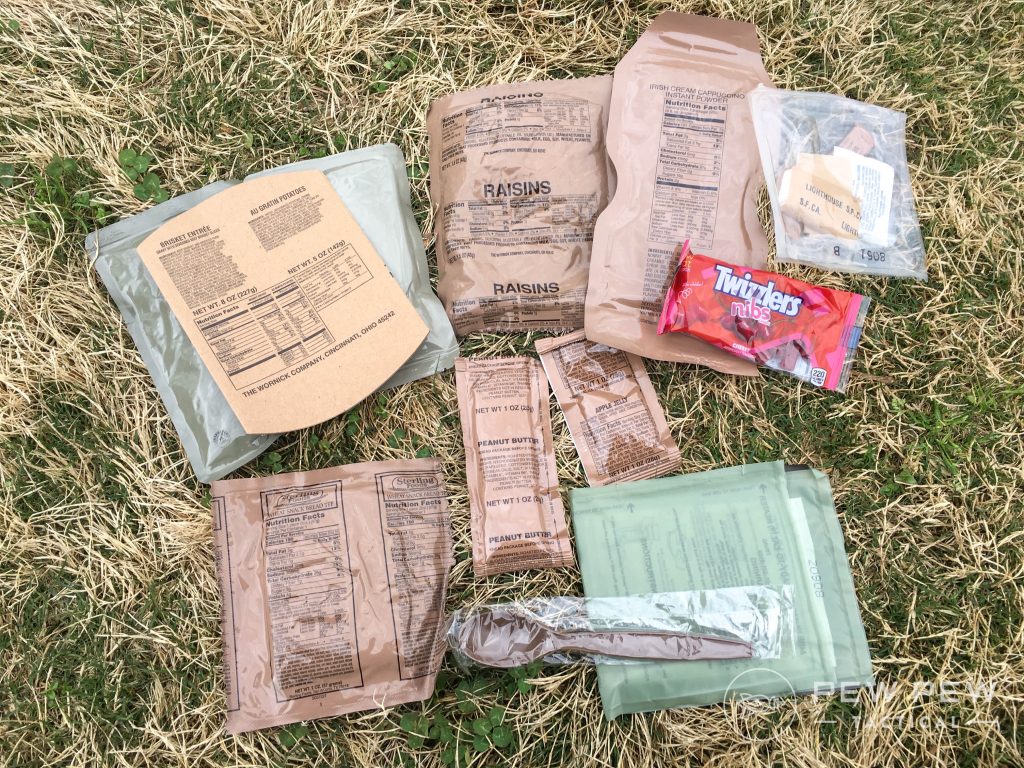 And, small joy here, but there was an expiration date on the front of the package.
If you're looking for a true MRE that you can stuff in your BOB and hit the road with, I highly recommend these.
They're exactly the same as the Army Surplus MREs, though.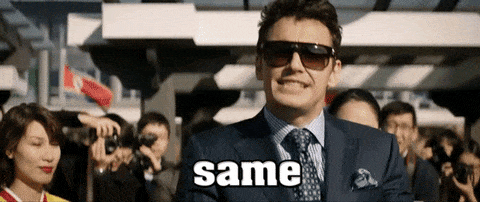 The only difference is that these have an expiration sticker on the front of them.
You won't find that anywhere on the Army Surplus MREs – something I find rather annoying.
That said, most MREs have a shelf life of somewhere around 2 to 3 years. The dates on these bags were for 2023, so right on the mark within that range.
Hawaii Prime's Spaghetti with Beef and Sauce
While not highly noticeable, there was a slight aftertaste to this one. It did come with a pop-tart that my wife loved — who knew she loved pop-tarts – so that was a winner.
While Sopacko's Vegetable Lasagna tasted better, overall, I think these are much better quality and deal for your money.
Hawaii Prime's Brisket Entrée
Y'all.
This was fantastic.
It included au gratin potatoes within the bag, which were spectacular.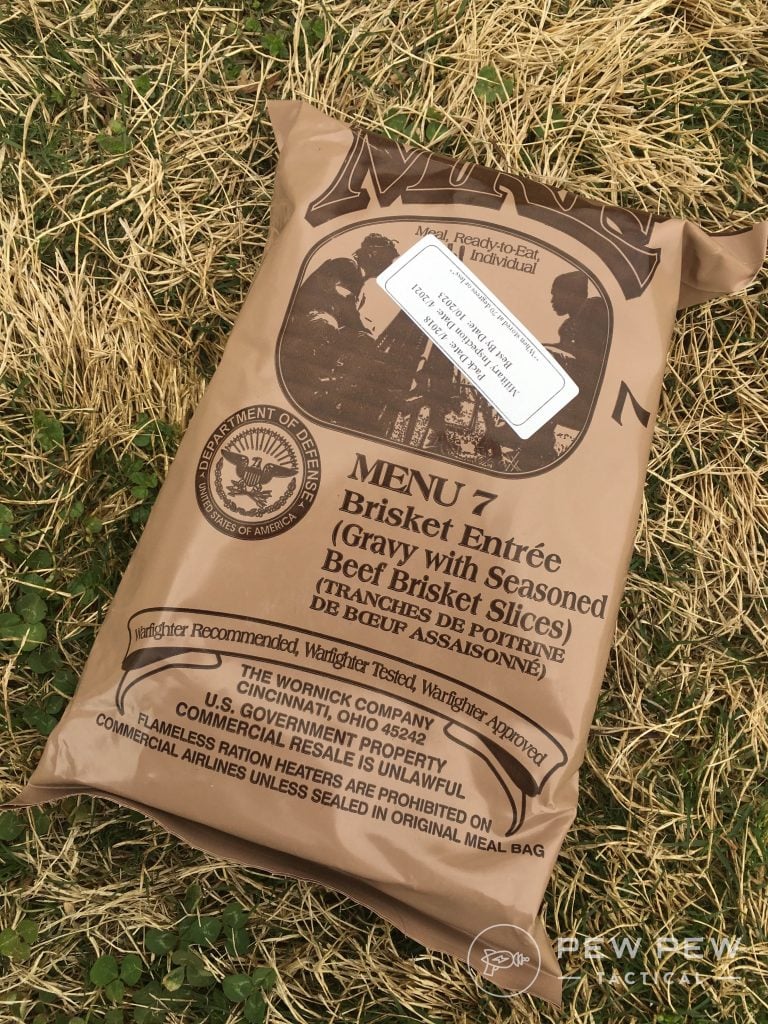 Brisket and BBQ are my two favorite foods in the whole wide world, and to find an MRE version of such was fantastic.
Everything about this MRE was great, and if you get the chance, I highly recommend checking it out.
49
at Amazon
Prices accurate at time of writing
Prices accurate at time of writing
2. Mountain House Adventure Meals
Contains:
Granola with Milk and Blueberries
Chicken and Dumplings with Vegetables
Chicken Fried Rice with Vegetables
Beef Stroganoff with Noodles
Biscuits and Gravy
If I was looking for a meal to keep in a BOB in my car or some other region, I would choose Mountain House.
It's a great backpacking food, and they taste fantastic.
All are devoid of soy, except for the chicken fried rice. At an average of 568 calories per bag, you're going to have the fuel you need to get the heck out of dodge quickly.
The box expires in 2050, making it the longest-lasting MRE on this entire list.
All you have to do to prep the meals is add boiling water. All of that combined make Mountain House Adventure Meals tough to beat.
Adventure Meal's Biscuits and Gravy
This bag is very filling and sits in your stomach like a rock.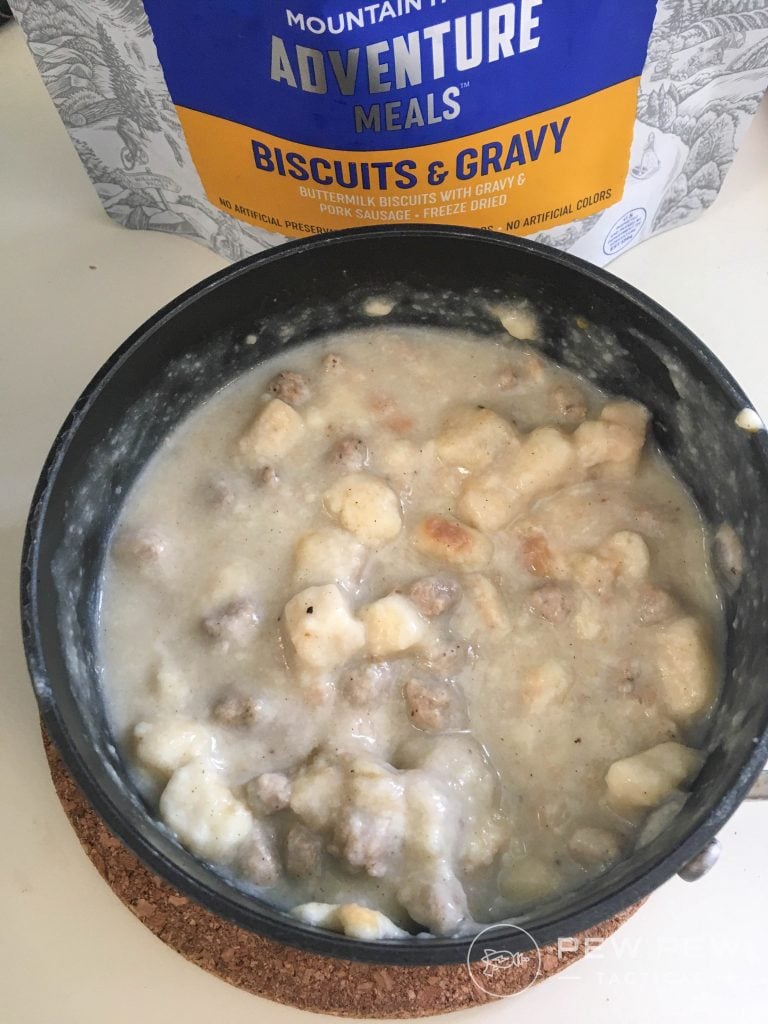 So much so that I wasn't able to finish the whole bag in one sitting — something uncommon for me.
If I had just finished setting up my tent after getting out of dodge due to a disaster earlier that day, this is likely the meal that I would want to turn to. It truly is that good.
Adventure Meal's Chicken and Dumplings
If you're from The Beautiful South, you're automatically a connoisseur of chicken and dumplings. (The best meals are made with a freshly killed chicken.)
Despite the lack of a newly butchered Cornish Cross, I thought that these were fantastic.
If you're like me and have a hard time getting the dumplings to not be crunchy, though, you're going to have to let this one cook for longer than the listed instructions suggest.
Best for Backpackers
84
at Amazon
Prices accurate at time of writing
Prices accurate at time of writing
3. ReadyWise
Contents Include:
Strawberry Granola Crunch
Apple Cinnamon Cereal
Teriyaki Chicken & Rice
Chili Mac
Trailhead Noodles & Beef
Pasta Alfredo
Crest Peak Creamy Pasta & Chicken
Lasagna
If you've been in the prepping field for long, you've undoubtedly heard of ReadyWise over and over again.
They're all over the place. And for a good reason.
This box was a great collection of a wide variety of dishes that will give you options for even the pickiest of eaters in your family.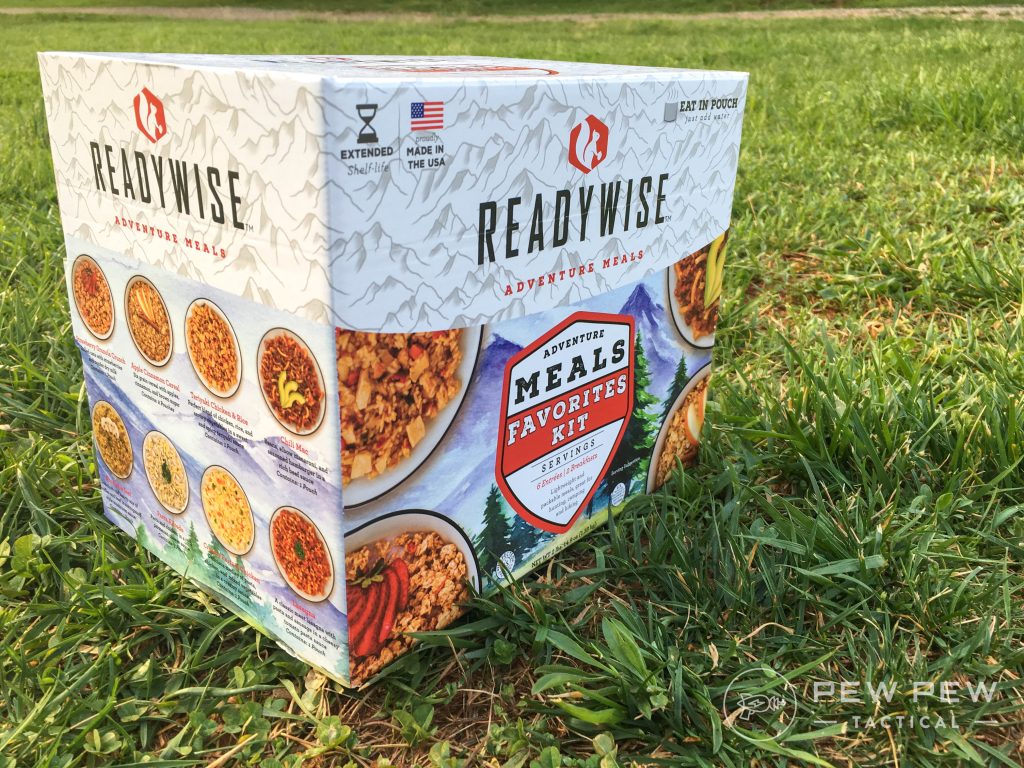 Everything tasted fantastic, and that's pretty good for a meal kit that doesn't expire until 2035.
As such, you can easily store it in a basement somewhere and forget about it until you need it.
ReadyWise Crest Peak Creamy Pasta & Chicken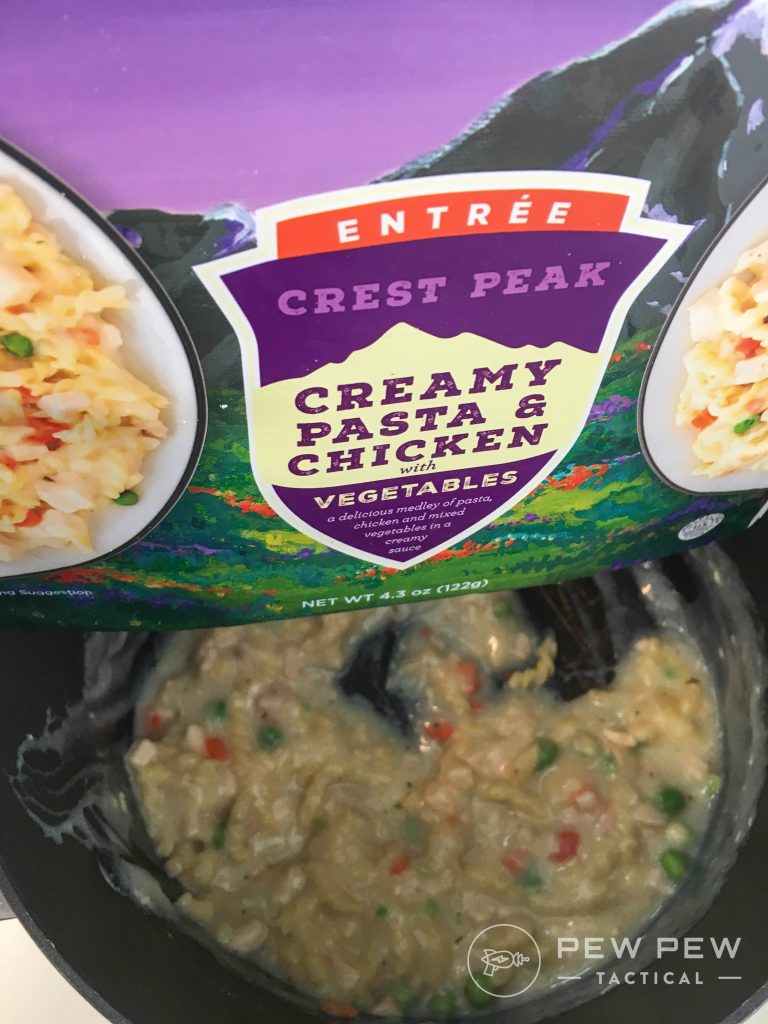 This one wasn't bad, but it was rather bland.
You most certainly knew you were eating a creamy pasta and chicken dish, but it was missing something.
This could've easily been remedied with the proper spice concoction – say, fresh cracked pepper and hot pepper flakes.
That's all this dish needed to excel.
ReadyWise Trailhead Noodles & Beef
Beef stroganoff was a staple at my family table growing up, and my family had no problem whatsoever with eating this dish.
It was good.
Just make sure that you cook the noodles till soft. Following the instructions on the package led to ours still being slightly crunchy.
Best Variety
67
at Amazon
Prices accurate at time of writing
Prices accurate at time of writing
4. MRE Surplus
Contains:
Chicken Burrito Bowl
Mexican Style Chicken Stew
Asian Style Beef Strips with Vegetables
Southwest Beef and Black Beans
Cheese Tortellini in Tomato Sauce
Chicken Pesto Pasta
Beef Ravioli in Meat Sauce
Creamy Spinach Fettucini
Hash Brown Potatoes with Bacon, Pepper, and Onions
Tuna Chunks/Pork Sausage Patty
Jalapeno Pepper Jack Beef Patty
The first thing that impressed me upon opening this box was that it was the same as the Hawaii Prime meals.
They even ship in the same box.
Literally, the only difference between these two dealers is that Hawaii Prime placed a little white sticker in the center of each bag that told you when the expiration date was.
MRE Surplus didn't do that, and as a result, you don't know when these guys expire.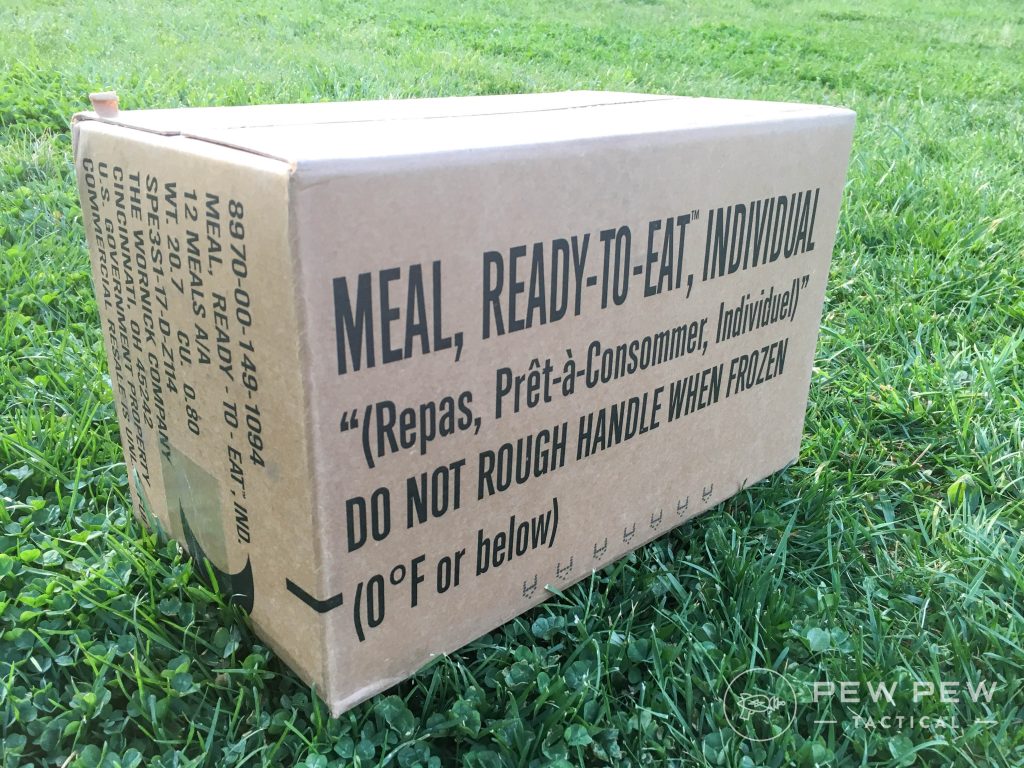 That said, not only were the recipes within here incredibly varied (which is fun – 'tis the spice of life, after all), but they tasted great too!
It was pleasant to sit down to eat lunch with one of these and know I would feel full afterward.
All of the meals contain their own heaters and cook up in as little as 10 minutes.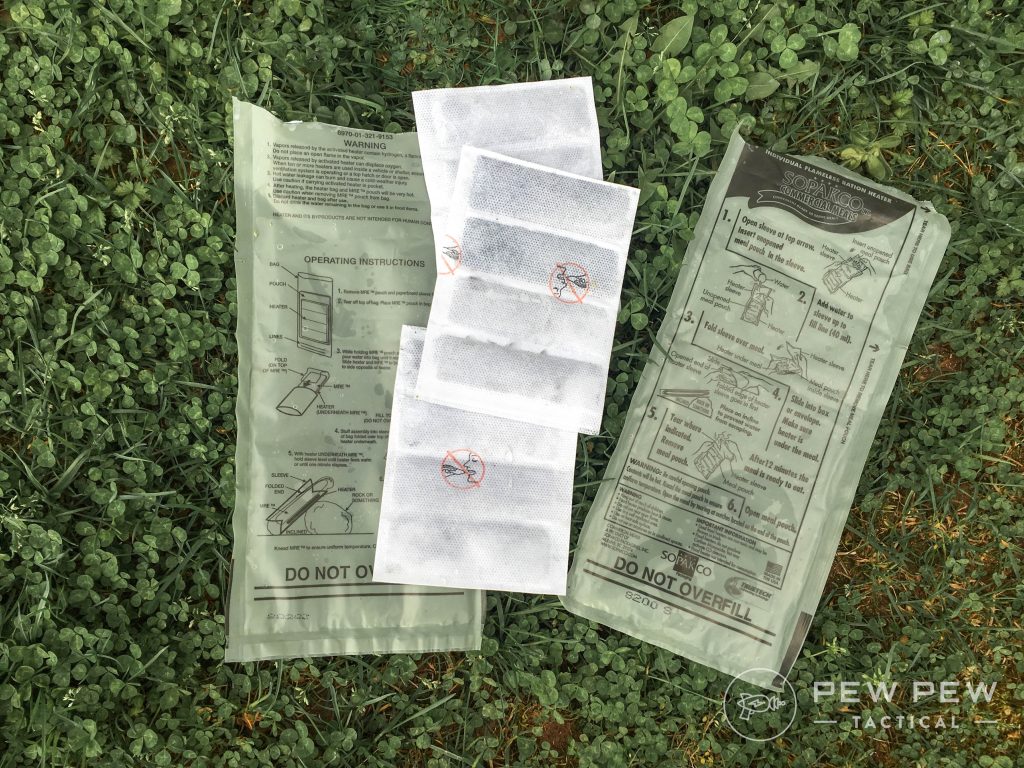 The only thing you need is a wee bit of water to activate the heater.
Overall, I thought these were great MREs.
MRE Surplus Chicken Burrito Bowl
This one was kind of fun. I was once a frequent customer at Chipotle, and this was reminiscent of that.
And while the main dish itself is great, MRE Surplus does a fantastic job with the other included items as well.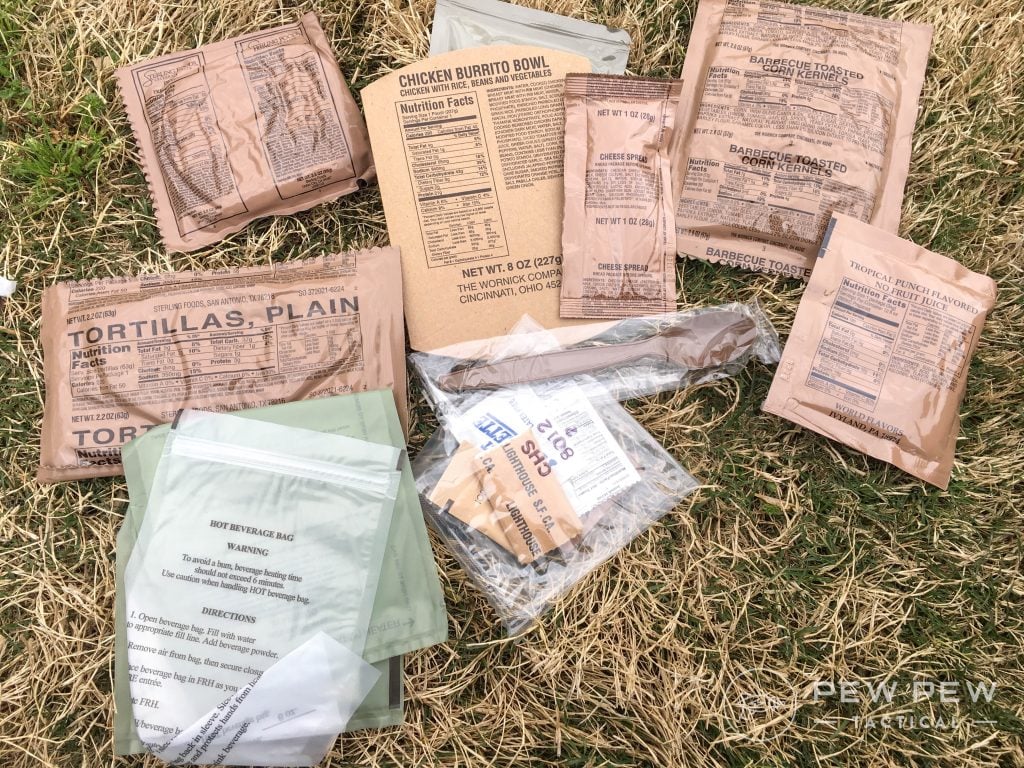 I was routinely blown away by the flavor of the craisins, bread, peanuts, peanut butter, and other included goodies.
They were often better tasting than anything you would buy from your local grocery store.
I'm not sure how they swung that — I'm thinking magic — but it worked out great.
MRE Surplus Maple Flavored Pork Sausage Patty
This one was fun. It tasted like a McGriddle.
Though it came with a rather nasty and smashed, chocolate muffin, the entrée itself and the remainder of the meal was excellent.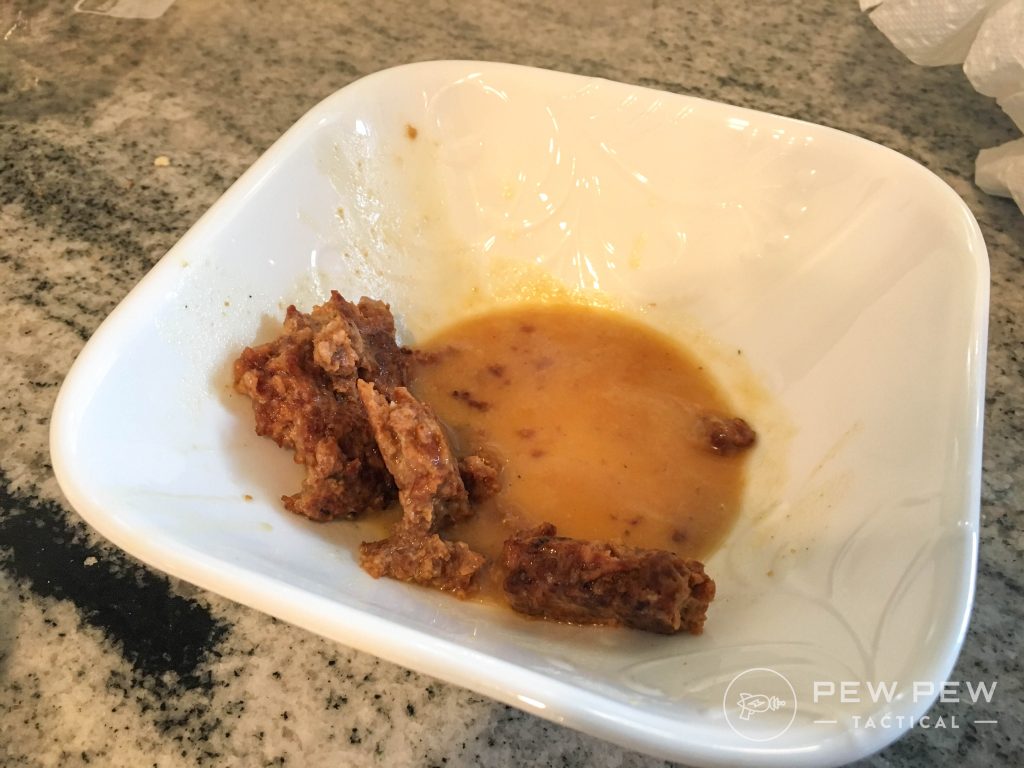 If you're looking for a great breakfast MRE, this one will leave you very happy.
OG MRE Style
145
at Amazon
Prices accurate at time of writing
Prices accurate at time of writing
5. Legacy Premium
Contains:
Classic Chili Mix
Pasta Primavera
Stroganoff
Enchilada Beans and Rice
If you're looking for a quick form of emergency meal to store at your home or if you need to feed a large number of people (e.g., you have small children), then I highly recommend Legacy Premium.
Truthfully, I'm a bit of a health nut. Because of this I'm very leery of putting a bunch of funky stuff into my system.
You don't have to worry about that with these meals.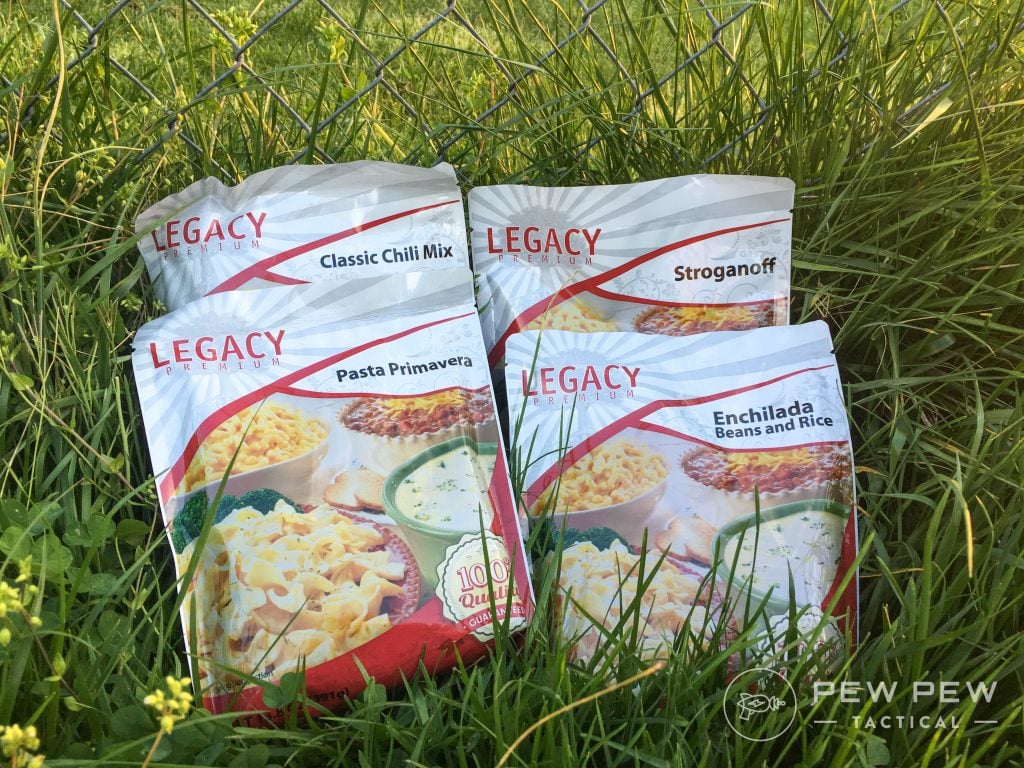 All of the ingredient lists are short and pronounceable. Even better, there's nothing strange added to the meals.
If you're prepping but are concerned about the health value of the food that you're storing, I recommend Legacy Premium products.
Not only do they taste great, but they're good for you too!
Legacy Premium Enchilada Beans and Rice
The flavoring on this was great. It tastes like something you would get at your local Mexican restaurant.
Legacy produces a ton of food as well, so if you're cooking for a large family, this is a great way to go.
I did question how filling this dish would be, though, considering it is mainly spiced rice.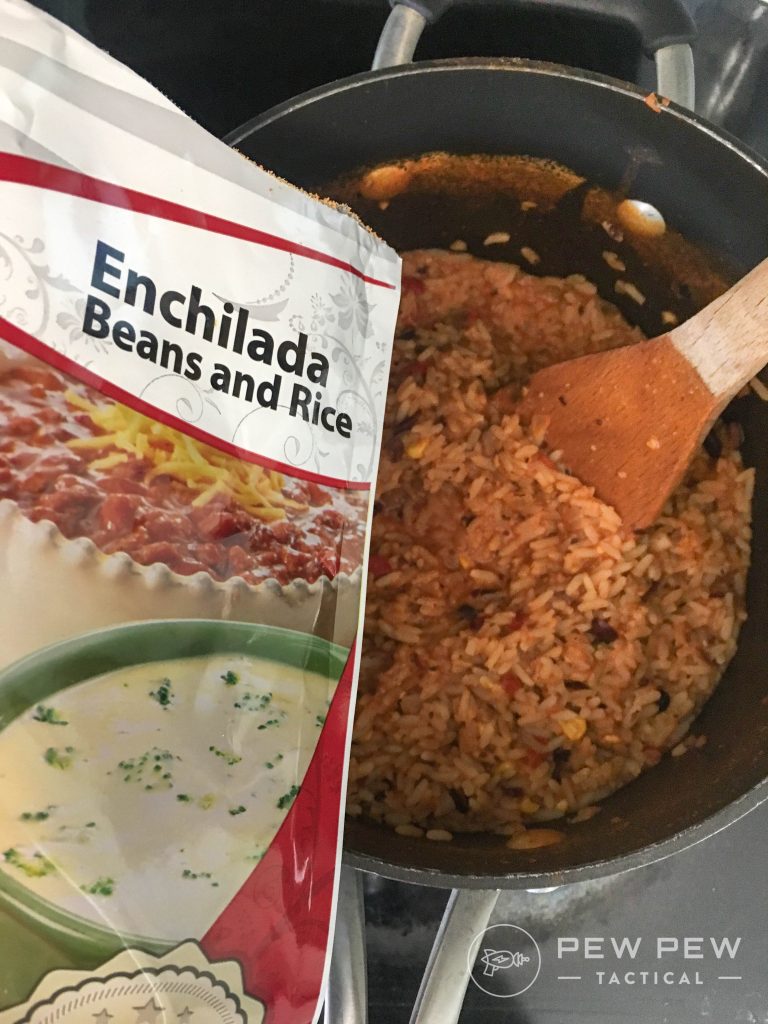 Carbohydrate meals get burned up rather quickly. If you only eat Mexican-flavored rice, you'll need something to "fill up the corners" shortly afterward.
That said, the scent of this cooking quickly filled the kitchen, leaving us with an informed expectation of the meal to come.
You add a little guacamole and some lime Tostitos to the mix, and you've got the makings of a fantastic Mexican meal.
Legacy Premium Classic Chili Mix
As mentioned, out of all the MREs tested, Legacy was easily the healthiest.
Out of our taste testers, Legacy was the only brand that won the hearts of the health nuts.
While this was a rather thin chili, not much more than seasoned black beans, I still think it would make a fantastic post-disaster meal for many people.
Best for Families
48
at Amazon
Prices accurate at time of writing
Prices accurate at time of writing
6. Augason Farms – 72 Hour Emergency Food Supply
Contains:
Maple Brown Sugar Oatmeal
Creamy Potato Soup
Sweetened Banana Chips
Hearty Vegetable Chicken Flavored Soup Mix
Creamy Chicken Flavored Rice
While not as convenient to cook in the field as some of the other MREs, there wasn't a taste tester among us who didn't thoroughly enjoy the Augason Farms meals.
All had soy present except for the sweetened banana chips. But with an expiration date of 2046, a very large number of calories (1,000+) per bag, and tasty meals, we didn't mind.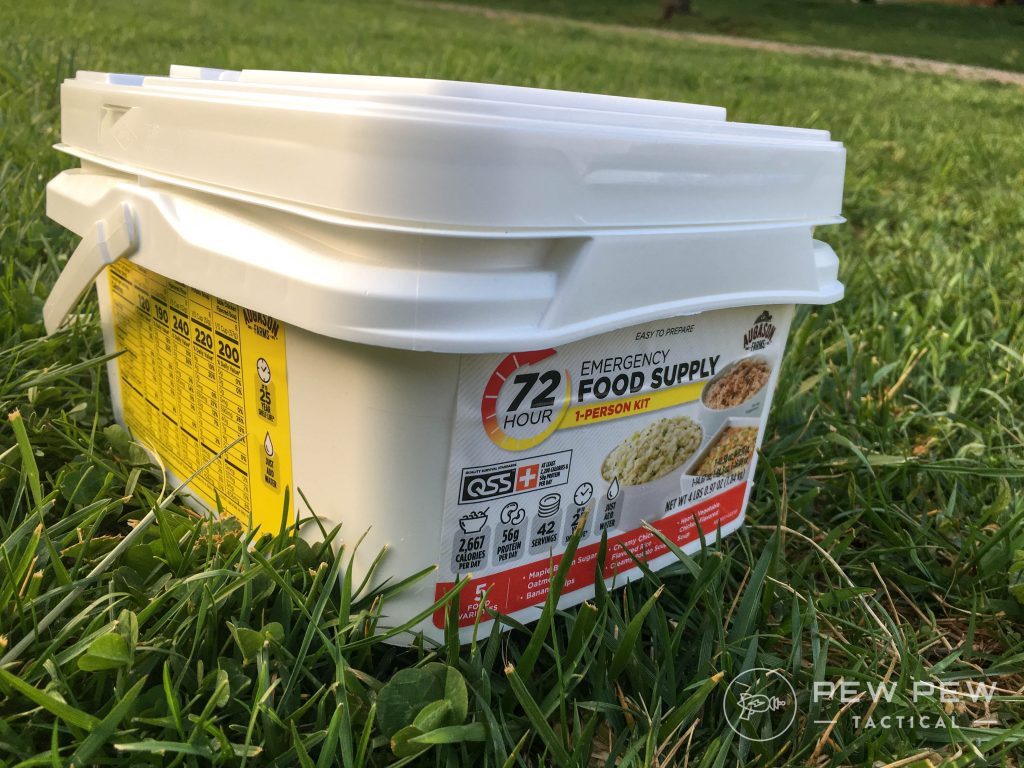 You're going to need cookware and some form of heating to cook these up. So, they're not a standalone product.
But it's fantastic, nonetheless.
Augason Farm Creamy Potato Soup
This powdered mix turned into a very hearty potato soup.
I'm a sucker for potato soup on a cold day, to begin with, and this one didn't disappoint.
I thoroughly enjoyed the savory pepper flavor of it. After a long day of survival-related work, this one would leave everybody at your table happy.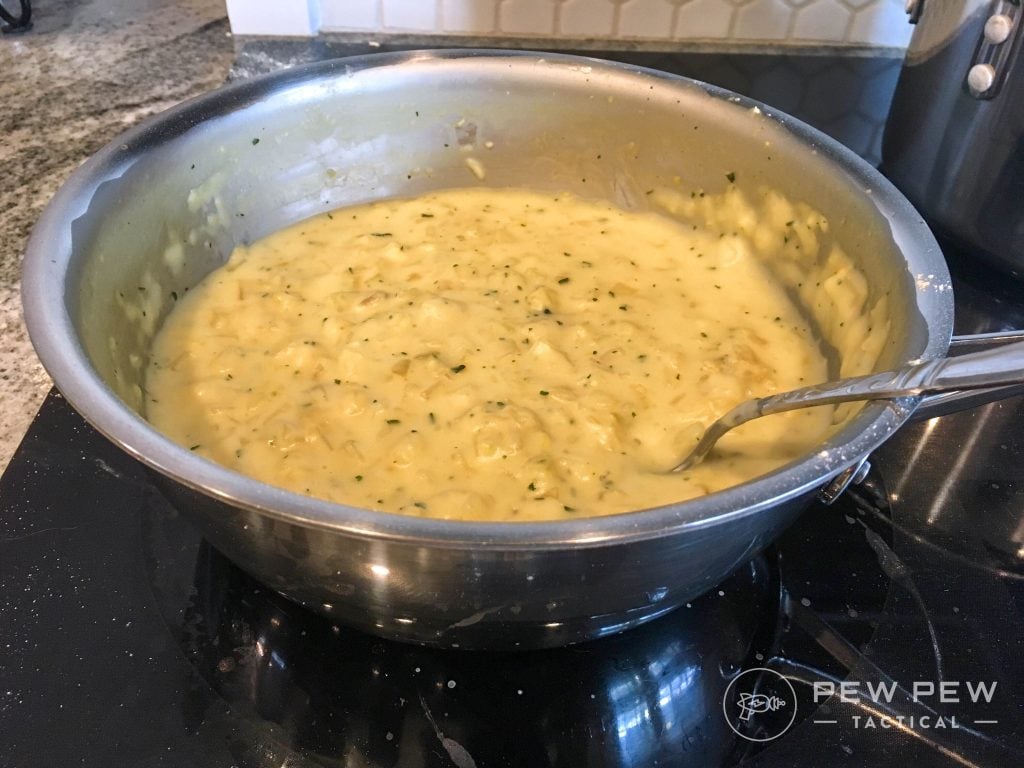 Augason Farm Creamy Chicken Flavored Rice
You just can't seem to go wrong with Augason Farm.
The creamy chicken-flavored rice was an instant winner with our taste testers. It was just as good as any recipe you'd find in a Southern Living magazine.
It was a thick dish that left you feeling full. Also, it didn't make you feel as if you were eating survival food.
Given that morale and mindset are a huge part of making it through any disaster in one piece, we feel this is a further reason for recommending Augason Farm products.
Best for Emergencies
20
at Amazon
Prices accurate at time of writing
Prices accurate at time of writing
Have you tried Augason Farm MREs? If so, rate them below!

7. XMRE Blueline
Contains:
Creamy Spinach Fettucini
Italian Sausage with Peppers and Onions
Chicken Chunks
Hickory Smoked Tuna
Vegetarian Taco Pasta
Cheese Tortellini in Tomato Sauce
The first things that stood out to me about XMRE were the heaters and heating bags. Truly superior to anything else that I found!
They heat the food consistently and quickly, and there's visible evidence of such taking place due to the steam that emanates from the pouch.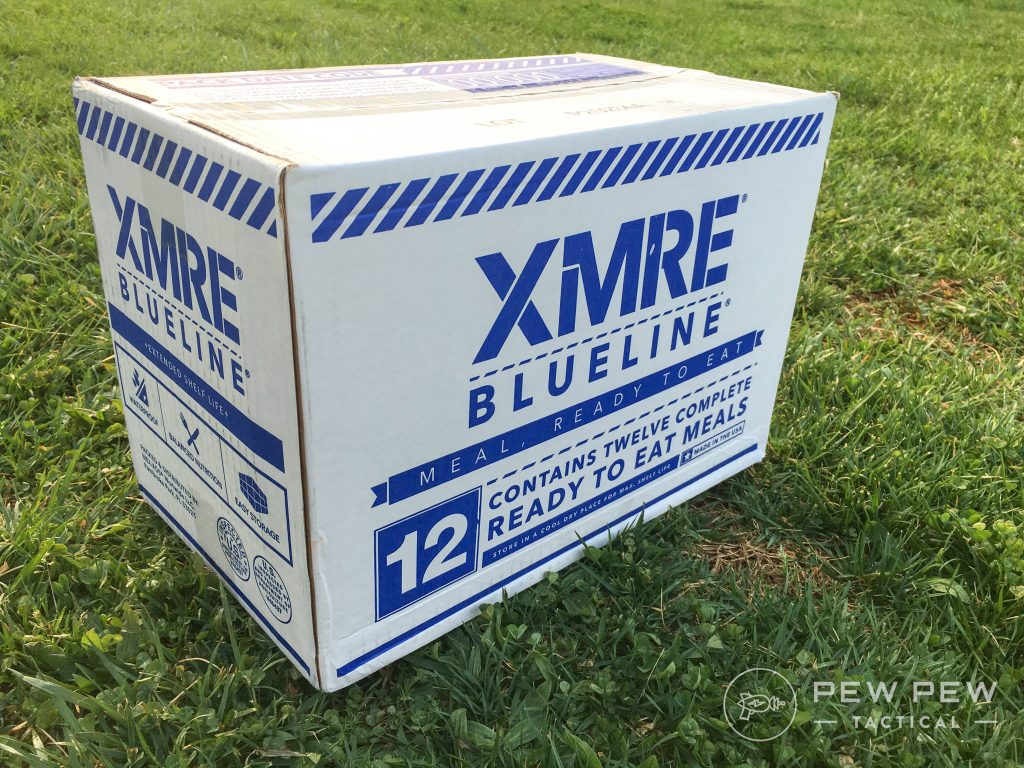 There were occasions with some of the Hawaii Prime and Army Surplus MRE meals that I wasn't able to get the food warm enough despite the recommended amount of water and cook time.
The catch was that the taste often wasn't what you would hope it would be.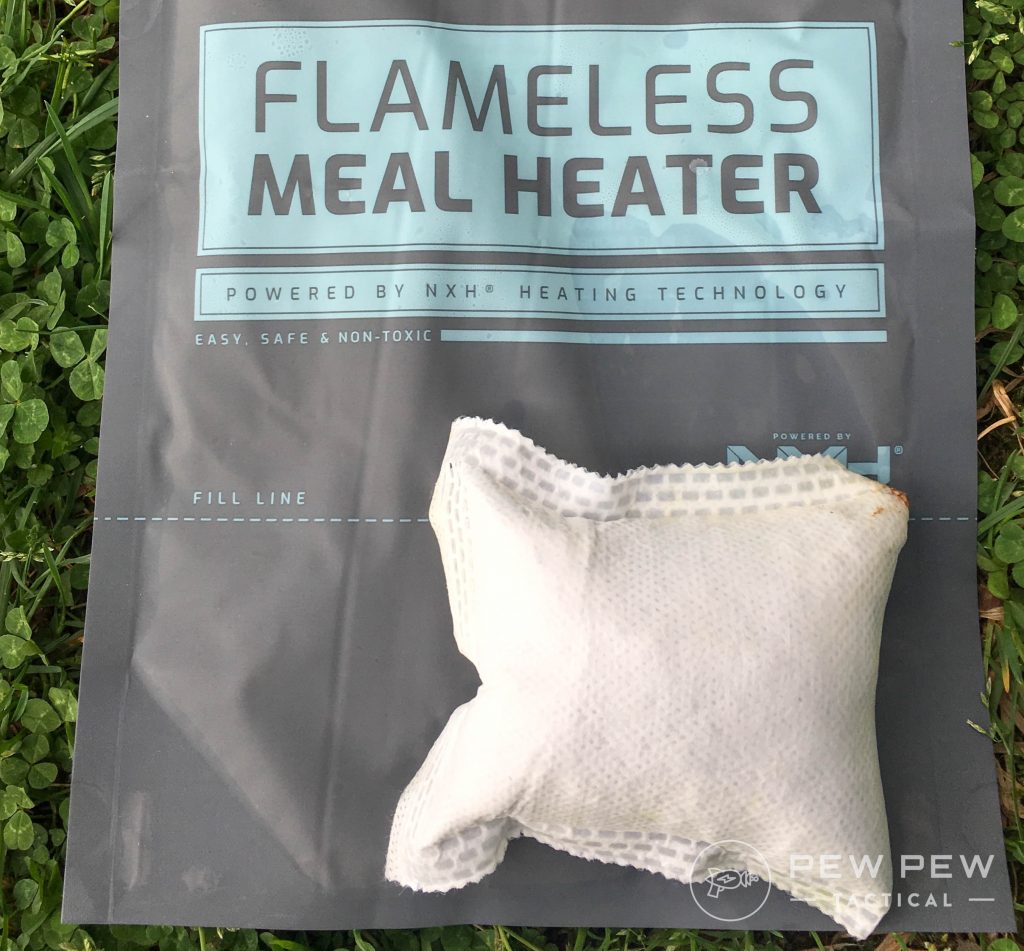 The average entrée came in at 218 calories, which though not a lot, was certainly supplemented with the other items included within each MRE.
A meal-ready-to-eat is designed to have calories, and I thought XMRE did a pretty good job of fulfilling that mission.
There wasn't a visible expiration date that I could find on any of these products, though.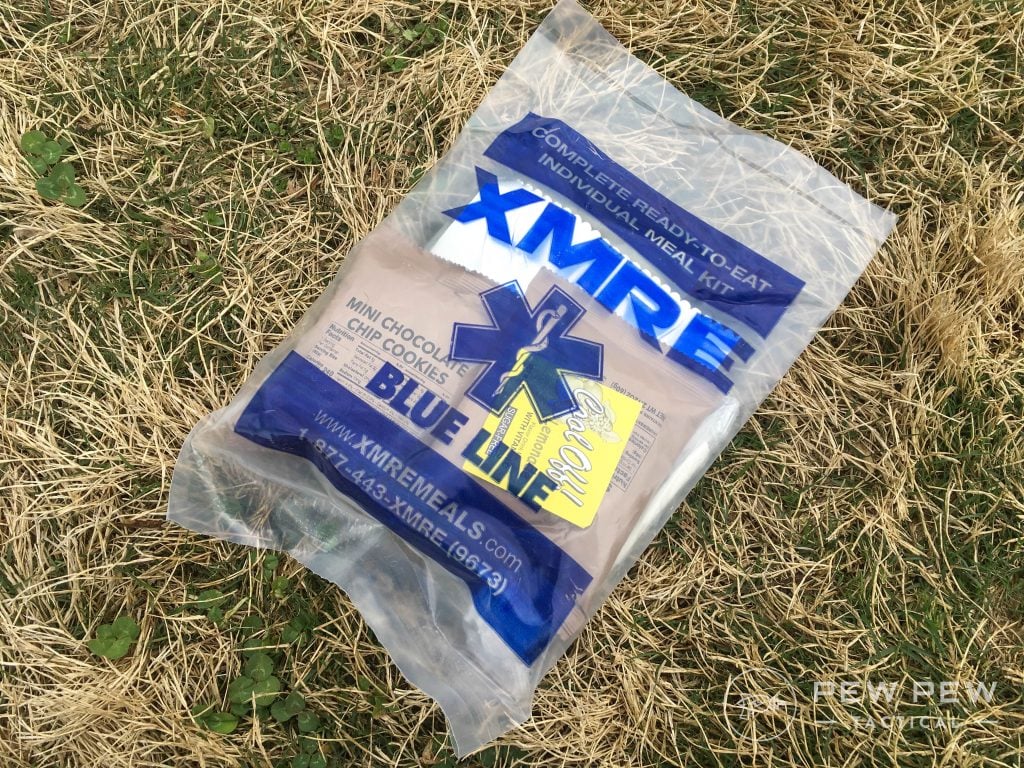 Once again, I think it's best to assume that whatever type of MRE you purchase will last for 2 to 3 years max.
Much like the Sopacko meals, all of these had soy present as well. The only exception to this I found was with the white chicken chunks.
XMRE Creamy Fettucini
I was excited when I first saw this meal. Anything with the words "creamy" and "fettucini" in the title should be impossible to screw up, right?
Y'all…it was disgusting. Everyone who tried it agreed.
We're talking about a very nasty and bitter aftertaste that left you looking for a glass of water and a stick of gum.
We liked the fig bars and bread, though. The included corn nuts were rather bland and disappointing.
XMRE Vegetarian Taco Pasta
Heading into this one, I was a bit nervous. But it caught me completely by surprise.
I've long worked within the health/fitness industry, spending a great deal of that time teaching nutrition classes throughout my state.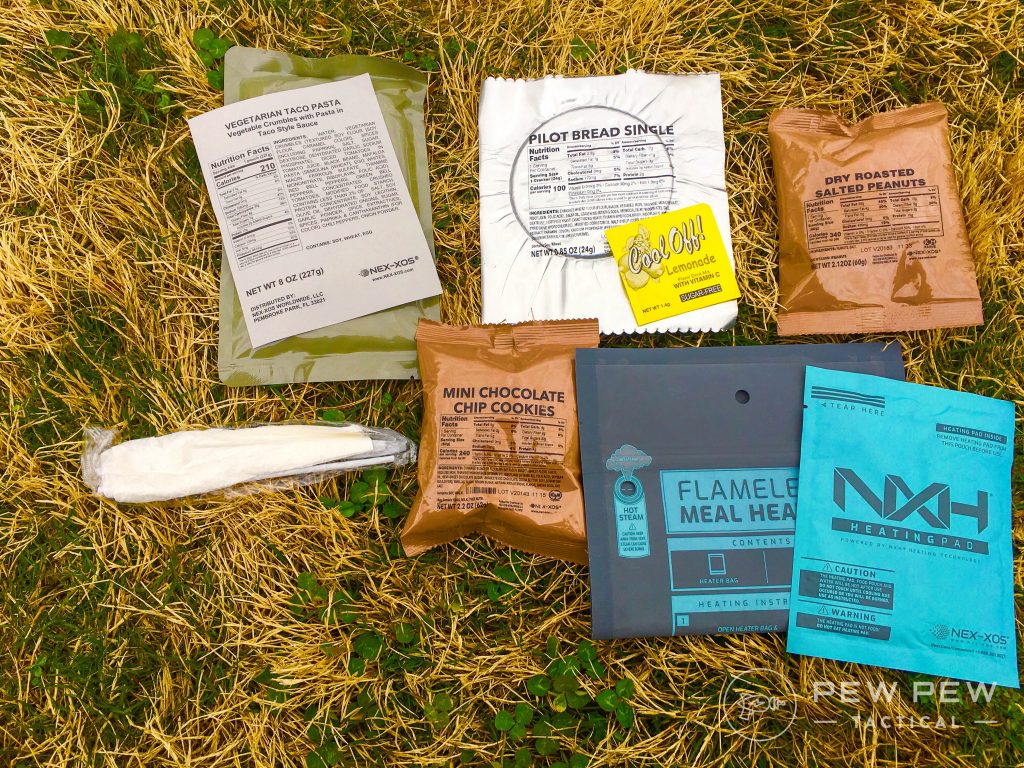 It's because of this I've had the opportunity to eat a large number of vegetarian meals. They've largely been bad.
Anybody who thinks cauliflower is an acceptable substitute for real macaroni and cheese or hot wings deserves to be smacked in my book. (I kid…kinda.)
It's because of these past experiences; I wasn't sure what to expect from here.
This one was really good, though! I left with a very satisfying and filling feeling.
Most Consistent
180
at Amazon
Prices accurate at time of writing
Prices accurate at time of writing
8. Good To-Go
If you don't need a bucket of food, Good-To-Go offers convenient, single-serve packets. For this test, I tasted the Thai Curry, but more on that in a minute.
This brand would be a great meal for backpacking.
The packets are incredibly small and easy to pack away in a BOB, though it does take quite some time to cook.
Chicken Pho, Mushroom Risotto, and a Mexican Quinoa Bowl are a few of the other flavors.
The ingredients are all healthy, natural stuff, and there's no soy present either! All of that's a massive plus in my book.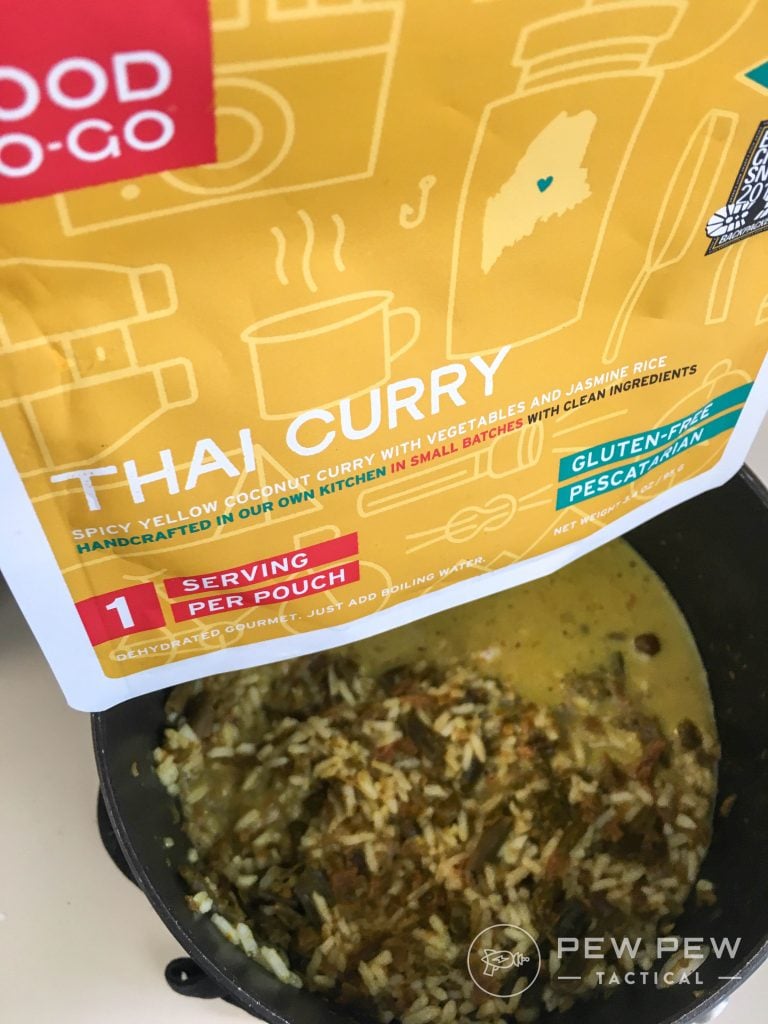 Their website lists these with a 5-year shelf life. The one I was issued expires in 2025.
Weighing in at 380 calories, this one will play a small part in giving you some fuel for the road as well.
You're going to need something else to eat – you won't be able to rely solely on this – but it will help.
Good To-Go Thai Curry
This was widely touted as one of Good To-Go's most popular meals, and for the life of me, I can't figure out why.
I could barely tolerate the smell of the thing, let alone the taste.
That all said, I recognize there are people out there who might dig this.
Should that be you, Good To-Go does have some benefits as far as brands go. It was one of the healthiest meals I tried.
The ingredient list was short, pronounceable, and natural.
Best for Camping
10
at Amazon
Prices accurate at time of writing
Prices accurate at time of writing
9. Sopacko
Contains:
Spaghetti with Meat and Textured Soy Flour Sauce
Penne with Vegetable Sausage Crumbles in Spicy Tomato Sauce
Beef Ravioli in Meat and Textured Soy Protein Sauce
Chili Mac Macaroni and Beef in Sauce
Cheese Tortellini
Vegetable Lasagna
This is one of those packages that I wish I had the opportunity of seeing the delivery man's face as he delivered it.
I was a little bit surprised that Sopacko would be so bold in their delivery boxes.
A friend of mine ordered an underground vault to bury his guns that came in a similar "look-what-I-ordered" style box. This reminded me of that.
Taste-wise, the meals were somewhere between good and bad.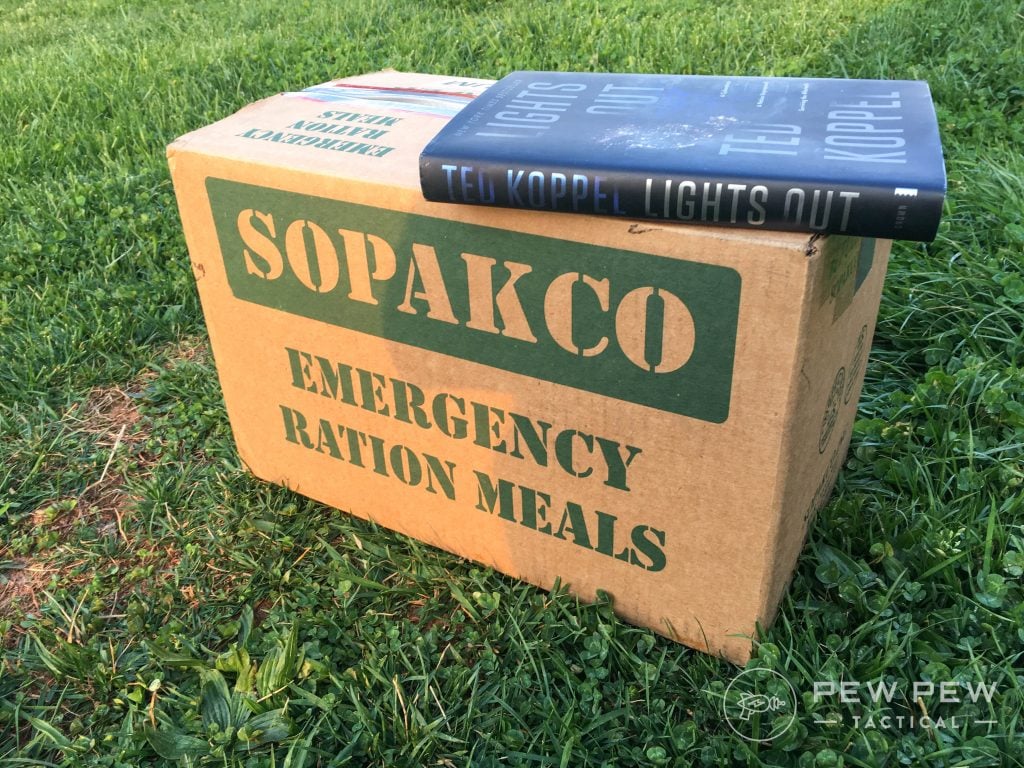 There wasn't a thing in here that had me feeling as if I was eating gourmet food. But there was stuff in this box that was difficult to swallow.
If you're going to be in a survival situation, at least make your food taste good.
And while some readers may not care, I do think the presence of soy matters. Every single meal here had soy as an ingredient.
There wasn't an expiration date on any of the meals either, but again it's reasonable to assume a 2-to-3-year life span.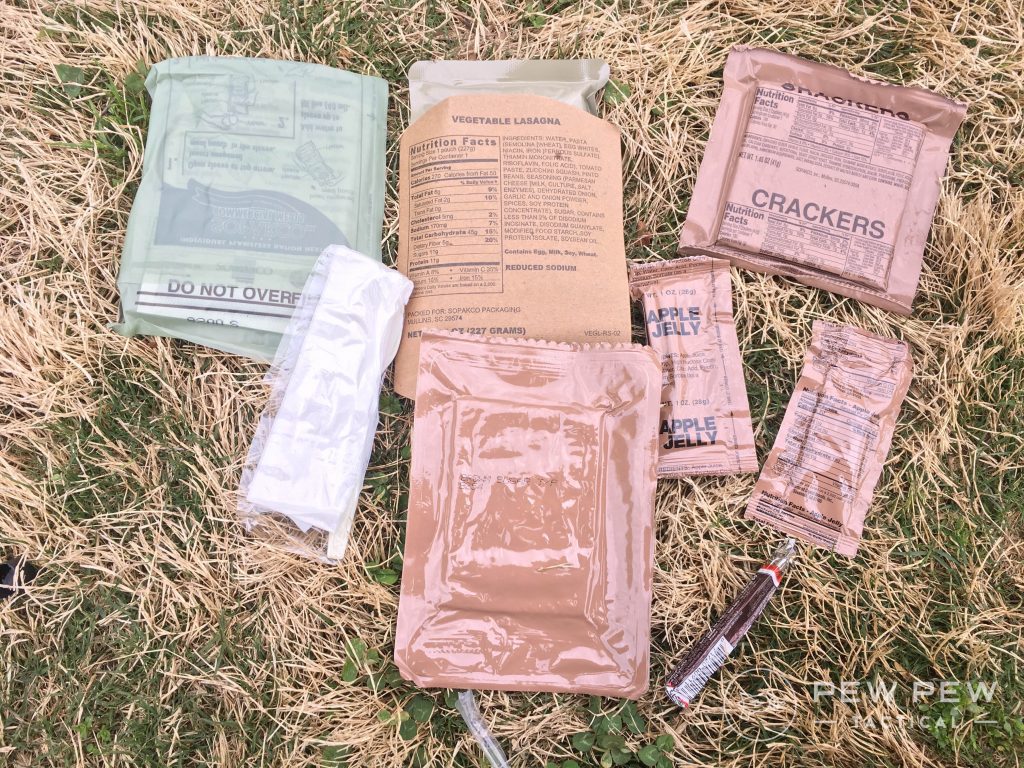 One further complaint I had about these guys is the heaters.
Sometimes they would work without a hitch. Other times I would put in the necessary amount of water, only to come back 10 minutes later to lukewarm sludge.
Kind of hit or miss.
Despite Sopacko acting as one of the bigger players in the MRE market, I wasn't a huge fan.
Sopacko Cheese Tortellini
Out of every MRE I tried, this one earns the rank of most inedible.
This one I couldn't even swallow (and you're talking to a guy who's eaten cow guts in Mexico and sheep eyeballs in China.)

It tasted like some type of cleaning chemical with a nasty plastic-y tomato paste film on top.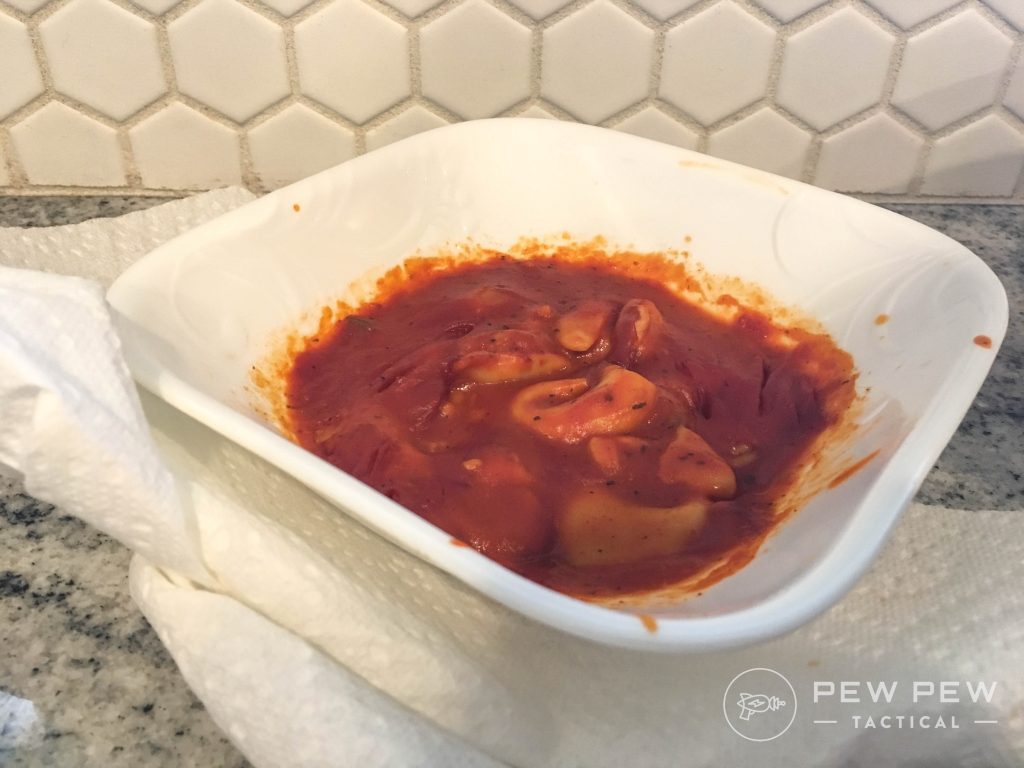 My wife was a huge fan of the included pop-tart, though, and Tootsie Rolls are always winners. So, there's that, I suppose.
Sopacko's Vegetable Lasagna
I was pleasantly surprised by this one.
I never have high hopes for anything that advertises itself as vegetarian, but this one was alright. It just tasted like regular, old lasagna without the meat sauce.
54
at Amazon
Prices accurate at time of writing
Prices accurate at time of writing
10. Captain Dave's MRE Entrees
Contains:
White Chicken in Alfredo Sauce with Pasta
Cheese Tortellini in Tomato Sauce
Pizza Slice with Pepperoni
Beef Ravioli in Meat and Textured Soy Protein Sauce
Vegetable Lasagna
Chili-mac Macaroni and Beef in Sauce
Beef Taco Filling
Penne with Vegetable Sausage Crumbles in Spicy Tomato Sauce
Spaghetti with Meat and Textured Soy Flour Sauce
Captain Dave's is highly rated within the MRE world, and I really can't figure out why.
All you're getting here is the entrees – no means of heating. That's fine, but I just think if that's the route you want to go, why not choose something that not only lasts longer but tastes better too?
Opening the box, I realized…these were the exact same meals found within the Sopacko MREs.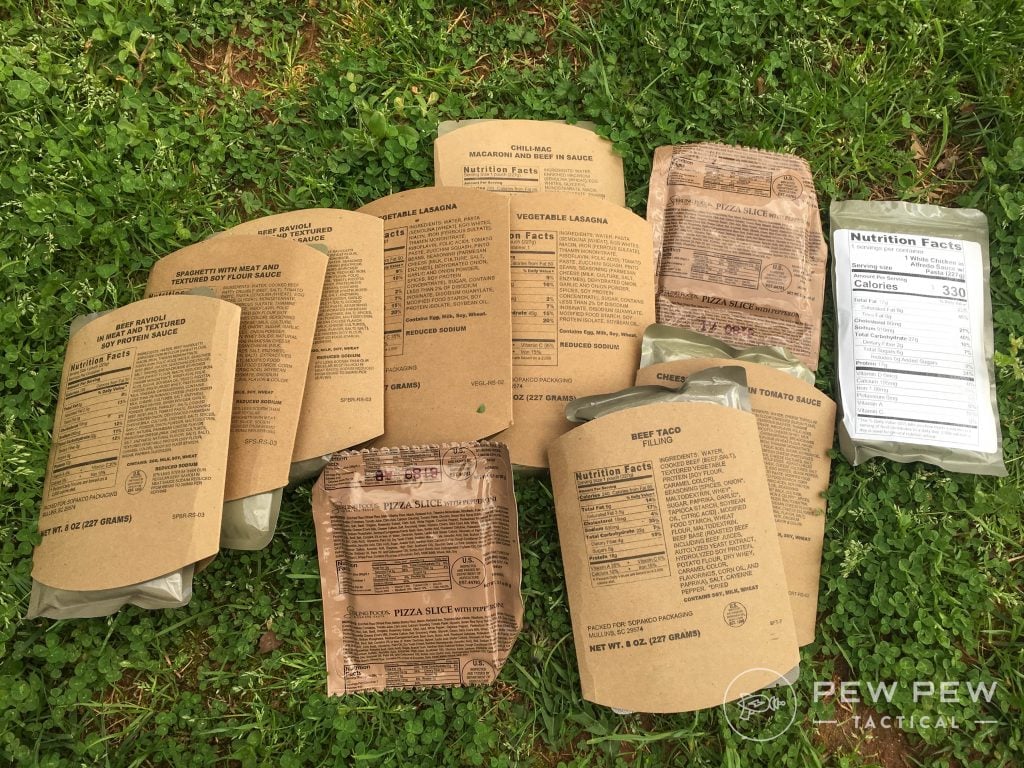 They just miss all the other extra additions. It's all entrée here.
My take: if you like Captain Dave's recipes but in a full MRE package, just buy Sopacko.
It's the same thing.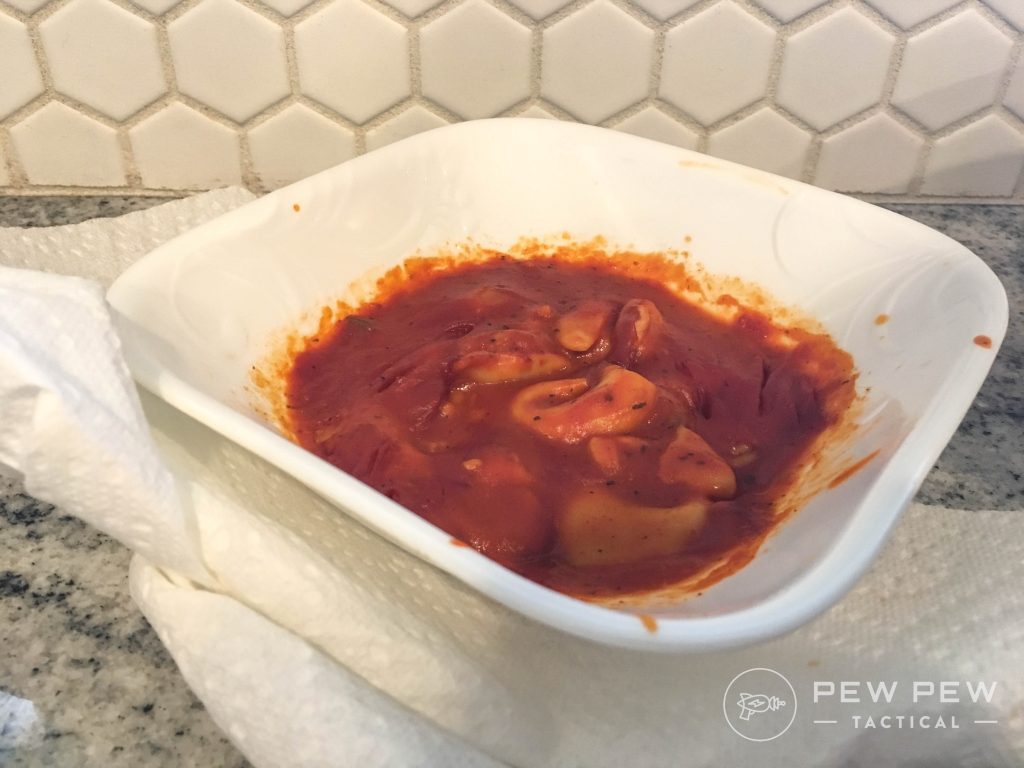 I found it slightly frustrating that there weren't any expiration dates on anything.
While you can estimate a couple of years, it would be nice to know exactly when these expire.
As far as nutrition, soy was present in every meal — though there weren't any ingredients listed for the white chicken in alfredo sauce.
Each entrée averages 263 calories. You're not getting a lot of calories for your money here.
Frankly, I'd skip Captain Dave and go with the Sopacko.
62
at Amazon
Prices accurate at time of writing
Prices accurate at time of writing
Based on our MRE taste test, MRE Surplus Hawaii Prime, Mountain House, and ReadyWise earned the top spots with all-around great taste and convenience.
Final Thoughts
But, really, most of these MREs would do the trick in a survival situation. And some may be suited to your situation more than others.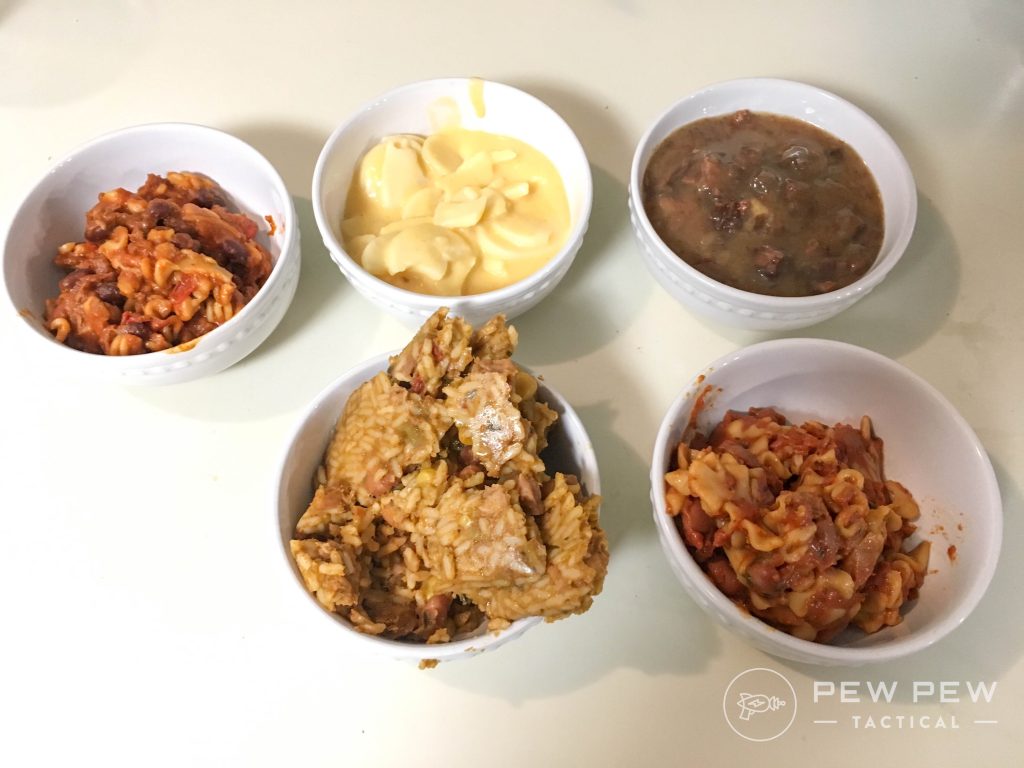 Regardless of your situation, proper food storage is an absolute must. Some MREs can easily help you meet that goal.
Stick with our findings, and I think you'll be sure to find your winner.
Are there other brands out there you think we should try? Let us know in the comments below! For more meal content, check out the 7 Best Survival & Camping Food Brands & Kits.