When the average person thinks of a suppressor, the first thing that comes to mind is usually either mobster movies or James Bond gunning down bad guys with his silenced Walther PPK.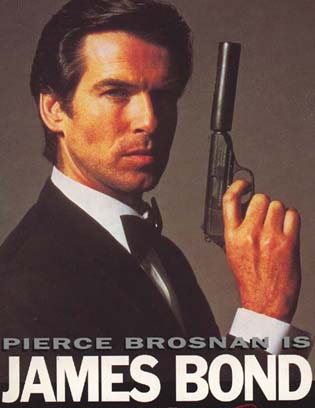 In the world of make-believe, both of those scenarios are undoubtedly cool, but in the real world, that couldn't be further from the truth.
The reality is that average people like me and you can also get a lot of good use out of shooting with a suppressor.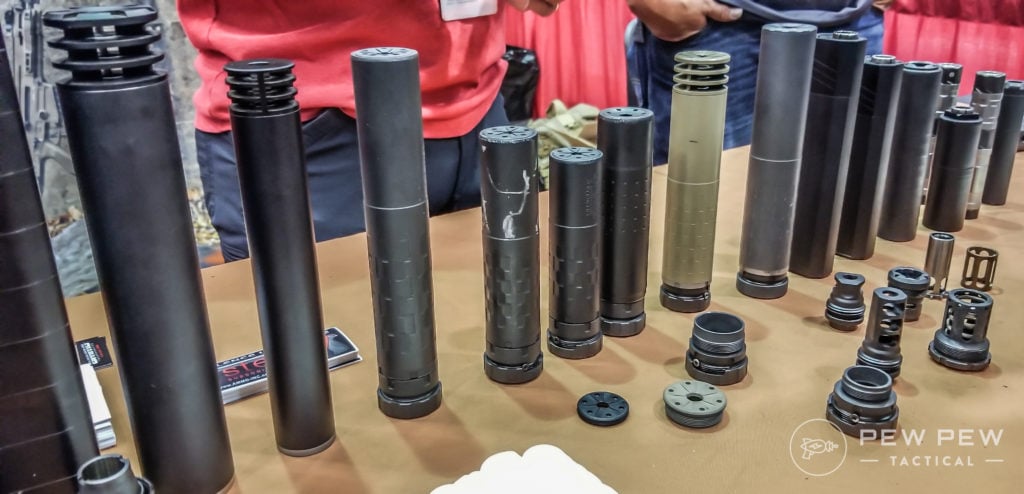 For example, hunting with one is an excellent way to fire off a few shots without alerting every animal of your presence. Suppressors are also great for protecting your ears against loud, damage-inflicting noises.
But you don't want to mount just any old suppressor to your gun. You want something that's durable and reliable.
Today, we're going to have a look at some of my favorite suppressor companies, so you don't have to be the guy jamming a ball on his barrel.
Table of Contents
Loading...
Best Suppressor Companies
1. Advanced Armament Corp (AAC)
AAC is one of the most popular manufacturers of suppressors for guns of all shapes and sizes. Whether you're shooting big bore rifles, rimfire cartridges, or anything in between, AAC definitely has something for you.
Choosing AAC means that you get a top-quality suppressor every time. And as an added bonus, you also pay for unparalleled customer service. While AAC suppressors are made for your usual wear and tear, if they do happen to malfunction, you're protected by a lifetime warranty.
Let's look at some good AAC suppressors:
AAC Element 2
MSRP: $480
You can get the AAC Element 2 for $350 limited time offer.
The Element 2 is a suppressor designed for the .22LR, but it also supports .17 HMR and .22 Magnum cartridges. Made as an outside titanium tube with stainless steel baffles on the inside, the Element 2 is an incredibly durable suppressor.
350
at Brownells
Prices accurate at time of writing
Prices accurate at time of writing
As with most rimfire suppressors, it's important to clean the Element 2 from time to time to ensure that it's working properly – usually after firing 200 to 300 rounds. Fortunately, it comes with an easy-to-use hand tool for taking it apart so that you can clean the inside components.
AAC 556 SD Rifle Suppressor
The AAC 556 SD Fast-Attach suppressor is awesome ($649.00)
The 556 SD does a great job at softening the boom from those 5.56 NATO rounds. While you'll still get a sonic boom from firing supersonic ammo, the 556 SD is able to stifle that muzzle boom, leaving you with a more manageable sound when shooting.
525
at Capitol Armory
Prices accurate at time of writing
Prices accurate at time of writing
Shooting with the 556 SD will be an absolute pleasure for anyone looking for a quality suppressor that fits the AR-15 platform. It's tough and able to pop off countless rounds without any problem, making it a popular suppressor among some 3-gun competitors.
With that said, it isn't a jack of all trades. It is good at its job of suppressing 5.56mm rounds and that's all it does. As long as you're interested in taking down the sound levels of your AR-15, this is a good item to have.
The 556 SD has an intuitive design that makes it easy to use. It also takes the noise levels down enough to where you can shoot without ear protection if you absolutely wanted to – although I'd still recommend keeping some earplugs handy for that sonic boom.
2. SilencerCo
SilencerCo has been in the business of building high-end suppressors for nearly a decade now. Founded in 2008, SilencerCo started from humble beginnings and then grew into one of the most popular suppressor manufacturers in the United States.
Buying a SilencerCo suppressor means that you go home with a durable piece of equipment that's tried, tested, and has proven to give the best results every time. In addition, SilencerCo has released a number of innovative products, from fully-modular shotgun suppressors to lightweight, durable suppressors for your favorite rifles.
SilencerCo Omega Suppressor
The SilencerCo Omega Suppressor is one of the most interesting options out there.
There's no denying that the Omega Suppressor has a larger-than-life price tag. But as the saying goes, you get what you pay for. The Omega Suppressor is probably one of the most lightweight and ergonomically designed suppressors for your rifle.
The Omega Suppressor works with everything from the 5.7mm to the .300 Winchester Mag. Its biggest claims to fame is being one of the smaller suppressors for bigger calibers. It weighs only 14oz and is only 1.56" diameter, making it significantly smaller than some of the other cans out there.
Another cool thing about the Omega is how easy it is to mount on your gun. It can be attached via a direct-thread to your barrel as well as mounted through a QD mount, so nobody should have any issues attaching the suppressor to their barrel.
1130
at Silencer Central
Prices accurate at time of writing
Prices accurate at time of writing
Also, upon submitting the registration for the suppressor, owners are given two muzzle devices, tools, and a storage pouch to keep the item safe.
SilencerCo Osprey
SilencerCO has another really cool option in their Osprey Suppressor ($750-$918)
The Osprey is a premium handgun suppressor that lives up to the SilencerCo name. It's durable, quiet, and is able to turn your pistol into a quiet shooter. Best of all, there are three different versions of the Osprey on the market: one for the 9mm, the .40, and the .45 ACP.
If you're looking for your average suppressor, you're barking up the wrong tree with the Osprey. Nothing about this suppressor is conventional, even the shape. SilencerCo ditched the standard tube designed for a rectangular profile that looks more like your handgun's slide than it does a suppressor.
695
at Capitol Armory
Prices accurate at time of writing
Prices accurate at time of writing
And the Osprey's design isn't just to look cool, it's quite functional as well. For starters, the bore is at the top of the "tube" instead of the middle, meaning that your vision is less obstructed than with other suppressors. In addition, it's also designed to make it easier to draw from a holster that supports suppressors.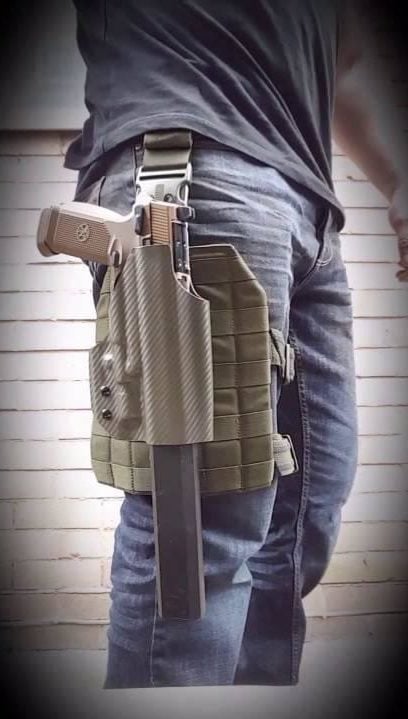 What's your take on SilencerCo?
3. Gemtech
Gemini Technologies, more commonly known as Gemtech, is another one of my favorite suppressor companies on the market. They have more than four decades of experience in designing cutting-edge suppressors for LEOs, military personnel, and civilians alike. Their reputation for innovation, durability, and reliability has made Gemtech suppressors some of the best around.
Let's check out a couple of popular Gemtech suppressors floating around on the market.
Gemtech GMT-300 Silencer
The Gemtech GMT-300 ($900-$950) is designed for .300 BLK cartridges and works well with both sub and supersonic cartridges. It's a dependable suppressor that's praised for bringing supersonic ammo down to an ear-safe sound level.
849
at Primary Arms
Prices accurate at time of writing
Prices accurate at time of writing
The GMT-300 boasts excellent durability, an overall weight of 14oz, and a sound reduction of nearly 40dB. With that said, the GMT-300 does have one drawback: it only works with .300 BLK ammo. But if you're someone who's particularly fond of that cartridge, you'll be able to get a lot of use out of shooting subsonic and supersonic rounds with your trusty GMT-300 mounted.
Gemtech Dagger
MSRP: $1045 at Rainier Arms.
Gemtech's Dagger suppressor is one of their most popular suppressor designs. It's constructed from titanium and is built to handle .300 Win Mag rounds with relative ease.
But what makes the Dagger so cool is its ability to work with other cartridges besides the .300 WM. It also supports .300 BLK, 5.56mm, and most 7.62mm calibers as well.
1099
at Brownells
Prices accurate at time of writing
Prices accurate at time of writing
The Dagger is a full-sized suppressor, so don't expect it to be short and compact like some of the other "silencers" out there. What you end up getting is an attachment that's nearly 9" in length and has an overall weight breaking 15oz.
If you're looking for a solid suppressor to put on your favorite supporting rifle, the Dagger is a great one to have. Its easy thread-mount design makes attaching the suppressor to the barrel easy peasy.
It also boasts a sound reduction of around 27dB – and guess what? It's also able to handle firing at fully auto, so if you're able to get your hands on an automatic, feel free to give the Dagger a try with it.
And yes, we know that the Dagger has an insane price tag, but its titanium design is guaranteed to last much longer than similar products made entirely out of stainless steel. The Dagger also boasts being completely hearing safe regardless of whether you shoot super or subsonic ammo. While it does certainly reduce the amount of sound produced with supersonic rounds, I'd still recommend wearing earplugs just to be on the safe side.
Other than that, the Dagger's a great suppressor for hunting, tactical use, or a little bit of range time.
4. SureFire
You probably already know that SureFire has established themselves as a top manufacturer of tactical goods for law enforcement, military, and average folks looking to improve home security.
But did you know that SureFire is also has a number of excellent quality suppressors for some of your favorite tactical firearms? Regardless of what you're looking for, chances are that SureFire has something that can fill the need.
And make sure to head on over to EuroOptic and check out their various SureFire accessories so that you can get the most out of your arsenal.
Let's take a quick glance at one of their most popular suppressors.
SureFire SOCOM Series Suppressor 762
There are two facts about the SureFire SOCOM 762 ($1,436-$1,610) that are completely indisputable: it's incredibly effective at what it does and it's bloody expensive.
Regardless of the SOCOM 762's ungodly price tag, it's arguably worth every penny spent on it. This heavy-duty suppressor is rugged enough to handle operations by the US military and is currently being paired with the Mk13.
But what is it that makes the SOCOM 762 so good? For starters, it's been specifically designed to reduce any gas blowback during rapid fire, making it much more enjoyable to shoot with than some of the other high-end suppressors out there. Also, the tube is built with a fortified stainless steel that's been designed to withstand high temperatures, corrosion, and any other kind of wear and tear that you're able to throw at it.
1436
at Brownells
Prices accurate at time of writing
Prices accurate at time of writing
Like other SOCOM series, the 762 is a QD suppressor that works with compatible muzzle devices. The plus side of this is that you don't have to worry about the 762 loosing up after extensive use throughout the day. After all, it's been designed specifically to handle the stress and heavy usage that comes with your run-of-the-mill military skirmish.
The SOCOM 762 works with all 7.62mm rifles, including magnum cartridges. As a full-size suppressor, its overall length is nearly 8.5" and it's one of the heavier models out there, weighing in at a nearly 20oz.
5. Silencer Central
Silencer Central is a relative newcomer to the scene but they are taking it by storm with their all-in-one service that include:
Direct Shipping
$99 Barrel Threading
EZ-Pay
NFA Gun Trust Setup
That means you don't have to go to a special FFL or kiosk to do everything.
Silencer Central is licensed in all 42 states that allow suppressors and will ship you things like fingerprint cards so you can do everything in the comfort of your own home.
Plus you can also ship in your gun for barrel threading instead of trying to find a pro shop around you.
They have EZ-Pay options so you don't have to plunk down all your cash at once especially if you're going to wait months and months for your paperwork to go through anyways.
Lastly…you've probably heard of NFA gun trusts if you're serious about suppressors. They do it all for you so you have an easier time purchasing…and it lets you share ownership with others.
Banish 30
We've tested the Banish 30 hands-on and we love how light it is with an all titanium build.
Plus how it can break completely down for easier cleaning. No more sending in your dirty can for the manufacturer to clean.
999
at Silencer Central
Prices accurate at time of writing
Prices accurate at time of writing
Have both .30 caliber AND smaller guns? The Banish 30 works with .17 rimfire through .300 Weatherby.
Full written review here and video:
No need to buy a bunch of suppressors for a .308 and 5.56!
Plus it most recently won Guns & Ammo's Suppressor of the Year for 2021.
Banish 45
Same deal here…we've tested the Banish 45 and love it.
It will suppress all the way from .45 ACP down to rimfire.
Full review coming soon!
949
at Silencer Central
Prices accurate at time of writing
Prices accurate at time of writing
What's your take on Silencer Central?
Taking the Quiet Shot
Well, there you have it. Those are some of my favorite companies that are currently making high-end suppressors. If you're working with any one of these companies' suppressors, you already know how effective and dependable they can be.
Just so you know, suppressors aren't anything new. The Welrod was a suppressed handgun for covert operators all the way back in World War II

For those of you who're already shooting with a suppressor, what are you working with?  For those who aren't, what's stopping you? Let us know in the comments below.