Some truth lies in memes, and memes are the modern means of communication.
One local meme making the rounds once more in the gun community is the Shower Gun.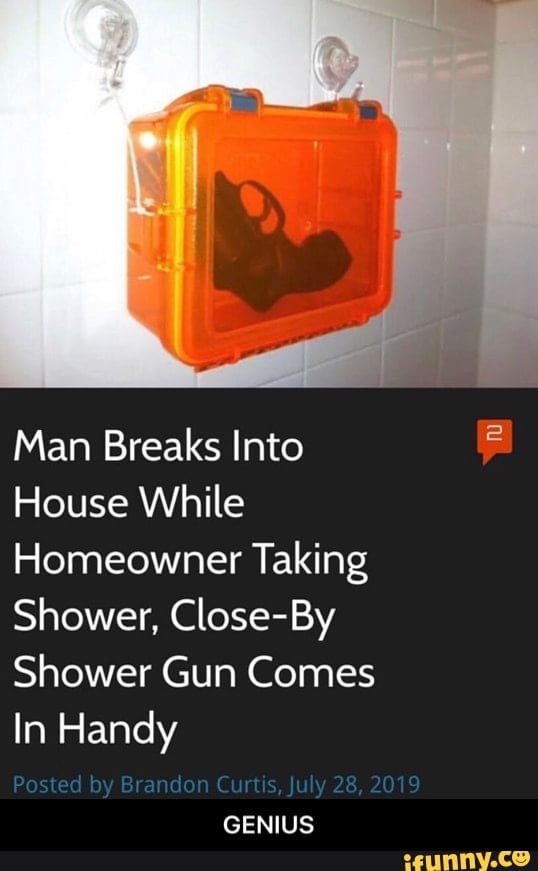 The meme offers a headline about a man who used a gun stowed the shower to ward off a bad guy.
It inspired me to think about what would be the best guns to defend yourself should you get stuck in the shower.
We all know every noise in the shower is amplified on the suspicion meter by 10.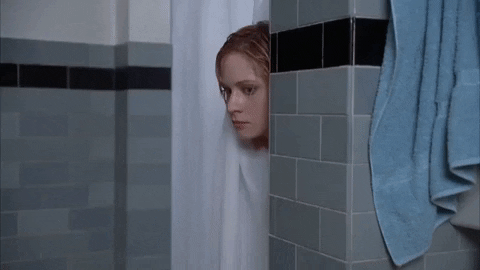 I hear that little alert noise from Metal Gear Solid every time my dog jumps off the couch while I shower.
If you're naked, afraid, and slippery, you might as well be heavily armed.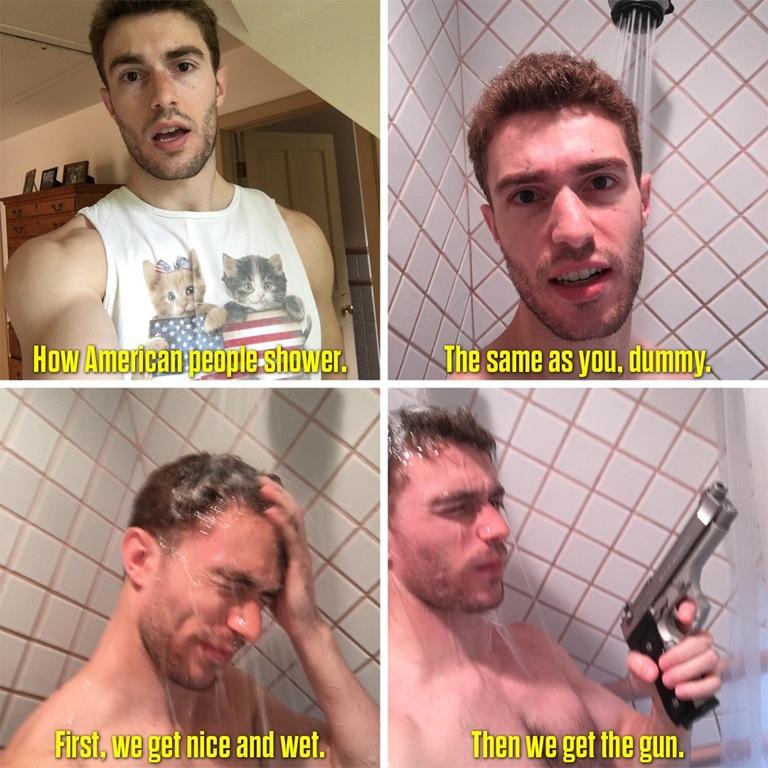 Best Shower Guns
1. Mossberg Shockwave JIC
Marine coated shotguns of any kind are a different kind of cool.
Stainless-steel like finishes are hard to beat in the looks department.
Plus, they are designed to be used on boats because — I don't know, man — boats, and shotguns are both cool?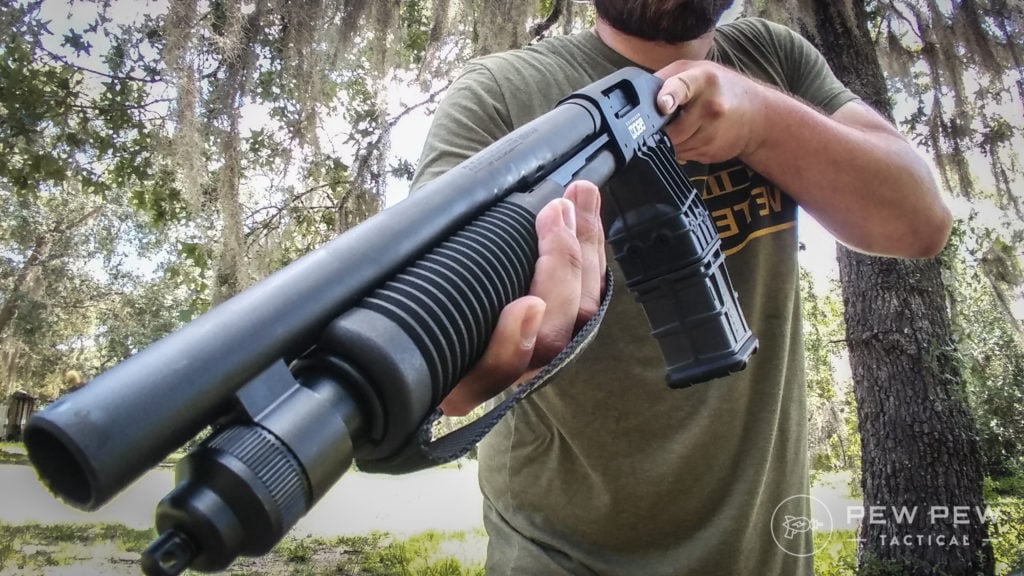 The Mossberg Shockwave JIC is the Marine Coated model that uses a non-reflective cerakote finish to provide an entirely different level of protection against rust.
This model even comes with the famous JIC tube for long-term storage and even more moisture protection.
You can leave the JIC tube just chilling in the shower, loaded and ready for those pesky bad guys who didn't call ahead.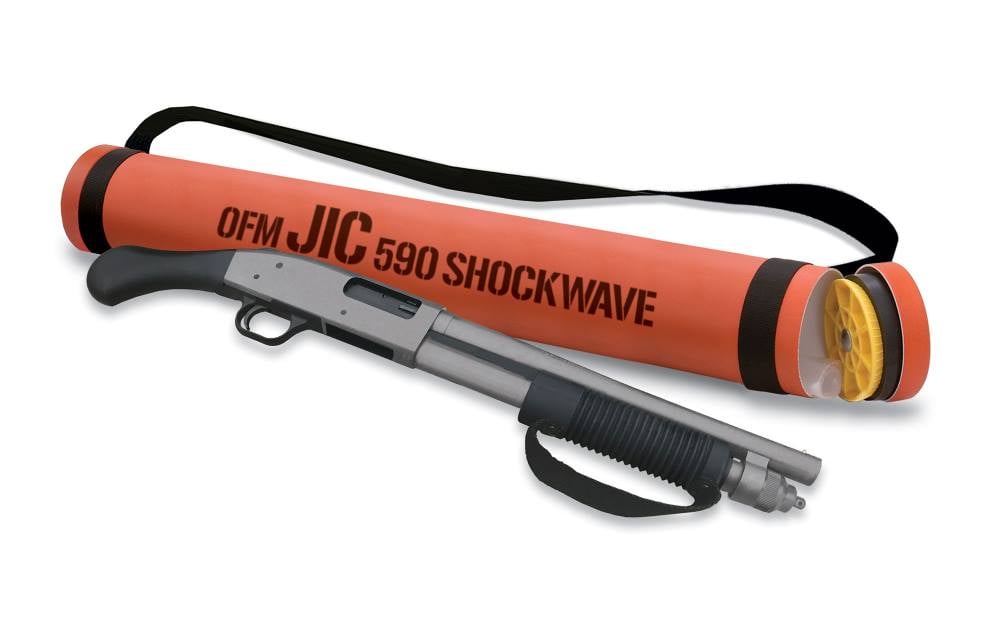 I like my showers hot, and my girlfriend loves them scalding, so plenty of steam occupies our bathroom.
The Mossberg Shockwave with Marine Cote finish is plenty resistant to water, and the Shockwave uses lots of aluminum parts that are inherently rust-resistant.
Bathrooms tend to be small and compact, and the Shockwave offers you a ton of power in a compact package.
Because the Shockwave lacks a stock, I suggest using the Opsol Mini clip and Mini Shells for reduced recoil and a higher capacity.
Once you factor in the wet hands, you'll really appreciate the lower recoil of the Mini Shells and the strap on the Mossberg's handguard.
899
at Gun Prime
Prices accurate at time of writing
Prices accurate at time of writing
2. S&W Model 60-15 with a 3-inch barrel
Of all the stainless-steel revolvers I could list, the Model 60 gets the nod because it's the OG.
It's also a different level of cool. Revolvers are always neat, but the Model 60 strikes a brilliant balance between cool and capable.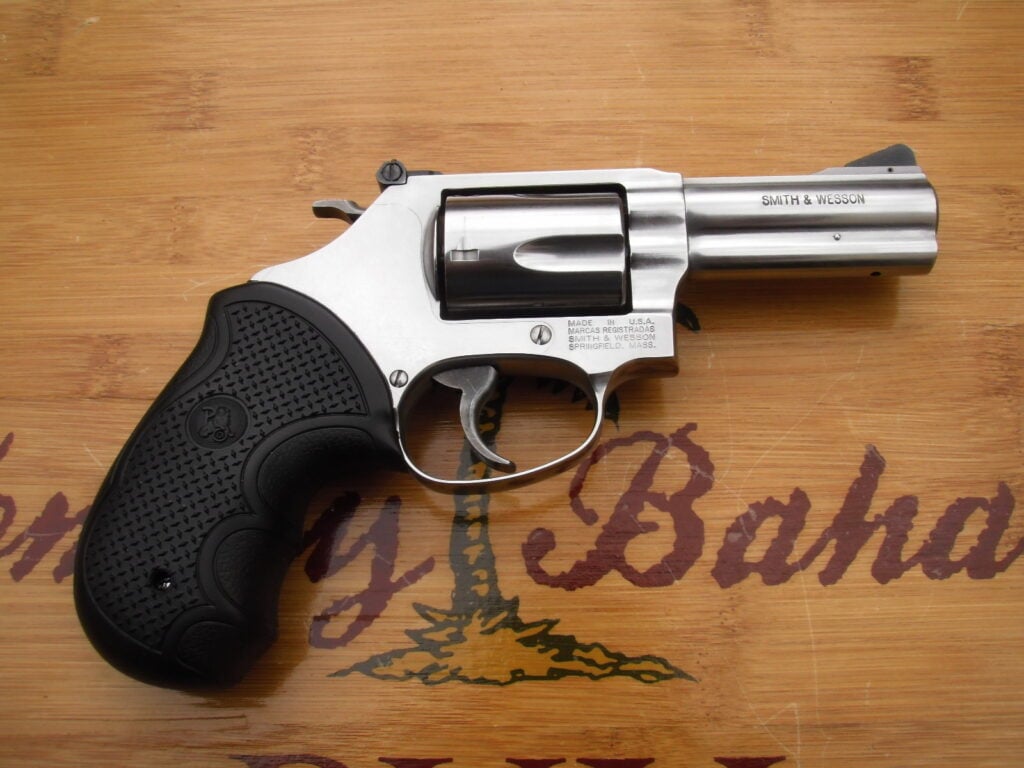 The Model 60 is a 5-shot revolver with a traditional J frame design. Unlike most J frames, the Model 60 is equipped with a 3-inch barrel for better ballistic performance.
It also has a proper set of sights on it in the form of a ramped front sight and adjustable rear.
Lastly, the grip is hearty and fills your hand — perfect for hanging onto when you're wet and soapy.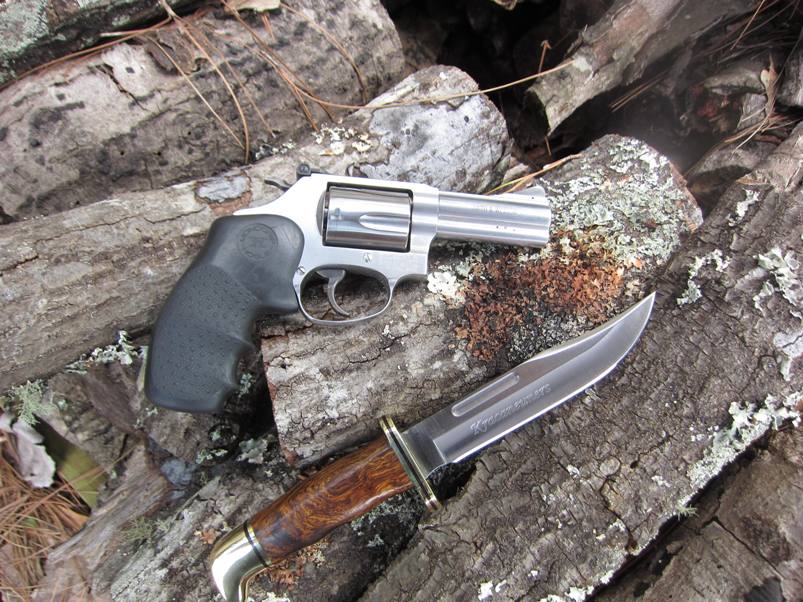 When you come flying out that shower in all your glory loaded for bear, you want a gun that can literally kill a bear.
The Model 60 loaded with .357 Magnums is an excellent fighting revolver.
An extended grip makes it easier to control, while the longer barrel gives a better ballistic performance. The proper sights ensure you are hitting that target.
This is perfect for that second bathroom that might not get used as much as the main one. It's small and compact, but still capable.
680
at Sportsmans Warehouse
Prices accurate at time of writing
Prices accurate at time of writing
3. Glock 19
Tommy Lee Jones has taught me a lot of things over the years. One is that the PT945 is a nickel-plated sissy pistol and the other is that Glocks can shoot underwater.
Heck, you can even fill 'em full of sand, and they'll work. I've never tried to shoot one underwater, but I trust the guy that played Two-Face.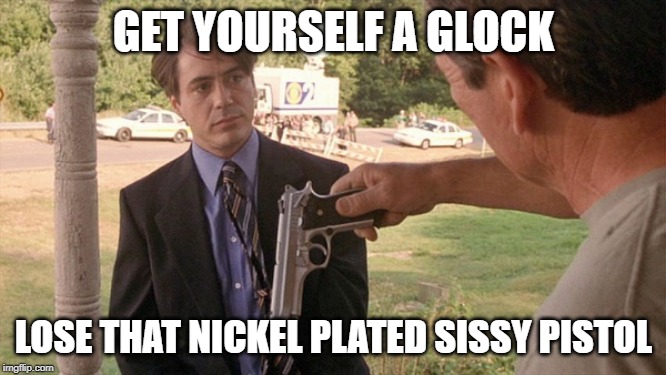 To be fair, Glock Maritime Spring cups exist that promise you the ability to fire underwater.
To add to that lore, Glock will only sell these to military and law enforcement…but you can get them anywhere.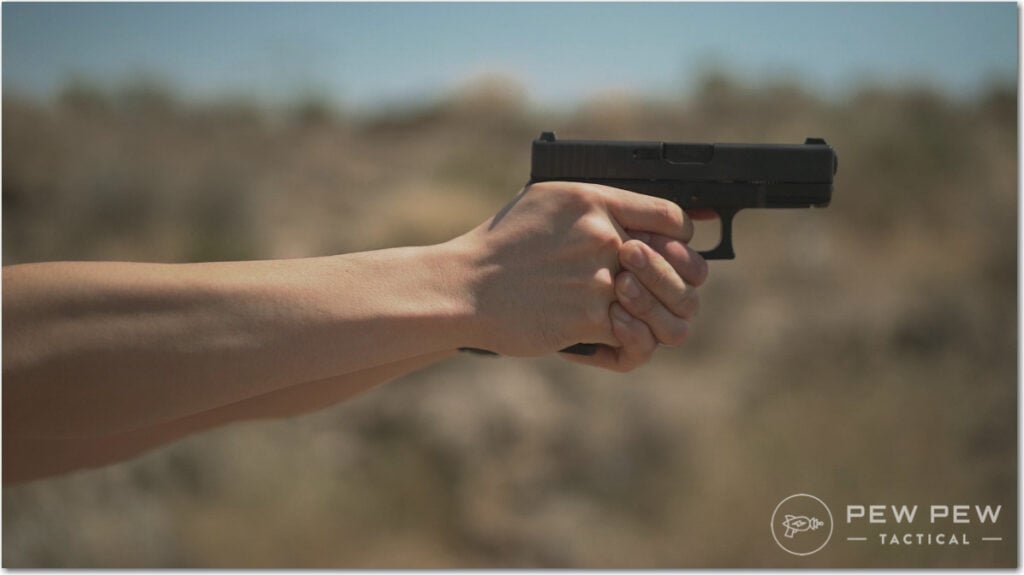 The Glock 19 is the chosen model because, like the porridge in Goldilocks, it's just right.
The Glock 19 is Glock's most popular model.
Glocks are plain, boring, but they work. When you are charging out of your bathroom butt naked, you want something that works.
559
at Brownells
Prices accurate at time of writing
Prices accurate at time of writing
4. Dan Wesson Discretion Commander
If you want to go fancy and keep things quiet, then the Dan Wesson Discretion Commander is the gun to go with.
It's a classy option with a classic design, but some modern flair.
The Discretion includes a rail, slide lightening cuts, suppressor height sights, and a threaded barrel.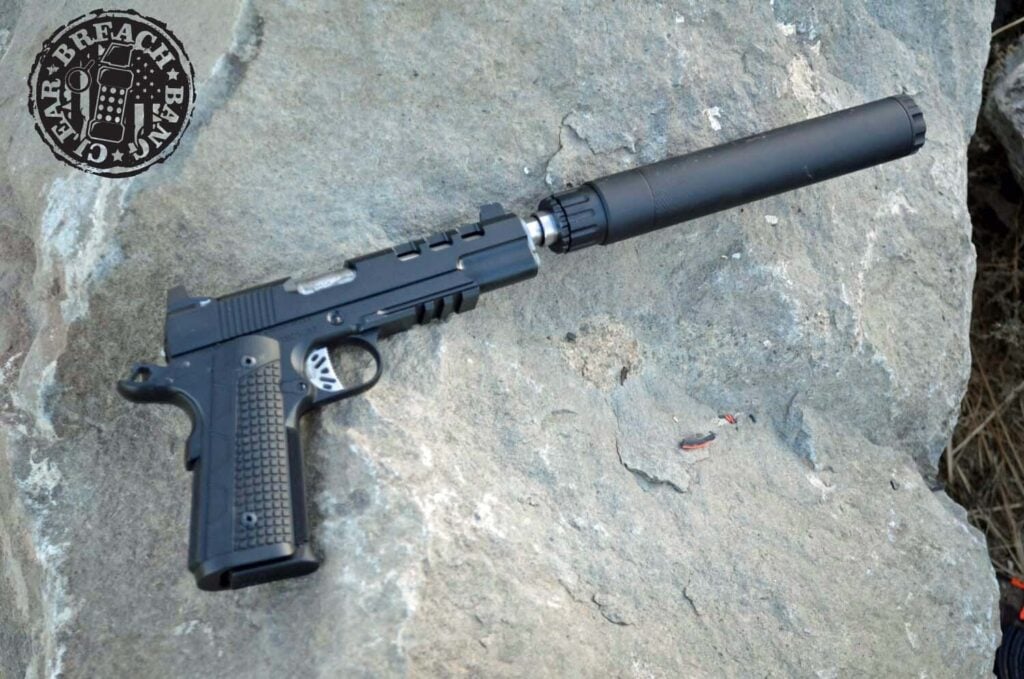 The stainless-steel frame is rust-resistant, and the gun has Dan Wesson's duty finish.
The Discretion is a premium 1911 packed with features.
I chose the Commander variant simply because it's shorter — and as much as we like to claim size doesn't matter, it indeed does.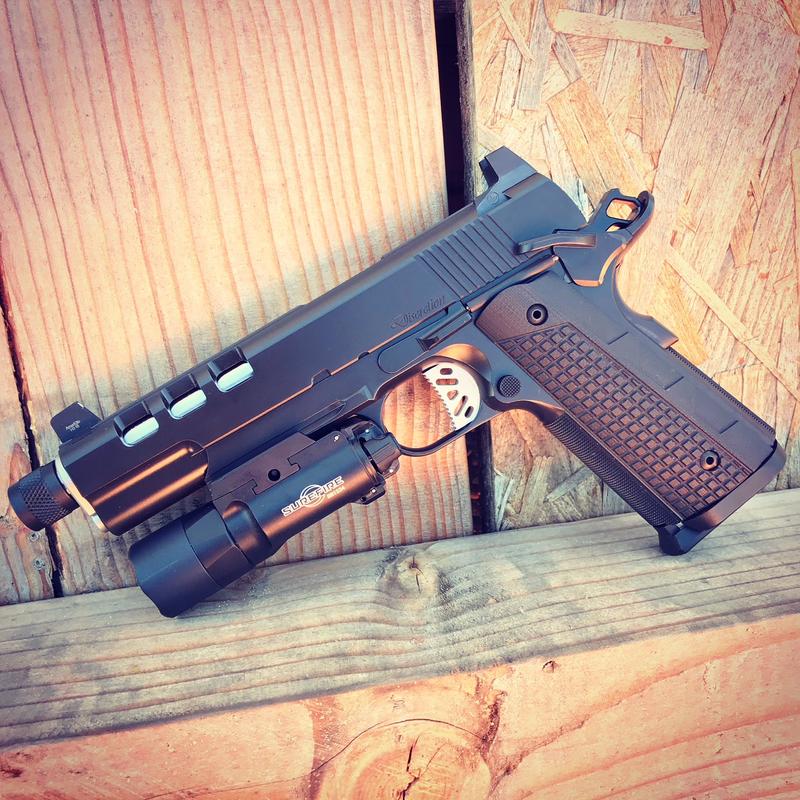 Especially when it comes to guns equipped with suppressors…
A suppressed Discretion is perfect for ensuring your calm during a long and hot bath after a long day.
You didn't light candles, use a lavender bath mix, and play Kenny G just to give yourself a headache due to gunfire.
2100
at Sportsmans Warehouse
Prices accurate at time of writing
Prices accurate at time of writing
5. Micro Draco with 75-Round Drum
Let's go in the opposite direction of the Discretion with a Micro Draco equipped with a 75-round drum.
The Micro Draco is an AK with a 6.25-inch barrel.
It's absolutely adorable and incredibly compact. But, because it's a pistol by U.S. law, it lacks a stock of any kind and can be unwieldy and tough to balance.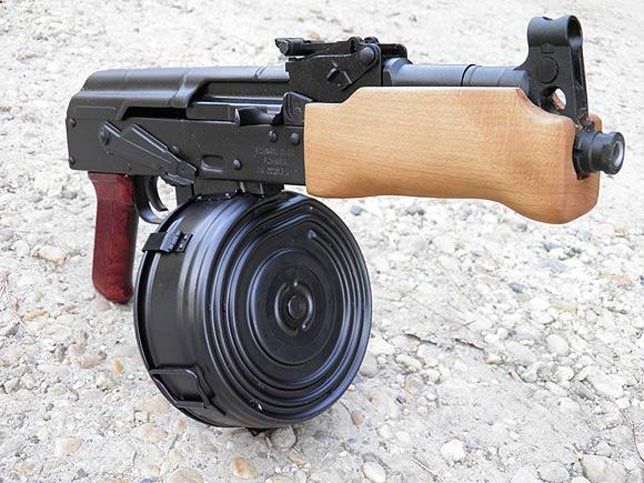 More than likely, you're gonna have to troubleshoot it, and in that case, equipping the gun with a drum makes sense.
You see, if you are more likely to miss, it's better to have more bullets than fewer, right?
A 75-round drum and Micro Draco will give you the power and capacity to deal with a half dozen bathroom invaders.
If it rusts, who cares? It's an AK.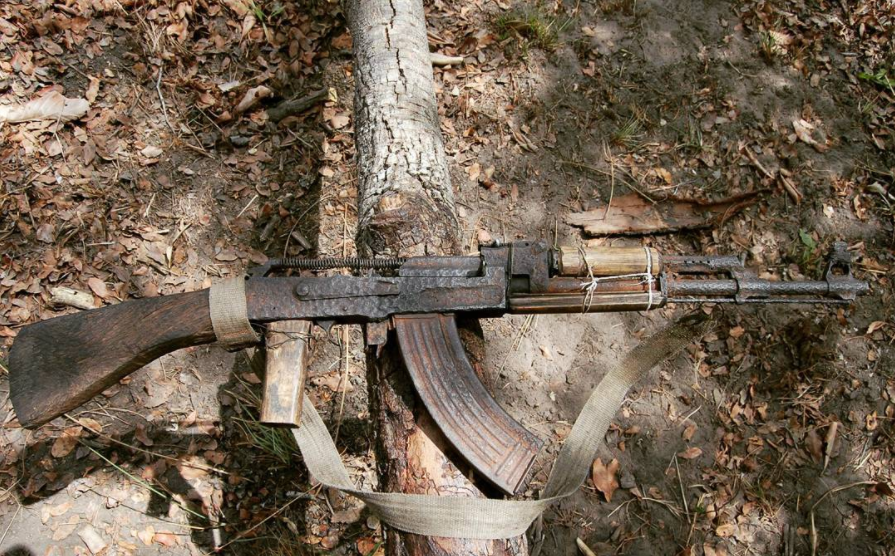 It will function fine covered in rust. In fact, it likes rust.
Also, if you miss, the muzzle flash and concussion will surely disable any bad guy's ability to see and hear!
900
at Palmetto State Armory
Prices accurate at time of writing
Prices accurate at time of writing
6. Ruger KP90
All Bathroom Warriors know about the battle of the bathroom in which Agents of the Omega Sector battled terrorists.
Their weapon of choice was Ruger's KP90.
The KP90 is a robust DA/SA handgun that is chambered in .45 ACP.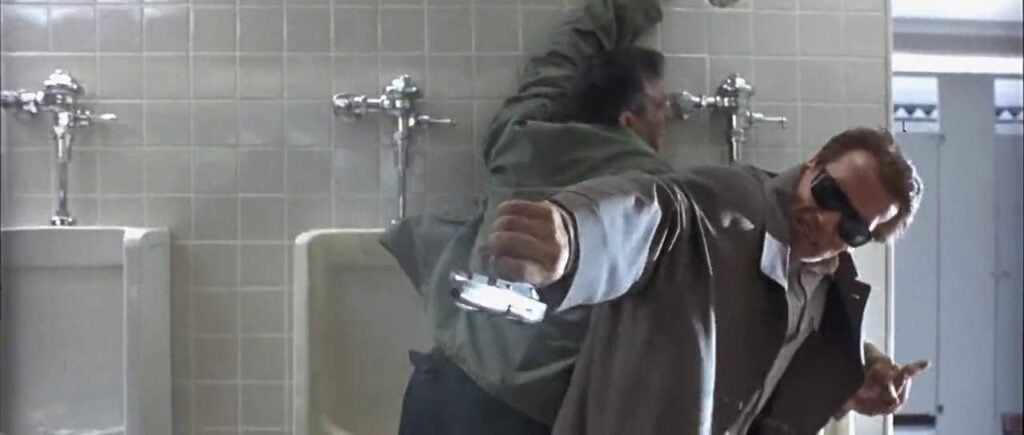 The Ruger P series are ugly but functional.
Good news — your bathroom gun doesn't need to win beauty contests. It just needs to work, and the P series works.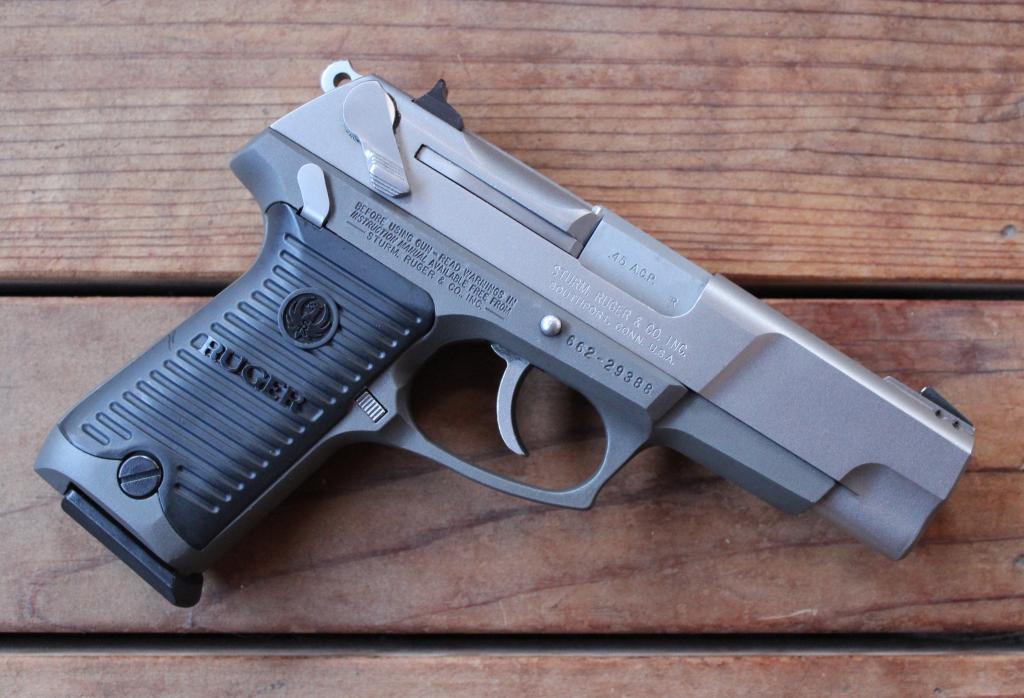 Why the K variant? Well, duh — it's stainless steel!
Rust resistance is a thing, and the KP90s cast aluminum frame and stainless slide will make rust a nonconcern.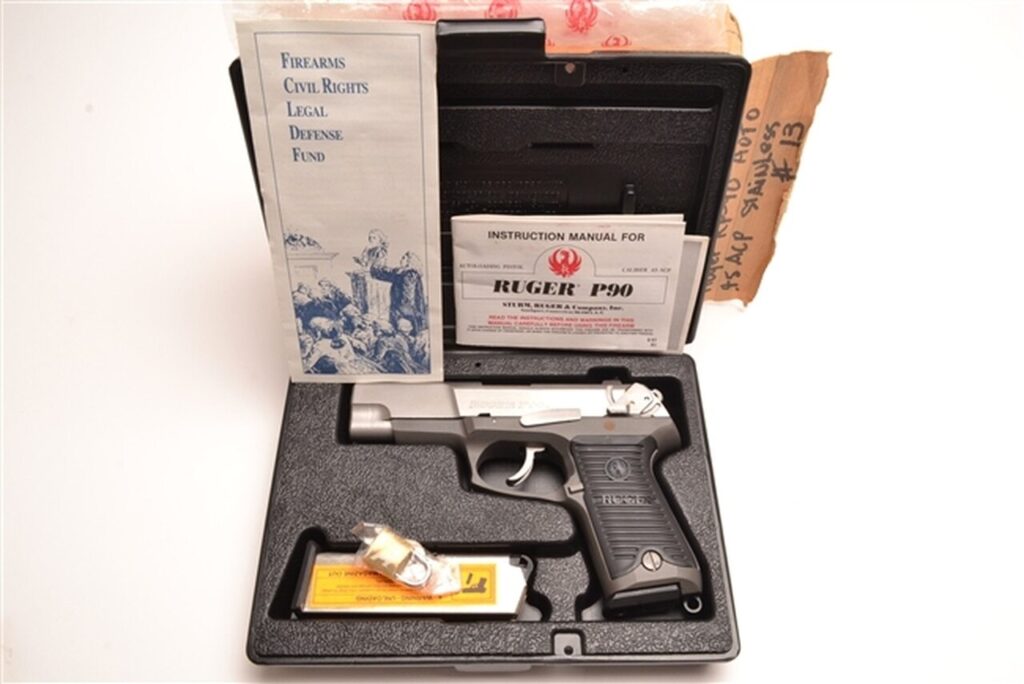 While the KP90 is no longer produced, the guns are quite cheap on the used market these days.
This is an affordable selection for a weapon you simply leave in the bathroom in case of emergencies.
Want to buy a used gun but don't know where to start? Check out our Ultimate Guide to Buying Used Guns.
7. MPA35DMG 9mm
It's easy to take a useful gun and make it silly, but it's a lot harder to make a silly gun useful.
The Masterpiece Arms MPA35DMG has done just that.
While the name sounds like a DnD term, it's actually a MAC-based pistol platform.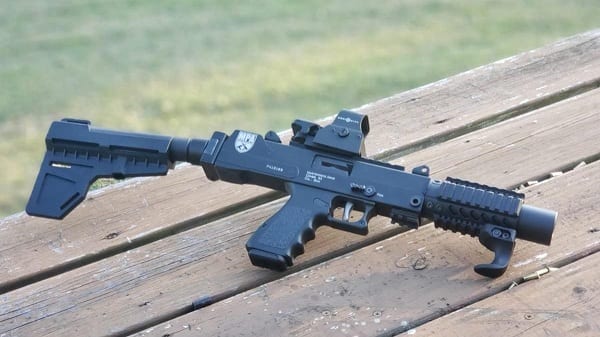 The MPA35DMG (what a mouthful…) is equipped with a folding KAK Shockwave brace, as well as a barrel extension with a rail for accessories.
This is a side charging MAC style pistol with a rail on the top for accessories.
Oh, and guess what?
It takes Glock 17 mags.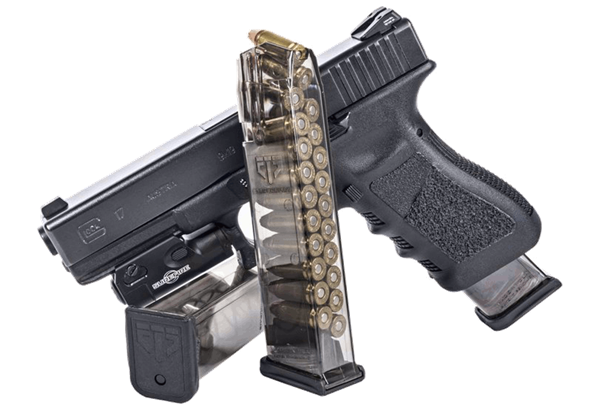 That opens you up to 17-round mags, 33-round mags, and even 50-round drums. This makes equipping your shower gun with mags easy and simple.
The MPA35DMG is a lightweight, compact, and easy to handle wannabe subgun that is perfect for dealing with ninjas, Russian strongmen, and alien invaders.
Those aliens love to get you when you are most vulnerable.
730
at Kentucky Gun Co
Prices accurate at time of writing
Prices accurate at time of writing
8. Daniel Defense M4 PDW with OWL and Aimpoint
Oh, you wanna go, Gucci? High-speed operator style?
I gotchu, boo.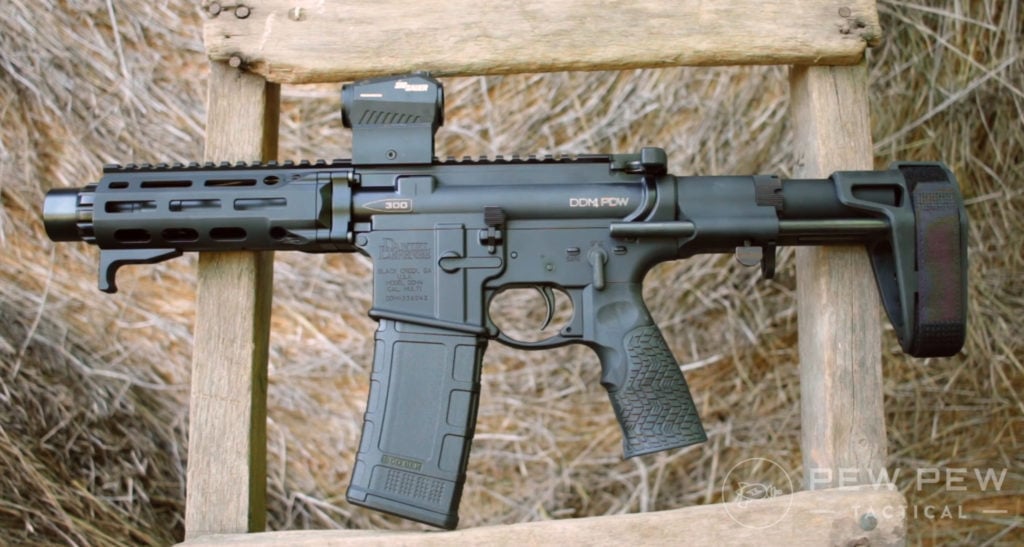 The Daniel Defense PDW is an ultra-compact 300 Blackout AR pistol.
It's equipped with all the latest and greatest bells and whistles, like the PDW style brace made by Maxim Defense.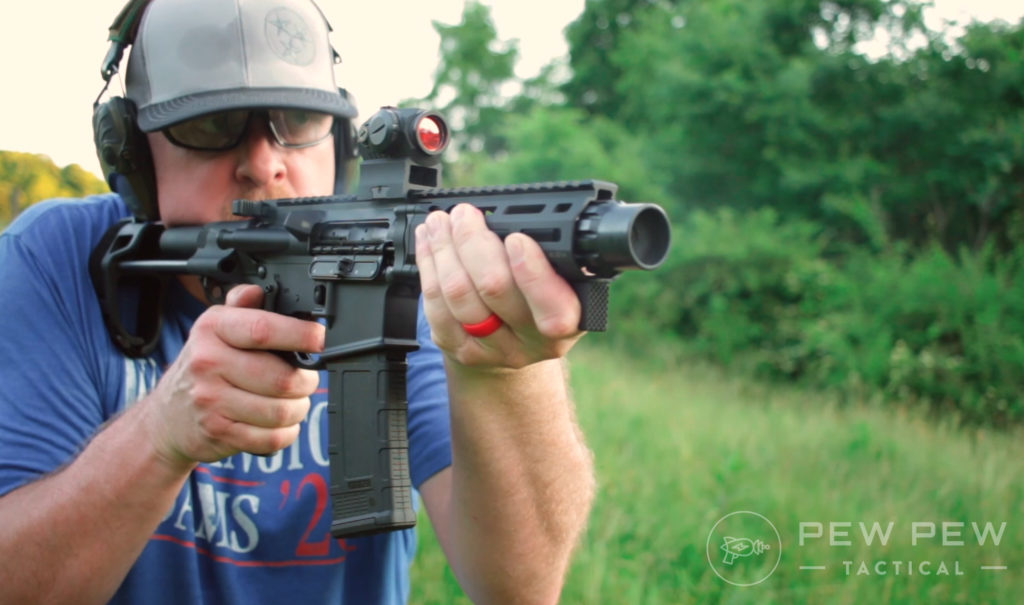 Itncludes an M-LOK handguard, handstop, and linear compensator. Not to mention, its optics ready from the jump.
This little fella is lightweight and looks slick.
Just because you are playing in the water doesn't mean you are a Navy SEAL, but that doesn't mean you can't be armed like one.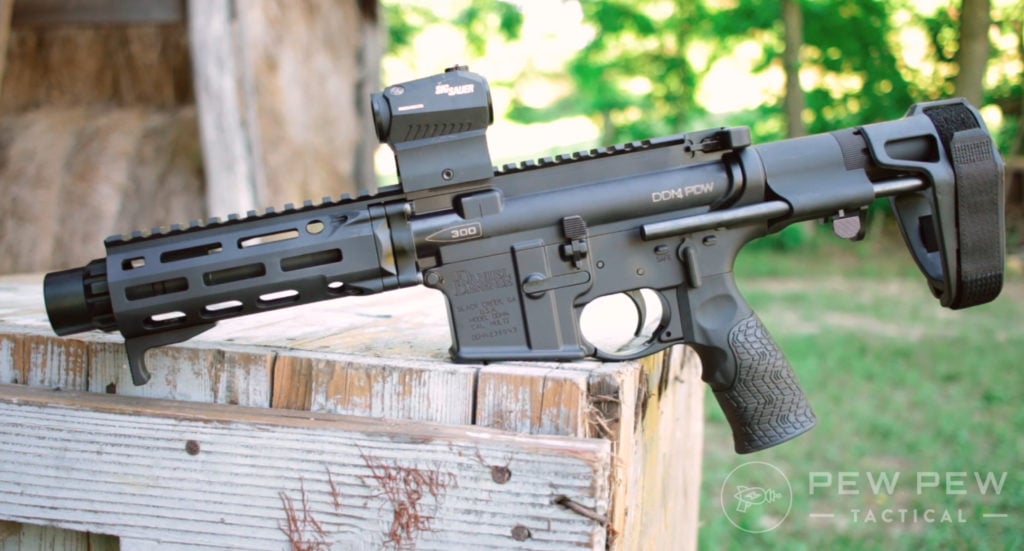 To top it off, you can add a Cloud Defensive OWL. This blindly powerful light will punish the bad guy as it cuts through the steam from a good shower.
Combined with a good Aimpoint like the T2 and you have a mighty fine weapon for tub snorkeling.
See our full review of the DDM4 PDW, too!
1865
at Daniel Defense
Prices accurate at time of writing
Prices accurate at time of writing
9. HK P11
The HK P11 isn't technically a shower gun — it's a bathtub gun.
If you enjoy a good soak in a big tub, then the HK P11 would be the perfect gun for you.
Like most cool guns, the HK P11 is gonna be a tough cookie to find, but, together, we can probably pressure their social media girl into releasing it.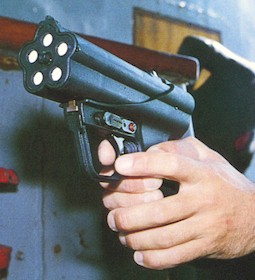 What is it?
The P11 is a modern, electric pepper-box containing five rounds of 7.62×36 darts.
This gun was built for the sole purpose of taking on underwater Russian commandos during the Cold War.
It fires darts because bullets suck at going through water.
A gun like this means you don't have to leave the tub to fight off your attacker.
It's electrically primed, and the battery is kept in the pistol grip.
The biggest downside is that, after firing the gun, it has to be sent back to HK to be reloaded.
10. Beretta Tomcat .32 ACP Inox
I've recently learned the term water closet (or, according to the Sopranos, the "WC"), and it's grown on me.
The idea of a room with just a toilet called a water closet amuses me.
This would be less of a shower gun and more of an "oh crap" gun.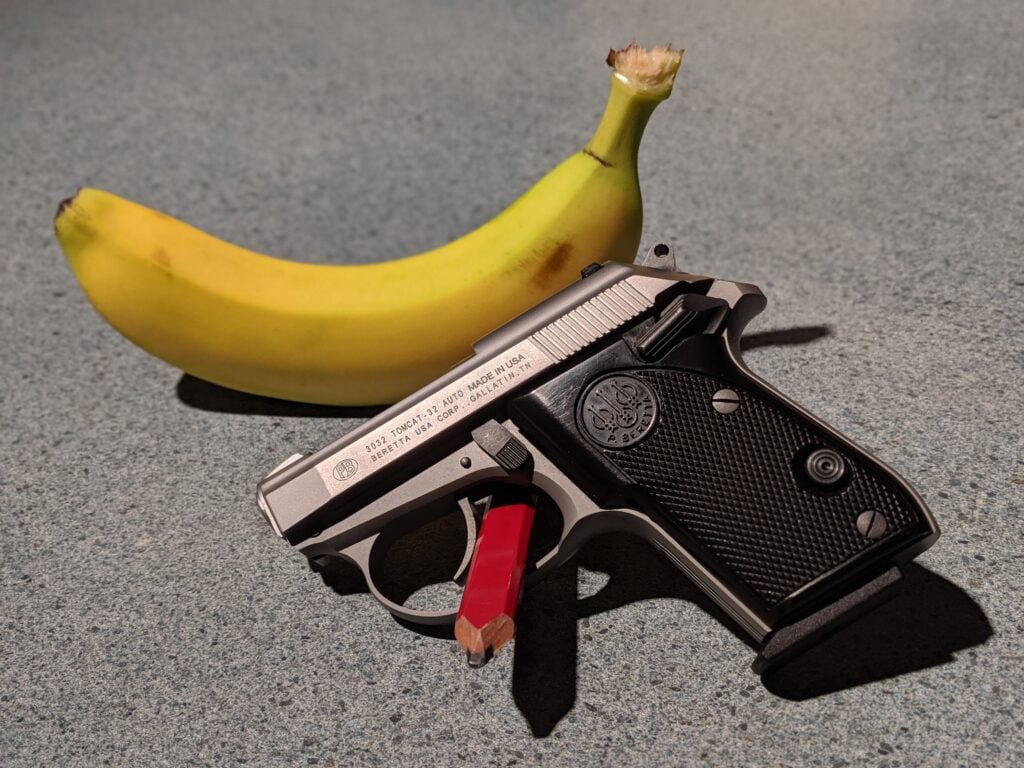 The Beretta Tomcat Inox is a teeny tiny, automatic made of stainless-steel and chambered in the little .32 ACP.
This tip-up barrel is easy to carry a +1 and can be stashed in minimal space…including the back of the toilet, if necessary.
The little Beretta holds 7+1 rounds and is a ton of fun to shoot.
.32 ACP is pleasant and delivers very little recoil, even in this teeny gun. This makes it perfect to fire from when you are stuck in a seated position.
605
at Guns.com
Prices accurate at time of writing
Prices accurate at time of writing
Upgrades? Upgrades
Finding a shower gun is a unique challenge.
You need something you can use naked and, possibly, covered in soap and water.
I always recommend a few upgrades to your shower gun.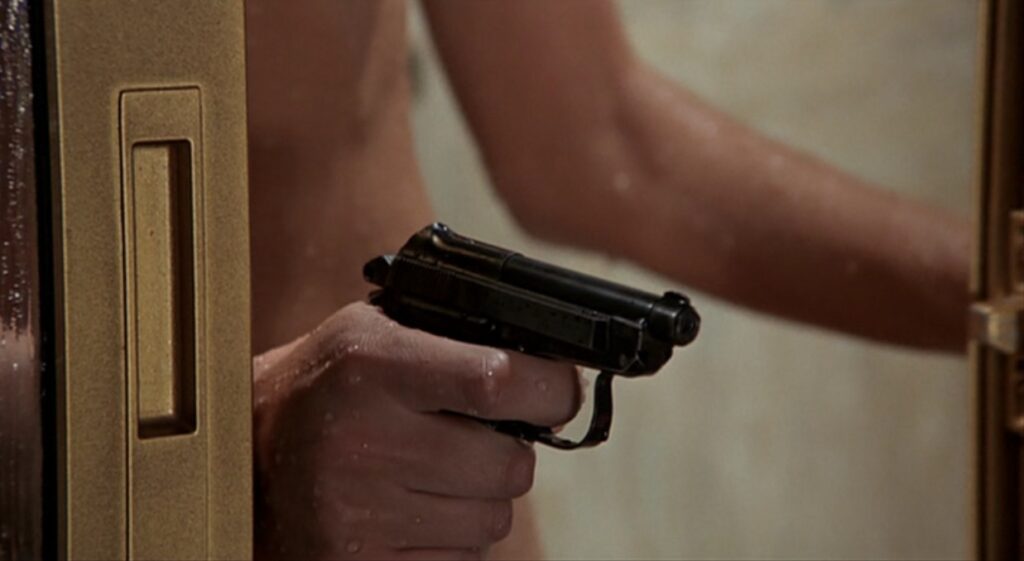 Talon Grips
Talon Grip makes really cool grippy stickers for your handgun, so you can customize the texture of your grip — perfect for shower guns!
This sheet of Talon Grip material is designed to be cut and molded to your gun's unique profile and seems best for guns that do not have their own custom cut Talon grips.
As much as I've asked, Talon won't make grips for a P11.
18
at Amazon
Prices accurate at time of writing
Prices accurate at time of writing
Waterproof Box
Hanging a gun from the showerhead is perfect for access, and you'll need a good box for that.
This simple waterproof box will fit most handguns and allow for easy storage of extra ammo, a flashlight, and more.
13
at Amazon
Prices accurate at time of writing
Prices accurate at time of writing
Hoppes No. 9
The legendary lube and gun oil that is Hoppes also helps prevents corrosion.
This allows you to safely stow your gun in a high humidity environment like your shower/bathroom.
Editor's Pick
10
at Amazon
Prices accurate at time of writing
Prices accurate at time of writing
Conclusion
Shower guns are lots of fun, and, hey, they might actually be useful should trouble come bursting into your steamy sanctuary.
Choosing a corrosion-resistant stainless-steel model and/or rust-resistant finishes will keep your shower guns nice and tidy.
Throw on some upgrades and get yourself a nice water-proof container and you're good to go!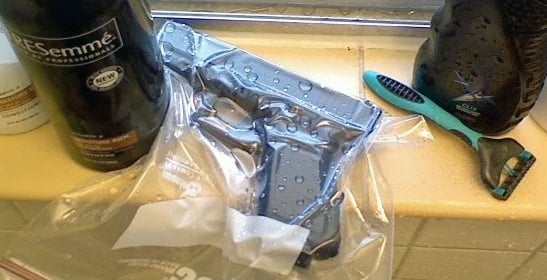 All jokes aside, we do recommend safe storage of all firearms. We like to kid, but safety always comes first.
What's your go-to shower gun? Let us know below! All kidding aside, check out the Best Home Defense Guns for a round-up of the best firearms to guard the home. And to safely stow your guns, check our article on the 18 Best Gun Safes for Pistols & Long Guns.