Buy once, cry once is a time-honored mantra in the firearms community, and if you're an adherent…then Daniel Defense is likely on your shortlist for AR-15s.
But with the bar set so high, can they really live up to the hype? Never meet your heroes a Wiseman once said…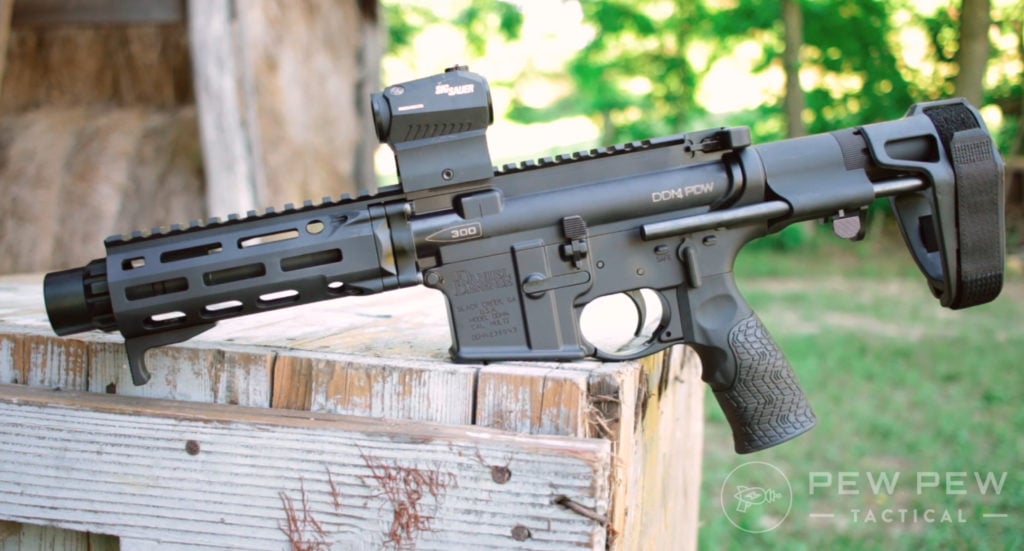 Johnny has the DDM4 PDW in .300 Blackout sent to him by Daniel Defense themselves and gave it a full shakedown and testing, take a look at the video below or read on for the full story!
1865
at Daniel Defense
Prices accurate at time of writing
Prices accurate at time of writing
If you like the video below, don't forget to subscribe to the Pew Pew YouTube Channel for more!
Now hang on for all the deets!
Table of Contents
Loading...
The Rifle Pistol PDW?
While Daniel Defense calls this their DDM4 Personal Defense Weapon, it is legally speaking a "pistol" with a Maxim Defense CQB Pistol Brace.
Design intent though is exactly like it's named, as a personal defense weapon.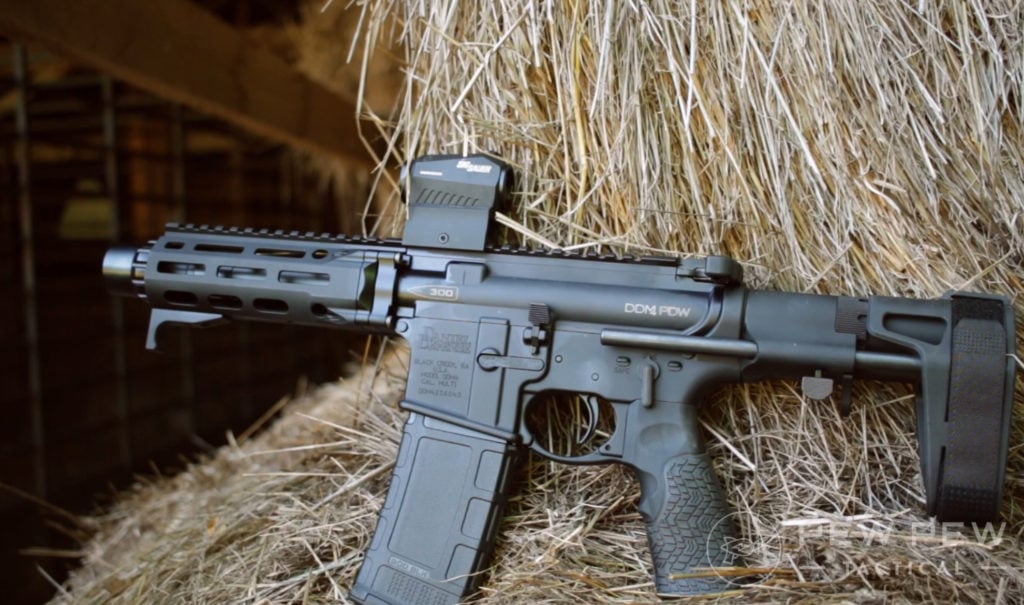 Fitted with a 7″ barrel and coming in at barely over 20″ OAL, this is basically as small as small can get for a good AR-15.
Fit it in a bag, in a safe under your seat, in a nightstand, or just where ever you need to keep a defense weapon ready at hand.
1865
at Daniel Defense
Prices accurate at time of writing
Prices accurate at time of writing
The Cartridge
.300 BLK is a great cartridge if you want to keep things very small and very quiet (assuming you have a suppressor) while also delivering a major punch ballistically.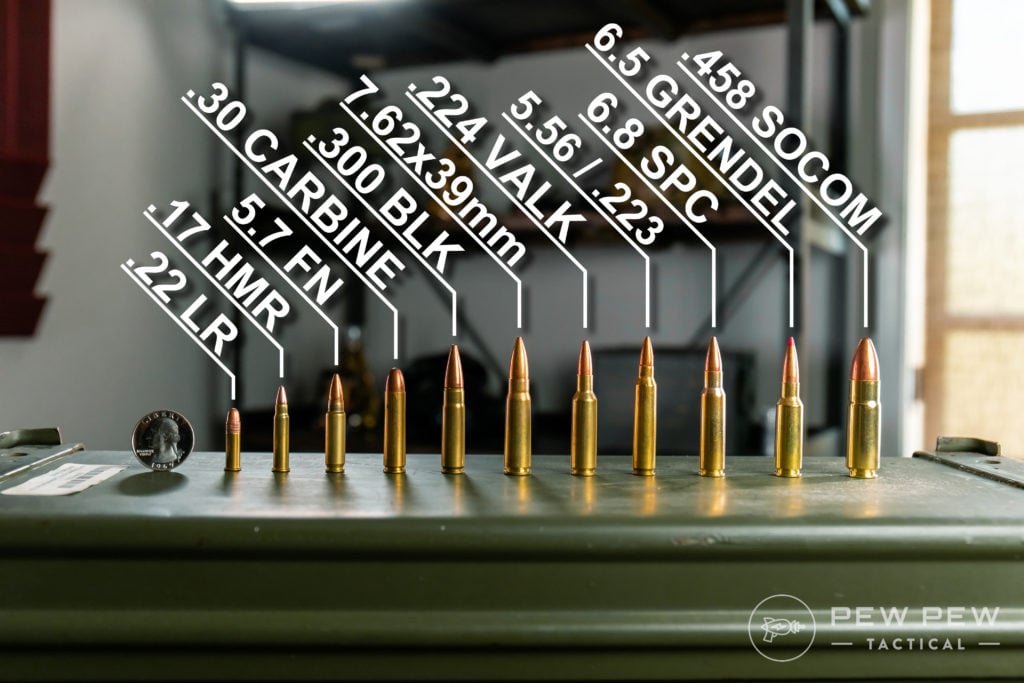 It is, however, limited in range.
If you're shooting super-sonic ammo, it's not unreasonable to expect .300 BLK to reach out to at least 200 yards. But if you're being quiet and using sub-sonic ammo, you can expect more like 100 yards.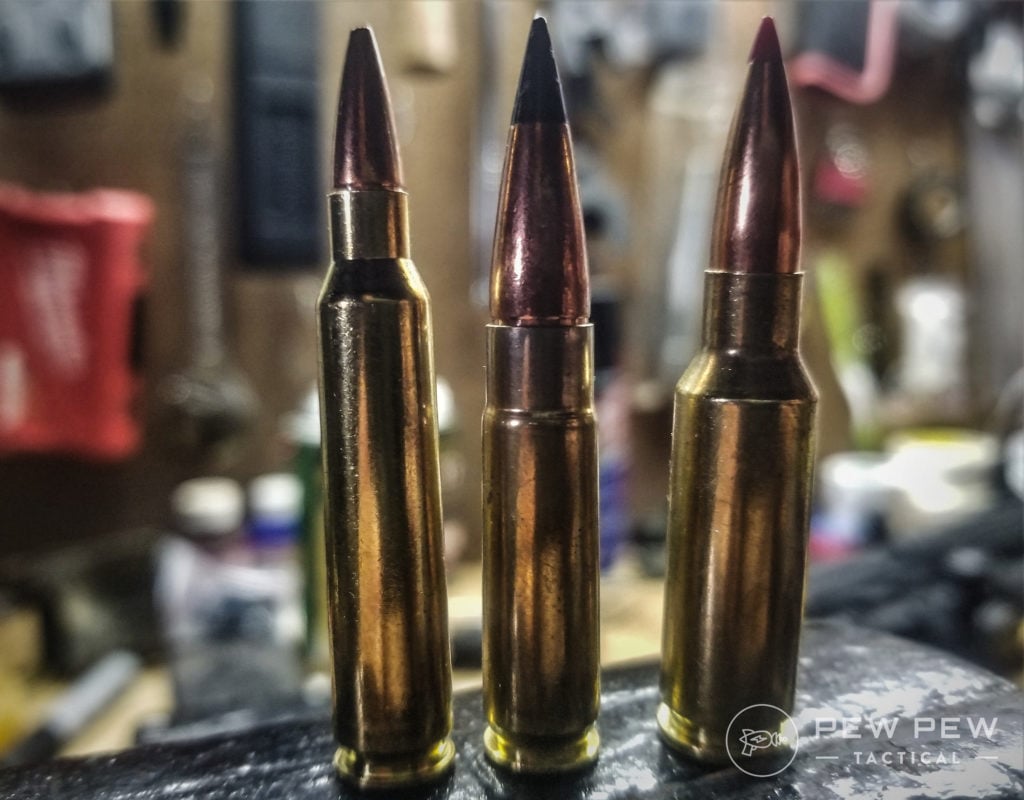 This does make for a fantastic home defense, truck gun, ranch rifle, or hog killer!
We've even tested how .300 BLK will penetrate through home walls and found multiple loads to be acceptable for effect on the target, but won't over-penetrate badly.
Range Report!
With a brand name as well known as Daniel Defense and a price tag nearing the stratosphere, expectations were set high for the DDM4.
I won't keep you in suspense though, the bottom line is that this PDW lives up to the hype.
It is outstanding in every way.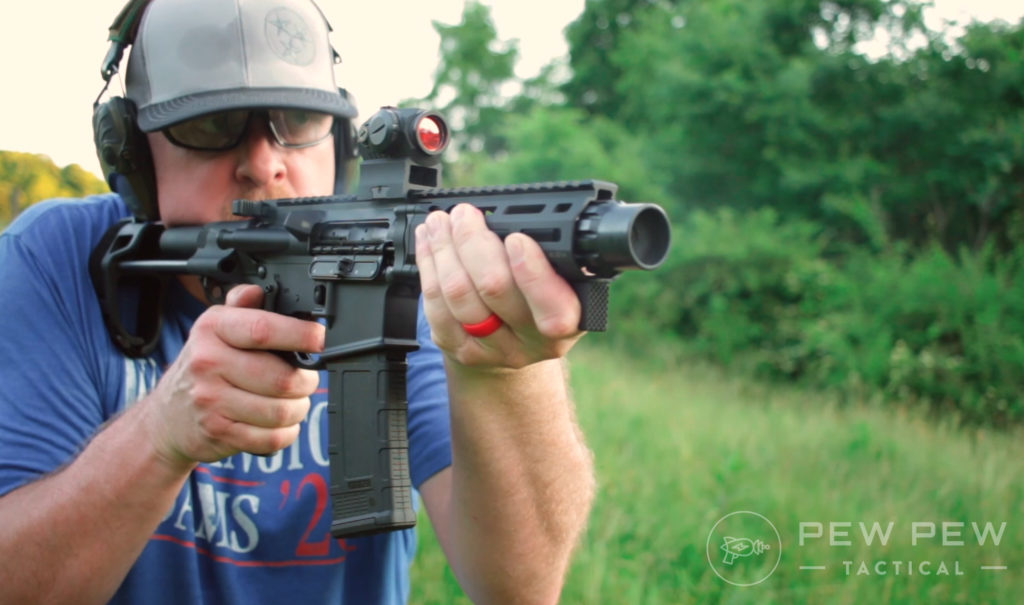 From start to finish the DDM4 ran flawlessly, zero malfunctions, zero issues. Running in the gun was Sig Sauer Elite Performance Match Ammo 300 Blackout 125gr OTM that Sig provided for the review.
We've always had outstanding results with Sig ammo and are always happy to run it in our guns!
24
at Brownells
Prices accurate at time of writing
Prices accurate at time of writing
So other than the gun running perfectly, what are you getting for your money?
Not surprising, you're getting attention to detail and a quality end product.
First off, the DDM4 is a nice looking gun. Sure, it's another AR-15, but even we can tell that this is slick.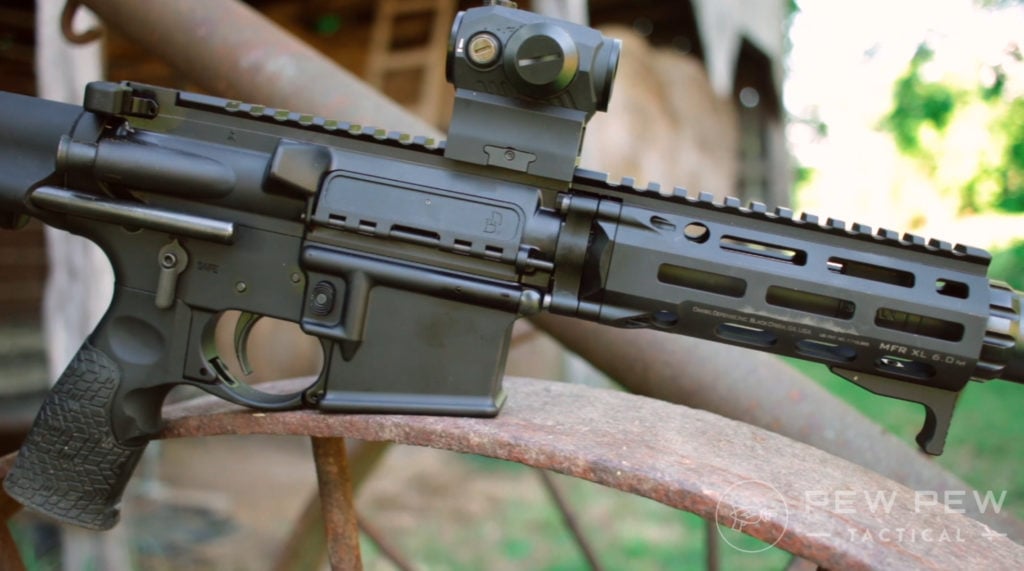 Watch Your Fingers!
One issue with small little gats like this is that you need a place to put your support hand. And when your barrel is only 7-inches long, you don't have a lot of options.
Daniel Defense knows that though and includes an SLR M-LOK MOD2 Front Handstop to protect your digits.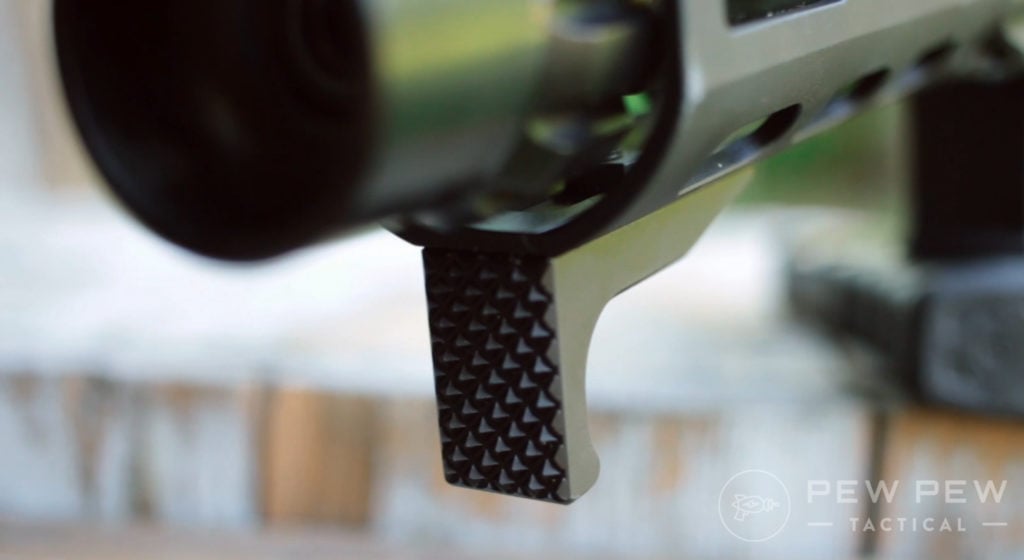 This does a few things like giving you something to brace the gun off of, but also makes sure that your hand doesn't slip forward in-front of the blasty part.
No Stamp? No Problem
If you're in a state that lets you, we highly recommend getting yourself a suppressor for this PDW, .300 BLK was designed to be suppressed and really so was the DDM4.
But if you're in a less free state or just waiting while the federal government decides to allow you your freedoms, the DDM4 does come standard with a Daniel Defense Linear Compensator.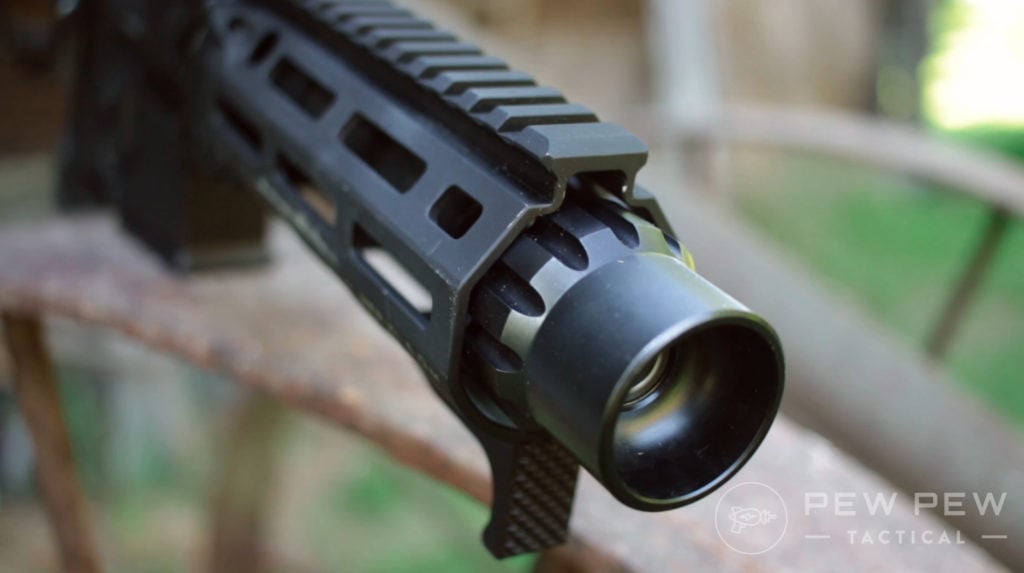 Stainless steel, standard 5/8-24 threads, and does an outstanding job of directing the blast away from the shooter!
This makes it a bit less noisy at the shooter's ear and cuts way down on the concussive force made by having such a short barrel.
Red Dot!
You've seen this optic a bunch, but the Sig Sauer Romeo5 is a red dot that just keeps on giving.
Brutally Tested Budget Red Dot
109
at Brownells
Prices accurate at time of writing
Prices accurate at time of writing
We've beat the crap out of a handful of Romeo5 dots now and not a one of them has given up the ghost. If you want a budget optic with features and durability, it's the top of the list!
See our Best Red Dots article for more info and its competitors.
Trigger, Charging Handle, Pistol Grip
As you would expect, basically everything on the DDM4 is just… awesome. It works, it's well made, and you can depend on it.
The trigger is solid, not match grade but a huge improvement over milspec also. Johnny does feel the uptake is a little different feeling but the reset is very short and the whole press is smooth.
We're not crazy about this charging handle, but that is due to it being a little small. Granted, this is a PDW and designed for being slim and clean — so a smaller charging handle isn't shocking.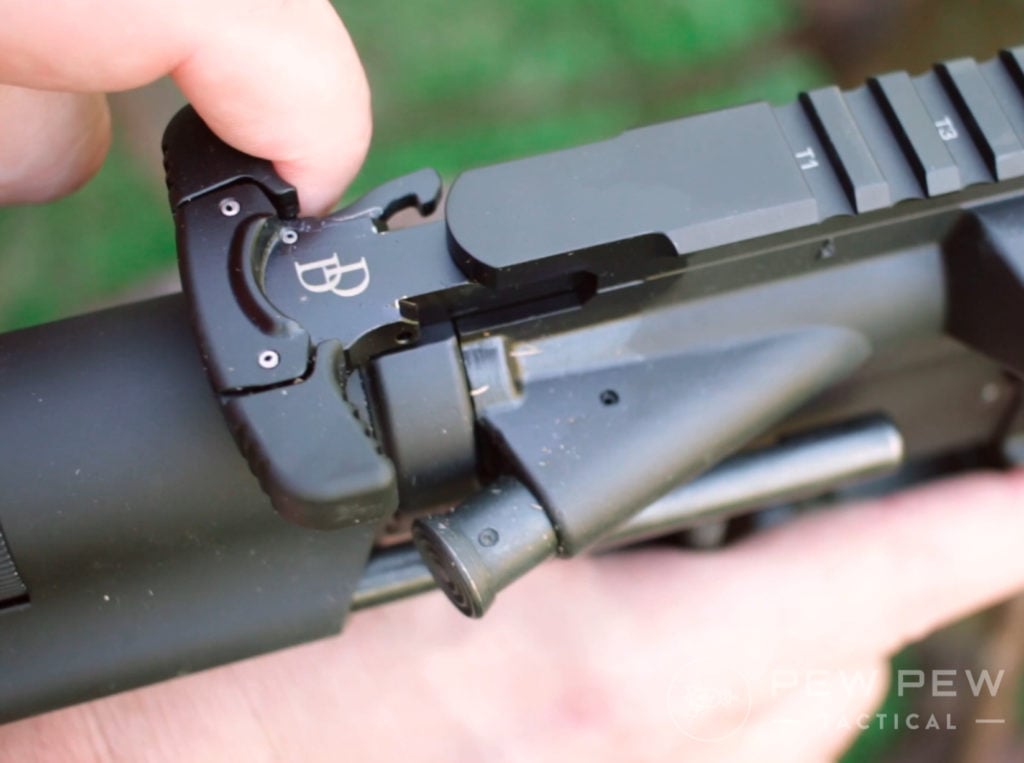 It's also designed for use with a suppressor, so if you do throw a can on this it will help protect you from gas blasting you in the face.
If you do want to change it out, we would recommend another suppressor-ready option like the Radian Raptor SD.
Best Suppressor Ready CH
124
at Brownells
Prices accurate at time of writing
Prices accurate at time of writing
Also standard with the DDM4 is DD's proprietary pistol grip, and it's awesome!
Sure, it's a pistol grip. But it's a good one.
Glass reinforced polymer with a rubberized over-molded, it's comfy, grippy, and just nice to use.
It appears to have a slightly more vertical angle to help with the gun being closer to your body.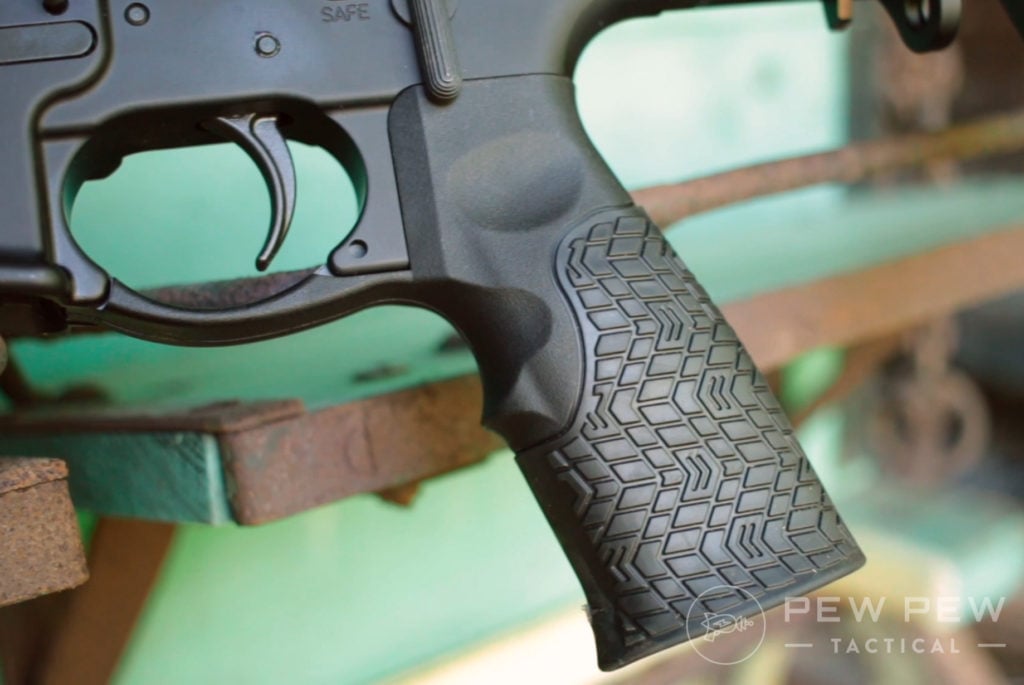 Maxim Defense CQB Pistol Brace
If you had to pick the crown jewel of the DDM4, it's the brace. Clearly.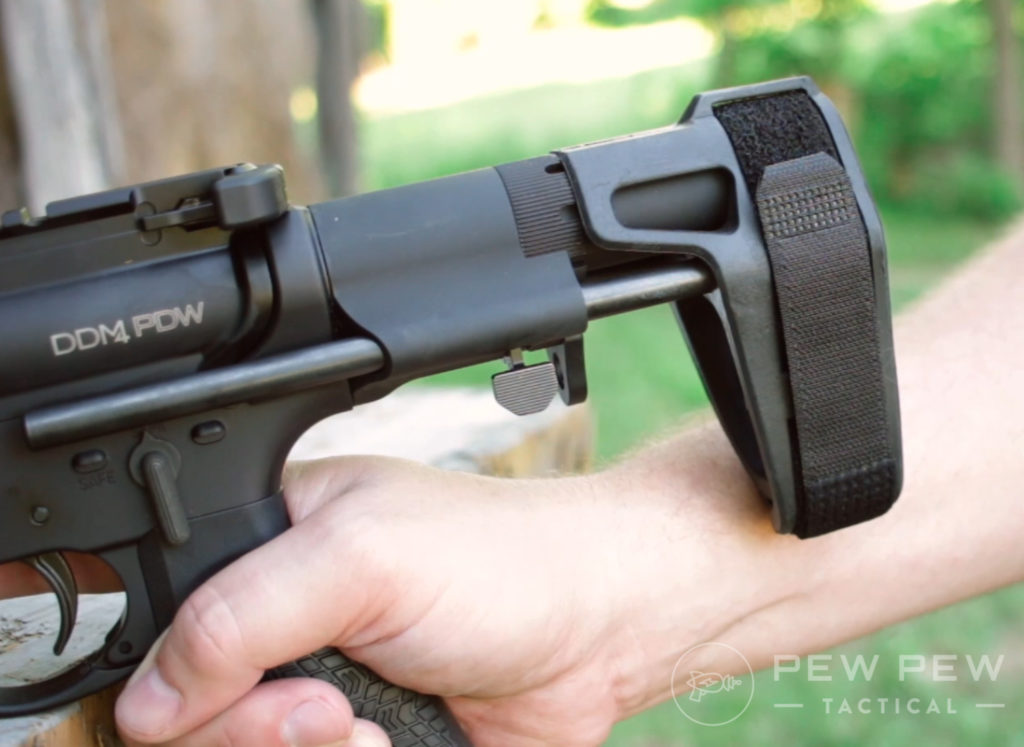 Adjustable to three lengths, Maxim Defense is the Cadillac of pistol braces. Or you could call them the Daniel Defense of pistol braces.
Feels good, adjustable, easy to use, it delivers where you need it while also being low-profile and lightweight at a mere 3.3 ounces.
324
at OpticsPlanet
Prices accurate at time of writing
Prices accurate at time of writing
By The Numbers
Reliability: 5/5
Find us a problem with how this gun runs. We'll wait.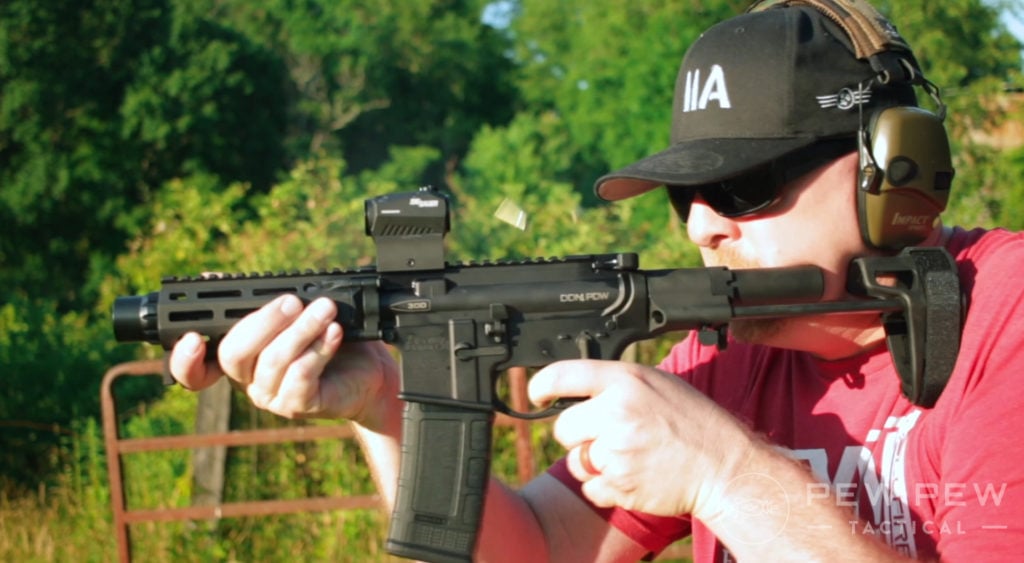 Ergonomics: 3/5
It's an AR. It's 21 inches long. Move along.
Accuracy: 4/5
You can drive nails in close quarters and short distances…just like PDWs are designed for.
Customization: 4.5/5
The PDW buffer system and shorty rail may limit your options, but still, you got options for days.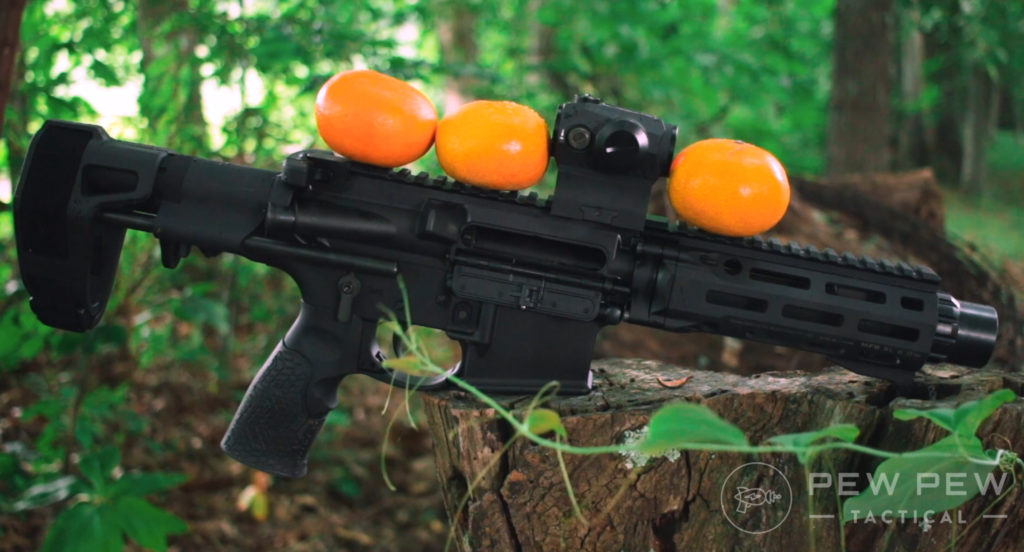 Value: 4/5
Other than that blank flat top rail staring at you, it's ready to go. No upgrades needed. But at the better part of two grand in cost, DD could at least slap on some iron sights.
Overall: 4.5/5
It runs. It looks great. And it performs. Top-tier PDW. And it runs.
Conclusion
The Daniel Defense DDM4 PDW lived up to what we hoped, but that's not surprising really. The .300 BLK chambering is perfect for its use. Reliability and accuracy were top-notch. And you seem to get what you pay for in terms of everything else.
1865
at Daniel Defense
Prices accurate at time of writing
Prices accurate at time of writing
Is it worth it for you? Only you can judge that. But we definitely recommend that you consider it!
Are you ready to Buy Once, Cry Once? What do you use .300 Blackout for? Let us know in the comments! Need a top tier optic for a top tier firearm, then take a look at our High-End Optics Torture Test!