Picture this: Saturday night; it's late and stormy. I'm drumming away on my X-Box when BOOM – lights out.
My wannabe guard dog goes off the absolute rails…viciously barking. The hair on her back stands up, and she's jumping against the door.
Without power, I'm kind of screwed phone-wise — the pain of living in the middle of nowhere includes limited service and reliance on Wi-Fi calling.
Seriously, it's 27 minutes to civilization from where I live. People just don't accidentally stumble out here.
Did I suddenly find myself in a horror movie?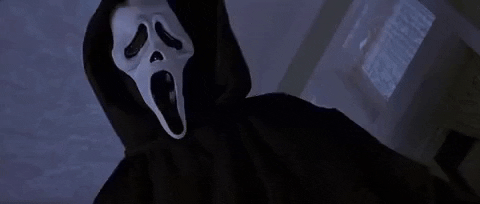 Well, if this is a horror film, the unfortunate slasher has come across the wrong house…
I'm a shotgun guy, so my Mossberg 590A1 is loaded down with eight rounds of Federal FliteControl buckshot, and of course, it's equipped with a weapon light.
Best Pump Shotgun
701
at Kygunco
Prices accurate at time of writing
Prices accurate at time of writing
I remove the gun from my safe, chamber a round, and top-off the tube.
My hand goes to the integrated pump light, and I keep my fingers pinned against the on-button. The light stays off, though, until the right moment…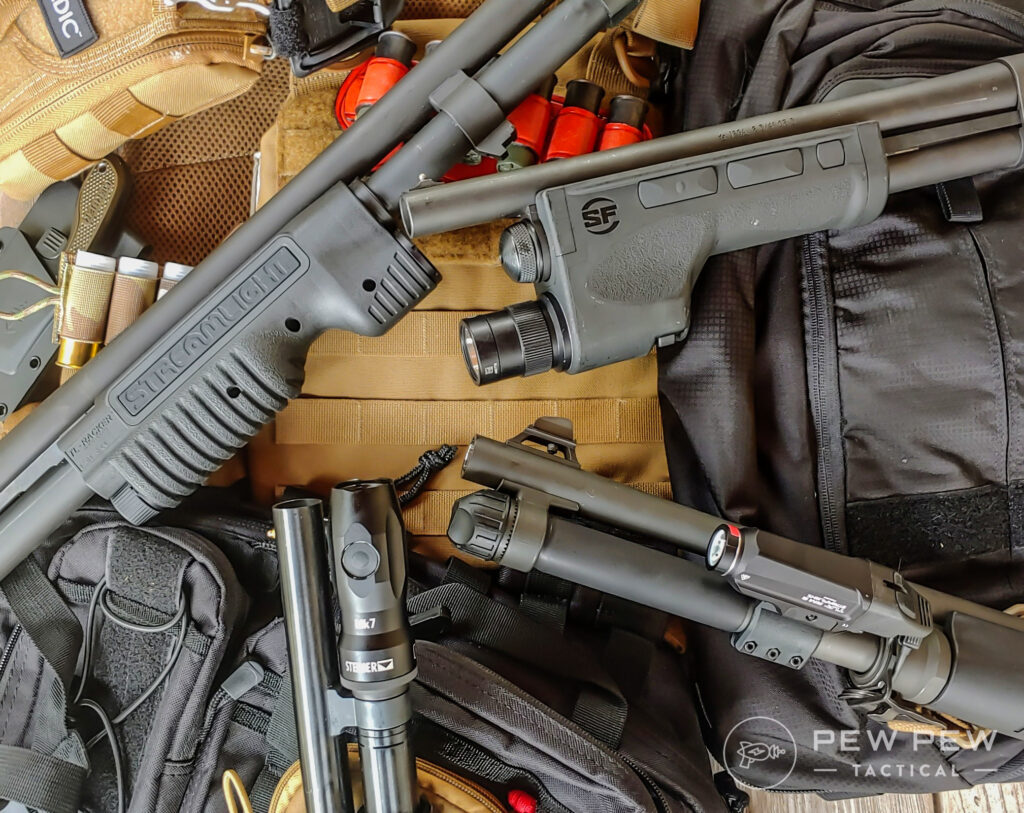 I glide through the house quietly, standing offset from a window overlooking my backyard. My dog is still whining, growling, and losing her mind, but I don't see anything against the occasional lightning strike.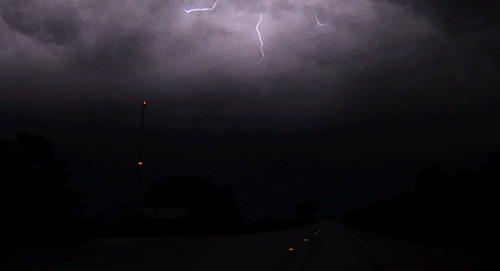 My ears pick up something or someone on my porch…a loud thump and a clang.
From my perch, I have a clear line of sight to my porch. I raise the shotgun and activate the light, shining it at the roof on my porch — letting the light illuminate the area.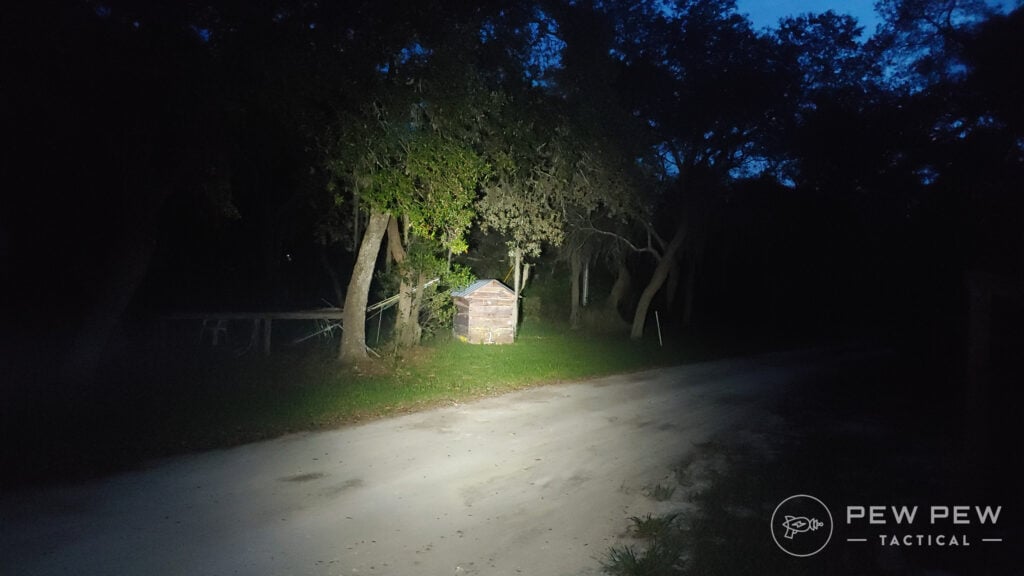 My eyes meet a pair of masked trespassers. They chitter and go back to their work.
Raccoons.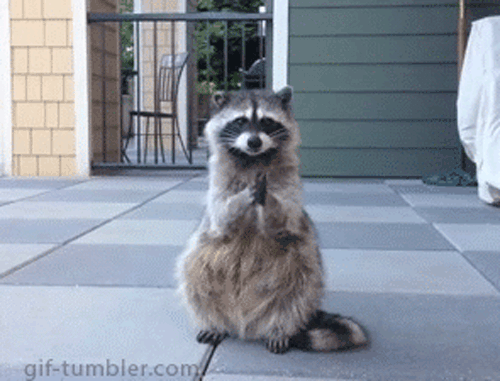 A pair of them are tonight's visitors. The thieved bandits love their find, a trash bag with some great fried chicken in there.
Honestly, this was the best possible resolution. I'd much rather deal with raccoons than burglars.
The weapon light on my shotgun was an asset in this situation. It allowed me to identify a potential "threat" and realize it was just some adorable nocturnal mammals and not Michael Meyers with a kitchen knife.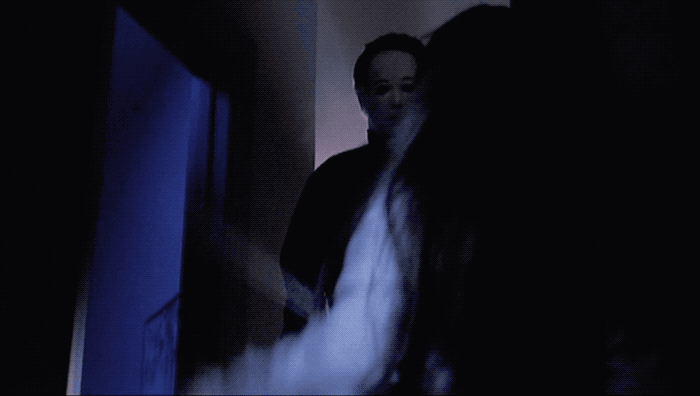 Shotguns are like any other weapon. If you decide to use one for home-defense, you're gonna need a light.
Unfortunately, the lights/shotgun pairing isn't as easy as handguns and rifles.
But that's why you have us. We're going to walk you through your options and help you navigate the confusing world that is lights and shotguns.
Table of Contents
Loading...
The Trouble with Scatter Guns
Shotguns make it tough to attach a weapon light, especially pump-action shotguns.
Moving the pump back and forth proves tricky when it comes to attaching a light. The manual-action makes pressure switches a pain as they are likely to come loose as the user works the action.
When the light is mounted to the pump, it can be hard to keep control of the light and utilize the weapon.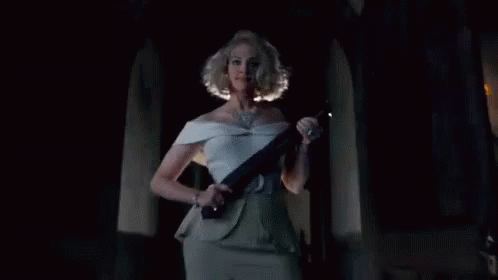 The gun's recoil can also give your thumb a nice smack against the light with every shot.
Semi-auto shotguns, however, are a little more polite due to fewer moving pieces.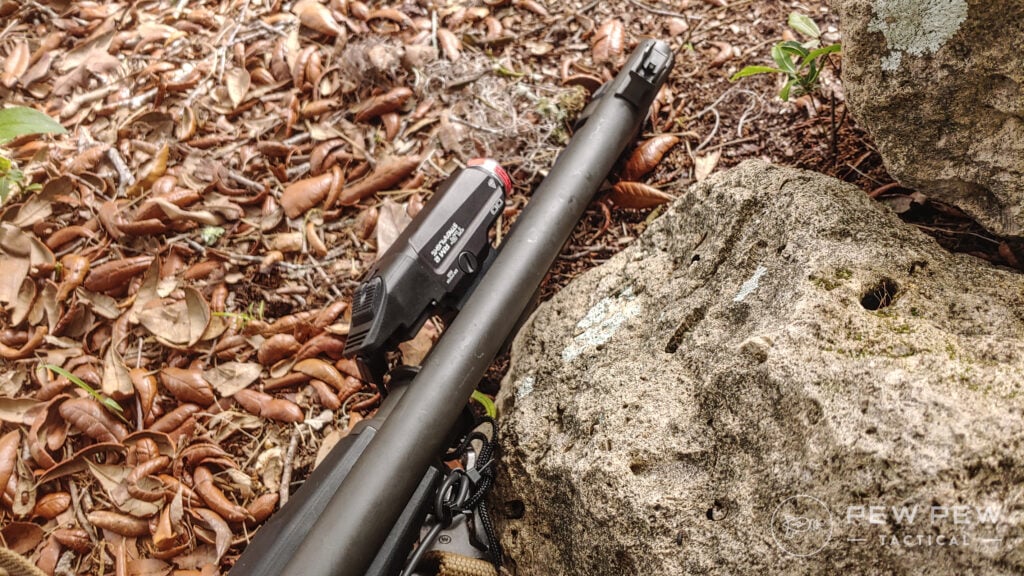 Luckily, if you still love shotguns and want a weapon light, you have options and a means to properly outfit your weapon for defensive use. In my experimenting, I've found a few solutions that work, so let's check out which lights you should consider.
Surefire DSF
Surefire is one of the most praised light companies on the market, and for good reason. The stuff they make works…and works well.
Lights from Surefire are incredibly bright, durable, and the chosen light of most police and military forces.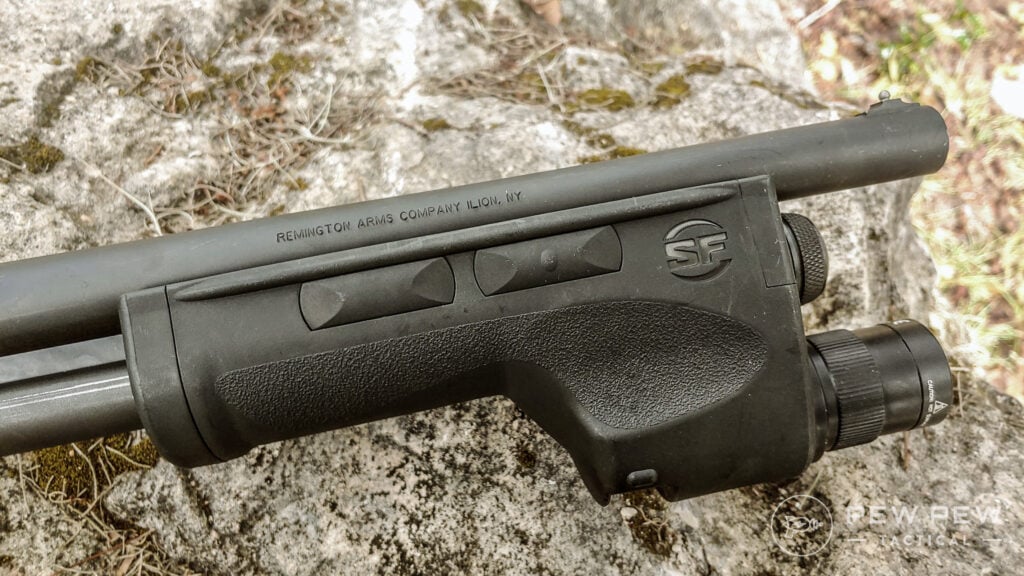 The DSF is no different and was the first to build a light into the pump. It also incorporates top-notch ergonomics and a bombproof design.
Featuring a high and low mode, it shines as bright as 600 lumens and as low as 200 lumens.
On high mode, the battery lasts 1.5 hours while low mode lasts 3 hours.
349
at Primary Arms
Prices accurate at time of writing
Prices accurate at time of writing
With 13,000 candelas, the beam is intense! But more or less designed for medium-to-close range encounters, which is the shotgun's most effective kill area.
The Surefire DSF packs a wallop of power and is a professional-grade light.
Using four big buttons that allow you to easily control the light, it offers both constant-on and momentary modes. A universal kill switch also ensures the light stays off during transport or storage.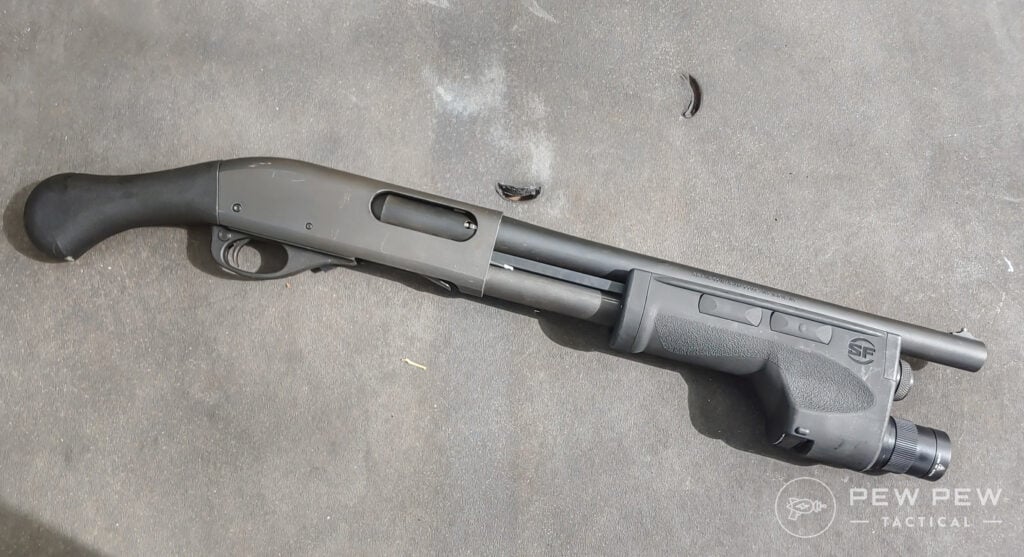 Everything has a downside, though, so what's that look like on the DSF?
Price and weight.
It's a heavy beast at 17.8-ounces and comes with a price tag of around $300.
Also, the series is made only for the Mossberg 500/590 series and the Remington 870 series.
350
at Optics Planet
Prices accurate at time of writing
Prices accurate at time of writing
Streamlight TL Racker
Streamlight followed Surefire's example, building a light into the pump of the gun.
The TL Racker is the answer to a shotgun light for your Remington 870 and Mossberg 500/590 series shotguns. Streamlight's device packs a punch with 1,000 lumens and 20,000 candelas, throwing a beam further than the Surefire.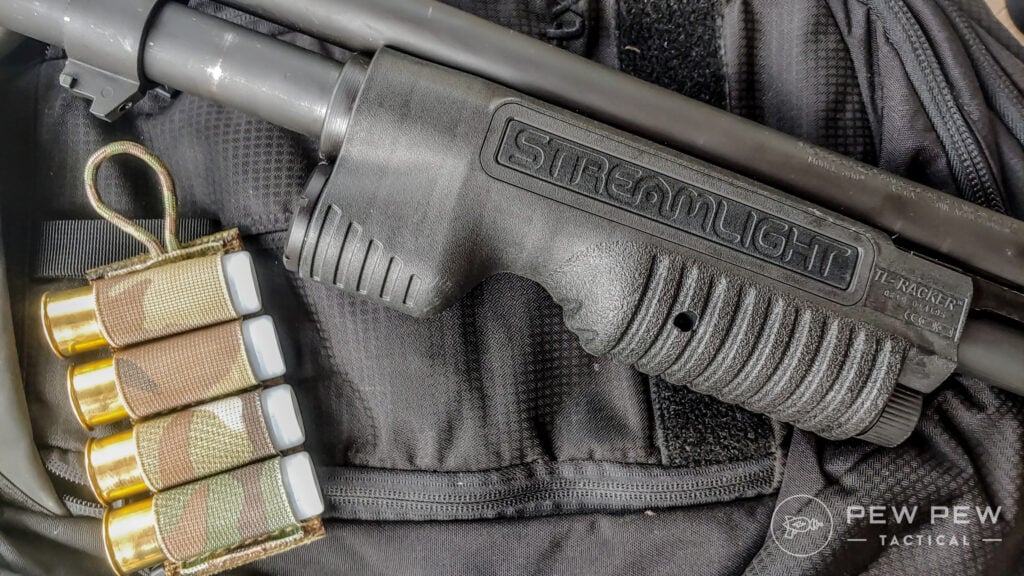 It's also a good bit brighter.
Powerful enough to work for duty, it makes target identification and even slug use possible. The TL Racker opts for a massive control pad fitted to both sides of the pump. And this design proves easy to use.
Featuring momentary and constant-on modes, TL Racker also comes in at a lightweight 12-ounces. It's smaller and sports an aggressive texture granting a sure grip.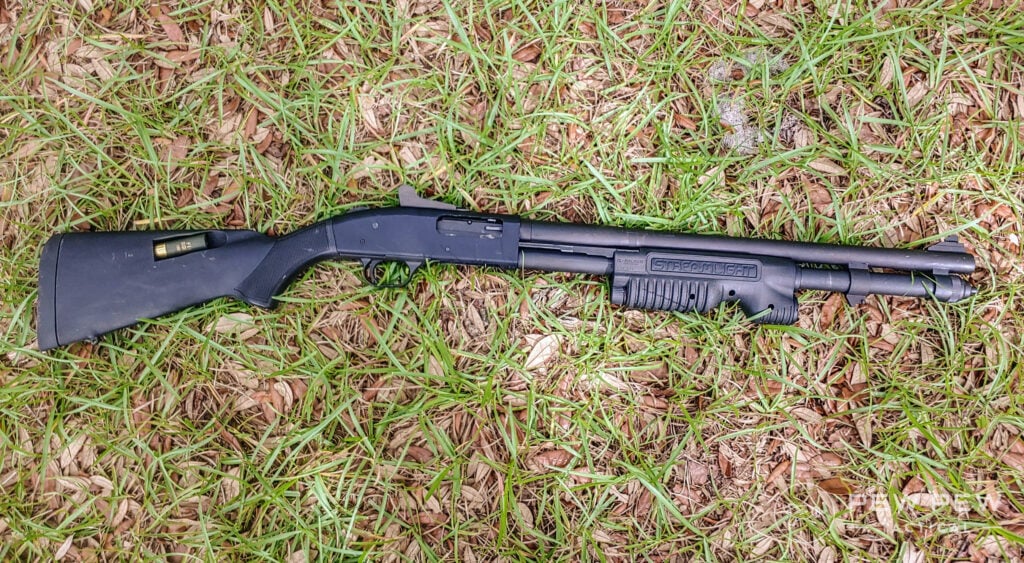 No lie, it's become my preference for shotgun stuff.
Did I mention it's affordable?
Retails for around $150! Not a bad deal for such an excellent light.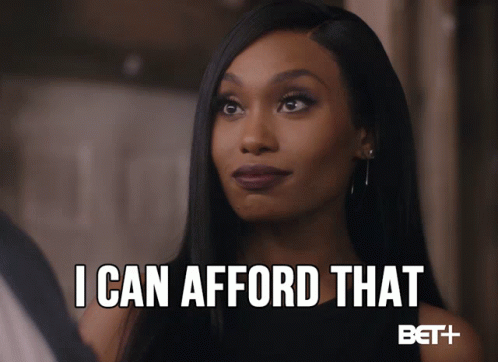 The TL Racker also comes in a Shockwave variant and a bright orange model for less than lethal shotguns.
Oh, and it's raccoon approved. (It was the light on my shotgun when the mini-masked intruders raided my trash.)
135
at Amazon
Prices accurate at time of writing
Prices accurate at time of writing
Streamlight TLR RM2
A 1,000-lumen light, the Streamlight TLR RM2 brings the power. The design is ergonomic with an awesome rear switch.
Simply put, the RM series is absolutely fantastic! And I should know. I wrote a whole review about the RM 1 and RM2.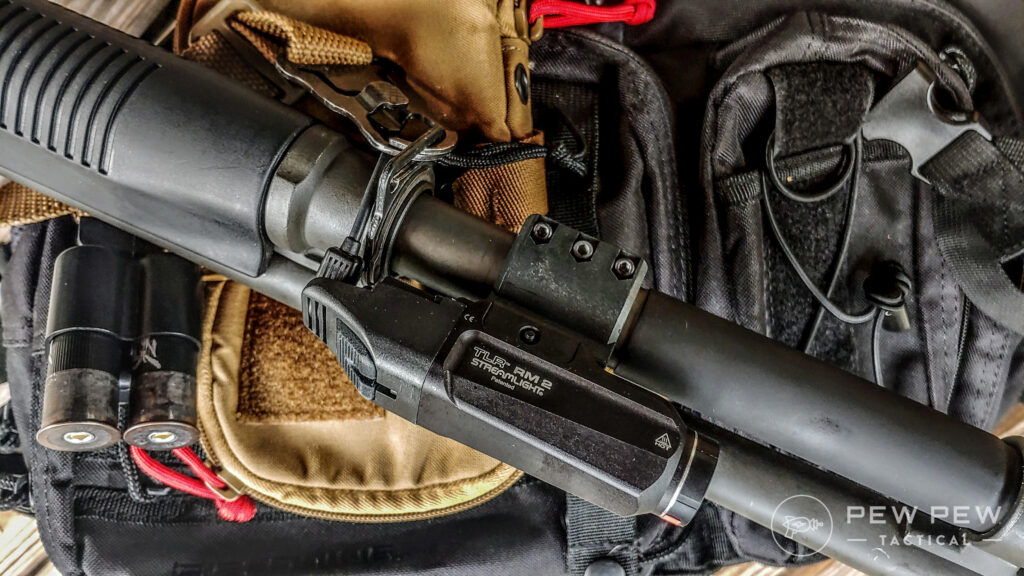 With a relatively small and lightweight design (especially for long gun lights), the RM uses the limited space on shotguns and does so well.
The ramped rear design certainly keeps fingers from getting smashed and gives you a little more room on the pump.
Streamlight also has a pressure switch system for semi-auto guns that allows you to mount the light further forward on the gun and still access the on/off switch.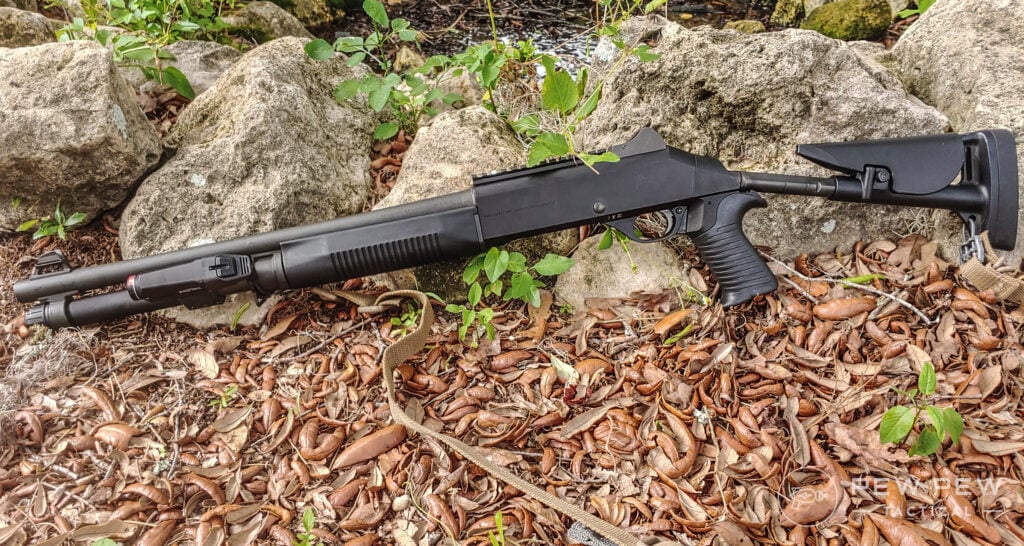 These new lights are perfect for shotguns and perfectly matched with the Streamlight rail.
I wrote a full, hands-on review of the Streamlight TLR RM2 so be sure to check that out for an in-depth look.
180
at Brownells
Prices accurate at time of writing
Prices accurate at time of writing
Steiner Mk7
The Steiner Mk7 is a neat idea that seemingly never took off. Also, the light has been discontinued, which makes it harder to find.
They pop up every so often at excellent prices, though, if you keep an eye out. I purchased one for $50 and another for $22.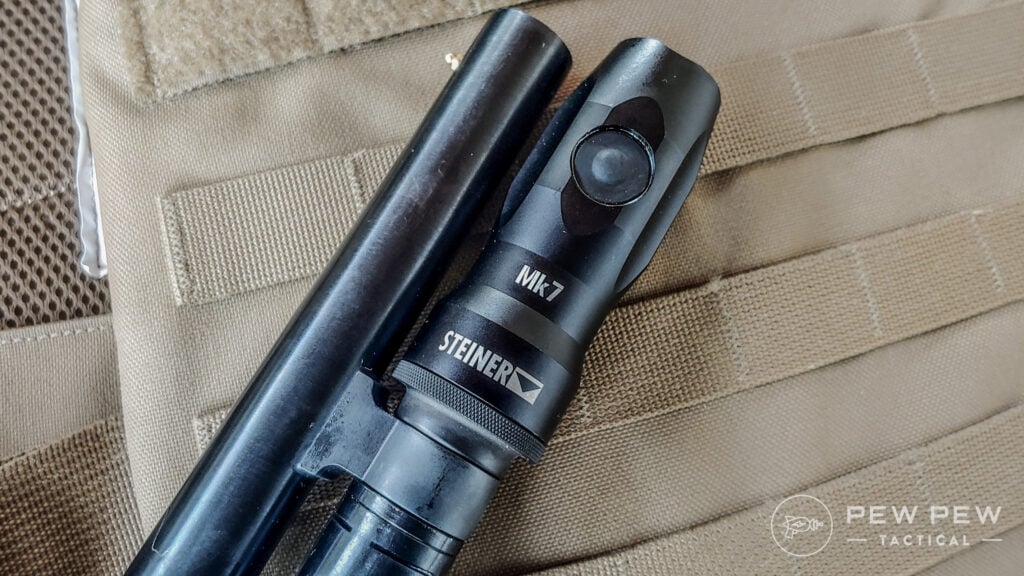 What makes the Steiner Mk7 cool is that it replaces the magazine endcap with a flashlight.
It's made for the Remington 870, the Beretta 1301, Benelli Nova/MA shotguns, and Mossberg 500 — not 590.
346
at GrabAGun
Prices accurate at time of writing
Prices accurate at time of writing
Using a two-piece system, the Steiner introduces a threaded endcap into the equation. From there, the light threads into the new endcap. This allows the Mk7 to detach and be used as a regular, handheld light if needed.
That's a nice touch and useful for a hunting shotgun.
48
at Optics Planet
Prices accurate at time of writing
Prices accurate at time of writing
Boasting 350 lumens, the light is built for close range, more or less, and works best indoors.
With excellent side-to-side vision, it's bright enough to illuminate a room.
Also, talk about lightweight! Weighing only 4.1-ounces, it keeps your shotgun streamlined.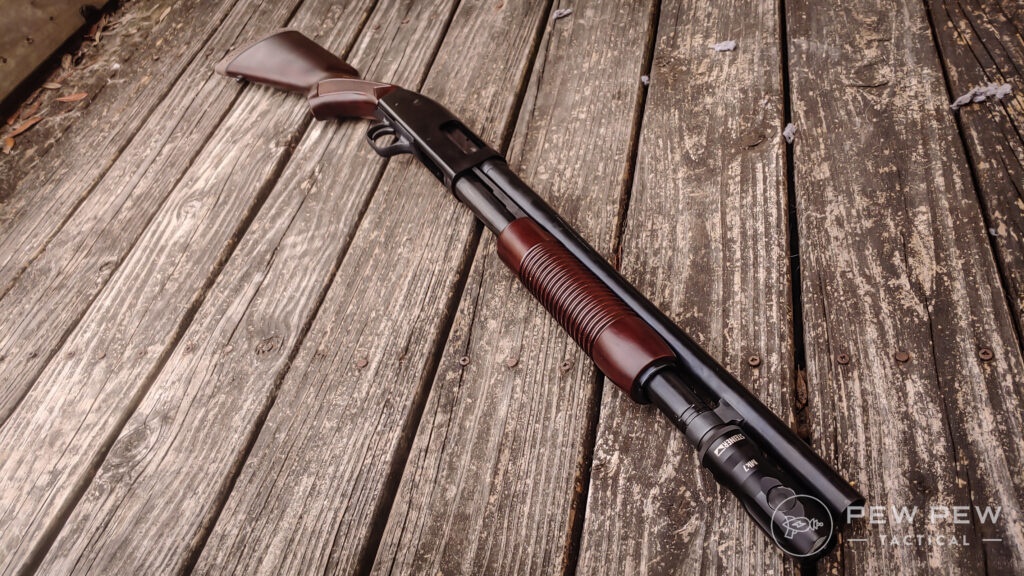 That said, not everything is rosy with this light. Ergonomics presents a bit of a problem.
The Mk7 features two buttons positioned on the light's body, meaning you have to reach beyond your pump to activate. Longer the magazine tube, the harder it is to reach the on/off button.
So, for the experience, use it on guns with shorter magazine tubes.
Axeon Shotlight
The Axeon Shotlight is a descendant of the Mk7 if you will. Using the same idea, it replaces the magazine endcap with a light.
To be honest, given that it's a newer design, I'm a little unsure about it.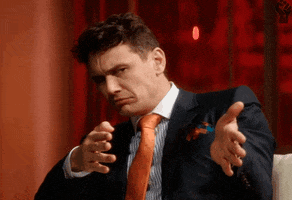 First, it's a 120-lumen light, running off a single CR123A battery.
For those keeping track, 120 lumens ain't a whole lot of light, but the tradeoff is that the Shotlight only costs $50.
An affordable price tag is an appealing choice if you are on a budget.
Second thing I'm not keen on — I can't find any information or battery estimates. I'd imagine the low lumens ensure you have a high battery life, but right now, there's no way to know for sure.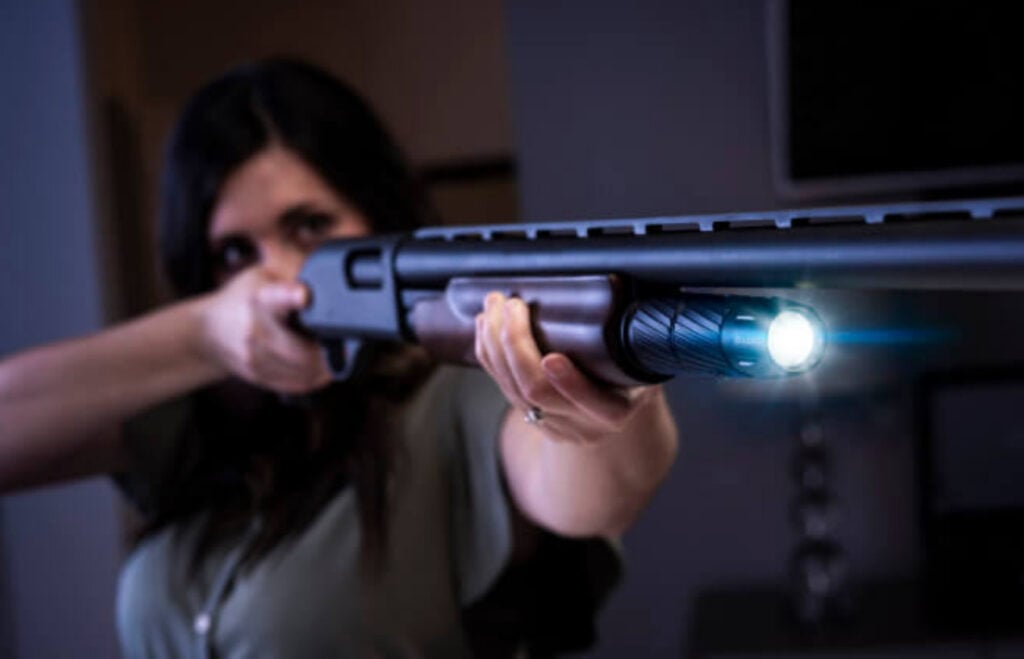 The light adopts a single constant-on mode with a very simple design. However, it presents the same ergonomic issues I saw with the Steiner Mk7.
Additionally, the Axeon seems a bit longer. This length pushes the button a bit further forward, which will probably make it a little harder to reach.
Besides the price, the upside is that it also comes with various adapters to fit Mossberg 500s, Remington 870s, and the Winchester 1300.
50
at Amazon
Prices accurate at time of writing
Prices accurate at time of writing
Adaptive Tactical Light
Adaptive Tactical makes an interesting integrated pump-action light option.
It all begins with a Mossberg 500/590 series or the Remington 870. From there, the light is attached to the end of the pump via a handy rail. Adaptive Tactical's light slips onto the rail and fits naturally with the pump-action design.
Runner-Up Best Pump Shotgun
400
at Brownells
Prices accurate at time of writing
Prices accurate at time of writing
Its position at the forward end of the pump won't smash your hand with recoil.
Another plus side to this integrated design?
The 300-lumen light can be removed.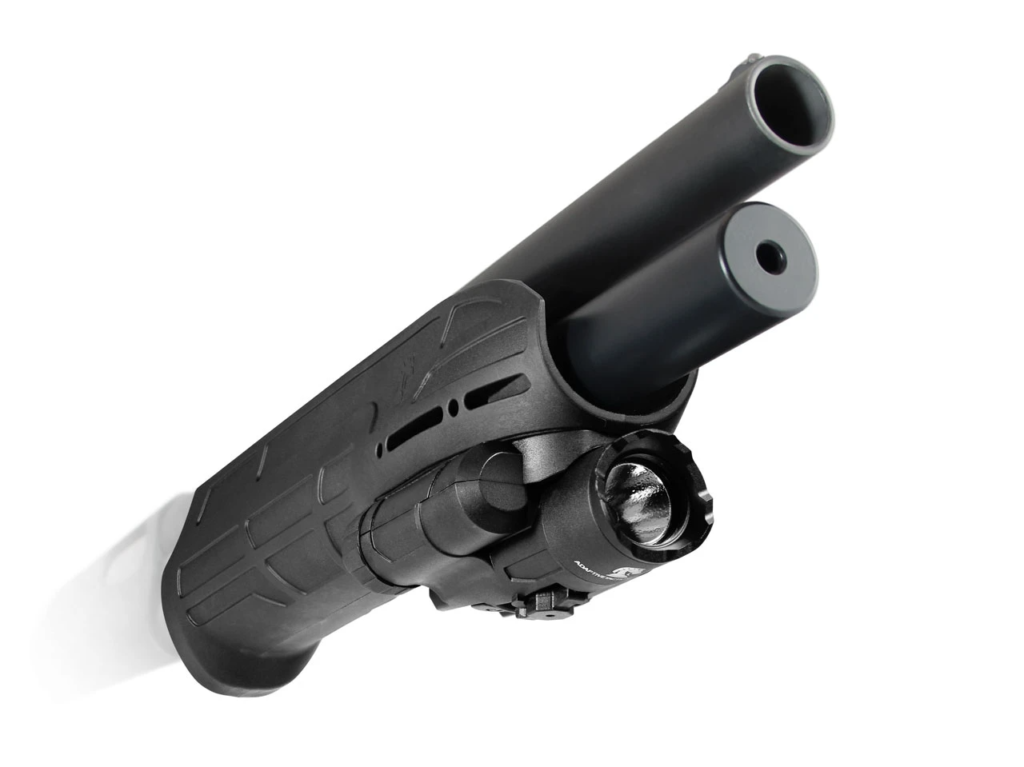 Controls are ambidextrous, using a switch platform to give you momentary, constant-on, and strobe mode. Two AA batteries also power it with a runtime of three hours.
I handled this setup at SHOT Show, and it seemed intuitive.
Adaptive Tactical makes some very cool stuff, especially for shotgunners, and this light system builds on their unique platform.
102
at Optics Planet
Prices accurate at time of writing
Prices accurate at time of writing
The Traditional Route
You've probably seen Mossberg and Remington quite a bit in this article, haven't you?
Admittedly, these are America's most popular shotguns, so a lot of the aftermarket chase those two brands.
If you own something outside of the standard shotgun, you might find yourself frustrated. However, there are a few options out there for you.
Granted, these aren't the most ergonomic routes, but if your gun needs a light, they'll do. First and foremost, I suggest the Streamlight Mag Tube Rail.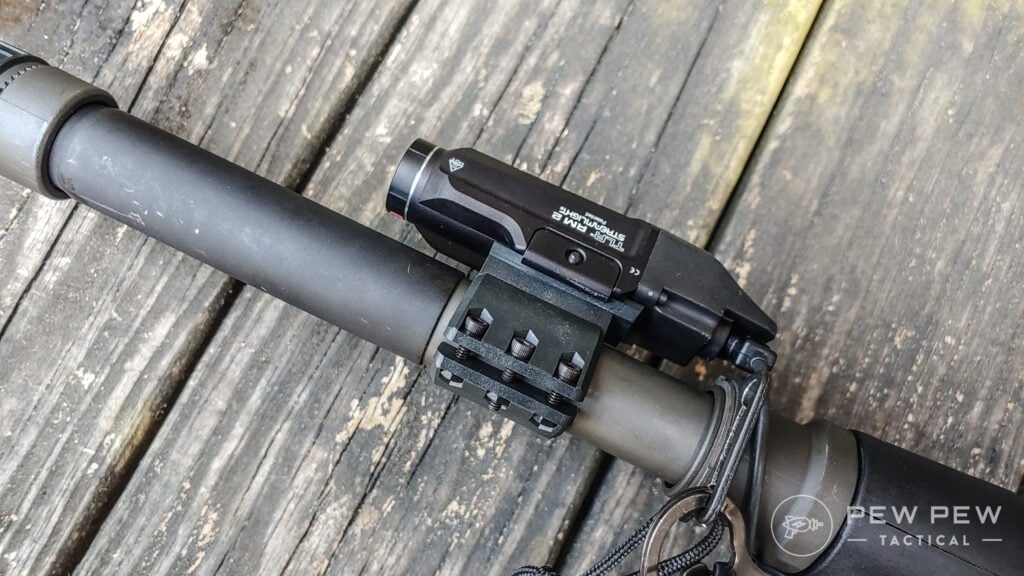 This little device attaches to your shotgun magazine tube and gives you a short rail to mount almost any light you want. I use this magazine tube rail on my Benelli M4, and it locks down extremely tight and allows you to mount the light at various angles.
If that's not quite your speed, there are quite a few pumps with M-LOK slots or Picatinny rails. These are a pretty simple option.
20
at Optics Planet
Prices accurate at time of writing
Prices accurate at time of writing
Conclusion
Like any other firearm used for defensive purposes, shotguns need a weapon light. Identification of a threat is vital and, without a light, you're flying blind. Whether you're equipped with a pump or a semi-auto shotgun, there's a light out there for you.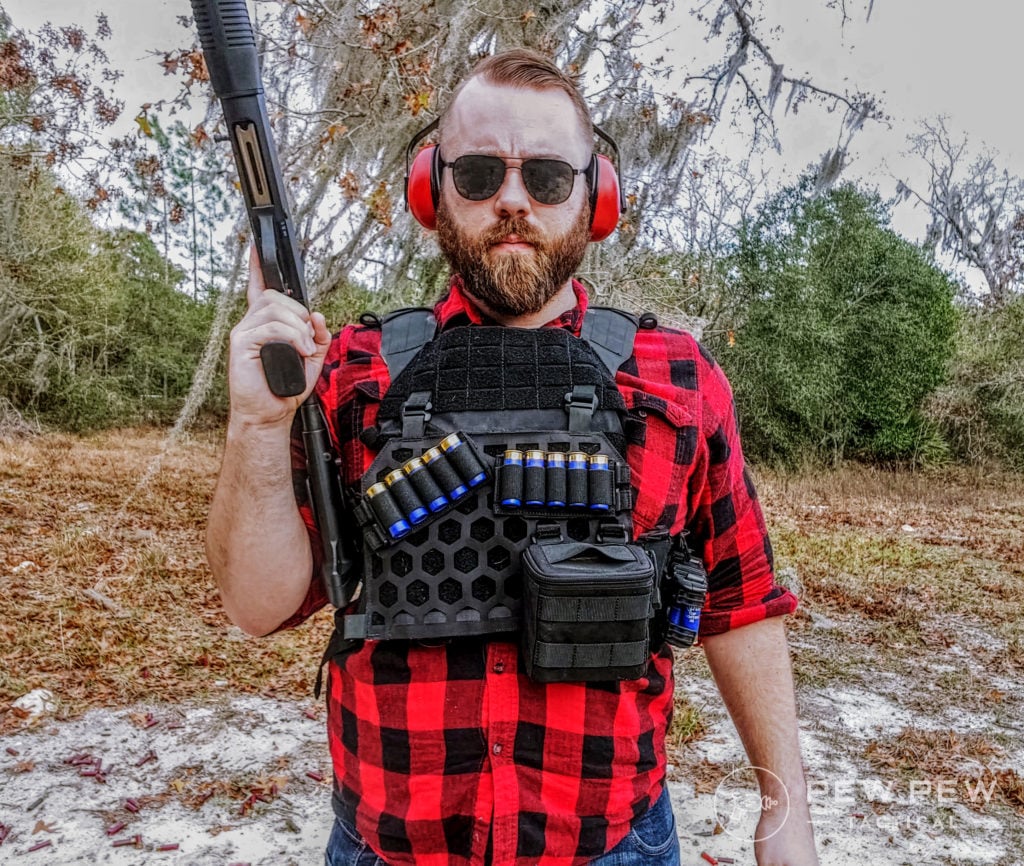 Be it a tried-and-true Surefire or a newer Adaptive Tactical, a good light can make the difference between horror movie nightmares and a pair of masked critters looking for late-night KFC.
What do you have on your shotgun? Let us know in the comments below. Looking for another shotgun to add to your home-defense strategy? We got you covered with our round-up of the Best Home-Defense Tactical Shotguns.