Looking for the best way to dry-fire train at home using your own gun?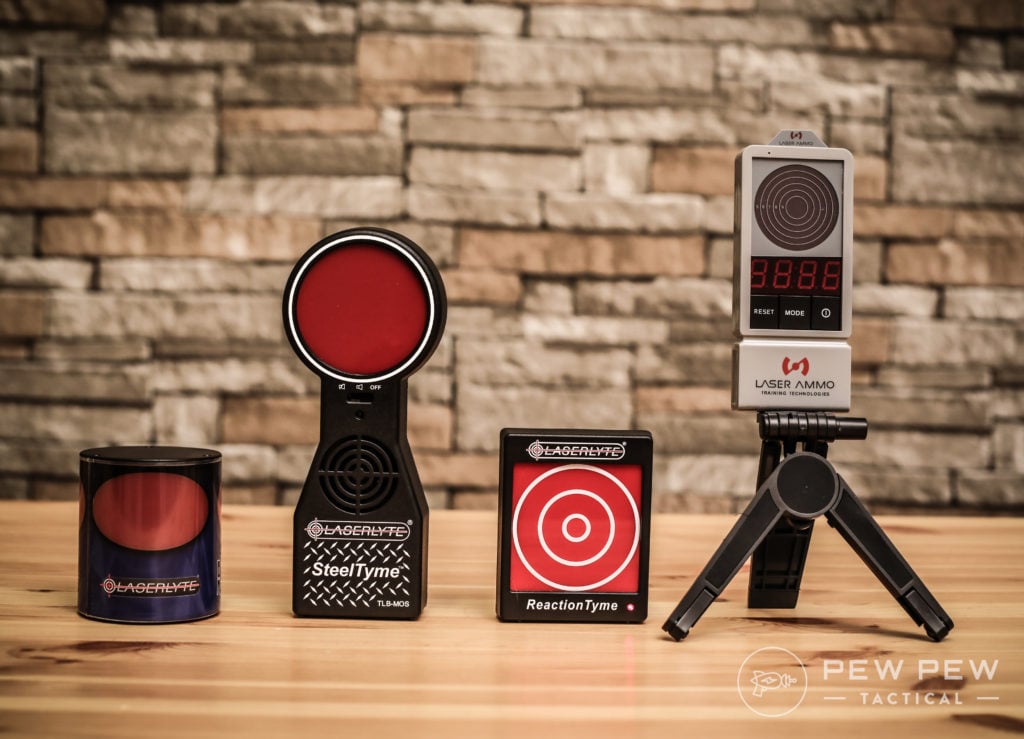 Training with laser cartridges that fit in your real firearm might be the key.
You get to use your actual trigger and also immediately see where you hit…without having to go to the range or spend money on ammo.
It's a no-brainer if you're serious about your trigger pull.
We'll help you choose the best laser cartridge plus the best targets since…we've used them all.  Now with video!
If that helped, please subscribe to our YouTube channel since we're adding new videos every week!
Best Laser Training Ammo
Laserlyte
The best known laser cartridge comes from Laserlyte.  My 9mm cartridge has been chugging past 5,000 dry-fires.
And when the back end rubber "primer" finally wore out from being hit by my striker/firing-pin…Laserlyte sent me a replacement for free.
It fits well in all my handguns and the o-rings are solid.
A little pricey at first glance…but think of all the ammo you will save.  Say 20 cents a pop for 9mm…I would have spent $1000 already!
G-Sight Laser Cartridge Gen 2
G-Sight makes decent laser cartridges.  Make sure you get one that says Gen 2 since…Gen 1 was terrible.
I have Gen 2 for my lesser used calibers and there's definitely a difference.  It has a "cheaper" looking brass color for starters.
It also doesn't fit as well in all my chambers (sometimes I have to close the slide several times) and one o-ring is already lost.
But…after 1,000 fires it is still going strong.
Laser Ammo
Laser Ammo makes quality stuff.  We cover the Premium Kit and targets in detail in our full review.
If you have 9mm, .40 S&W, and .45 ACP…this may be the kit for you.  The adapters allow you to shoot all three for a price that's cheaper than getting 3 separate cartridges.
SIRT
Not quite a laser cartridge…but a full-sized Glock laser platform.
Pricey…but the perfect solution when you want an authentic stock trigger but not a real firearm.
Best Laser Targets
Now that we've gotten the cartridges out the way…let's look at what you can shoot.
And since these work by detecting light from the laser…it might not work in bright areas (turning on my photography lights activated them) or outside.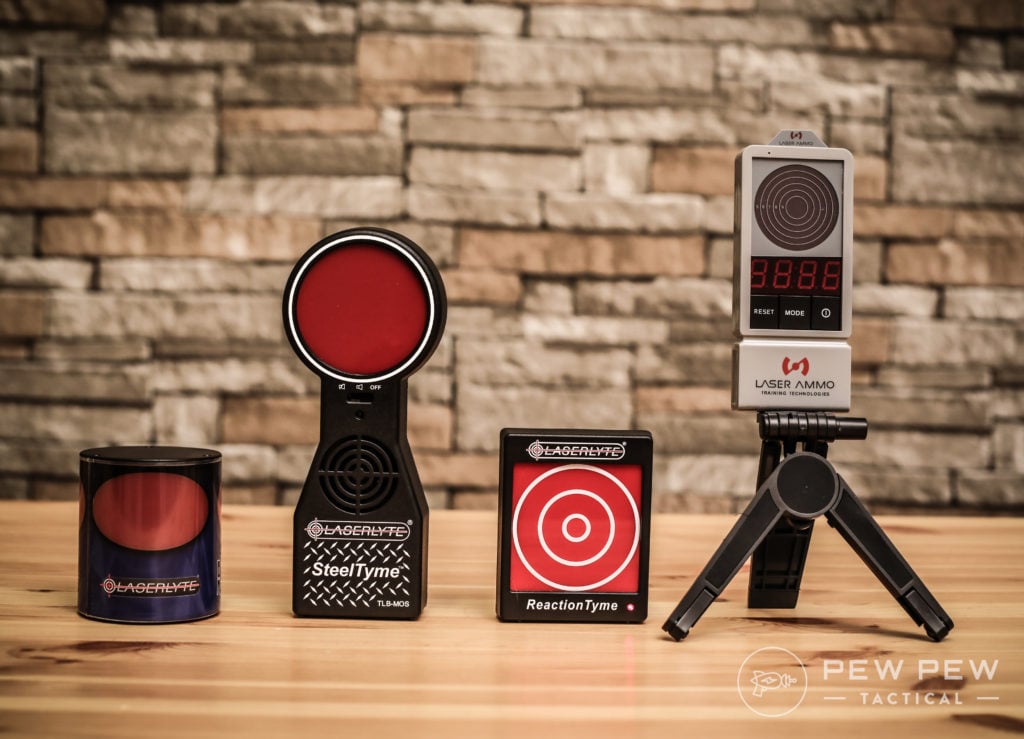 LaserLyte Rumble Tyme
I'm sad that the Reaction Tyme (bulls-eye target above) is no longer being produced.  It was the most cost effective and simplest design.  If you find it now…it's some insane price.
But the Rumble Tyme takes 2nd place and kicks it up a notch.
When you hit it…you guessed it…it rumbles.
Good detection and rumble effects.
Note that since it rumbles…it moves around.  So I wouldn't recommend putting it near ledges.
LaserLyte Steel Tyme
Best Overall Laser Target
The Steel Tyme is also pretty good.  When you hit it…you hear a satisfying steel gong sound.
Laser Ammo PET
My favorite for different modes.  Only downside is you get one target versus two targets for the other LaserLytes.
But you get…
Hit Counter Mode: count and hear your hits
Shot Timer: see your reaction time from a buzzer until first hit
Speed Shooting: how many times you can hit in 5 seconds
Double-Tap: time between first shot and second shot
LaserLyte Quick Tyme
One I haven't tried because of the price…but seems promising since it lets you know where your shots hit.
Other Training Gear
MantisX
The most high-tech way to diagnose your shots.  This device attaches to your front rail and gives feedback to your phone through Bluetooth.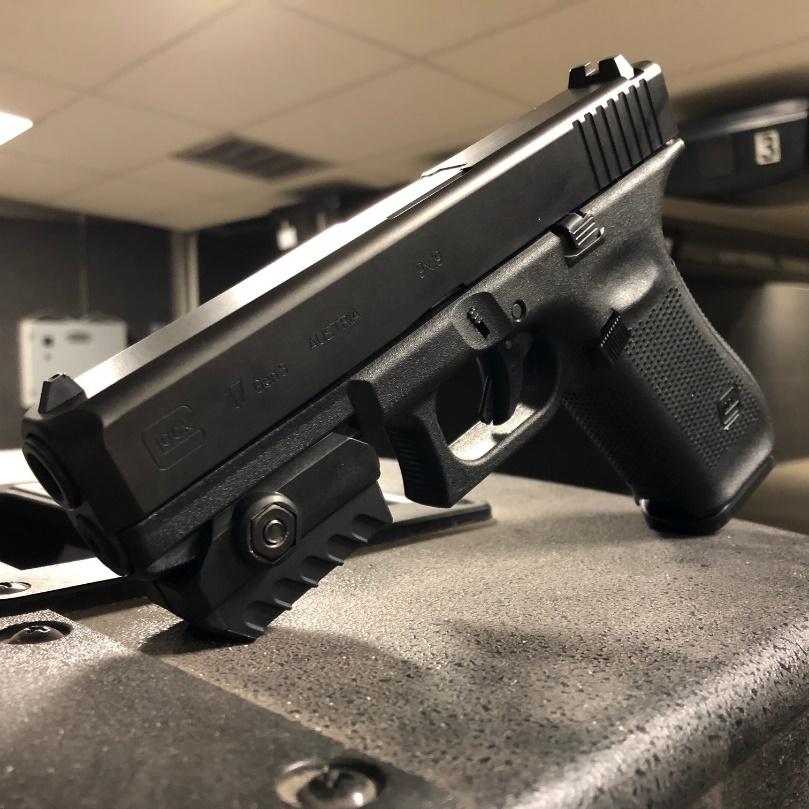 AND it's good for both dry-fire and live-fire.  After each shot…it tells you where it moved, how much it moved, and how to correct it.
Our full MantisX Review…and spoiler alert…it's pretty awesome.
Conclusion
Now you're ready to up your dry-fire game with some of our favorite laser cartridges and laser targets.  If you're looking for more tips…check out How to Shoot a Handgun More Accurately.
How is your experience using any that we recommended?  Any systems that we missed?