Dry fire can be pretty dull, am I right?
It's tough to make pulling the trigger, cycling the action, and going click again exciting. Yet, experts agree it's critical to your success as a shooter.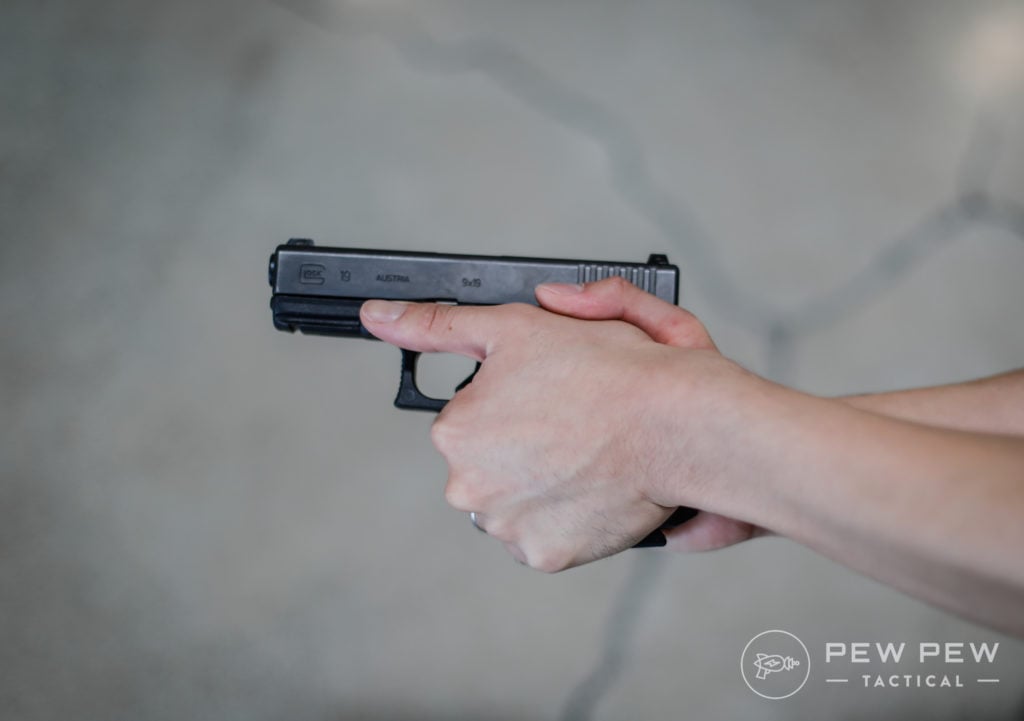 Dry fire allows you to practice some fundamental skills and weapon handling without sending lead downrange.
This can be the most cost-efficient way to improve your skills. If you are obsessed with getting the most out of your dry fire, you may be familiar with a company called Mantis.
Mantis is the dry fire company. They started by producing a sensor and app that could measure every dry fire shot you take and provide feedback on how to improve your trigger pull, grip, and more.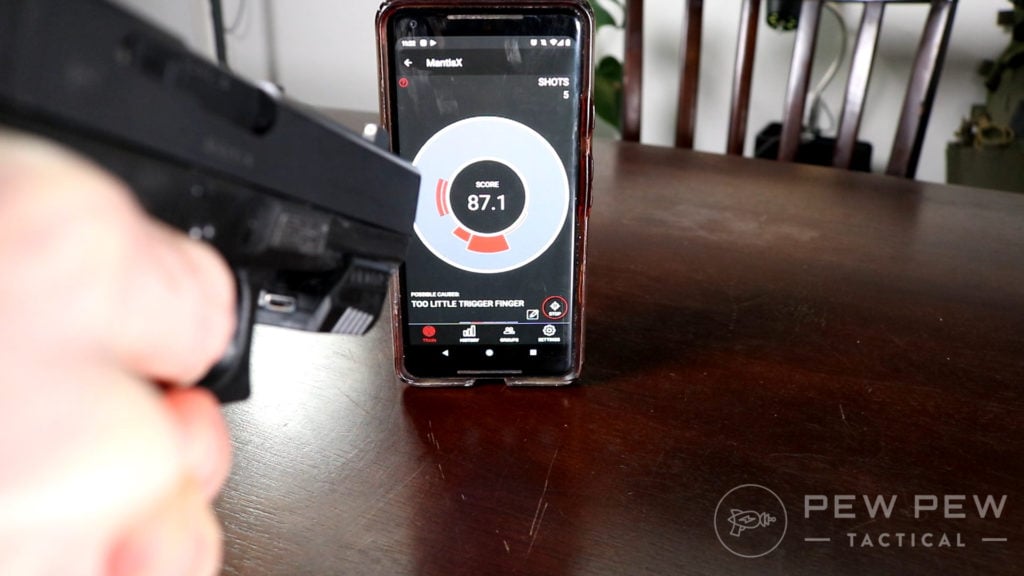 Since then, they've evolved, produced better sensors, and focused on handguns, rifles, and shotguns.
The latest evolution comes in the form of the Mantis Laser Academy Training System. As usual, they are on the cutting edge of blending technology, dry fire, and firearms to produce a fantastic piece of gear.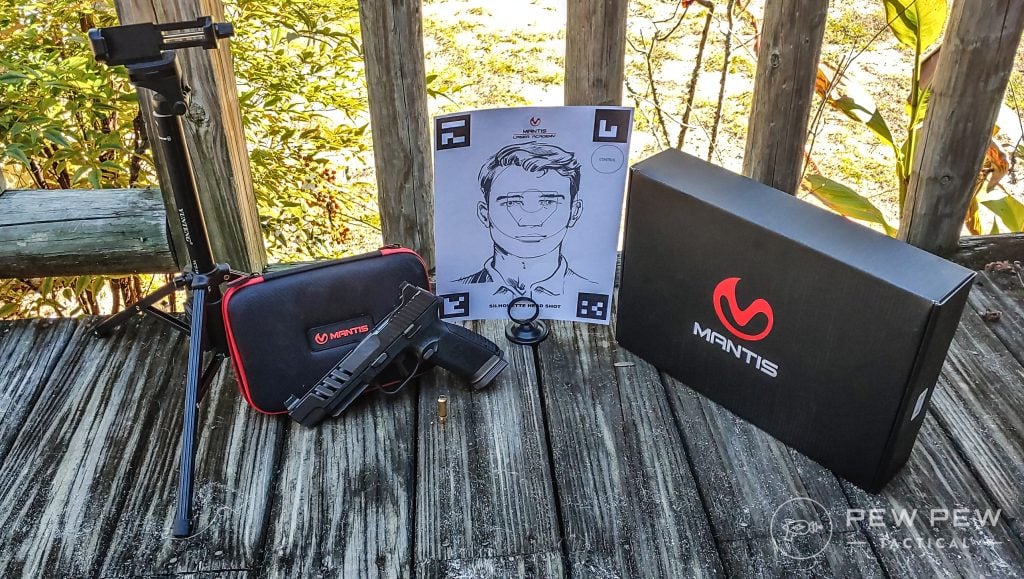 So what is the Laser Academy, and should you put this on your gun and gear wishlist? We tested this system out and gathered the pros and cons to help you decide.
So keep reading!

Table of Contents
Loading...
What's Laser Academy?
I hope I didn't excite too many people in the audience about the prospect of Star Wars-like lasers.
While that would be cool, I'm afraid if that's what you're expecting, you might feel a bit like Andy Dwyer in college.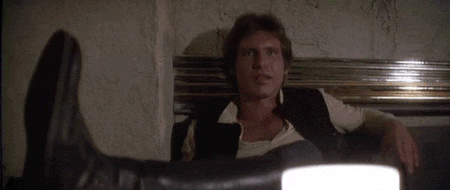 Laser Academy, at its core, is a dry fire laser system that utilizes laser devices, a cell phone, and a system of smart targets.
The laser devices come in the form of the hilariously named Pink Rhino laser cartridges and Mantis' very own Blackbeard laser system.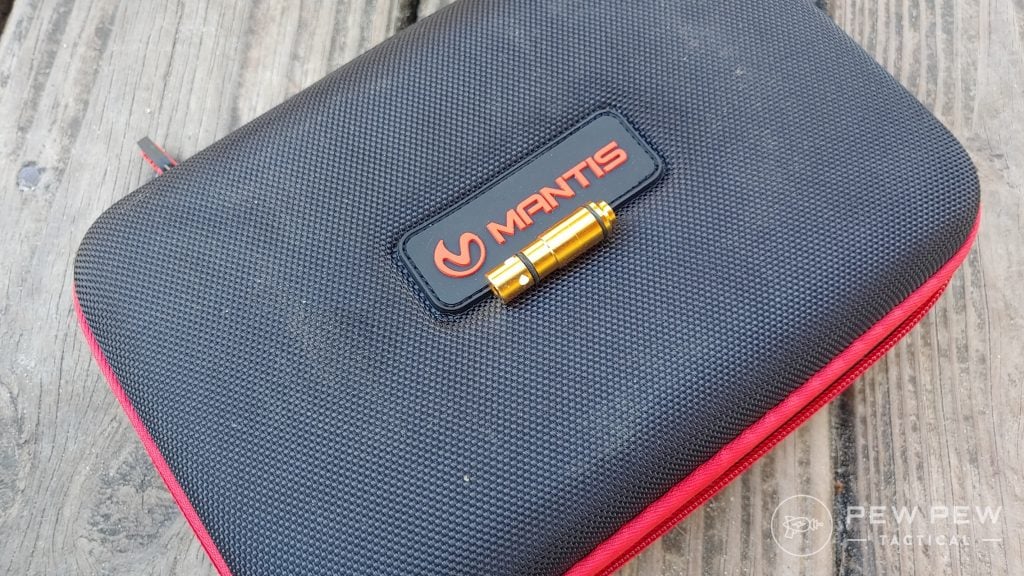 The Pink Rhino laser drops into your chamber and, when struck by a firing pin, "fires" a laser.
These allow you to have a visual representation of your dry fire practice. When you order your kit, you can choose various calibers, including 9mm, .380 ACP, .40 S&W, .45 ACP, .38 Special, .357 Sig, and .223.
The Blackbeard is a drop-in bolt system for AR-15s that utilizes a battery posing as a magazine.
220
at MantisX
Prices accurate at time of writing
Prices accurate at time of writing
This system both fires a laser and resets your bolt, allowing the shooter to take "shot" after shot without needing to work the charging handle.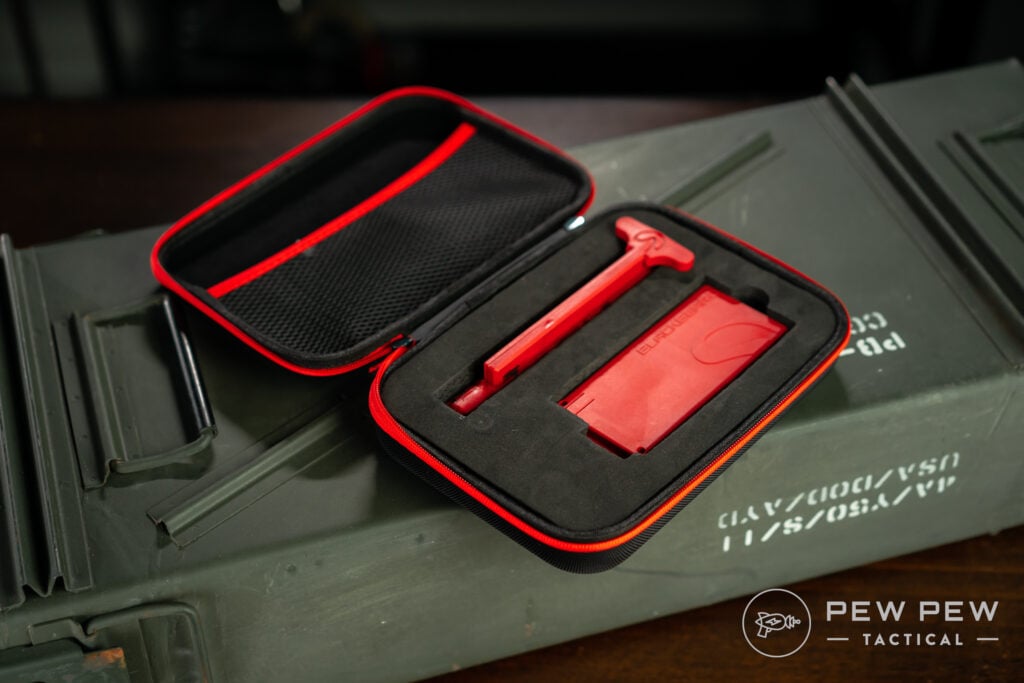 What's Included?
Standard Kit
Access code to Mantis Laser Academy
Pink Rhino laser
Complete set of 5×7″ Laser Academy Smart Targets
Complete set of 8×11″ Laser Academy Smart Targets
Mini tripod and smartphone holder
Large tripod and smartphone holder
Laser cartridge extraction stick
Portable carrying case
Five target stand holders
Portable Kit
Access code to Mantis Laser Academy
Pink Rhino laser
Complete set of 5×7″ Laser Academy Smart Targets
Mini tripod and smartphone holder
Laser cartridge extraction stick
Portable carrying case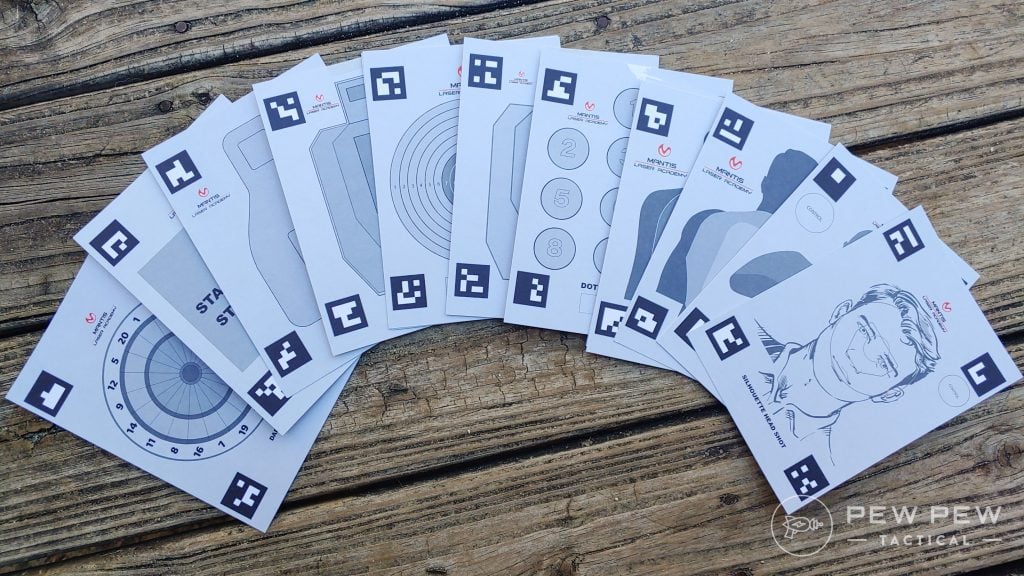 Pros & Cons
Pros
App is simple to configure and use
Lots of target options and you can print targets at home
Works with SIRT laser pistol
Cons
App sometimes yields false positive hits
Mini tripod features a phone holder that may be too small for larger phones. Standard-sized model works fine, though.
The Bottom Line
The Mantis Laser Academy Training Kit is a great solution for those that want to elevate their skills by dryfiring at home. With 15 training targets — and the option to print targets at home from Mantis' site — the kit is definitely worth the money.
149
at MantisX
Prices accurate at time of writing
Prices accurate at time of writing
There's an App For That
You can download the Mantis application for Android or iOS devices, and when fired up, you have access to the basic free version. Purchasing the Laser Academy kit unlocks the full version.
The free version is quite generous, but the paid version really steps things up.
Mantis App Settings & Modes
Open Shooting – Single Target: Basic target shooting with scoring. Can store sessions to track progress.
Shot From Guard/Low Ready – One-Shot: Starting from a prompt, time your shot and track accuracy in single-shot sessions.
Duel – Single Shot: You and a training partner compete to see who has the fastest draw and eagle eye.
Bullseye – Five-shot: Untimed, no prompts, receive scores and splits from 5-shot rounds.
Open Shooting – Multiple Targets: Basic target shooting with multiple target scoring and the ability to store sessions to track your progress.
Duel – Best of Five Series: First shot on targets wins a point in a best out of five competition.
Duel – High Score: Fastest accurate shooting round against an opponent.
Shot From Guard/Low Ready – Multi-Shot: Starting from a prompt, this mode measures reaction time and tracks the accuracy of your shots.
Bullseye – 10 Shots: Records scores and splits for 10-shot sessions. Untimed, unprompted.
Close Contact from Holster: Fast and accurate shot from the holster to the close contact position.
Compressed Surprise Break: Develop a fast shot in response to the start signal.
Holster Draw: Fast and accurate shot starting from the holster.
Holster Draw – Par Timed: Fast and accurate shot starting from the holster, against a par time.
Multiple Shots on Multiple Targets: Develop speed and accuracy on multiple targets with multiple shots.
The best way to use the app is to set it up on a phone tripod. Luckily, you receive one with your Mantis Laser Academy kit.
There are two from Mantis, a standard and a portable version. Set them up and point them at the included smart targets.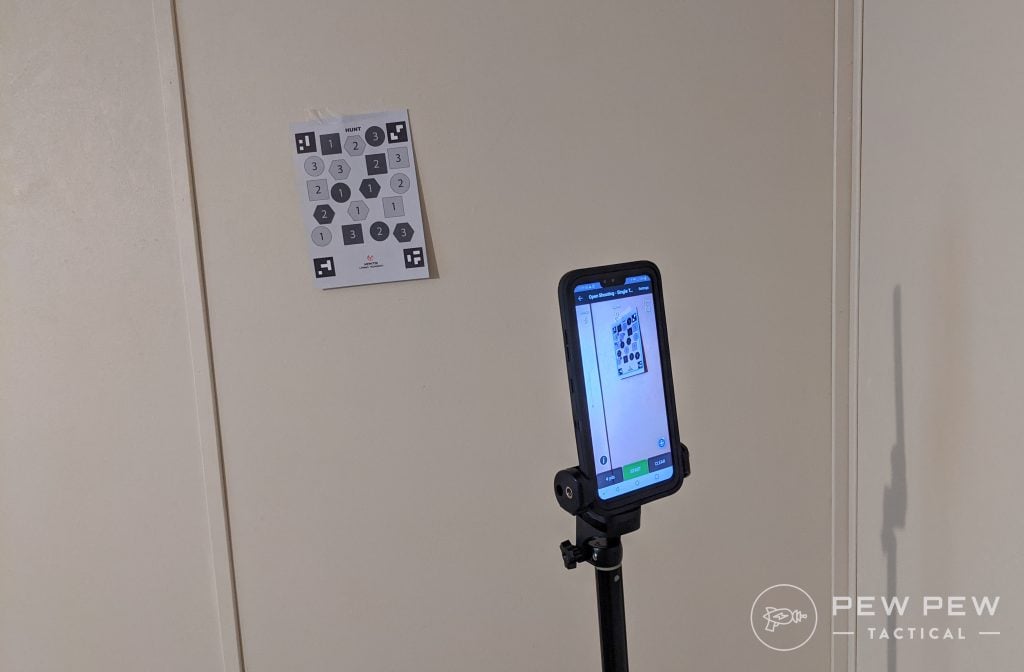 The Smart Targets can be read by the app and deliver a score based on where you hit.
There are 12 targets in two sizes — with duplicates of three of the targets for a total of 15 targets. The duplicates allow you to run multiple targets simultaneously and participate in the Duel modes.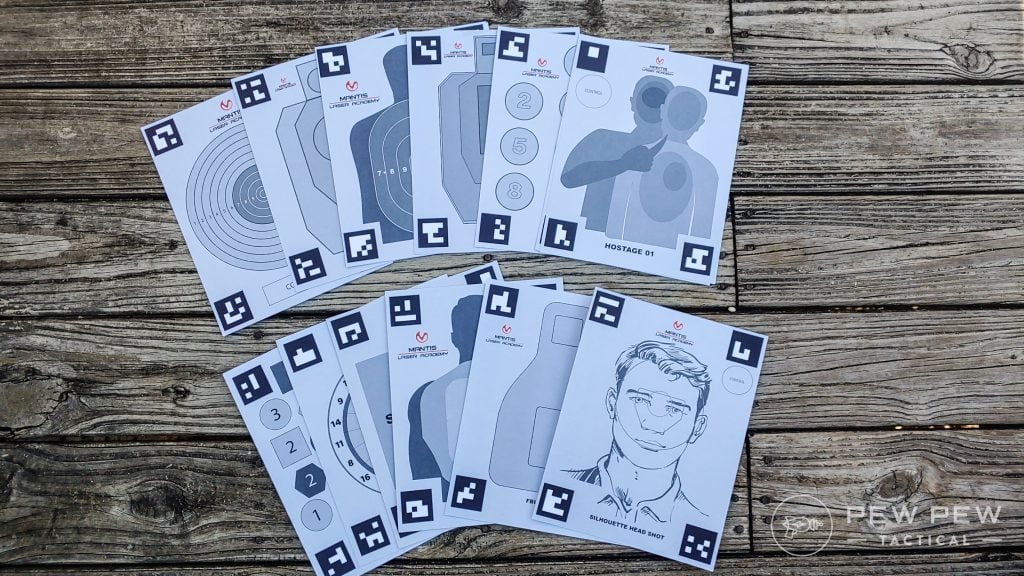 Targets include Dot Torture, several silhouettes, headshot target, standard bullseye, and more. You can also print the targets from Mantis on basic printer paper.
Setting Up a Home Range
First, you need an area with moderate lighting. You're using the camera of your device, so light is a must-have. Use the included target stands, tacks, tape, or whatever to hold the targets to the wall.
Also, ensure laser offset is good. You can't adjust where the laser lands, but you can adjust what the app considers a hit. The app walks you through the process and makes it easy to calibrate and compensate for offset.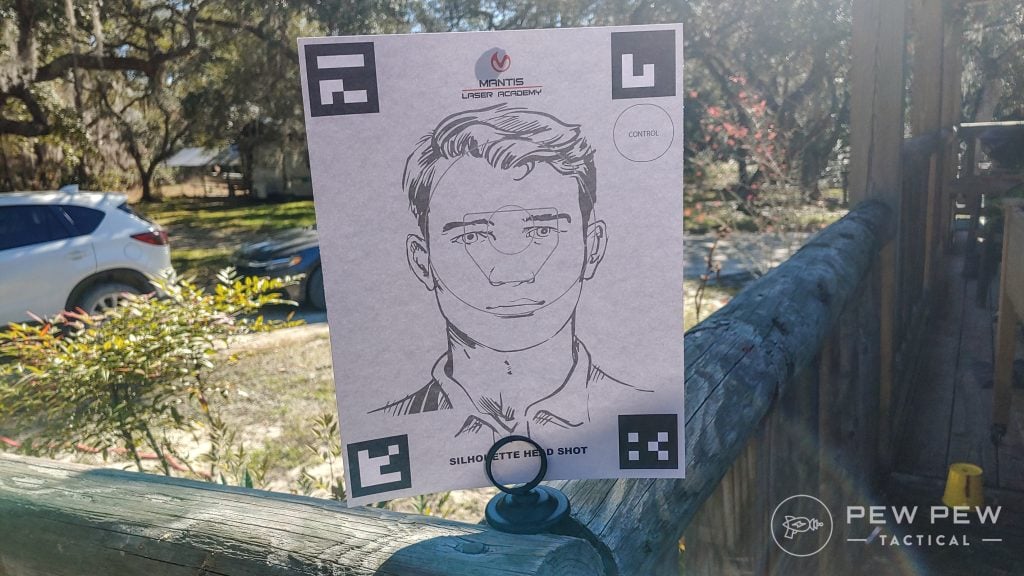 Choose your drill, and the device will give you a suggested target to use. However, it's ultimately up to you. Set the camera up close enough to fill the camera's vision, and it will automatically detect the target.
I did learn that the camera should be close to the target, within a few feet for best results, but can be set at an angle to it without issue.
Different drills, like the low ready drill, will have a timer and a go signal. When you get the go signal, you take your shot, and then you're assigned both a time and accuracy score.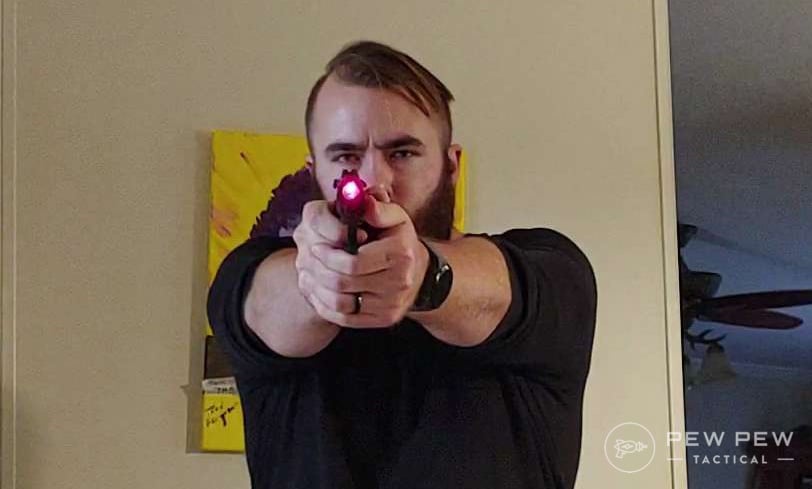 When I set the phone up, I do get the occasional false positive. The app detects shots before I can even pick up my gun. It's weird but clears up once the Mantis Laser Academy app detects a target.
The shot detection is superbly accurate regardless of the target, the app, or the mode. I'm sure it would miss shots if I took it into a too bright environment, but indoors, under normal lighting, it works perfectly.
After each shot, the app announces your score and, depending on the mode, displays your times.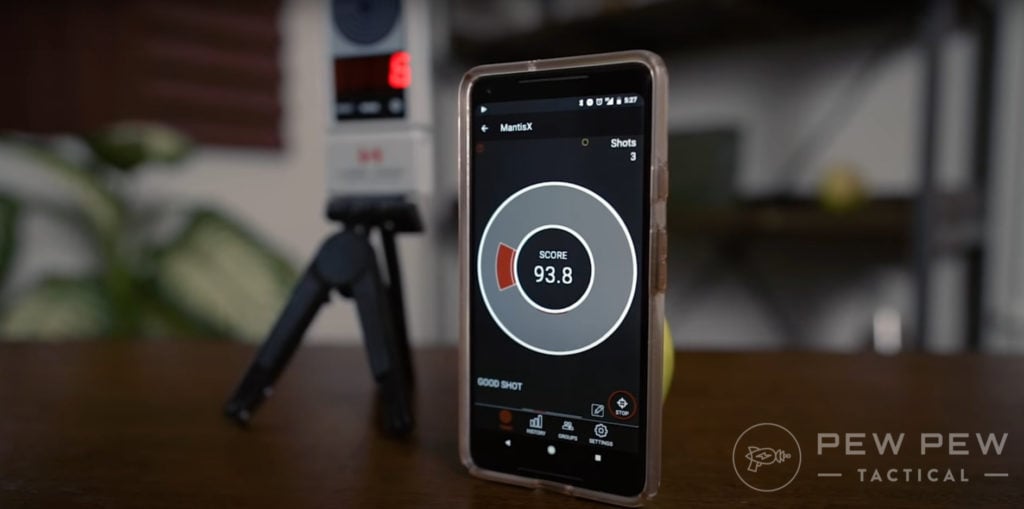 The response has no noticeable delay, and accuracy isn't an issue either. The instant feedback creates a loop that constantly makes me want to shoot straighter and faster.
Test Your Skills
Included with the app are a pistol course and pistol test.
The course is 13 lessons long and slowly elevates the difficulty. This will train you to shoot with both hands, with a weak hand, and with your dominant hand.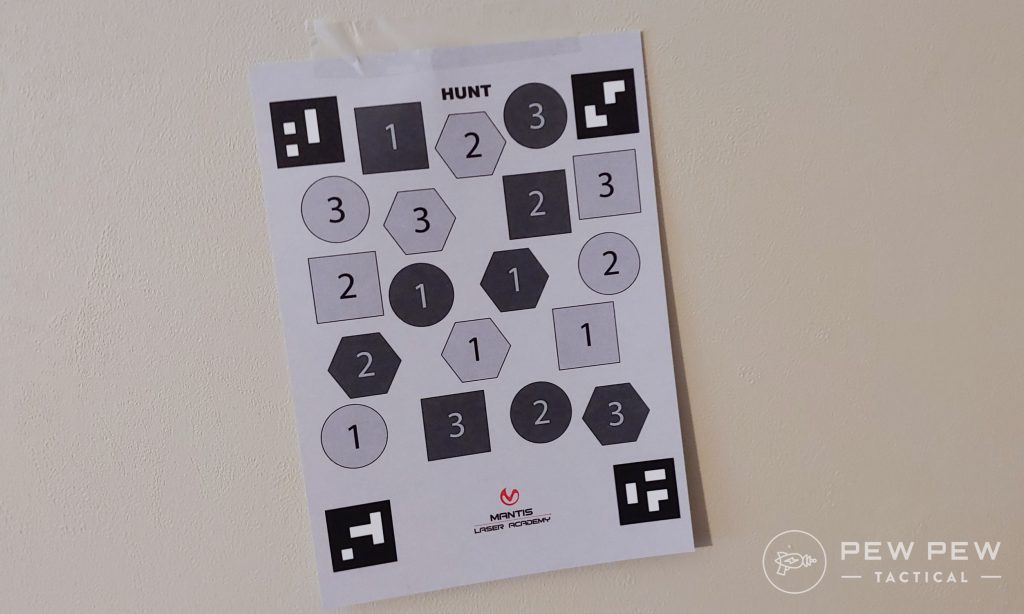 Others ask you to hit various small targets without missing a single shot. These can be frustrating, as an annoying buzzer will make your blood pressure rise when you miss that one dang dot.
However, it's a great challenge.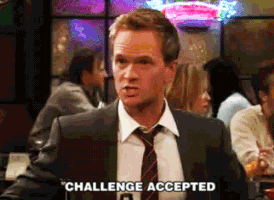 The test is the extreme version of the training. While not terribly difficult, it offers a stiff challenge. I don't consider myself a pro by any means, and I was pleasantly surprised by the difficulty. Currently, there is only one test and 13 challenges.
Possible Improvements
Hopefully, in the future, Mantis can update the app and add rifle training in light of the Blackbeard system.
The Blackbeard is the absolute best for use with this system. It allows you to fire realistic drills like failure to stop, box drills, snapshots, and more.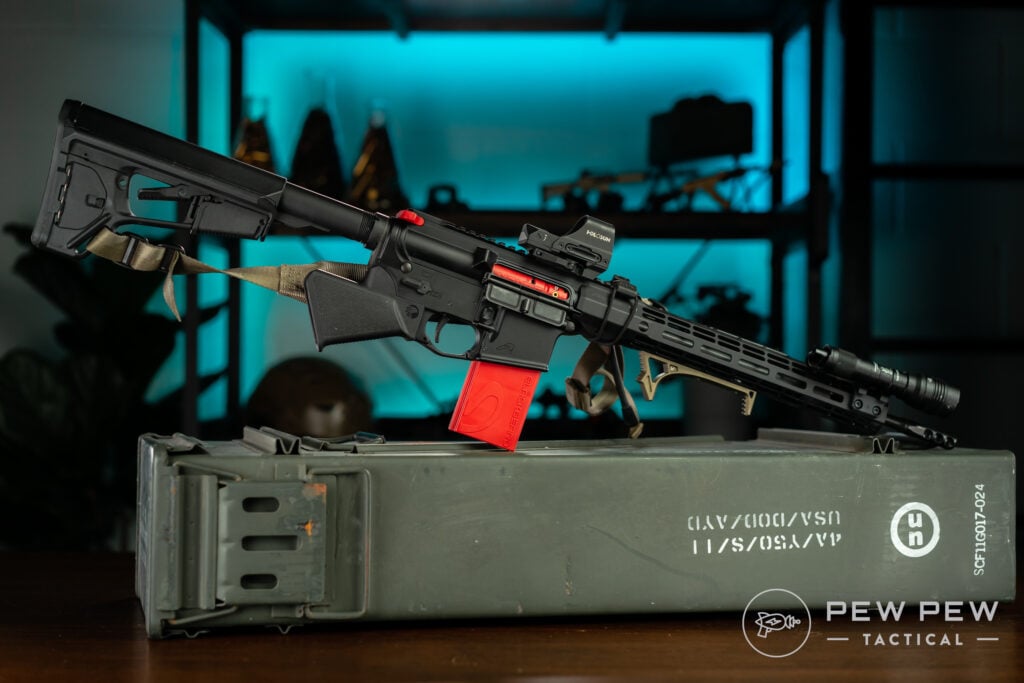 If you are firing a striker-fired gun, you might want to invest in a SIRT gun. This allows you to train without constantly cycling the slide, and SIRT systems work with the Mantis Laser Academy.
The instant feedback and excellent accuracy of the laser make it super entertaining. The setup works well, and my kiddos even surrounded me to watch, eventually taking it over under my careful supervision.
Best Glock Laser Trainer
302
at Brownells
Prices accurate at time of writing
Prices accurate at time of writing
I've also grown quite partial to the draw and fire mode. It really gives you some outstanding feedback, and I like being able to draw, shoot, and engage with a timer during dry fire.
The same goes for the low-ready mode. I practice snapshots with the Blackbeard system in my AR-15, and I'm constantly trying to drive my time down while maintaining accuracy.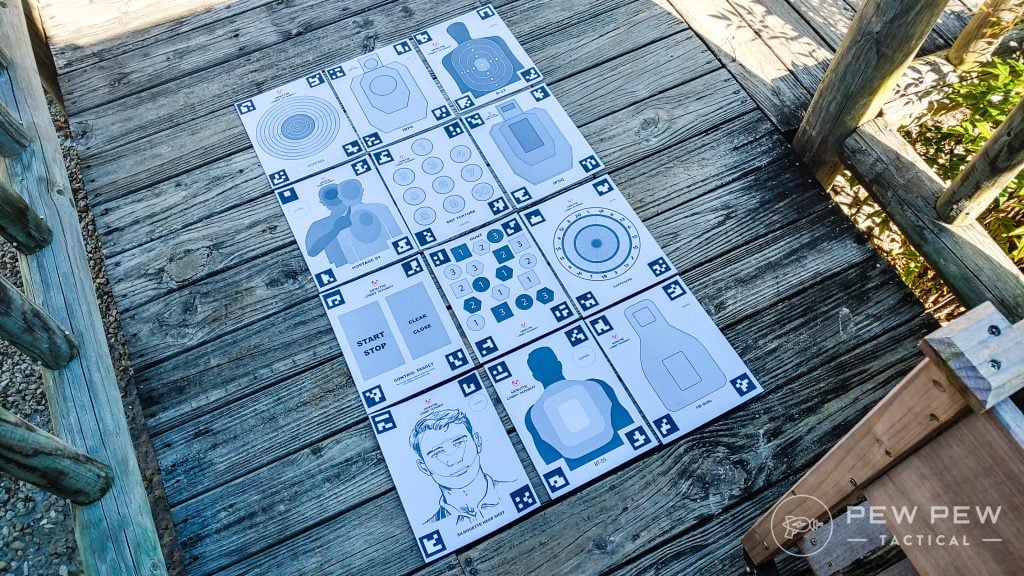 Since this system utilizes an app and has a downloadable target page, I want to see more targets, courses, tests, and more. Heck, if they offered enough stuff, I'd subscribe for a moderate price if the content was released regularly.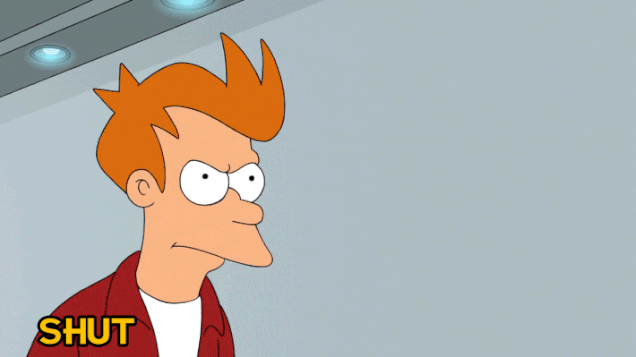 The pairing of the information from the standard Mantis App to my Laser Academy app would be a great addition. When using my X10 sensor, this would allow me to get my times, accuracy score, and also my trigger pull score as well.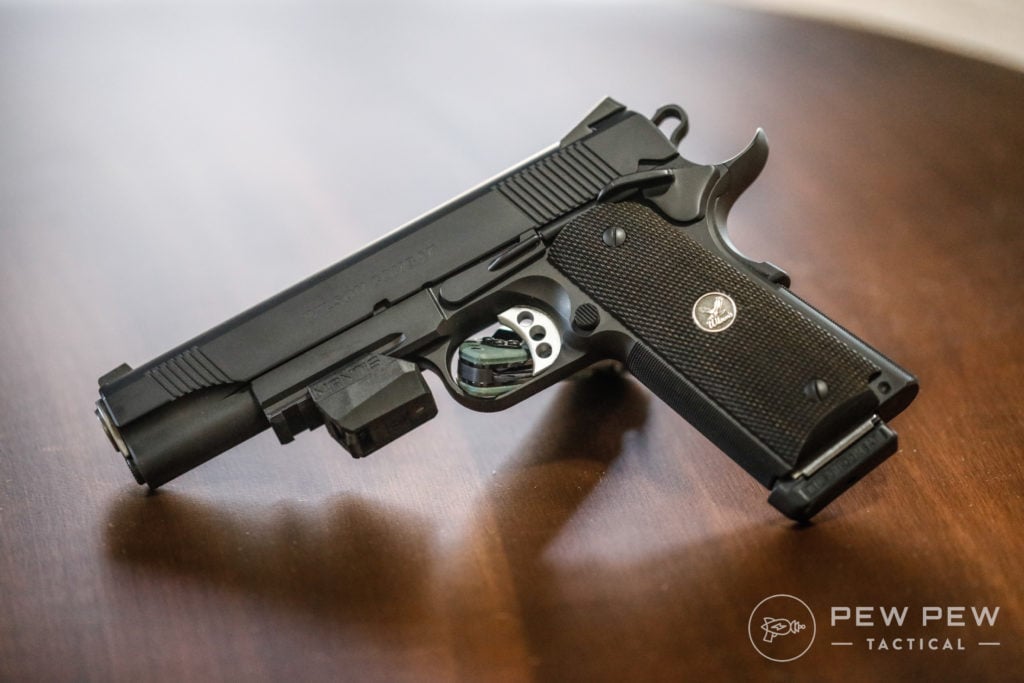 One complaint I had was that the mini tripod features a phone holder that's way too small for my phone. The standard-sized model works fine, though.
Also, it comes with zero instructions. There are videos online, but I really prefer something I can reference when I'm using my phone as an app. I either have to switch between apps to learn or use two separate internet-connected devices.
Final Thoughts
Ultimately, I think Mantis has a winner on its hands. It's an excellent system that encourages you to dry fire. The Laser Academy is far from boring, and that 15 minutes of dry fire every night will fly by.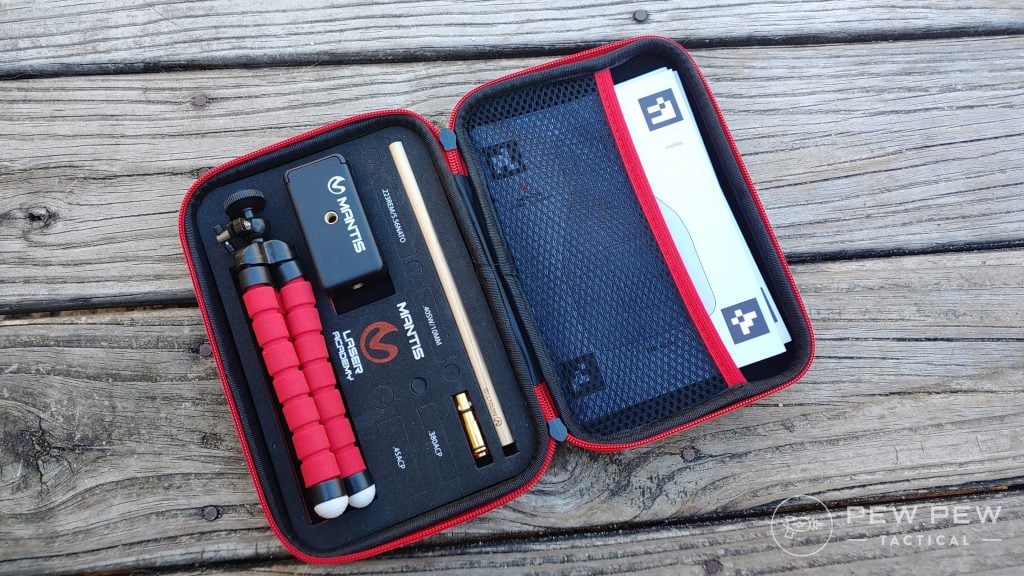 It will honestly become a part of my training and part of my review process for firearms. It's a great way to get the hang of a gun's controls, trigger, and more.
Do you have any experience with the Mantis Laser Academy? Let us know below. Want to work on your dry fire even more? Check out our At Home Dry Fire Guide!