SHOT Show 2023 has come and gone, and Pew Pew Tactical was on the ground, checking out all the cool, new guns the industry had to offer.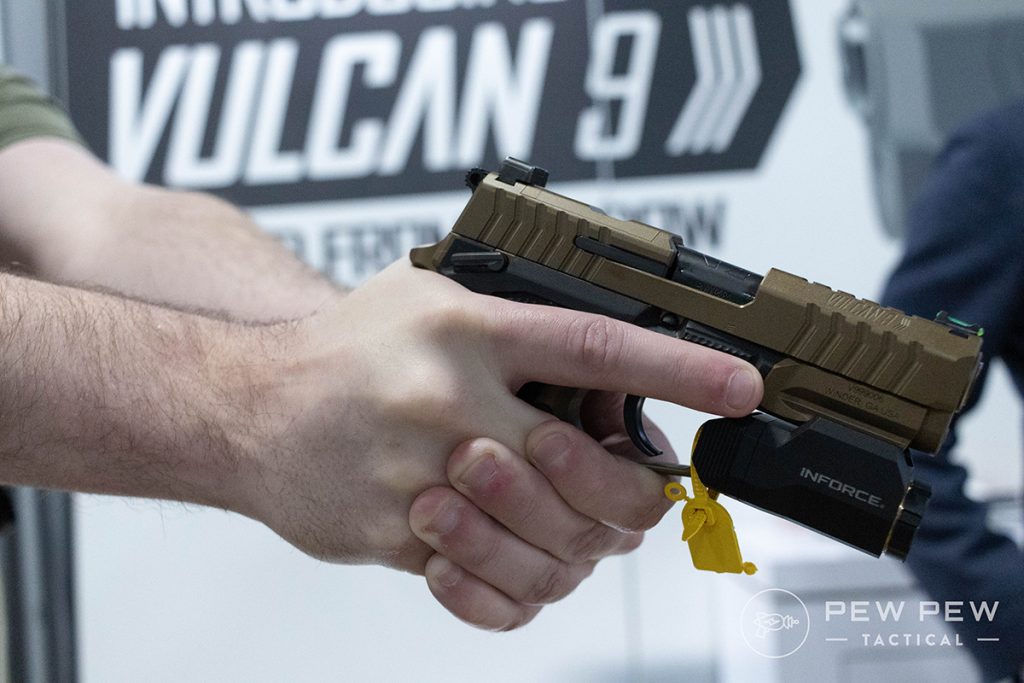 Keep reading as we walk you through some of our team's favorite pistols, rifles, and shotguns of SHOT Show!
Sean Curtis contributed to this article.
Best Guns of SHOT
1. Lionheart Vulcan
The Lionheart Vulcan is the next evolution in the Lionheart offering.
Sliding in after the Regulus, this 9mm comes optics ready with support for the 407k/507k, Shield RMSc, Trijicon RMRcc, and Sig RomeoZero Elite footprints – no adapter plates required.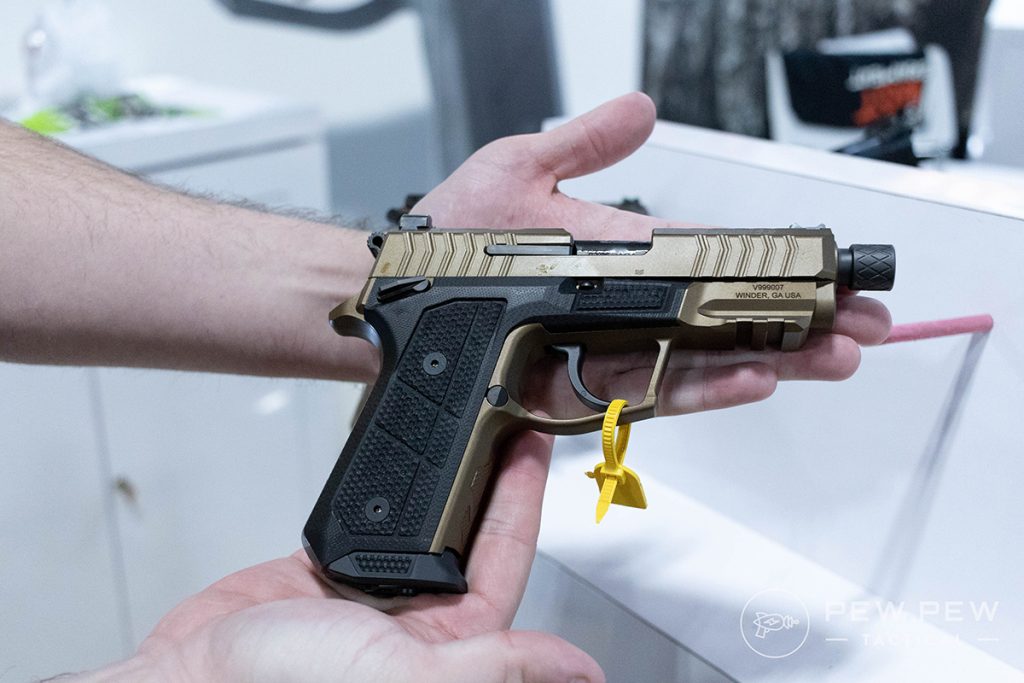 In addition to the optics compatibility, the pistol ships with P365 dovetail sights that co-witness with most optics.
An interesting addition to the pistol frame is the Rapid Engagement Grip System – basically, a pronounced thumb rest that helps shooters better control recoil as they shoot.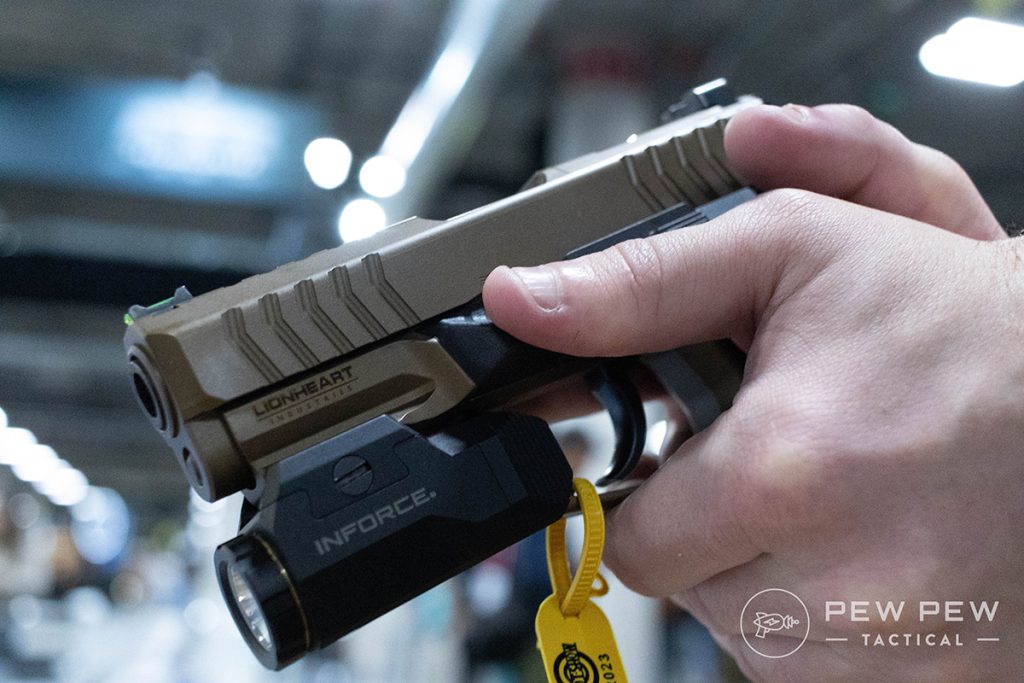 Rounding out the notable features are two flush-fit 15-round magazines made by Mec-Gar. (10 and 18-round mags should be available soon.)
If you want a cool upgrade, spring for the multi-tool baseplate, which gives you a handy little multi-tool in the baseplate of your mag.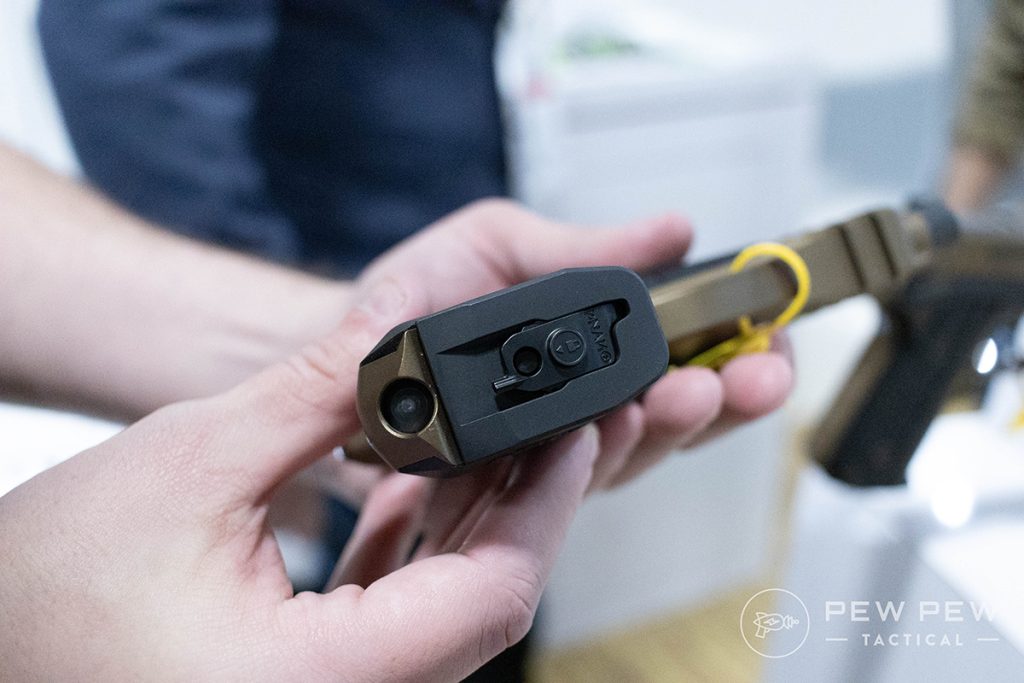 In total, the Vulcan will offer four models with prices ranging from $1,200 to $1,400. The pistol is expected to hit consumers in April 2023.
2. Palmetto State Armory STG 44
Retro guns are making a comeback and one, in particular, caught our eye on the SHOT floor. PSA's STG 44 brings a classic look and feel to the reproduction genre.
With four calibers to choose from – 5.56, 7.62×39, .300 BLK, and, yes, the OG 8mm Kurz – the STG 44 represents the first in the company's upcoming "Battlefield" gun lineup of classic military firearms.
Check out our Instagram video below to get even more deets!
It accepts standard AR-15 magazines, or you can go full retro with the provided mags, which offer that retro look.
A la the original, it sports stamped sheet metal but also incorporates a 1/2×28 and 5/8×24 threaded barrel up front if you want to add some modern accessories to it.
MSRP is expected to be around $2,000, with a release date of later this year.
Want to check out more PSA goods? Head over to our list of almost all of PSA guns!
3. IWI Carmel
The IWI Carmel is a short-stroke piston rifle chambered in 5.56. It offers fully ambidextrous controls with a unique and easy reversible charging handle. Lefties rejoice!
Other notable features include a cold hammer forged barrel, 3-position gas regulator, 2-stage trigger, enlarged trigger guard, and folding stock (which allows you to still fire even when folded).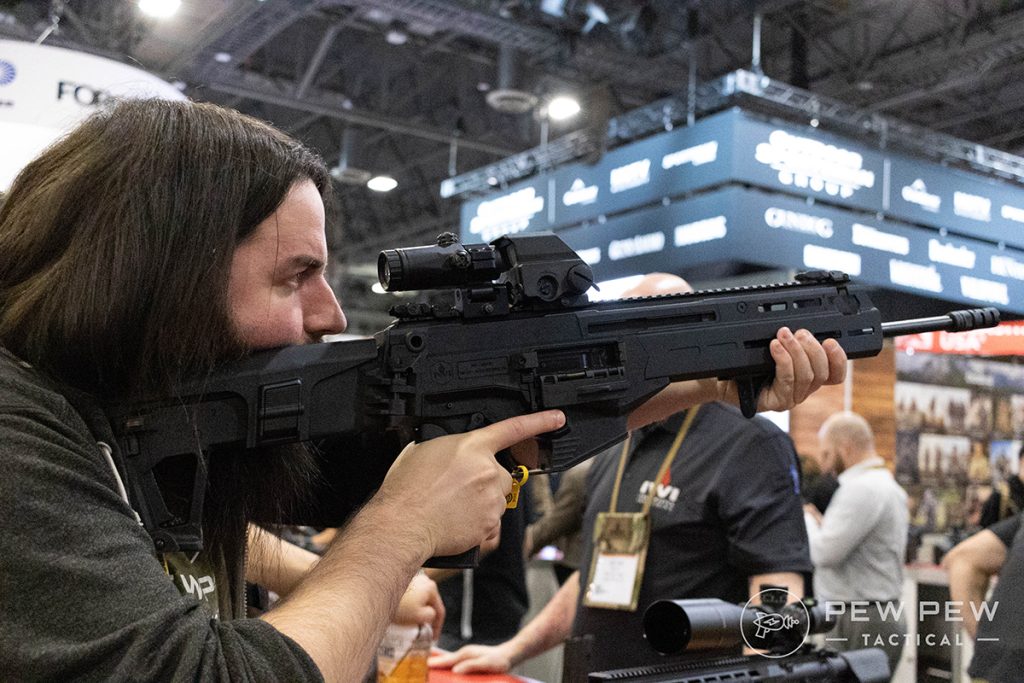 A nice perk is that the rifle takes standard AR-15 magazines, so spare mags should be easy (and cheap) to source.
When we stopped by the IWB booth, we were told that initial guns were producing groups of around 1 MOA…sometimes less than that.
MSRP on the IWI Carmel is listed as $1,800, with an expected release date of April 2023. While you wait, head over to our review of the IWI Tavor for a sweet bullpup.
4. Smith & Wesson M&P 5.7
5.7x28mm is gaining traction, and now Smith & Wesson has entered the chat with the new M&P 5.7.
The pistol follows the familiar M&P design but with the added benefit of being the thinnest 5.7 on the market.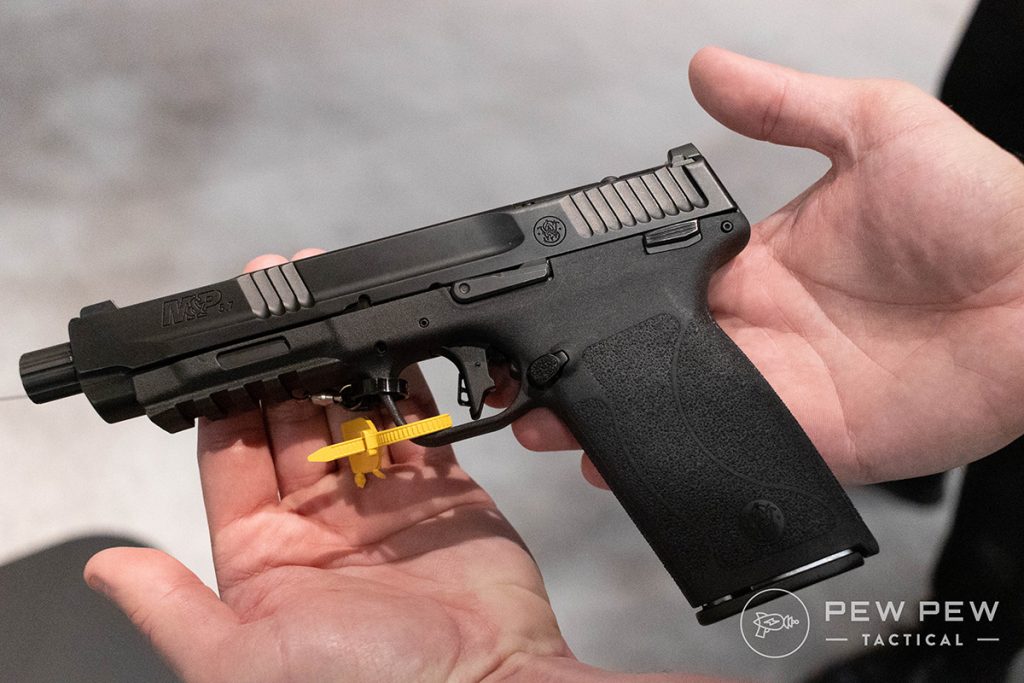 It's got all the modern features you could want, including an optics-ready slide, threaded barrel (1/2×28), and flat face trigger. The M&P 5.7 uses an internal hammer-fired design with a gas-operated, locked breech rotary Tempo.
Capacity sits at 22+1 and will ship with two mags. (Spare mags are expected to be priced around $30.)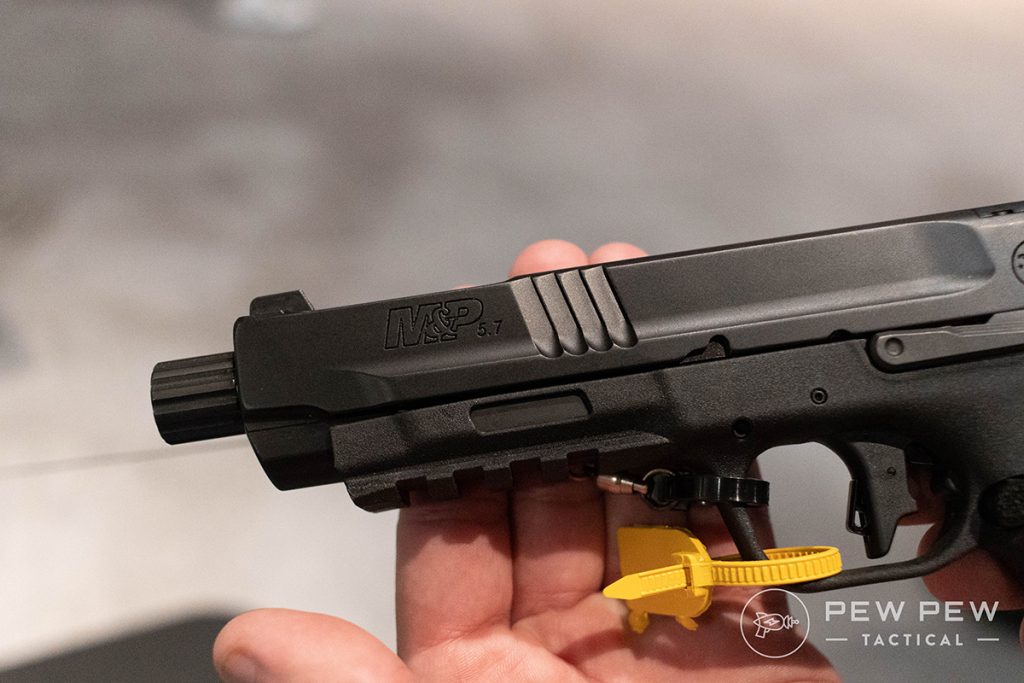 MSRP is $699 for both the thumb safety and no thumb safety versions, but street prices will likely rest around $650.
Keep your eyes peeled for a full review on this (and more 5.7) here on Pew Pew Tactical soon!
While we wait for the 5.7, check out another of our other favorite 5.7 models over on Pew Pew Meter — the Ruger 57 — or read our review of the PSA Rock.
5. Beretta A300 Ultima Patrol
We couldn't have a list without at least one shotgun and Beretta's latest – the A300 Ultima Patrol – is definitely worth a look.
The Italian firearms giant has created a new version of the proven A300 platform. While it may have design notes intended for law enforcement, it's a great option for the defensive market too.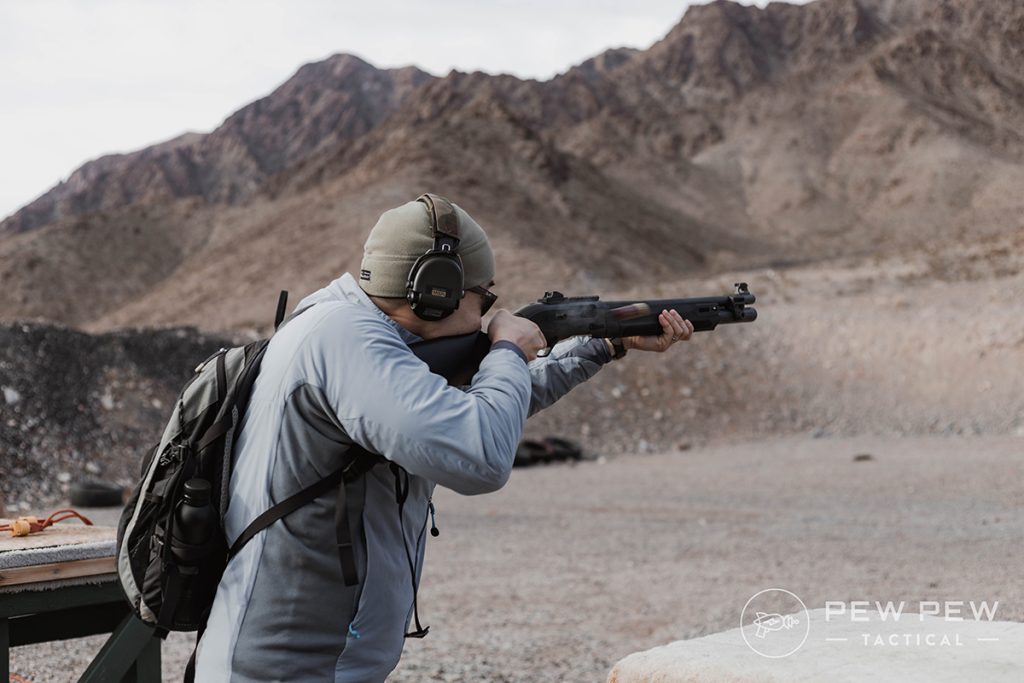 At its heart, the A300 Patrol is a gas-operated, 3-inch chambered, 12-gauge with a 7+1 capacity via a native (non-extended) magazine tube. It features a non-rotating bolt head to save costs over the 1301.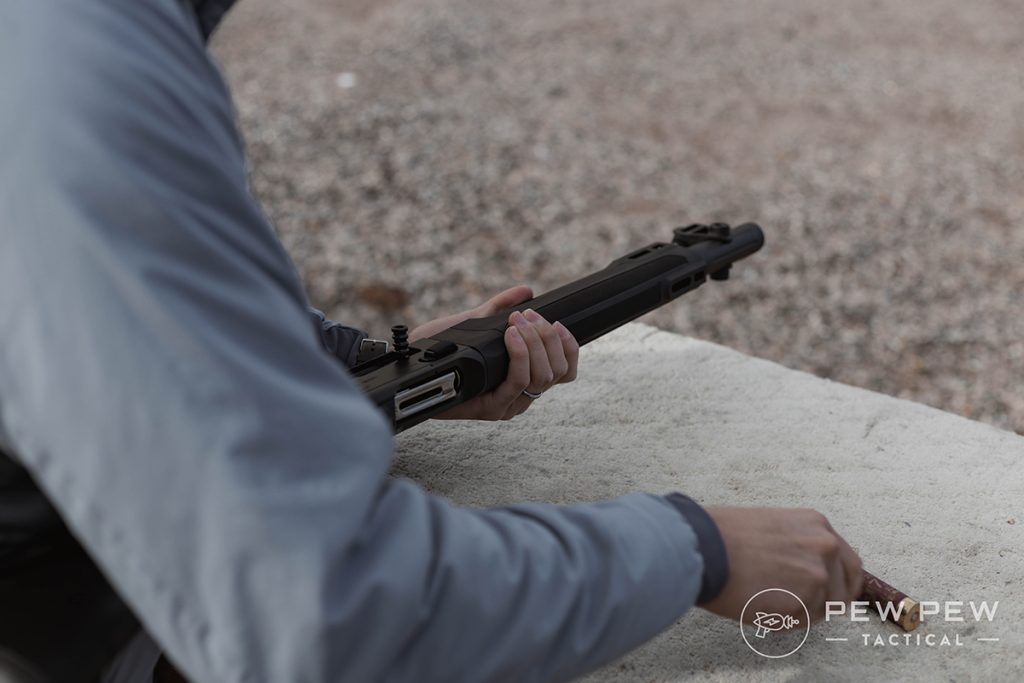 In addition, the forend includes M-LOK for mounting accessories, and the receiver has a Picatinny rail for mounting optics.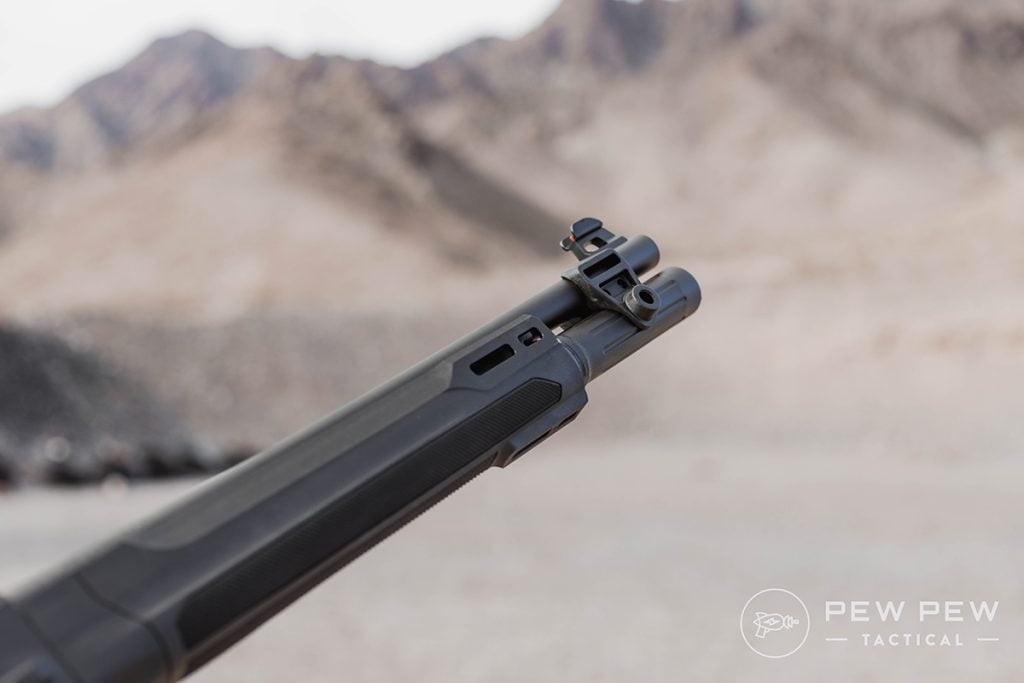 We got to fire a few rounds and really enjoyed this new thumper from Beretta. While it will run a wide variety of ammo, the Patrol is optimized for Federal Flite Control buckshot.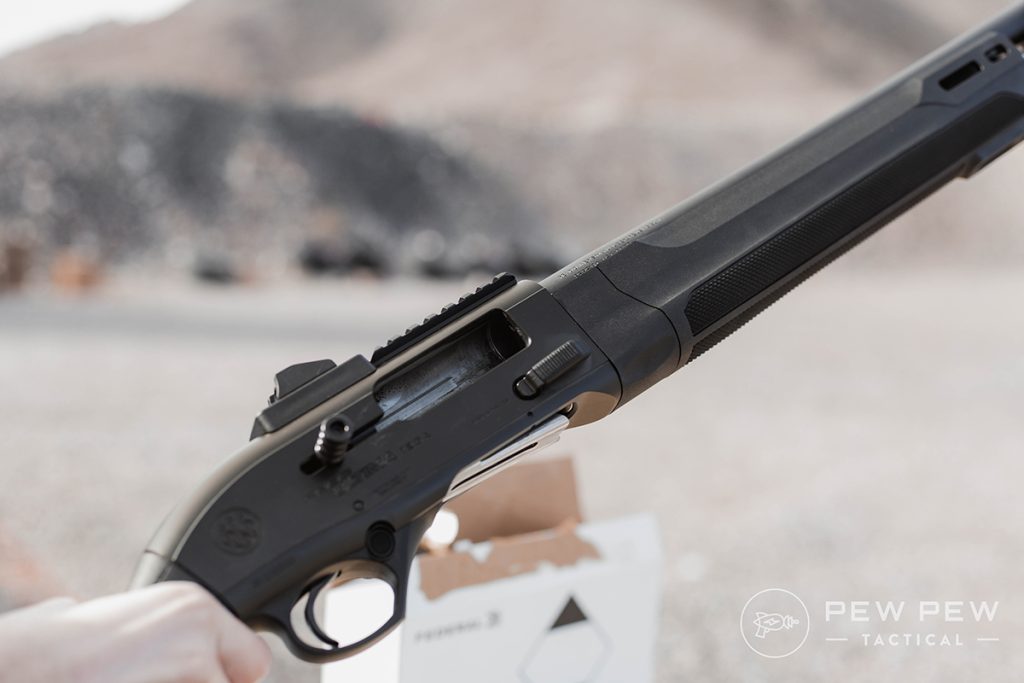 Beretta says the MSRP is $1,099; look for a full review on the Patrol coming soon! For more on shotguns, head to the 10 Best Home Defense Shotguns.
6. Sig Sauer Rose
A collaboration with pro-shooter Lena Miculek, the Sig Sauer Rose brings an interesting option to female shooters.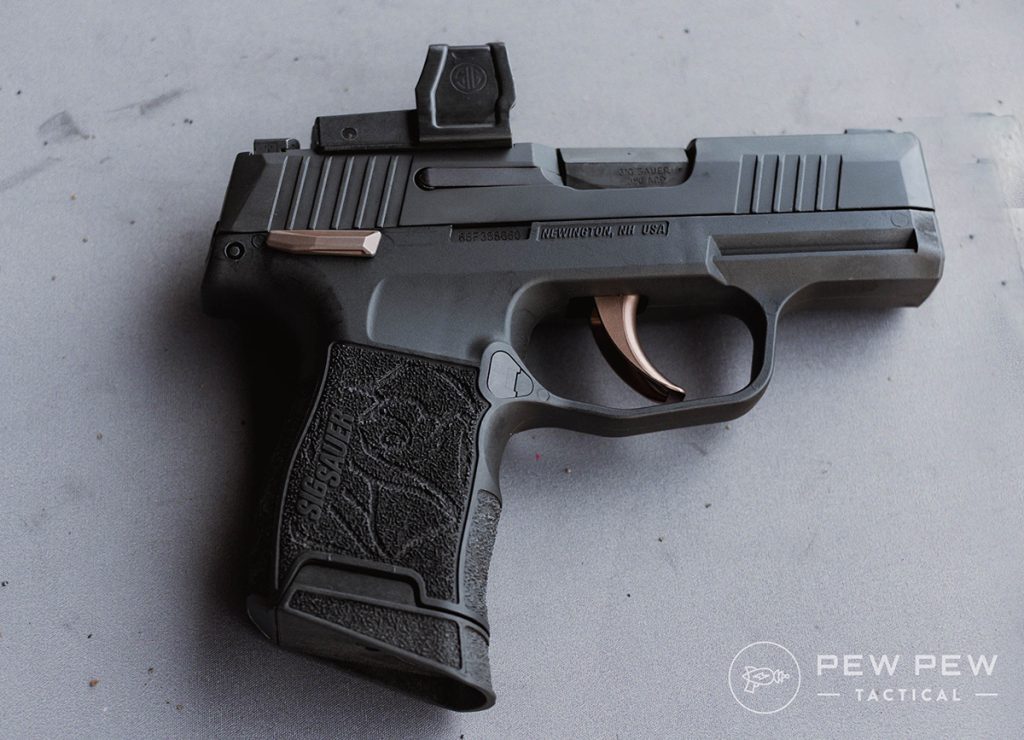 While our Editor-in-Chief was initially skeptical of the pink aesthetics (there are other colors, y'all, just saying), the more we dug into this package, the more we liked what Sig had to offer.
The premise of the Rose is you get everything you need to start your firearms journey all in one package.
P365-380 Rose (.380 ACP) or P365-XL Comp Rose (9mm)
Two magazines
Dummy rounds for training
Vaultek Lifepod pistol safe
Magazine loader
Access to online training series with Lena Miculek.

We really like that it comes with both dummy rounds AND a pistol safe to help new shooters train and safely store firearms. Plus, online training videos with Lena Miculek…sign us up.
All in all, this will be an excellent package for newer shooters interested in home defense or carry!
No word yet on price.
Ready to learn more about the P365 platforms? Check out our review of the P365 or P365XL.
What do you think of the Rose? Rate it below!
7. Aero Precision Solus
Aero Precision unveiled two new bolt-action rifles – one designed for competition and the other for everyday use.
The Solus series, chambered in 6.5 Creedmoor, comes in either the Bravo or Competition models, with each serving a specific purpose.
First up, the Bravo caters to target shooters and hunters looking for a lightweight rifle to take to the range or out into the field.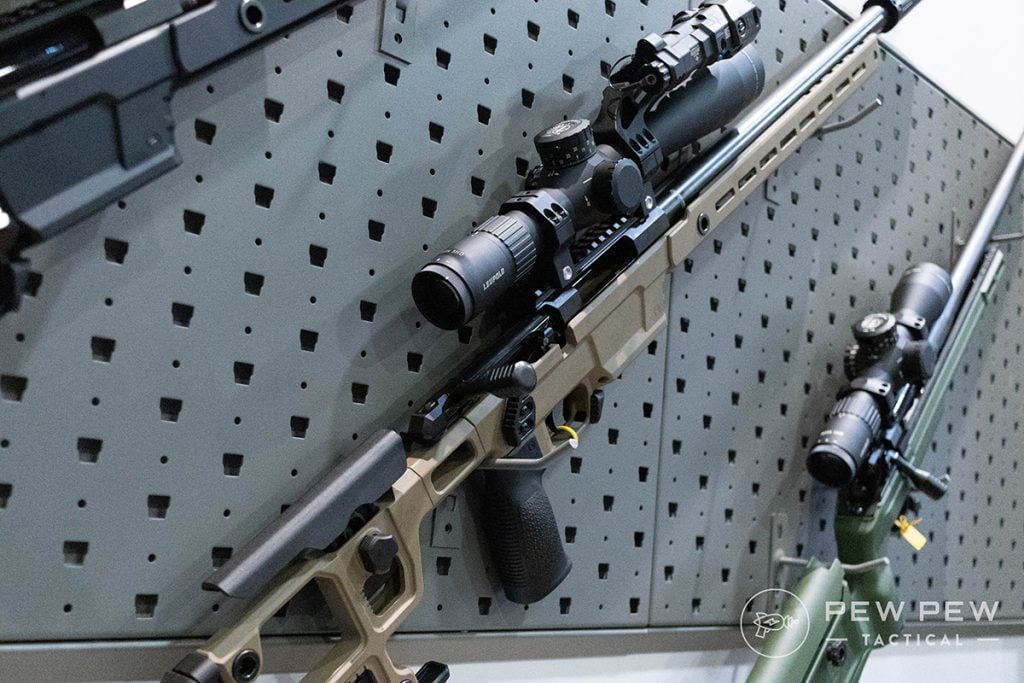 It features a 22-inch Sendero profile barrel with a Remington 700 short action footprint. On the features side, shooters get an adjustable length of pull and adjustable cheek comb height, as well as an M-LOK compatible forend, while the trigger is a Solus single-stage variant.
It ships with a Magpul PMAG but is AICS detachable box mag compatible.
1624
at Aero Precision
Prices accurate at time of writing
Prices accurate at time of writing
On the other side of the series is the Solus Competition Rifle, designed for shooters who need precision from the jump.
Again, it uses the Remington 700 footprint and sports AICS mag compatibility but also works with AIAIW mags as well.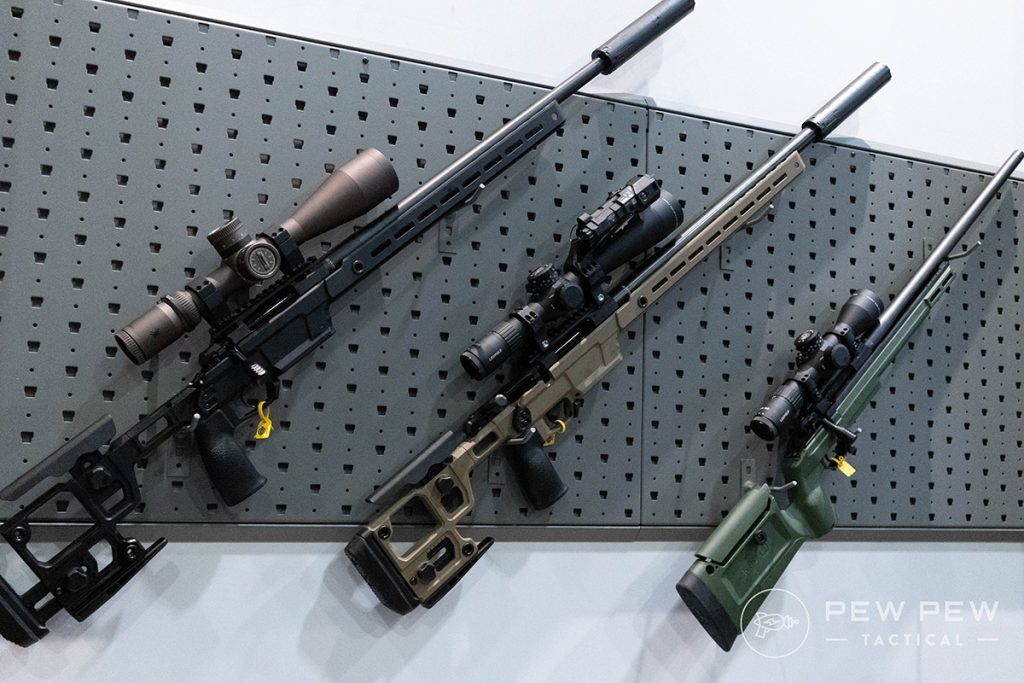 Offering a few more upgrades over the Bravo, the Competition comes with plenty of adjustment options, including magazine catch, thumb rest, stock, and cant recoil pad.
The Solus Competition wears a TriggerTech Single Stage Trigger and Solus Competition Chassis and is compatible with an optional night vision bridge and spigot mount.
MSRP on the Competition model is $1,999, while the Bravo comes in a little lower at $1,624.
1999
at Aero Precision
Prices accurate at time of writing
Prices accurate at time of writing
8. Bear Creek Arsenal .300 Win Mag
In our tour of the SHOT Show dungeon, as it's affectionately called, we stumbled across something pretty cool on the way from Bear Creek Arsenal.
At the onset, it looks like your everyday AR, but this bad boy is a magnum-action AR platform rifle. We're big fans of big calibers, so we were excited to see this!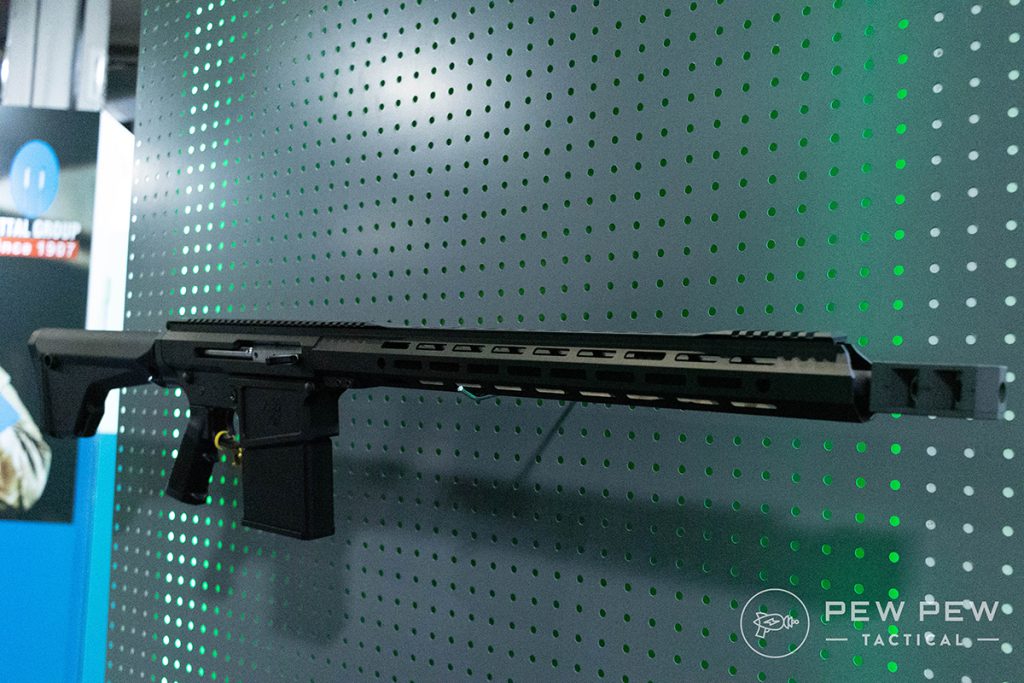 Expected release date is May-ish 2023, and initial caliber selection is as follows: .300 Win Mag, 7mm Rem Mag, 30-06, and 270 Winchester. (Personally, we want the .300 Win Mag…go big or go home, as they say.)
Notable features include a side charging handle, large muzzle brake, and 10-round mags.
Bear Creek says the model we saw was more or less a prototype, so price point is a little fluid, but that said, it is expected to be between $1,000 and $1,500.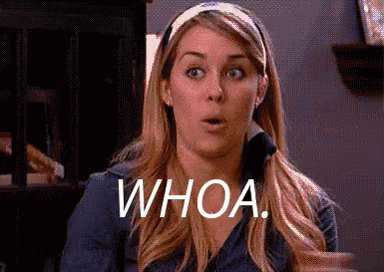 Keep it turned to Pew Pew Tactical because we'll have a review of this as soon as we can get our hands on one.
9. Oracle 2311
The Oracle 2311 is what happens when you mush a 2011 and a Sig together – and it's not a bad pairing!
Blending that race gun aesthetic with the reliability of a duty gun, the Oracle 2311 bridges the gap between the two worlds with style.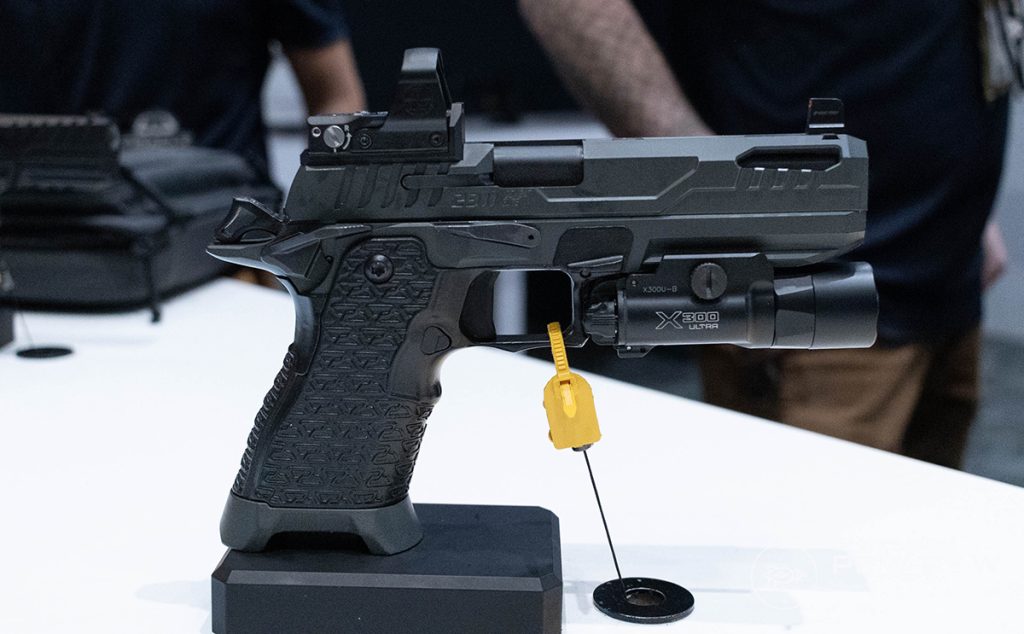 Chambered in 9mm, the Oracle comes in five different models – Compact, Compact Elite, Combat, Combat Elite, and Competition — so there's plenty of room to dial in what you want.
It brings Sig P320 mag compatibility, which is nice in terms of affordability and availability.
Cool features on this pistol include a modular grip and magwell, four interchangeable slide plates (RMR, DPP, and RMSc pattern), and a patented debris system that keeps the gun cleaner and running longer.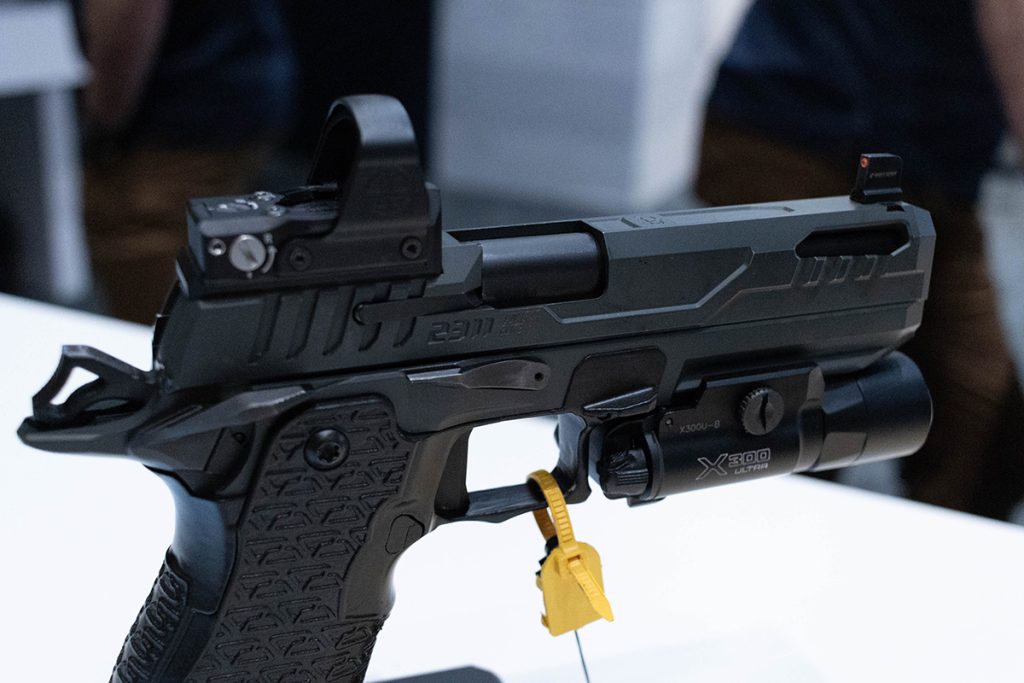 Each model has its own accouterments, but you can expect to see three 15-round mags with the base Compact and Combat models and five mags for the Competition and Compact Elite.
Worth mentioning the Competition model is a 21-rounder, not a 15-round.
The Combat Elite also comes with five mags but splits the difference with two 17-round mags and three 21-rounders.
MSRP starts at $1,699 for the Compact and heads north from there with the Compact Elite sitting at $1,999; the Combat at $2,199; Combat Elite at $2,599; and the Competition coming in at the high end at $2,999.
What are you most excited to see in 2023? Let us know in the comments below. To compare this to what we wanted to see, check out our Most Anticipated Products of SHOT.