One of my favorite things to do when spring comes around is to make myself learn something new. Last year it was kayaking, and this year it's been bushcraft.
Do you know what's often at the core of bushcraft…a good bushcraft knife.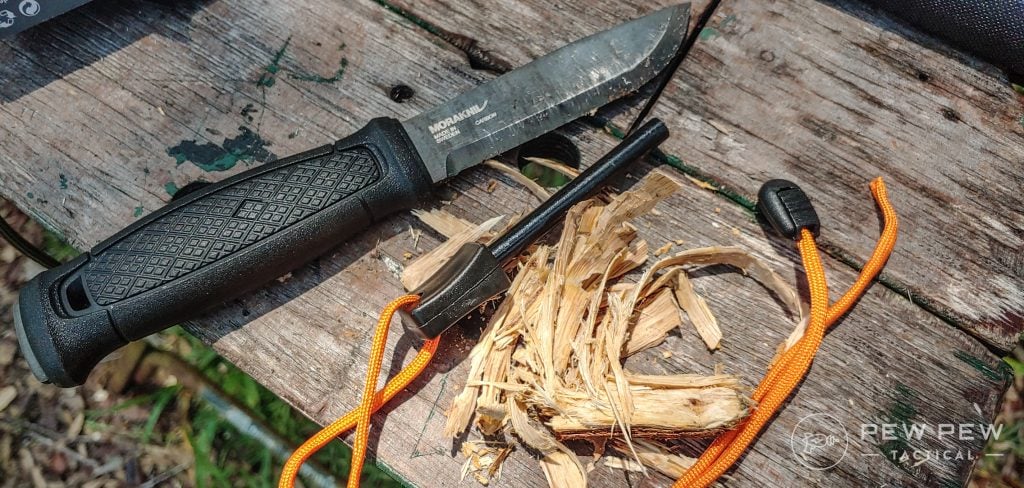 But how do you know if you're getting a good bushcraft knife? And what should you be looking for when you're shopping?
No worries, I got you covered.
I'm going to walk you through what bushcrafting is (and how it differs from survival), why you need a bushcraft knife, and what qualities make one good or not so good.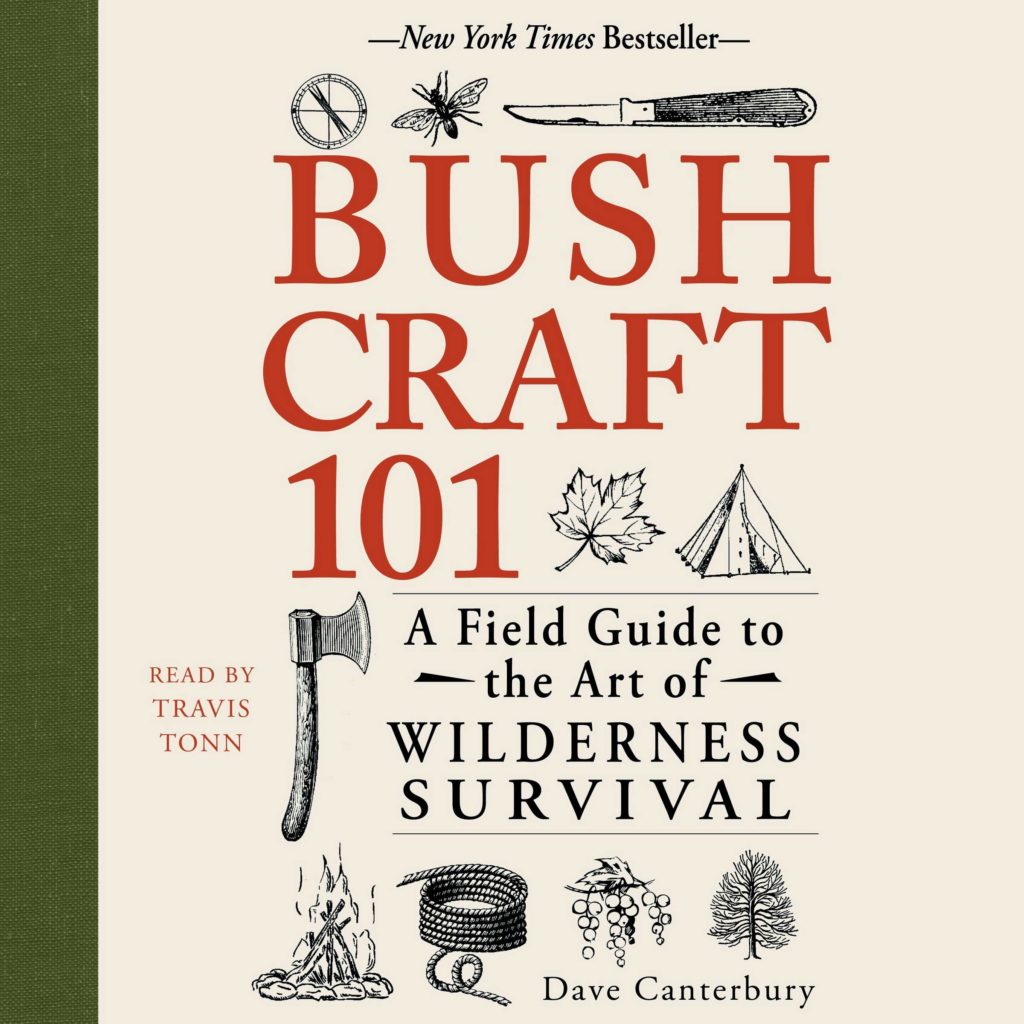 Then we'll end on a few models I recommend.
By the end, you should have a better understanding of what to watch out for when you're on the hunt for a new bushcraft knife.
So keep reading…
Table of Contents
Loading...
What Is Bushcraft
My journey with bushcrafting started as just trying to learn what I thought were general outdoor survival skills.
As I got deeper and deeper into the hobby and skillset, I found I was learning bushcraft techniques…not just survival tips. 
So what's the difference between survival and bushcraft? 
Think of survival skills as the bare minimum… the baby steps to bushcraft.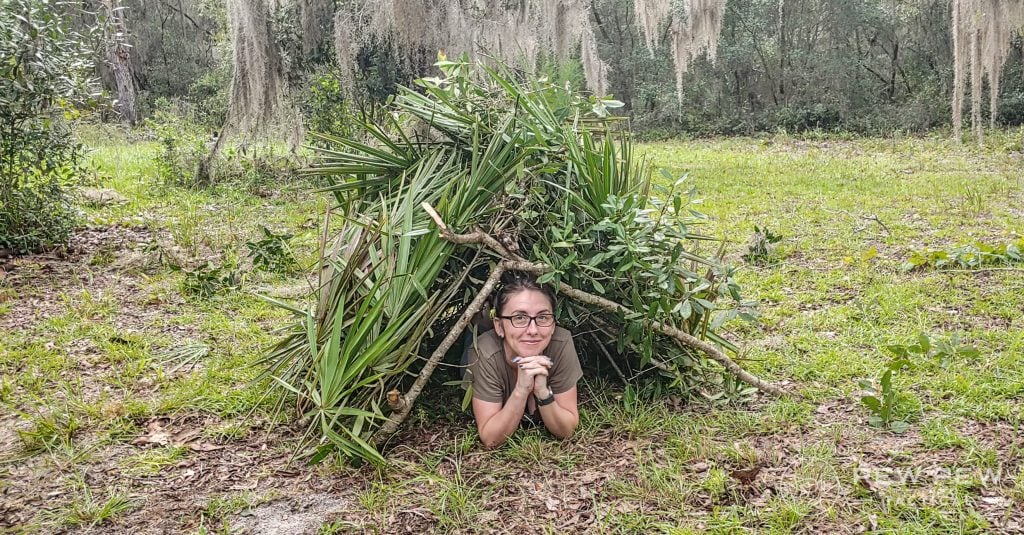 Bushcraft goes beyond survival.
It uses some of the same skills, like building shelter and starting fires, but pushes it further than the basics.
This style often relies on primitive skills used by early men that can be used long-term.
A person with great bushcraft skills can just go in the woods and live for an unspecified amount of time.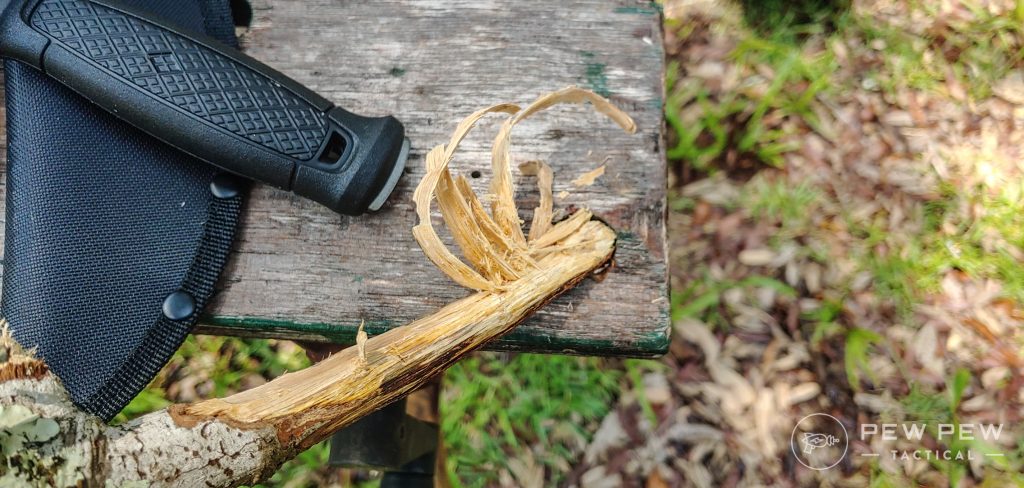 On the other hand, survival skills relate more to short-term needs centered on signaling and obtaining help.
An experienced bushcrafter could survive and even thrive in the great outdoors. In fact, they often enjoy the challenge. 
So with that in mind, are survival knives and bushcraft knives different?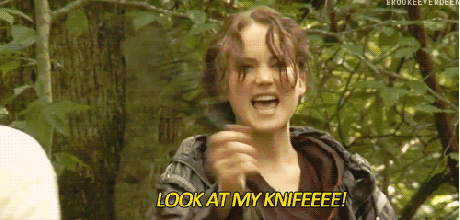 Yes, in many ways, they are…but as you'd imagine, there's a lot of crossover between the two genres.
Dedicated survival knives tend to be large and heavy knives. They often try to be a knife, a machete, and a hatchet all in one.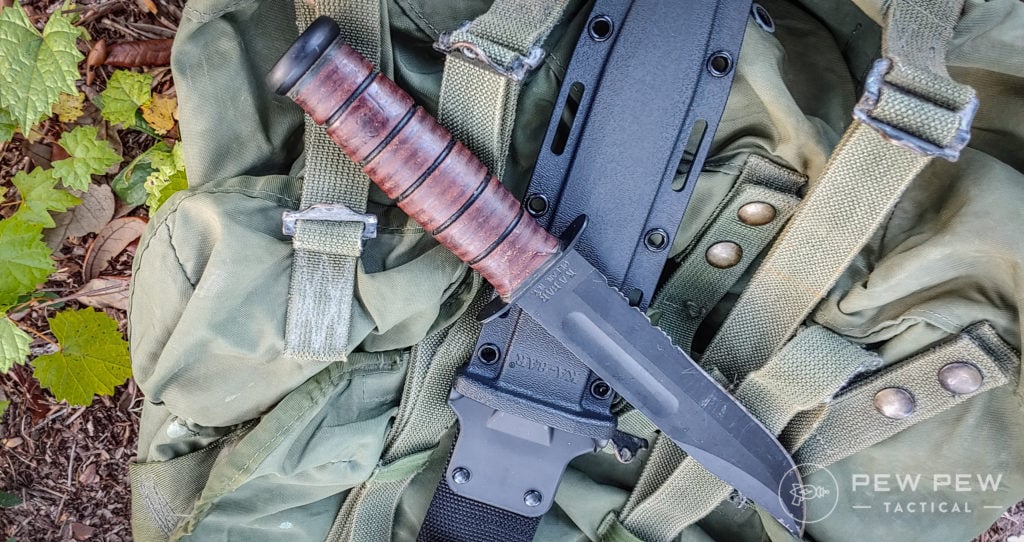 Bushcrafters will bring other tools. If they need a hatchet, they will have a hatchet, a machete, etc.
So, bushcraft knives can be smaller and lighter. They are not relied on for a dozen tasks.
A bushcraft knife is often complimented well by a folding knife or a multitool.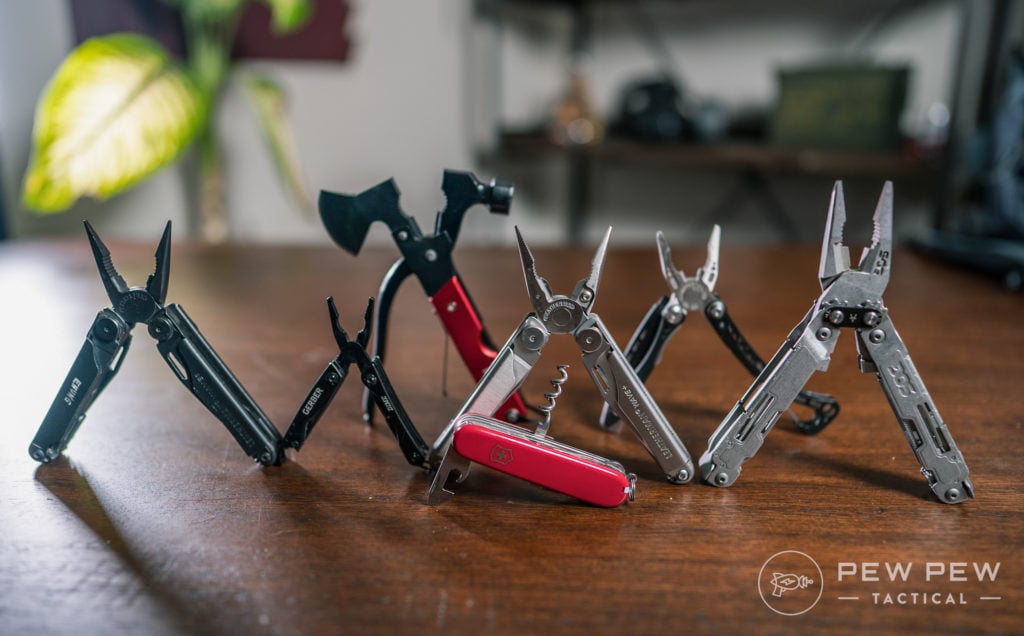 A bushcraft knife is one that can also make tools and should be designed as such.
They can also make kindling, bow drills, pot hooks, spoons as well as sharpen sticks into points and baton wood. 
What Makes a Good Bushcraft Knife
A dedicated bushcraft knife has a few must-have design features.
These ensure it's a rugged, investment-worthy knife that will take years of abuse and last.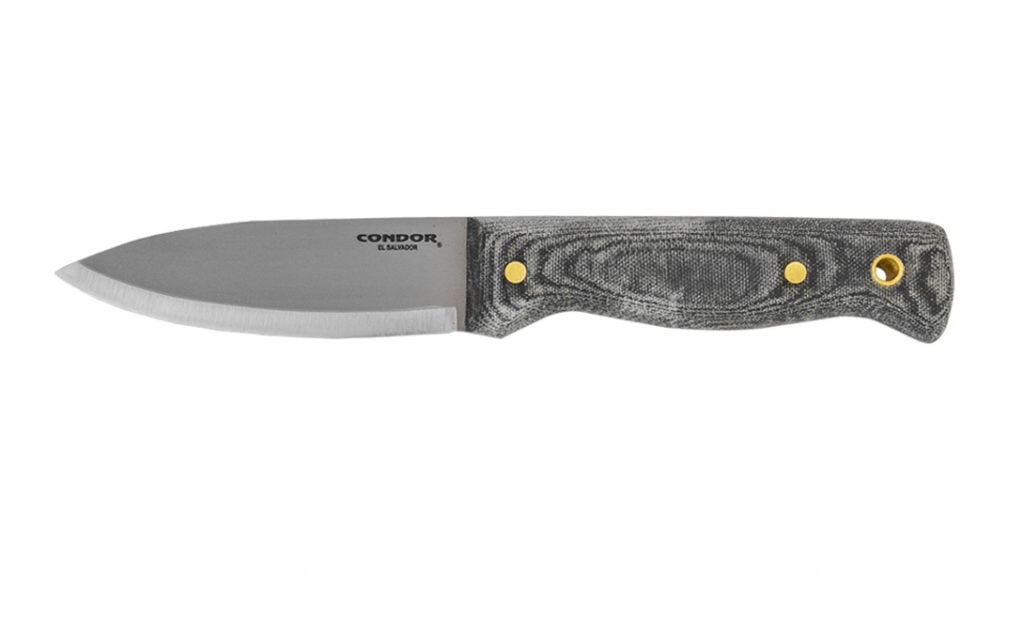 Aside from a durable design, there are a few other characteristics these knives should have, so let's break those down…
Fixed Blade
Yep, pretty simple…a bushcraft knife should have a fixed blade. Folders can accentuate a bushcraft knife, but for dedicated work, a fixed blade is best. 
There are dangers of a lock falling or breaking with a folder — no need to care for internal mechanisms with a fixed blade.
A good fixed blade knife is always more durable than a folder.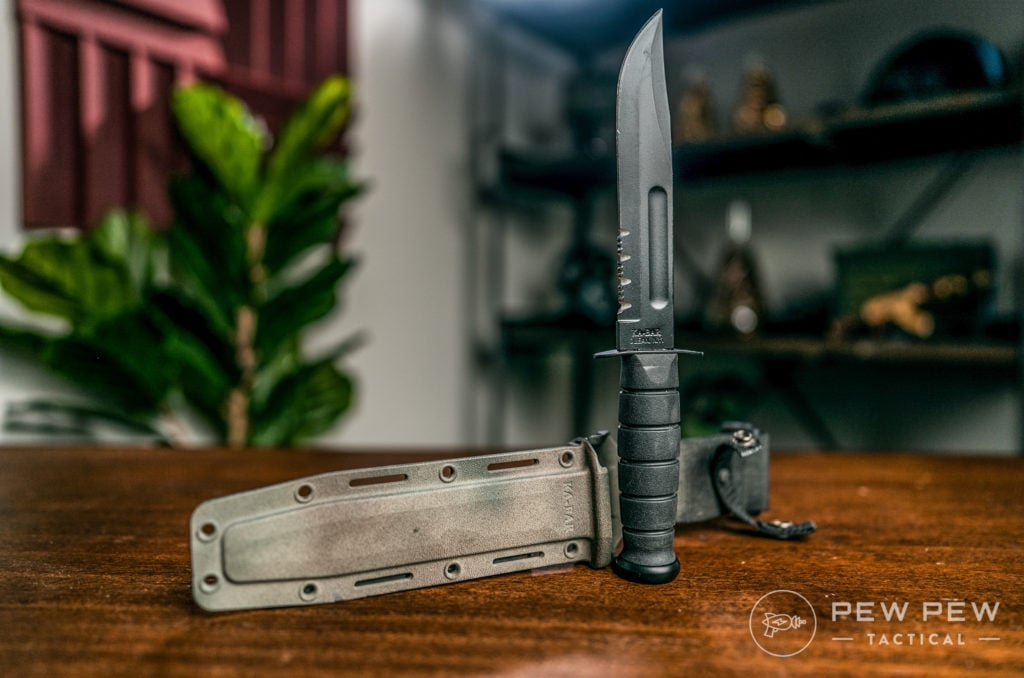 Full Tang Construction
Full tang means the blade and handle are one piece of metal. It offers the most durability.
The handle can be outfitted with grip panels, though, for comfort.
Moderate Length Blade
A big ole Ka-Bar is great when you might need one knife to do it all. But for Bushcraft, it's just too much.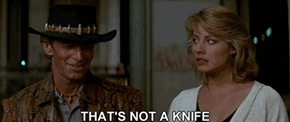 The longer blades are tougher to control and suck for fine work. A blade length between 3.5- to 5.5-inches works well for bushcraft tasks. 
Squared Spine
Squared spines are awesome for various tasks.
It doesn't need to be perfectly squared like a Morakniv, but it helps. This shape should be squared enough to strike a Ferro Rod to create sparks.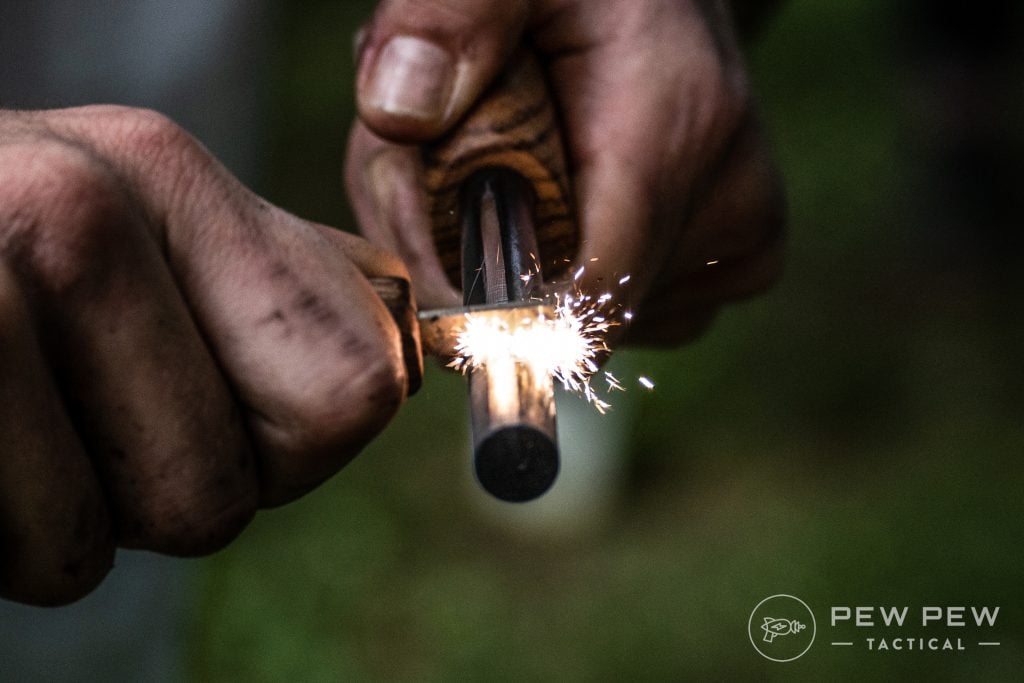 The square spine also makes it easier to baton wood and turn sticks into kindling.
Comfortable Grip
Unlike most other knives, a comfortable grip is a must-have on a bushcraft knife.
You'll work hours at a time with one, so comfort is critical. A knife that causes hot spots will cause blisters eventually. That's no fun.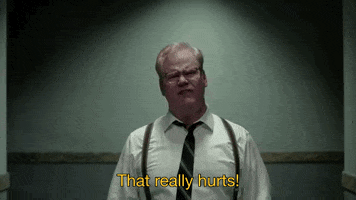 I love my Emerson PUK…the aggressive G10 grips are great for fighting…but not for bushcraft.
You'll still want a safe grip that clings to your hand, but comfort should be a priority.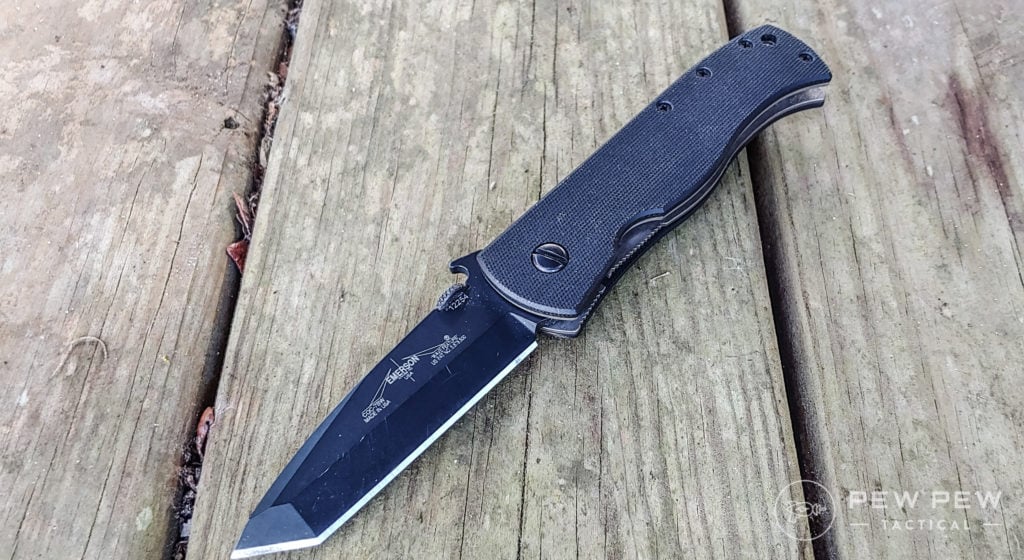 Stainless Steel vs. Carbon Steel?
I don't want to dive deep too far into this argument because it's been raging for years. (Kinda reminiscent of 9mm vs. 45 ACP.)
For bushcraft purposes, you can go either way. However, carbon steel works better with striking robs for fire.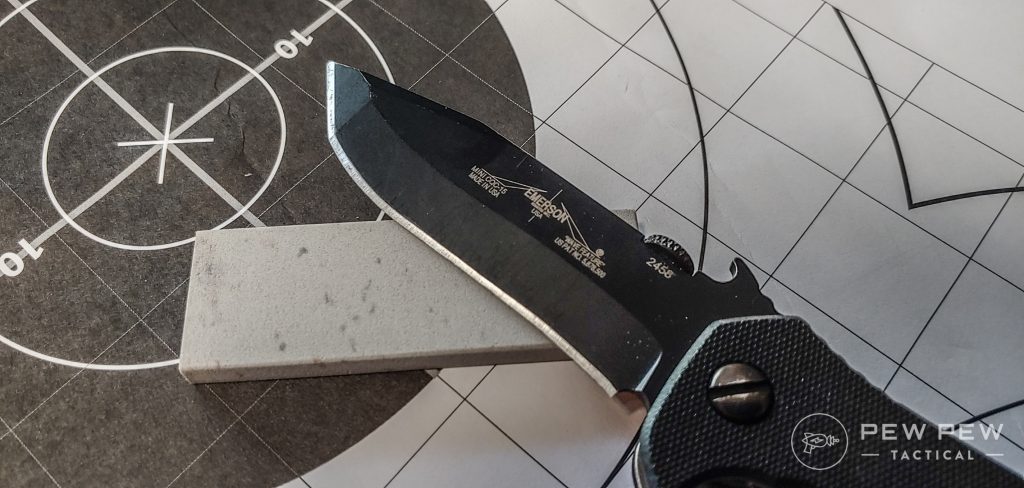 Stainless steel doesn't rust nearly as fast as carbon steel and requires less maintenance.
Honestly, it's just best to evaluate your needs, ability to sharpen a knife, and how much time you want to spend maintaining your gear. 
Best Bushcraft Knives
1. L.T. Wright GNS 
L.T. Wring is a knife designer that focuses largely on bushcraft blades.
His designs are among some of the best for bushcraft purposes and the GNS is the flagship of the knife company and has all the features Mr. Wright prefers.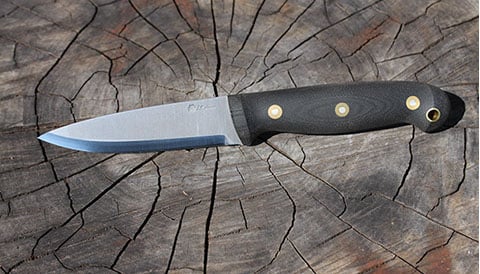 It offer a Scandi grind, a centerline point, and a squared spine. Not to mention, the 4.25-inch blade is plenty of knife for bushcraft use. 
The combination makes the GNS an excellent tool for making tools. Its blade is made from O1 tool steel — premium-grade steel for bushcraft needs. 
O1 steel is easy to sharpen, holds a good edge. It's extremely strong and very capable.
The downside comes down to its poor corrosion resistance. Other than that, it's a great choice.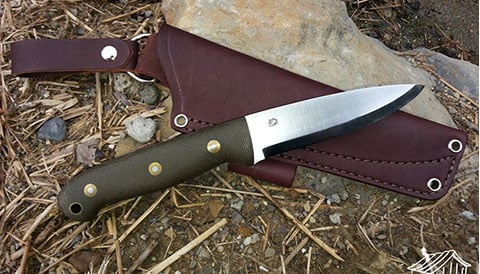 It's a simple knife that makes it easy to feather sticks, create bow drill holes, whittle, and beyond.
The micarta grips give you a comfortable and well-textured design for hours and hours of work. 
Stand Out Features
Great steel 
Versatile blade design 
Comfortable grip 
189
at Blade HQ
Prices accurate at time of writing
Prices accurate at time of writing
2. Morakniv Garberg 
Swedish company Morakniv has produced knives for well over a century.
Morakniv designs started for lumber use and eventually evolved into a very successful line of bushcraft knives.
The Garberg combines the winning Morakniv design with a full tang.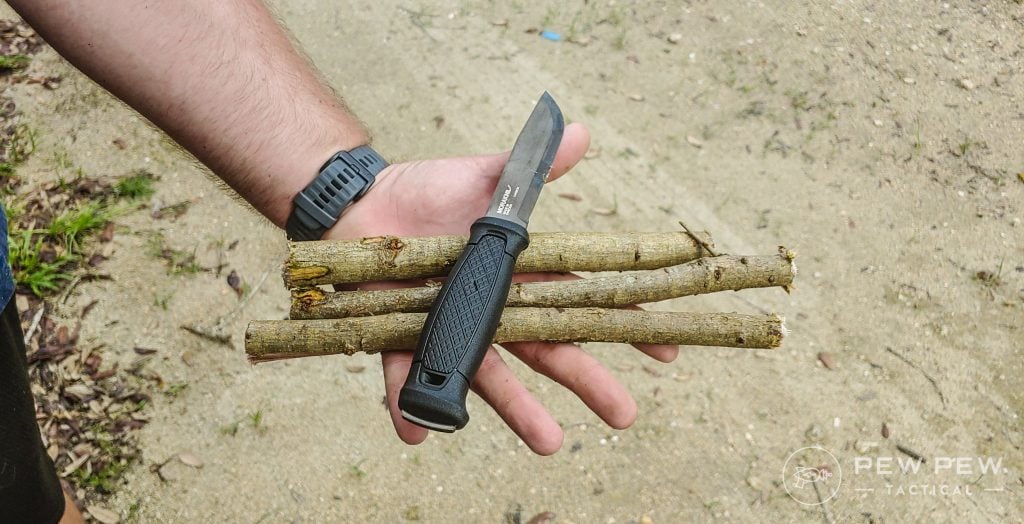 Users get a perfectly squared spine for striking Ferro Rods with ease.
The blade comes as either carbon steel or stainless steel, so you can choose which setup you want.
With a 4.25-inch long blade, the Garberg provides plenty of Scandi grind blade for cutting and slicing. You can carve, whittle, and drill with the clip-point blade rather easily.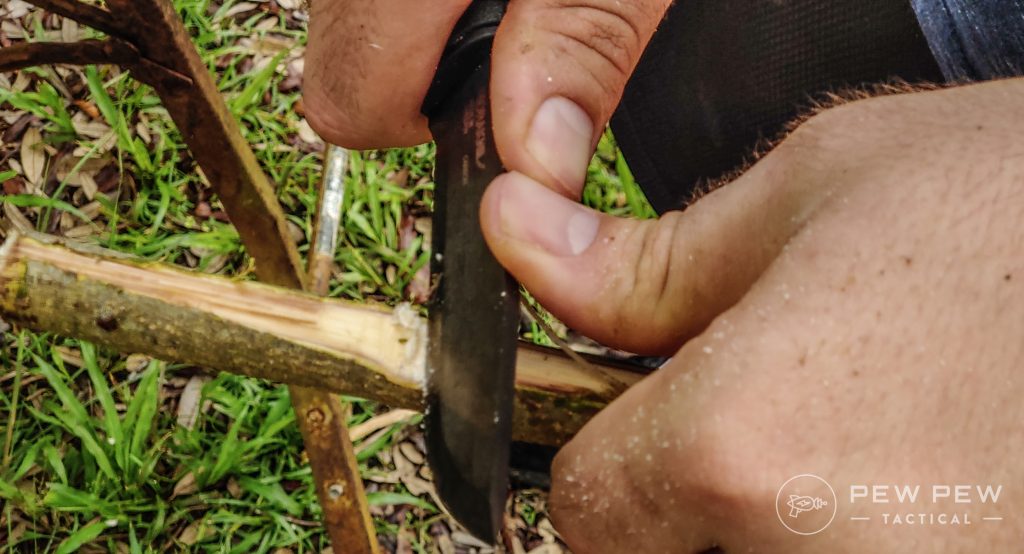 The ultra-awesome handle is super comfortable with a good bit of grip texture that combines comfort and safety while you work.
Plus, the multi-mount sheath rocks for various uses.
Stand Out Features
Perfectly square spine
Comes in both carbon and stainless steel blades
Awesome grip design.
84
at Amazon
Prices accurate at time of writing
Prices accurate at time of writing
3. Condor Tool and Knife Bushlore Camp Knife 
If you want something a little more affordable than most, the Condor Tool and Knife Bushlore Camp is a great starter.
Maybe you want to experiment a bit with some backyard bushcrafting…the Bushlore Camp Knife is perfect for learning.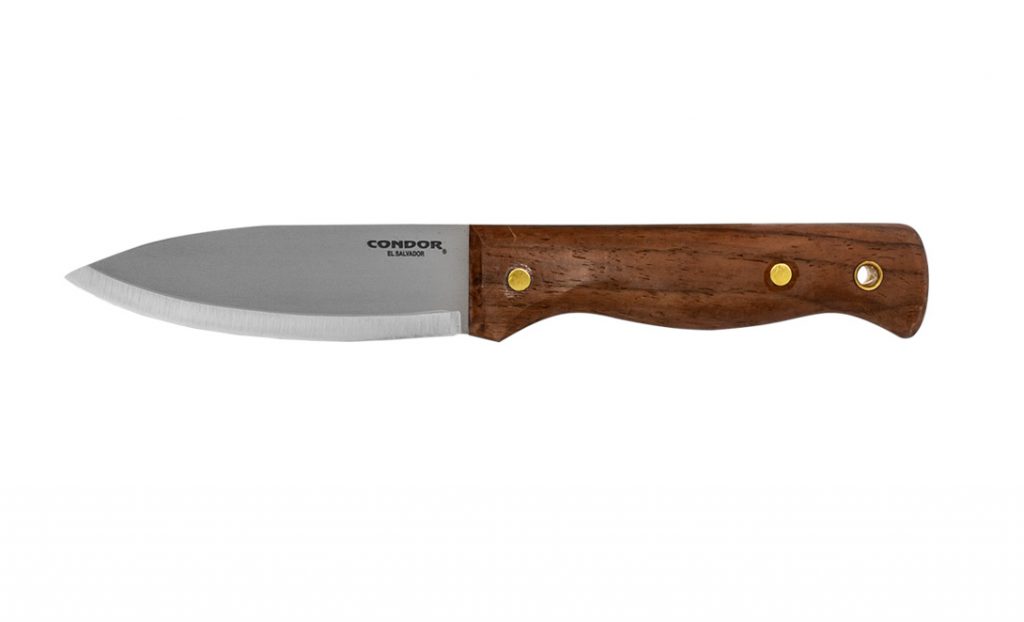 We get a 1075 high carbon steel blade that measures about 4.25-inches long.
Admittedly 1075 isn't the best steel for any particular use, but it's tough, and tough is important.
It doesn't hold an edge as well as other steels, but again it's a great beginner option.
When you want a good grind, it's tough to beat the Scandi grind used on the Condor Bushlore. It's a grind you'll constantly see on high-end bushcraft knives.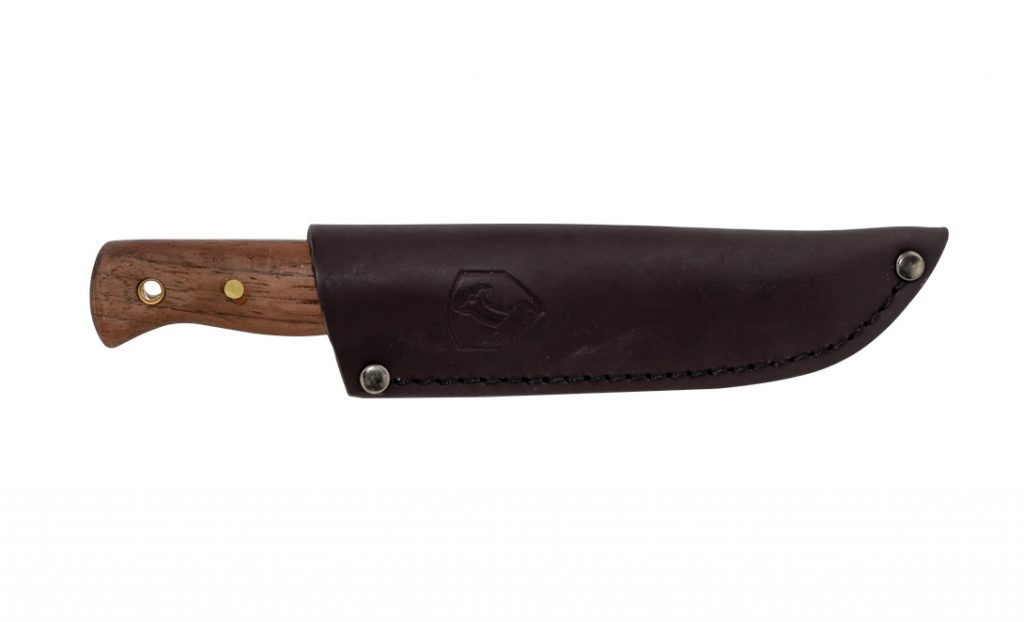 Beyond the blade, the Bushlore Camp Knife offers you a centerline point for easy drilling and digging-like tasks.
The comfortable wood handle looks nice and feels good in the hand but lacks a good grip texture for use with gloves. 
Stand Out Features
Affordable price point
Tough blade 
Scandi edge 
55
at Amazon
Prices accurate at time of writing
Prices accurate at time of writing
4. ESEE 4 
When it comes to favoritism and bias, the ESEE-4 gets mine full stop.
I love the ESEE-4, and it's my current go-to bushcraft knife for sharpening my skills (pun intended).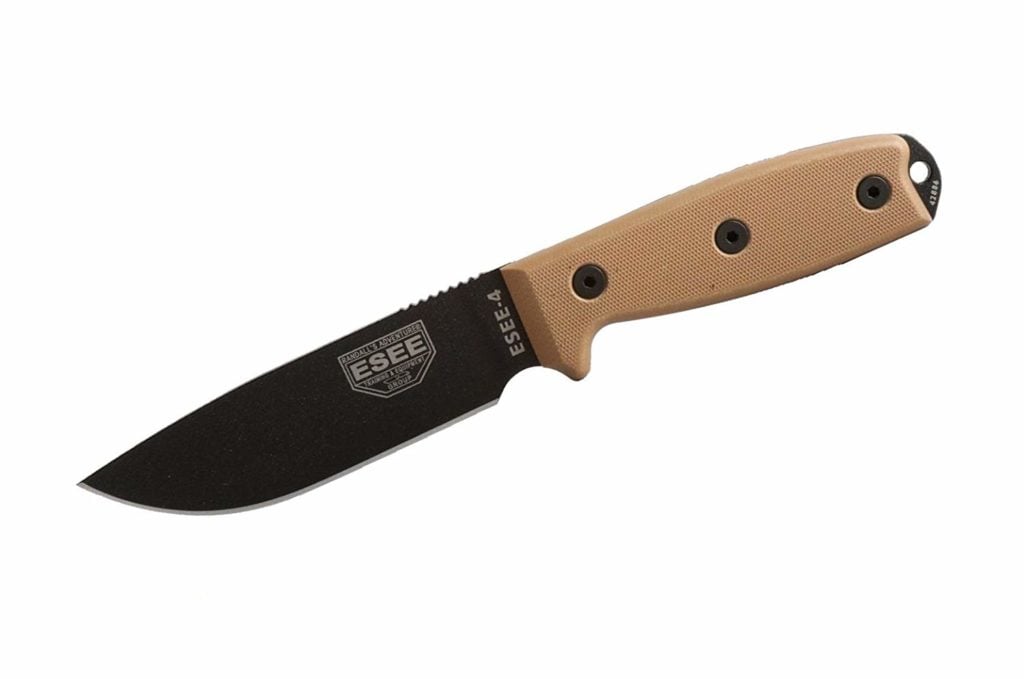 Randall's Adventure company designs the ESEE series knives, and those cats are experienced bushcrafters, survivalists, and adventurers. Their knives reflect their experience.
The ESEE-4 packs a 4.5-inch blade in either 440C stainless steel or 1095 carbon steel, so buyers have options.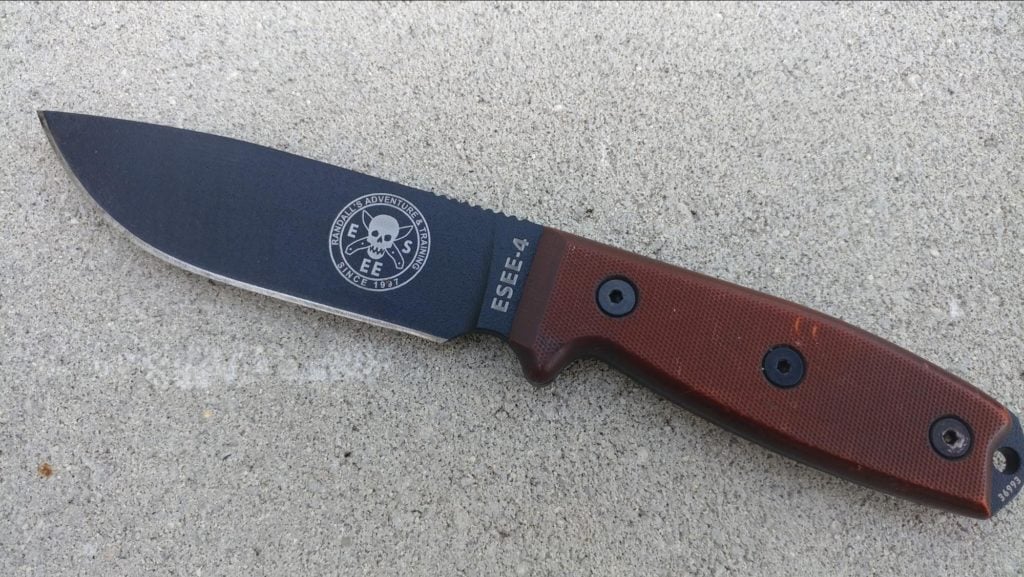 Beyond that, the blade is ruggedly simple and quite robust.
Both materials provide a very strong, capable blade. It's topped with a simple but versatile drop point blade with a healthy belly for deep cuts. 
The ESEE-4 comes with rounded G-10 handles that are textured and aggressive for a sure grip. Yet, they aren't too highly textured to cause discomfort.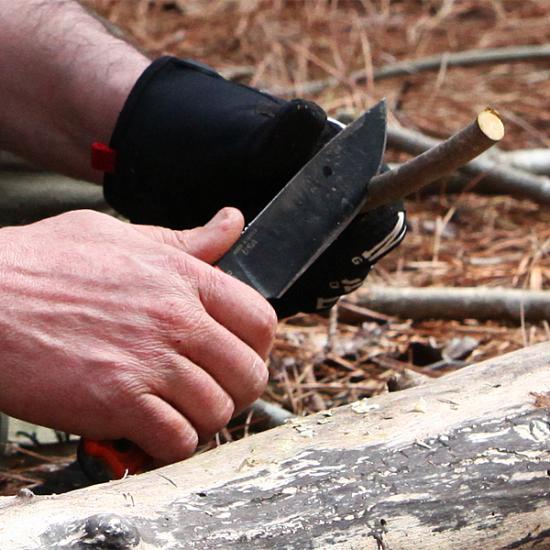 It's one of my favorite knives and is a great all-around knife for survival, bushcrafting, fishing, hunting, and more. 
Stand Out Features
Extremely Versatile Knife
Rugged Design
Choice of Stainless or Carbon steel
120
at Blade HQ
Prices accurate at time of writing
Prices accurate at time of writing
What do you think of the ESEE-4? Give it a rating below.
5. Ontario Bushcraft Field Knife
Another good budget option for bushcrafting comes from the Ontario Knife Company.
The Bushcraft Field Knife combines lots of classic bushcraft features that give you a lot for only a little bit of money.

It's a little big with its 5-inch blade but still fits the bushcraft role. The blade is made from 5160, which is one of the better budget knife steels.
This knife holds a good edge, feels quite tough, and can get quite sharp. It suffers in the corrosion resistance department, so make sure you keep knife oil on hand. 
The saber grind is second only to the Scandi grind for bushcraft knives. It's a smart design for the Ontario Bushcraft Field Knife.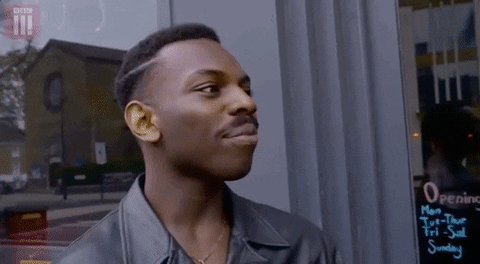 It improves the knife's versatility and makes it equal parts butcher knife for dressing game and field knife for bushcrafting. 
A set of walnut handles give it a distinct look and feel but don't provide much texture for grip challenging conditions.
It will chop, cut, and glide through various materials and you'll have no problems batoning wood with the bigger, heavier blade. 
Stand Out Features
Affordable Design
Great Budget Steel
Larger 5-inch blade
77
at Amazon
Prices accurate at time of writing
Prices accurate at time of writing
6. KA-BAR Becker Kephart 
Most bushcrafters consider Horace Kephart the father of modern bushcrafting and revere him as such. He designed the original Kephart knife — the perfect woodcraft tool.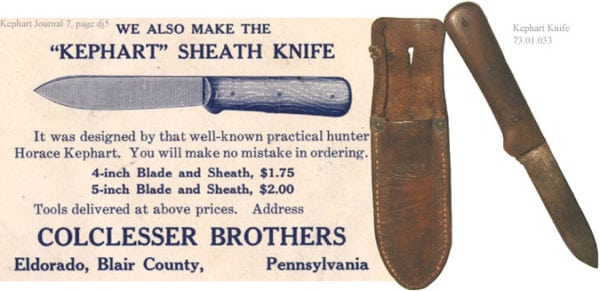 KA-BAR replicated the Kephart knife. This version wears a long 5.125-inch blade with a centerline drop point tip. This is a versatile tool in drilling holes and whittling with ease.
A healthy belly provides plenty of chopping and cutting room for bushcrafters. 

It's a practical knife for bushcraft and allows you to craft tools, construct shelters, and skin game without much stress.
Heck, the spine is even square enough to strike fire rods with relative ease. Also, it can be used to baton wood without much difficulty. 
KA-BAR utilizes 1095 Cro-Van steel.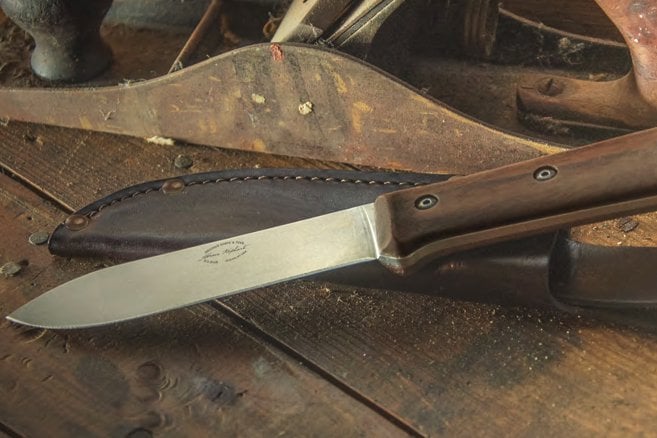 This steel can get super sharp and is actually even easy to sharpen — surprisingly tough and very hard. 
The biggest downside would be its corrosion resistance. It's prone to rust, so keep it oiled after use.
Stand Out Features
Designed by the father of bushcrafting
Large blade 
Easy to sharpen 
121
at Amazon
Prices accurate at time of writing
Prices accurate at time of writing
7. Benchmade Puukko Knife 
Benchmade took a classic Finnish design and moved it a little forward in time.
The Puukko provides a compact bushcraft blade that's quite light and handy.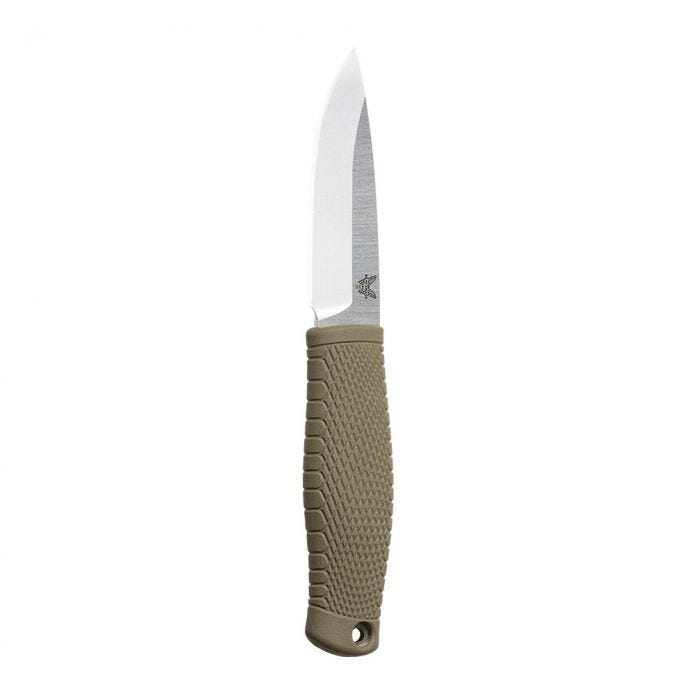 A little 3.75-inch blade gives you a short and controllable blade for fine-tuned tasks.
The drop point blade makes it perfect for bushcraft tasks that involve anything from making fire to whittling a spoon for use at tomorrow's dinner.
Benchmade utilizes CPM-3V, which is a premium knife steel. 
CPM-3V is ridiculously strong, can get ultra-sharp, and wears that edge for a good while.
Its strength ensures it takes time to sharpen, but you'll be able to do a lot of work before you have to sharpen it.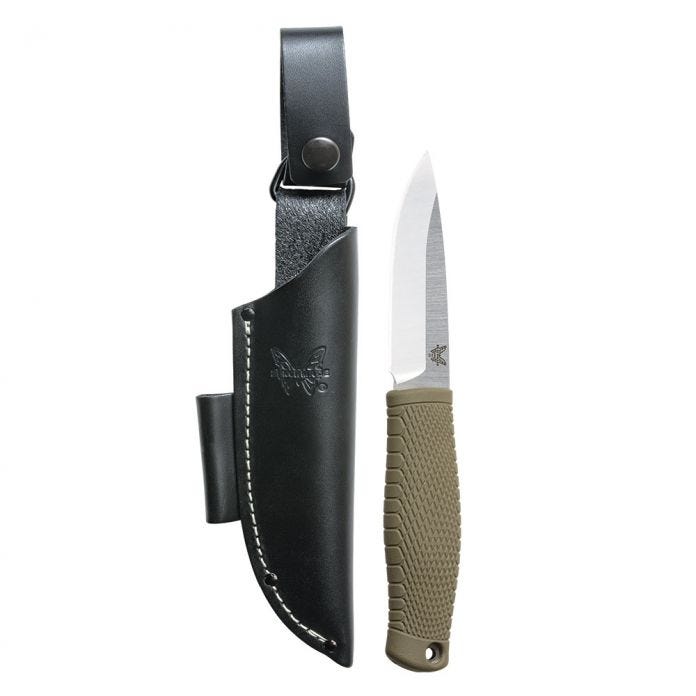 Backing this awesome blade is a rounded handle that's textured well. Your hands will not hurt or burn when using the Benchmade Puukko.
It's a fantastic knife that punches well above its weight class at a surprising price point. 
Stand Out Features
Compact and Lightweight
Premium Grade Steel
Extremely Comfortable Handle
127
at Blade HQ
Prices accurate at time of writing
Prices accurate at time of writing
Conclusion
Bushcrafting can be a fascinating hobby. Admittedly the skills get rather advance, requiring lots of patience to master.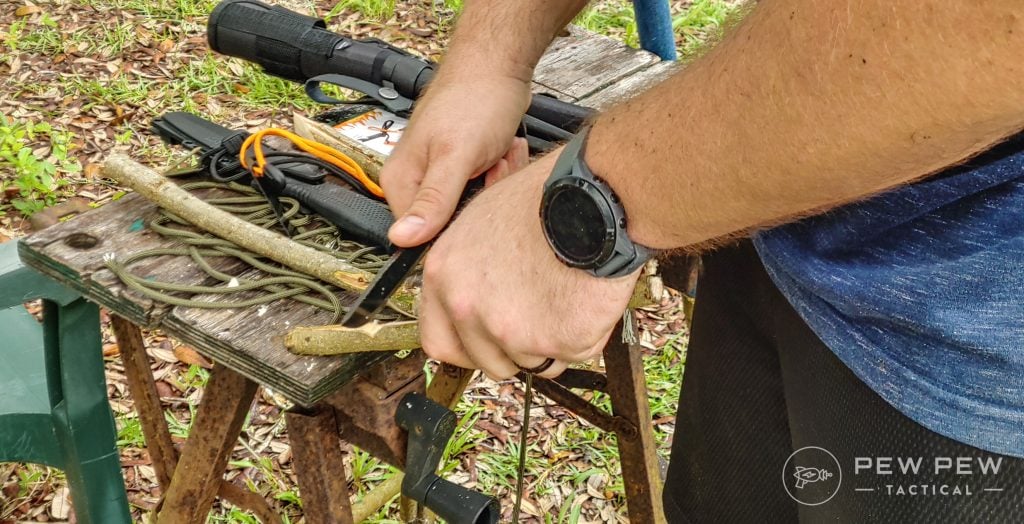 However, you can start with nothing more than a knife and a backyard. And any of these models will do the job.
What's your preferred bushcraft knife? Let us know below! Ready to dive into more bushcrafting? Check out the 5 Bushcraft Skills You Need to Know.