"Yeet Cannon" might be a dead meme by now, but testing takes time!
While the Yeet craze, much like the zombie craze, has come and gone for firearms–the builds remain.
A simple goal of building a long range 6.5 Grendel rifle was made fun-er but including a "Yeet Cannon" lower from Aero Precision, why, what, and how it shoots? Read on!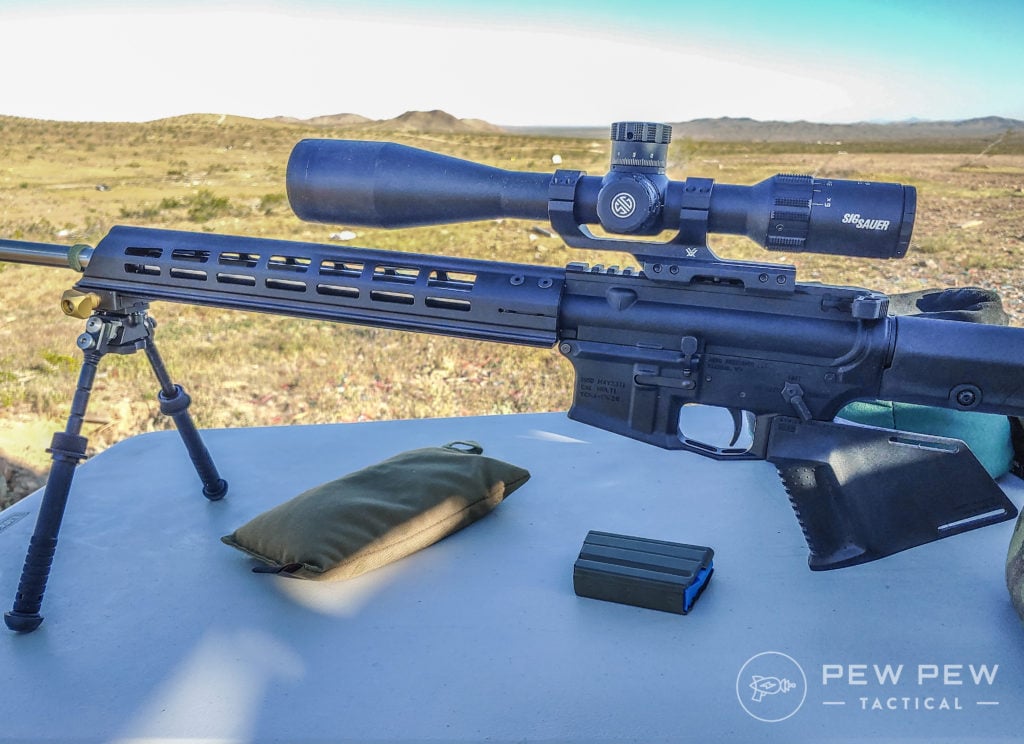 Table of Contents
Loading...
What Is a "Yeet"
It's been a few months many, many months since this meme happened so we should quickly review.
The word itself, "yeet", has been kicking around since at least 2008.
A dance vine, a YouTube video, and a lot of Tweets later–Yeet is still fairly close to that OG definition and currently (roughly) means:

How Did This Become a Firearms Thing?
This is where the story takes a twist and a turn.
Hi-Point, famous/infamous for making very cheap blow-back pistols, announced around SHOT Show 2019 that they were coming out with a new pistol, one that wasn't designed to be the cheapest thing at the gun show.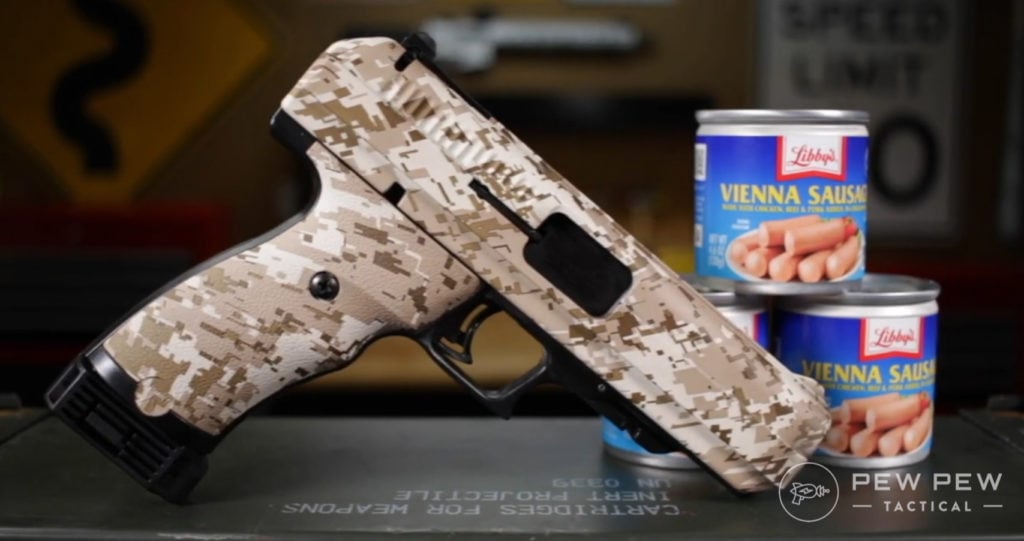 But they needed a name for it and in their limited wisdom turned to the internet for help. And so born was the Name The Nine contest.
Names poured in, some of them kind of decent, most of them really silly. This was memeing at it's finest.
One of the highest suggested names was "Yeet Cannon", "Yeet Cannon Nine", "YC9", or some variation of those. A meme gun required a meme name.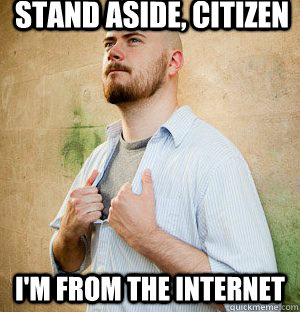 Sadly, when Hi-Point announced the finalists of the Name The Nine anything Yeet related was left off! The outcry was immediate, and the anguish was palpable. It was as if a million gun nerds cried out in horror.
But they would not be silenced.
It didn't take long before real companies joined in on the outrage and sadness.
Player 2 Has Entered The Game…
Things really started to take off on social media after H&K's official Facebook page posted on Hi-Points page with an unbelievable offer…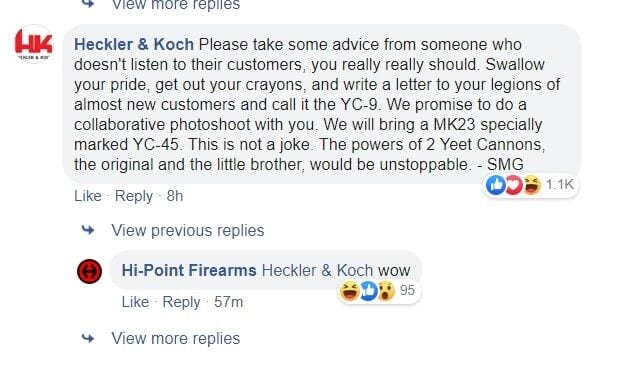 This kicked off a storm of other offers from brands across the firearms spectrum, it also sparked several custom parts to get in on the fun. The two biggest were Aero Precision's Yeet Cannon AR-15 and AR-10 lowers and Palmetto State Armory's Yeet Cannon AR-15 and AR-9 lowers. Both were only available for a limited time.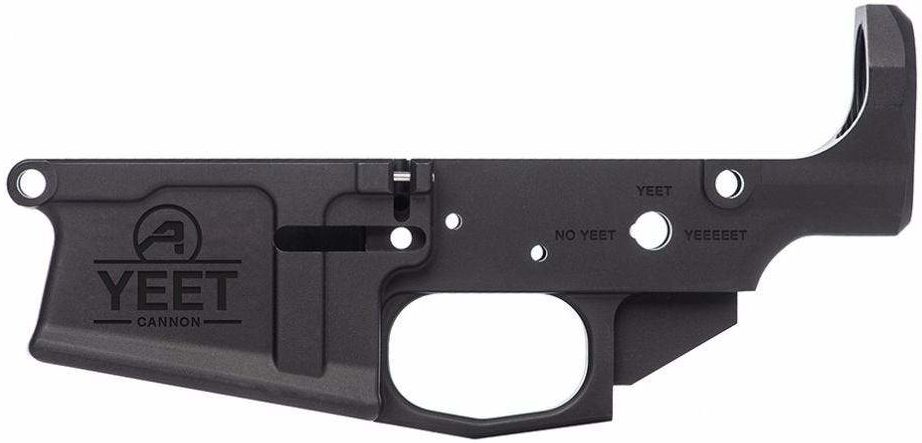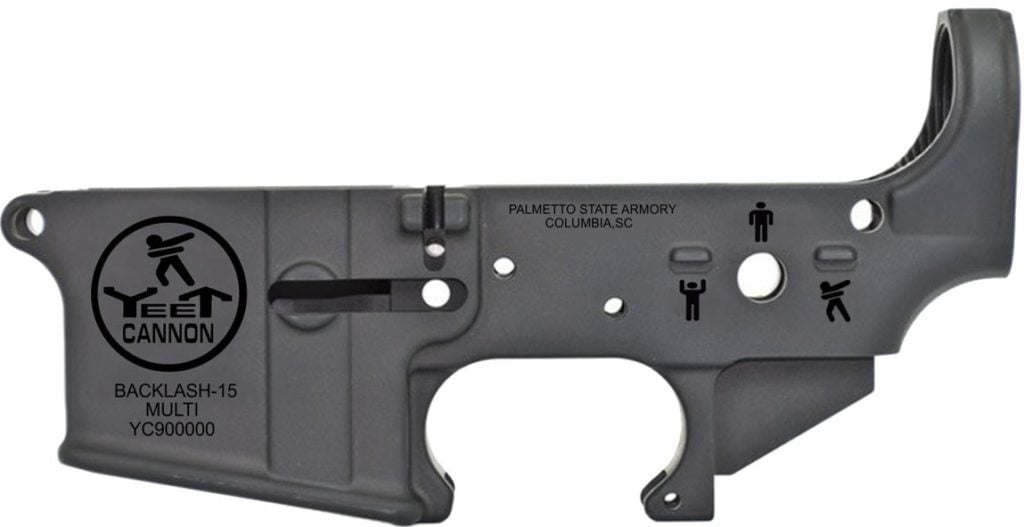 Other companies got in on the fun, but I'm going to limit the story to these two.
Aero Precision announced their lower first and I just had to have it. I was already planning a 6.5 Grendel bench rifle that was going to be, as I called it, "thick as oatmeal" so a Yeet Cannon lower was too perfect for it.
YC9 Lives On!
To quickly wrap up the story, Hi-Point later reviled that they always planned on YC9 being in the final running, that the finalists' names they showed the public were really semi-finalists and the highest voted of those would face off with YC9 and a winner chosen between the two.
As it turned out, the people spoke and YC9 won in a landslide.

Back To The Build
Now that you know why this is a Yeet Cannon, it is time to meet the cannon itself.
Since we're going for range and accuracy, I built this with mostly bench shooting in mind with a nod to the possibility of taking this to some local PRS style matches as my gas gun.
Upper and Lower Receiver
I chose an Aero Precision M4E1 Yeet Cannon lower and a stripped Aero Precision slick side upper.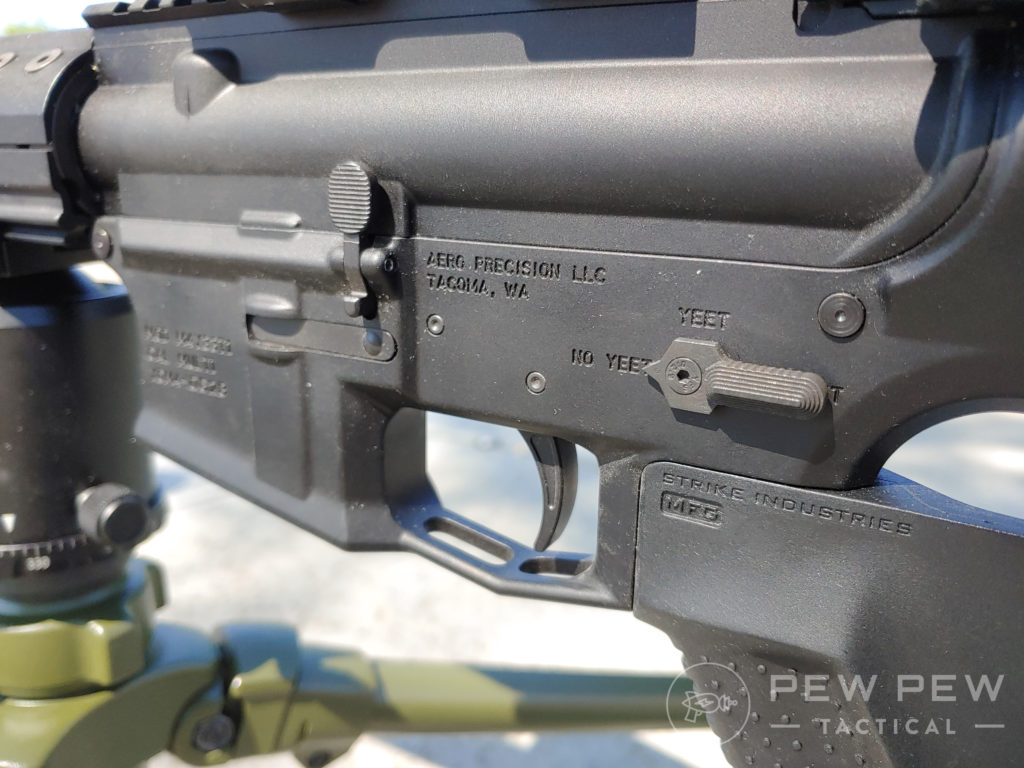 Since this rifle is going to be a bench firing fun long range gun for me, I wanted to give it every chance to be awesome as possible.
Handguard
Starting out I had my standard Aero ATLAS S-One on this rifle. It's a good handguard that I enjoy using.
But then I saw a video from Precision Rifle Network and their testing of the Catalyst Arms Fast Track Arca Rail Precision Handguard.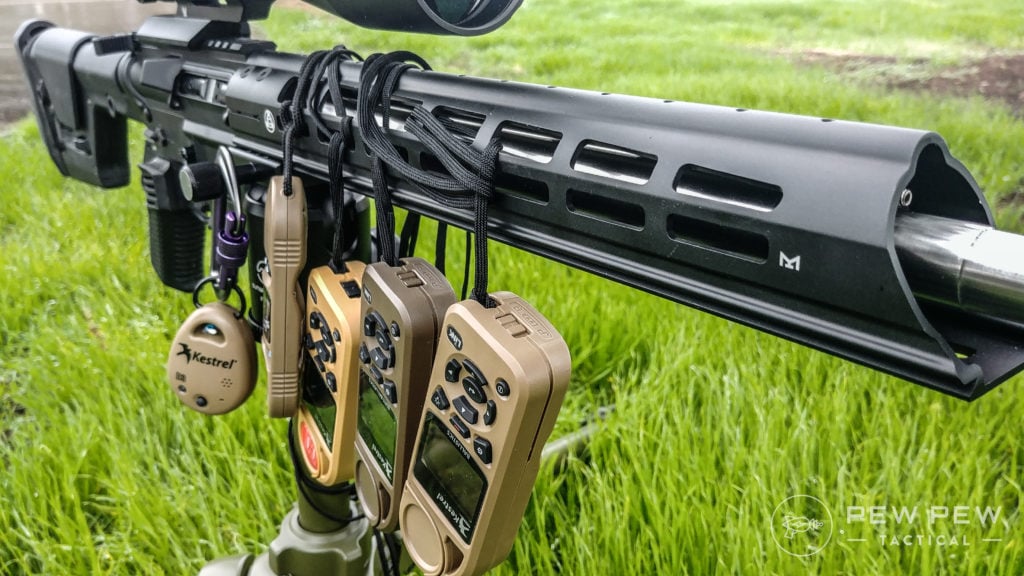 On paper, I wanted everything this handguard had to offer. Since this was the Yeet Cannon build, I got in touch with Catalyst Arms and they were good enough to send one out for testing.
This has become my new favorite handguard for precision AR-15s. It is, simply put, amazing.
A major-ish flaw with most AR-15 handguards is that they really aren't well suited for precision shooting off a tripod or bench. The Fast Track solves this with a full-length Arca rail section on the bottom of the handguard.
This gives you a nice flat surface to use on a bag and Arca rail to use with barricade stops, tripods, and more.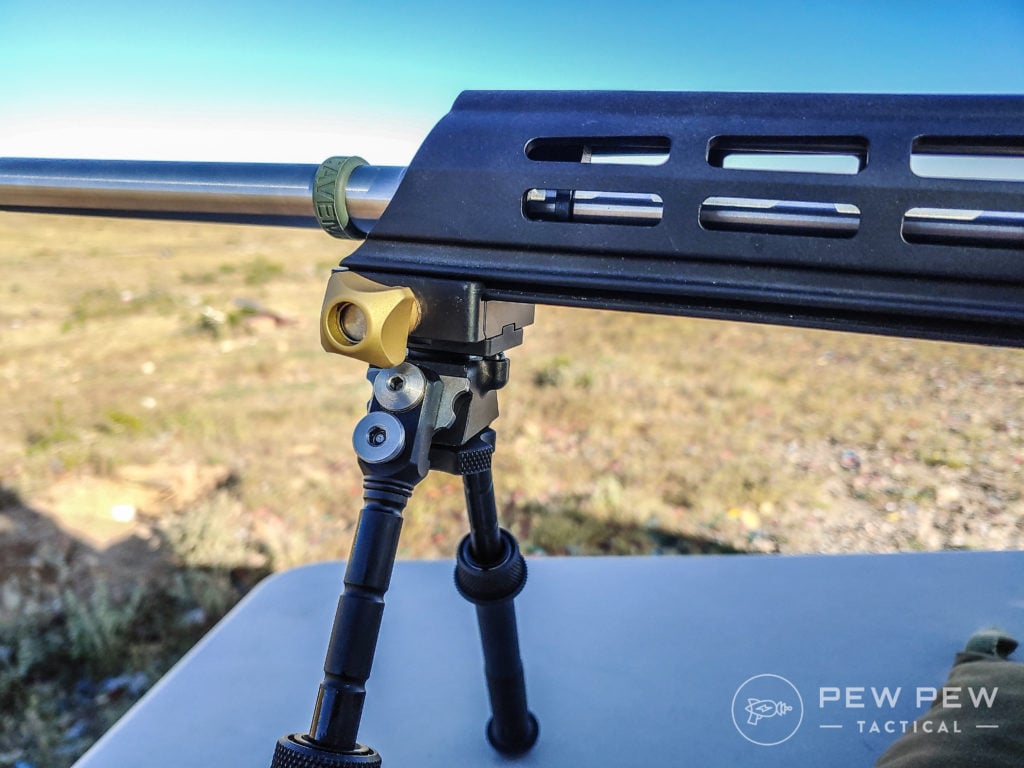 M-LOK runs down the 9 and 3 o'clock positions giving you mounting points should you need them, say for a WML.
I would love to see this handguard offered in longer lengths and for the AR-10, but as it is–this 15″ for the AR-15 is outstanding.
190
at Optics Planet
Prices accurate at time of writing
Prices accurate at time of writing
Barrel and BCG
My main goal was to have a long barrel to eek out as much velocity as possible.
Based off of Ken's work during his 6.5 Grendel Upper Shootout article I had some idea of what brands I wanted to look at for my barrel.
Criterion Barrels is a brand of barrels I haven't gotten to try yet, but they come highly recommend from readers and PRS shooters alike! They were kind enough to offer their barrel up for this project. An awesome looking 22″ HBAR stainless steel 6.5 Grendel barrel.
The BCG is just a simple Nitrited BCG from Brownells, I removed the 5.56 bolt that came with it and replaced it with the 6.5 Grendel matched bolt made by JP Enterprises that Criterion sent with the barrel.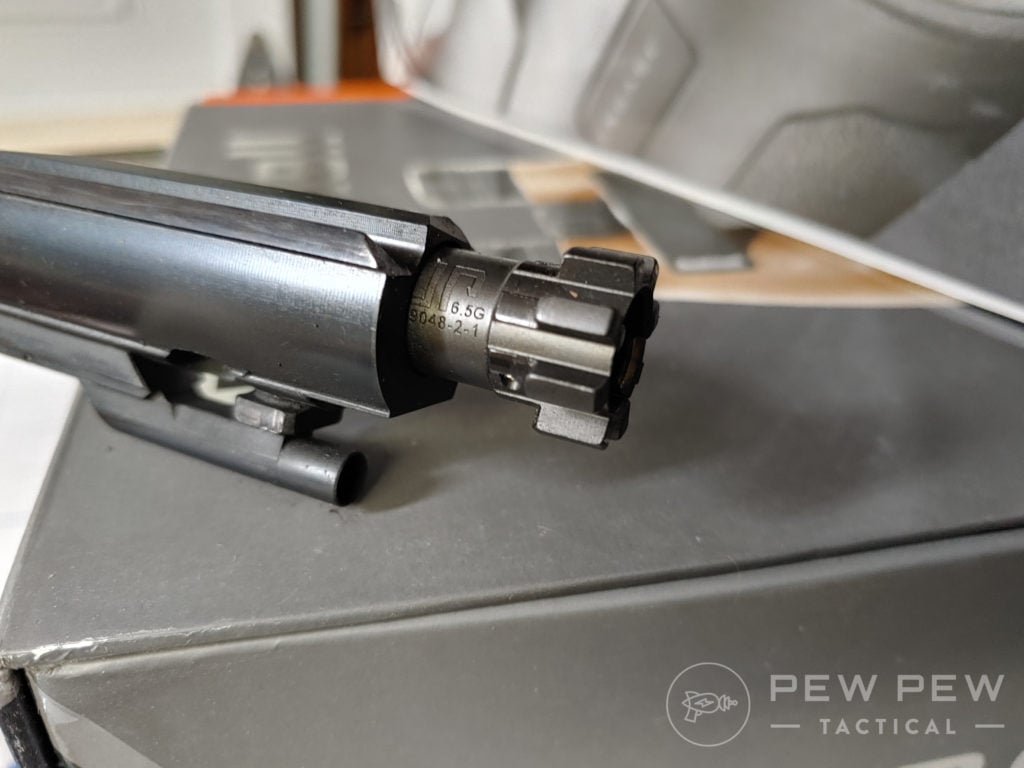 After testing this and an AR-10 barrel that Criterion sent also, I have been converted to the cult of premium barrels. Both barrels look and function flawlessly. I highly recommend them and am looking forward to getting to try out more.
Plus, the people over at Criterion are absolute barrel gurus. Any question you have, any weird request you're pondering, reach out to them and they can give you all of the answers you seek. Their personal are an amazing resource.
300
at Brownells
Prices accurate at time of writing
Prices accurate at time of writing
I seriously cannot recommend Criterion enough.
Trigger, Stock, Muzzle Device, Gas Block
A precision rifle requires a precision trigger, I already have a LaRue MBT in my deer hunting 6.5 Grendel rifle, so I went with another LaRue MBT in the Yeet Cannon.
Magpul's Gen 3 PRS stock was a clear choice for the stock since it is, IMO, the best precision AR-15/AR-10 rifle stock on the market currently.
Best Precision Stock
243
at Brownells
Prices accurate at time of writing
Prices accurate at time of writing
I love the stock and would have it on every gun I owned if it wasn't so blasted heavy. But for a precision build, heavy is good.
Being in California, I am required to have a brake on my rifle to stay "featureless" so I went with my go-to option, a VG6 6.5 Gamma.
72
at Brownells
Prices accurate at time of writing
Prices accurate at time of writing
Every other AR-15 I own has just a standard gas block, but I wanted to do something different this time so I picked up a Wojtek .750 Adjustable Gas block.
I've now bought 4 of them in a range of sizes, I really like these. They are cheap, well made, work great, and don't do anything weird. Plus–Wojtek offers a service to install the gas tube for just a few extra bucks!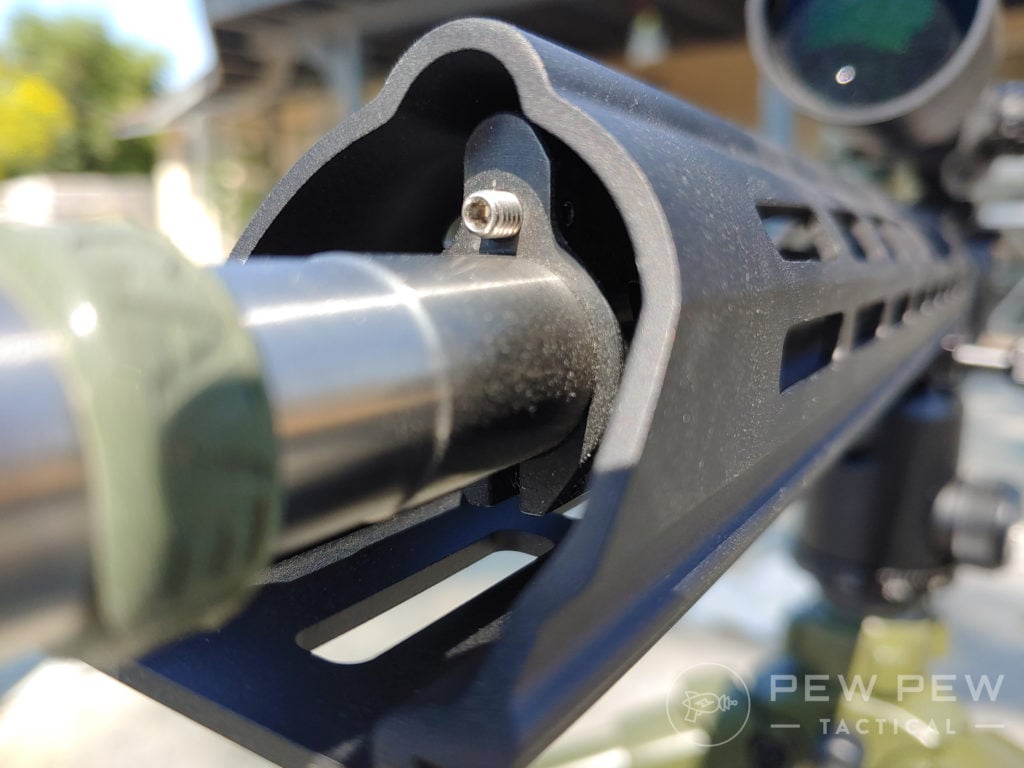 Optics
While my go-to optic is normally my Vortex Diamondback Tactical, this time I opted to try out a scope that is new to me – the Athlon Argos BTR 6.5-24×50
While this isn't my favorite offering from Athlon, I would say that it is very strong for the price.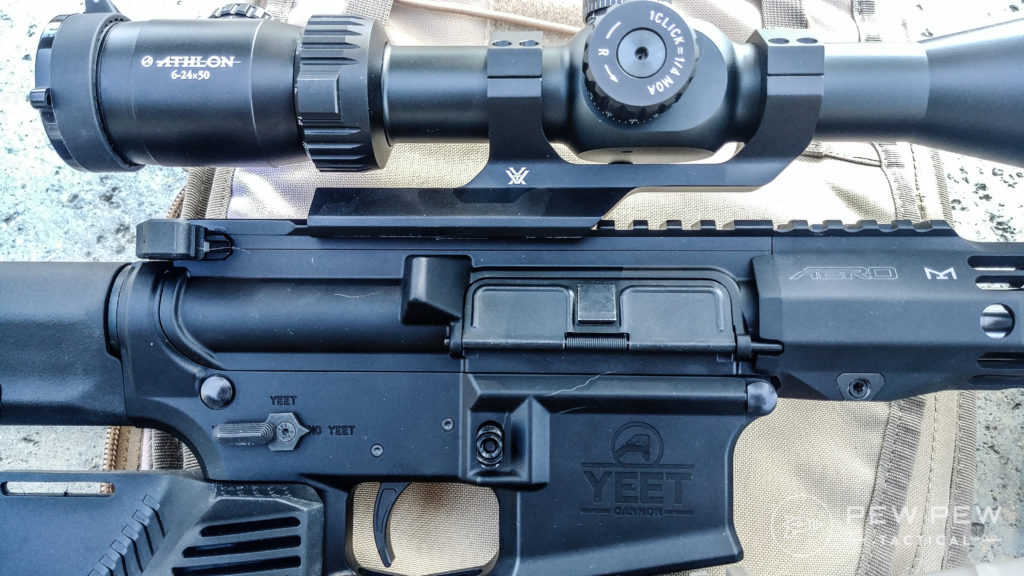 Athlon sent us the MOA version to test out and this reticle is a bit thick for my liking. It would be great as a hunting scope, but not exactly what I look for in a precision optic.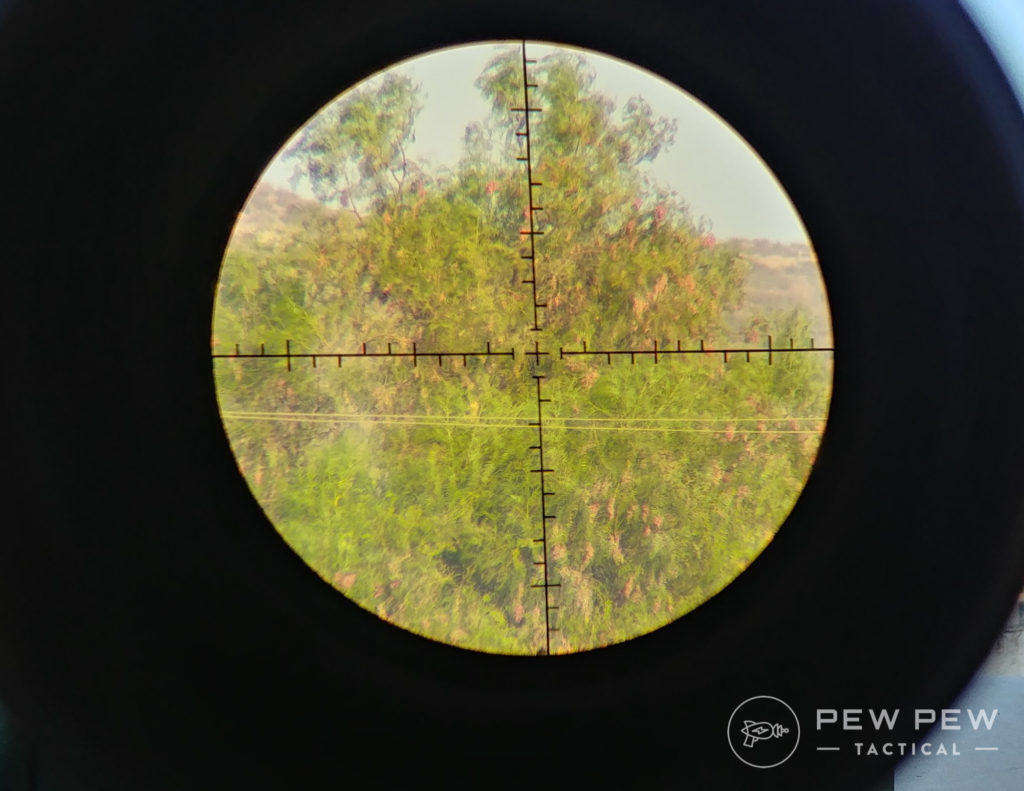 The glass is clean for the price point, tracking was flawless, and the price is hard to beat for a FFP, illuminated scope. Plus, Athlon's awesome warranty is always good to have backing you up.
If you can swing some more cash though, I highly recommend the Athlon Ares. I picked up the Gen 1 version for fairly cheap and it is a huge upgrade over the Argos.
However, since I got my Gen 1 Athlon has released the Gen 2 version and it is even better.
918
at Amazon
Prices accurate at time of writing
Prices accurate at time of writing
I asked Athlon if they wouldn't mind sending out the Gen 2 for testing, and they did! You should take a look at the Bergara B-14 HMR review for a look at the Ares Gen 2.
What eventually ended up on the Yeet Cannon was a Sig Sauer Tango4 5-25×50.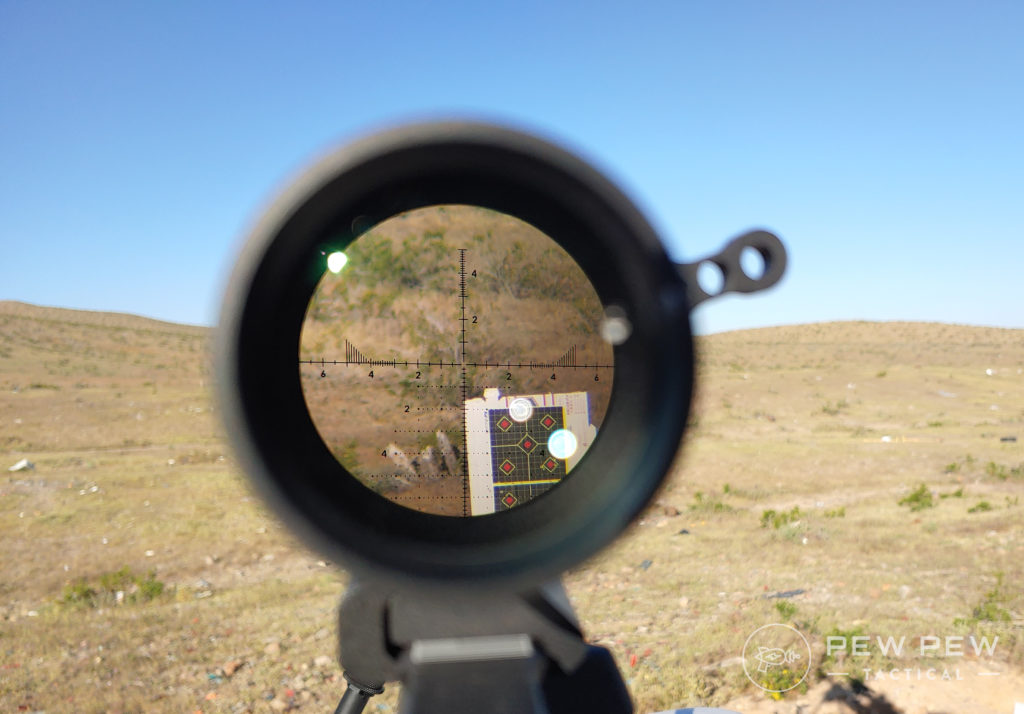 This is a smoking good piece of glass, I love the reticle, and the extra features included like a built-in throw lever is top of the line.
The turrets leave a little to be desired, for me personally at least. I like really loud clicks as well as clicks I can feel. The Tango4 is almost pure feel, they are very hard to hear.
But the tactile feedback is strong so adjusting them is easy, I just wish they were louder.
Glass is amazing, turrets are good but not my favorite, I have been really satisfied on every level with the Tango4.
700
at OpticsPlanet
Prices accurate at time of writing
Prices accurate at time of writing
Range Report
This was my first foray into the world of 6.5 Grendel, my biggest takeaway from it is that 6.5 Grendel is spooky.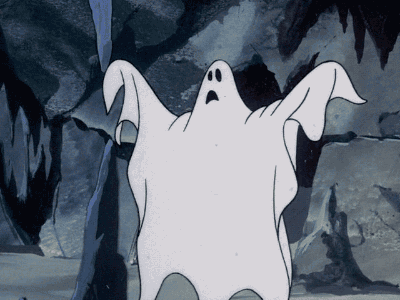 Before taking my first shot, I had read that finding an accurate load for 6.5 Grendel sometimes took some effort, but I did not expect this.
Starting out with 4 brands of ammo:
Hornady Black 123gr ELD Match
Hornady 123gr SST Custom
Federal Gold Medal 130gr Berger OTM
Wolf 100gr FMJ Steel Case
Of these, Hornady Black was by far the best shooter. What shocked me though was the range of accuracy I got, and that Wolf wasn't the worst!
The Good
Hornady Black 123gr ELD Match proved to be the best factory load I've tried so far and averages around the 0.85 to 0.95 MOA range.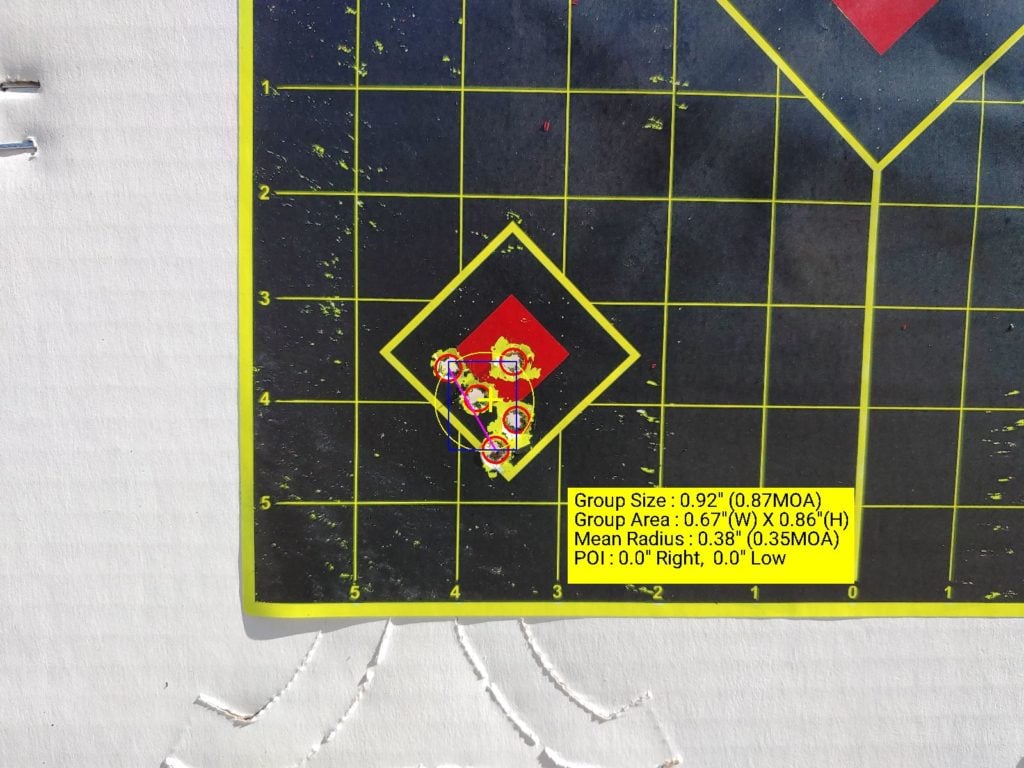 For a gas rifle and without handloads, I'm very happy with this number.
220
at Lucky Gunner
Prices accurate at time of writing
Prices accurate at time of writing
Federal Gold Metal wasn't bad either though coming in at 1.2 MOA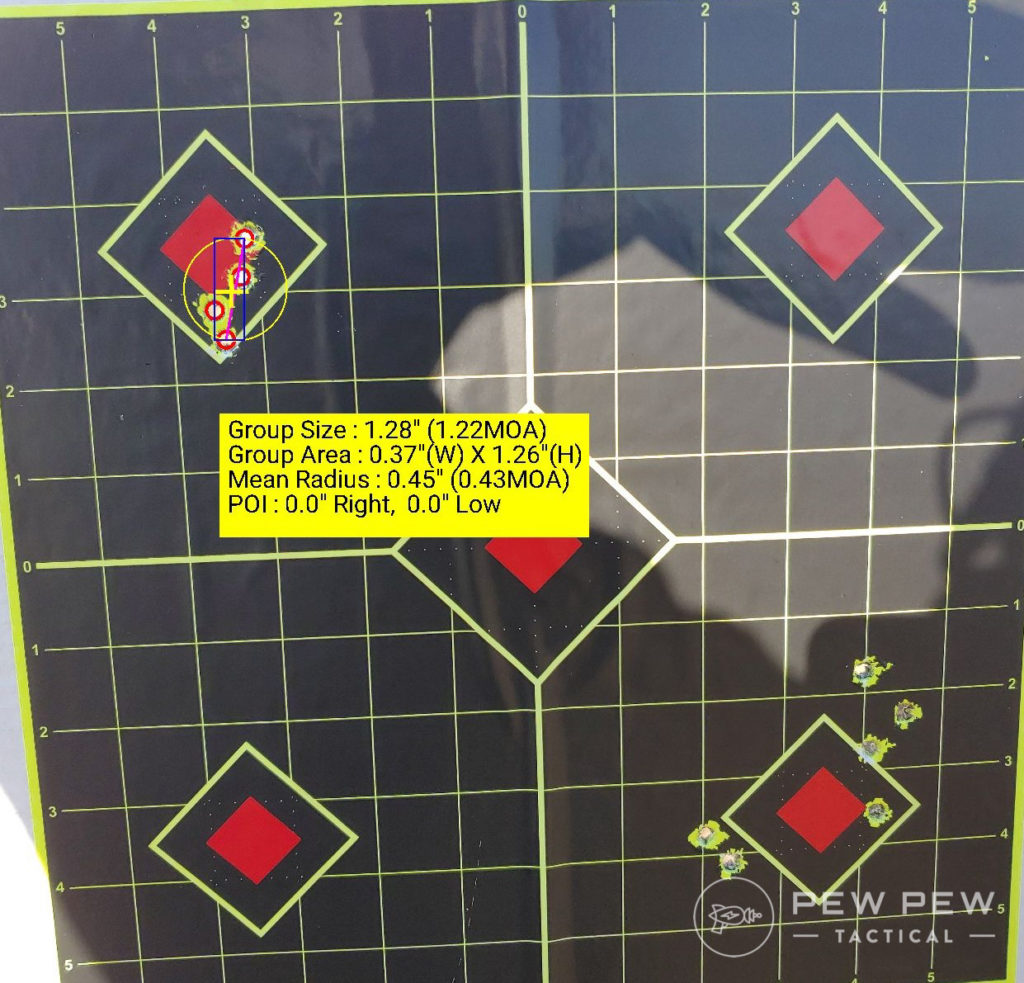 The Bad
Let's play a game: Guess the MOA of the worst group this rifle shot. Actually, this might be the worst group any of my rifles have ever shot, excluding milsurps.
Have a number in mind? Good.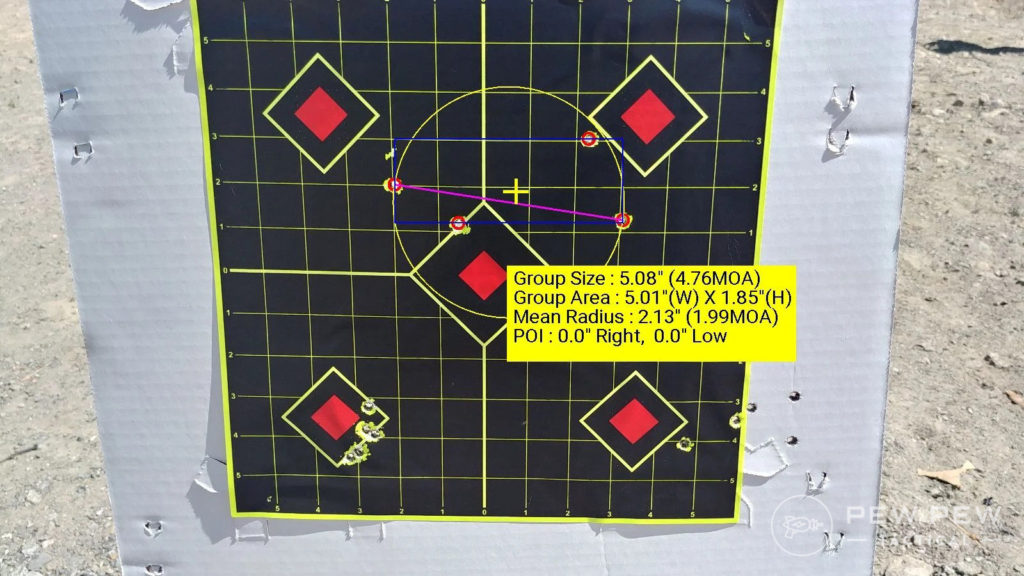 For reasons that I truly do not have an answer for, my rifle HATES Hornady 123gr SST and averages around 4 MOA, the worst group was a whopping 4.76 MOA. The BEST group I could get with this stuff was 2.81 MOA.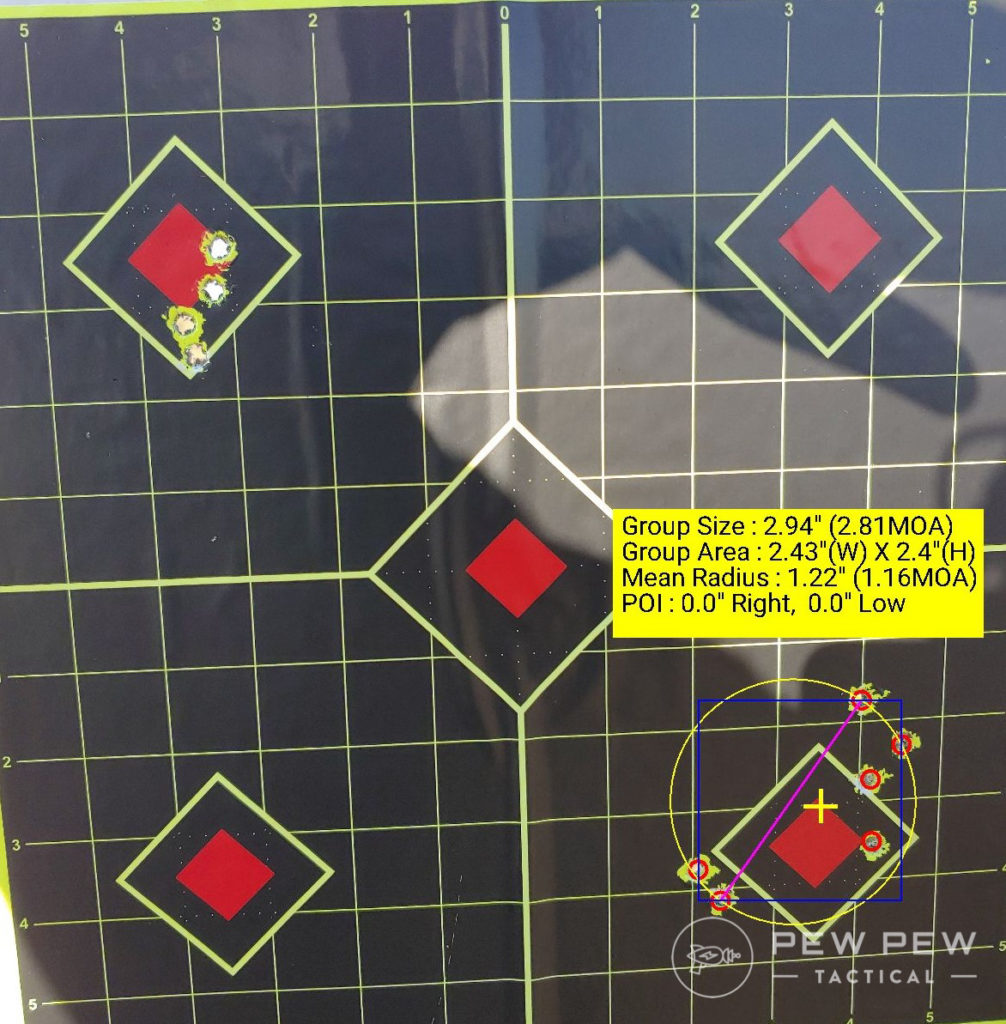 This wasn't an isolated group either. I've repeated these results with 3 different boxes of ammo, 4 different range days, and have double and triple checked torque settings. The same trip that Hornady Black would shoot sub-MOA, the next magazine with SST would shoot 4+ MOA.
Holes in the paper are clean and perfectly round, so I'm not having a crazy stability issue.
Worried that I might be going crazy, I reached out to other Grendel shooters to hear their thoughts. From the feedback I got, it's not just me. Sometimes 123gr Hornady SST just doesn't group.
Why? We don't know. Science or something, we guess.
If you got a theory on what is going on here, let me know in the comments!
The Ugly
If you want plinking ammo, Wolf has you covered. I felt dirty feeding my pretty precision rifle steel-cased craploads, but these are the sacrifices I make for an article.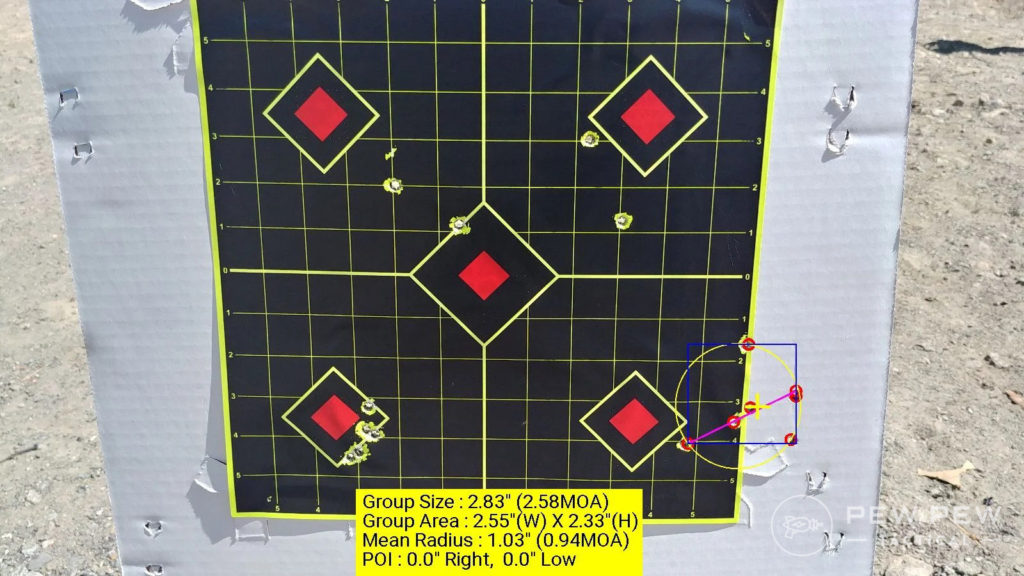 Surprisingly, Wolf shoots fairly well clocking in around 2.5ish MOA. While this isn't useful for precision shooting on the cheap, it's good enough for plinking and turning money into sound.
8
at Lucky Gunner
Prices accurate at time of writing
Prices accurate at time of writing
Stretch It Out
A Yeet cannon requires room to truly Yeet. I don't have a range near me to really max out 6.5 Grendel, but I have run it out to 600 yards with zero issues.
Armed with reliable data and a Kestrel 5700 punching steel at range was almost too easy.
Build Report: Parts to Love, Parts to Hate
Everything in the build worked exactly like I hoped it would. The Athlon Argos was a small miss because of the reticle, but the Ares Gen 1, Gen 2 and Sig Sauer Tango4 were awesome. I would highly recommend all three.
The standard parts, Magpul PRS, VG6 muzzle brake, Aero upper/lower, Strike Industries grip, Raptor charging handle, all worked perfectally.

There are three parts of this build that I want to highlight, the real stars of the show for me: The Criterion barrel, Fast Track Handguard, and Wojtek adjustable gas block.
Criterion
Barrels are the heart and soul of small groups, Criterion is definitely a brand I will be turning to for builds in the future. Quality, customer service, and just amazing results.
299
at Brownells
Prices accurate at time of writing
Prices accurate at time of writing
Top to bottom, start to finish, I highly recommend Criterion.
Catalyst Arms Fast Track Handguard
I really dig this handguard, like a lot. A second Fast Track is going on my coyote hunting rifle ASAP and I can't wait to run this Yeet Cannon in some local PRS gas gun matches.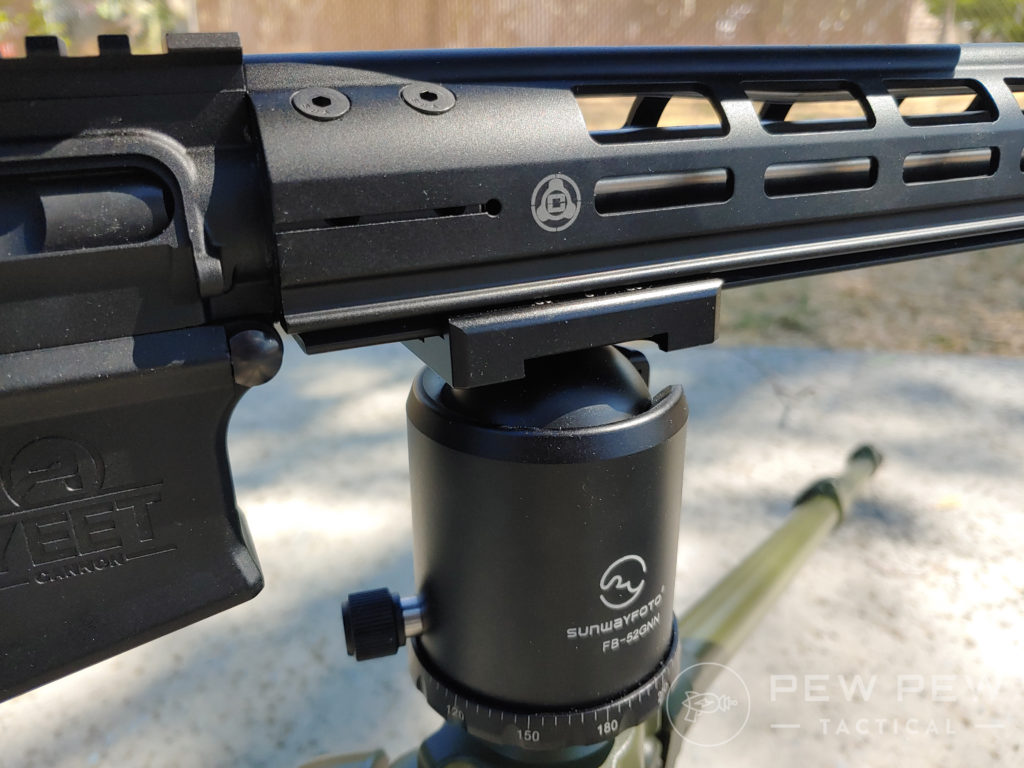 Hopefully we'll see longer lengths offered also or a version for AR-10 pattern rifles, my 6.5 Creedmoor rifle would LOVE that!
Wojtek Gas Block
These are crazy cheap for what they deliver. An adjustable gas block that is well made, easy to use, and just works without worry. While the majority of my gas blocks won't be adjustable, I think all of my adjustable blocks will be Wojtek.
39
at Wojtek Armory
Prices accurate at time of writing
Prices accurate at time of writing
By The Numbers
Reliability: 5/5
Once the gas was tuned with the Wojek block, everything worked perfectly. I did limit myself to 10-round 6.5 Grendel magazines, but I didn't have a single issue.
Ergonomics: 5/5
The Magpul PRS is a great stock, I really recommend it. The entire rifle was a bit heavy but I knew that going into it. The Fast Track handguard doesn't feel amazing in your hand, but I basically never touched it since this is a precision rifle.
Accuracy: 5/5
Grendel is a cartridge that is a bit spooky. Some loads work great, some are horrible. The Hornady SST ammo really hated my rifle–but Hornady Black was shooting sub-MOA, so I'm happy with it. Find a load that works for your rifle and you won't regret it!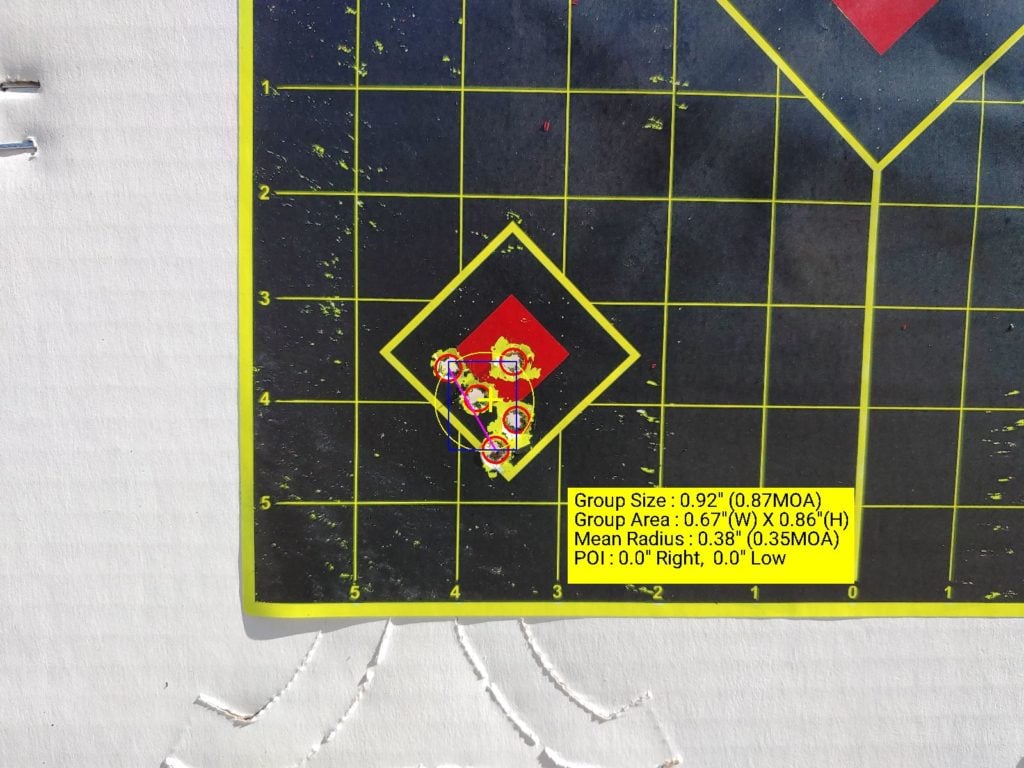 Customization: 5/5
A custom rifle lets you show off just how customizable the AR-15 platform really is, I love it.
Value: ??/5
Going into this project I knew it wasn't going to be cheap and I really didn't try to cut corners at any step. The total price for this build is north of $1,250 and that is before you pick an optic.
For that money, I got a great shooting, quality, long range AR-15 platform rifle. I've had a load of fun with this rifle already and I can't wait for ranges and matches to reopen so I can take it to some local PRS events.
For me, the value is five for five. If you're looking for the same things I was, you won't regret it. But if you're just looking to plink casually, this build might be a bit steep.
Overall: 5/5
Parting Shots
6.5 Grendel isn't for everyone. It has some awesome advantages, but it has some downsides also. If you want a rifle in the AR-15 platform that can punch distance, I really recommend it.
Keep in mind that it might take a little fiddling with to find a load that your rifle really likes. If you're a handloader, this can be a really fun task!
What is your long range AR-15? Grendel? Valkyrie? The new 6mm ARC? Let us know in the comments! Learn more about long range with our Long Range Shooting [Intro & Fundamentals]!