If you're looking for a starter long range rifle that is high quality, Bergara B14 HMR must be part of the conversation.
In fact, they are often the entire subject.
Made in Spain, Bergara is well known for having some of the best factory barrels ever made. And since the action is built on the Remington 700 design, whats not to love about it!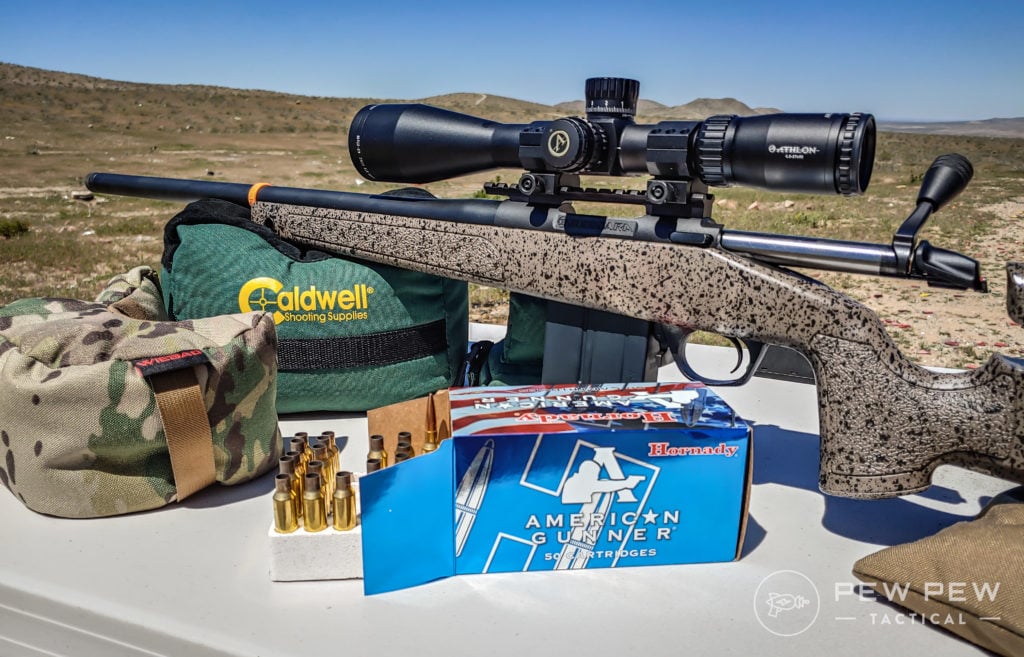 Can to live up to the hype? What exactly is it good for? BPI was kind enough to send me a Bergara B-14 HMR in 6.5 Creedmoor so I could find out.
Table of Contents
Loading...
Bergara Who?
If you're in the long range shooting community, you probably already know who Bergara is. But for the rest of the class — let's introduce them.
There are certain regions in the world were firearms manufacturing has a long and powerful history. And by long I mean in some cases hundreds of years.
Basque of Northern Spain is one such area. Home of legendary historical firearm companies like Star and Astra, it is also home to Bergara. Both the town and the company.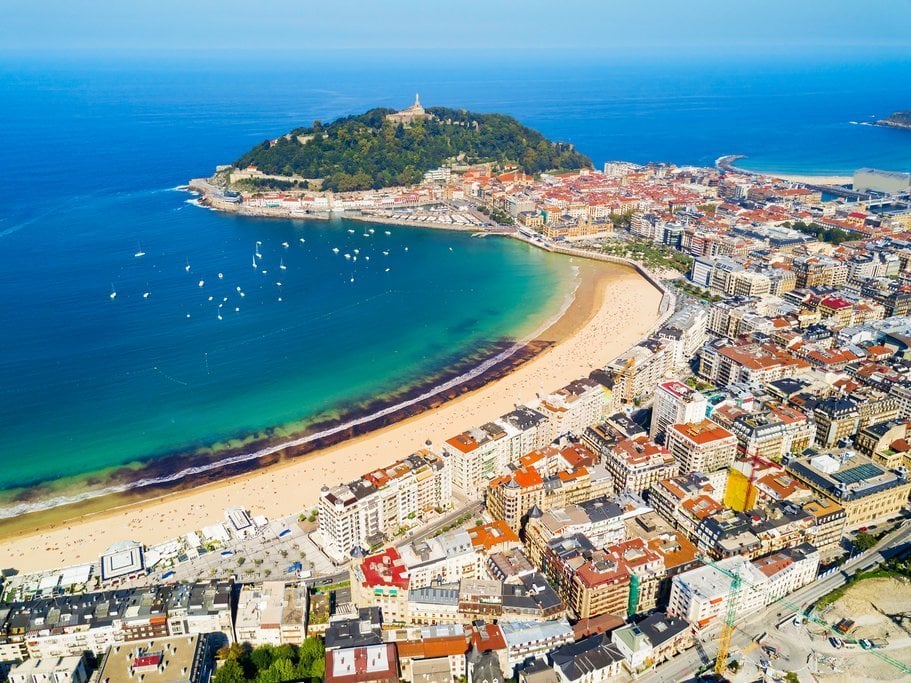 The B-14 line of rifles are all made in Bergara, Spain while the Premier line is made in the USA.
949
at Sportsman's Warehouse
Prices accurate at time of writing
Prices accurate at time of writing
Features Broken Down
From top to bottom the B-14 HMR is really well thought out. It is very clear that the design team behind this rifle are true shooters themselves and packed basically every feature you could ask for in a single factory rifle.
Let's go back to front on this.
Buttstock and Cheek Rest
The butt pad itself is very soft and does a great job of eating recoil. Overall length of pull is adjustable with spacers, simply back out the screws, remove the spacers, and tighten the screws back down.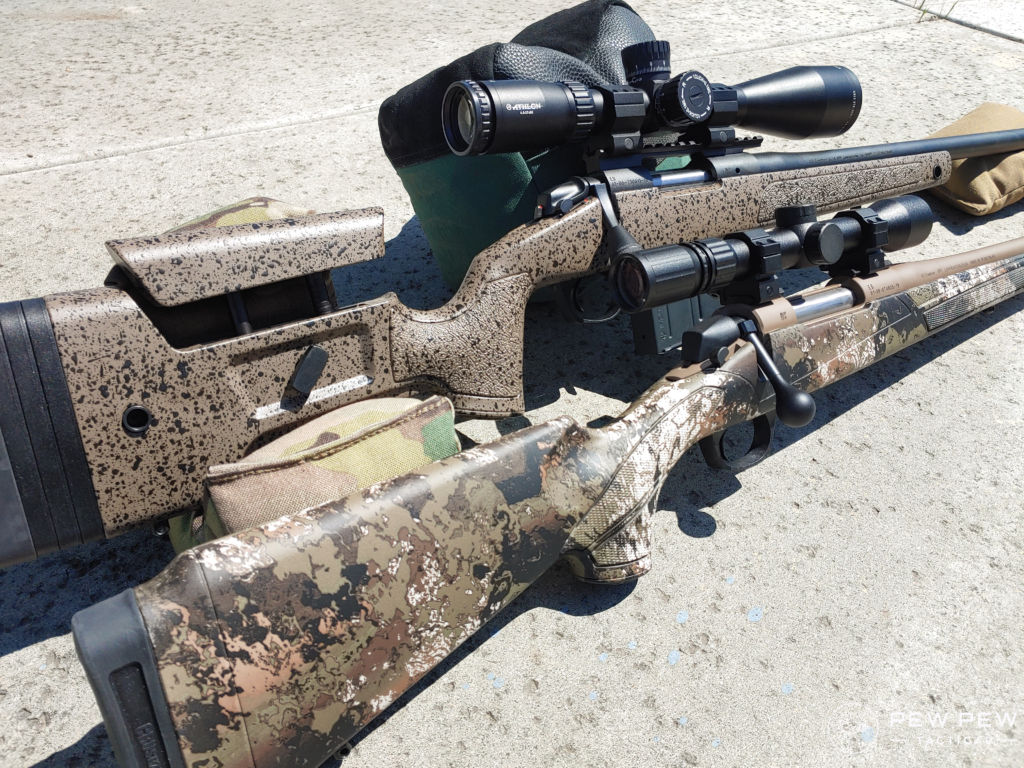 This cheek rest is very nice, large, wide, and uses a screw knob for quick adjustment
Pistol Grip
I would like the checkering to be slightly more aggressive, but I found that it was good enough as is.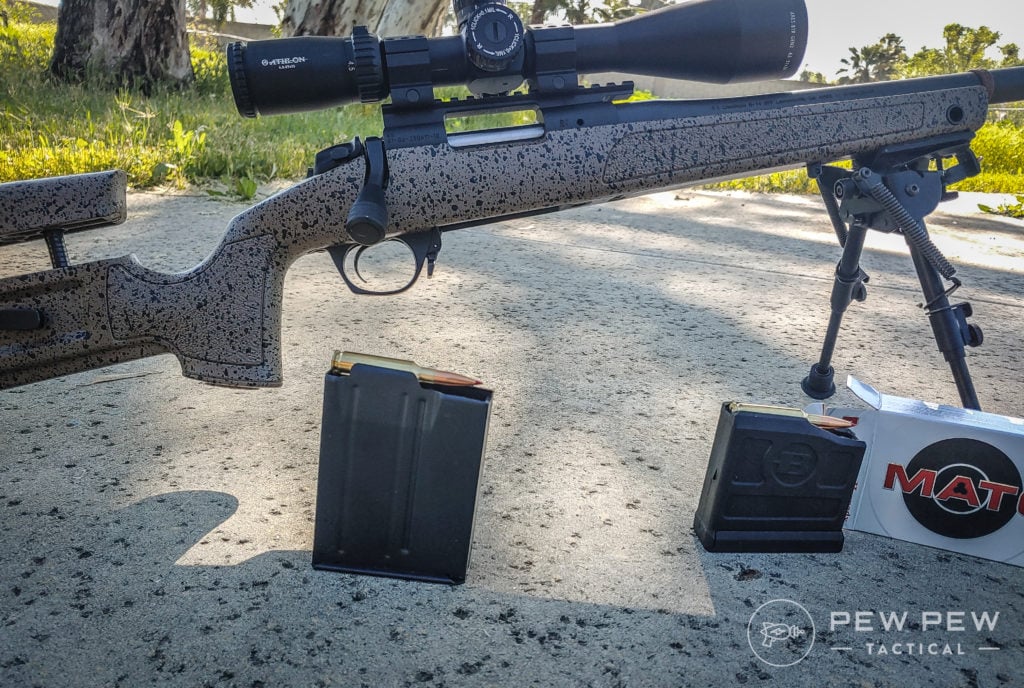 Having a nearly vertical shape to the grip gives a great platform for consistent trigger pulls.
Trigger
This is one amazing trigger. Mine came set at about 2.75 pounds, is ultra crisp, and is just amazing.
I really enjoy using it and would put it on par with most upgraded aftermarket triggers.
Bolt/Bolt Handle
Since this is based on the Remington 700, we find a 2-lug 90-degree throw bolt. It works, it works well, and it is smooth to cycle. It fed every type of ammo I could throw in it and did so flawlessly.
I really like this bolt handle, it's large and grippy. Perfect for my tastes.
Magazine
Something I really love seeing–a standard pattern magazine! The B-14 HMR takes AICS magazines and comes from the factory with a 5-round Bergara branded mag.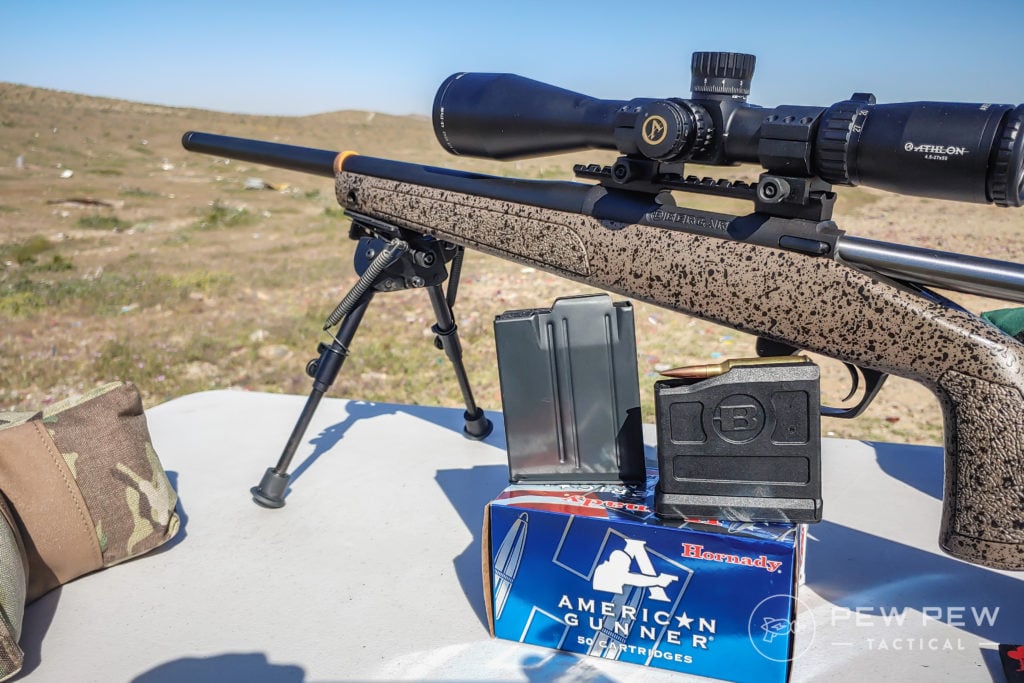 I tried MDT steel mags, MDT polymer mags, and Magpul polymer mags–all of them worked perfectly. This is a true AICS pattern mag well.
38
at GunMagWarehouse
Prices accurate at time of writing
Prices accurate at time of writing
Mini-Chassis
Designed for repeatable bedding and accuresy, the Bergara stock also features a mini-chassis designed into it. Very nice.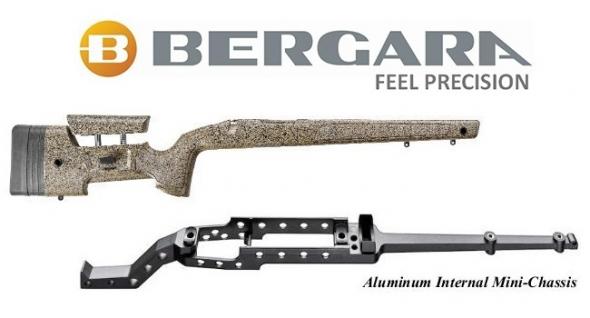 Barrel
The crown jewel of the B-14 HMR–this barrel is nice in every possible way. The finish is great, it's free-floated in the stock, it comes threaded with 5/8-24″ threading, and even features a metal thread protector.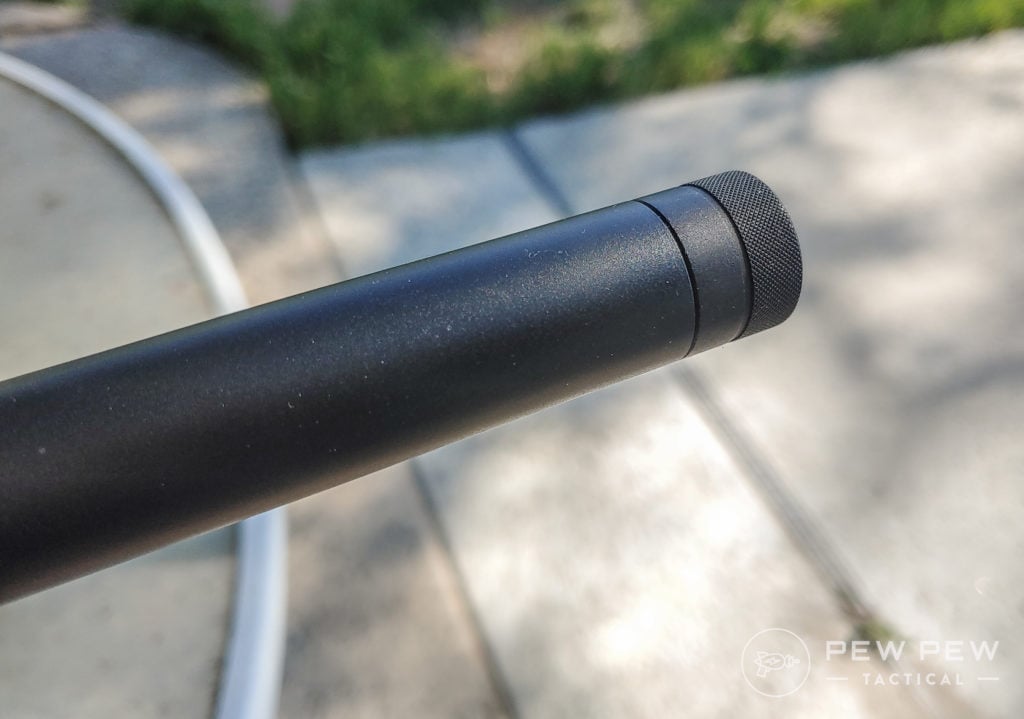 Sling Studs and QD Caps
Flexing the "hunting" part of HMR the stock has 3-sling swivels (1 in the back, 2 in the front) and 2 QD cup mounts. This gives you a lot of options for slings and bipods. I did most of my shooting with a Harris bipod on the front sling swivel.
Bergara B14 HMR Gun Deals
Range Report
I've wanted to get a chance at shooting a B-14 HMR for a while now and when the chance finally came along, I wanted glass that would live up to the rifle's potential.
In the past I've been using an Athlon Ares BTR Gen 1, but Athlon recently released the second generation of the Ares BTR line and it seemed perfect for what the B-14 is designed for. Thankfully, Athlon was kind enough to send one out for testing.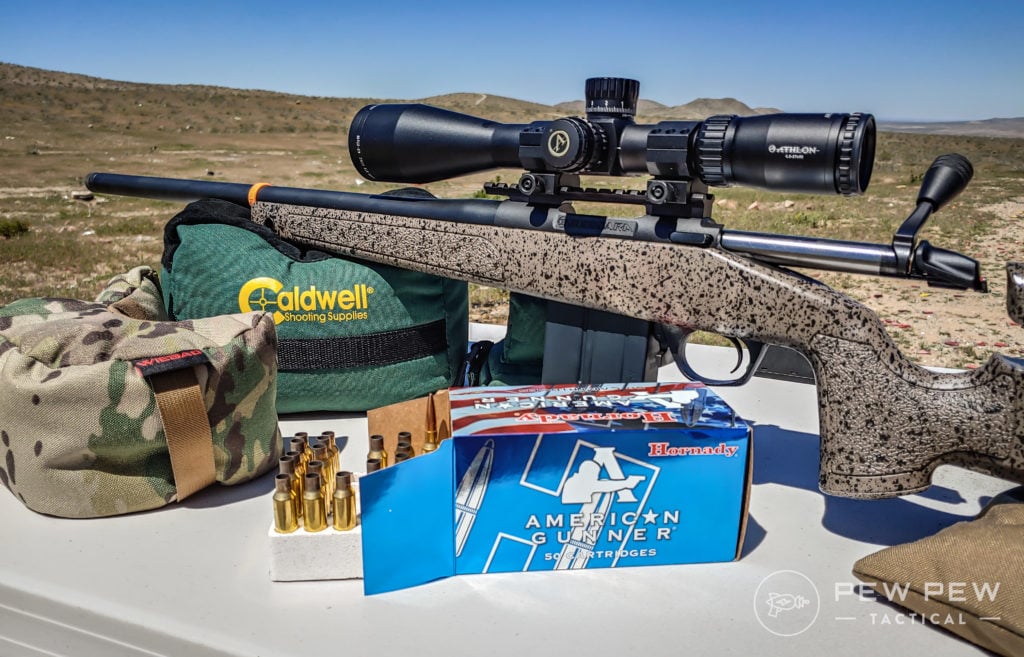 The results have been outstanding.
Off a bipod, off a bag, prone on the ground, this rifle shoots outstandingly well.
Every cycle of the bolt was smooth and easy, every ammo tested extracted cleanly, everything just worked from start to finish.
Small Groups Only
Armed with two sets of plinking ammo and two sets of match ammo, I braved the hellscape of California's deserts. And because I love shooting, I did it multiple times.
In all, I've put about 250 rounds through the B-14 HMR, while not a huge round count–that is a decent amount of time behind a long-range precision rifle to get to know it.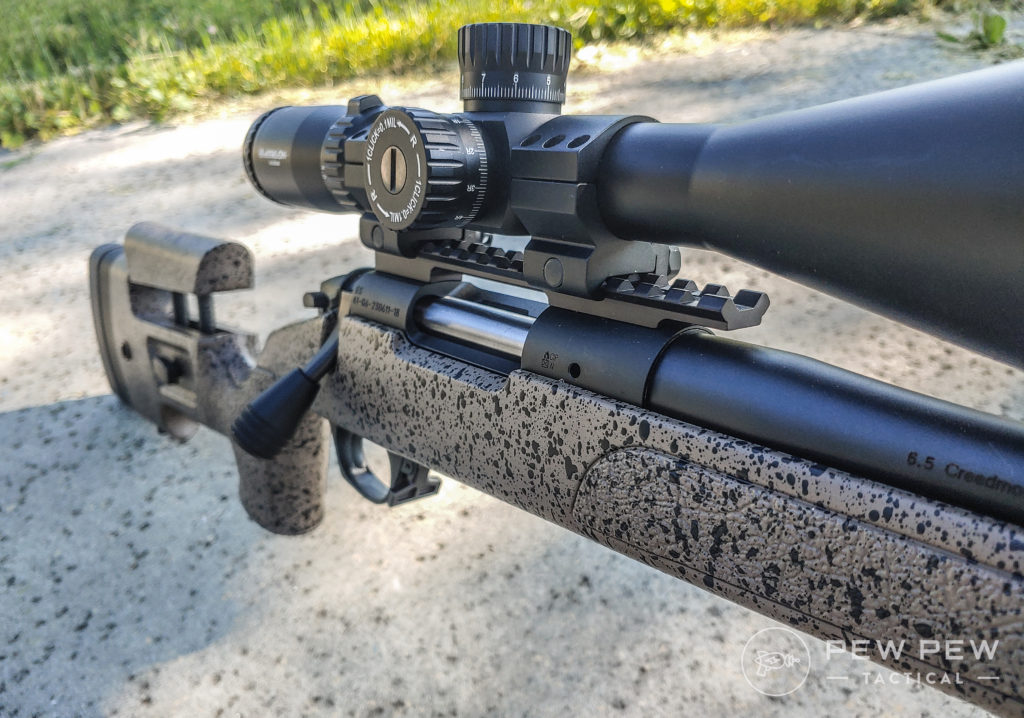 I really don't have anything negative to say about it. This is simply a great rifle.
Let's check the groups, we'll go from big to small.
Hornady American Gunner 140gr
This was the largest grouping ammo, but that isn't too surprising. Normally I get better results than this, but this isn't bad at all considering this is the more plinking style of ammo from Hornady.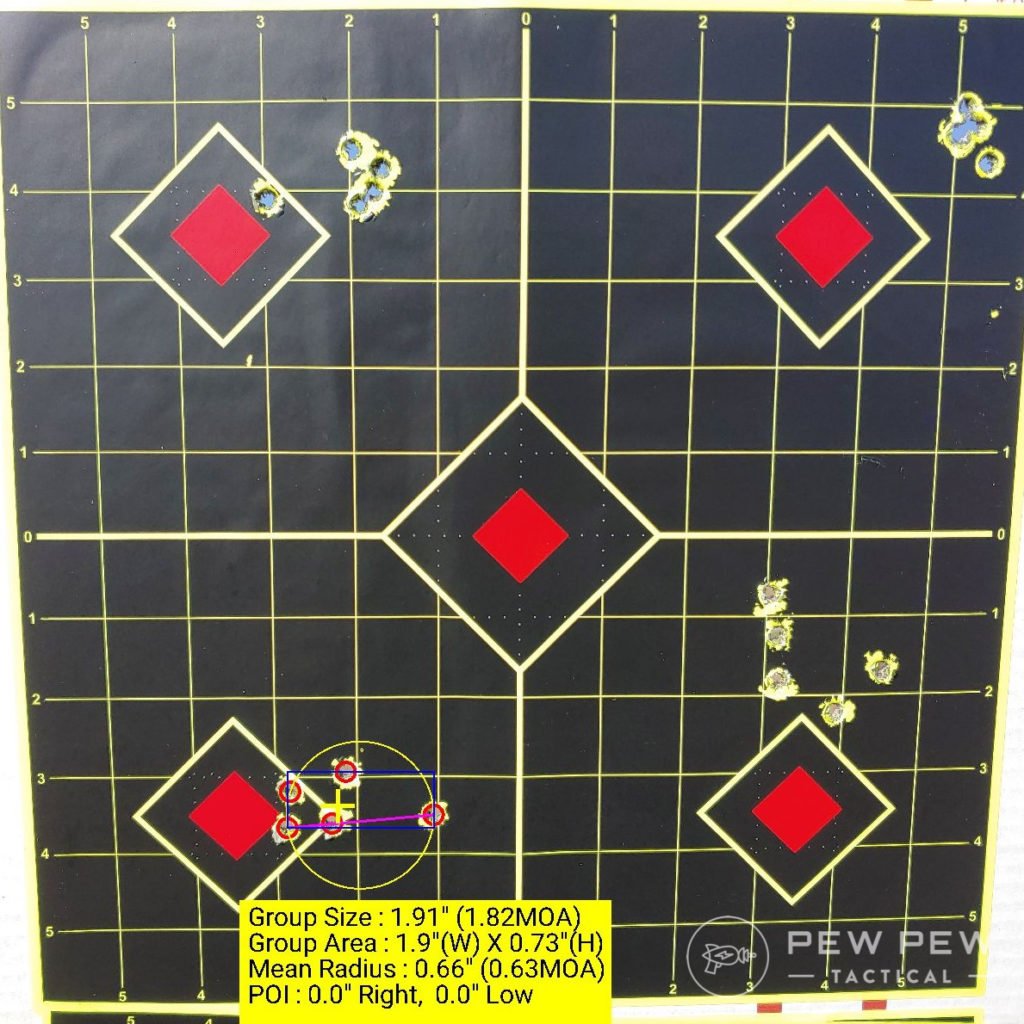 Still, pushing it to 600 yards was no problem and resulted in hits all day.
If you exclude the flyer on this group, it was sub-MOA. But I tended to get a flyer every time I shot groups with this ammo, so I think it's just the ammo.
58
at Brownells
Prices accurate at time of writing
Prices accurate at time of writing
Sellier & Bellot 140gr
Generally, I don't like S&B 6.5 Creedmoor. Out of five 6.5 Creedmoor rifles I own, S&B has extraction problems in all of them. Bolt rifles and gas rifles. But… I bought a ton of it on sale and I'm still shooting it.
This Bergara was the first rifle that I didn't have issues shooting this ammo. Not even a slight sticking, each and every round extracted with ease!
And the groups weren't bad either, for plinking ammo.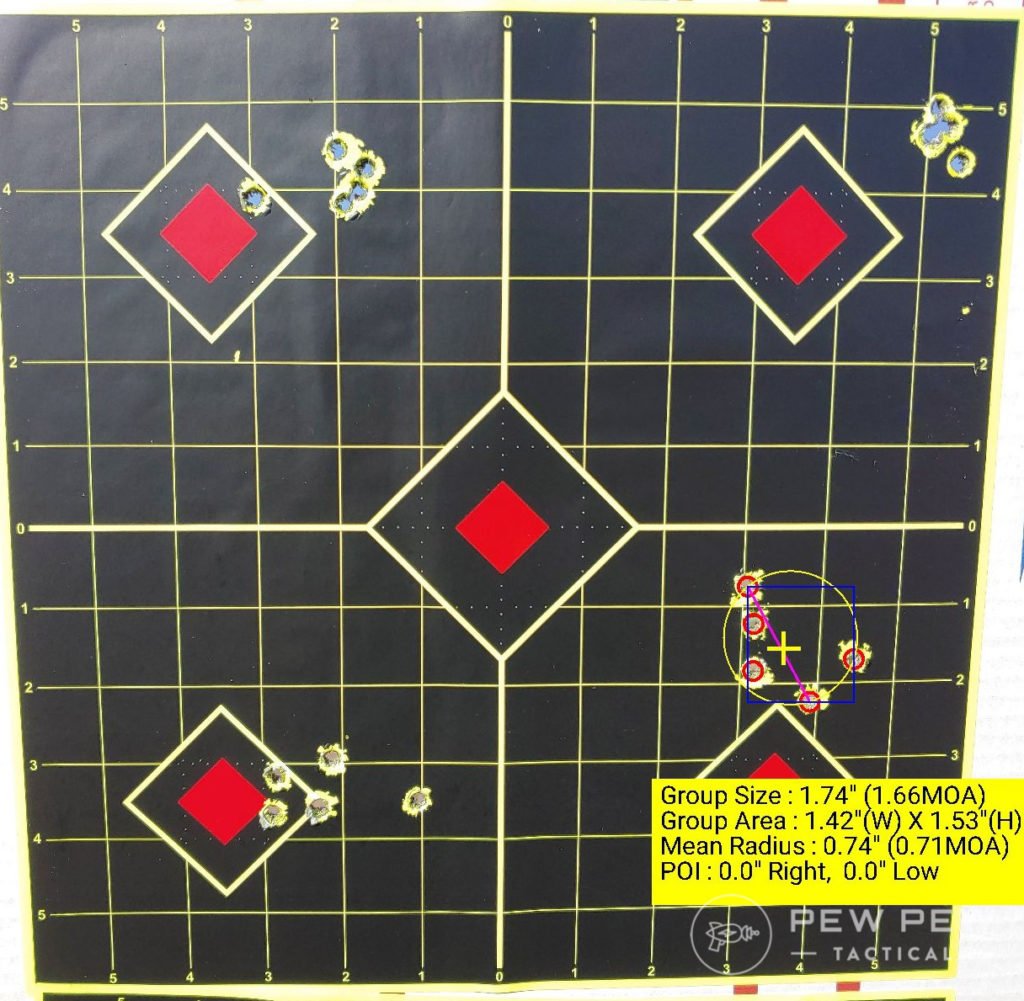 Sig Sauer Elite Match 140gr
I've always had great results with Sig Sauer ammo, I really think they are one of the most underrated factory ammo brands on the market.
This is arguably the best group I shot with the Bergara and I was very happy with it. Sub-3/4 MOA is a great group!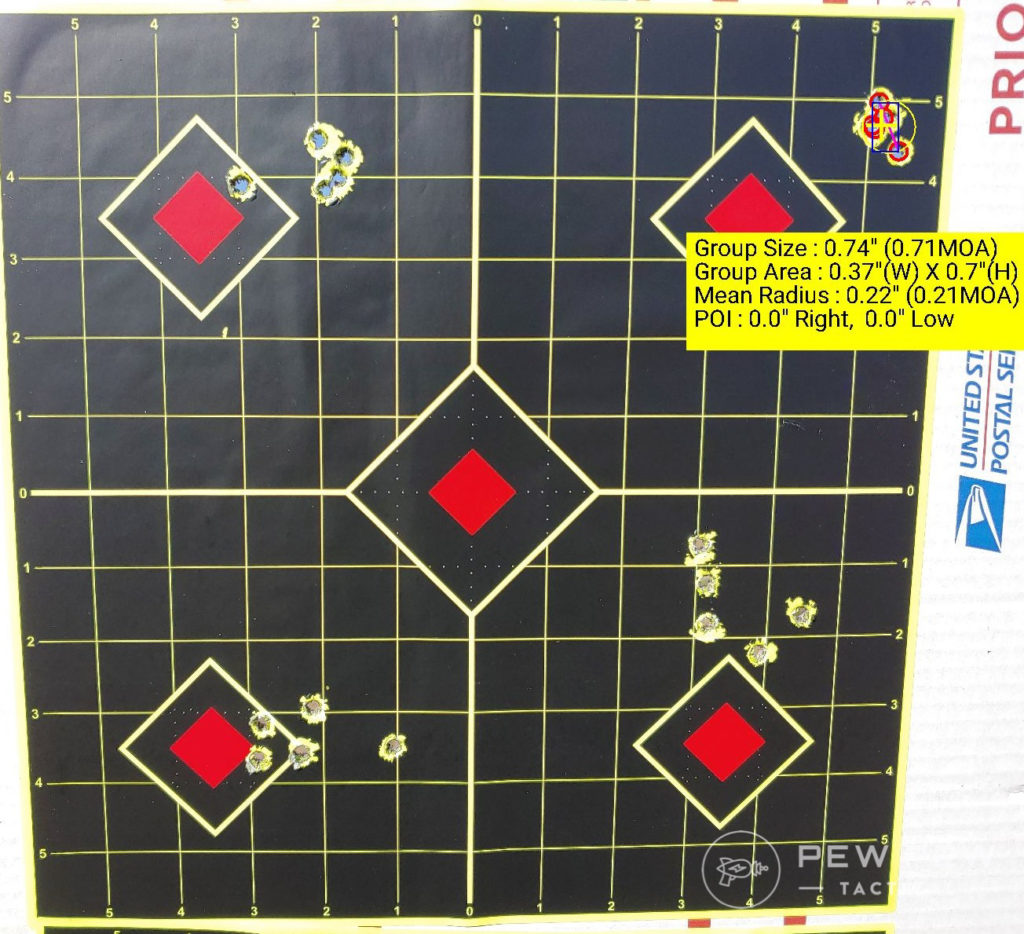 I also pushed this ammo out to the 600 yard target with zero problems. Perfect hits every time.
24
at Primary Arms
Prices accurate at time of writing
Prices accurate at time of writing
Hornady ELD Match 140gr
I count this as the best ammo, it was consistently under 0.75 MOA
But when I shot this group, I threw one. Totally my fault–so I removed it from the group measurement.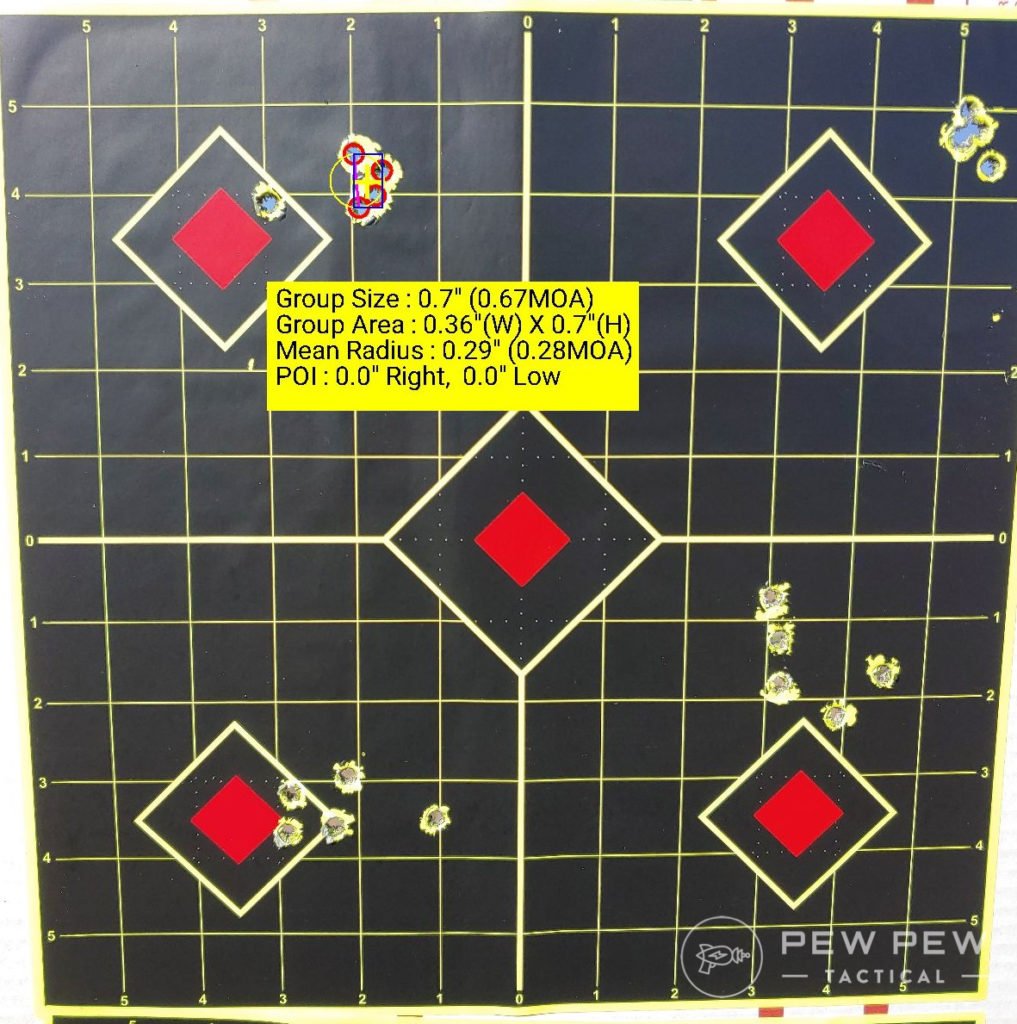 And again, pushing the ELD Match to 600 yards was a piece of cake. This rifle can shoot, period.
Range day after range day, I really enjoy shooting this rifle. The features, the groups, it's just great on every level.
30
at Brownells
Prices accurate at time of writing
Prices accurate at time of writing
Athlon Ares BTR 4.5-27×50 Gen 2
I won't keep you in suspense, I love this optic. The Gen 1 was good, for what I paid for it, but the Gen 2 blows it out of the water in every way.
In fact, it blows most of the competition in this price range away.
Construction is great, everything is clean and works well. What really gets me are the turrets and the reticle. Oh, and the glass.
First these turrets, they are just so crisp. So snappy. They are awesome.
The zero stop works great and is a nice hard stop but also easy to set, combined with how positive and loud the clicks are–it beats out anything sub-$2,000 I've tried.
Glass quality and light transition are outstanding. Although, it's not a huge upgrade over the Gen 1. To my eyes, the Gen 2 is brighter–but only a little. This speaks to the glass quality that was already found in the Gen 1.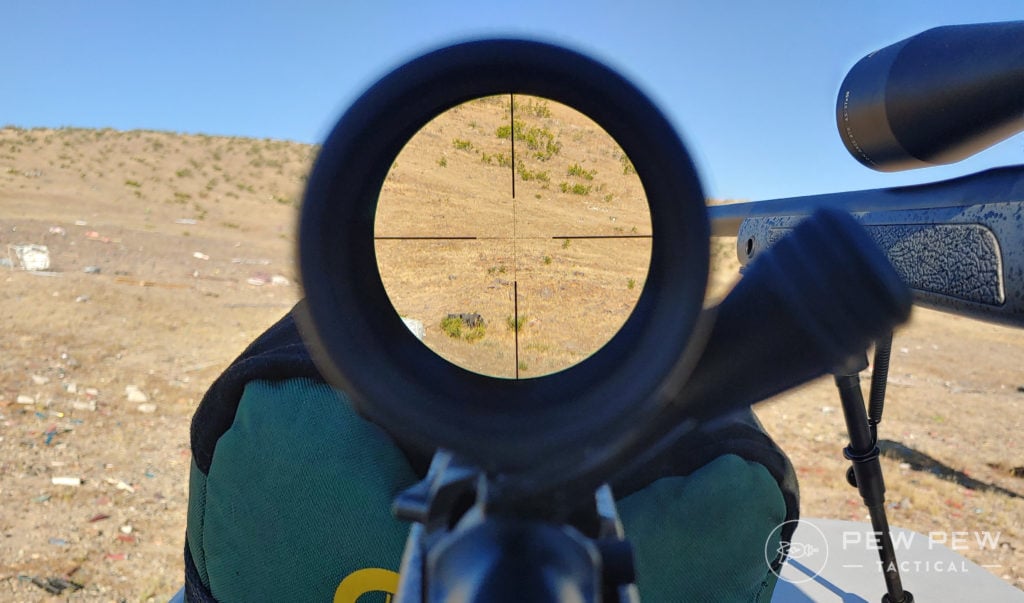 Finally the reticle, I'm really picky when it comes to reticles. Athlon has a huge range of reticles they use and offer the Ares gen 2 in both the APRS5 and APLR3.
Mine is with the APLR3.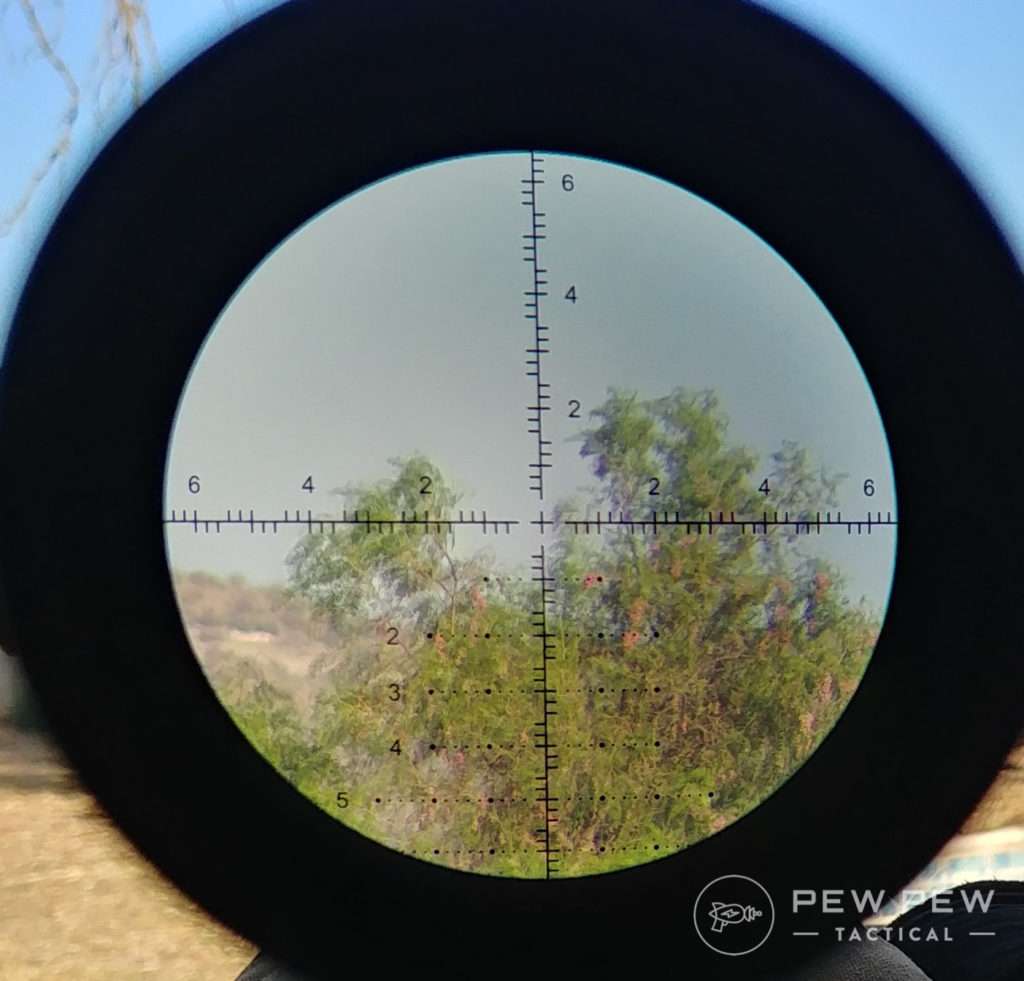 To me it isn't the perfect reticle, if I could choose again I think I would opt for the APRS5 since it is very close to the APRS1 in my Athlon Cronus. That said, the APLR3 is still a great reticle.
918
at Amazon
Prices accurate at time of writing
Prices accurate at time of writing
It's clean, easy to use, and while the middle cross kind of feels a little large, it makes it easy and fast to pick up.
Really, it's more about what you prefer in a reticle.
I still like the APRS1 found in the Athlon Cronus better, but the APLR3 is a very close runner-up.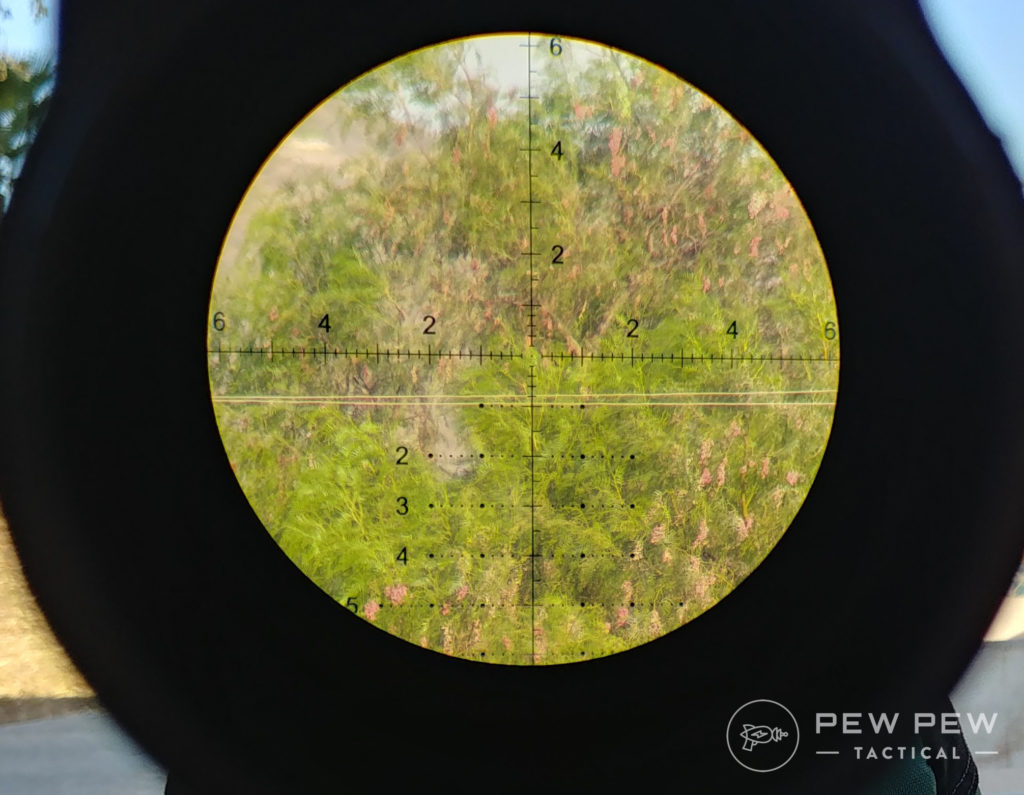 Something Extra
If you're looking at the pictures and thinking "what on earth is that strange orange thing", the answer is that it is a Flare Mini.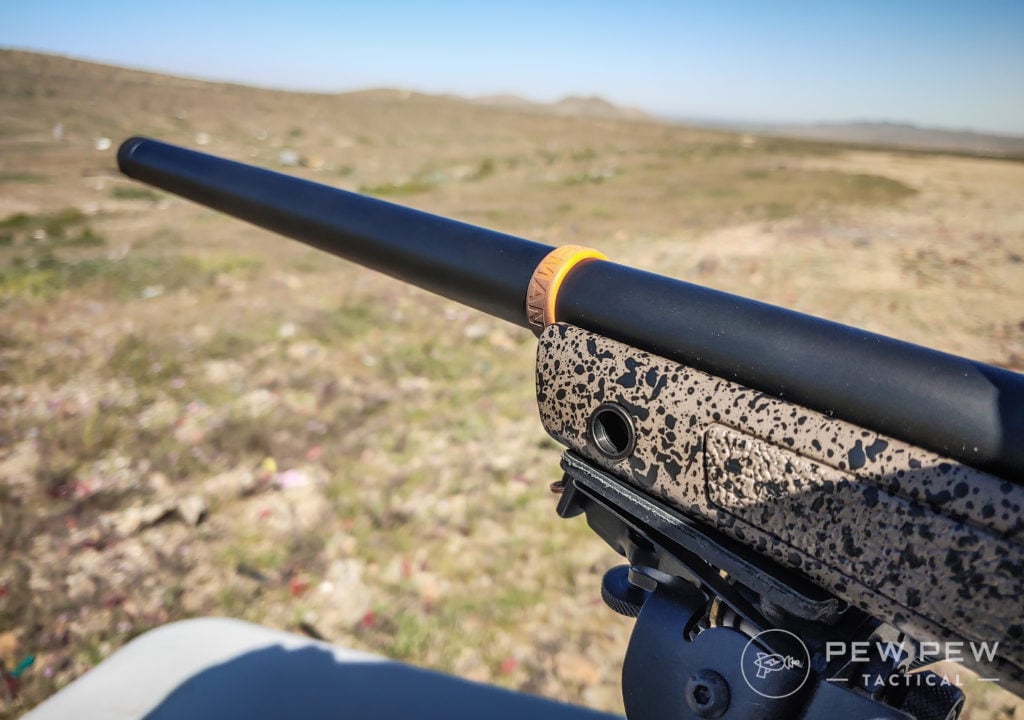 It's a simple little thing, a ring of special polymer that changes color when it's over 131 degrees.
While not the most critical piece of kit, I've been using the ones Caveman sent us for a couple of reasons. First, so when I'm packing up I don't burn my bags.
But mostly as a visual reminder to let my barrel cool off when I'm shooting groups. Especially when I'm testing stacks of ammo looking for what shoots well!
Flare Minis come in a few colors, personally I like the green best. But orange is their classic.
12
at Amazon
Prices accurate at time of writing
Prices accurate at time of writing
Who Is It For?
The name of the rifle is the B-14 HMR. I don't know what the B-14 means, but the HMR is for Hunting and Match Rifle.
From the ground up and even in the name the HMR is designed to fill two main roles–shooting paper targets and hunting. For the paper targets side, I love it.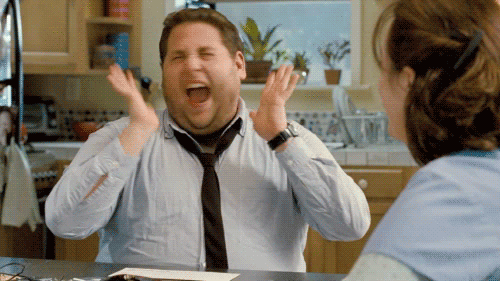 But it has some draw backs if you're planing on hunting with it. It will shoot, we know that for sure. So ethical kills should be very easy to get in the bag.
The weight though… coming in at just under 10 pounds, this isn't a mountain rifle–but it isn't a beast either. If you're shooting from a blind or don't plan on stalking far, then this is a great rifle.
But I still see it better in a more match role. Granted, that comes from someone in the Western US where hiking up/down, in/out of canyons is standard for any kind of game.
Speaking of matches, how does it compare?
Head to any local PRS match and you're almost always going to see at least one B-14 HMR there. And for good reason, it works.
The stock is great and allows for the use of slings and bipods, plus the action is wonderful and the barrels accurate.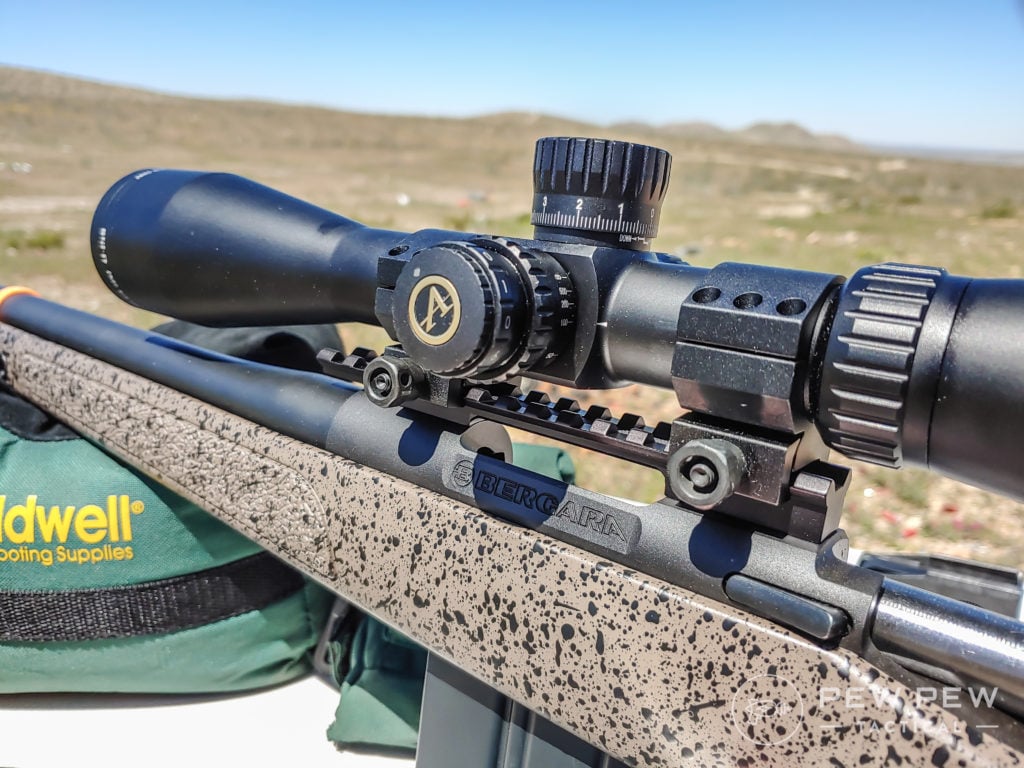 Throw a muzzle brake on the threads and tracking shots is no problem. But I really recommend a brake, it helps a lot. I threw on a VG6 6.5 Gamma.
72
at Brownells
Prices accurate at time of writing
Prices accurate at time of writing
If you're a range or match shooter that wants the option of hunting, I would highly recommend the B-14 HMR. If you're a hunter that wants to plink or run a match sometimes, you should think about the weight before committing.
As for the Athlon Ares BTR–I love it. I recommend it very strongly for the range or matches, but it's a little heavy and overkill for hunting. That said, it's still good to go!
By The Numbers
Reliability: 5/5
Perfect function. Even with ammo that I've had extraction issues with in other rifles, nothing stuck or bound in the slightest with the B-14 HMR.
Ergonomics: 5/5
Generally, I prefer a true chassis over a stock, but this one is actually really well executed. The pistol grip is nearly vertical, the cheek rest fits my face nicely, and the forend is flat for resting on a bag.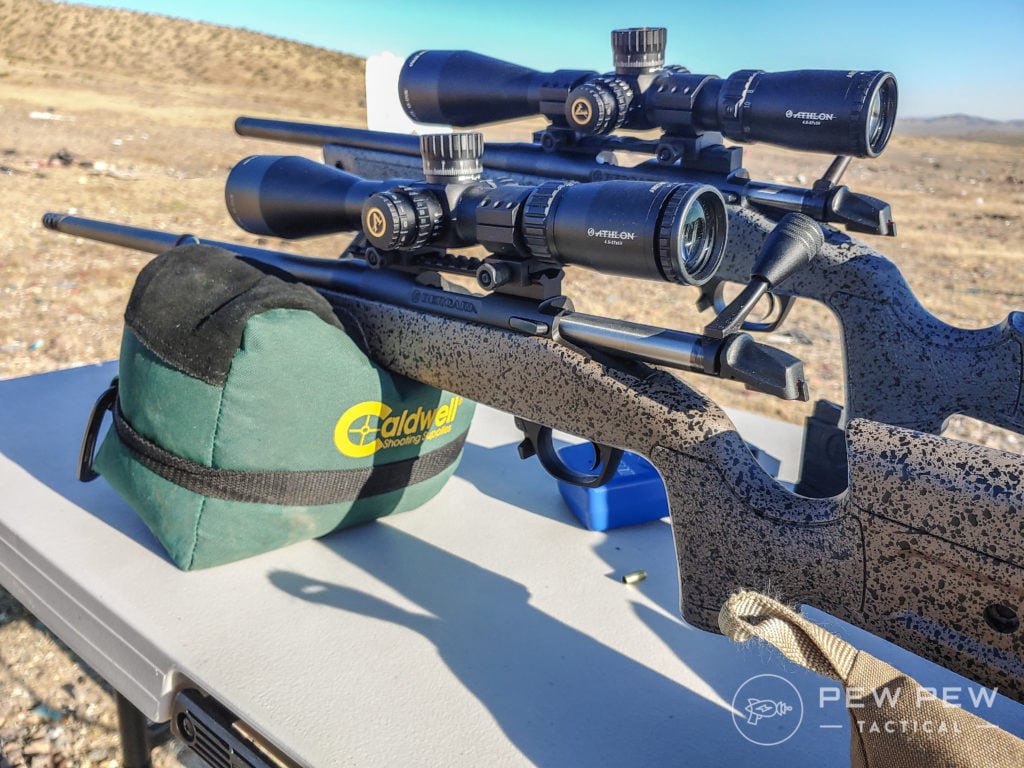 And of course, it has a mini-chassis built in for all of the benefits that brings.
Accuracy: 5/5
This rifle shoots, period. I am very happy with the groups I was able to produce with a wide range of ammo options.
Customization: 4/5
Being based on a Remington 700 action you have a LOT of choices in stocks, chassis, scope mounts, triggers, and more. But the B-14 stops short of being a Remington 700 clone by using proprietary barrels.
You can get new barrels from Bergara, but that leaves you limited to their offerings.
Value: 5/5
If you're going to really use this rifle as a platform to learn long range shooting then it is an amazing value. If this is just a weekend plinker, you might not get as much out of it.
Outside of a custom action rifle, I think this is the absolute best Remington 700 footprint rifle on the market currently.
Overall: 5/5
949
at Sportsman's Warehouse
Prices accurate at time of writing
Prices accurate at time of writing
Conclusion
The Bergara B-14 HMR is a strong contender for the best value long range shooting platform. Based on the Remington 700 action you get your pick of almost any accessory but its Bergara's barrels that really bring the HMR to a whole other level. I really had high hopes for the B-14 HMR and I'm happy to say that it didn't disappoint even a little. It really lives up to the hype.
If you're not ready to spring for a custom-built rifle, but still want the best of the factory options–this is the rifle you're looking for. From PRS to hunting, it will get the job done.
What are your favorite bolt rifles? think there is something better on the market than the B-14 HMR? Let us know in the comments! For a lot more in long range optics, take a look at the Best Long Range Scopes & Optics!