The realm of 3D printing has only grown with time as more and more people joined the hobby, becoming "makers" in the process.
And it's easy to see why.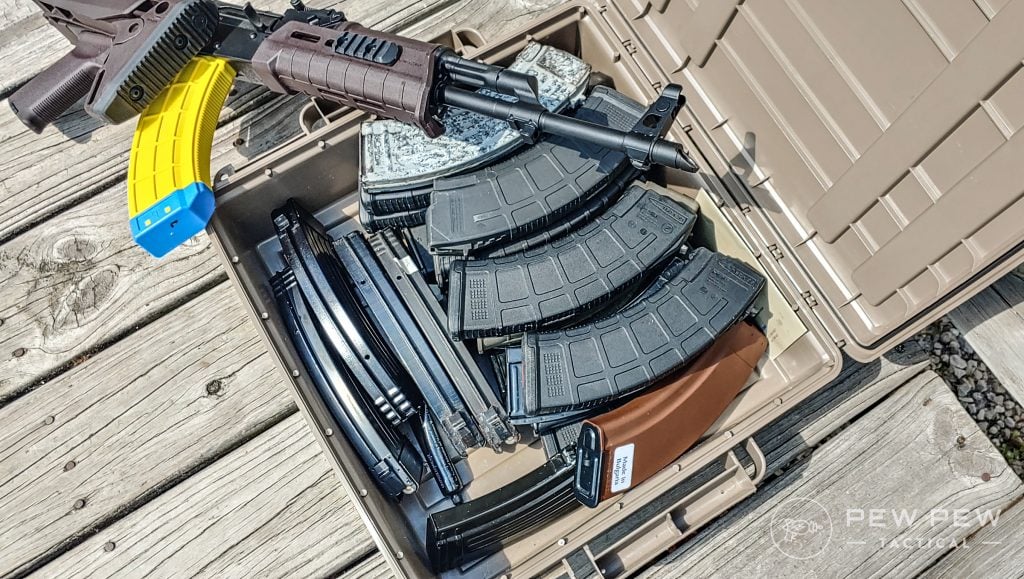 With a minor investment and some free downloads, you're well on your way to printing your very own gun parts and accessories for…well, anything.
Miniature catapults, car parts, and battery converters are all just some of the items that you can print in a matter of hours with a 3D printer.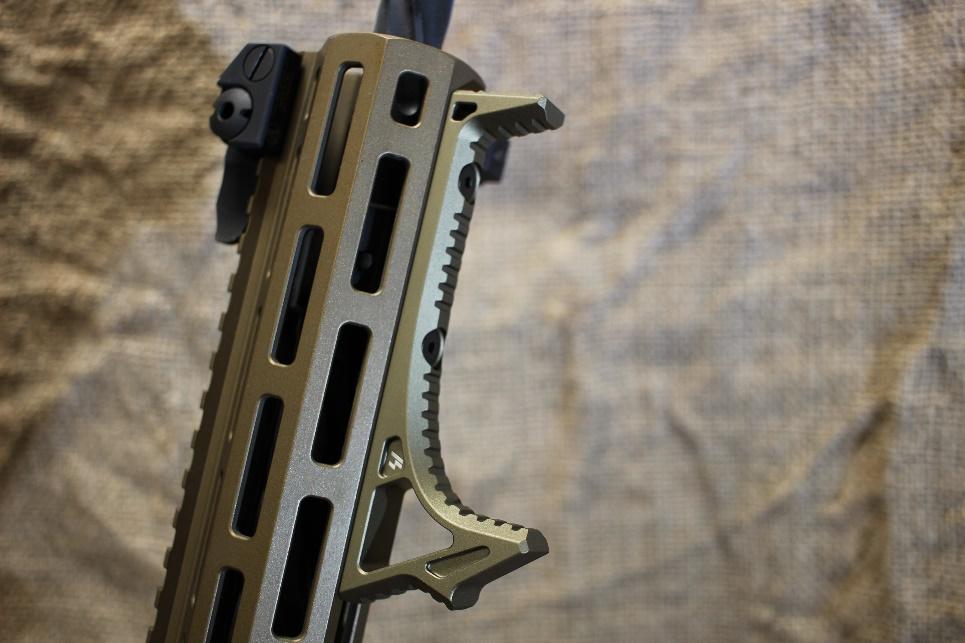 Not to mention your own gun accessories. Yep, you can avoid shopping for parts and just print your own.
So, today, we're going to lay out some cool accessories we've printed for our guns. Hopefully, by the end of this article, you'll know if 3D printing gun stuff is for you.
Table of Contents
Loading...
Supplies You'll Need to 3D Print
With a minor investment of $170 in a Creality Ender 3, $20 into a spool of filament, and a free download of Ultimaker Cura, somebody can easily be well on their way to printing off some absolutely amazing things.
190
at Amazon
Prices accurate at time of writing
Prices accurate at time of writing
All the prints we made were accomplished with PETG filament.
While the advantage of this type of plastic is that it's incredibly hard, PETG also has the reputation of being very difficult to peel off the base plate.
22
at Amazon
Prices accurate at time of writing
Prices accurate at time of writing
There are ways around this — though they do require an additional investment.
Purchasing a glass bed is probably the best option, but there are anti-stick coatings that you can place over the stock bed to assist in easier dismounts of prints too.
If, instead, you're looking for an easier-to-work with filament, you may want to check out PLA.
23
at Amazon
Prices accurate at time of writing
Prices accurate at time of writing
It's softer but doesn't have the reputation of causing sticking problems as PETG does.
I bring this up because several of my prints were chiseled into a million pieces as I tried to get them off the base plate.
Red dot covers, scope covers, and various foregrips were all attempted, resulting in a shattered mess.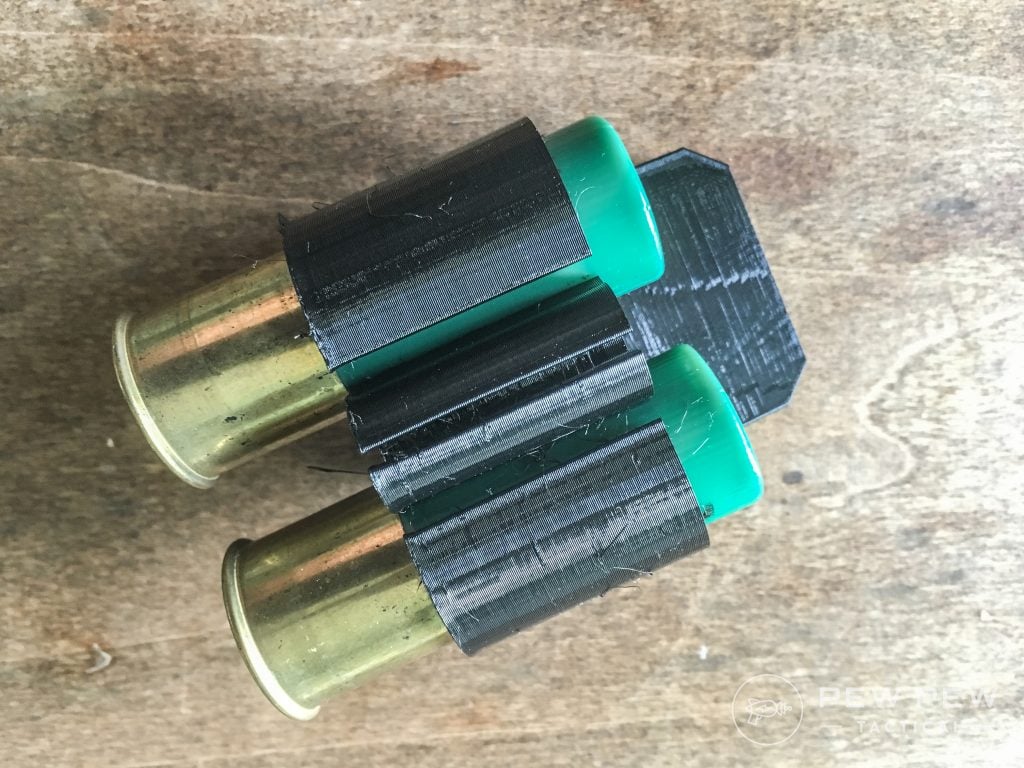 As you can imagine, it can be incredibly frustrating to wait six hours for a print to turn out, only to discover that you just broke it in two and gouged out your base plate as you tried to get it off.
As such, I can tell you that it's well worth your time and money to get a glass bed as soon as you can.
With that said, let's check out some of what's out there.
Best 3D Printed Gun Accessories
1. PrintedFirearm's GoPro Picatinny Rail Mount
Do you enjoy playing milsim airsoft? Perhaps you're looking at starting a Bitchute channel to show off your experiences?
Then you're going to want to probably put a GoPro on your weapon, and this GoPro mount is the perfect way to do so.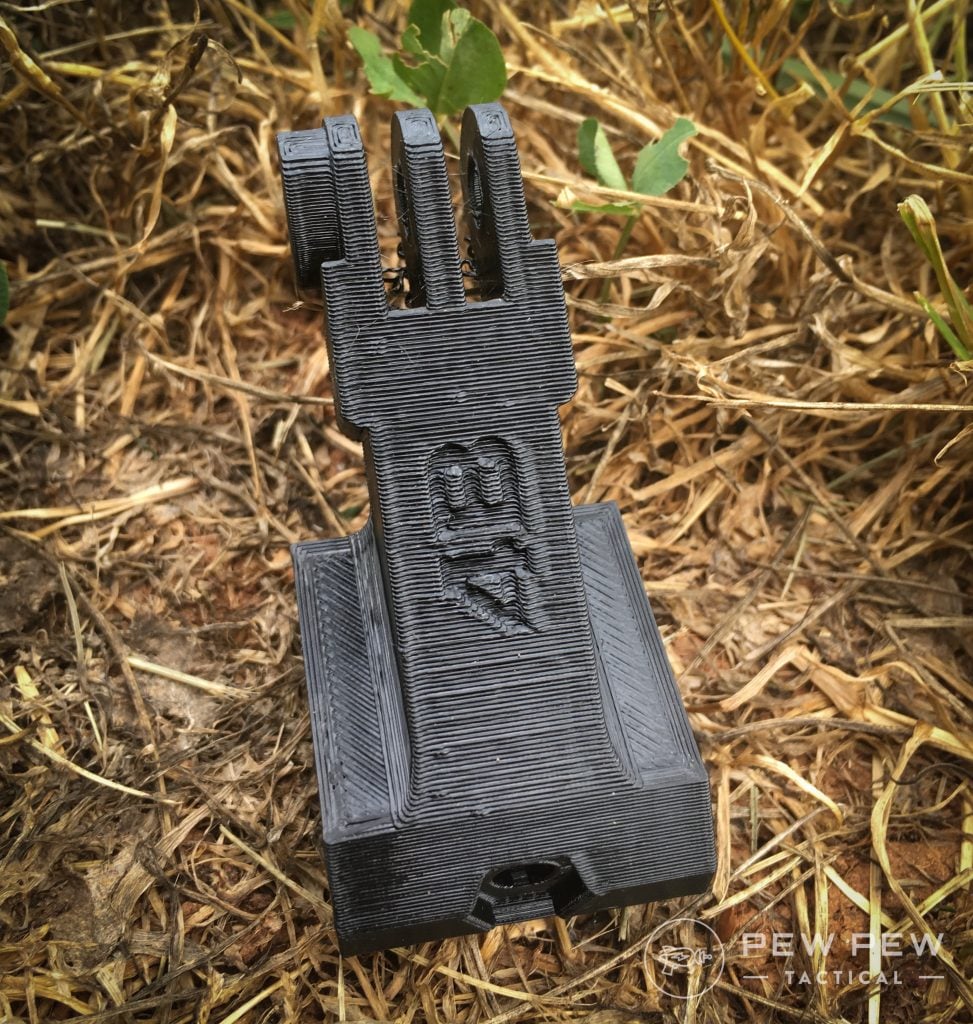 You'll need the necessary screws, so keep that in mind.
Also, if your GoPro doesn't already have a swivel adapter, you may need that so this can mount perpendicular to your barrel.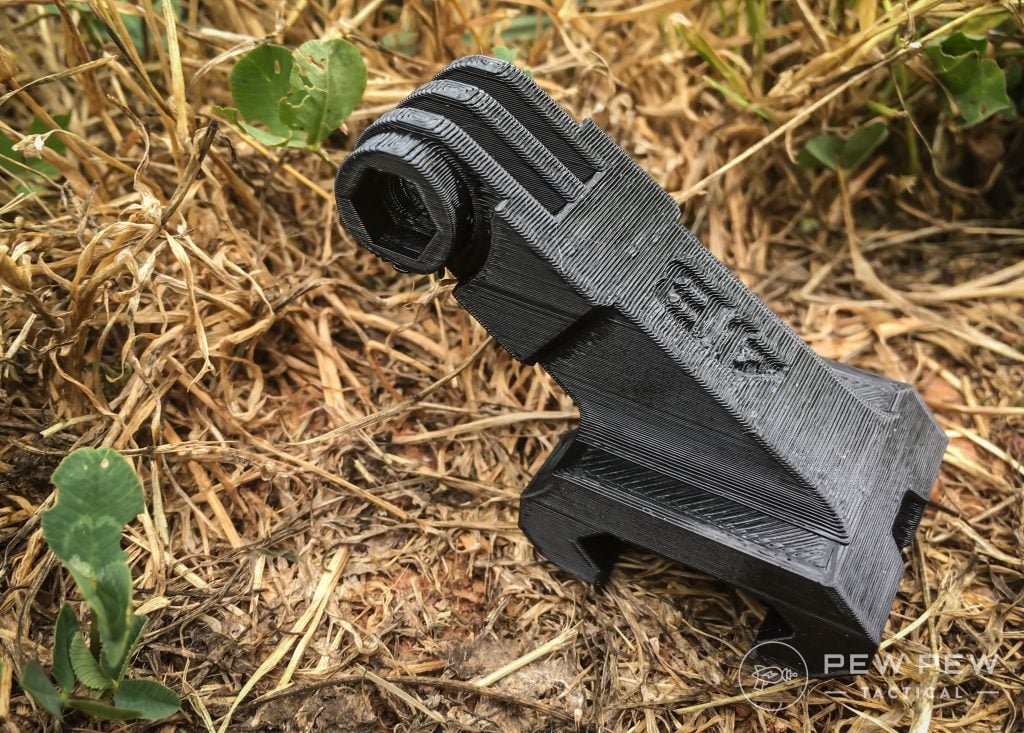 If you don't have such an adapter, you may be interested in this build instead.
2. DNeves' 20mm Picatinny Rail Riser
Have a red dot scope you want to put on your milsim AR-15 that you need to raise up and out of the way?
You probably need a rail riser then, right?
This beautiful print is the way to do that and can easily save you some cash along the way!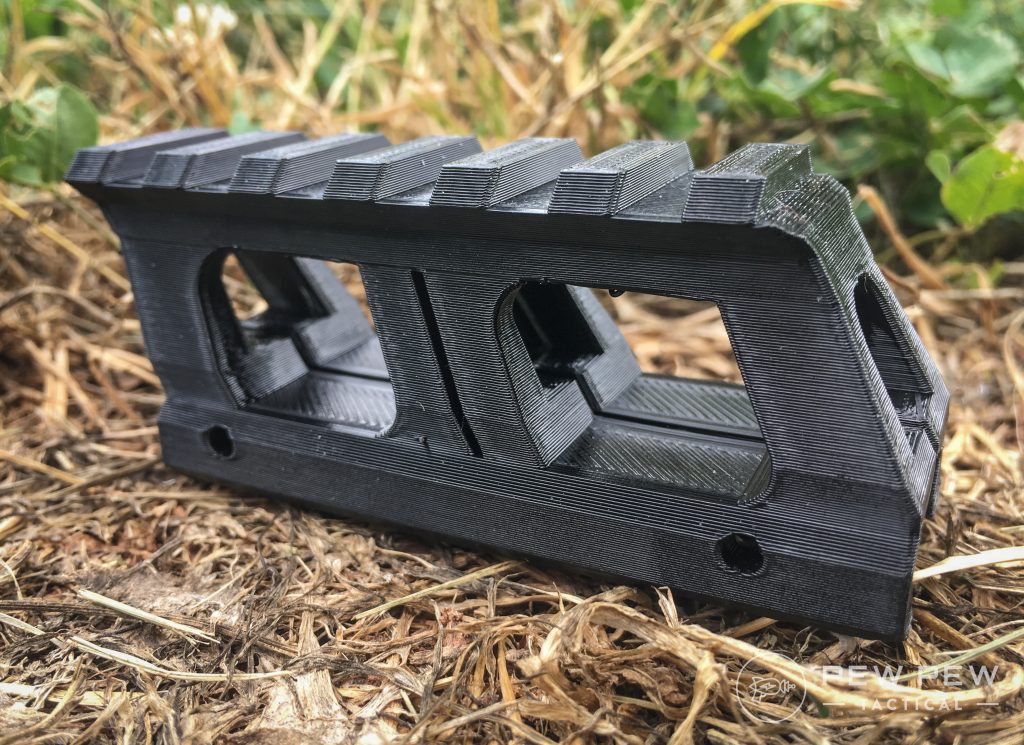 There was a bit of stringing on this print's underside. But remember, the printer makes a long strand of plastic from point A to point B over thin air (akin to a bridge).
So, the plastic-free floats, and as a result, dries a little strange.
Often, people will minimize this stringiness by heating it with a hairdryer after the print is finished. But I didn't do that with this one.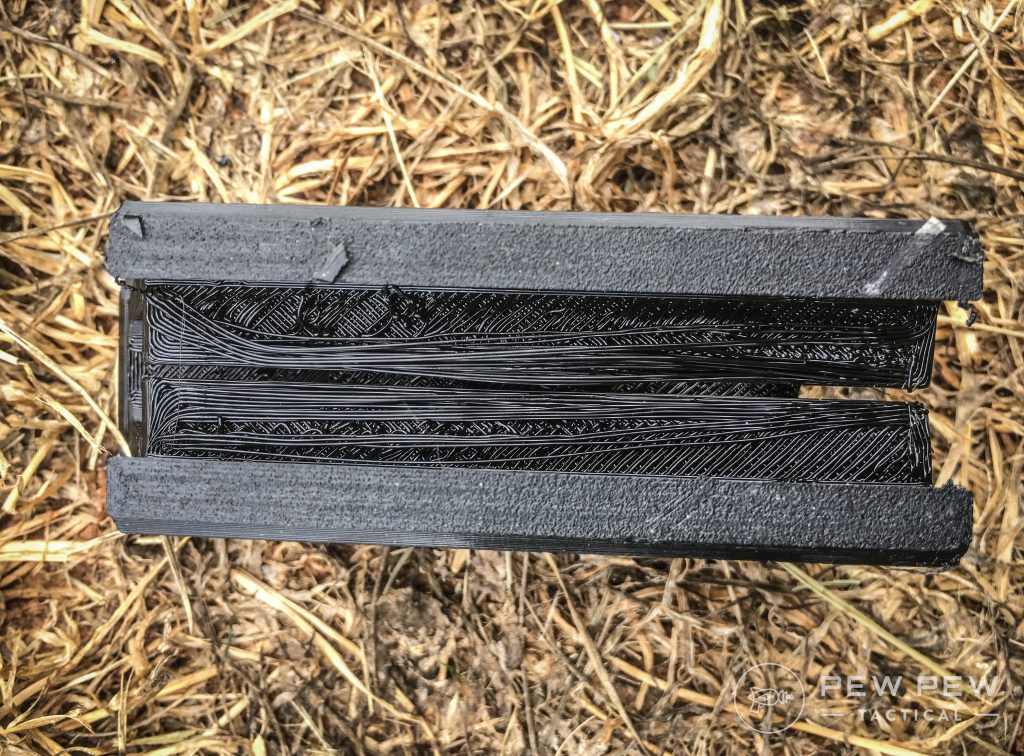 The rest of this print ended up coming out solid, however.
As always, with printed Picatinny attachments, you need to make sure you have the available screws for these to stay in place.
I suppose you could always 3D print a screw as well if it really came down to it. But I would feel much more comfortable with metal holding my equipment together.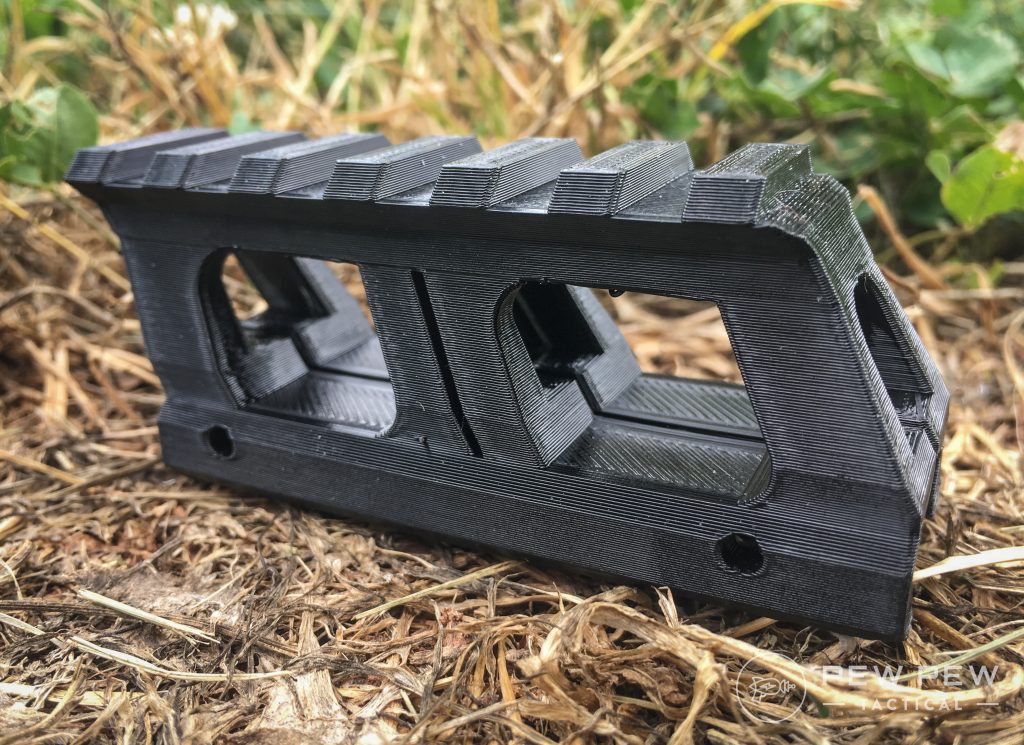 3. solo92s10's Single Stack 9mm Magazine Wall Holder
You have some extra mags for your EDC pistol at home, but looking for a way to get things to look a bit more organized?
How about a magazine wall holder?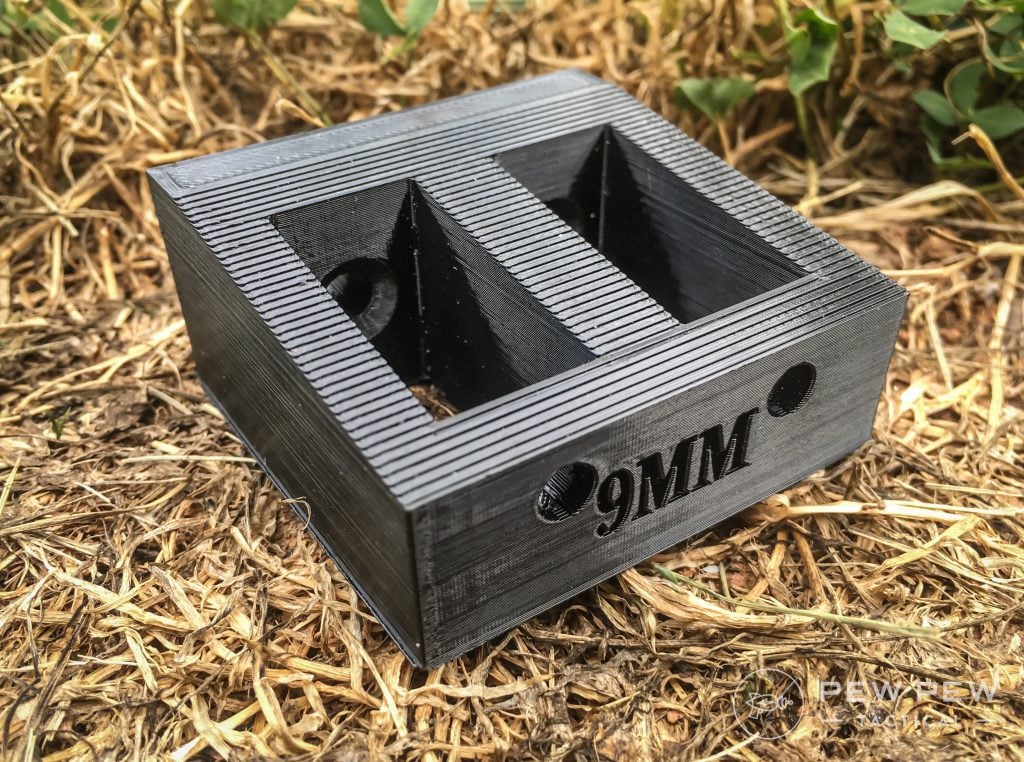 All you need to install is an extended drill bit that can fit through the holes on this mount.
The rear countersunk holes will help to prevent the screw heads from marring your magazines as well.
This design will easily keep your mags in an attractive and readily accessible format for when you need them most.
4. Bradel12's S&W M&P Shield Magazine Pocket Holster
Out of this entire list, the M&P Magazine Pocket Holster print is the most akin to an arts and crafts project.
However, considering the M&P Shield is one of the most common EDC pistols out there, this one is worth the time.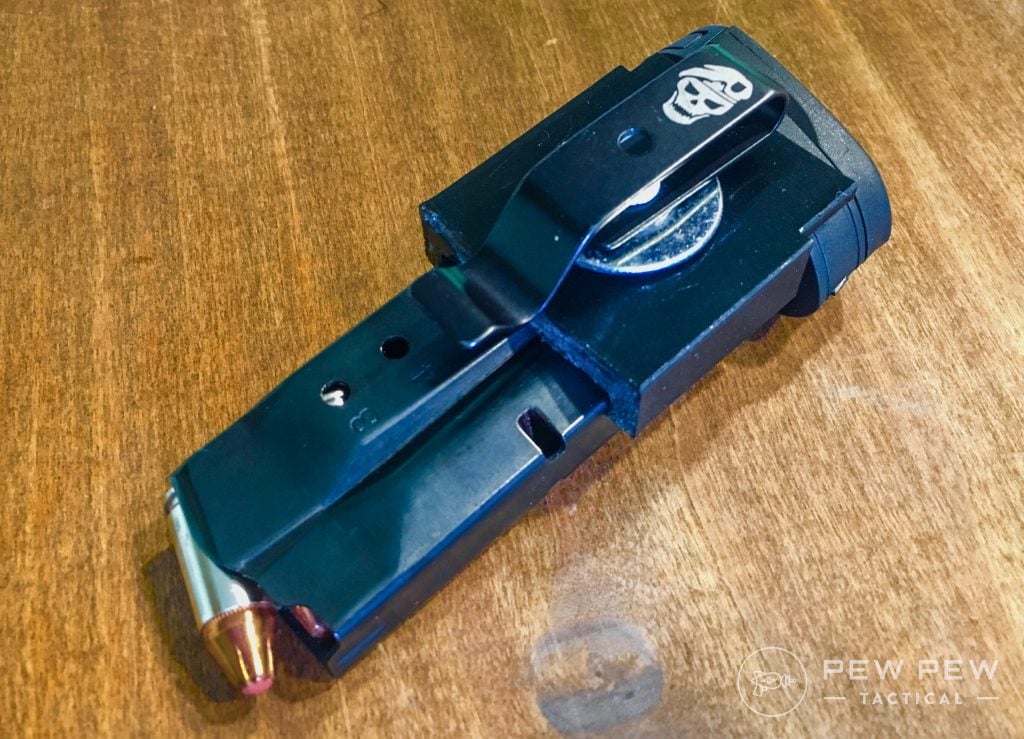 Aside from the print, you need two small magnets (which you'll superglue into the round impressions) and a belt clip as well.
I recommend taking the belt clip off an old pocketknife and installing it with a tiny screw that won't go all the way through the print.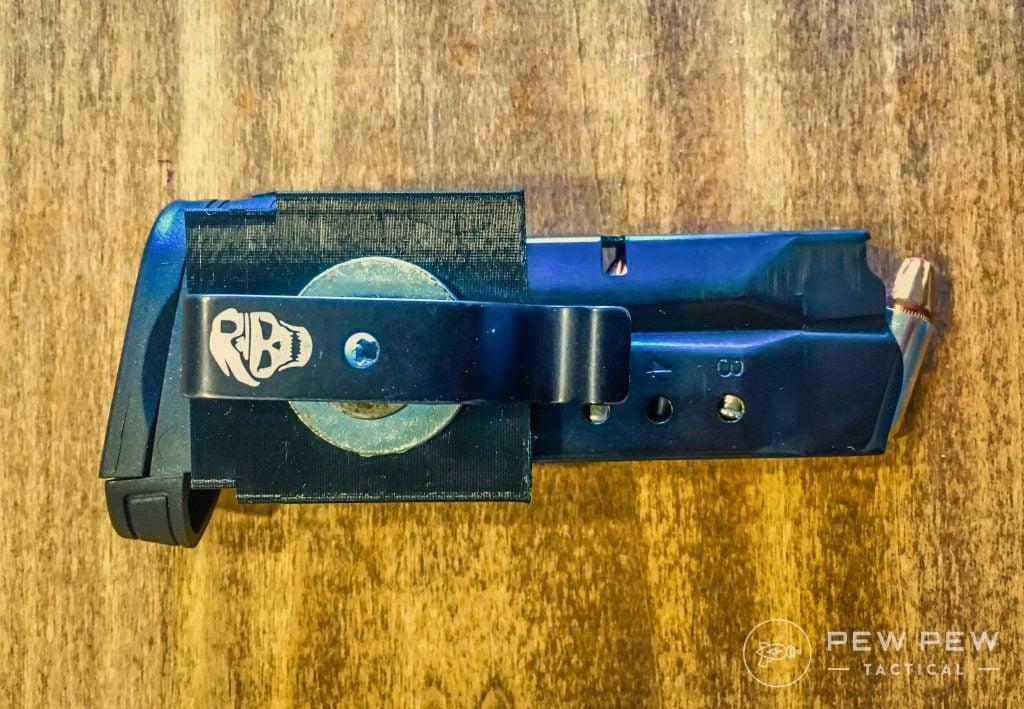 Now you have a way to keep an extra mag readily accessible in your pocket without it bouncing around all over the place!
5. Ferrarit87's S&W 9mm Shield EZ Speed Loader
As mentioned, the S&W 9mm Shield is one of the most popular EDC pistols out there.
However, filling up mags can sometimes be rough on the fingers. But there's a print that can make the process a whole lot easier for you!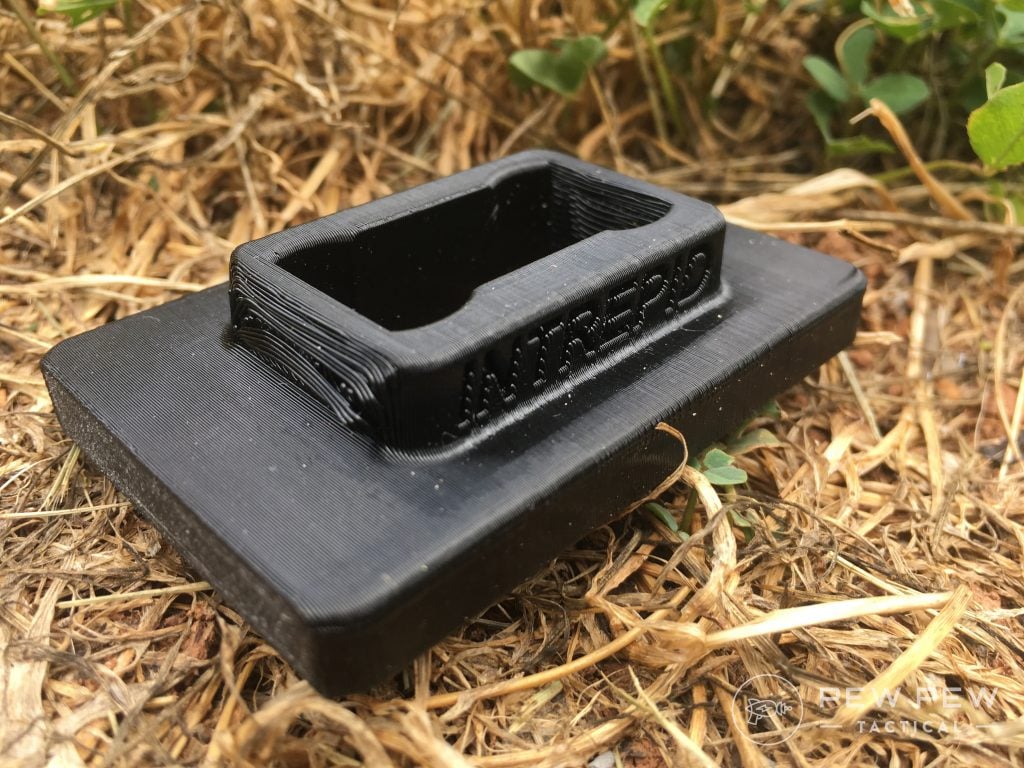 This EZ Loader print will give you something to hang onto better, allowing you to direct your strength more efficiently to get another round into the mag.
6. phreak42x's AR-15 Foregrip
Let's say that you've been looking at adding a foregrip to your AR-15, but you don't like the idea of shelling out $40+ for one. Why not just print one, then?
You can easily do that for a little less than a dollar.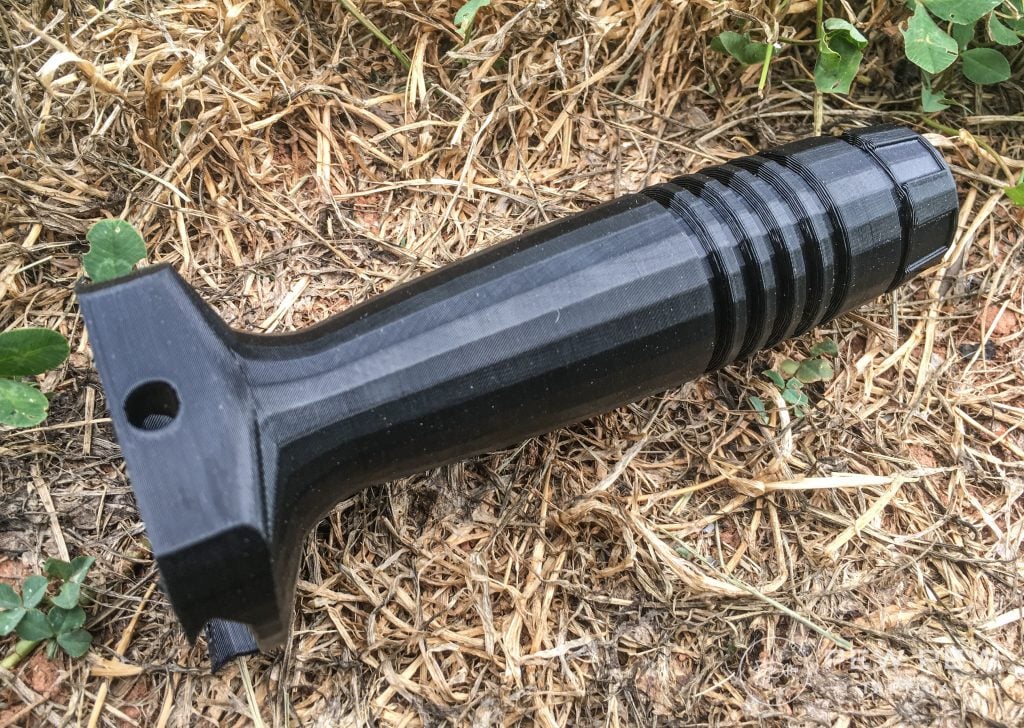 A few designs are available on Thingiverse, but this AR-15 foregrip print can be accomplished within four to six hours.
You can always adjust the infill with a 3D print as well, making the guts of whatever you're making having a stronger core.
This may be a print that you want to bump that infill percentage up so that it doesn't break while you're using it.
7. mrtinkerer's M16/M4 Magazine Holster
Going wild boar hunting with your AR-15 and want a way to keep an extra mag handy?
Using a magazine belt holster that easily keeps a mag clean and accessible is the way to go.
There are a total of three prints that you must make for the finished product, but the result is pretty cool.
Just be very careful when you're attempting to install the two belt clips on the holster properly.
The tolerances are incredibly tight, and you can easily crack something.
Also, the holster has a tight tolerance too. So, getting a mag in there the first few times feels rather challenging.
It does loosen up eventually but be gentle with the print until it does so.
8. Kilen08's .38 Special Belt Ammo Holster
Who doesn't like feeling like John Wayne?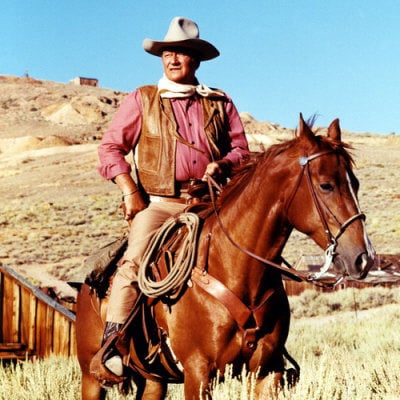 If you're looking for a way to keep a few extra revolver cartridges on your person in an easy-to-access area, the .38 Special Belt Ammo Holster makes for the perfect print.
While this one is printed with PETG, you may want to consider using a more flexible filament.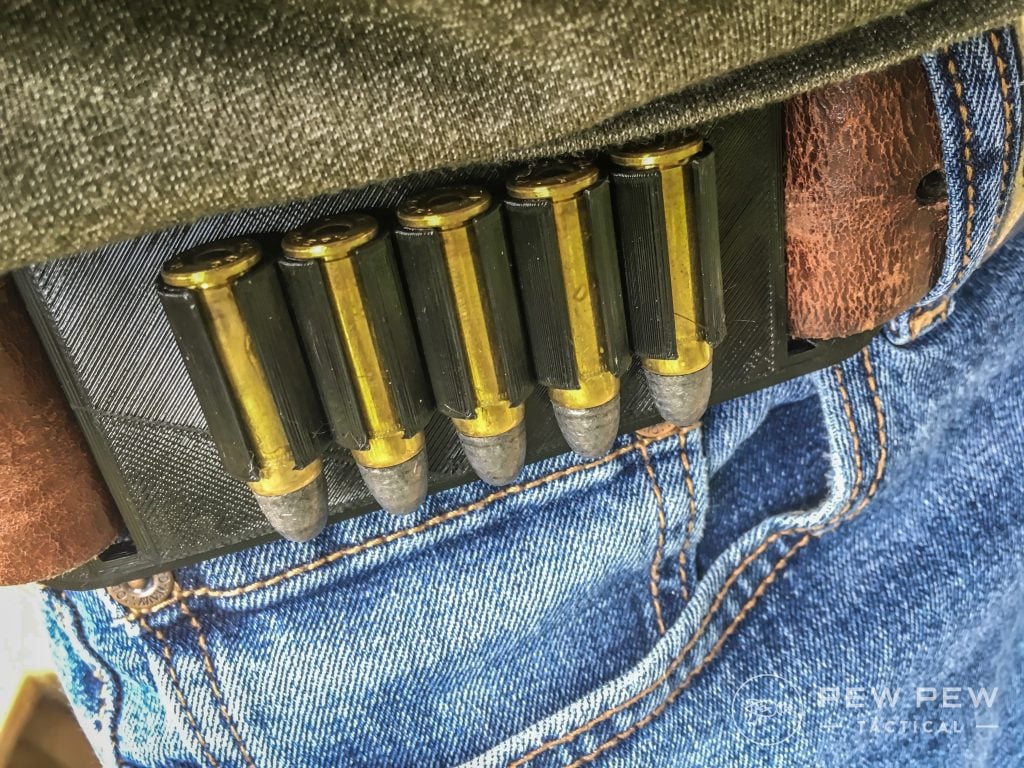 With PETG, it's kind of like strapping a little rigid 2×4 to your belt. You'll have a bit of trouble getting a leather belt to slide through this one comfortably.
So, a thin fabric clip belt (like the ones you find on dry-fit pants) is best for this one.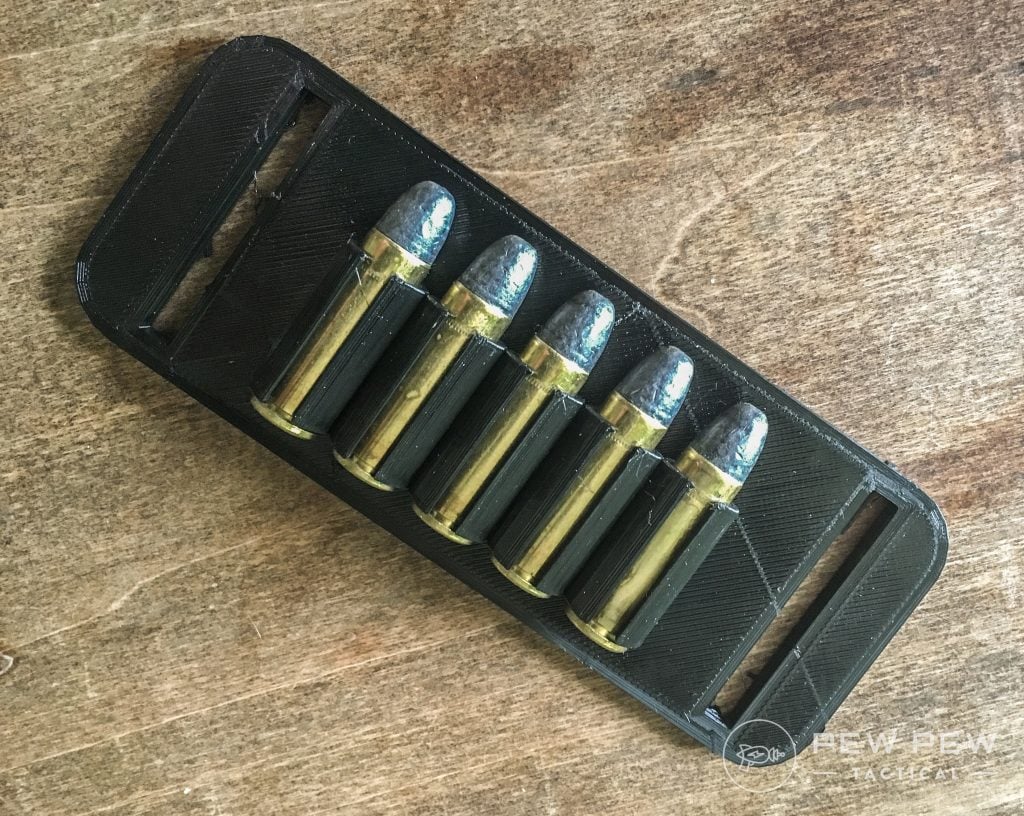 9. davidkbailey's Belt Shell Holder for 12-gauge shell and .223/9mm
I'm slightly confused on this one, but the Belt Shell Holder still seems pretty cool.
While I get the idea of wanting to carry a few 12-gauge shells on your person as you're walking around in the woods with your break-action shotgun, the idea of also needing space to hold a single 9mm is somewhat strange.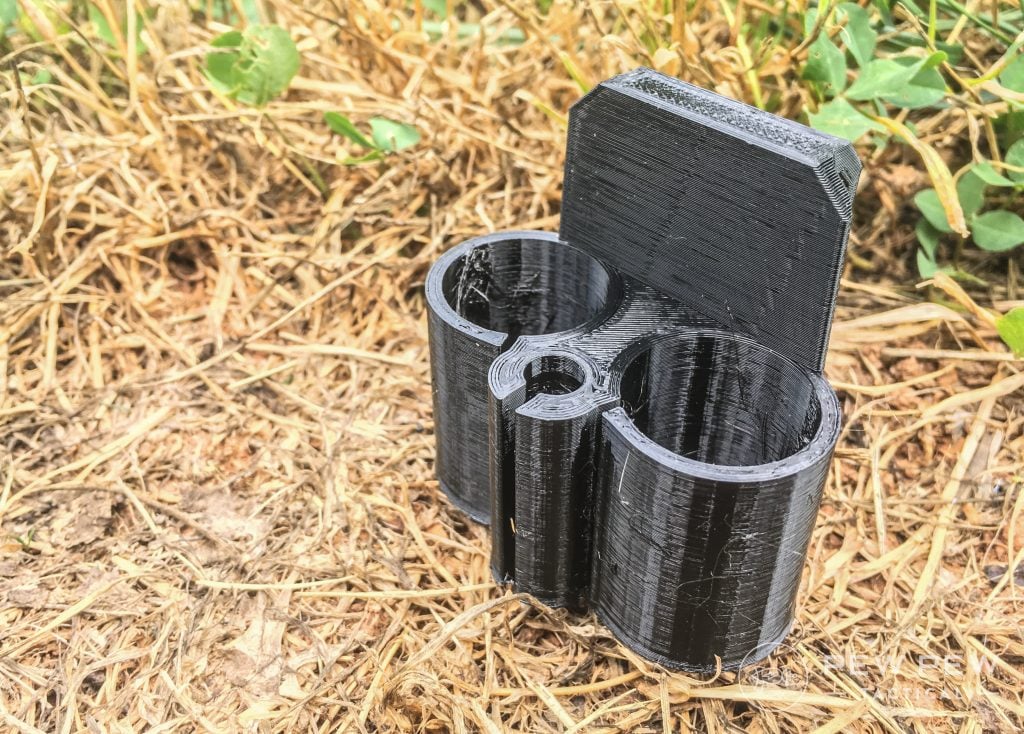 The creator made it for a 12/.223 over-under, though, so if you're carrying a combination gun, I can see the benefits.
While I'm not a huge fan of combination guns (though I am a sucker for a break action side-by-side 12-gauge), this print is too cool to pass up.
A belt loop accompanies the design, and the whole setup fits very naturally and rides comfortably.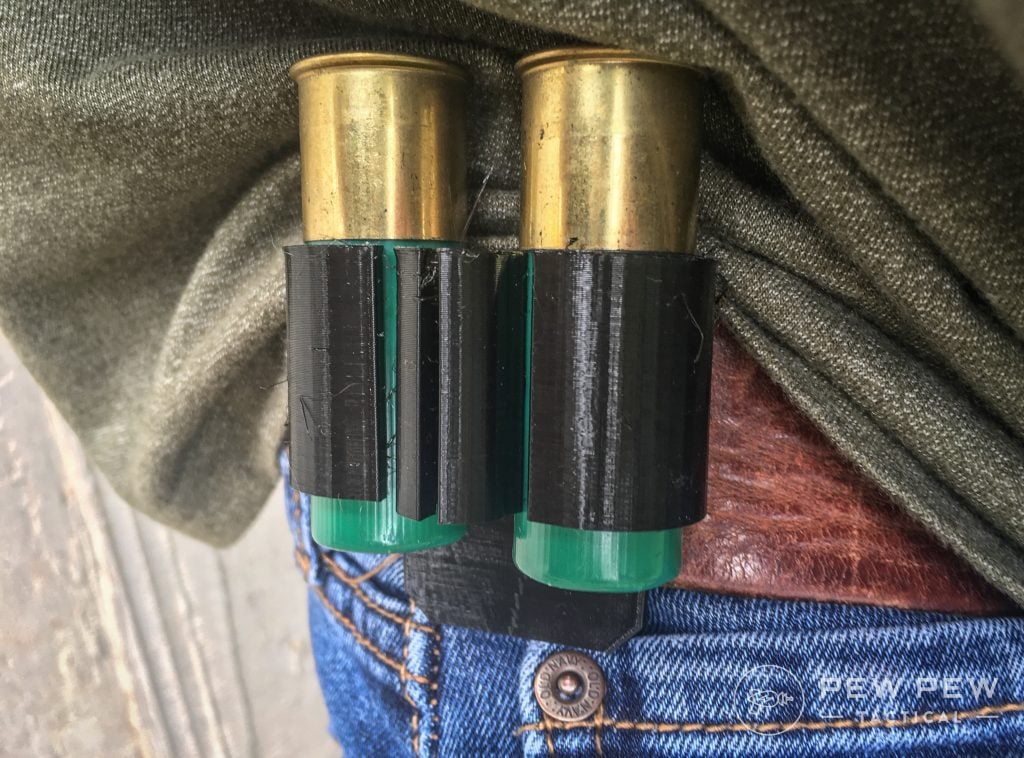 The shells take a bit of finagling to get into place, but there's zero chance they fall out on their own accord once they're in.
10. stevebirtwistle's Slim 45 Degree MLOK Rail for Light
Let's say you want to mount something to the top of your airsoft rifle, yet you don't want it in the way of the sights.
(A flashlight would be a perfect example of this.)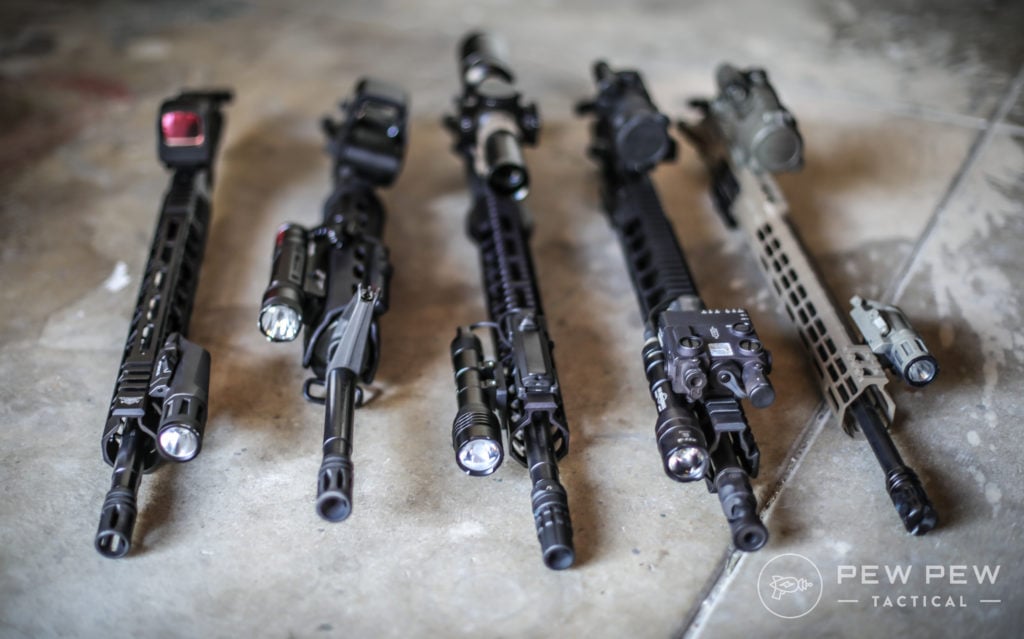 If you don't have room to mount a light on the underside of your weapon, a top-mounted 45-degree rail may be just what you're looking for.
And if you don't want to pay $15 or so to purchase one, you can easily print one within the span of a little over an hour — for less than $1.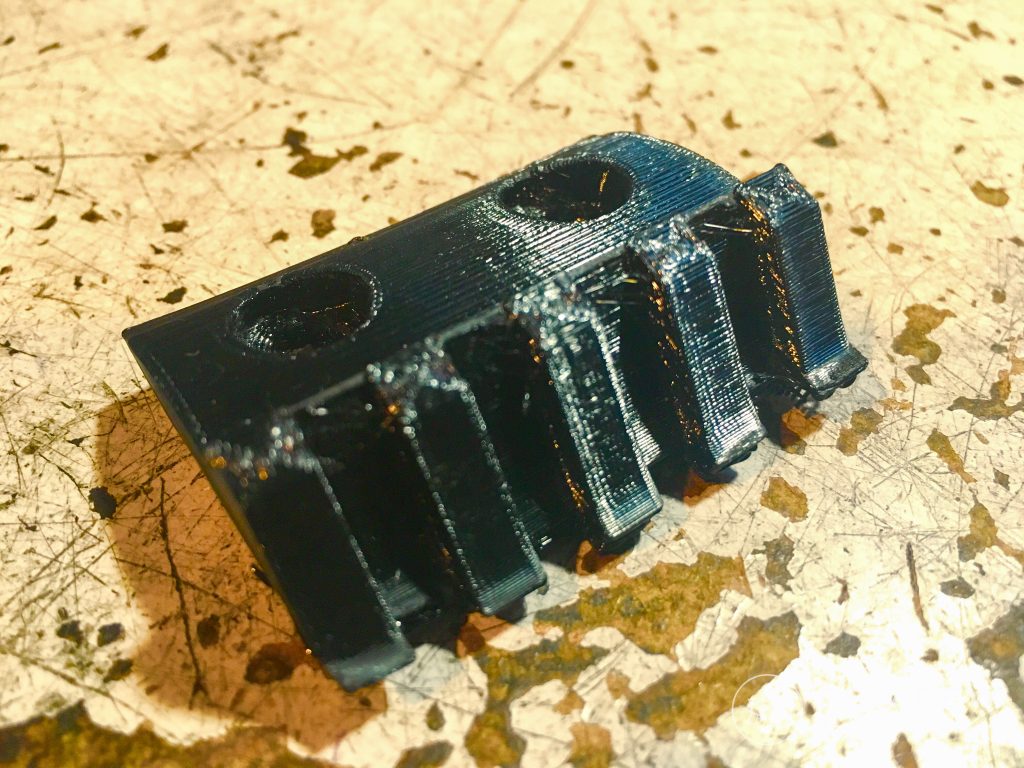 This one ended up incredibly stringy on the bottom because of the orientation of the print. But I cleaned up quite a bit with a pair of snips.
Conclusion
For all of $170, you can have a fantastic way to save yourself money and fix common problems all by yourself with a 3D printer.
Honestly, there are so many ways that a 3D printer can be used that I'm beginning to think that these will become a common household item soon.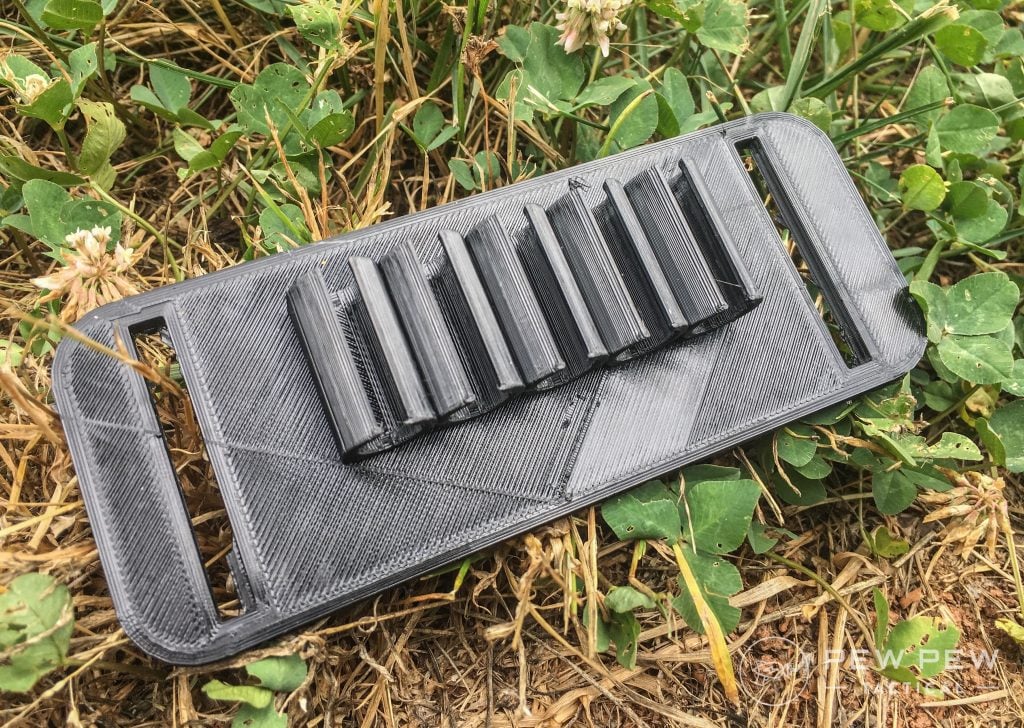 Whether you're replacing a broken dishwasher part, making gifts for others, organizing your house, or just printing out items for fun, there are a host of uses.
However, there are many great ways that a 3D printer can even help you save money around your gun cabinet too!
Are there prints you've made? Any advice that you can offer on 3D printing? Let us know in the comments below! Want to read more on 3D printing? Check out our article on 3D Printing & Additive Manufacturing.