It was in 1974 I saw the Smith & Wesson Model 19, built on the famous K-frame. I had read about them, of course, in all the major gun rags.
It had those great trumpet-shaped Goncalo Alves target grips and a deeply blued finish you could check your teeth in…and it only cost $150.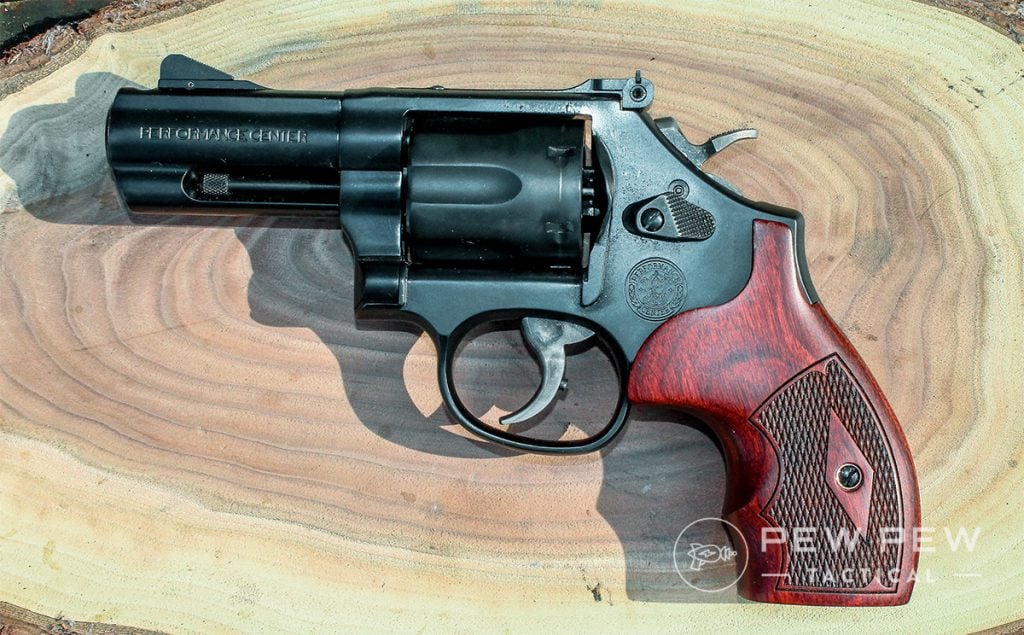 Back then, if you had a Model 19, you kept it, and if you saw one in a store, you bought it.
Smith & Wesson's Model 19 is still around and kicking, although these days, there are even more options…like the Performance Center Model 19 Carry Comp.
Today, we're going to take a look this high end version of the Model 19, check out its specs, and see if it's worth your time and attention (and money!).
Table of Contents
Loading...
Smith & Wesson Performance Center Model 19 Carry Comp Review at a Glance
Pros:
This gun will last you, your kid, and your kid's kid if you take care of it.
You get two stocks with the gun — a set of beautiful wood stocks and a Hogue recoil tamer.
The action is pure Performance Center, tuned to a fine pitch with a trigger to match.
A tritium front sight and fully adjustable, black-bladed rear help a lot. Good stuff!
Cons:
Capacity
It's pricey
That port-side keyed frame lock should not be on a Performance Center gun
The Bottom Line
While it's not a perfect gun, and I particularly would have liked to have seen a higher capacity, the Smith & Wesson Model 19 Carry Comp is an all-around great revolver.
1199
at Brownells
Prices accurate at time of writing
Prices accurate at time of writing
Specs & Features
Specs
Caliber: 357 Magnum, 38 Special +P
Length: 8″
Barrel Length: 3″, with serrations on the top of the barrel and frame
Weight: 34.2 oz.
Capacity: 6
Features
Barrel serrations
Dual grips
Cylinder yoke lock
Adjustable sights
Barrel vent
Background
The Smith & Wesson Model 19 was first produced by the company in 1957. This K-Frame revolver comes chambered in .357 Magnum and is a bit lighter.
It's enjoyed a long history with multiple iterations and improvements.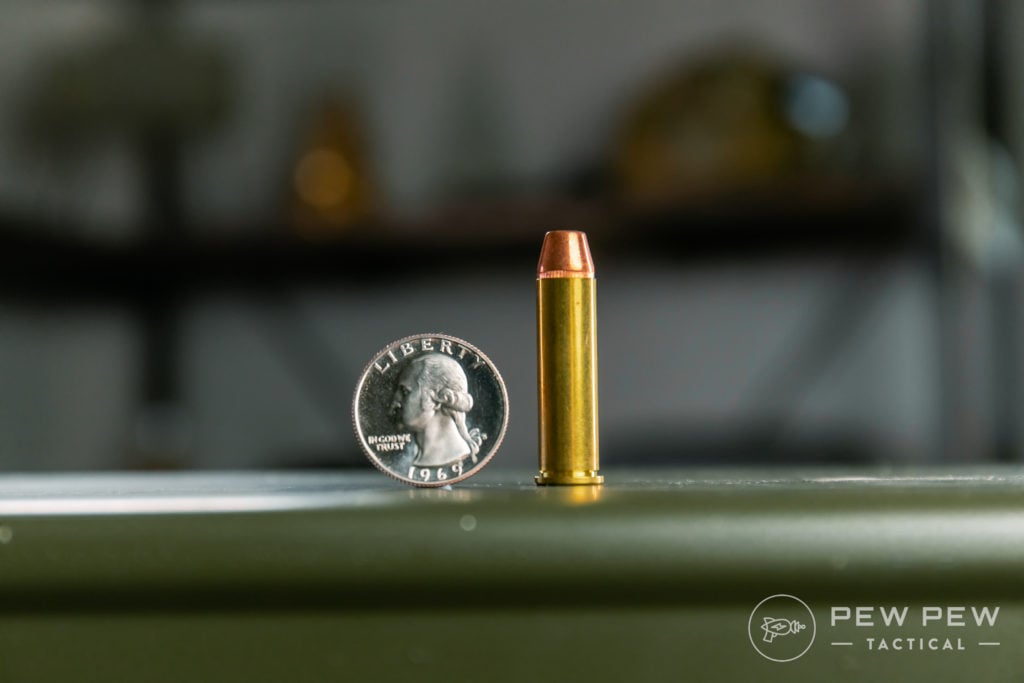 Leading to the Performance Center Carry Comp…
Anything with the Performance Center moniker indicates that it's a part of Smith & Wesson's performance-based models which means more bells and whistles…the downside to that is price.
Fit & Feel
Before we get to the actual targets, let me discuss three factors that can affect accuracy… recoil, grip stocks, and trigger. I alluded to these above; let's look at them in a bit more detail.
I was curious as to how much recoil I would feel with this 3-inch .357, given its chunky weight and vented barrel. Well, it did kick, but it was very manageable.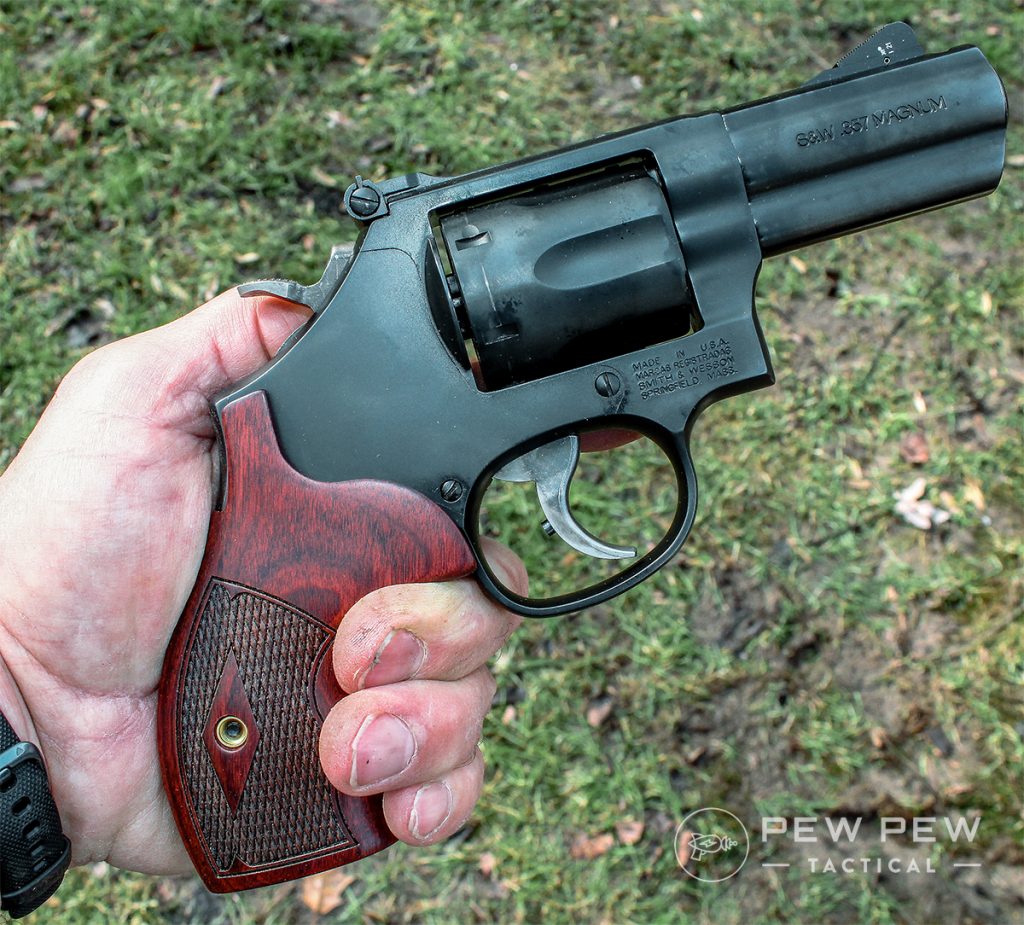 I'm glad they included two sets of stocks. (That leads me to think about the Colt Anaconda I just reviewed — that beautiful $1,499 .44 Magnum only comes with the rubber Hogue stocks).
I do think the rubber stocks tend to help reduce felt recoil over the wooden ones, but the wood just looks so much classier.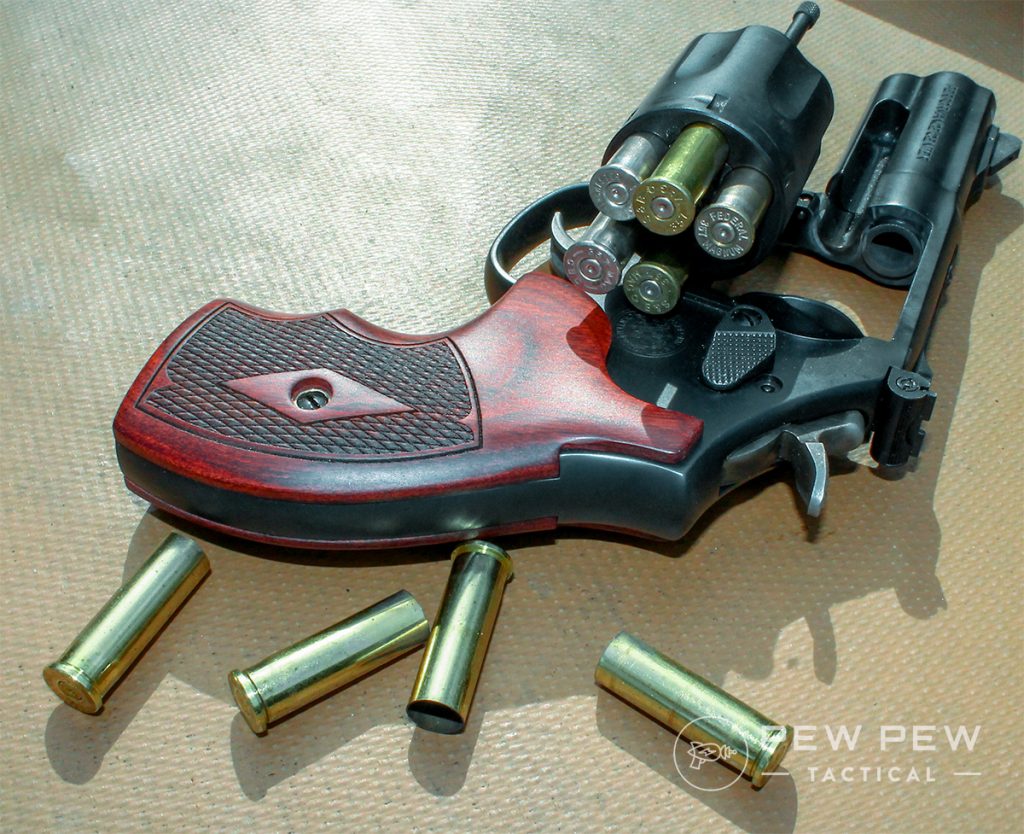 When I first pulled the gun from its case after picking it up from my friend Duane's shop, the rounded, smooth-faced trigger felt stiff in both SA and DA modes.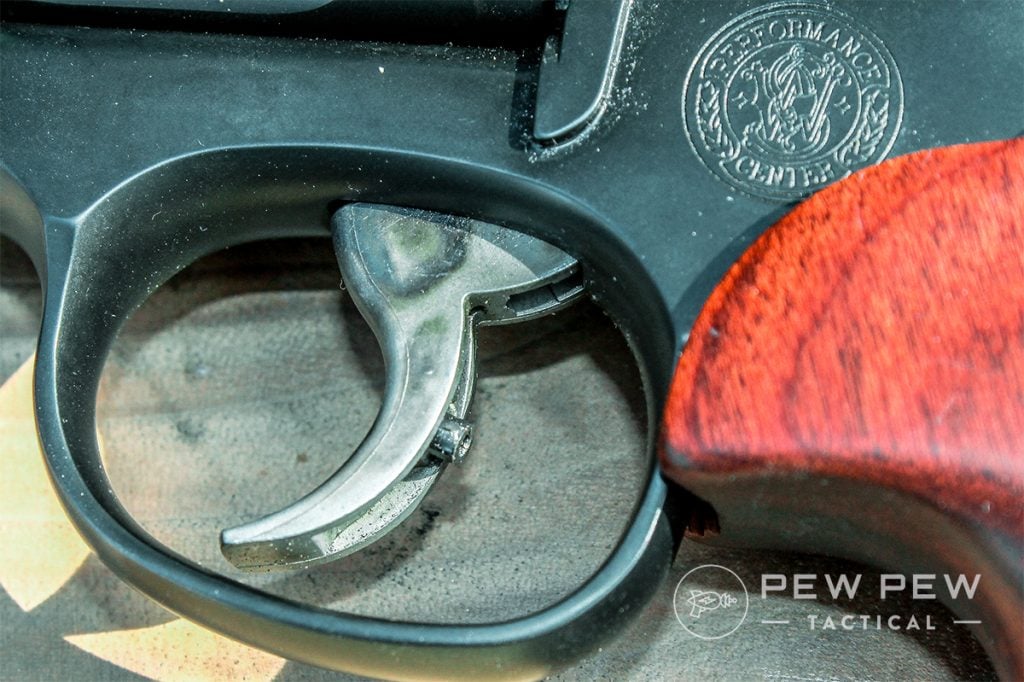 I did not jump to conclusions, as I have owned many S&W revolvers over the years, and they tend to "slick themselves up" with dry firing and use.
Of course, one could always hire a trigger job by a gunsmith, but since it has the Performance Center engraving on the barrel and the frame, I think I'd pass on that. Just use it, and the trigger will sort itself.
It wasn't bad, for sure, but I am picky where my triggers on $1,100 revolvers are concerned.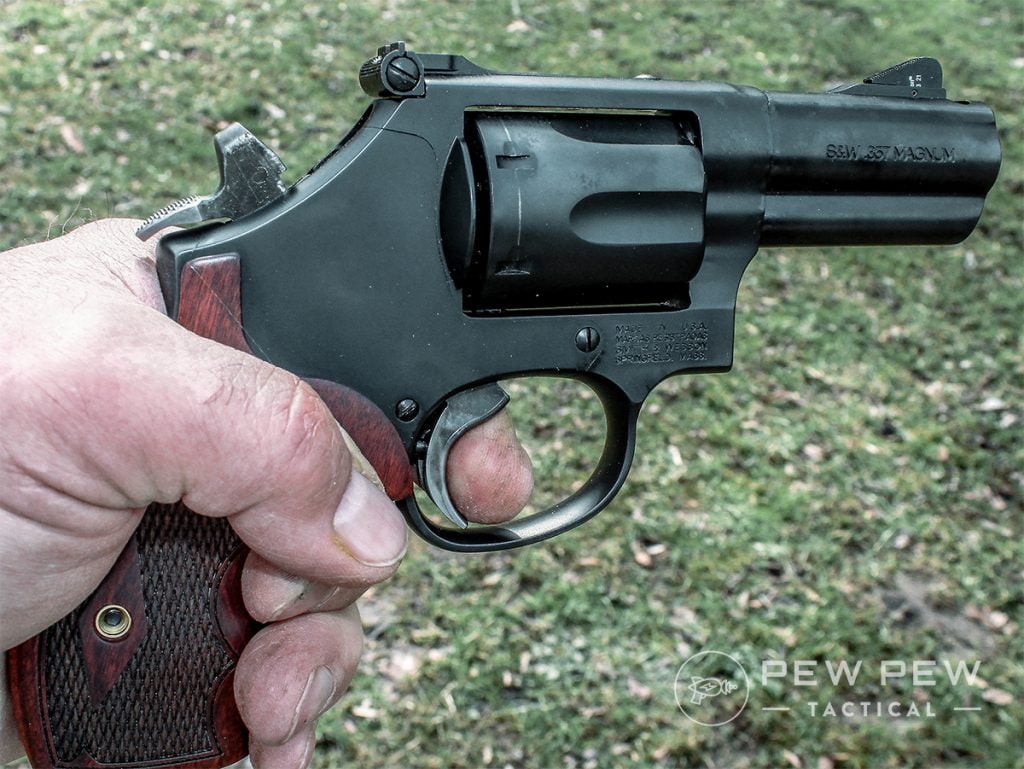 How Does the Model 19 Carry Comp Shoot?
I shot three loads from a rest at right at 20 yards at my backyard range. Conditions weren't bad — 40 degrees and clear. The mud was ever-present, but I can't blame bad groups on it, alas.
Using Fiocchi 142-grain FMJ SWC, the gun shot absurdly low (and left), a result I should have anticipated when I'd noticed that the rear sight was all the way down. I raised it later, but at least it put all five shots on the paper.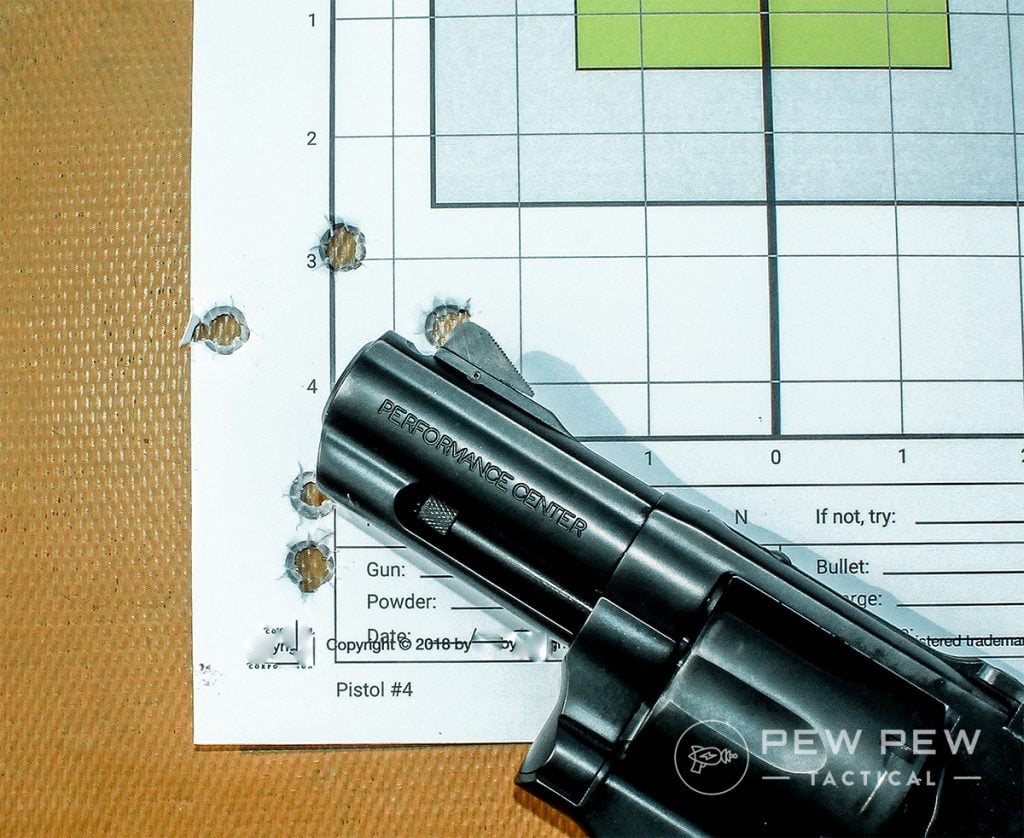 I then shot a handload of a Lee cast 160-grain tumble-lube SWC over 7.1 grains of Long Shot. This 19 didn't like it.
Next, I went with a load that many .357 owners shoot with regularity — the .38 Special. I have a handload using the same bullet over 3.5 grains of TiteGroup.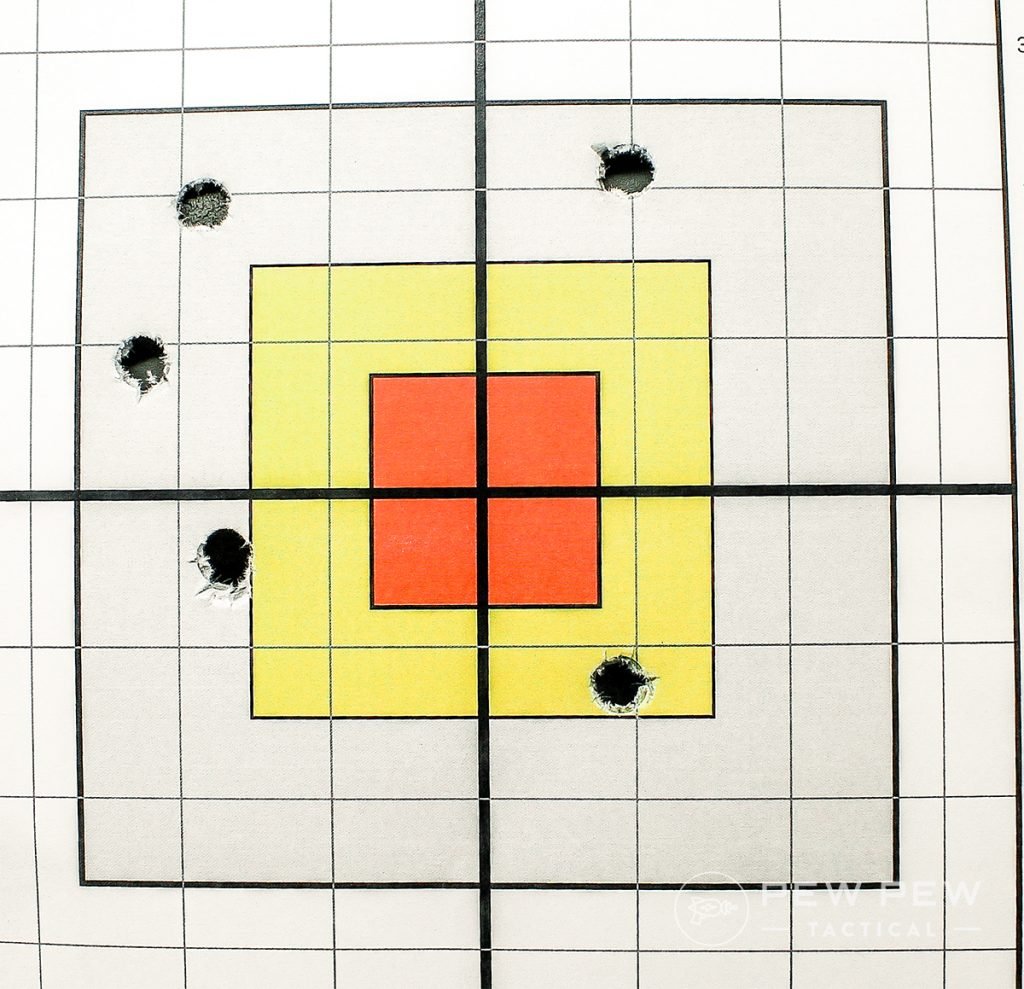 It wasn't exactly pinpoint accuracy, but I could see using it for practice. It was easier on both the gun and me. I would definitely work with this load to tighten things up – the potential is there.
By the Numbers
Reliability: 5/5
It's a revolver, and it's a Performance Center model. This thing will last you for generations.
Ergonomics: 4/5
The trigger was my least favorite part, but everything else felt good.
Accuracy: 4/5
When the sights are where they're supposed to be, it does okay. It's not pinpoint accurate but as a range toy, this thing is fun.
Customization: 4/5
You can add a few things here and there.
Value: 3.5/5
This is where the biggest downside sits…price. It's expensive, but it's a good gun, so I think it's worth that price.
Overall: 4.5/5
1199
at Brownells
Prices accurate at time of writing
Prices accurate at time of writing
Smith & Wesson Performance Center Model 19 Carry Comp Upgrades
Final Verdict
For those who are sold on Glocks or other poly-framed semi-autos, no amount of waxing eloquently on my part about wheel guns will make much difference, even one as distinguished as this one.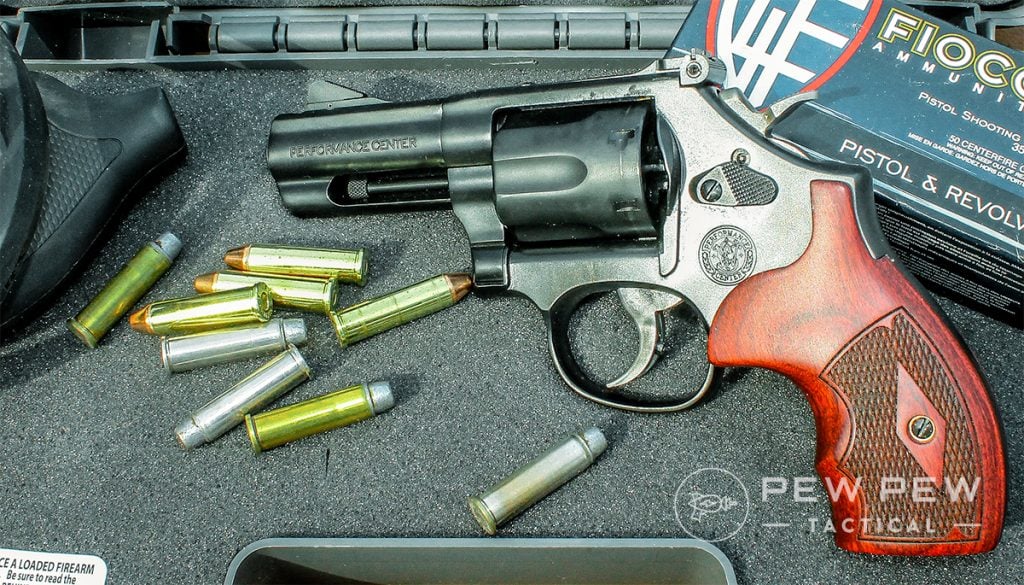 But, if you haven't drunk that particular brand of Kool-Aid, you might want to give the Performance Center Carry Comp 19 a look.
Its inherent quality is manifest in its sights, construction, finish, accuracy, and reliability.
Add in the vented barrel, and you have a very nice package to accompany you on your foray into Sketchytown.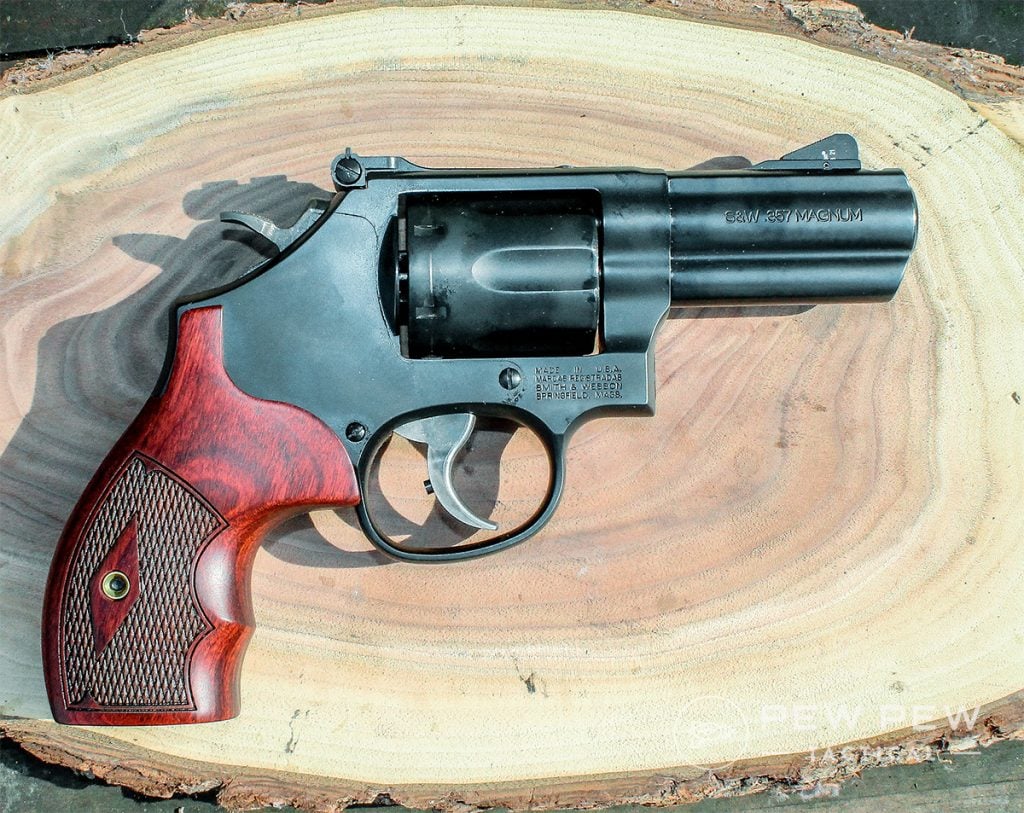 Just practice with both .38s and .357s and get a great holster — that way, you'll be ready for whatever pops up. I, for one, am glad to see that the Model 19 is back!  
What do you think of the S&W Performance Center Model 19 Carry Comp? Let us know in the comments below! Need more revolvers? Check out our article on the Best .357 Magnum Revolvers.