I'll start by saying this – I absolutely abhor items that look tactical.
The features that come with "tactical" gear are often really useful in daily life, even if you're not kicking in doors.
But most of us still don't want to look like we just stepped off a SWAT van.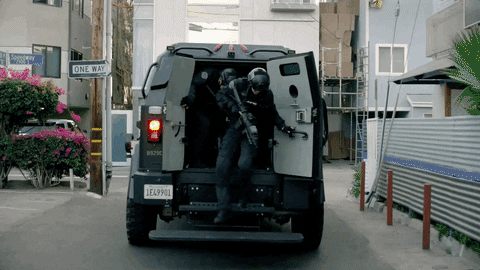 Over the past few years, it seems as if the entire philosophy behind being 'low profile' has itself become a fashion statement – to the point that a polo shirt, goatee and khaki pants may as well be a uniform for gun folks.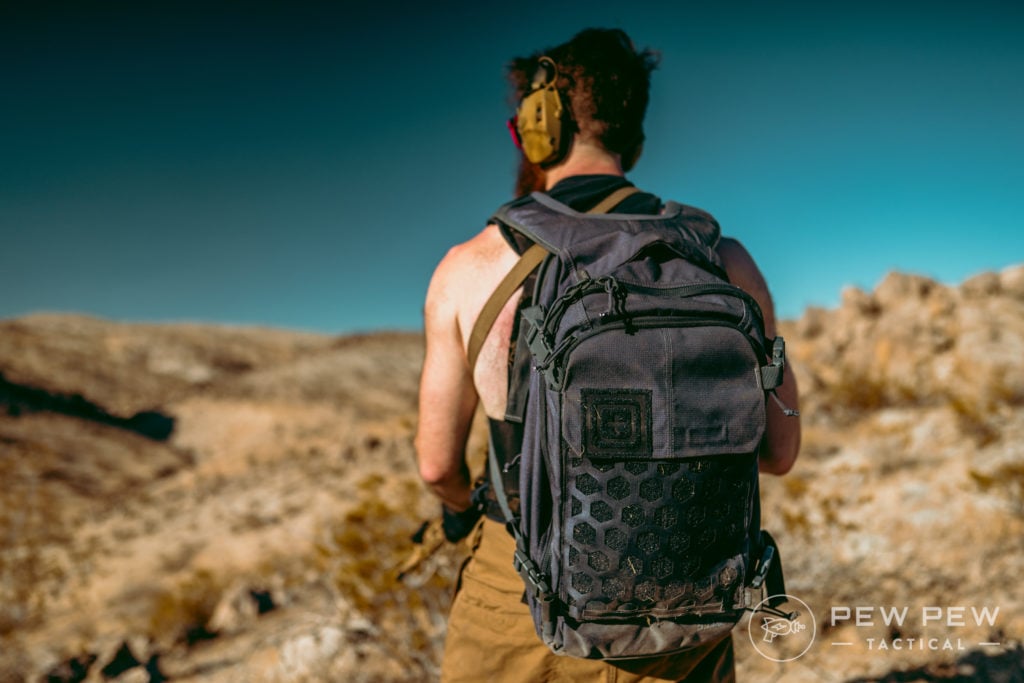 Thankfully, not everyone has fallen for the trend. 5.11 has a great line up in store for us that are both highly functional and truly "low-profile".
These are just the start of what they sent us to review, but for right now we'll take a look at the LV10 Sling Pack, AMP12, and AMP72 Backpacks.
In video format now!
Be sure to subscribe at our YouTube Channel for weekly uploads. Now onto the written review!
Table of Contents
Loading...
LV10 Sling Pack 13L
With that out of the way, I absolutely appreciate the fact that companies like 5.11 are now producing items that offer all of the functionality and innovation you'd expect out of modern tactical soft goods, but without anything that overtly screams hi hello, there is a good chance that I am armed.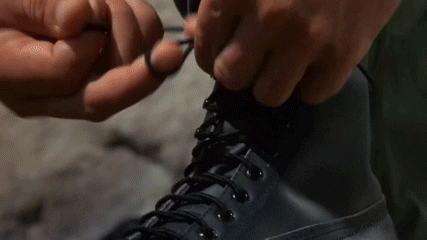 No conspicuous molle webbing, no huge swaths of Velcro, and discrete colors like this 'Nightwatch' blue are basically exactly what I want out of my packs, no matter what I might be doing with them.
110
at 5.11
Prices accurate at time of writing
Prices accurate at time of writing
The 5.11 Sling Pack is an awesome little bag for small errands, a minimalist range trip, a day out with the family, or in my case – trail running!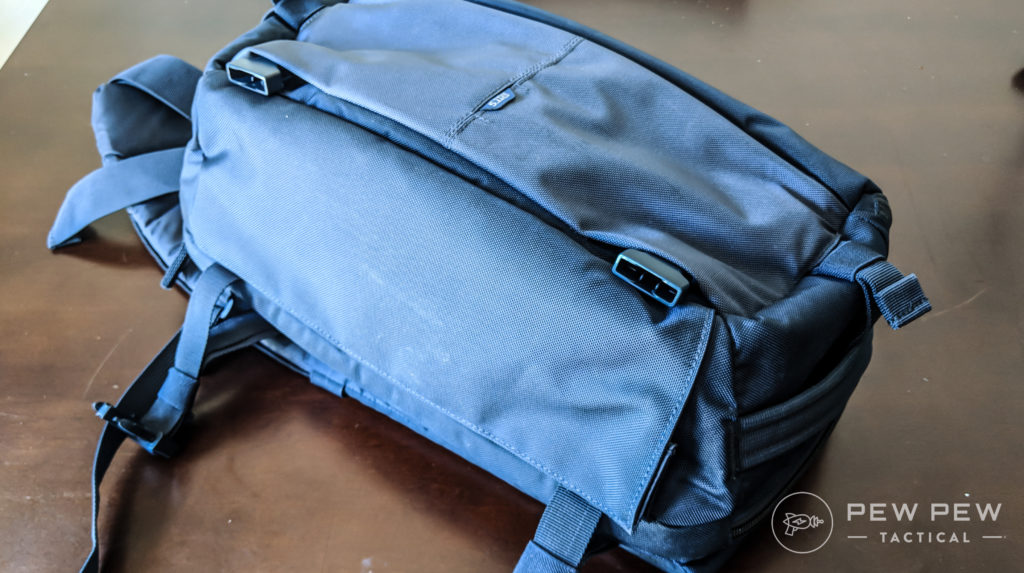 I typically do most of my running in shorts with no pockets, but don't generally feel super comfortable leaving my wallet or phone in the car with my keys tucked inside the gas tank door – especially for longer runs.
The sling pack offers a nice and comfy way to carry my essential personal items when I'm out for a longer run in a low-profile package that (mostly) stays put and doesn't chafe or wear like other packs in the same category have the tendency of doing.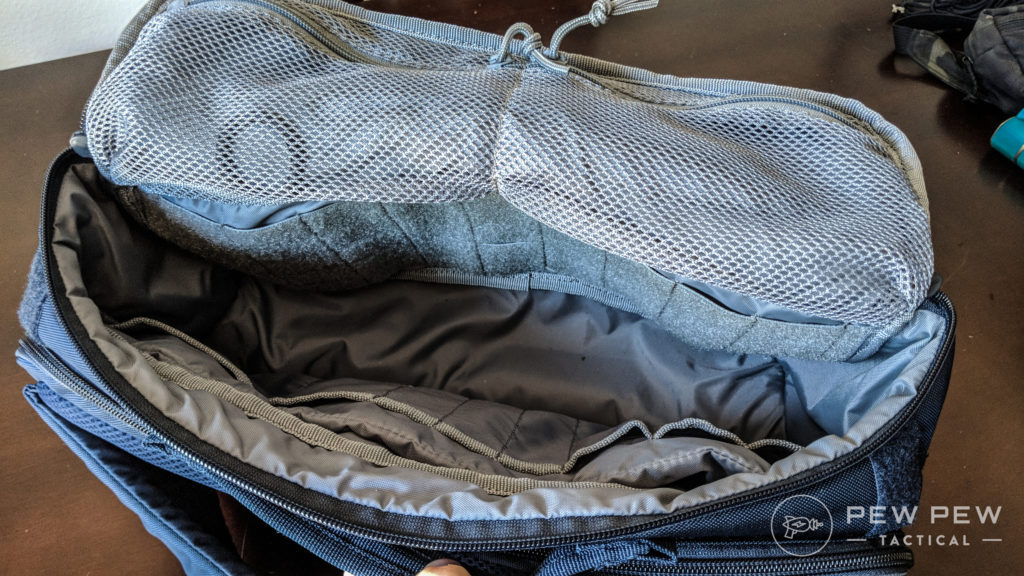 Although the whole point of the bag is conceivably a minimalist, go fast setup – it's actually capable of storing quite a lot given it's deceptively small size!
Obviously, you wouldn't necessarily want to overload the Sling Pack, as a lot of it's carrying capacity comes in the form of either free-floating space, or dividers/organizers sewn into the internal walls of the pack.
The main storage compartment is equipped with a full molle panel with additional velcro that's sewn on top of the molle loops – allowing you to configure the pack as you'd like assuming you're an average gearwhore with a surplus of random Cordura like us.
I personally quite enjoy the newer trend of velcro-based organizers, and my sling pack is shown here with an assortment of stick-on Maxpedition Advanced Gear Research velcro loops for securing both my Glock, a few spare magazines, and a CAT tourniquet.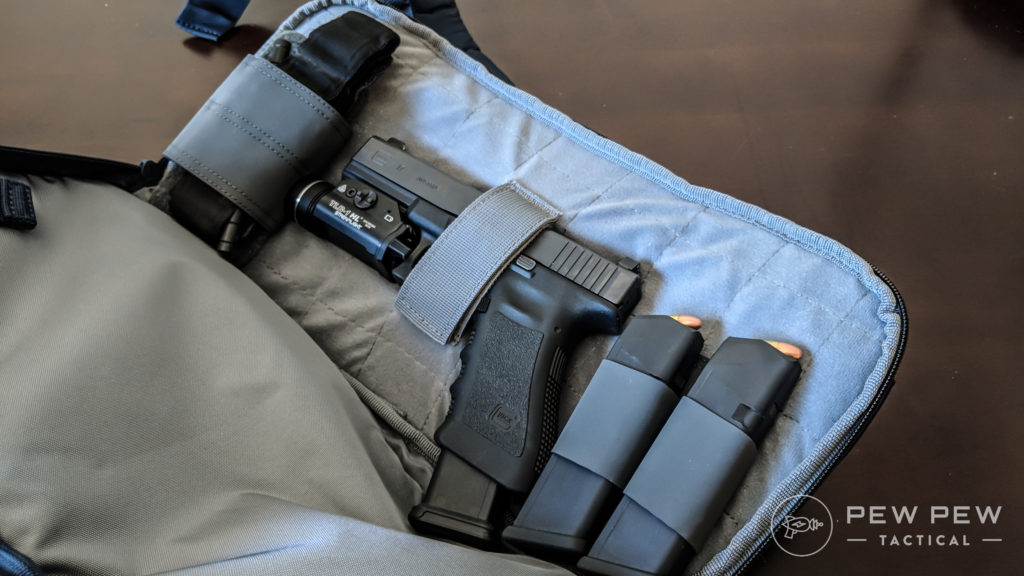 Although as mentioned, I primarily use this as a casual day / trail running pack, for demonstrative purposes I've loaded the sling pack up with a very basic set of bug out / bad day items
Including my G17, 4 magazines, 2 AR-15 mags, a Leatherman multitool, SOG Twitch XL, CAT TQ, a couple of phone chargers, a flashlight, PIG Alpha gloves, etc.
This is maybe as heavy as I'd load up the sling pack for anything outside of a very bad emergency, but as shown, there's still plenty of room for other items if you want something small and convenient to take to the range with you or need to carry more stuff as the situation dictates.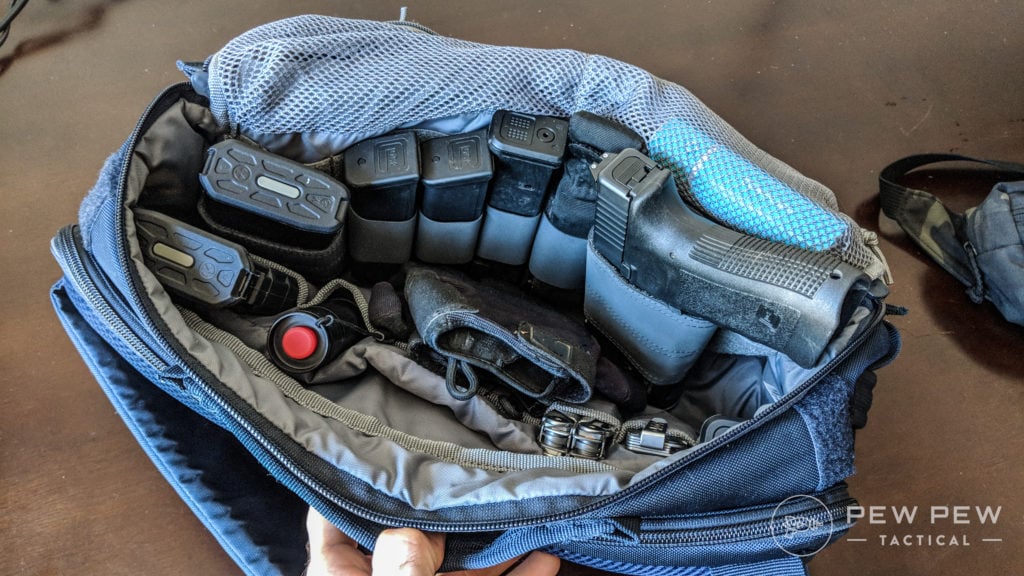 Interestingly enough, the internal pockets sewn into one of the divider walls doesn't appear to be large enough to accommodate double-stacked pistol magazines outside of one pocket.
I'm assuming these are largely meant more for knives, multitools, pens, etc. There's one pocket that fits an AR mag perfectly, however.
There's an external zipper pocket lined with a very soft, fleece-like material. Generally, I've been using that to store any sort of eyewear I might have on my person without the fear of scratching my expensive ass Oakley lenses up.
A small button located on one side of the Sling Pack can be undone and expanded to reveal a flap that works great for water bottle storage.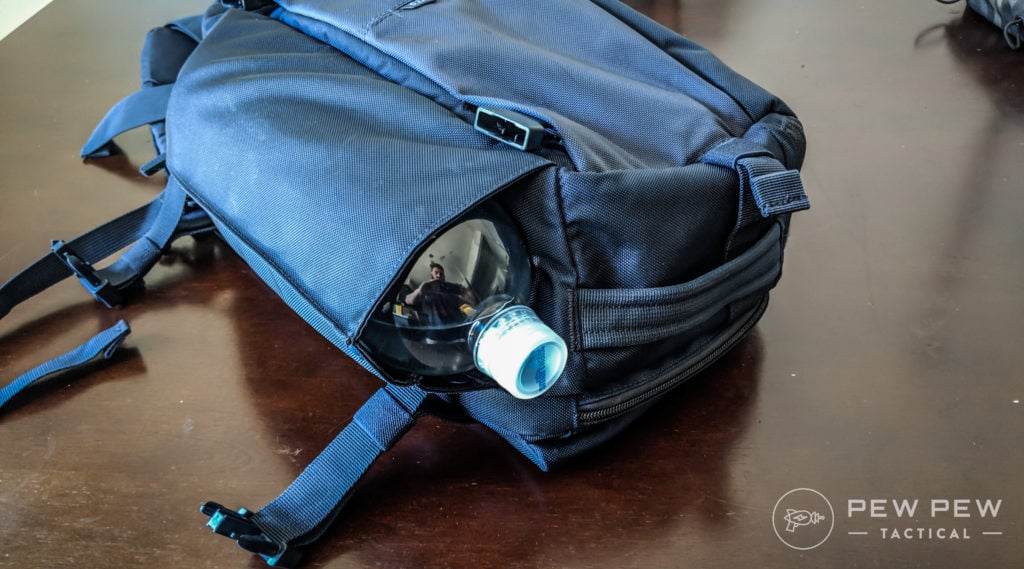 I'm sort of a hobo and constantly wash and re-use 1.5L bottles of Smart Water, and am pleased that they fit snugly and securely without being too much of a hassle to access.
The sling pack includes dual carry handles on both the top and side of the bag, allowing you to carry it like a briefcase if you're so inclined. Additionally, a zipper that runs the perimeter of the pack just underneath the closed-cell foam unzips to reveal even more velcro-able real estate.
5.11 has sewn their own nylon strap directly into the center of the velcro material, allowing you to attach your handgun as shown.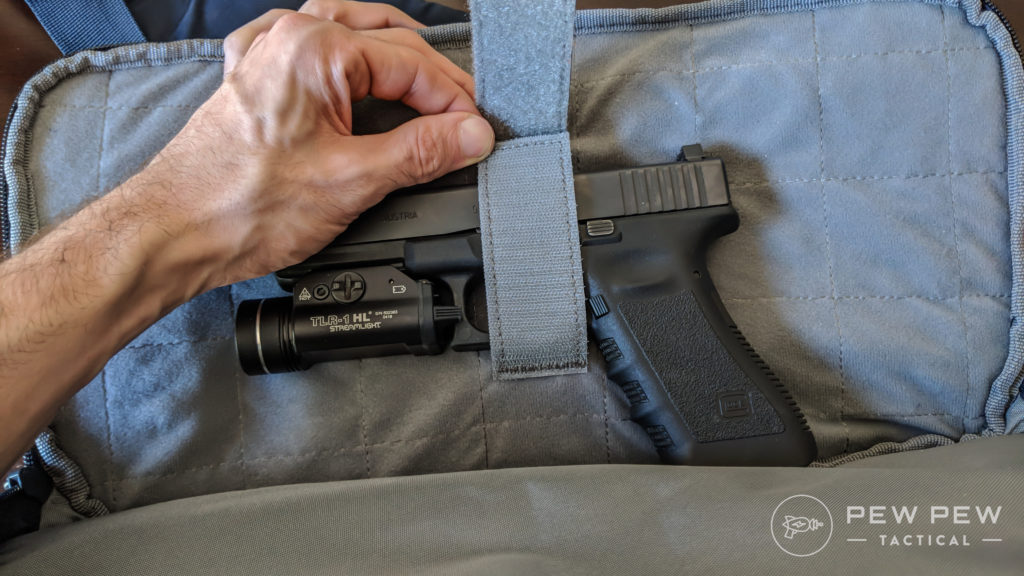 There are also velcro tabs sewn into the inside of the pocket that'll attach to corresponding velcro outside, allowing you to position your zippers in the correct location for quick access in the event you're using the sling pack to carry a firearm.
The sling is quite beefy, and while I've seen some complaints about the design online, I personally quite enjoy it. The sling utilizes a locking mechanism, not unlike those found on common two-point slings, allowing you to throw the 'lever' and quickly adjust the tightness of the main shoulder strap.
Perhaps the only design element I don't quite enjoy is the small sternum strap that rides from your low right side up to the center of the shoulder strap, meant to provide additional stability while moving vigorously.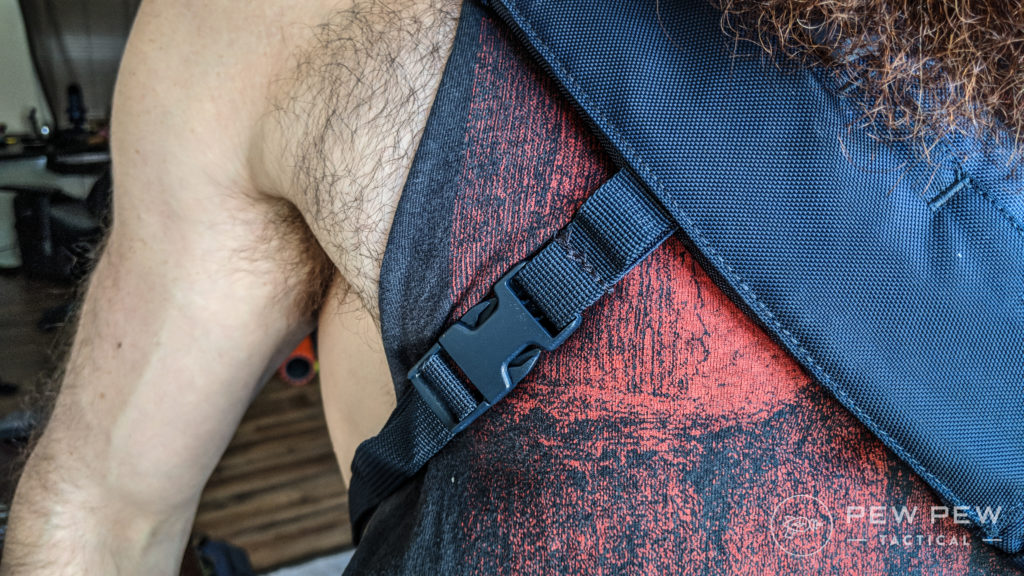 While a good idea, in theory, this strap is secured to the body of the sling bag only by a small plastic buckle that's open in the back – presumably to allow you to ditch it if you'd like, but the open design of the buckle means it's also prone to slip out of the nylon loop it secures too with too much movement.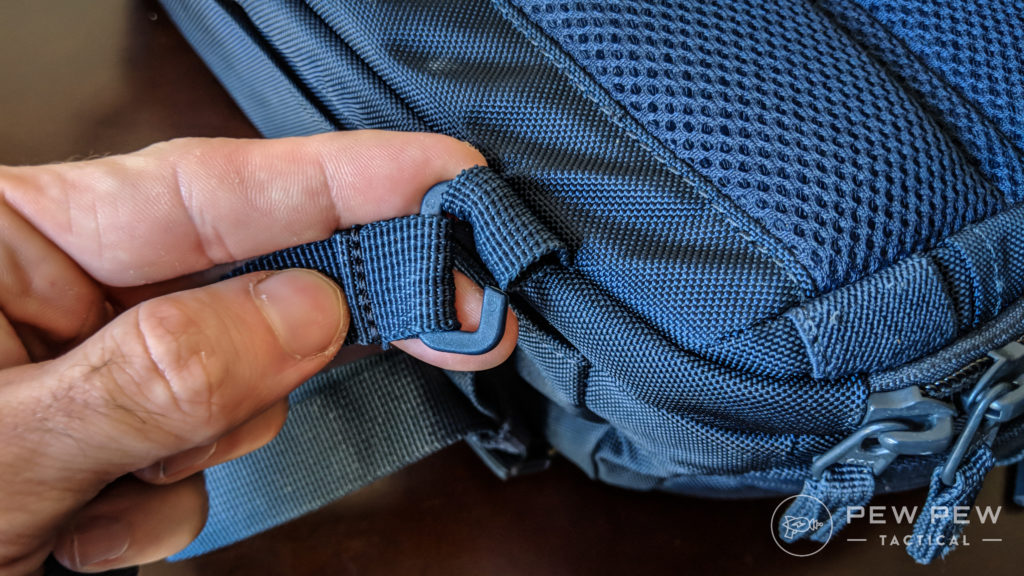 Granted, I'm using what is basically a low profile EDC pack to go do cardio, and perhaps this is not the level of physical activity the bag is designed for, but it is something to be aware of.
The last thing you'd want while moving quickly in an emergency is to have to fuss with straps coming undone and making your bag wobbly.
Overall, however, this has become one of my absolute favorite pieces of daily use gear! The entire Sling Pack is incredibly well thought out and makes the absolute most of all available space both within and without.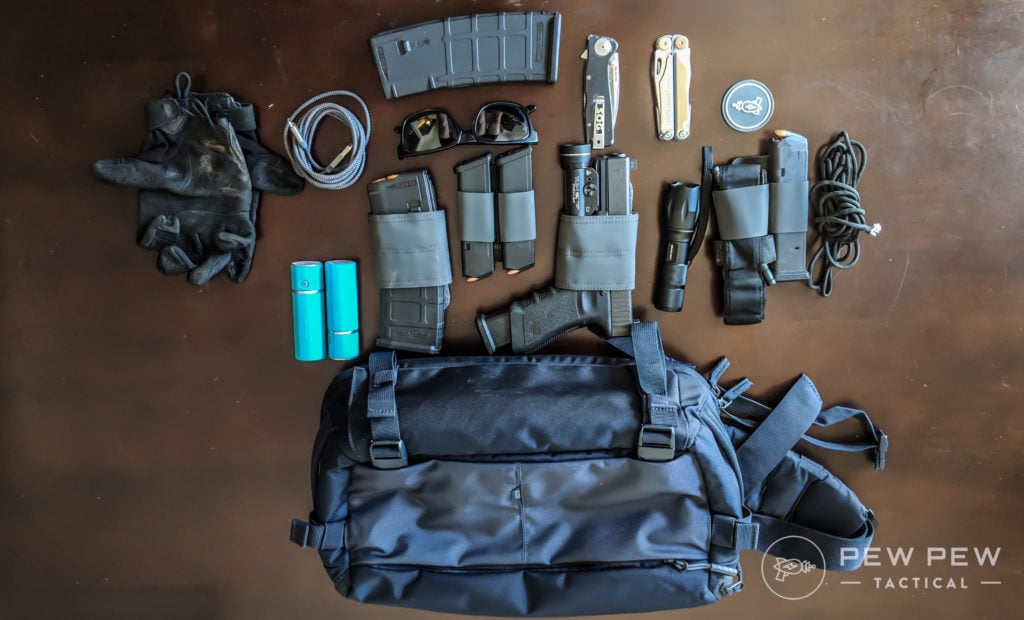 The fact that I can take this out in public with whatever items I might need for that day, be they tactical or not, and not worry about getting weird glances for overtly aggressive or militaristic design is fantastic.
The modular configurability of the storage spaces means you've got a neat little pack that can adapt to whatever task you might have at hand.
110
at 5.11
Prices accurate at time of writing
Prices accurate at time of writing
If staying truly low profile without looking like a total dork is something you find yourself concerned about, I can't recommend checking out the 5.11 Sling Pack 13L enough!
5.11 AMP12 25L
5.11's AMP or 'All Mission Pack' series of backpacks aims to provide adaptable bags that can scale up or down to fit whatever tasks you might need to use them for, quickly and at a moment's notice.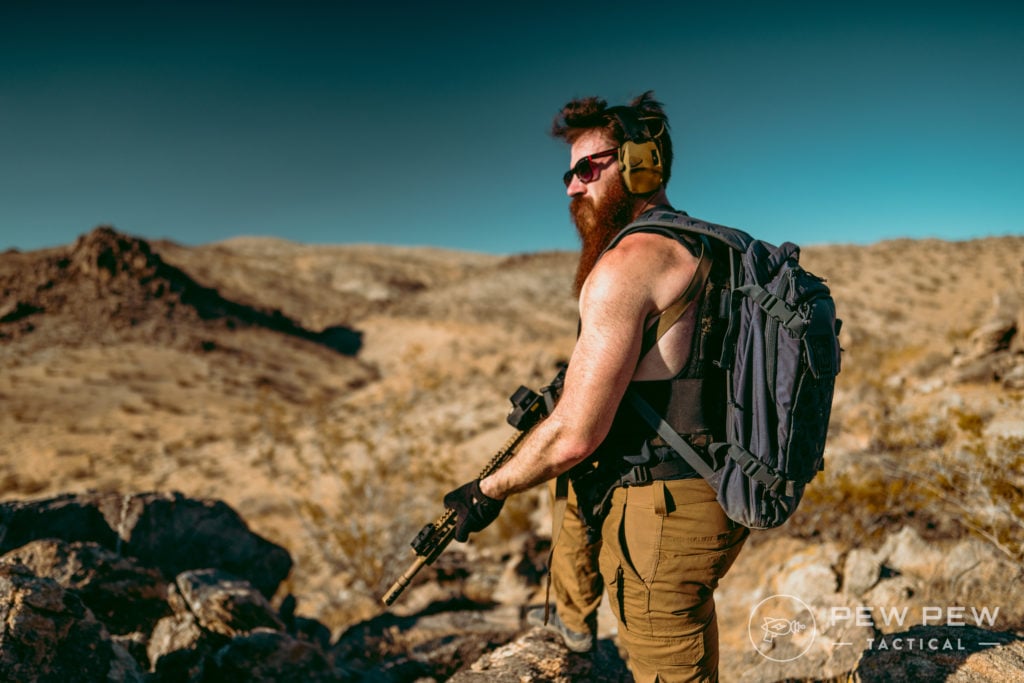 The AMP12 is specifically meant for ~12-hour sustainment, giving you 25L of storage that allows you to fight/survive/exist out of the bag as fits. (72 hours and 40-liters out of the larger model)
170
at 5.11
Prices accurate at time of writing
Prices accurate at time of writing
The AMP12 is another example of the sleek, low profile design decisions I've come to love from 5.11. The Tungsten color doesn't draw attention, and the bag looks closer to something you'd see from a skate shop rather than a tactical gear manufacturer.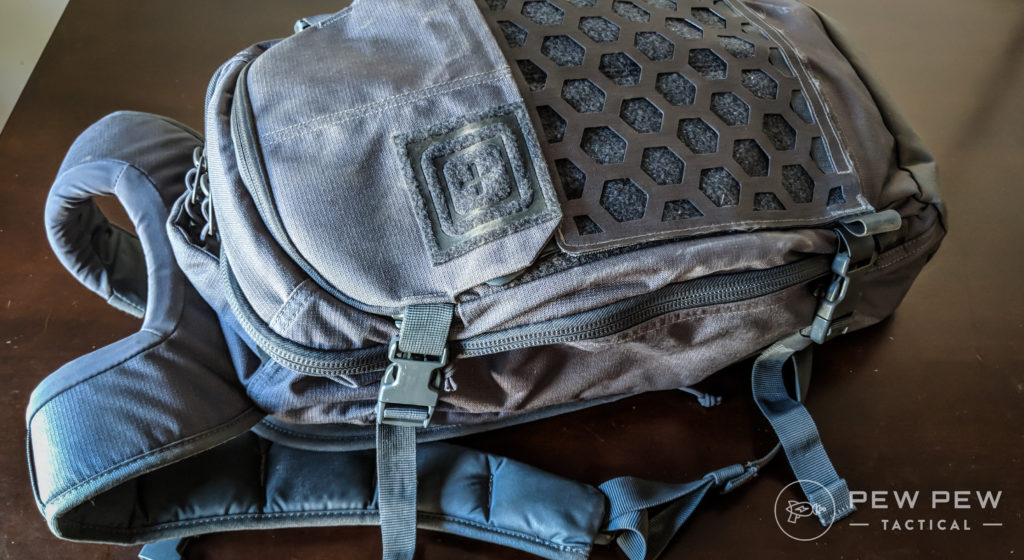 Yet, it retains an enormous amount of functional modularity!
Most notably, the AMP12 includes 5.11's unique HEXGRID platform on the rear of the bag. The HEXGRID is molle compatible and allows the user to mount existing molle pouches at non-standard angles.
If you're in a situation where you might need to carry extra mags, for example, mounting them at closer to a 45-degree angle via the HEXGRID might make more sense if you need to sling the bag around in front of you to reload.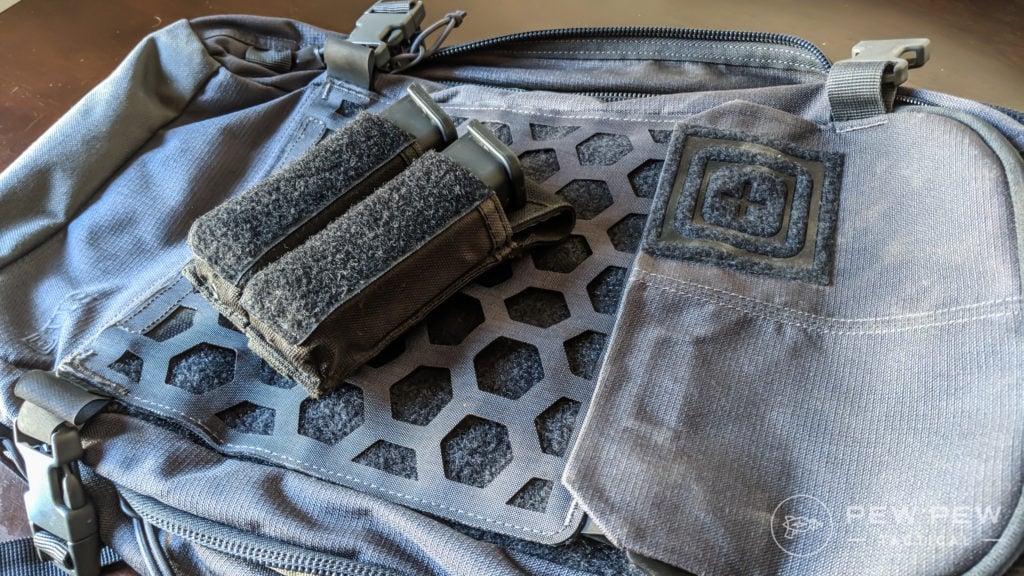 Obviously, that's a pretty extreme example, but the system itself is pretty neat! It's also fully removable, and ditching it will allow you to either load thet velcro panel up with whatever patches your goofy ass wants to be a walking billboard for, or alternatively, affix 5.11's "Gear Set" placard.
The Gear Set placard gives you an additional 2 AR15 magazine pouches and a few more zippered pouches for even more small-item storage.
The AMP12 has become my go-to range bag and overnight pack, and I love that it fills both tacticool and every-day life needs without changing much at all.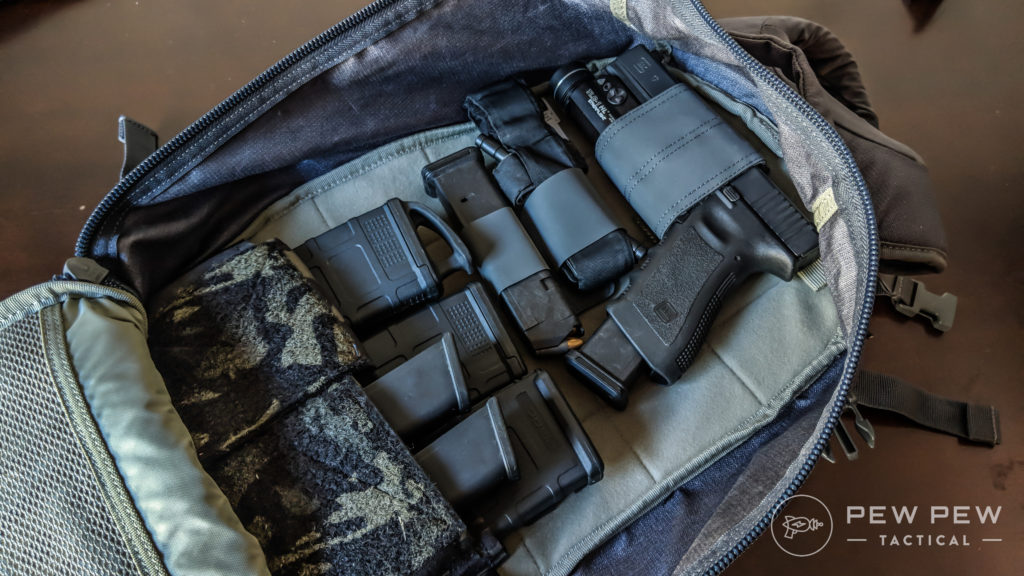 The bag's main storage compartment is velcro attachment compatible and will work with either 5.11's own Gear Set modules or various other velcro-based dividers and organizers.
Here I've got my G17 stored with a Maxpedition Universal Pistol Wrap, and a Spiritus Systems Microfight rig carrying a few AR mags and some tools.
The internal storage space is large enough to stash a low profile plate carrier setup too, if that's your thing.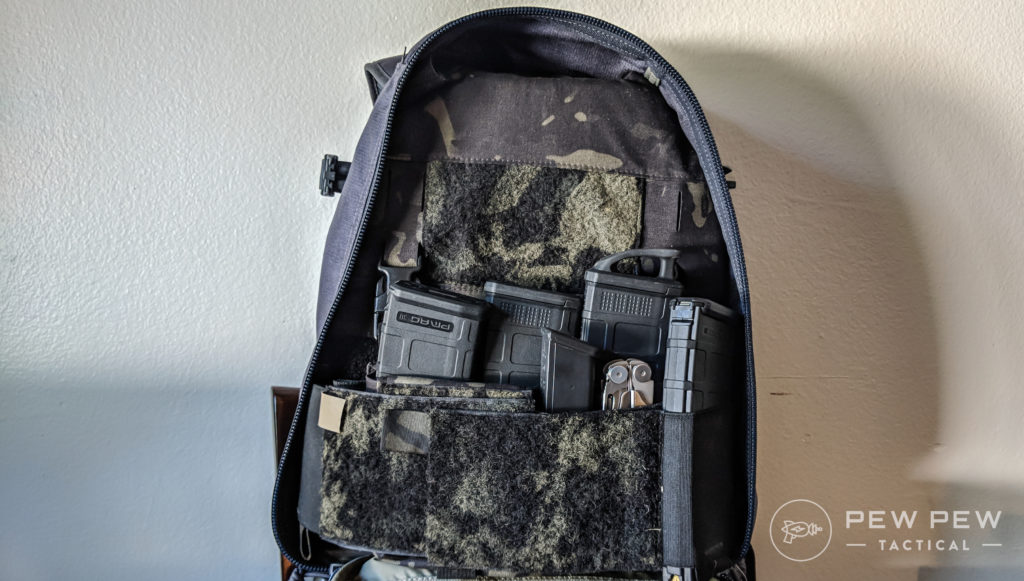 The reverse side of the main compartment is filled with several different mesh zipper bags full of elastic loops for organizing pens, chem lights, etc.
The large flap right above the Hex Grid system opens up to reveal a spacious compartment meant to stow a handgun and includes a small loop of webbing to attach a holster if necessary.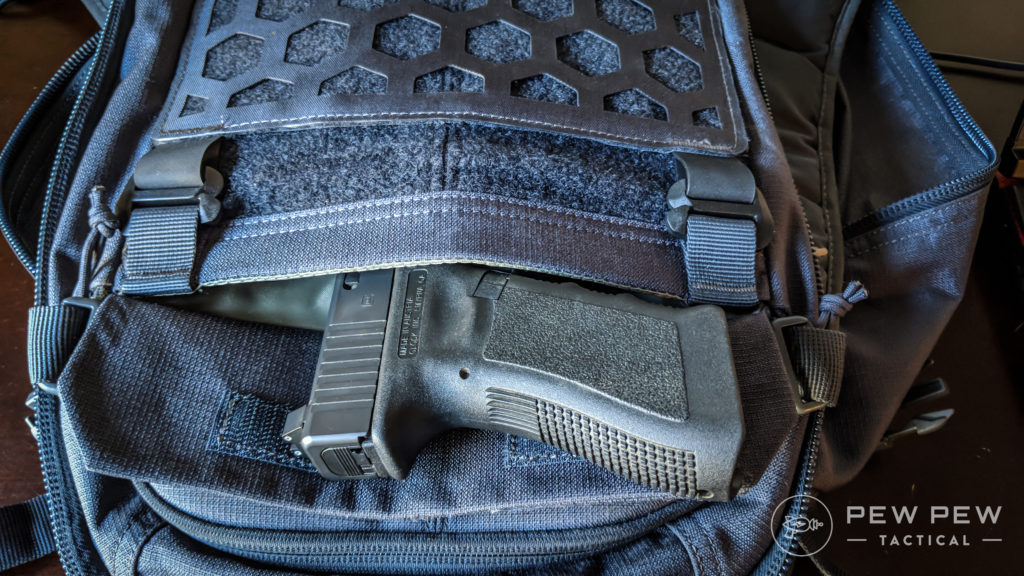 Just above the CCW pocket is a second large storage space that runs the length of the entire pack, and features a small, fleece-lined sleeve for eyewear.
The inner-most compartment is padded on in the inside and features a rigid polymer insert on the other, ensuring that laptops or sensitive electronics fit in the space are protected from bumps and knocks while on your person.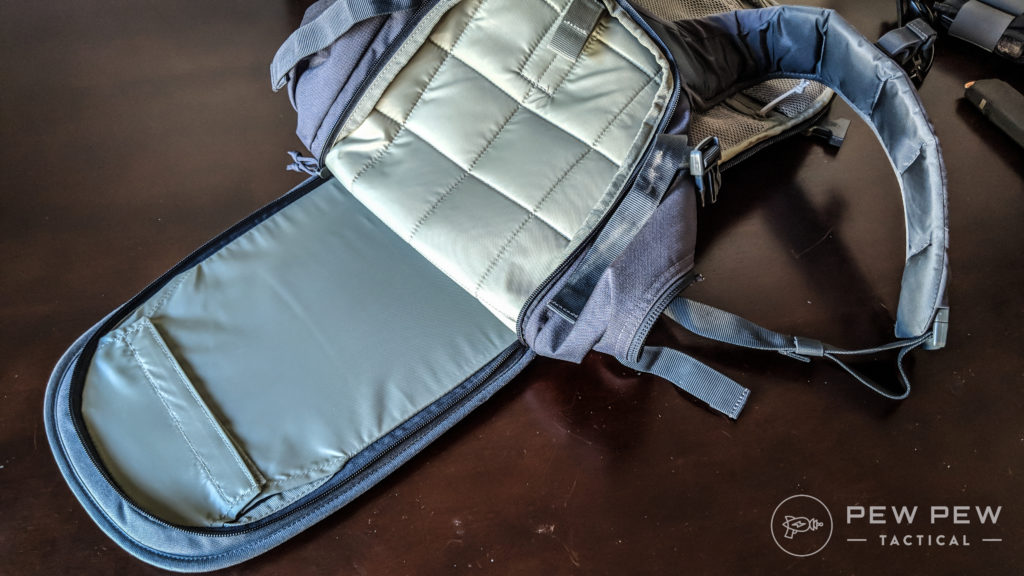 The molded back panel contours to my frame quite nicely, and the shoulder strap padding is more than adequate.
As someone who's owned a ton of tactical oriented backpacks over my lifetime, it's really refreshing to see a company continue to innovate and streamline the designs of their products continually based on end-user feedback.
The amount of thought present in each stitch and seam is incredibly evident, especially when compared to older 3 day packs that are essentially just 3 bags sewn together and little else.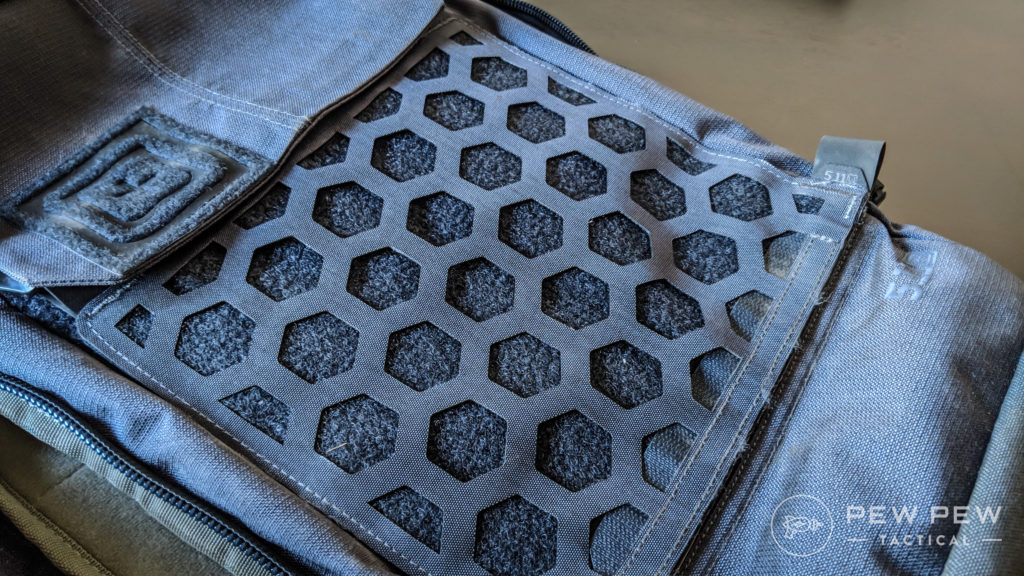 While I certainly don't run the AMP12 anywhere near the limits it's been designed to withstand, it's quite nice to be able to swap from shooting, to hiking, to an overnight out of town trip with ease – all while not worrying about having a bunch of overtly gun-related things dangling off my pack.

If you're trying to cut down on the amount of tactical nylon you own, we'd bet money that the AMP12 can replace a few different smaller packs in your collection, and provide fast, intuitive modularity that said packs won't.
170
at 5.11
Prices accurate at time of writing
Prices accurate at time of writing
The bombproof construction and ability to swap Gear Set backpanels on the fly makes this a solid two thumbs up from us.

5.11 AMP72 40L
The AMP 72 includes all of the features of the AMP12 listed above, but with almost double the internal storage capacity if you need to work out of the bag for a much longer period of time.
250
at 5.11
Prices accurate at time of writing
Prices accurate at time of writing
Considering I'm not a first responder of any sort, for my dorky ass lifestyle, this translates into being the perfect travel bag!
There are a few minimal design differences in pouch placement and style in the AMP72, and I'll cover them briefly here.
There's an additional small storage pouch directly underneath the HEXGRID panel on the rear of the pack, which I found perfect for stashing my Arcteryx jacket when not needed.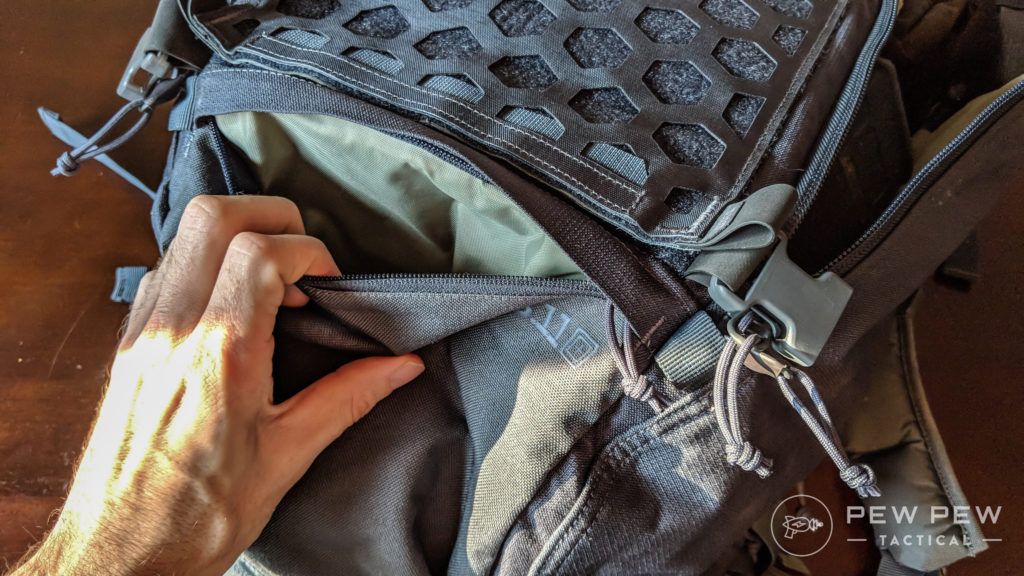 You've still got the large CCW pocket above the HEXGRID panel, and the soft, fleece-lined eyewear pouch now sits directly above it.
As expected, the interior main compartment is much larger on the AMP72 – holding 'approximately 762 .50 BMG rounds' as 5.11's own tag helpfully points out.
The entire interior is velcro compatible, and the same dividers and accessories I used in the AMP12 work great in here as well.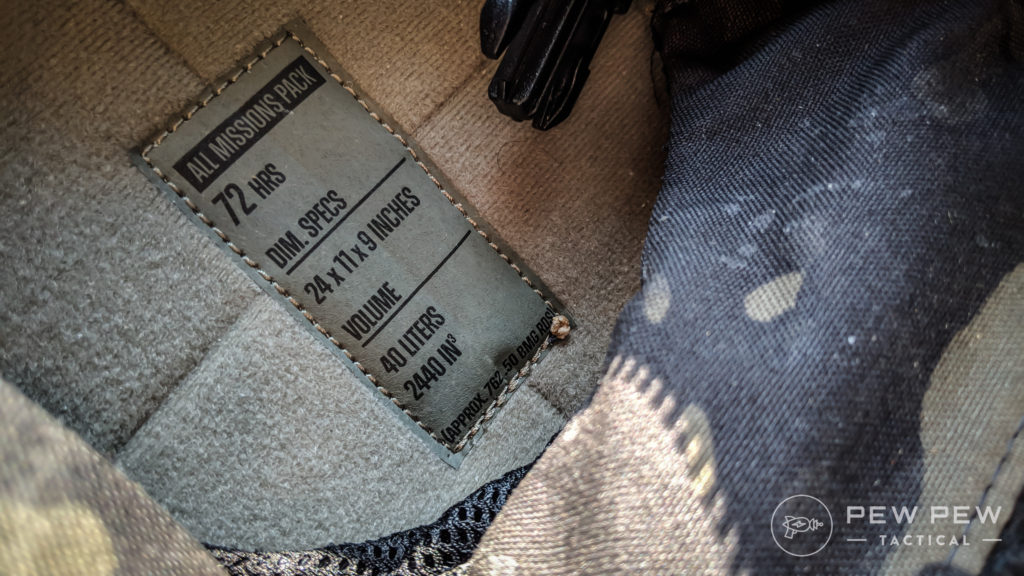 There are two sleeves on the inside of the main compartment's outer walls, and each will fit a 1.5L water bottle perfectly. As mentioned in my review of the 5.11 Sling Bag, I wash and re-use 1.5L bottles of Smart Water pretty frequently, and enjoy that the bottles are tall enough to grab without sinking down into the pouch like a Nalgene would.
The reverse flap of the interior panel has two large mesh bags – oriented both horizontally and vertically – and includes zippers on either end to ensure quick access, no matter what angle you're using the bag from.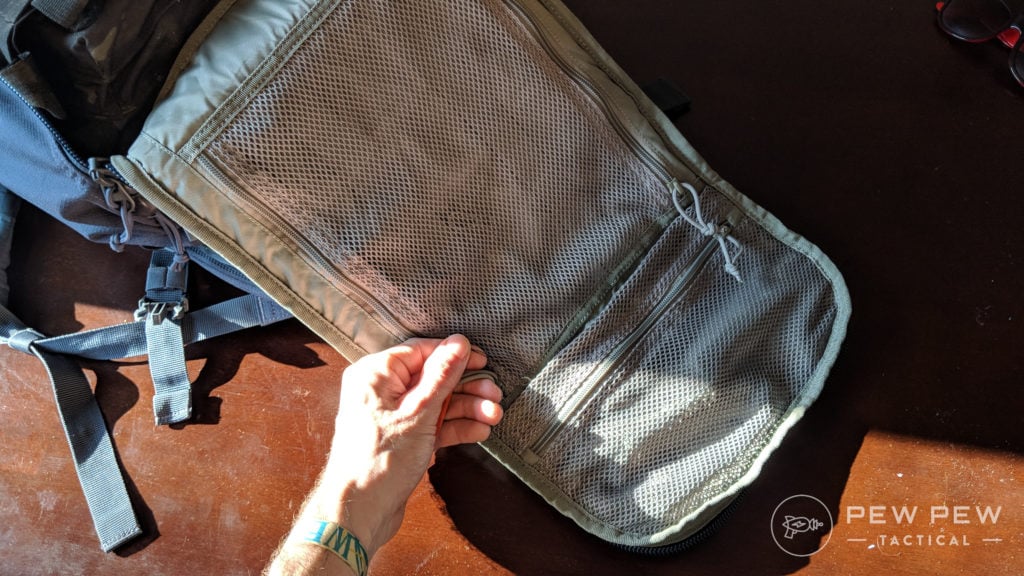 The larger, vertical mesh bag is filled with elastic keepers and a small plastic hook for organizing your various bits and bobs, chemlights, medical supplies, etc.
Perhaps the biggest functional difference for me is the inclusion of a large, briefcase-style zipper pouch between the thermal molded back panel and the main compartment.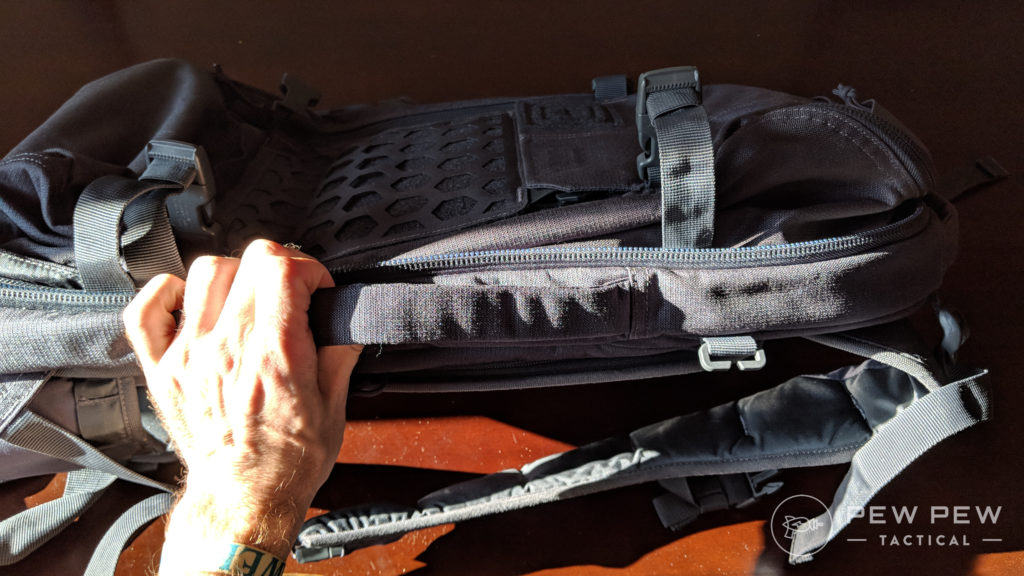 The entire bag zips in half and folds outwards like a taco, and includes an accompanying carry handle that allows you to hoist the bag much more like a traditional piece of luggage than a backpack.
Working for Pew Pew Tactical means a good amount of travel, and I absolutely love that this pack fits my oversized MSI work laptop in a compartment that's both padded and easily accessible for traveling through TSA security checkpoints at airports.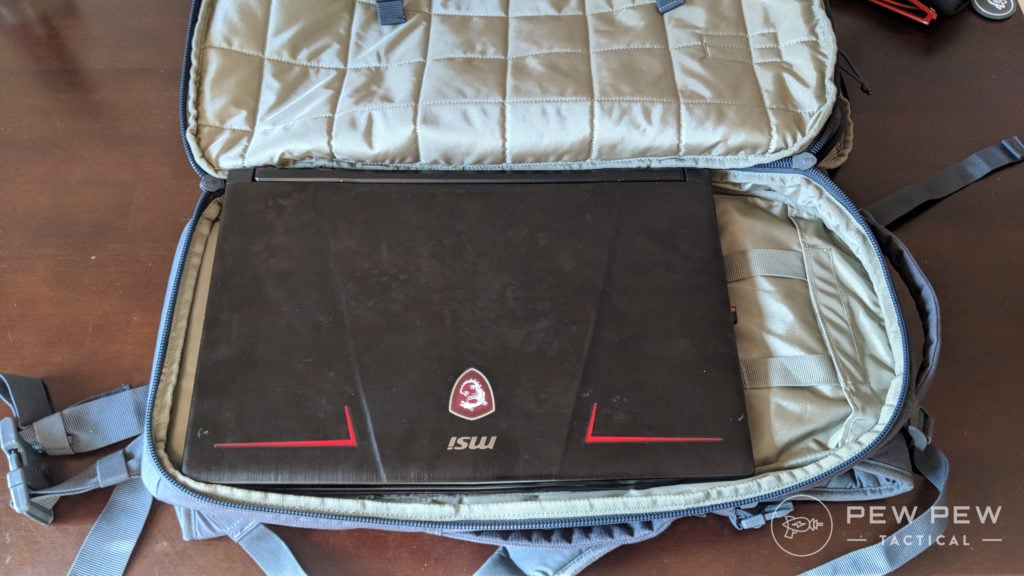 Perhaps it's just me, but having to juggle multiple bags that may need to be opened for electronics inspection while trying to take your shoes on and off and make sure you've got your wallet and boarding pass in tow when there's a crowd of other folks behind you waiting to get their luggage is perhaps one of the most stressful parts of traveling
Although this is not quite what the bag was designed for, I appreciate that the AMP72 streamlines that entire process.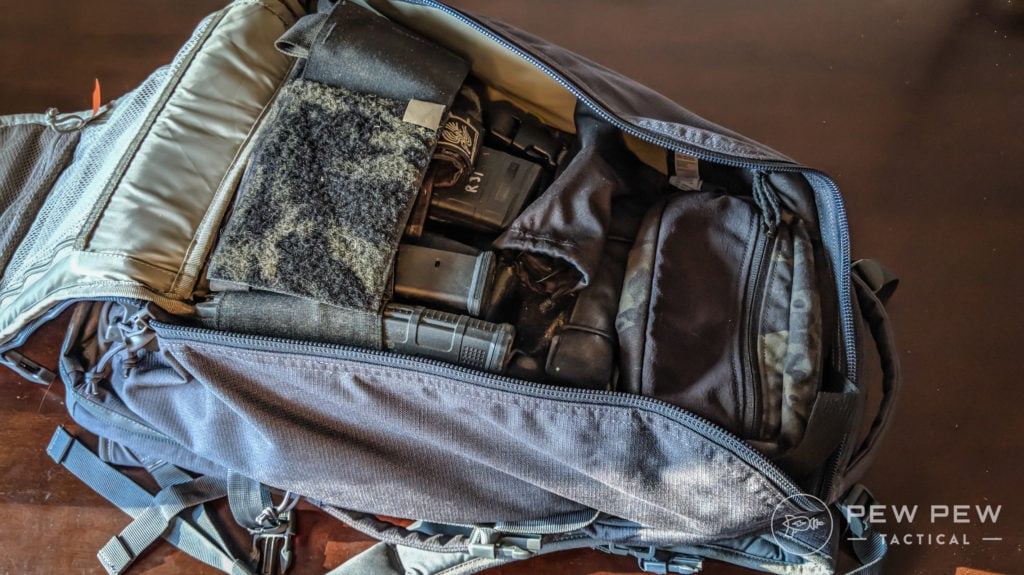 Helpfully, it also fits perfectly into the overhead storage bin on your standard 747-ish aircraft. Again, another huge plus for me, personally.
Lastly, the AMP72 includes plastic loops on the bottom side of the bag that interface with the normal cinch-down straps, allowing you to secure and compress the entire pack smartly when you need to, but affording you the ability to only tighten down the 'upper' portions of the bag if necessary.
250
at 5.11
Prices accurate at time of writing
Prices accurate at time of writing
It's this attention to detail and inclusion of small, quality of life-improving design choices that in my opinion set 5.11 a head above other competitors in the current tactical backpack market.
Parting Shots
If you're looking for a pack that interfaces with a dynamic lifestyle that calls for wearing many different hats at any given time, the 5.11 AMP series has my full recommendation.
One more time for our video review:
The versatility and modularity of the packs is not something I've seen elsewhere, and the ability to switch seamlessly from travel, to go-bag, to a CCW / trauma platform without drawing particular attention is going to be invaluable for folks whom discretion matters most.
Check them out, and I guarantee you won't be disappointed!
Do you use low-profile tactical gear for EDC? Let us know what in the comments! For more awesome gear, take a look at the Best Range Bags!