Every year or so we hear about some new wonder round that's going to replace the 5.56 AR.
Rarely do these rounds ever work out. However…one finally did.
The .300 Blackout.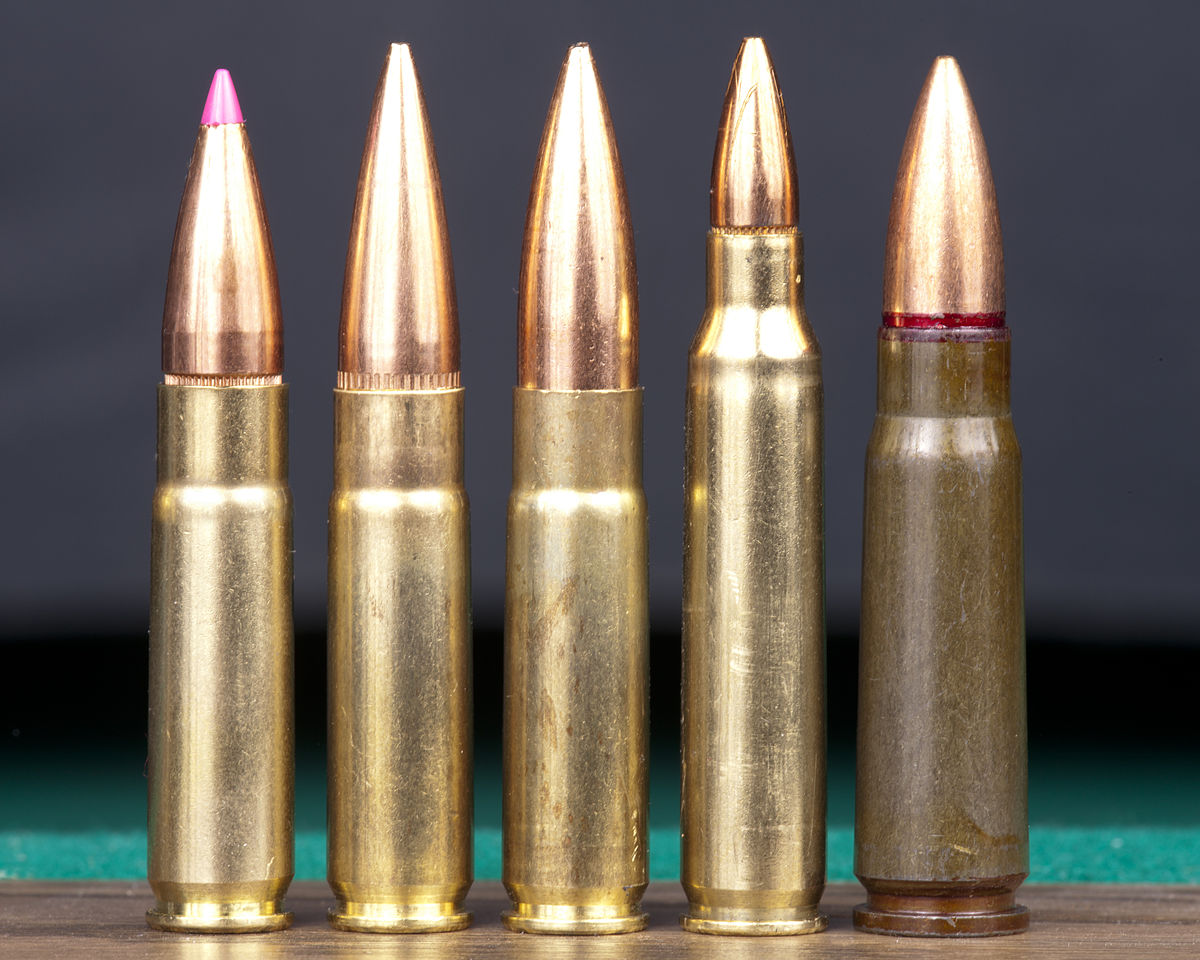 We're going to talk a little more about this round before we get into which scopes and optics we think are a great match for this caliber.
What's Special About .300 Blackout?
The .300 Blackout was not designed to replace the 5.56, instead, it was designed to augment it. The round uses the same magazines, uppers, lowers, BCGs, and more. All the .300 Blackout needs a new barrel and gas system.
This round was designed to fill in for the shortfalls of the AR-15–namely, short barrel performance, as well as suppressed performance.
The 5.56 reaches its max potential from a 20-inch barrel. As you shorten that barrel you lose range and terminal ballistics. The .300 Blackout reaches its max potential from a 9-inch barrel.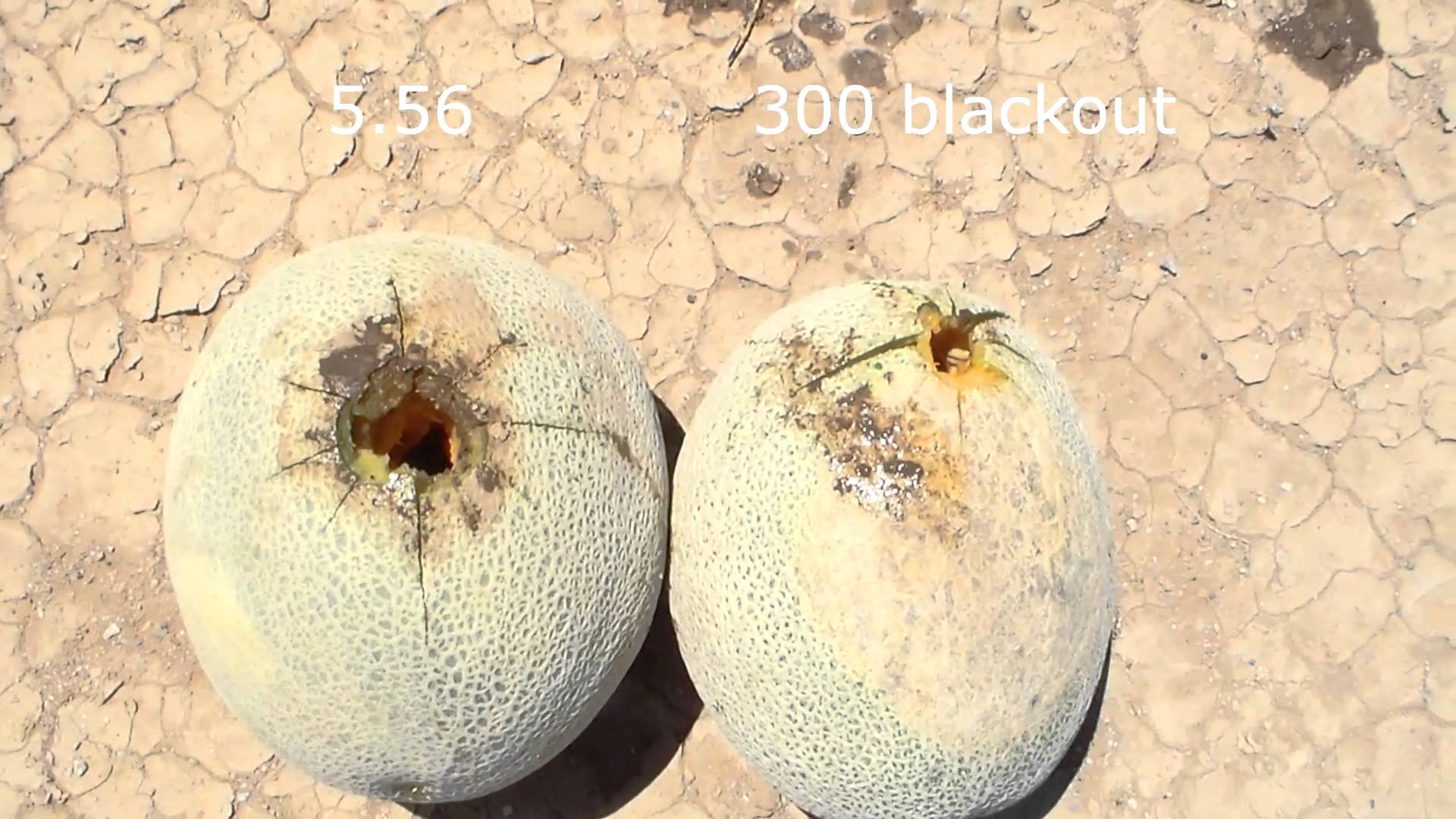 It can also function without issue with both supersonic and subsonic rounds. In an instant, you can swap magazines from a mag full of subsonics for quiet performance to supersonics to reach out and touch a target.
The .300 Blackout round is, more or less, a short-to-moderate range round. The round is most commonly found in AR platforms, but it's found in also in single-shot guns and bolt action rifles.
Best .300 Blackout Scopes
What are my preferred optics? I went from high to low to cover some of the best optics out there for .300 Blackout rifles, pistols, and SBRs.
I'm a big fan of fixed low power scopes and you'll see several on this list. The Lucid 4x Prismatic is likely the best value for your dollar if you want quality and cost-effectiveness. The Lucid with the P7 reticle is perfect for the 300 Blackout round.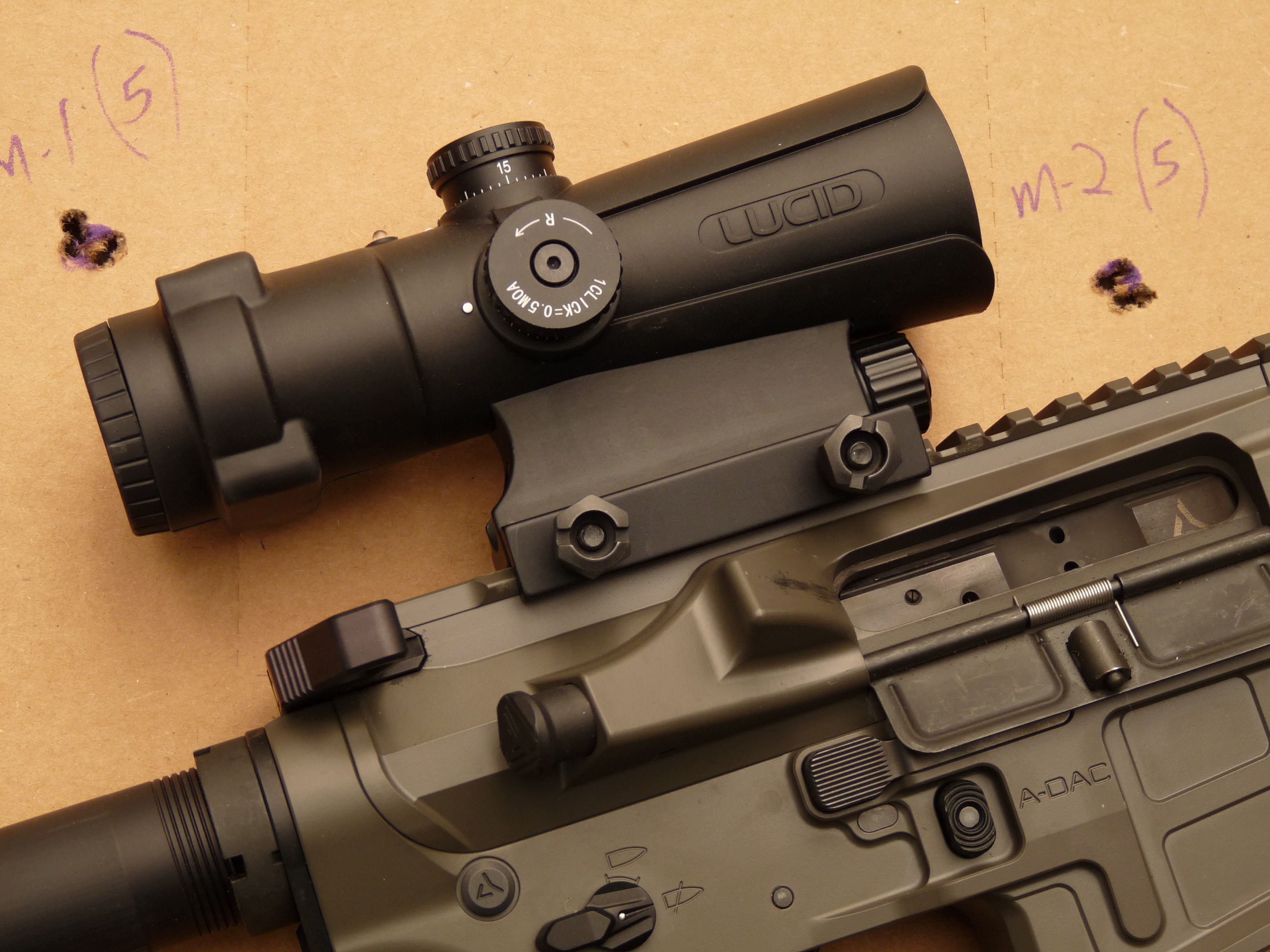 The P7 reticle has an MOA measuring tape with holdover increments that are not set for a particular caliber. You can designate them for different distances based off your knowledge of the ballistics of the round, or by just going out there and shooting till you figure it out.
The Lucid 4x Prism scope is a very strong and durable optic and it is fog, water and shockproof. The optic is fully submersible and is shockproof up to a 458 SOCOM. It's made from aluminum and is quite strong and very durable.
306
at Amazon
Prices accurate at time of writing
Prices accurate at time of writing
You can choose from ten brightness levels, but the reticle is also glass etched so if the battery dies it can still work. In terms of clarity, the Lucid combat optic is one of surprisingly clear for such an affordable optic. It sneaks up on you and honestly, it shouldn't be this clear at this price.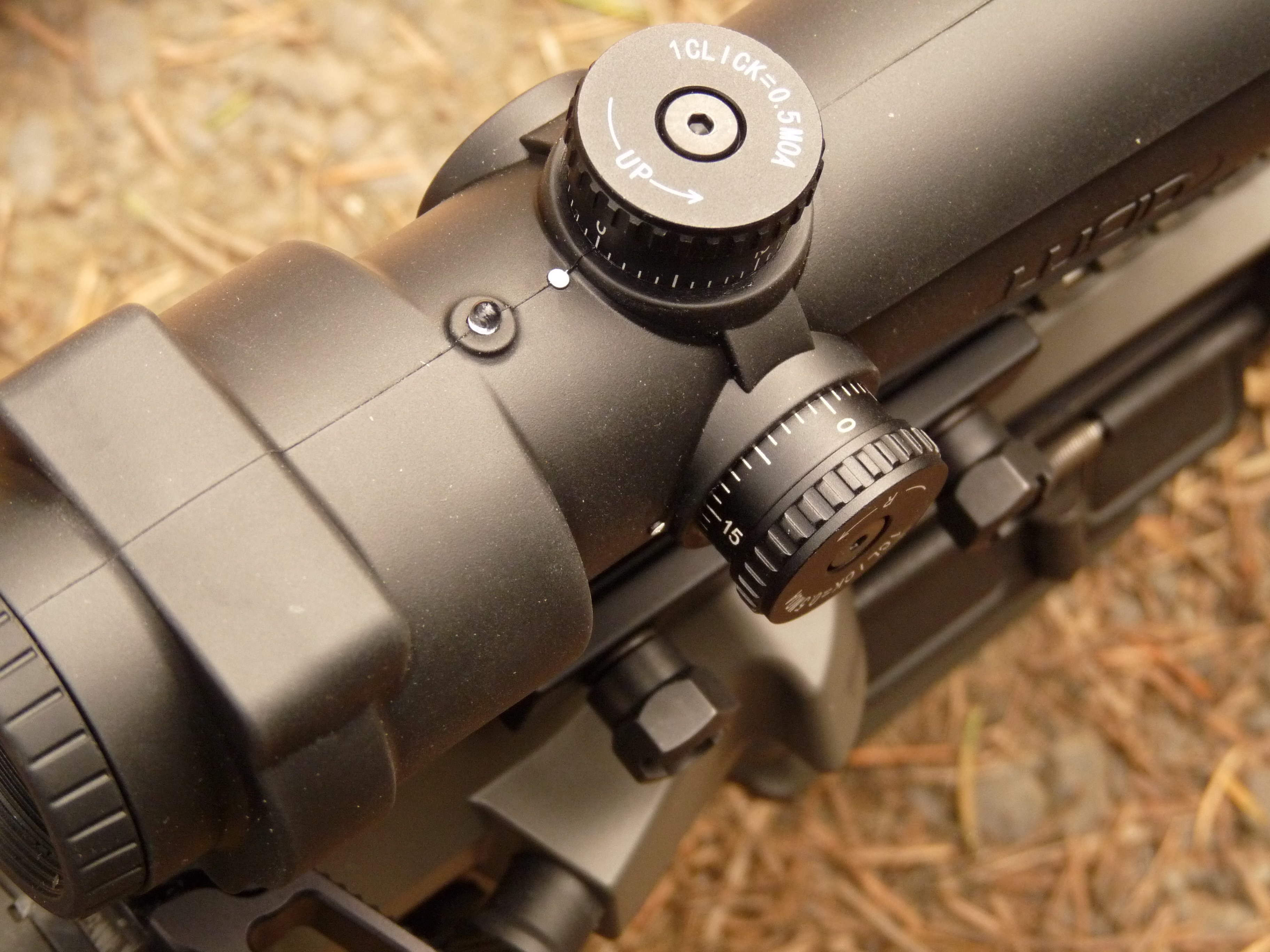 This system isn't an ACOG, but it's also roughly a quarter of the price of an ACOG and you are getting a ton of scope for the money. The Lucid is handy, and sweet-shooting and is best used on your standard AR-style 300 Blackout.
However, it could certainly work on any number of .300 Blackout bolt guns.
Eotech is a neat company and they make cool optics. Luckily they have fixed the wandering zero in extreme weather conditions so I can recommend them again. They also produce an XPS2 Model that features a .300 Blackout reticle.
This reticle is the 68 MOA circle with two 1 MOA dots in the center. The dots correspond with bullet drop for both subsonic and supersonic projectiles. The first dot is good to 100 yards with supersonic ammo, and the second goes out to 300 yards.
On the subsonic side, the first dot is good to 50 yards and the second dot is good out to 150 yards. It's a neat and easy system to use and doesn't occupy a ton of different space in the reticle.
539
at Amazon
Prices accurate at time of writing
Prices accurate at time of writing
Combine it with a magnifier and you got a great mid and close-range optic. The XPS2 is a compact Eotech that requires only an inch of rail space. This particular model is not night vision compatible, but I doubt many need that capability.
It's a rock-solid optic and one of the easiest to use at a multitude of distances. Again, this is better for semi-auto 300 Blackouts and excels for the close quarter's use the .300 Blackout is designed for. I'm a big fan of this reticle pattern and find it really easy to use.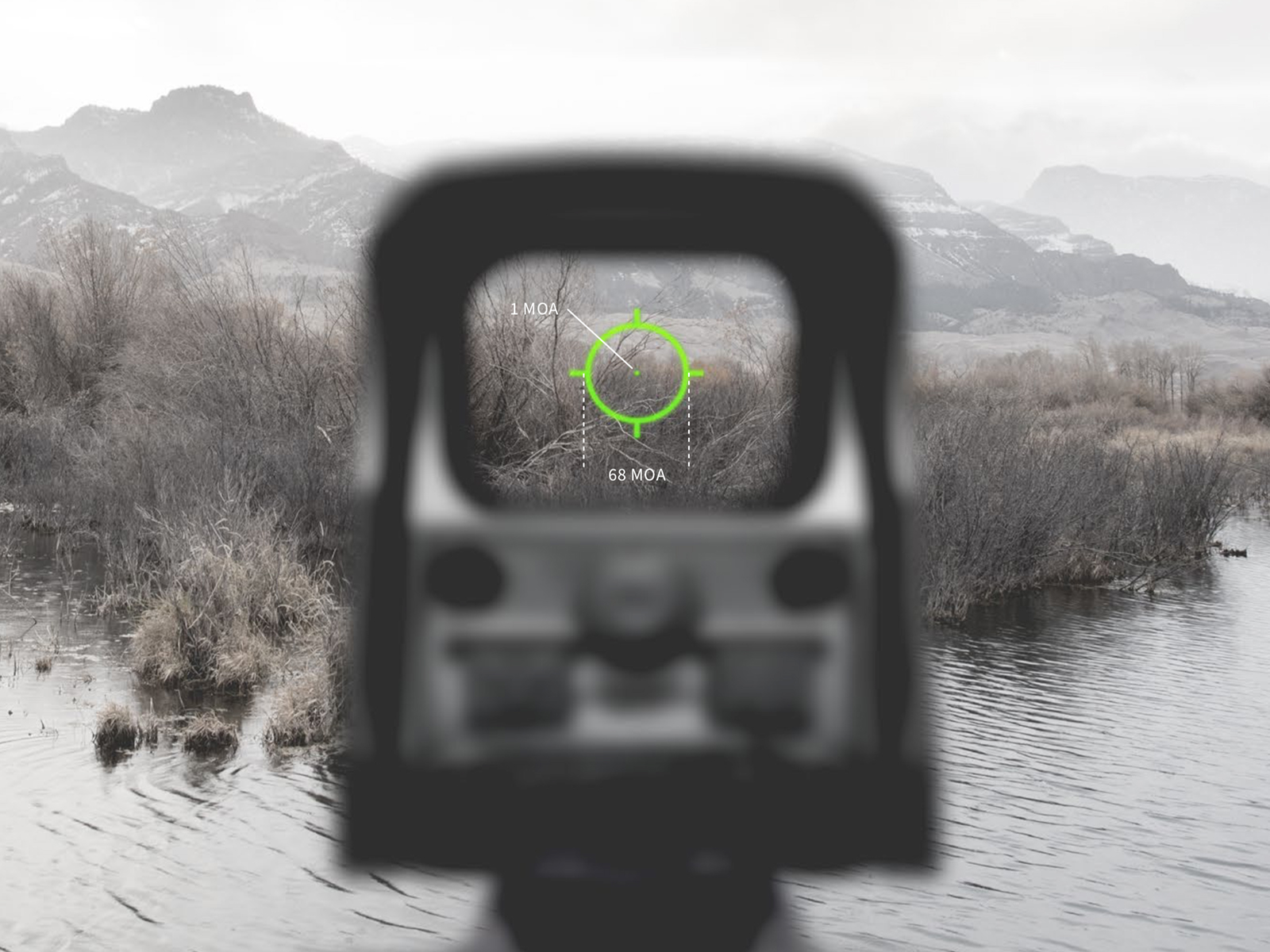 This is especially great optic if you need to change engagement distances rapidly. For example, Eotechs make it easy to swap from 5 yards to 200 yards with hardly a stutter. Eotech's have become popular with hunters, especially in the brushy Southeastern States.
This reticle works well for any of those roles and allows you to keep the versatility of the .300 Blackout round.
I told you I like fixed 4 power scopes, especially for rounds like the .300 Blackout. Most people looking at the .300 Blackout round are liking in the market to shoot at ranges between 25 and 300 yards and lightweight 4x optics do that incredibly well.
The Trijicon ACOG will always have a place in my heart. I carried one on two deployments and over two long training workups and it never let me down. That's really where my fondness grew for these optics.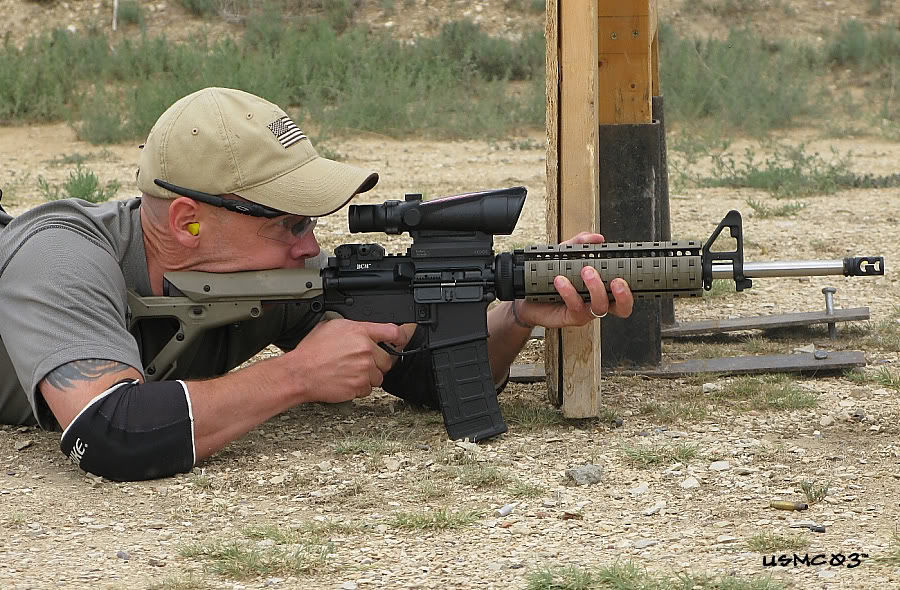 I've seen ACOGs take massive amounts of abuse and never miss a beat. I personally exposed mine to water, including saltwater, buddy rushing, climbing walls, ladders, and diving and ducking throughout two long deployments.
1059
at Amazon
Prices accurate at time of writing
Prices accurate at time of writing
Without a doubt, the ACOG made me a more effective Marine and I've always held it in high regard. Trijicon jumped on the 300 Blackout train and introduced a 300 Blackout variant of their famed 4X ACOG. This BDC accommodates both supersonic and subsonic aiming points.
The Supersonic BDC is on the right-hand side of the reticle and the subsonic is on the left. Supersonic goes out to 600 yards and subsonic goes out to 200 yards.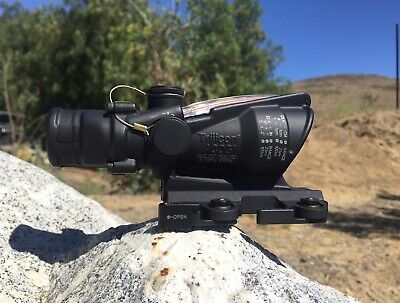 The glass is crystal clear, and without a doubt, this is one of the most well-made optics out there, and the price reflects that.
This particular model is the dual illuminated which used either a battery or radiation from the freakin' sun to power the optic. This is very similar to the model I used.
My first .300 Blackout rifle was actually a cheap Ruger American, called the Ruger American Ranch Rifle or some other confusing nonsense. It was a handy little gun that shot true and served as a short-range hunting rifle.
If that is the 300 Blackout route you are taking then the Nikon P-Tactical 300 Blackout model is perfect. You can ignore the tactical in the name. This is a lightweight variable optic, and my favorite is the 2-7 power model. This fully captures the ballistic range and potential of the 300 Blackout round.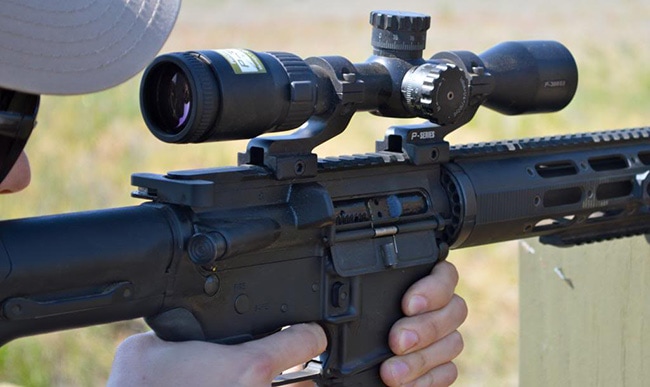 We've all seen Travis Haley make hits at 800 yards with the 300 Blackout, but let's be real most of us are probably staying under 500 yards. This makes those longer range shots a little easier for most shooters.
167
at Amazon
Prices accurate at time of writing
Prices accurate at time of writing
The magnification levels allow you to see your target very clearly and this allows for easy long-range engagements. This optic is also outfitted with a BDC system designed to work with either super or subsonic rounds. You'll have to check out the right points for your shots, but it does work.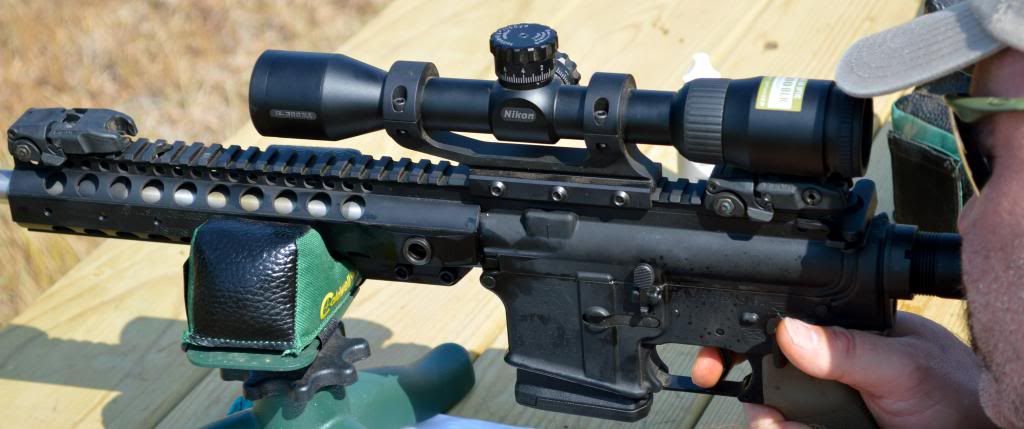 The .300 Blackout rifle is a fun caliber and this scope is well suited for hunting, or just for easy shooting beyond a few hundred yards. The scope has a longer eye relief than most variable scopes and this is nice and allows you to get a quick sight picture.
The fast focus eyebox also aids you here when it comes to getting on target. The P Tactical is short and light as only 11.5 inches long and weighing just 16.2 ounces. It's not a combat optic, but for hunting or target shooting, it's more than usable.
The Nikon P Tactical is called a tactical scope, but is more or less a sporting scope designed for hunting more than for tactical use. If you want a variable scope that is more in line with modern shooting sports like 3 Gun then the Primary Arms 1-6×24 is an excellent choice.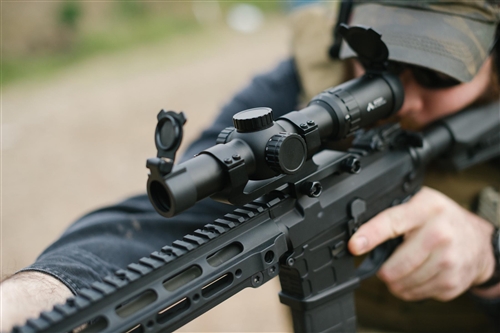 The 1-6 and 1-4 scopes that have become massively popular have become popular for a reason. They represent a quick and versatile means of shooting. The 1x settings is a red dot that's slightly less intuitive than a standard red dot. The ability to add magnification as necessary is a fantastic addition for most 3 Gun courses.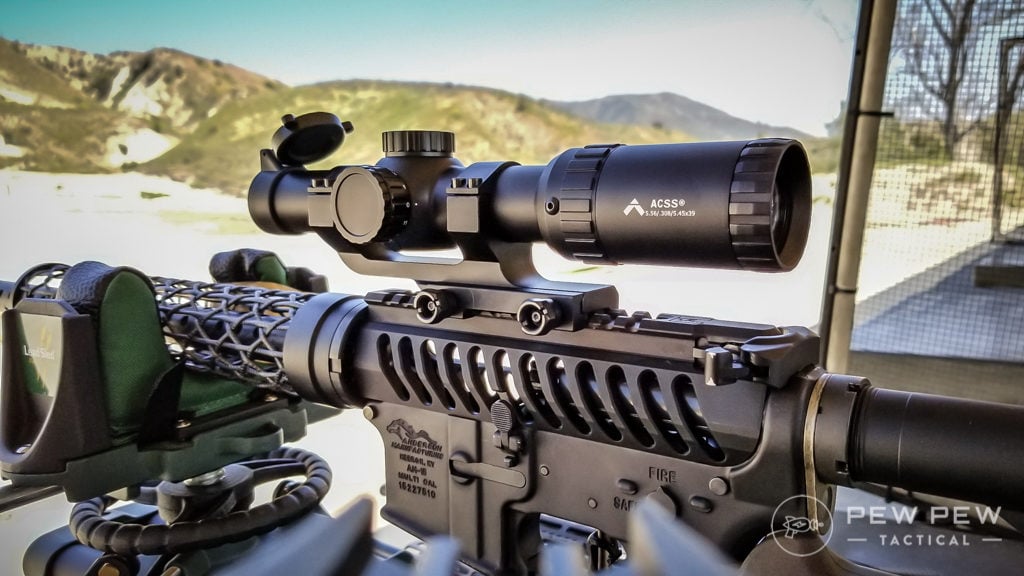 This silver series scope has a second focal plane with an ACSS reticle designed for both the 300 Blackout and 7.62x39mm round. As a second focal plane scope, the reticle and its BDC measurements are only accurate at the 6x magnification setting.
290
at Primary Arms
Prices accurate at time of writing
Prices accurate at time of writing
The Primary Arms optic has a red illuminated triangle in the center of the scope and this allows you to use it as a quick eye-catching red dot. Additionally the optic as 11 brightness settings, and uses a simple 2032 battery.
This reticle functions for both super and subsonic rounds, but is a little more complicated than most. Consult the manual and they explain it well with pictures which is better than I can do.
Like most of Primary Optics gear, this is a very affordable and robust system and perfect for sporting use with the .300 Blackout.
What's your take on the PA 1-6x?
Again, I loved fixed power scopes, especially for the .300 Blackout and its limited range use. The Primary Arms Compact Prism scope uses the same ACSS reticle as the 1-6 optic so it is compatible with the .300 Blackout. It's also compatible with super and subsonic rounds.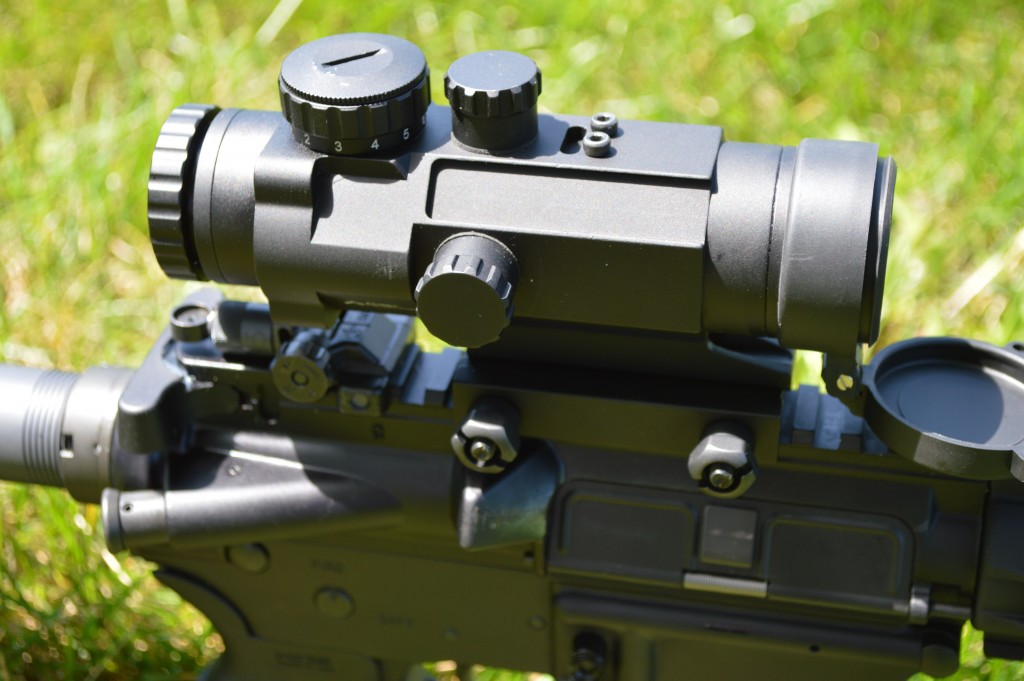 This little fella is a 3x32mm scope it's designed for close-quarters use mostly, but that extra 3X power allows you to reach out a little further. This is especially true on targets that are man-sized, or close to it.
The prism optic has 11 brightness settings, and the reticle is glass etched in case the battery dies.
Primary Arms Prism scopes are waterproof, fog-proof, and shockproof. They come in a few different colors and do have a lifetime warranty. I will say these are great optics for home defense or property protection, but I wouldn't recommend one for duty.
240
at Amazon
Prices accurate at time of writing
Prices accurate at time of writing
Nothing particularly wrong, but this scope isn't designed to be as bombproof as an ACOG, and they aren't priced to be. The Primary Arms prism scope is super fun to use and very intuitive.
The overall design is very well thought out and well made, and the ACSS reticle is popular and intuitive enough Trijicon even put in some ACOG models. It does work and its design encourage both precise moderate range shoot and quick and vicious short-range shooting.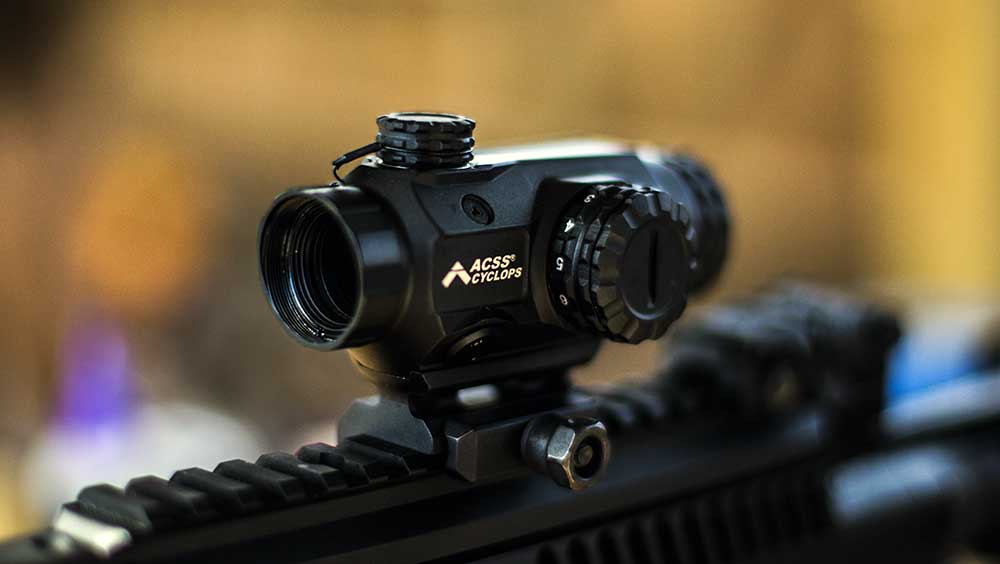 That reticle is also glass etched and doesn't need batteries. It's simple and easy to use, but it looks like a hieroglyphics if you've never used it. Certainly read that manual.
The Prism scope by Primary Arms is simple, and also affordable. For under 300 bucks you are getting a lot of optics, and it's perfect for semi-auto designs.
Blacked Out
The .300 Blackout round is a very cool round. Shooting one suppressed is an absolute dream. Its has light recoil, is a superbly silent round, and is incredibly reliable. While it shares a ton of the same features with the AR-15, it is still a unique round.
It requires a unique optic and an optic suited to the .300 Blackout cartridge. The round's massive amount of popularity has led it to have an impressive aftermarket. This includes optics by companies we all know and love.
Do you guys shoot .300 Blackout? How far do you take the round out to? What optic do you use? Tell us all about it! While you're at it, check out the Best .300 Blackout ammo and Best .300 Blackout Uppers.