One of the most popular and exciting action shooting sports right now is 3-gun.
It's a fast-paced test of your ability to shoot pistol, rifle, and shotgun, and switch between them on the clock.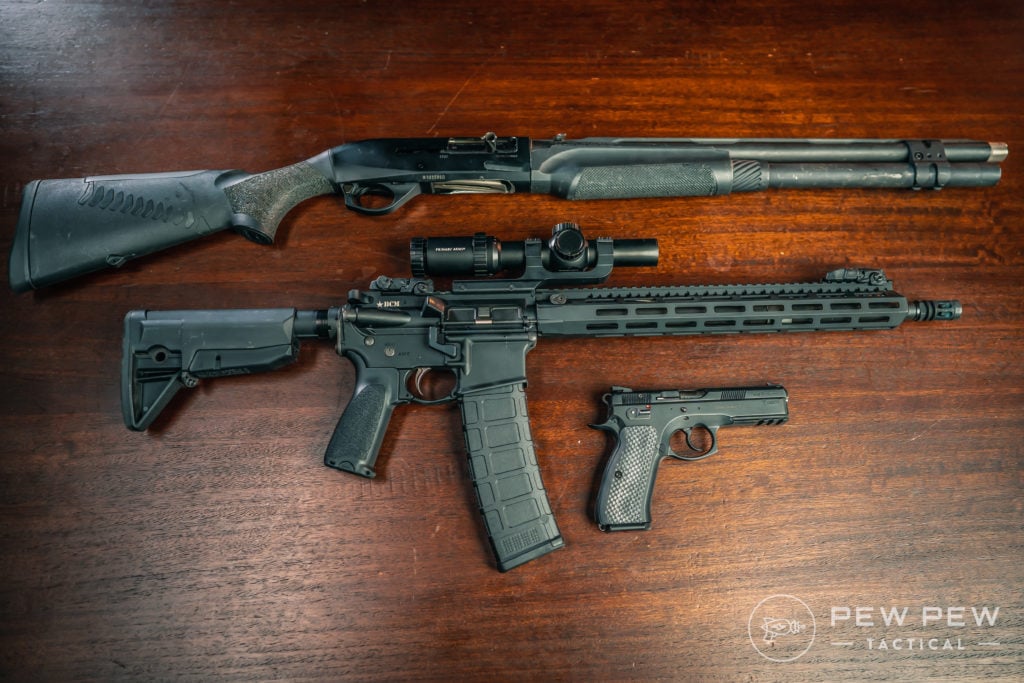 If you already have an AR-15 in the safe, it's probably a good way to get started with the rifle part of your 3-gun gear, but a perk of getting into a new gun sport is getting to buy new guns.
You can certainly build your own rifle or order a fully tricked out, custom one for 3-gun, but that's fortunately not the only way to go now that 3-gun is getting so big.
If you're a little less mechanically inclined or if you're short on time, there are plenty of options that you can buy now that will get you well on the way once you put your preferred sighting system on top.
I've picked some great out-of-the-box rifles for you to pick from. The full list is below, but these are 3 of the best:
Ready to go shopping? Let's go!
Budget Buys: Getting Started Under $1500
While most any AR-15 will work for 3-gun, there are a few features that will make a rifle more friendly for the sport.
In general, you'll want things like a high quality barrel with a 1:7 or 1:8 twist rate, a free-floating handguard, a compensator or brake to help reduce felt recoil and muzzle rise, and a reasonably light and crisp trigger, not to mention features like being lightweight and having easy to operate controls.
Some of these budget choices might not have everything you'll want as you get more competitive, but they have many of the most important features and, like all AR-15s, can be easily upgraded.
In fact, my first budget choice is the Colt LE6920 OEM2 (MSRP $849). Unlike every other rifle on this list, this Colt AR-15 comes nearly bare so that you can add your own preferred handguard, buttstock, and trigger guard.
That means you can use some of the parts you have floating around, or take advantage of sales and deals for your rifle. Over time, you can add a compensator and perhaps change out the trigger and grip.

If you already have a few parts in mind or aren't ready to dive right into building your own AR-15 but want something a little bit custom, the Colt is an easy base to work from.
I did say that this was going to be a list of out-of-the-box rifles, though, didn't I?
Savage Arms delivers with its MSR 15 Recon (MSRP $900). Not only does it have a lot of the basic features I listed above, it comes with flip up iron sights so that you can take it to a match right away. The biggest upgrade this rifle will need early on is just a compensator.
900
at Brownells
Prices accurate at time of writing
Prices accurate at time of writing
Breaking through the $1000 barrier is the SIG SAUER M400 Elite (MSRP $1000). Like the Savage Arms, this rifle doesn't need much besides perhaps a muzzle brake or compensator.
ED: We like VG6 comps around here, but there are almost as many options as there are machine shops.
What makes the M400 Elite unique though is that you can buy it factory equipped with a ROMEO 5 red dot optic (MSRP $1359). Red dots are allowed in most limited divisions in 3-gun and are a lot easier to shoot than regular iron sights. The M400 Elite gives you a way to get set up with one all-in price.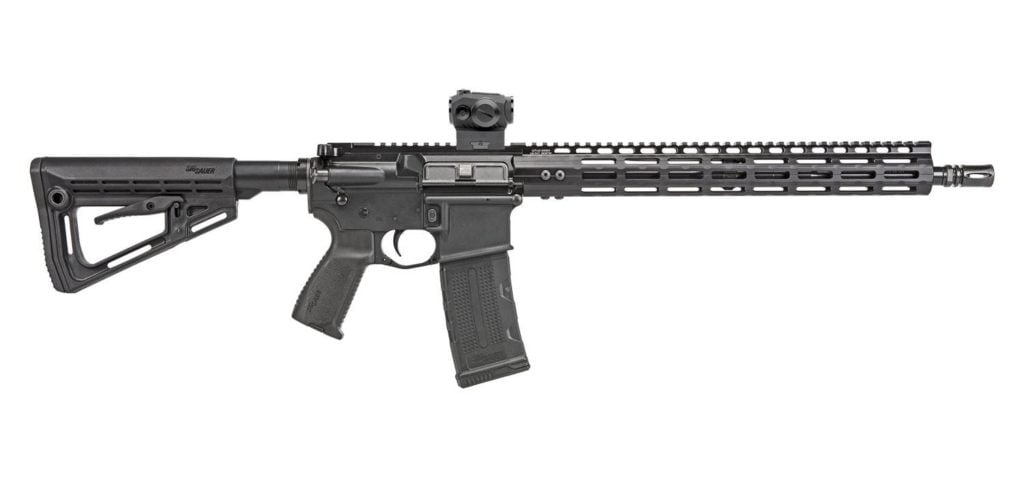 Want to go with a scoped rifle instead, and do nothing with your rifle beside put some glass on top?
Then the DPMS 3G2 (MSRP $1239) might be more to your taste. Like the MSR 15 Recon, the 3G2 comes with iron sights. Unlike the MSR 15 Recon, the 3G2 already has a compensator along with a hand guard that supports attaching the included iron sights at a 45-degree angle to the top rail. The offset sights are a popular way to shoot up close targets in 3-gun without needing to adjust the magnification on your scope.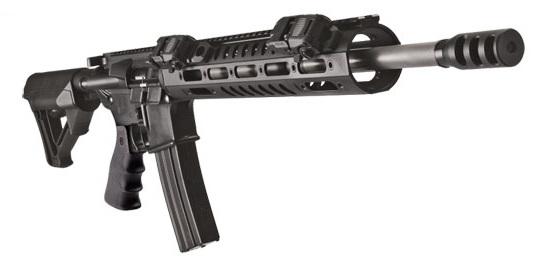 Think you're ready to upgrade a little more? Smith & Wesson M&P Competition (MSRP $1350). It has all of the features you'd expect for a 3-gun rifle, with the backing of the Smith & Wesson name. Plus it's the same rifle that Jerry Miculek shoots, so how can you go wrong? All you need to do is choose a sighting system for whatever division you want to play in.

Bumping up the price tag just a little, then the Stag Arms Model 3Gun Elite (MSRP $1399) might be to your taste. It, too, comes with the features and add-ons that you'd expect to see in a 3-gun rifle, with the bonus of being able to add some basic customization if you order it directly from the manufacturer.
That makes the Model 3G one of the only rifles in this price range that you can buy with ambidextrous features instead of having to change the parts later, though it will come at a price. Most lefties in 3-gun shoot right-handed rifles with ambidextrous controls, but Stag Arms is also releasing a fully left-handed version of this rifle, the Model 3GL Elite.

The Sweet Spot: Rifles between $1500-2000
If you haven't already figured it out, competitive shooting can get expensive fast and 3-gun is one of the worst offenders because it's all of your gun stuff for most other sports, tripled. While many reasonable quality AR-15s can be found for under a thousand dollars and there are some great entry-level options above, the biggest variety of match-ready rifles are found in the $1500-2000 price point.
One thing to remember when starting to look into this and higher price ranges is that these rifles often already include parts that, in the Barbie-doll/Lego-set nature of ARs, you were already thinking of adding onto your lower-priced rifle in the future. You might have to save a little longer, but it can be worth it to buy one of these more expensive rifles that already have them, and spend less money in the long run.
Another rifle used by 3-gun champions is the Armalite M-15 Competition Rifle (MSRP $1699). It has a bit more customizability out of the box, including a brake that can be tuned to you and your ammunition and a stock that can adjust more than what comes with most rifles. Plus an ambidextrous safety is standard on it, and that's no small detail even for right-handed shooters.

The 18-inch barrel is quite popular in 3-gun because it can support a rifle-length gas system that is said to have a bit less felt recoil and because it can push bullets faster, making for better long-distance performance. However, not all of us shoot 3-gun past a few hundred yards and some of us are short.
Moving up the scale is the Daniel Defense DDM4V11 Pro (MSRP $1730). It comes with nearly all of the upgraded parts that you could want, beyond just the base features normally found in a 3-gun rifle.
That includes details like a Geissele Automatics Super Dynamic 3-Gun trigger and a Vltor/BCM Gunfighter Mod 4 charging handle. While what comes in many of the other rifles on this list will also work, these are the kinds of changes you might want to make to your gun in the future anyway, but you can get them right off the bat and possibly with a few dollars saved in your final gun.
1730
at Brownells
Prices accurate at time of writing
Prices accurate at time of writing
And of course, no list of 3-gun rifles would be complete with the Taran Tactical Innovations TR-1 Ultimate (MSRP $1999). Taran Butler has been a force in the competitive shooting world for decades, and this is his signature 3-gun rifle.
It has all of the high-end parts you'd expect from a shop that specializes in competition firearms, not the least of which are a few of their magazine extension basepads, which are nearly required for 3-gunners. The TR-1 can be matched to Taran Tactical Innovations pistols and shotguns for a complete set of 3-gun firearms from one place.
Plus it's the John Wick rifle, so there's that too.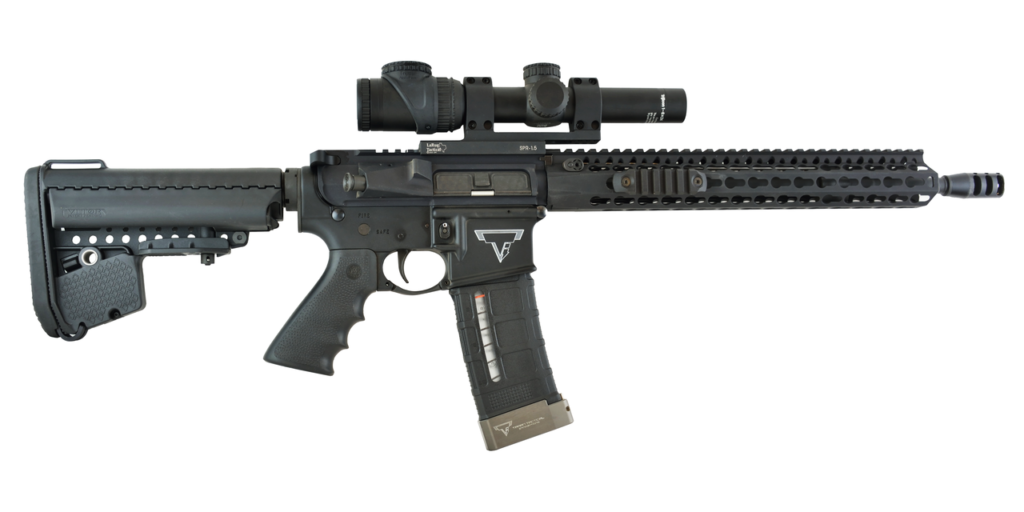 What do you think of TTI's 3-Gun AR?
Dream Rifles: The $2000 and Up Club
When money is no object, there are certainly many opportunities to spend it. What follows is a smattering of the highest end AR-15s you can buy without agonizing over every detail as you might on a fully custom gun. They're built especially for 3-gunners, with input from high-end competitors.
What makes them so pricey? These rifles use very high-quality parts, including ones that have been designed specifically for the manufacturers, and may be assembled by hand in small quantities. They are showcase rifles but make no mistake, they can also be run hard in competition.
Up first is the Lancer Systems L15 Competition (MSRP $2138). While Lancer might be better known for their translucent polymer magazines that compete with the venerable and classic Magpul PMAG, they also make complete rifles.
The L15 Competition also sports Lancer's own muzzle brake and lower receiver with an aggressively flared magazine well for fast reloads. It doesn't hurt that the rifle also comes with enough magazines for almost any match, which most rifles do not.

If you'd like to stick with bigger, more well-known manufacturers, you can go with the FN 15 Competition (MSRP $2249). FN took a different approach than many of the rifles in this price range and picked from among some of the best parts manufacturers to assemble a top grade rifle. With this AR-15, you'll get all of those bits and pieces, but with FN quality (and warranty!) for the completed gun.
1999
at Brownells
Prices accurate at time of writing
Prices accurate at time of writing
One of the true boutique AR-15 makers is JP Enterprises, and they are competitive shooters making parts and rifles for competitive shooters. JP has created parts to improve nearly everything about an AR-15 from bolts to barrels and from springs and pins to complete receiver sets. Their CTR-02 Match Ready Rifle (MSRP $2739) puts them all together so that you don't have to, and for a reasonable price once you figure in the cost of all of the components.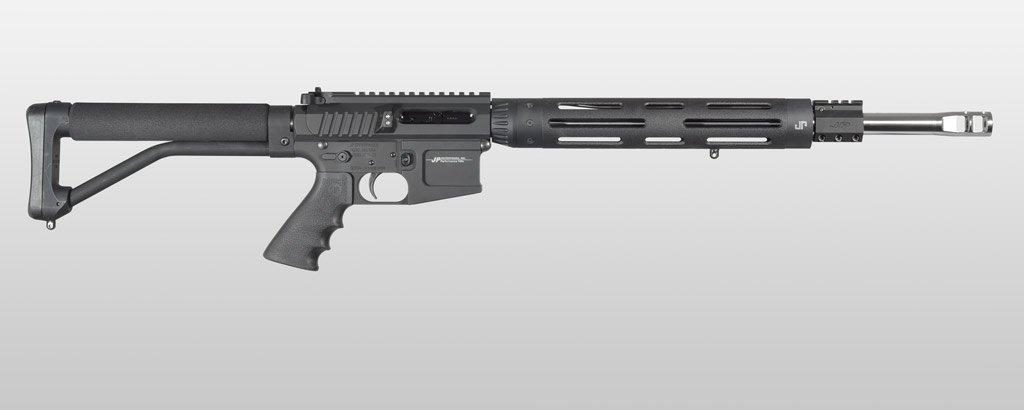 Christensen Arms is a relatively new contender in the 3-gun rifle world, but they have been making barrels for over two decades. To create their new CA-15 3G (MSRP $3045), they went to one of the legends of 3-gun, Bennie Cooley, for advice.
The resulting rifle is built around their signature carbon fiber-wrapped stainless steel barrel and uses their own carbon fiber handguard. There's not a lot of track record yet for this gun, but it's worth keeping an eye on, especially because it weighs in at just under six pounds – one of the lightest out-of-the-box rifles on this list.

New offerings can, after all, bring some really interesting features to the table. The Cobalt Kinetics Rifle (MSRP $3500-5000 depending on options) is a prime example. In addition to the usual high-end parts you'd expect to see in a rifle in this price range, the TEAM has something that only Cobalt Kinetics rifles can offer: the Dual Drop system.
Instead of having to use the usual bolt release to drop the bolt on a fresh magazine, Cobalt Kinetics has created a system where the forward assists on each side of the gun can be pressed with the thumb to drop the bolt, decreasing the movement necessary to complete a reload.
It's a small thing, but when matches can be won or lost by fractions of a second….is the edge worth it to you?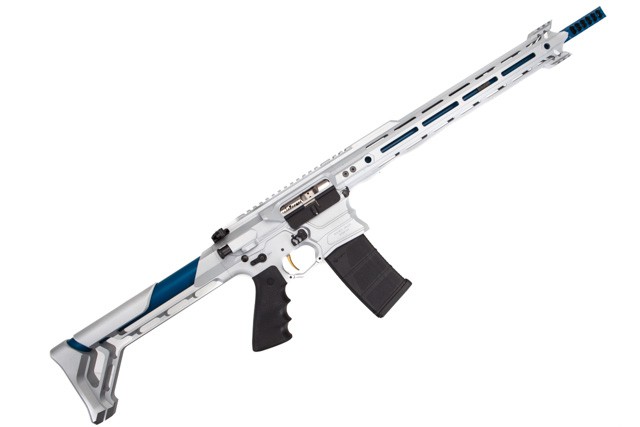 What Do You Think?
Need some accessories to go with your new rifle? We got you covered with our Essential 3-Gun Gear review.
So many choices! We're in a golden age of AR buying, and what's listed above covers just a handful of options in every price range. Which will you go with? Or is there something else you'd rather get? Chime in!