Not sure if you need a spotting scope?
We usually don't hesitate when getting a new scope or red dot…but we lag on getting a spotting scope.
We'll cover what to look for in a spotting scope and a couple of choices spanning all budgets. Complete with view-throughs of our tested ones.
By the end, you'll know if you even need one…and also which one to get.
Summary of Our Top Picks
What to Look For in a Spotting Scope
Magnification
All those numbers you see in the catalogs are important to understand.
When you see the following in a catalog "20-60×80" it means…
the scope has zoom magnification from 20 power to 60 power

the objective lens (the lens in front) is 80 millimeters in diameter
That gives you a lot of magnification as well as a big lens to gather more light and make your image brighter during those all-important first light and last light glassing periods.
The scope you buy will depend on your most frequent use or targeted use.
Use
If you are a dedicated long range shooter you may opt for a scope with a larger objective lens and higher magnification.
But that extra glass means more weight and more dollars.
Chasing critters like sheep and goats in the far north usually means an investment in glass. The weight of that big scope can save you many miles and thousands of vertical feet.
Eye Piece
Spotting scopes can be found with either a straight view eyepiece or with an angled eyepiece. For many of us, it is much easier to find our target or critter with a straight view scope.
However, if multiple folks are going to be looking through the scope, it's a little more difficult to get the tripod height just right.
With an angled eyepiece you can lock in on the target object and folks just look down through the scope.
The other part of the eyepiece that is critical is the exit pupil.
If you hold a rifle scope or spotting scope at arm's length and line it up to look through it you will see a little white disk of light.
The diameter of that disk is the exit pupil diameter. The exit pupil should be approximately the same as the diameter of the pupil of your eye.
This will allow a bit of flexibility as to how close your eye must be to the eyepiece of the spotting scope to have a full view through the scope.
Generally, the larger the exit pupil, the more eye relief you will have.
Weather Proofness
Be sure the scope you choose is weatherproof.
I say weather because it's not just rain and snow that cause issues with optics. Be sure the scope is sealed against dust as well.
If you've ever laid out prone in a prairie dog town in the Wyoming wind you know why dustproof is critical. Somehow dust gets on and in everything you own.
You need to be sure the scope tube is properly purged and free of as much moisture and oxygen as possible.
If not you may experience the internal glass fogging if you take the scope from cold outdoor temperatures to a warm tent or cabin, then back out again.
The fog will dissipate over time, but it's a hassle to deal with.
Best Spotting Scopes
Like guns, there are dozens of spotting scopes out there that will serve you well and last a lifetime.
Of course, the Big Three — Leica, Zeiss, and Swarovski — all provide ultra-clear glass, smooth zooms, and easy focusing.
But do you really need $2,000-$3,000 glass for your shooting and hunting endeavors?
Probably not.
Let's start with some spotting scopes for us mere mortals…
1. Celestron 52250
This is a staff pick for the best bang-for-the-buck scope that will do its job of telling you hits and misses.
The Celestron 55250 ($149) gets you out of the ultra-budget zone into spotting scopes with decent glass to see with 20-60x magnification.
It's hard to get proper photos through a spotting scope…but we brought all the ones we tested to our local 600-yard range.
The area we're going to look at is in the red oval.
We attached our spotting scopes to a tripod (more on those at the end).
This one of the Celestron at 20x looking at 500 and 600-yard targets.
Note…it will definitely look better through your own eyeballs…and you'll get the full circle view too. It's just very hard with a camera!
And here it is at 60x. Pay special attention to the red circle target since we'll be using that as our barometer of glass quality.
And an attempt at getting footage from our PSA 6.5 Creedmoor Review.
Plenty enough to see what you need at this range.
Once you use your own eyes and 60x…you can go up to 1,000+ yards.
The 45-degree angle works well and adjustments on the eyepiece and focus are very usable.
Our solid recommendation for a great starter spotting scope that's around $150.
And is likely to live a cushy life to and from the range.
What's your take on the Celestron?
If you're looking to take in on some more rough and tumble adventures…you might want the next up.
2. Athlon Talos 20-60x80mm
A second entry in the budget zone of spotting scopes, the Athlon Talos is another great option if you need to watch your pennies.
We've been using this for a while and it's held up to everything we throw at it. From industry events to shooting matches, this is a workhorse spotting scope that just delivers.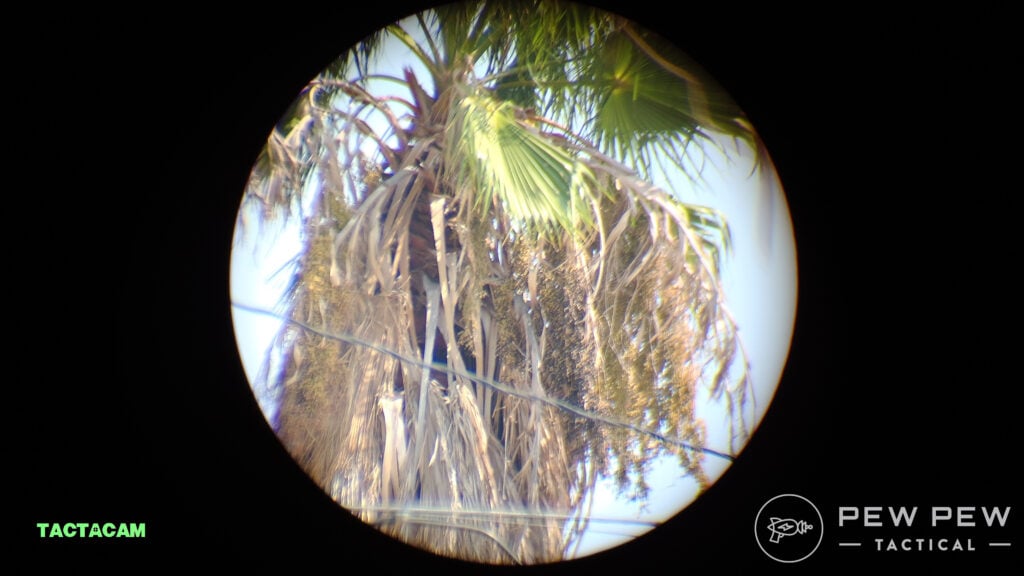 The glass is clear enough to call shots out to at least 800 yards, but seeing hits on a splatter target is limited to around 300 yards depending on the target and the weather.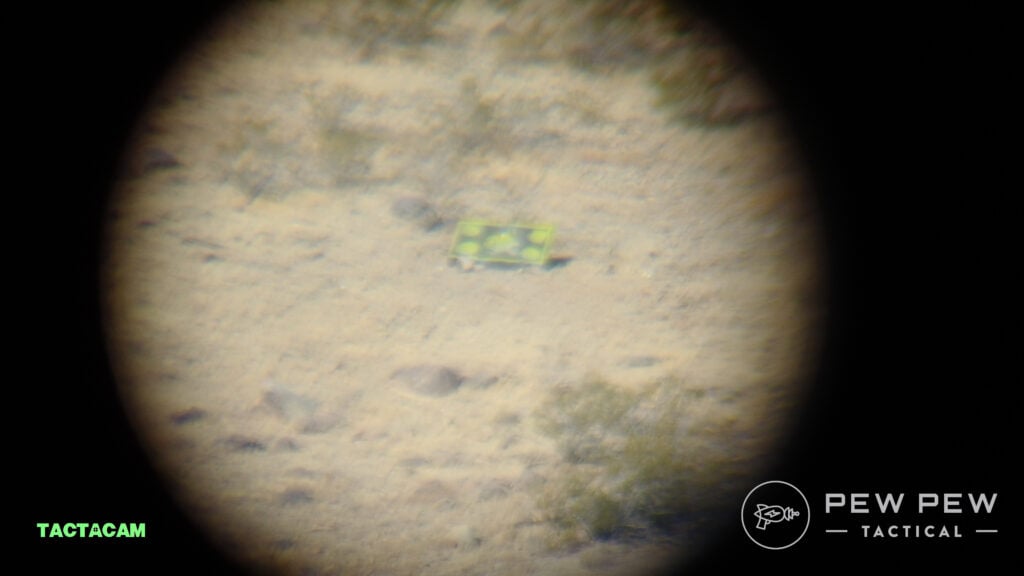 One nice thing is that the Talos comes with a built-in sunshade, this is a minor detail but it's a nice perk.
Plus a carry bag and bench height tripod are nice too!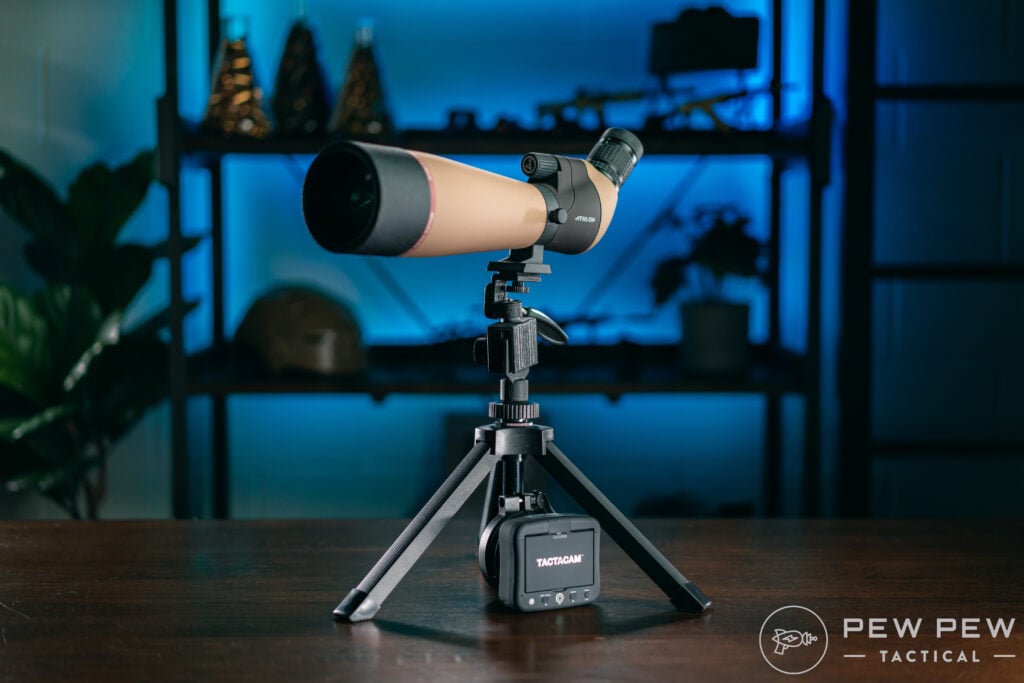 A 45-degree eyepiece that is fully adjustable rotation gives you a lot of freedom for how to position things. From prone on the ground to sitting at a bunch, you can get a good sight picture when you need it.
3. Sig Sauer Oscar 3
Sig is at it again with their mag scientist routine — this time, they've smashed a gyroscope with a spotting scope and come out with the Oscar 3, with auto image stabilization technology under the hood.
When Sig offered to send the Oscar 3 out for review, our editor expected it to be a digital scope and using software to stabilize the image.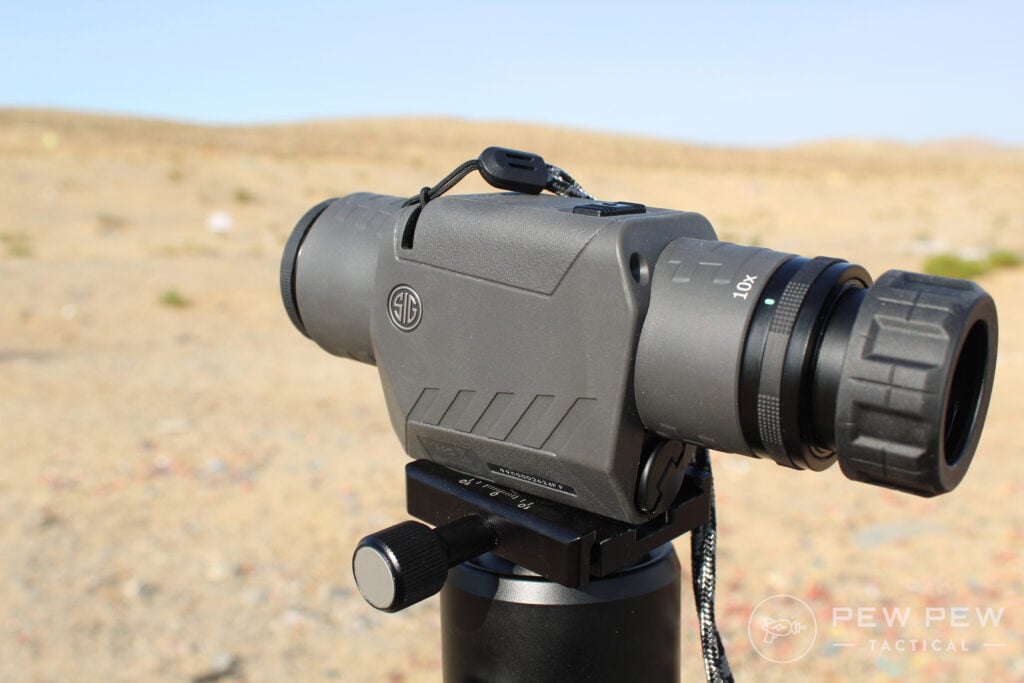 Nope. Instead, Sig does it the right way — they use some engineering magic to stabilize the optical glass and prism themselves in the spotting scope.
What this does is give you incredible optical clarity, amazing light transmission, and a stable image while freehanding the spotting scope.
At only 10-20x30mm, this is a very compact little spotting scope. It's also clearly not designed for scoping out a bull at 3-miles. It's more for close-in work in the hand, not the tripod.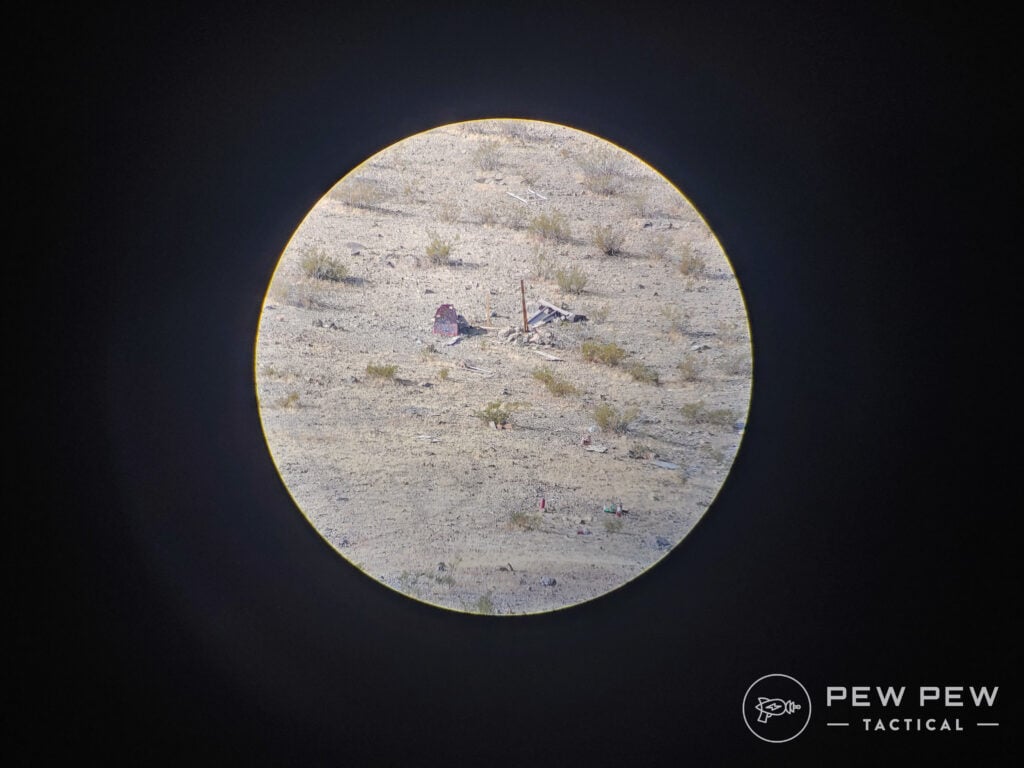 For speedy spotting and tracking a target, the Oscar 3 delivers. It's also well built, has a grippy casement, and has that "quality" feel in your hand.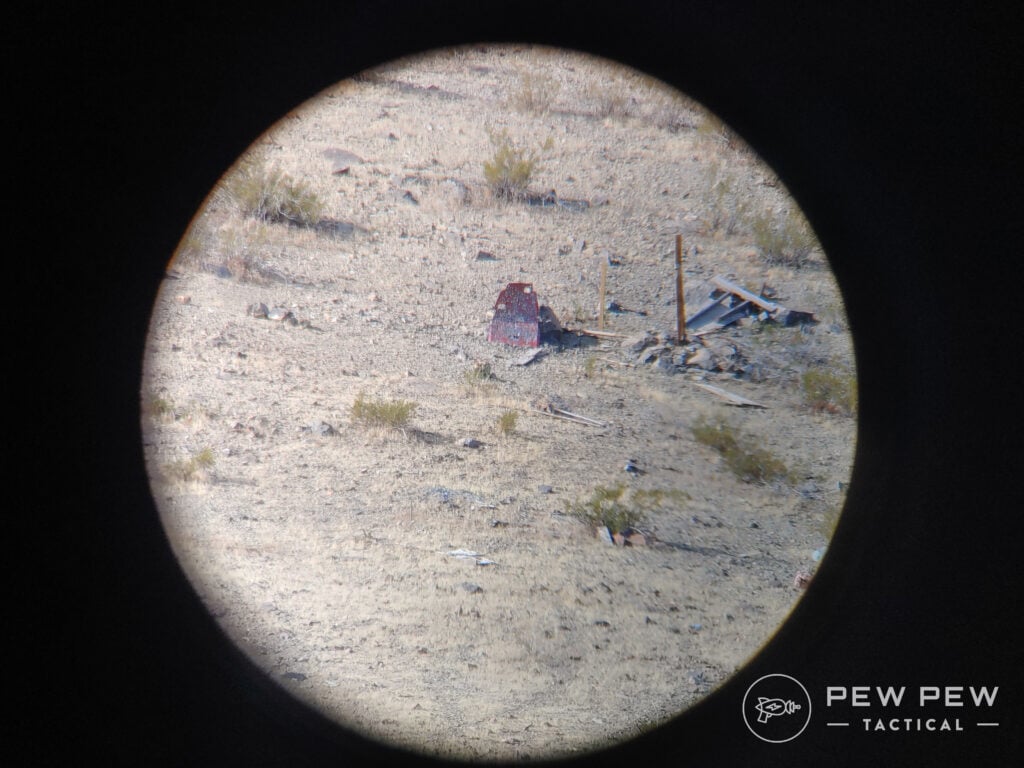 Here is a quick video showing off the image stabilization. Note that I called it the "Romeo 3″… my bad. It's hard to keep Sig's naming conventions straight sometimes.
The stabilization really works. It won't keep it steady-cam steady, but it takes a huge bite out of the wobble that the average person has.
If you wanted the video, keep in mind that was me standing, using one hand to hold the Oscar 3 and my other hand to hold my phone in the perfect place to get video. So… not stable at all!
The diagonal movement you see is refresh rates being odd with my camera, ignore it.
To finish it off, it comes with a belt-mounted carry case and two Energizer Lithium-Ion batteries.
Scanning for game from a truck, up in a tree stand, or out for a hike — the Oscar 3 is great.
We have a full review with more pictures if you're interested in the Sig Sauer Oscar 3!
4. Vortex Diamondback 20-60x80mm
Vortex Optics has a reputation for being clear and precise at prices that don't seem possible.
Take the Vortex Diamondback 20-60x80mm Spotting Scope.
Here we have their entry-level scope offering a great range of magnification as well as a big 80mm objective lens to help us at last light when that big mule deer buck is just sneaking out of the timber for a bite to eat.
The Diamondback is nearly 15 inches long and weighs 47 ounces, so it is by no means a compact or lightweight scope.
It does feel light-years more durable and quality compared to the Celestron even though they are the same weight.
It's also waterproof and fog-proof and comes with a view-through carry case so your scope is always protected in the field.
Here it is at 20x.
And at 60x…don't worry we'll have these side-by-side in a little bit.
The scope is available with either straight or angled eyepieces.
As with all Vortex products you are covered with the transferable Lifetime Warranty should you ever need service. All in all a quality option for the more vigorous shooter or hunter.
5. Vortex Viper HD 20-60x85mm
We step it up a little in Vortex's spotting scope line with the Viper HD 20-60×85.
The objective lens is a little bigger at 85mm which lets in more light. But it's much heftier at 76 ounces compared to the 47 ounces of the Diamondback
It also comes with a built-in sunshade plus you don't have to use a little dial to focus anymore…it's that ribbed center of the main body.
And boy does it feel silky-smooth too.
Here it is at 20x.
And at 60x.
You can definitely see more definition of the hits on the red target.
What I recommend if you want to reach a mile and beyond…or if you really plan on putting your glass through some abuse.
6. Maven S.2 12-27x56mm
Maven is fairly new to the world of optics, but they are coming for the big boys and have the optics to put up a fight.
Based in Wyoming, Maven focuses on selling directly to the consumer and cutting out the middle man.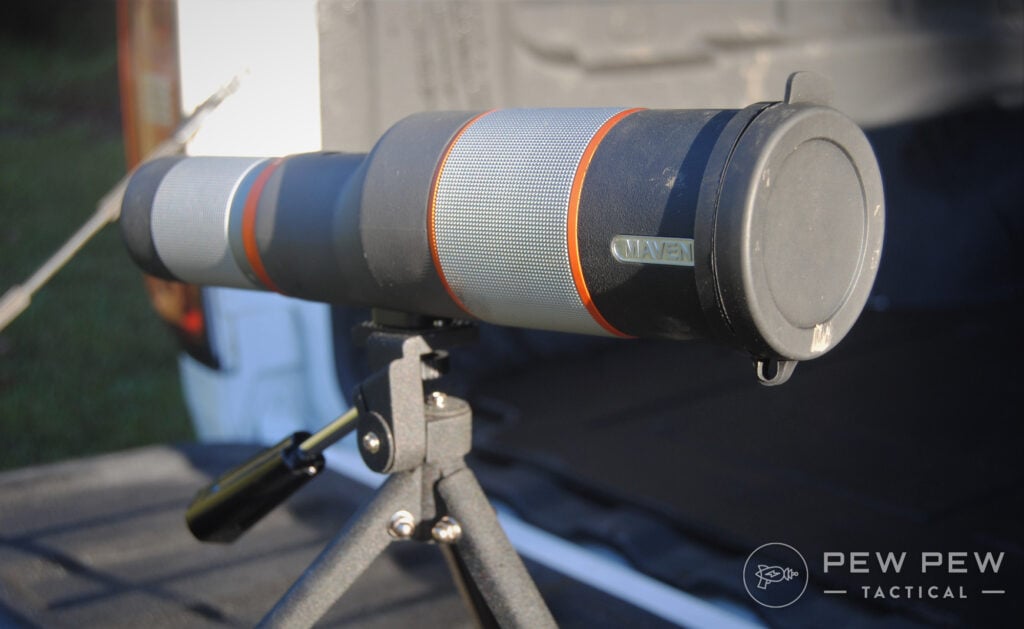 Taking a page out of old-school Colt marketing, Maven offers an incredible custom shop through their website. You can pick and choose your colors, camo patterns, or even get it engraved.
The S.2 is a compact, fairly lightweight spotting scope designed for the backcountry hunter where weight is a premium and great optics a requirement.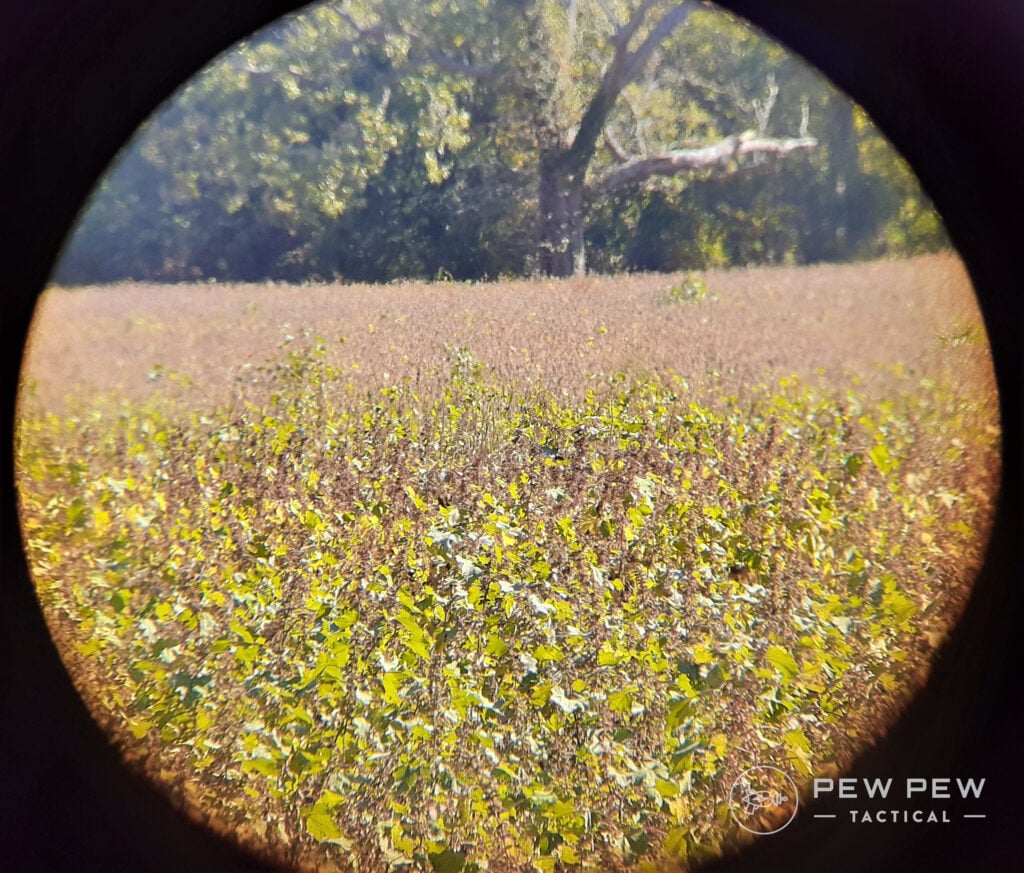 Here are the stats:
Weighs 34 ounces
11 inches long
12-27x magnification range
56mm objective lens
Fluorite glass
Fully multi-coated lenses
Abbe-Koenig prism
137-110 FOV
Magnesium and polymer housing
Tripod mountable
With only 12-27 magnification, you are a bit limited in range. But the glass quality really helps make up for that and allows you to pick out sharp details at ranges further out than you might expect.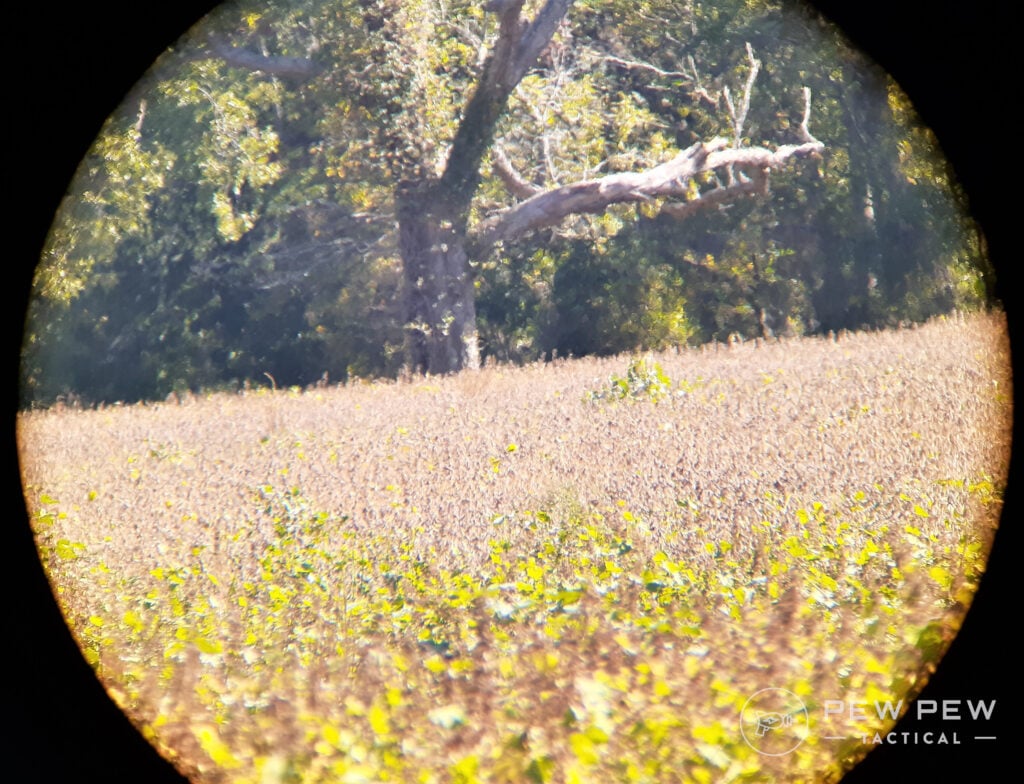 Alice recently took hers out on a long Elk hunt in Colorado and has a ton of detailers in her review.
The short version though is that Maven delivers. Optics, build quality, and top-level design — the S.2 is a major piece of glass that is worth every penny if you're looking at taking big game.
7. Vortex Razor HD 27-60x85mm
Let's really step it up to Vortex's highest line…the Razor HD 27-60×85.
Again, it has the larger 85mm objective lens to let in more light.
And if it's like the Razor series of riflescopes…it's top-notch glass from Japan. It's also surprisingly lighter than the Viper at 66 ounces.
But the real difference is looking through it!
We mounted this bad boy and set it to 27x.
It also has a built-in sunshade and a super smooth focus dial.
Drumroll…here it is at 60x.
You can see the extra…"furriness" of the hits on target.
But is it worth basically double the Viper?
Maybe…if you're really into quality glass and need that extra clarity for super long-range hits.
8. Sig Sauer Oscar 8
We got to test the Oscar 8 along with the Tactacam Spotter LR, and our team loved the Oscar 8.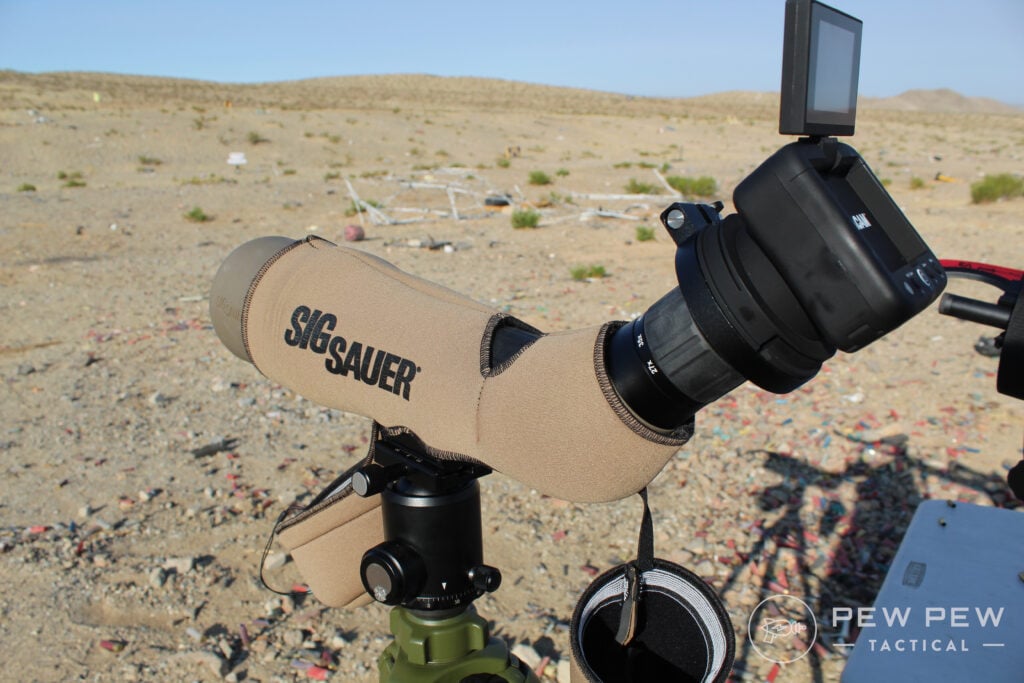 Using Sig's HDX optics that include both high definition (ED) and high transmittance (HT) glass, this is just a crazy clear spotting scope.
It also includes proprietary coatings, Schmidt-Pechan prism, and an eyepiece that can be removed.
The removable eyepiece gives you a wide range of aftermarket options if you want to get fancy with it.
It's a bit heavy at 4.25 pounds, but that's more or less what you should expect from a high-quality spotting scope.
It also comes waterproof, fog proof, and Sig even throws in a fitted neoprene cover.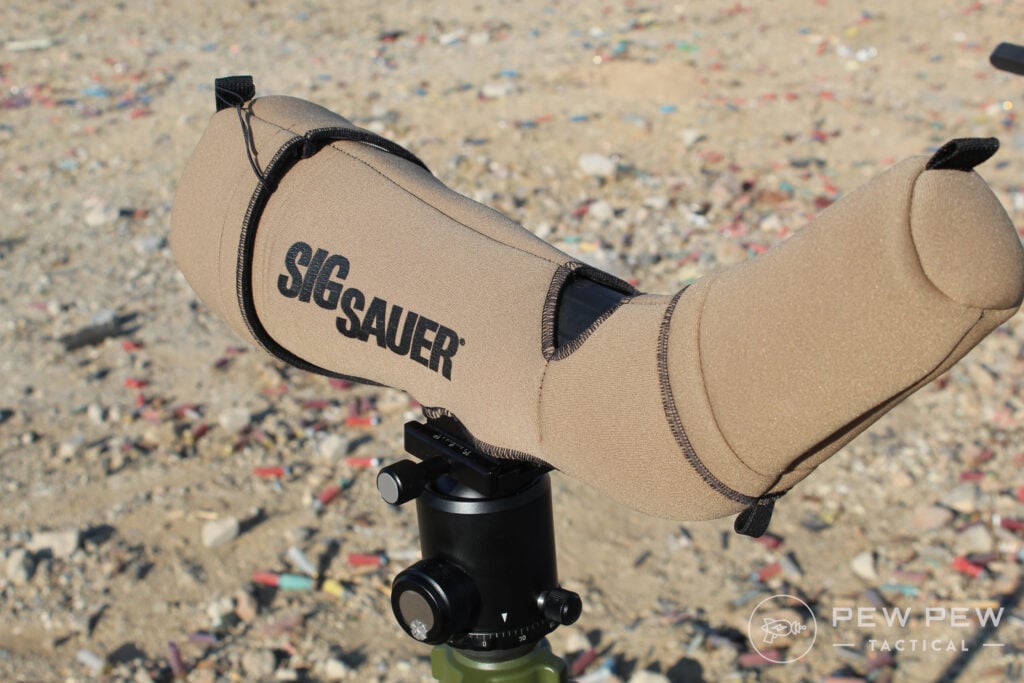 Plus, it's assembled in the USA.
Here is the Oscar 8 at 55x zoom and 650 yards: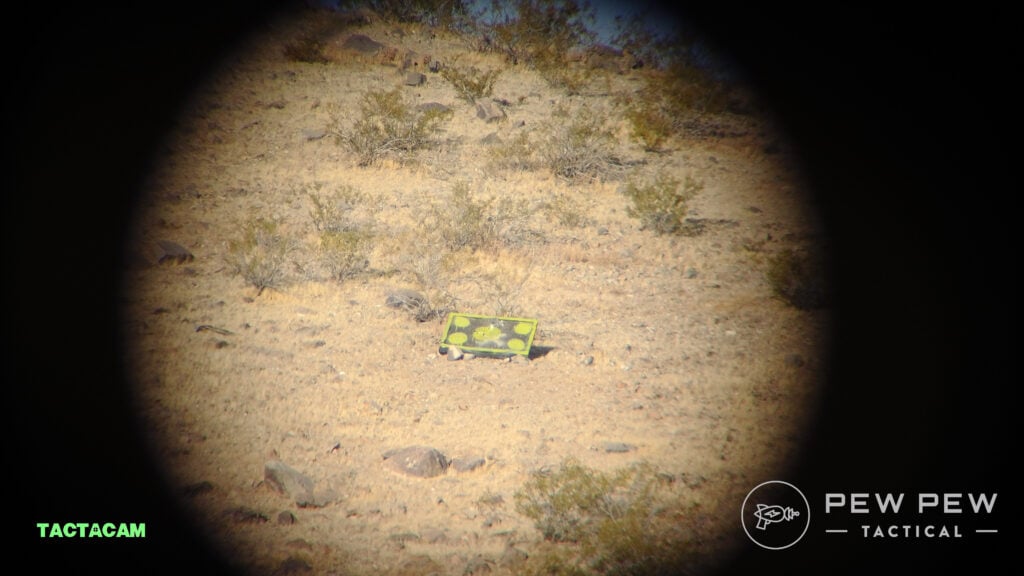 And here is 55x at 250 yards: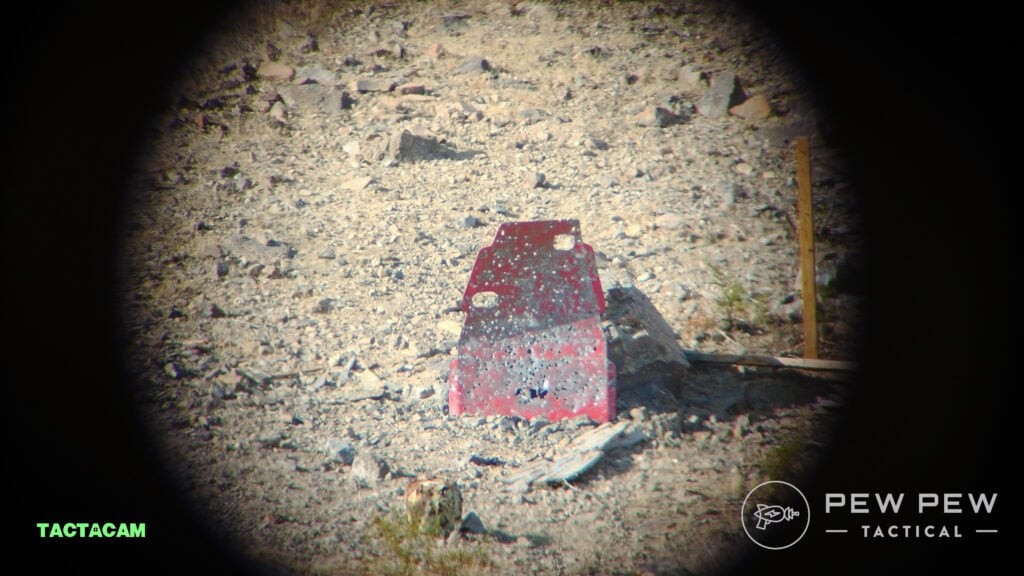 The image quality is great in those pictures, but they are even better in person.
Don't forget to take a look at the complete Oscar 8 review!
9. Leica APO-Televid 82
If I were to pick any scope out there and know that it is likely the best glass and engineering available I'd head straight to the counter where they display the big scopes with the little red circle…Leica.
The APO-Televid 82 will do anything you need a spotting scope to do and do it with class and perfection.
The APO is 25-50x82mm and has an angled or straight eyepiece that is interchangeable. A nice feature of the eyepiece is that is a wide-angle design so you have a better peripheral view even at high magnification.
If you need more than 50 power you can add a 1.8x multiplier to the scope and have a nice 40-90 power spotter. The scope is heavy at 51.82 ounces so a quality tripod and head are in order.
The 25-50 eyepiece will run you another $879. So for the scope and eyepiece, you'll need to write a check for $3,578.
And don't forget your tripod.
10. Minox MD 50 W
My personal spotting scope for years that lives in the range bag and my pack when I'm headed deep into the wilderness for elk or deer is the Minox MD 50 W.
This little scope is only 8.39 inches long and weighs just 22 ounces. About half of both for the Celestron and intro-Vortex.
The eyepiece is a respectable 16-30 zoom.
While this is no Leica or Zeiss it is compact and clear enough to do what I need it to do. I can see and call shots at the 1,000-yard range and tell if the buck is legal from a long way off.
The scope is waterproof and dust-proof and is rubber armored.
It is light enough that you can get by with a compact, lightweight tripod as well. For those looking for a great backpacking spotter, you can put this on your packing list for under $200.
11. Maven S.2 Spotting Scope
The Maven Spotting Scope brings a sleek and modern look to the spotting scope arena. Boasting flourite glass and fully multi-coated lenses, expect to see razor-sharp, high-contrast images.
Judging on clarity alone, the Maven S.2 is a steal compared to other spotting scopes on the market.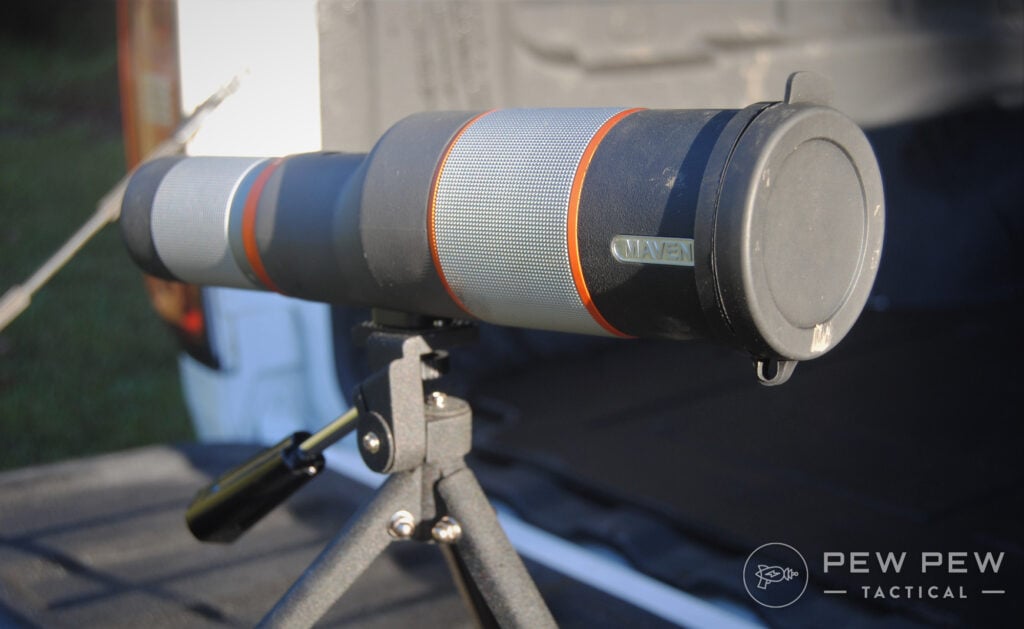 Magnification and focus dials are buttery-smooth and super easy to use — even when wearing gloves.
This optic is durable and built like a tank. You won't have to worry about taking it into the field. All in all, Maven loaded the S.2 with features and priced reasonable.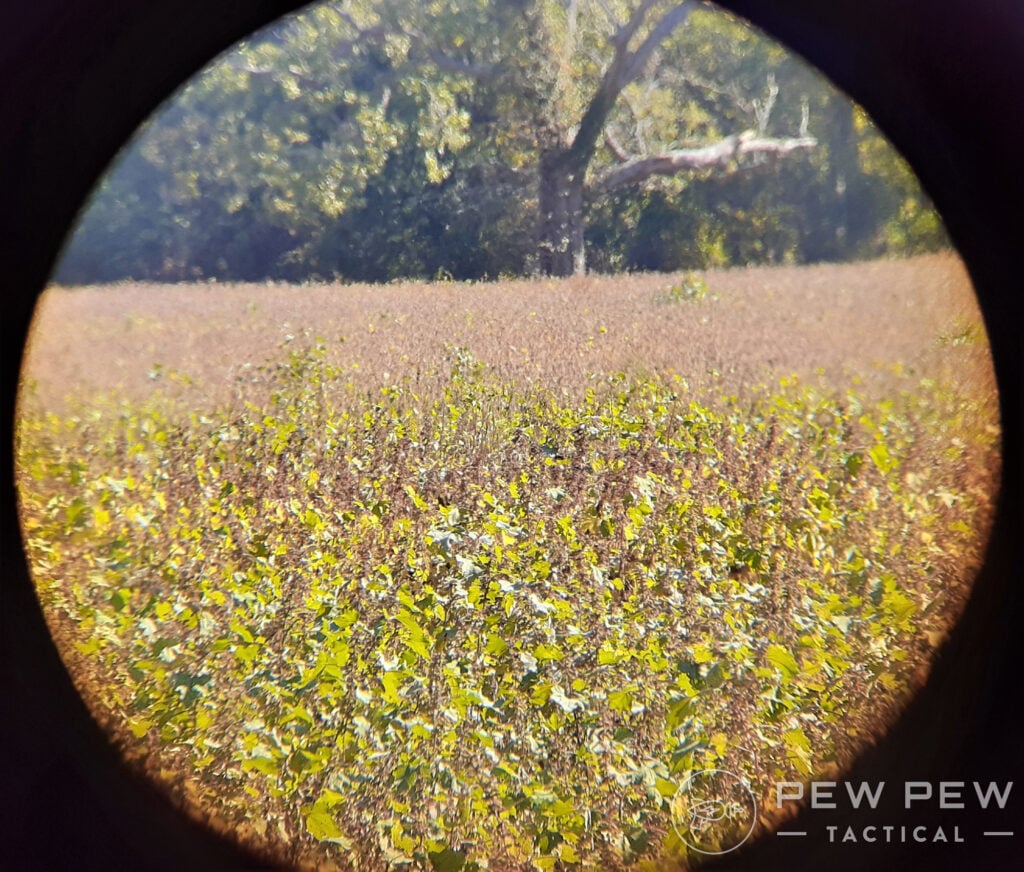 Seriously, don't sleep on this model.
To get a closer look check out our full review on the Maven S.2 Spotting Scope.
Other Gear You Might Want
Tripod
If you have a 20 or 25 power scope on your long-range rig, how often do shoot offhand when cranked all the way up?
Not very.
It is nearly impossible to hold still enough to do any good at that magnification.
Now try to hold your 60 power scope still.
Can't be done.
The good thing is that even a basic tripod is enough unless you went all-out with a huge spotting scope.
If you're looking for something top-of-the-line…check out Manfrotto tripods (it's what we use for photography/videography).
Tactacam Spotter LR
As you might have seen in several pictures, the Spotter LR from Tactacam is a cool piece of kit that lets you get some great pictures and video through your spotting scope.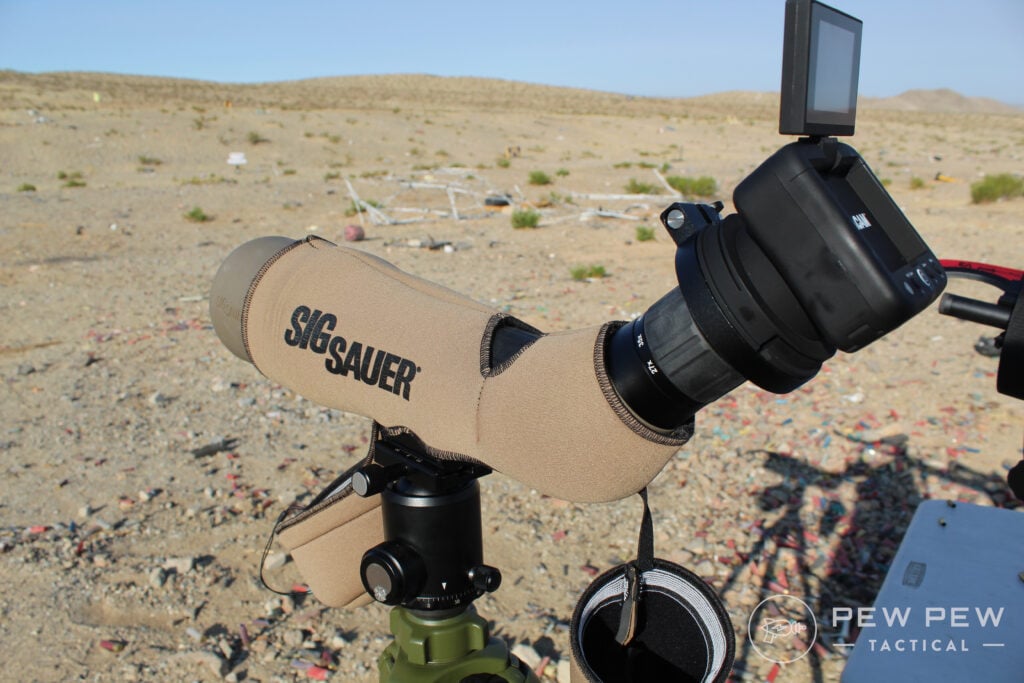 You should take a look at the complete hands-on review, but the short version is that it's pretty awesome.
It does rely on you having some good glass though — I wouldn't recommend it be paired with anything under about Vortex Diamondback quality.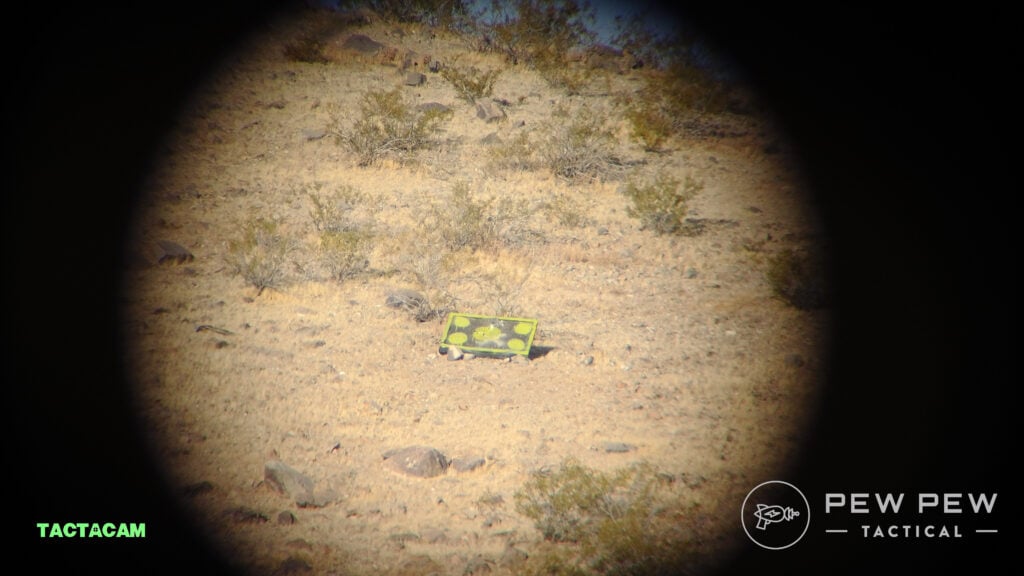 The Oscar 8 we had it on looked simply amazing!
Final Thoughts
Spotting scopes are often one of those items that you really get what you pay for with regards to quality.
If you're simply starting out long-range shooting at the range…get the Celestron or Athlon.
Both are pretty similar in view quality to the Vortex Diamondback 20-60x, which is triple the price and probably not triple the build quality.
But if you want to upgrade a little get the Vortex Viper HD 20-60x. You get better glass, a larger objective lens, built-in sunshade, better focus dial, and better eye relief.
If you're looking to do some back-country hunting, the Maven S.2 is a top choice!
And if you just love really great quality optics…the Razor HD 27-60x and Sig Sauer Oscar 8 are must-consider picks.
Let us know what kind of spotters you are using and why. And if you need a great scope for your rifle, don't forget to take a look at our Best Scopes & Optics article!