Whether you like to hunt in the open country out west or fill deer tags in eastern farm country, a good spotting scope can save you tons of time and miles of leg work.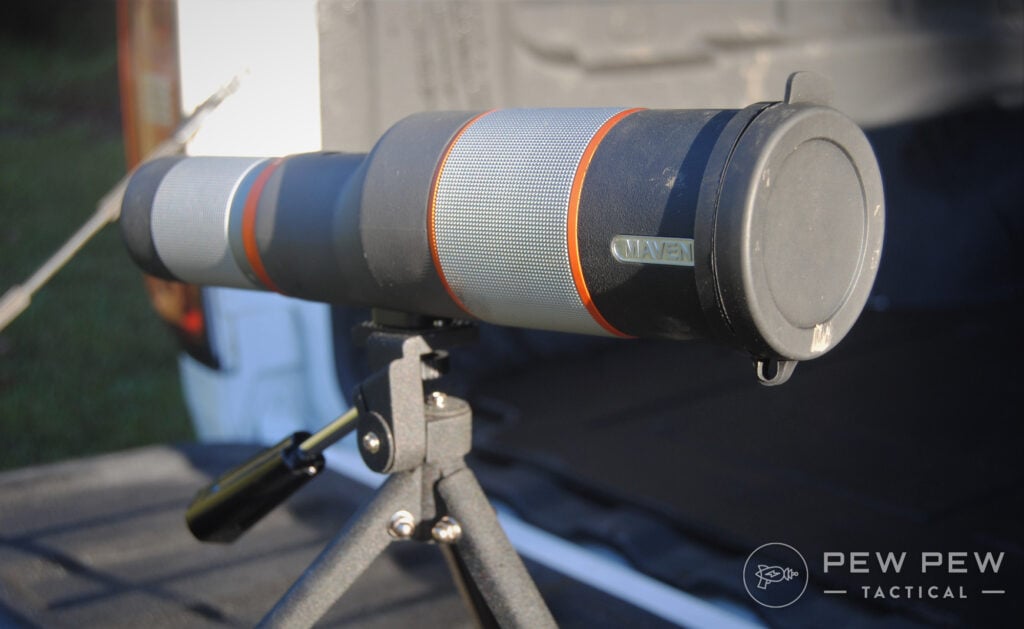 However, finding a quality spotting scope (especially one that won't break the bank) can also take some time and work.
I know you're probably like me and would rather spend your time and energy hunting rather than shopping.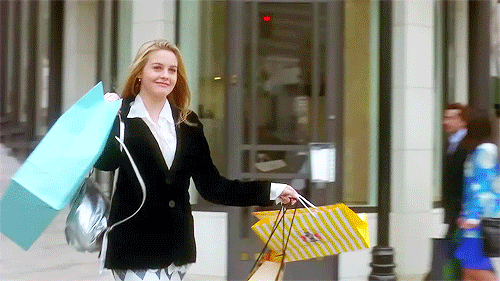 But you're in luck! I've done some of the heavy lifting for you.
In this article, we're looking at the Maven S.2 Spotting Scope.
1050
at Maven
Prices accurate at time of writing
Prices accurate at time of writing
We'll lay out the pros and cons of the system, talk about what it excels at, and also evaluate if it's the right spotting scope for you.
By the end, you'll be able to decide if you want to add this compact spotter to your regular hunting gear.
Table of Contents
Loading...
Who is Maven?
In the world of optics, Maven is the new kid on the block.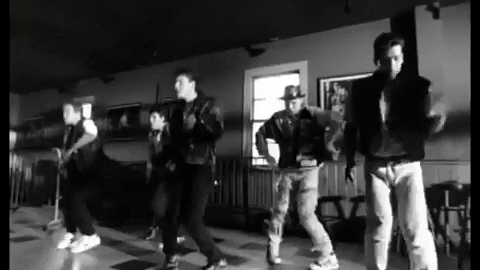 As a rookie in a field of big guys like Zeiss, Leica, and Swarovski, Maven can be easy to overlook.
However, with a name like Maven (which means "expert" btw) the shooting world should probably pay attention.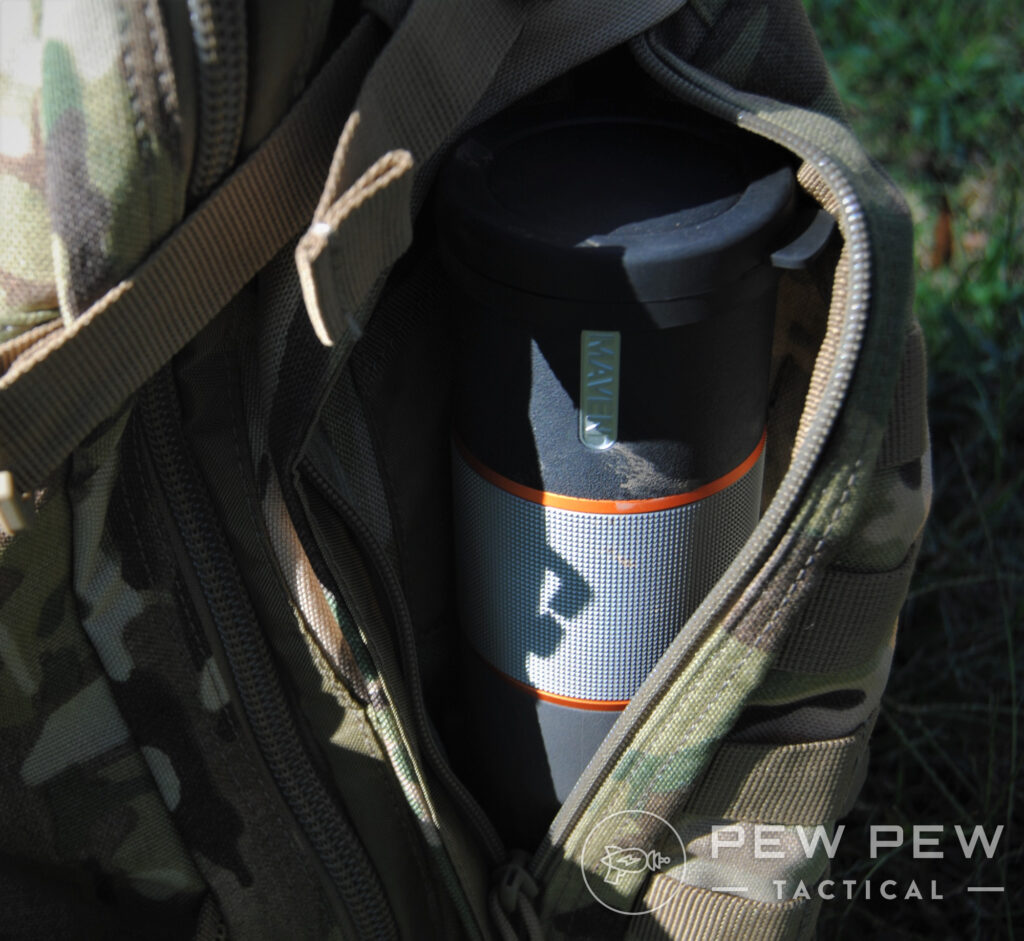 Headquartered in Lander, Wyoming, Maven takes a truly modern approach to both their products and their marketing.
Rather than slapping their optics behind dusty glass display cases, Maven sells directly to consumers. They also do most of their marketing through social media.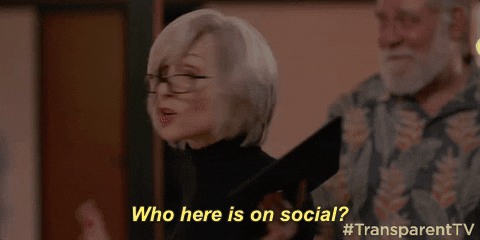 By cutting out the middleman, Maven can offer top-notch optics at a fraction of the cost of other scopes with fancy brand names.
And believe me, Maven's optical quality totally lives up to the company name.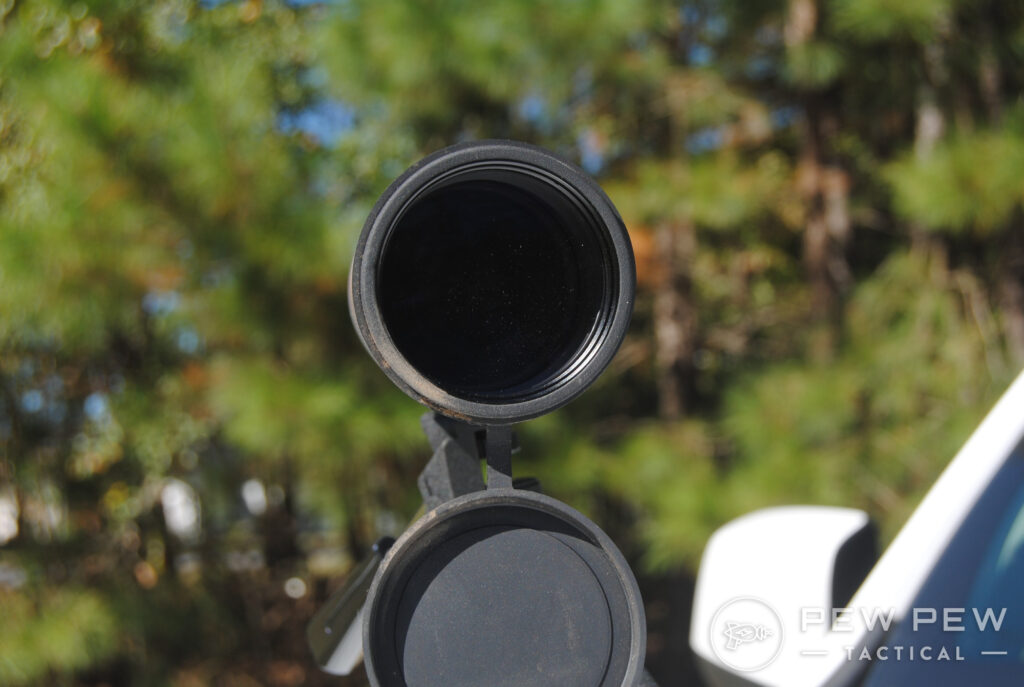 Maven also supplies a rock-solid warranty.
They claim they will replace products without a squabble…even if you drop it off a mountain or run over it with a truck.
Since my Maven S.2 has already taken a few hard tumbles from my Chevy Colorado, I feel like this company totally gets me.
What is the Maven S.2?
Maven claims the S.2 is the "ultimate lightweight and packable spotting scope." They really had the backcountry hunter in mind when they designed this one.
Here are some relevant specs, just in case you're the kind who enjoys that sort of thing at a glance.
Weighs 34-ounces
11-inches long
12-27x magnification range
56mm objective lens
Fluorite glass
Fully multi-coated lenses
Abbe-Koenig prism
137-110 FOV
Magnesium and polymer housing
Tripod mountable
Read on as we dive into these specs a little more in-depth.
Magnification
The S.2 comes with 12-27x magnification. Definitely better than binos, but if you're trying to make out details on a 3-mile bull, you'll probably miss your big 60x spotter.
However, I promise you won't miss the weight of that big scope in your pack.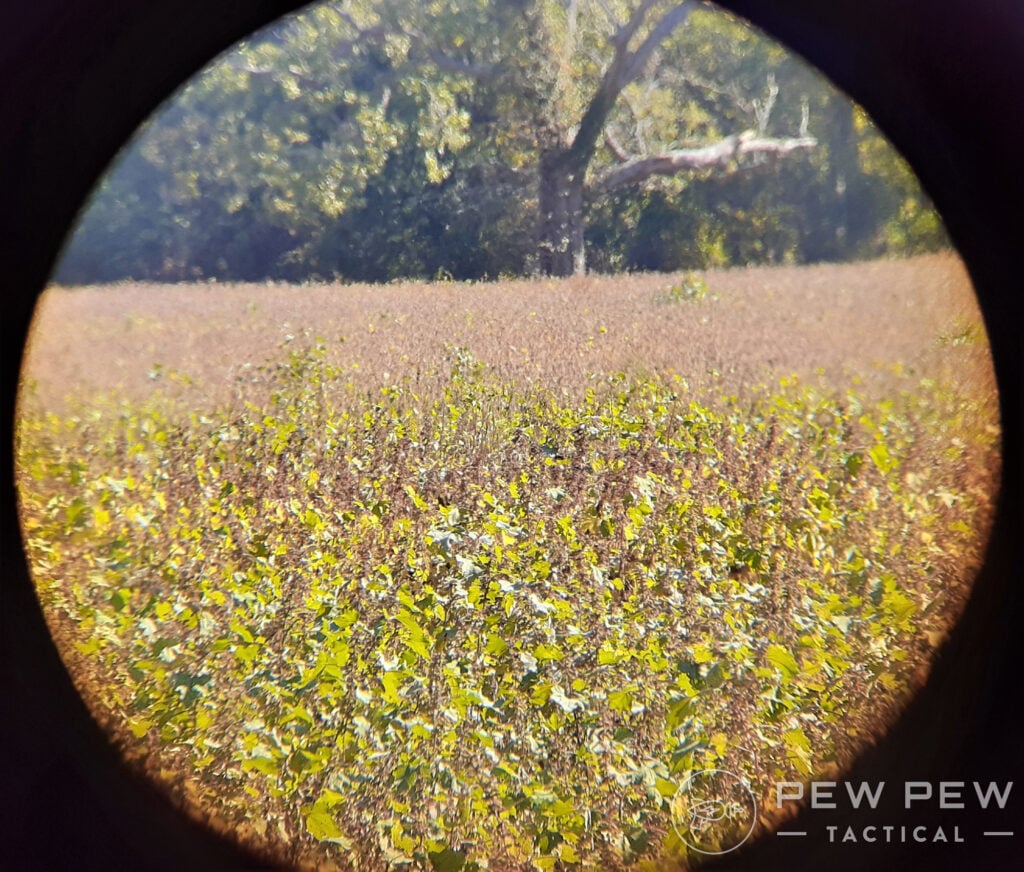 Objective Lens
With an ample 56mm objective, the S.2 delivers fantastic light transmission.
That objective is also made from high-quality fluorite. What's that, you ask?
Fluorite glass is famous for reducing chromatic aberration. Basically, it's just a fancy way of saying it provides sharp clarity and bright colors.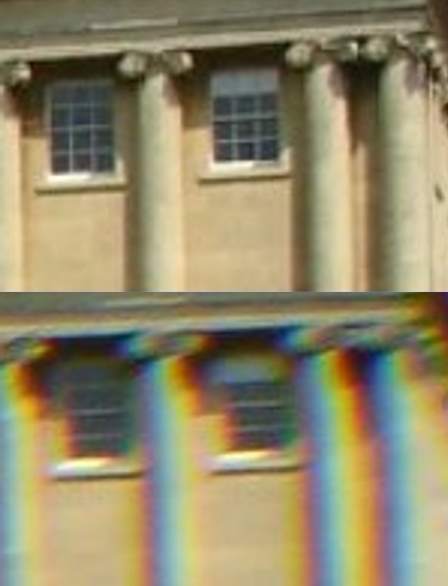 Fluorite glass is also lighter than traditional optical glass. If you're wondering how Maven keeps the weight of this spotting scope manageable, this is it.
Field of View (FOV)
The S.2 scope provides a relatively generous 137-110ft linear field of view. That means you can see 137-feet across at 12x.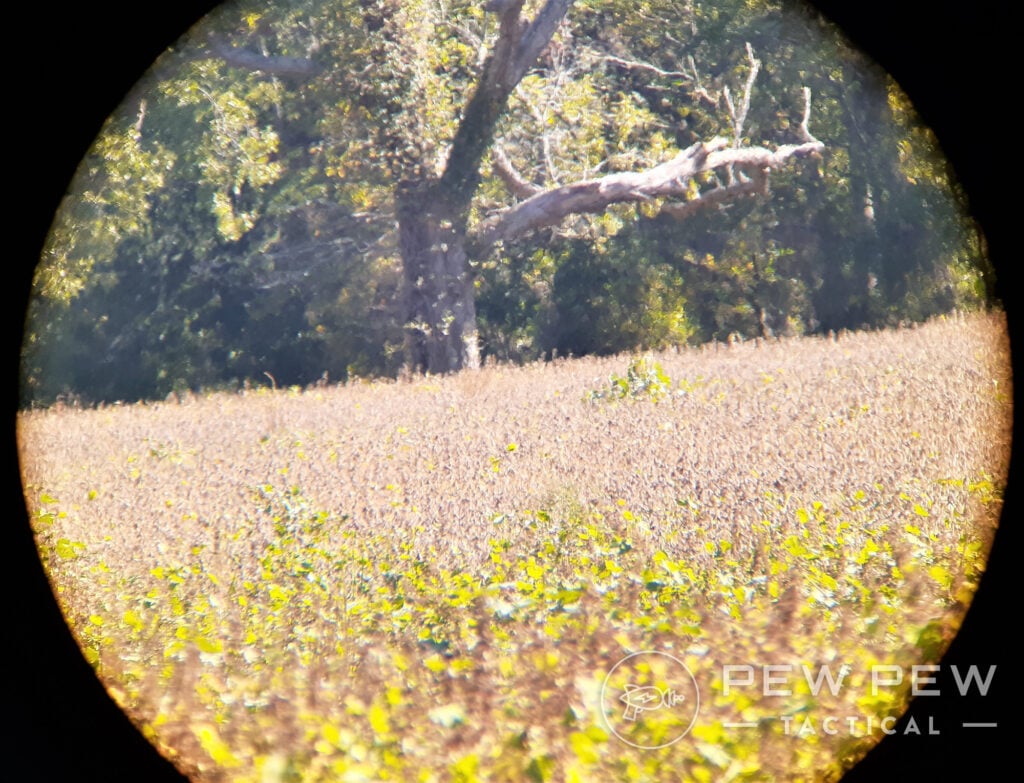 The FOV obviously narrows as you dial up the magnification.
However, 110-feet at 27x is still plenty for locating big game, even those that are on the move.
Plus, with the S.2's razor-sharp, edge-to-edge clarity, you can enjoy all 110-feet of that FOV. I promise, even at the highest magnification, there's little to no blurry fish-eye at the edges of the image.
Customization
Maven's Custom Optics Builder lets you customize almost every external element of the S.2. You can choose from several camo and color options.
You can even have your optic engraved so your hunting buddies won't try to "borrow" it.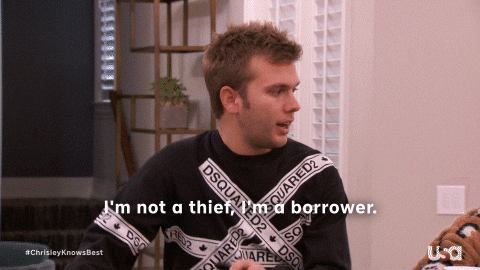 Who Should Buy the S.2?
The S.2 is designed for backcountry hunters who hike long distances and need to travel light.
Quality glass like the S.2 allows serious big-game hunters to check the stats of big elk, sheep, or goats to see if an animal is worth pursuing.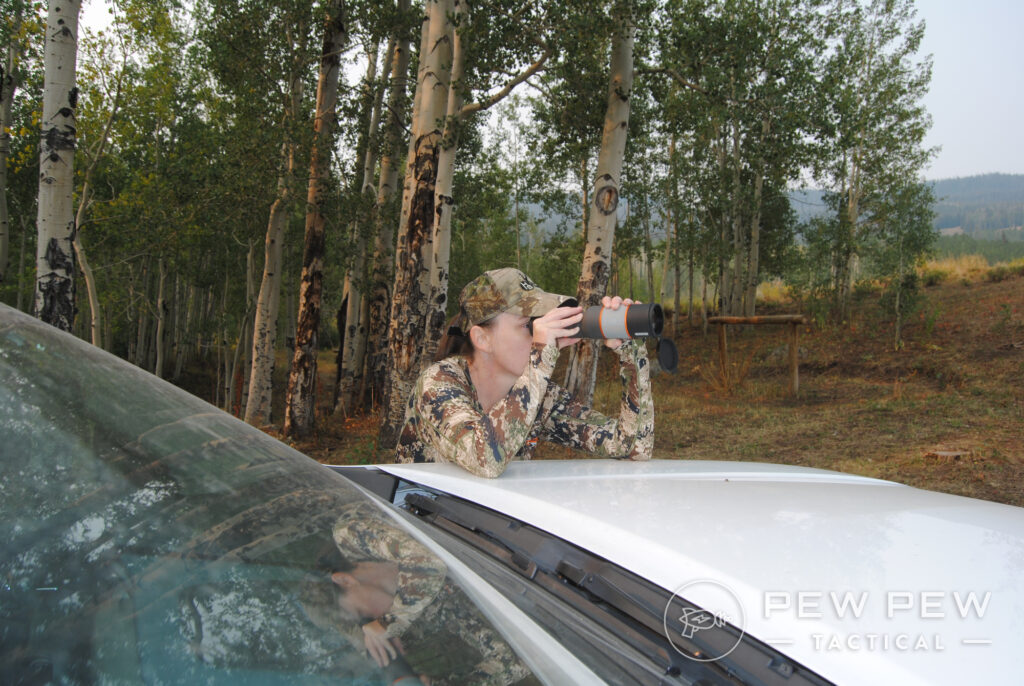 While I found it a little heavy for the Colorado backcountry, I absolutely love this thing for scouting eastern whitetails.
Its compact, straight-line design is perfect for glassing goonies from the truck. It even conveniently fits right in the center console.
Field Testing the Maven S.2
I've been using the S.2 for a few months here in eastern North Carolina. Its compact size makes it super easy to set up fast.
That is a major advantage when faced with fleeting opportunities to spot early-season hogs across open cropland.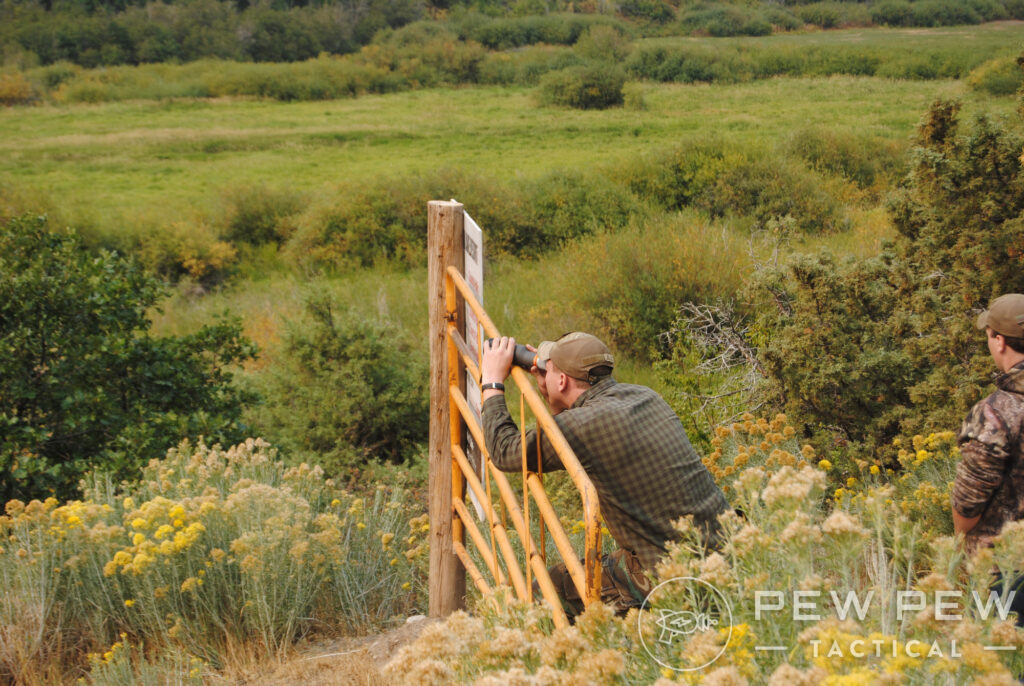 I also took this scope with me to Colorado's Flat Tops Wilderness on a DIY archery elk hunt. You can read about that disastrous adventure here.
Did I see any elk through it? Nope.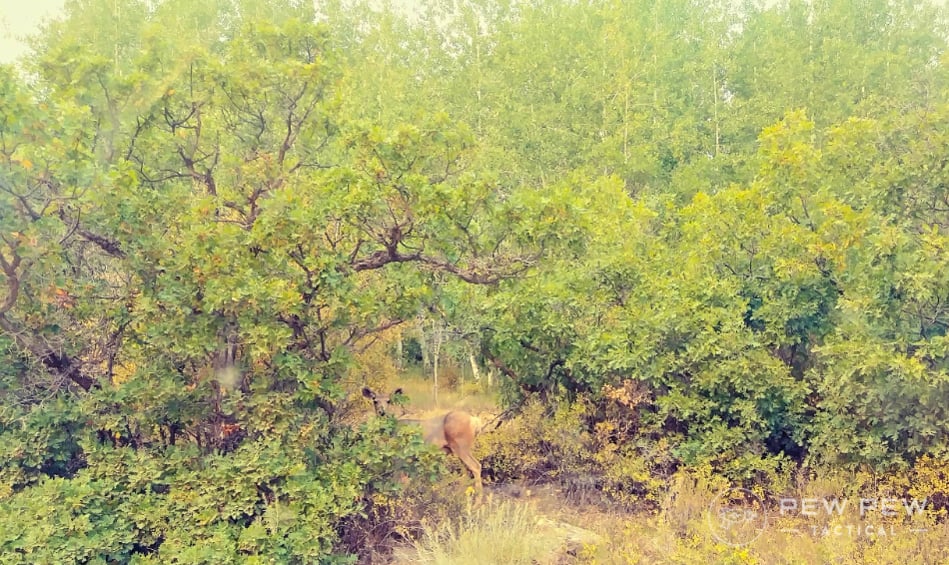 I did see several mule deer and one random golden retriever.
(I kid you not. What he was doing trotting around deep in the Colorado Wilderness, I can only guess. Probably living his best life while thwarting my attempts to live mine).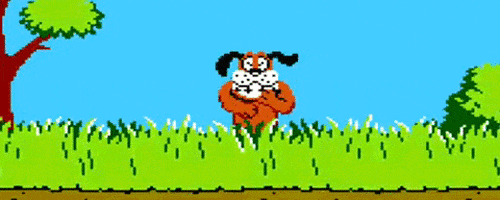 But that isn't the scope's fault. This thing is perfect for scanning high subalpine meadows for big bulls.
Living out of a backpack is tough, and while the S.2's compact 11-inch design is definitely "packable," I opted to leave its 34-ounces of pack weight at base camp.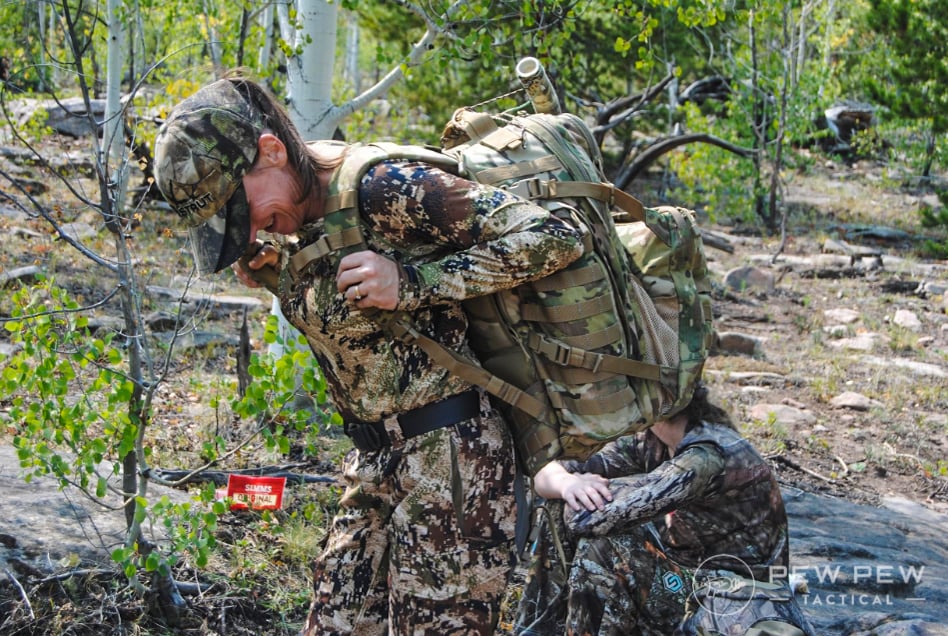 I just couldn't justify adding almost three extra pounds to my already awkwardly burdensome pack.
Still not the scope's fault.
As the old saying goes, "Ounces are pounds and pounds are pain."
I don't like pain.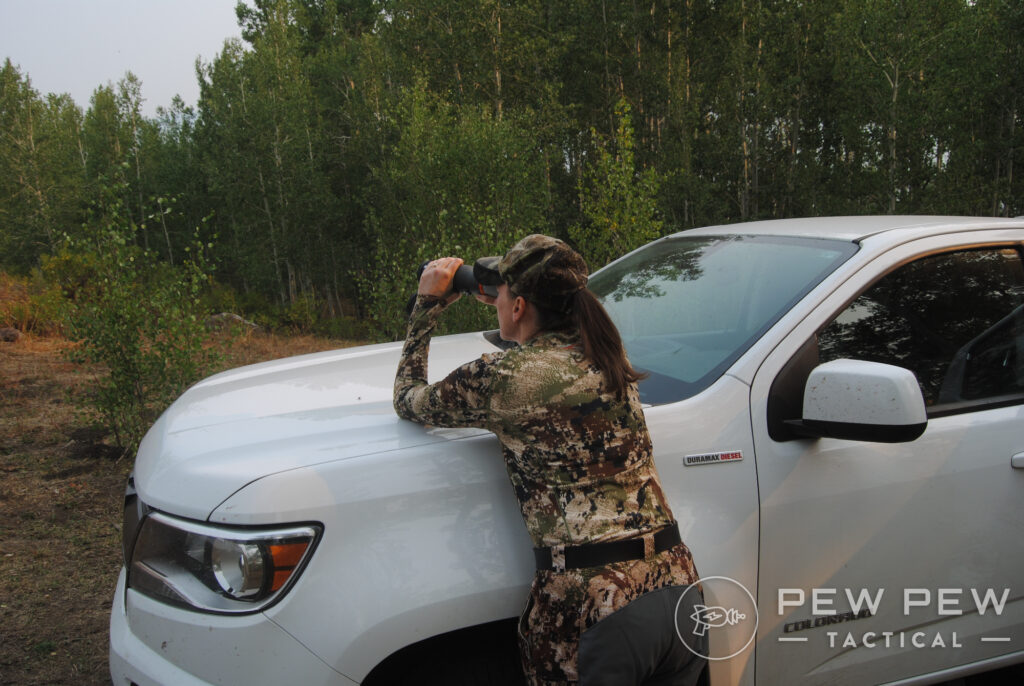 Compared to other spotting scopes, this thing is practically a feather. Still, three-ish extra pounds might not seem like much until you gain almost 2,000 feet of altitude on a 2-mile stretch of trail.
Suddenly, you find yourself questioning the weight of your shoelaces. It will definitely make you rethink EVERYTHING in your pack.
The Importance of a Good Tripod
The S.2's high-end magnification is 27x. If you think you can hold this scope steady enough to see anything at 27x (especially without getting seasick), you're kidding yourself.
To take advantage of the S.2's magnification, you need a stable platform, because it really isn't pleasant to use this scope without one.
If you're heading into the backcountry, you're going to want a super lightweight tripod like the Vortex Optics High Country. It weighs just under 2-pounds — doable on most wilderness excursions.
201
at Amazon
Prices accurate at time of writing
Prices accurate at time of writing
…Or Window Mount
On the other hand, if you're driving around scouting for farmland bucks, you probably won't have time to park the truck, jump out, and set up a tripod.
Slam that truck door and you aren't going to see a single hair of that slob-knocker until some time next spring.
A good window mount lets you attach your spotting scope to a stable viewing platform in about 5-seconds and you won't even have to unstrap your seatbelt.
49
at Amazon
Prices accurate at time of writing
Prices accurate at time of writing
By The Numbers
Aesthetics 5/5
I've been using a basic stock S.2, but this thing is anything but boring. It has a sleek profile and modern look that makes me wish I could do more than flash it at random hunters as they drive by.
If gray and orange doesn't suit your refined sense of style, this scope can be personalized with several camo wraps and a rainbow of accent colors.
Clarity 5/5
The fluorite glass and fully multi-coated lenses on this scope deliver some of the best razor-sharp high-contrast images I've ever seen through an optic. If we were judging on clarity alone, Maven is way undercharging on this one.
Usability 3/5
The S.2's magnification and focus dials are butter-smooth, even after being dropped in the mud. (What can I say? I'm hard on my equipment…and also pretty clumsy.)
The dials also have a nice texture that makes them super easy to use, even when you're wearing gloves.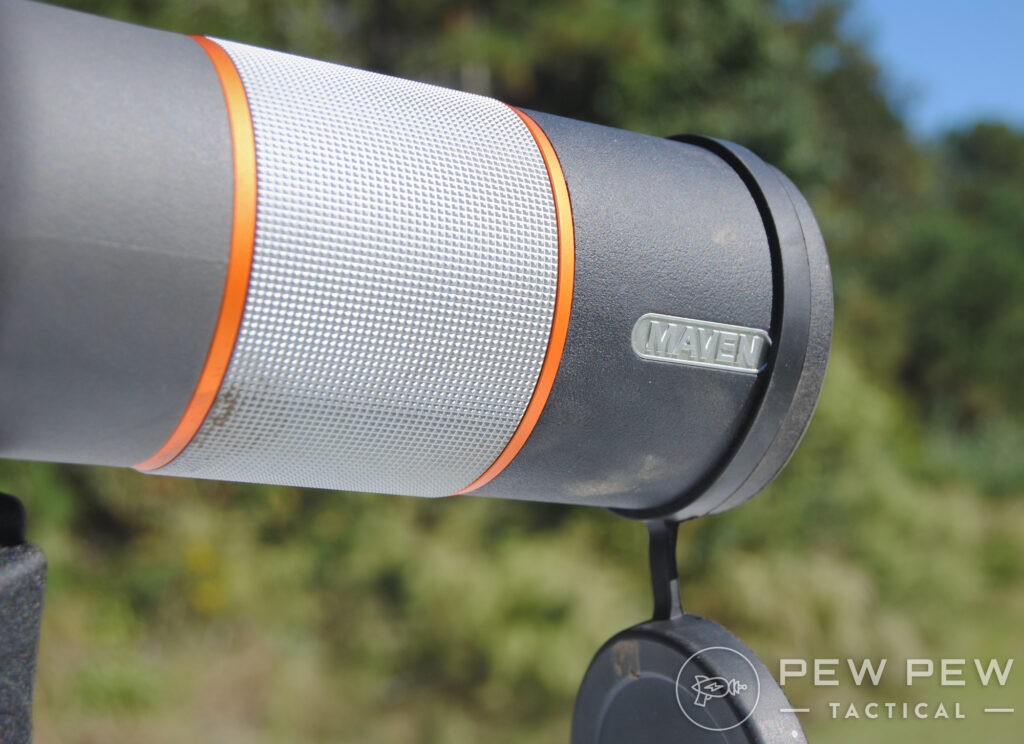 While the S.2's 34-ounces is only about half the weight of similar scopes, it's still a bit much for me to haul around the wilderness, especially when I'm hoping to encounter elk at bowhunting ranges.
If you're hunting big elk at rifle ranges, it might be worth toting the extra weight. However, rifle hunters will probably want a little more power than the S.2's 27x magnification.
However, this thing is a rock star when it comes to watching whitetails from truck windows.
Durability 5/5
Honestly, this scope is built like a tank. The optics are assembled inside a magnesium and polymer frame, which is wrapped in a tough rubberized armor coating.
I may or may not have dropped it from the truck into the mud…several times. The exterior didn't even scratch, and the glass wiped off easily, thanks to the scope's oil-phobic lens coatings.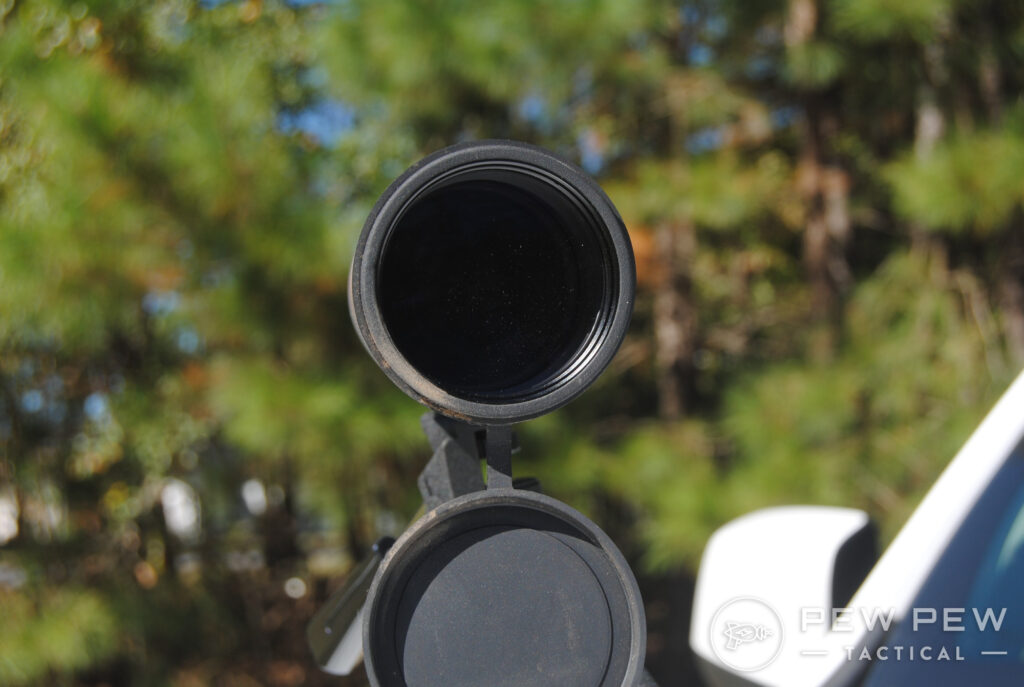 The scope is also O-ring sealed and nitrogen filled. That may sound fancy, but it's just a way to prevent internal fogging.
In Colorado, we experienced crashing temperatures — 70-degree swan dive in less than 12 hours. That's a pretty rapid swing, but I honestly couldn't tell any difference in this scope's performance between 95-degrees and 22-degrees.
Bang for the Buck 5/5
If you get the stock S.2, you're getting an awful lot of scope for the money. Although I've ragged on the weight of this scope, it really is lightweight compared to other spotters. And the image clarity absolutely defies the optic's size and weight.
1050
at Maven
Prices accurate at time of writing
Prices accurate at time of writing
Overall Rating 4.5/5
Somehow Maven managed to stuff an awful lot of quality into a relatively small package and still maintain an affordable price tag. Can you buy cheaper spotting scopes? Absolutely.
Will they give you anything close to the image quality or durability of the Maven S.2? Nope. Not even close.
Conclusion
My biggest sticking point is the Maven S.2's weight, though, it's a minor complaint. This is a relatively lightweight spotting scope and it certainly doesn't take up much space.
All in, the Maven S.2 Spotting Scope is a solid spotter at a great value.
1050
at Maven
Prices accurate at time of writing
Prices accurate at time of writing
If weight isn't an issue for you, this scope has knock-your-socks-off image clarity. It's also durable enough to survive tough conditions and rough use.
And if it doesn't, you can always take advantage of Maven's idiot-proof warranty.
Have you tried the Maven S.2 Spotting Scope? Tell us all about it in the comments. If you're looking for a more powerful spotter to use at the gun range, check out our list of the Best Spotting Scopes.