We've all seen some cool stuff while out on the shooting range or in the field.
But most of the time, it's either too short-lived or too far away for us to get a picture of. It'd be great if there was a better way of capturing those moments, right?
TactaCam feels the same way and has come out with some really nice solutions to help us out in that area, their scope mounted camera is freaking awesome!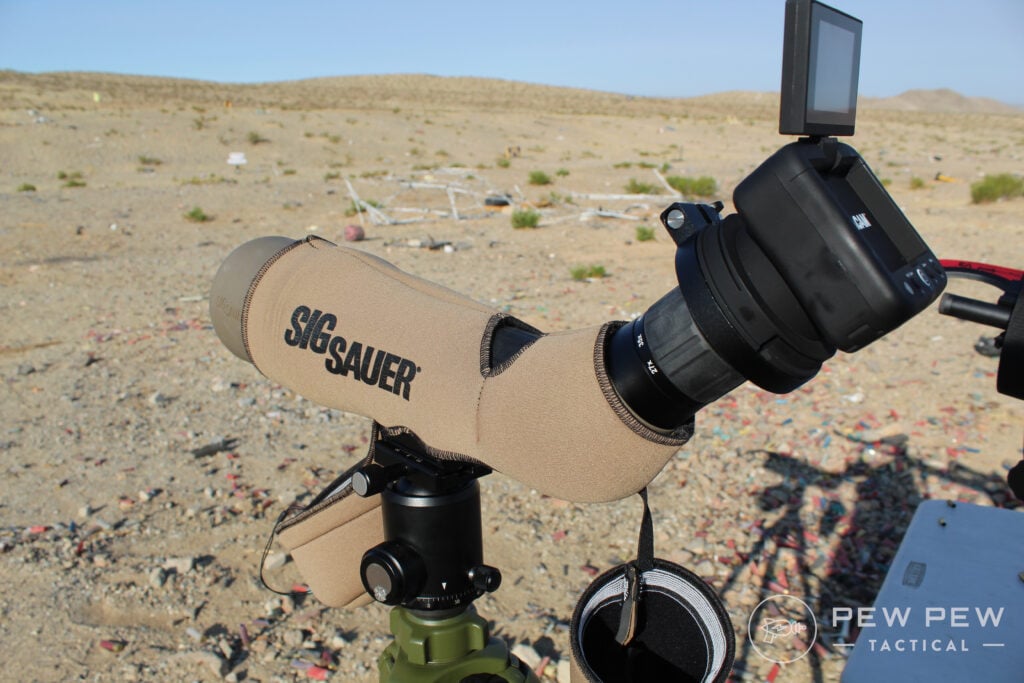 What if you don't want that on your rifle? Maybe you want it on something more portable like say… a spotting scope? Thankfully, TactaCam has been at it again and has recently released their Spotter LR camera.
Video, stills, 4k, and more — this is a lot of camera in a small package. Let's see if it lives up to our hopes!
Table of Contents
Loading...
Specs, Features, Basics
The short version is that the Spotter LR is a camera, both video and stills, that attaches to your spotting scope. It comes with a nice display screen and a quick attach system that makes taking it off and on quite easy.
At 9oz, it's not too heavy either.
300
at Amazon
Prices accurate at time of writing
Prices accurate at time of writing
Recording is in a range of qualities depending on how much file size room you want it to take. From 720p to 4k, I mostly used 4k at 30fps and 1080p at 60fps.
File size really isn't that much of a concern since the Spotter LR uses mini-SD cards up to 128gb. That's around 3 hours of recording per card, and that's not bad at all.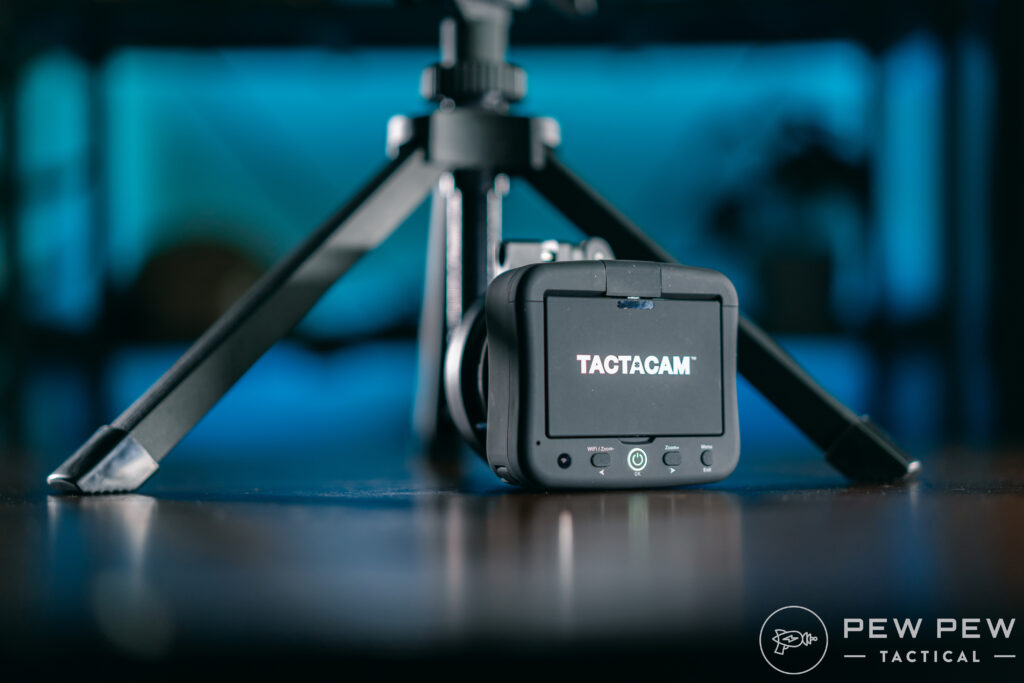 For zoom you have 4x digital onboard the Spotter LR itself. The product page also states that it has optical zoom but… maybe they're counting the spotting scope or I just can't find the function, but I wasn't able to get any optical zoom out of the camera itself. Just the digital.
Required Extras
Right off the bat — don't forget to pick up a micro-SD card if you don't already have one. While not mentioned on the Spotter LR page (that I can find at least) TactaCam does recommend you use a U3 Micro-SD card for it.
You'll also need a spotting scope. I used two scopes to look at what the low-end and top-end looks like. My budget spotter was the Athlon Talos 20-60x80mm, a great entry-level scope that gets the job done but only just.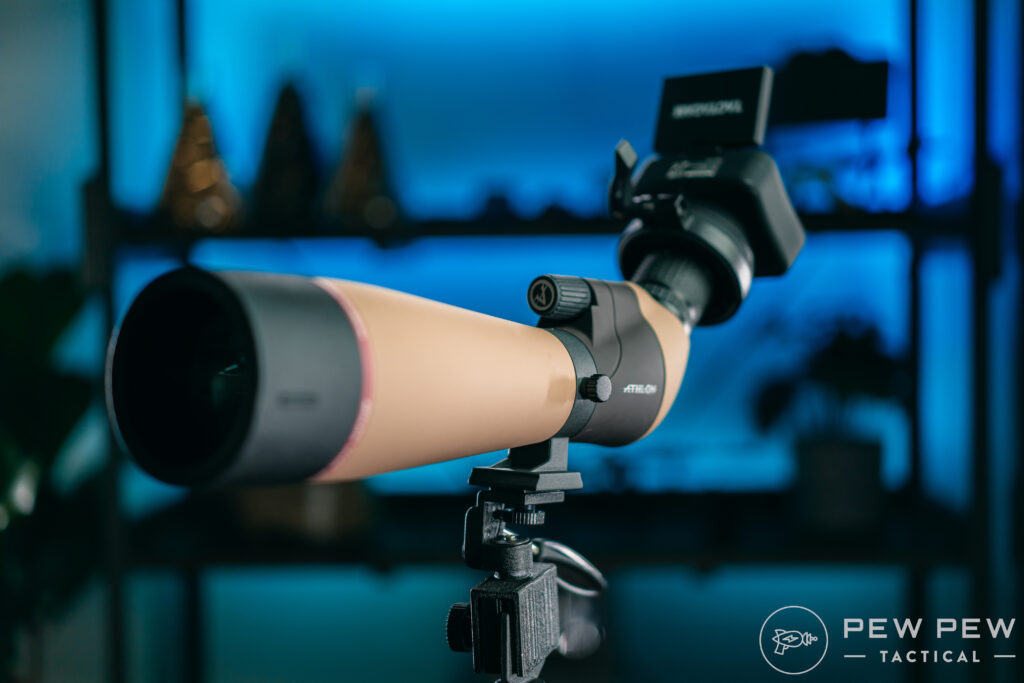 For the high-end, Sig Sauer sent out their Oscar 8 27-55x80mm, at 10x the price of the Talos — this delivers some seriously big boy glass. I absolutely love this spotting scope!
If you need a spotting scope or want to read more about the Sig Sauer and the Athlon, check out the Best Spotting Scopes article!
1659
at EuroOptic
Prices accurate at time of writing
Prices accurate at time of writing
I would also strongly recommend a good tripod of some kind. My big one is the Shadow Tech PIG0311 and my small table-sized one is… I don't know. It's just some tripod I got with a spotting scope years ago but isn't the Athlon one. I like it, I kept it, it works well.
The PIG0311 is the tripod I use for shooting off of also, it's a big beefy thing that I love.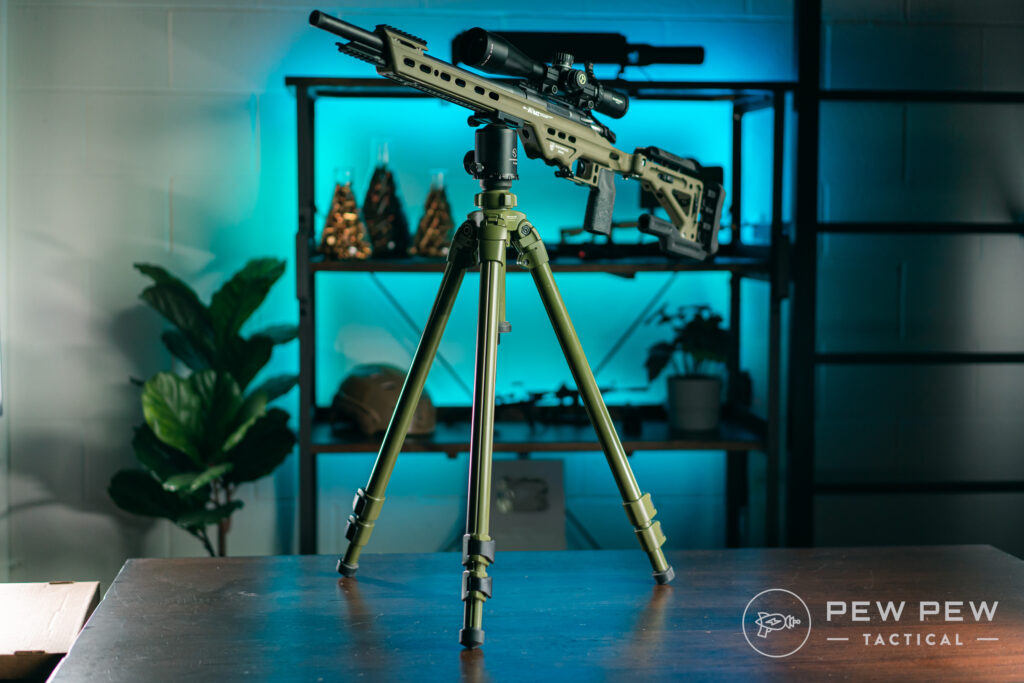 Instructions
Personally, I didn't receive any. I asked Tactacam about this and mine went out early enough in production that they just hadn't printed them yet.
Thankfully, there is a PDF posted on Tactacam's website that you can download and use. Since the Tacacam has so many options, I do recommend cheating and reading the instructions.
Set Up
Quick version of the set up is that you pick the adaptor plate that fits around your eyepiece best. Connect the Spotter LR cam to that, and then just turn it on and play around in the menu.
It's not bad to just toy around with and find the settings you want.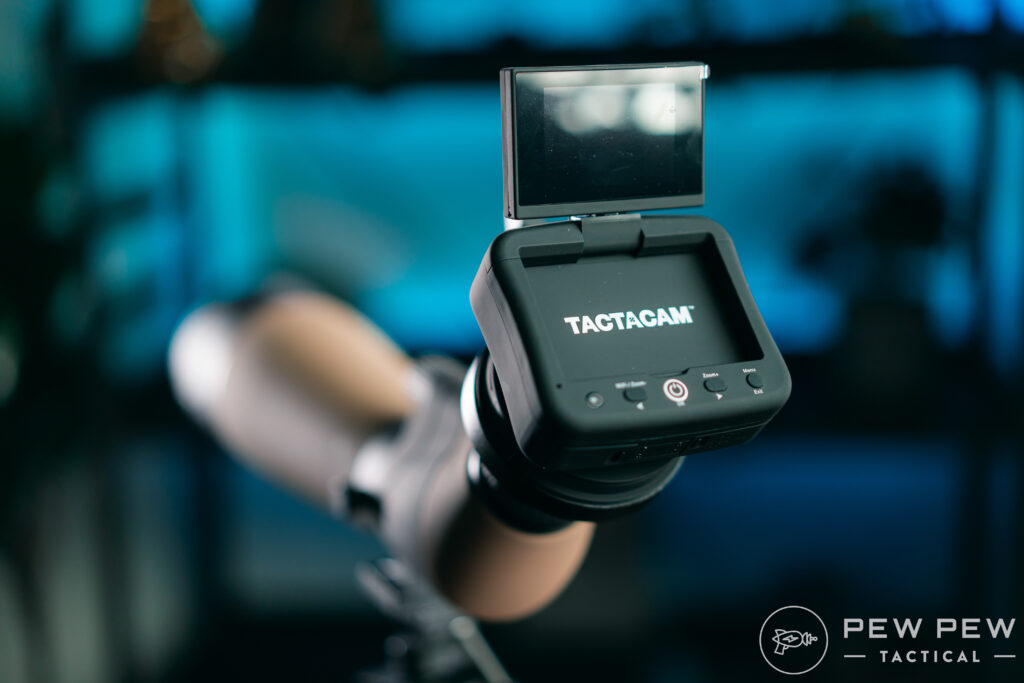 There are some advanced settings though that I didn't try out. But the basics for taking a picture or taking a video were easy and very fast to set up.
On The Range And In The Field
The Spotter LR is a really cool idea, but it has some hard limitations that it's bound by.
Between the Oscar and the Talos spotting scopes — the difference between good glass and meh glass cannot be understated.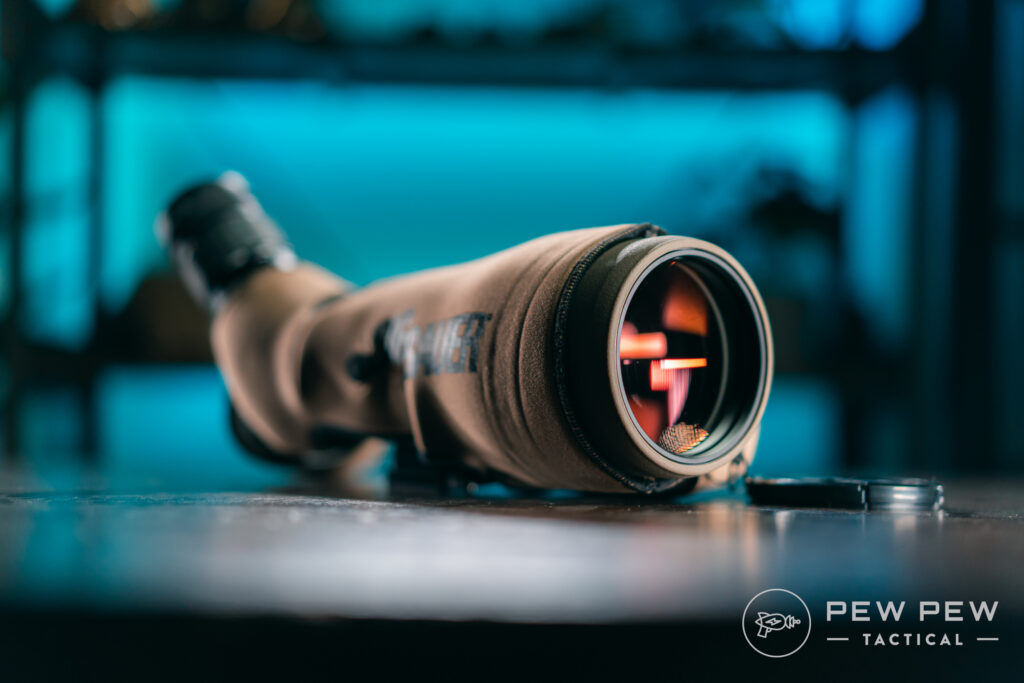 It makes sense of course that this is a hard limitation for the Spotter LR, but it's important to keep in mind.
Under the right circumstances and if you get it dialed in — it's a cool piece of kit that you can use to take some great videos and pictures with.
While picture and video quality with just the Spotter LR are outstanding, it really relies on what spotting scope you're using with it.
Paired with the Athlon Talos things come out… okay. The Talos is an entry-level spotting scope and on its own is good for the price. For my needs, it's been great.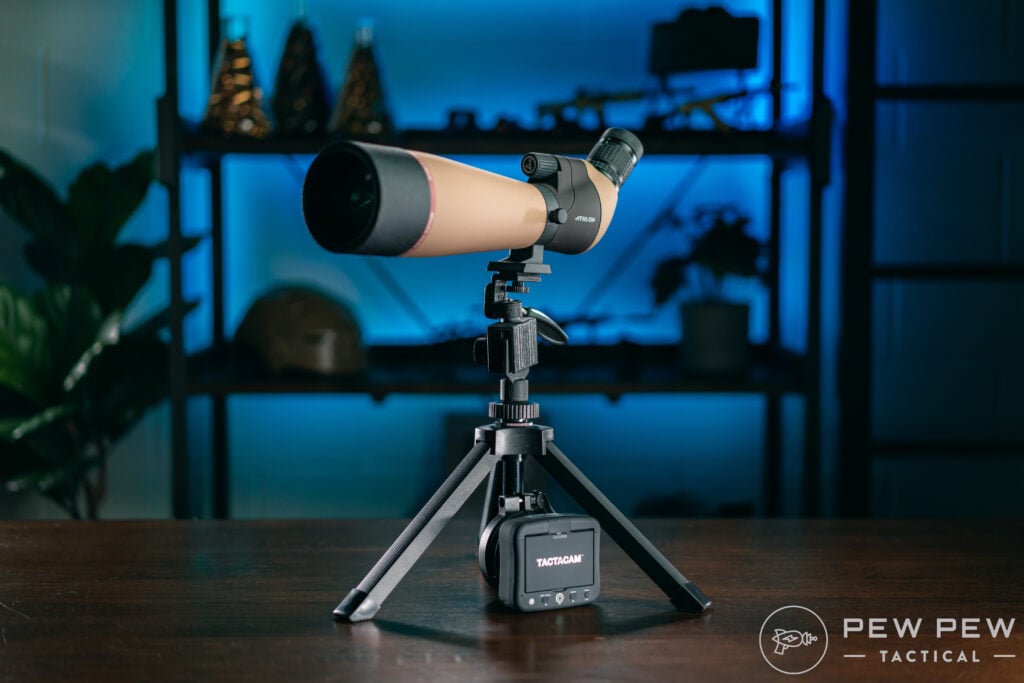 But when it becomes the limiting factor for use with a camera, things get janky.
The Oscar 8 on the other hand was like using a totally different camera. Quality of the video and pictures just blew me away. You'll see why later.
Focus On The Target
For me, the biggest issue was focusing. The focus using the camera and the focus using my eyes are two different things. So to focus the camera I have to use the HD screen of the Spotter LR while adjusting the focus of my spotting scope.
Depending on the lighting conditions, this is decently easy. Really bright sun is really not the screen's friend, but cupping my hand and squinting solved this edge case problem.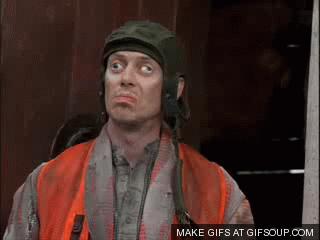 The screen brightness is adjustable and turning it to max helped a lot.
Still though, even under ideal conditions, you are still relying on your Mk I eyeball to get the job done. Most of the time I didn't have much trouble, it was also a lot easier with the Oscar 8 over the Talos.
Shake It For Me
The second consideration that should be talked about is stabilization. Off a tripod sitting on a plastic folding/camp table and in a 2-4mph wind, the video has some movement. And by some, I mean a lot.
Shooting the Bergara HMR B-14r in .22 LR, you can tell by the hits the kind of wind I was having that day. You can also see how wiggly the video is because of it.
This isn't really the end of the world though — I got some tips and tricks to help you out that we'll talk about later.
It just helps to have a really stable platform first. I found it very hard to get any kind of stabilization when the tripod was on anything. Table, bench, anything.
130
at Amazon
Prices accurate at time of writing
Prices accurate at time of writing
Try to put your tripod directly on the ground whenever possible. Also, the bigger and heavier the tripod is the better.
Spotting Scope Matters
Here is the big A-B test, Sig Sauer Oscar 8 Vs. Athlon Talos.
First let me say — keep in mind that the Oscar 8 is literally 10 times the price of the Talos. If you compare any two things that are separated by an order of magnitude in price, it's going to be a huge difference.
My point with this isn't to compare the two scopes, it's more to illustrate how important it is to use the Tactacam Spotter LR with the best scope possible to get the most out of it.
If you're using a budget spotting scope right now, you shouldn't expect great video or pictures.
From far to near, 250 yards and 650 yards through the Athlon Talos: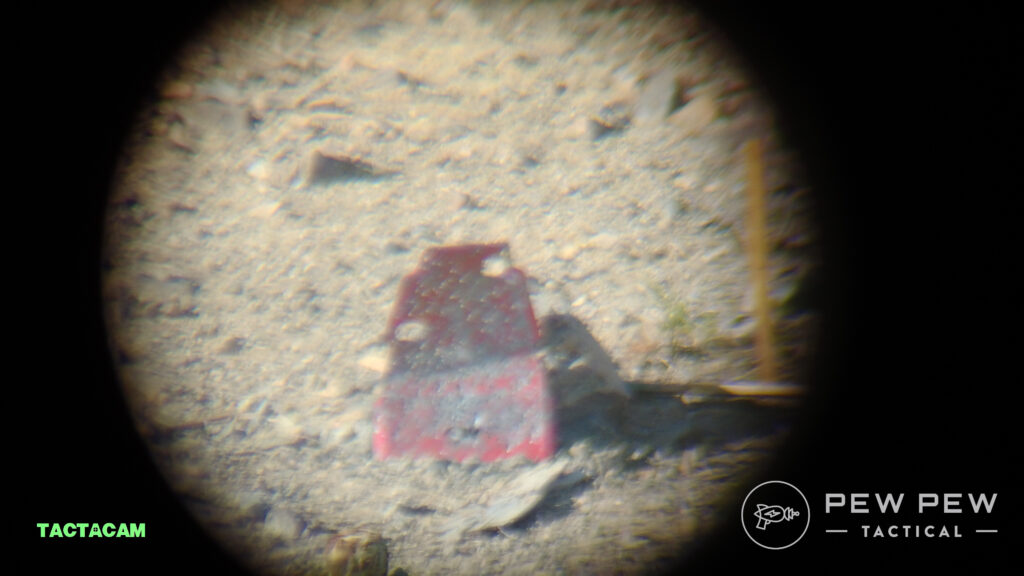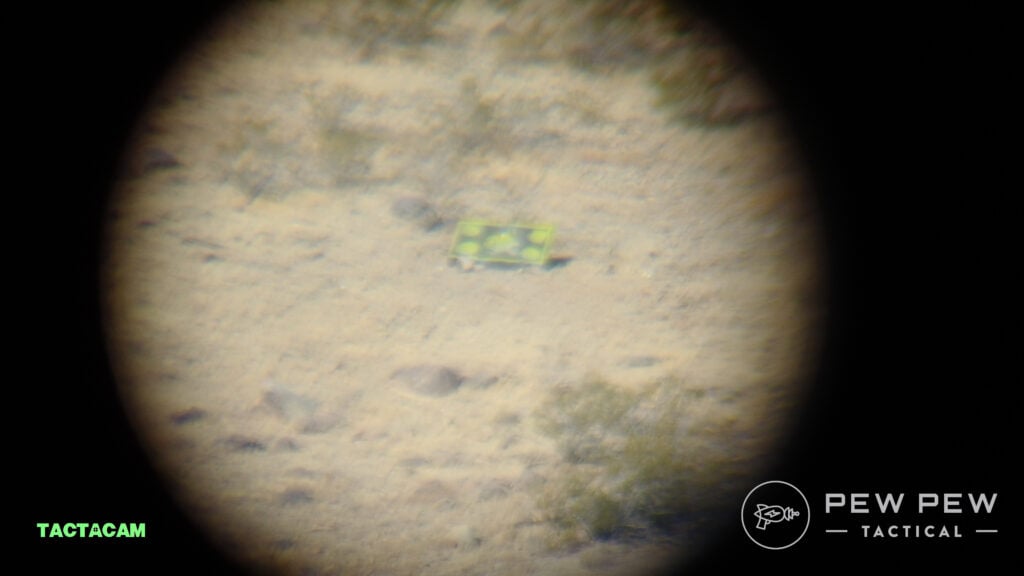 And again, 250 yards and 650 yards through the Sig Sauer Oscar 8: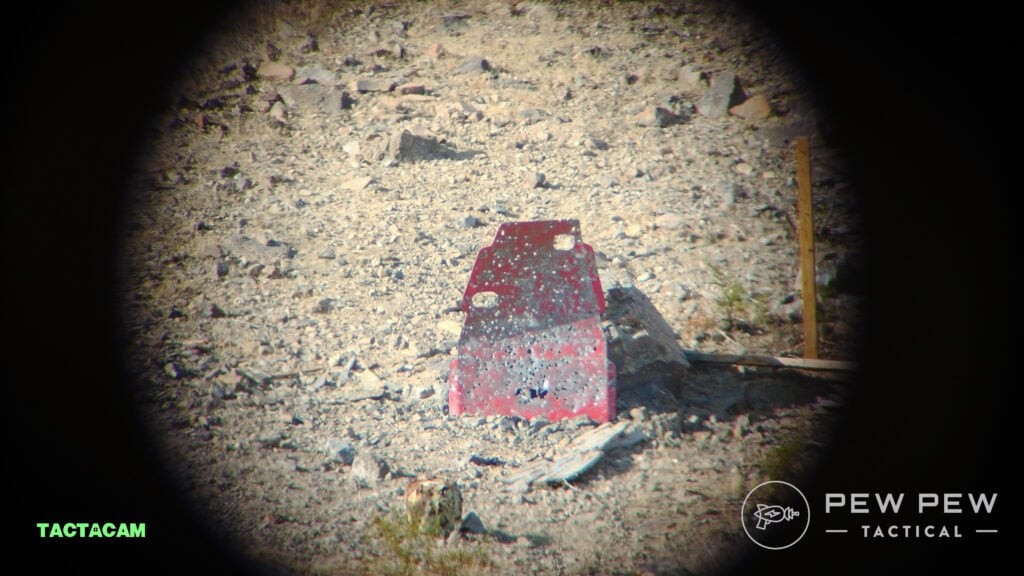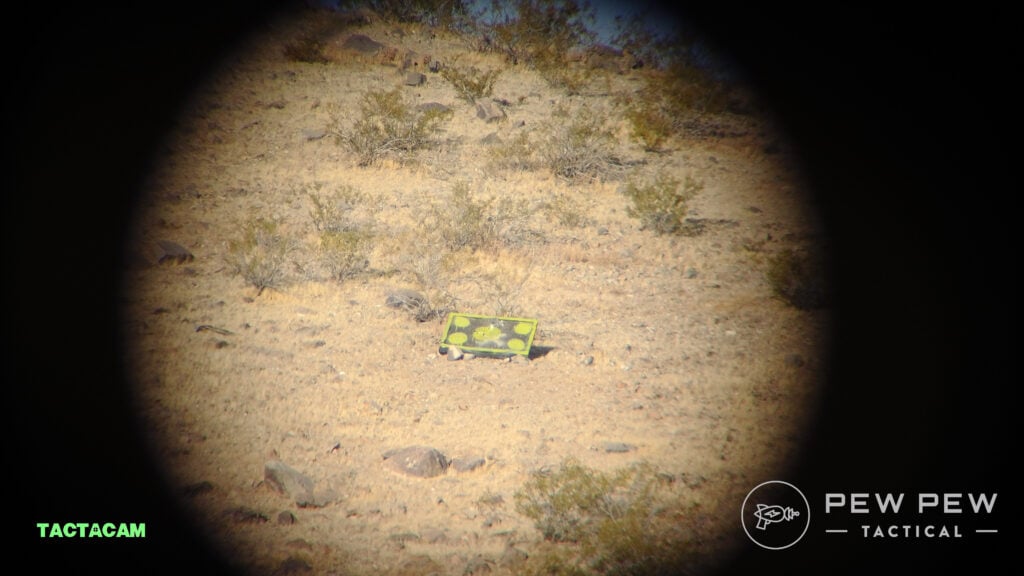 See what I mean?
Here is a KYL at 50 yards with the Talos (ran the video through a stabilizer video editing software, the wind was bad that day):
And another KYL at 50 yards with the Oscar 8:
Getting The Most Out Of Your Spotter LR
If the Spotter LR appeals to you, I would recommend that you first have a really nice spotting scope and tripod. And some video editing software.
The better the spotting scope, the better the Spotter LR can work. Since the spotting scope will be your most limiting piece of equipment in the system, I would recommend you go big.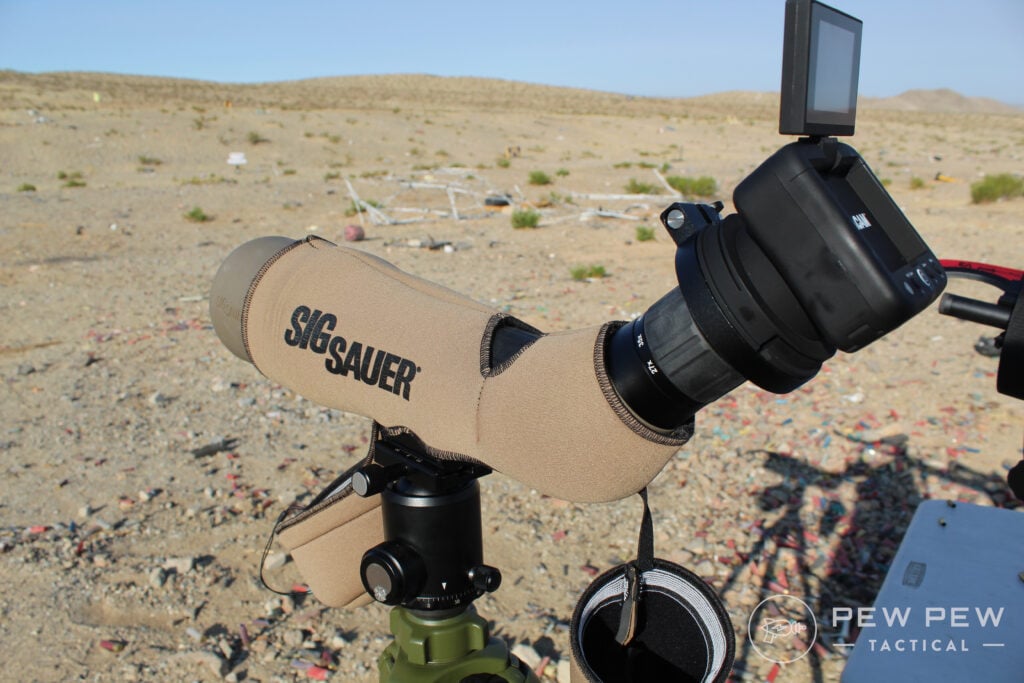 If you already have a great spotting scope — you're halfway home. If you need to go get a new one though… that can get really expensive.
I mentioned the tripod already, but I'll say it again. Get a good one. Make it heavy. And place it directly on terra firma.
After that, some free video editing software with an auto stabilization feature is really handy.
You can't always make sure everything is stable when you need to take some video, so it's okay to cheat and fix it in post.
1659
at EuroOptic
Prices accurate at time of writing
Prices accurate at time of writing
By The Numbers
Reliability: 4/5
I didn't abuse test it, but I did drop it a couple of times. Once by accident, once on purpose. Nothing bad happened and it kept on trucking.
It's also got a real nice semi-rubberized shell on it that is kind of grippy in the hand so you don't drop it easily.
An issue I had though, and I don't know if this is because of a sample size of one or not, but the micro SD card slot seems slightly recessed into the body of the Spotter LR.
There is a small gap, almost the exact same size as the card slot, between the port and the shell.
The result is that if I put the card in at the wrong angle, it will slip between the top of the port and the shell and just free fall into the guts of the camera.
Best case is that the SD card is sacrificed to the gods, worst case I have to start undoing screws to open the shell and get it out.
Either way — not ideal. Not a real problem either, just something to be mindful of.
User-Friendliness: 4/5
The UI is really clean and easy to navigate. For the basic use of it all, it's fairly easy to trial and error your way around. If that is all you want to do — it's not hard.
If you want to start playing around with the cooler features, check out the instructions and go to town on it!
My complaint though is the "Tactacam" watermark on every picture and video. That kind of annoys me.
I get that they want their name out there when you share the image, but damn it it's still annoying. Bright green and 100% opaqueness is a bit much.
Customization: 5/5
I had no problem with fitting the Spotter LR to either scope. It comes with enough size options that I think you can fit it on just about anything without trouble.
Value: 5/5
I want to qualify this score by saying that it is only 5 out of 5 if you already have a great spotting scope.
If you do and if this serves the goal you have in mind, then I say go for it.
It's a cool toy, a nice gizmo that I had fun playing with and getting some nice video of my long range training and testing.
However, if you don't have a great spotting scope — using the Spotter LR with a budget one is just… not fun.
300
at Amazon
Prices accurate at time of writing
Prices accurate at time of writing
Overall: 5/5
I really like the Spotter LR, I think it's a good piece of equipment that allows you to share some awesome pictures and video.
Tactacam teased that they were working on the Spotter LR a long time ago and I've been looking forward to testing it since, and I'm really pleased that it is as awesome as I hoped it would be.
It also comes in at a very fair price. $300 is exactly where I would say this should be priced, at that level you really get every dollar out of it. If you happen to find it for less than that — I would jump on it hard.
Parting Shots
If you have a nice spotting scope and want to plus it up, the Spotter LR is a perfect choice. Or if you're looking for a nice gift for a techy shooter in your life, I'd say go for it.
I'm looking forward to keeping this in my range bag and getting some video of long range shooting and maybe some match footage.
Let me know your thoughts — cool tool or hyped gizmo? What's your go-to spotting scope? Let us know in the comments! For a complete read on spotting scopes, take a look at the Best Spotting Scopes!