Pistol-caliber carbines (PCC) are some of the most interesting, versatile, and controversial firearms on the market.
Sure, these stepchildren will never be invited to the pistol or rifle family barbeques (rude), but they're still fun and powerful weapons optimized for competition, home defense, and a good ol' day at the range.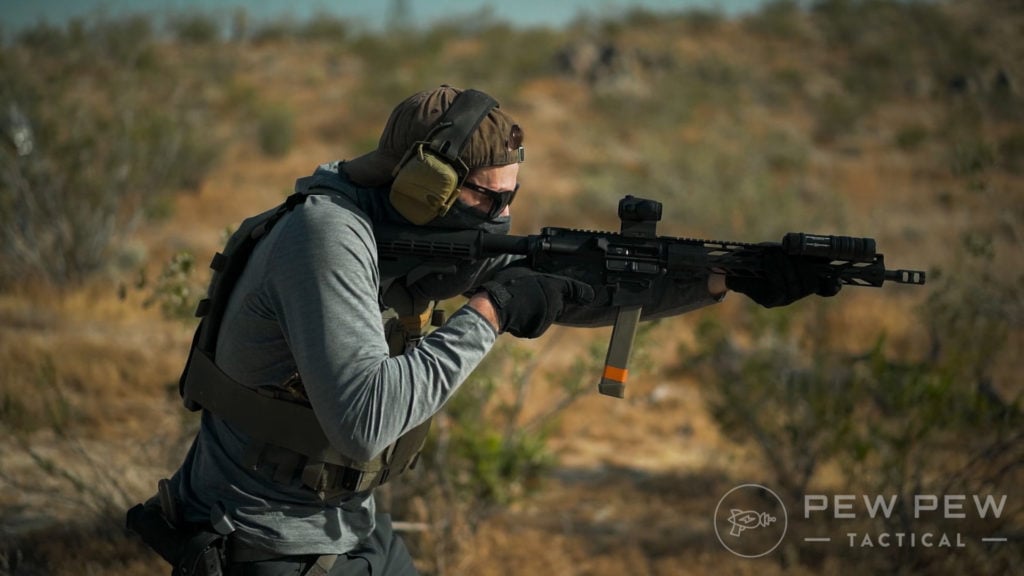 But if you're shooting a PCC with a standard drop-in rifle trigger, you're doing yourself a huge disservice.
Manufacturers provide for a universal experience, so you'll rarely, if ever, come across a firearm that perfectly reflects your body type and shooting preferences.
How many times have you fired a new gun and thought, "Wow, it would have been perfect if it wasn't for ___?"
Fortunately, PCCs are cheap to buy, cheap to maintain, and extremely customizable. There are countless ways for you to personalize and improve your firearm.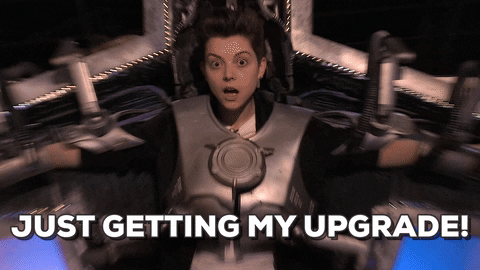 One of the quickest, easiest, and most cost-effective upgrades is switching out that standard rifle trigger.
The end result?
An optimal shooting experience that enhances your PCC's greatest strengths, including its accuracy.
Today, we're going to explore the benefits of upgrading your PCC's trigger and examine five high-quality options that will turn your firearm into the PCC of your dreams.
For those curious about pistol-caliber carbines, I recommend reading our in-depth articles Best Pistol-Caliber AR-15 Carbines (That Take Glock Mags) and Best Pistol-Caliber Carbines: 9mm & Beyond.
And, if you're wondering how these odd ducks fare in competition, don't forget to check out Best Pistol-Caliber Carbines for Competition.
Table of Contents
Loading...
Why Do I Need to Replace The Trigger?
Let's start with the big question! Why is it important to replace the standard rifle trigger?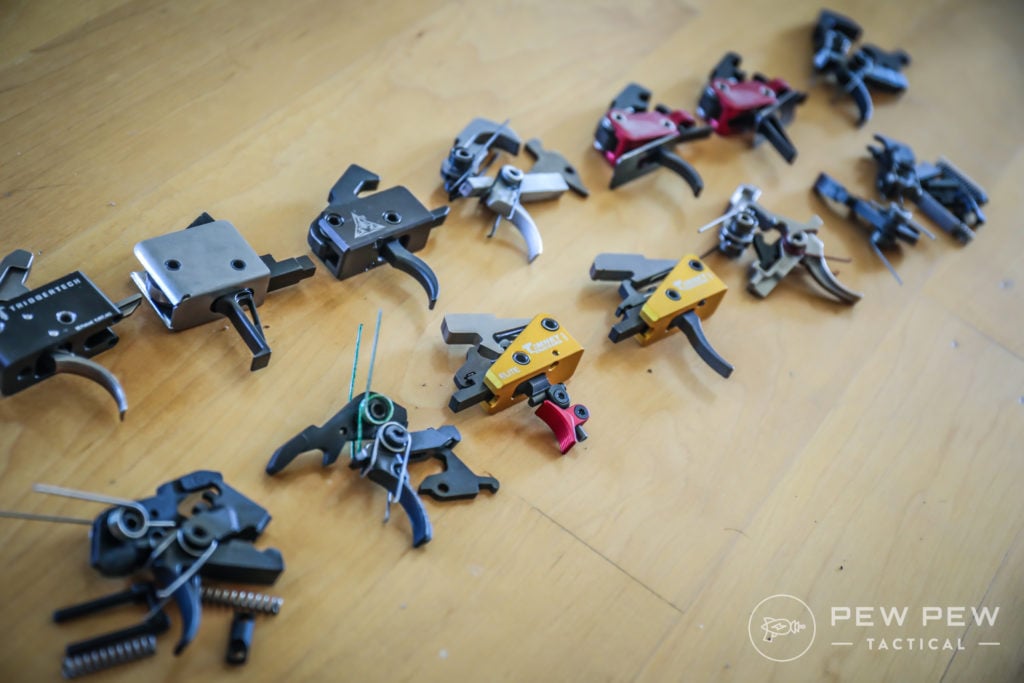 PCCs rely on a blowback action to deliver that excellent shot.
The round's explosive force pushes the bolt backward while simultaneously shooting the bullet forward.
But PCC bolts are heavier than standard rifle bolts, and the blowback action puts extra energy on the standard rifle trigger—far more than it's designed to handle. But yes, we have a review on regular Best AR-15 Triggers.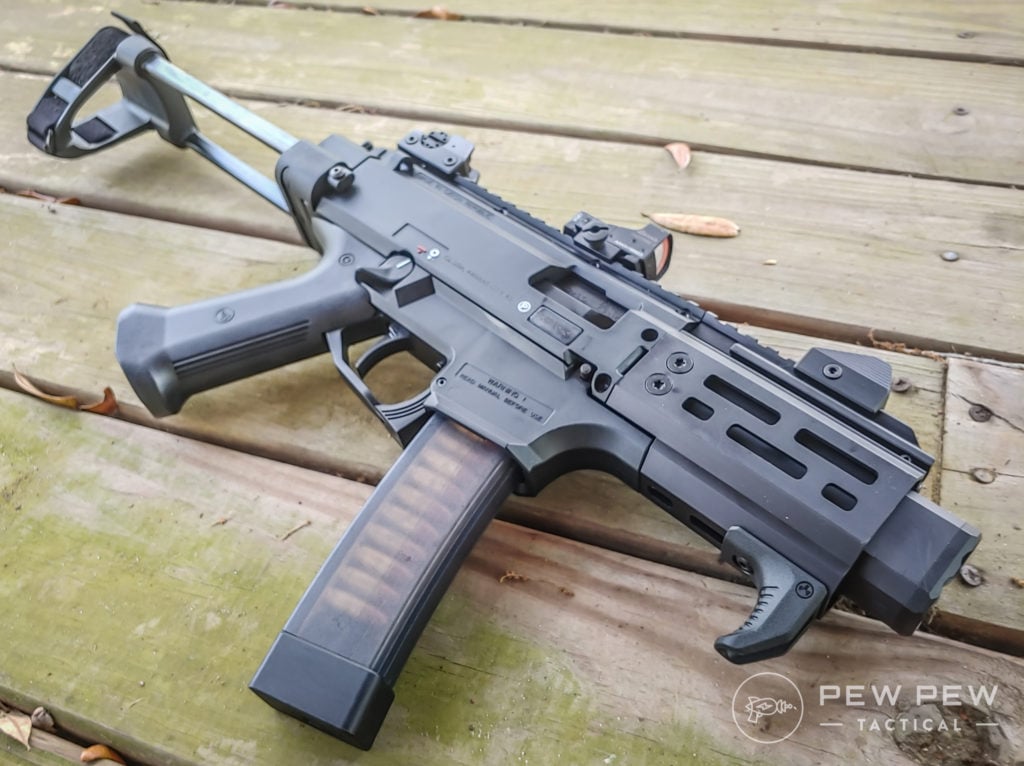 On top of that, PCC ammo tends to be cheaper than rifle ammo, so owners are more likely to choose their PCCs over a standard caliber rifle.
In other words, PCCs take a good beating. Often.
Best CZ Scorpion Pistol
1046
at Kentucky Gun Company
Prices accurate at time of writing
Prices accurate at time of writing
It's the perfect storm for your trigger to crap out on you fast.
But trigger damage isn't our only concern.
The standard rifle trigger simply isn't made to withstand all that extra mass and energy. With enough pressure, it could bounce off the disconnector, causing your firearm to double feed.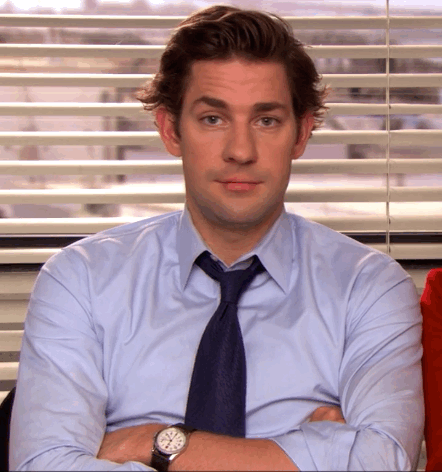 If you've used a standard rifle trigger in a PCC, you've likely experienced one or both of these issues.
So, whether you're constructing an ultimate build or just want that perfect shot with your out-of-the-box PCC, make sure it has a trigger specifically designed for pistol-caliber carbines.
…or at least one sturdy enough to put up with the punishment you're going to deliver.
Best PCC Triggers
1. Timney AR PCC Trigger
For over 70 years, Timney Triggers has specialized in manufacturing high-quality, easy-to-install aftermarket trigger upgrades for the AR platform.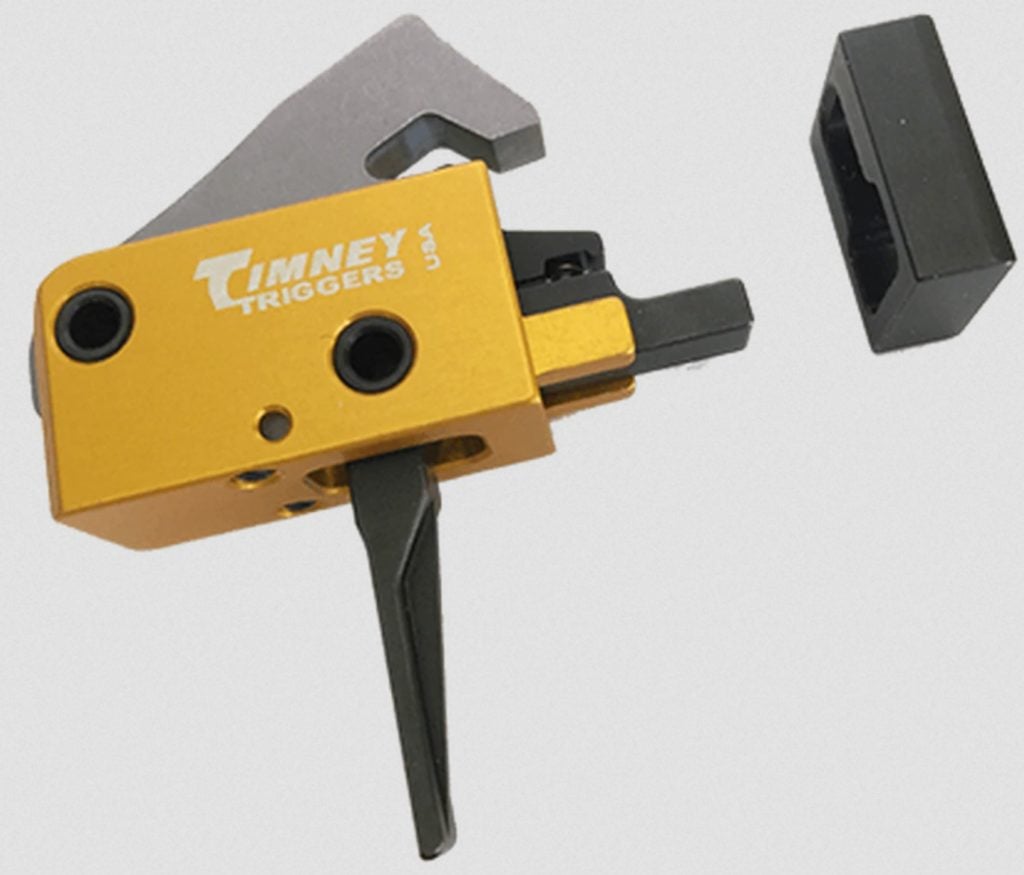 You may have noticed that this company tends to pop up in most of our trigger recommendation lists.
Amazingly, that isn't any particular bias on our part; their precision triggers for hunting, competition, and target shooting are just that great.
Lucky for us, the AR PCC Trigger lives up to the company's great reputation.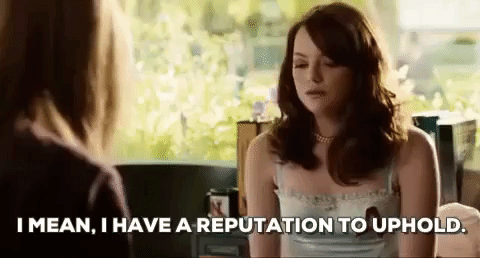 If you're looking for a first-rate trigger with a fast and easy installation process, then the AR PCC Trigger is the upgrade for you.
It's a complete drop-in trigger assembly, so it doesn't require any fitting or gunsmithing. Once it's installed, you're ready to hit the range!
Plus, you can keep your original hammer, trigger pins, and safety.
The AR PCC Trigger is compatible with most aftermarket options, but you don't need to go hog wild on upgrades for this trigger to withstand a good beating.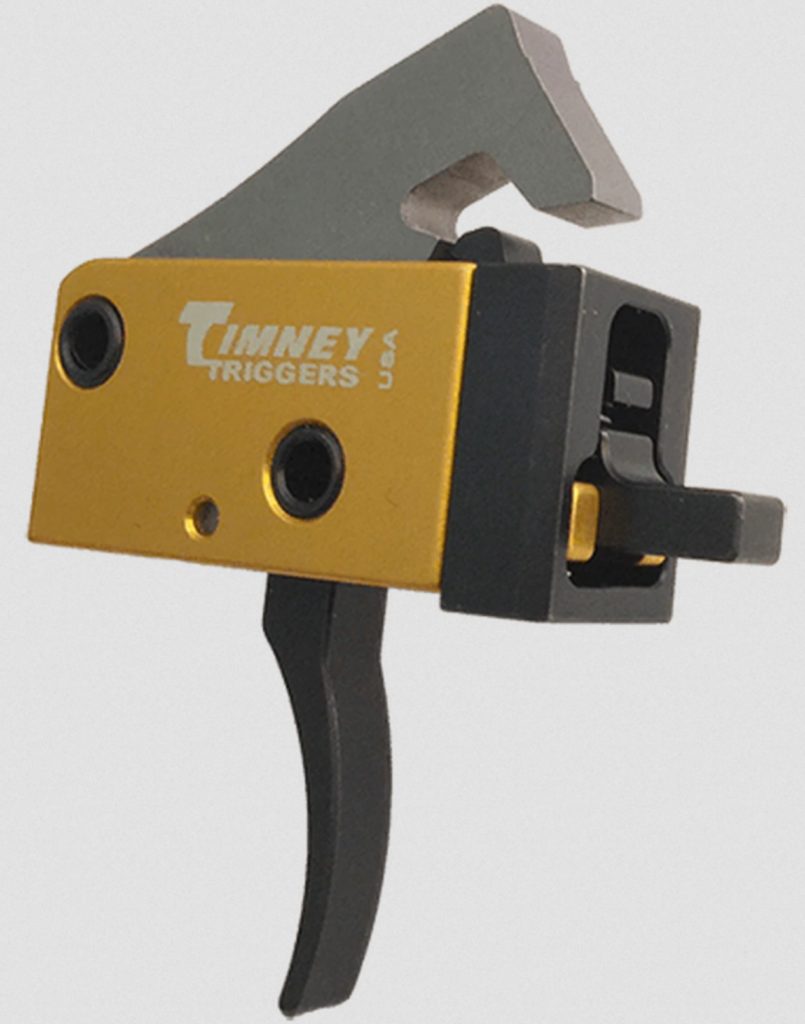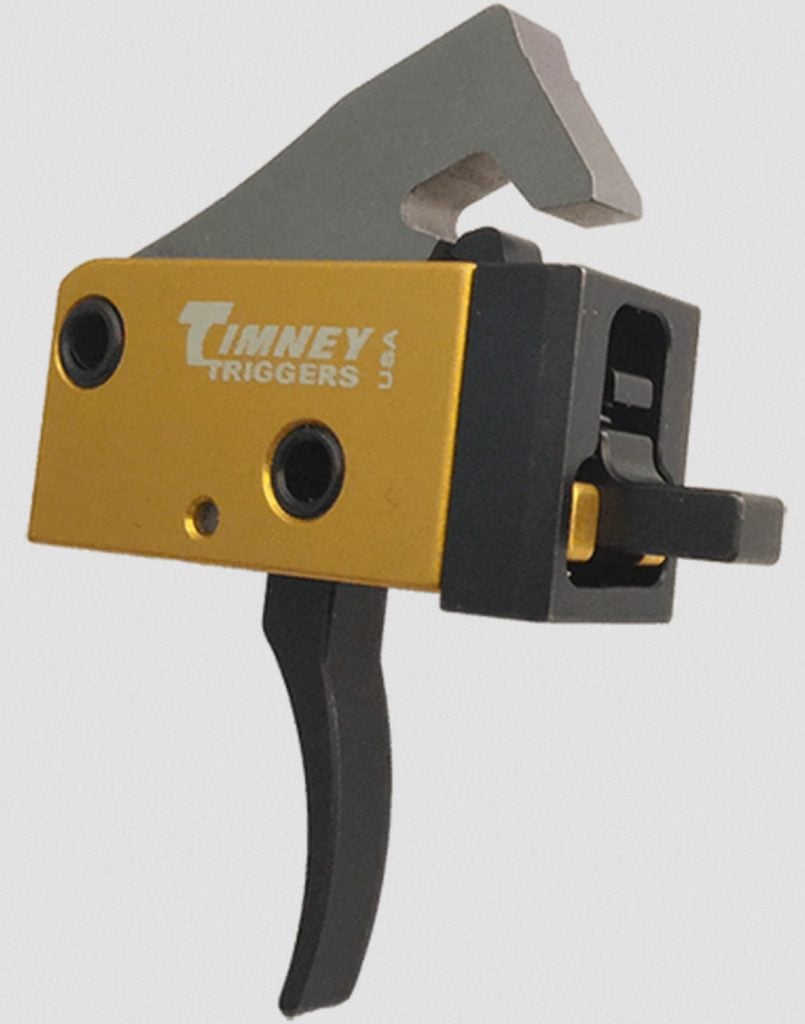 The trigger and bridge are made from heat-treated steel to ensure durability and resilience, while the housing is machined 6061 T6 anodized alloy.
Timney offers the AR PCC Trigger in both curved and straight shoe models. Both options feature a pull weight of 2.5-3 pounds, smooth motion, and a nice, crisp break.
The AR PCC Trigger is a single-stage trigger, but Timney also makes a double-stage version.
205
at Brownells
Prices accurate at time of writing
Prices accurate at time of writing
Timney is also known for their excellent customer service, which is always a major bonus.
If you have any questions or concerns, go ahead and shoot them a message!
2. Wilson Combat Tactical Trigger Unit, Two-Stage 9mm
To keep up with the burgeoning PCC craze, Wilson Combat designed a variant of their Tactical Trigger Unit specifically for 9mm PCCs.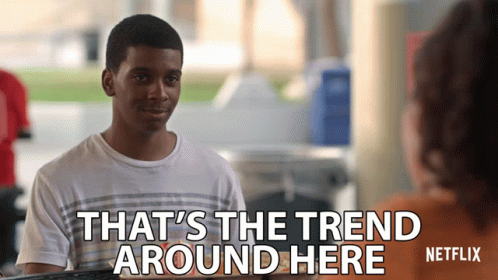 The Tactical Trigger Unit, Two Stage is a totally self-contained drop-in trigger unit with no adjustment screws, so it's easy to install without any fitting or fiddling down the line.
Pop it in and you're ready to go!
While it's specifically designed for 9mm, it's compatible with any PCC that accepts AR-15 style triggers with .154" pinholes (standard GI trigger pin size), regardless of caliber.
The pull weight is approximately 3.5-4 pounds, making it a solid alternative for anyone who needs a trigger with a stronger pull than the Timney.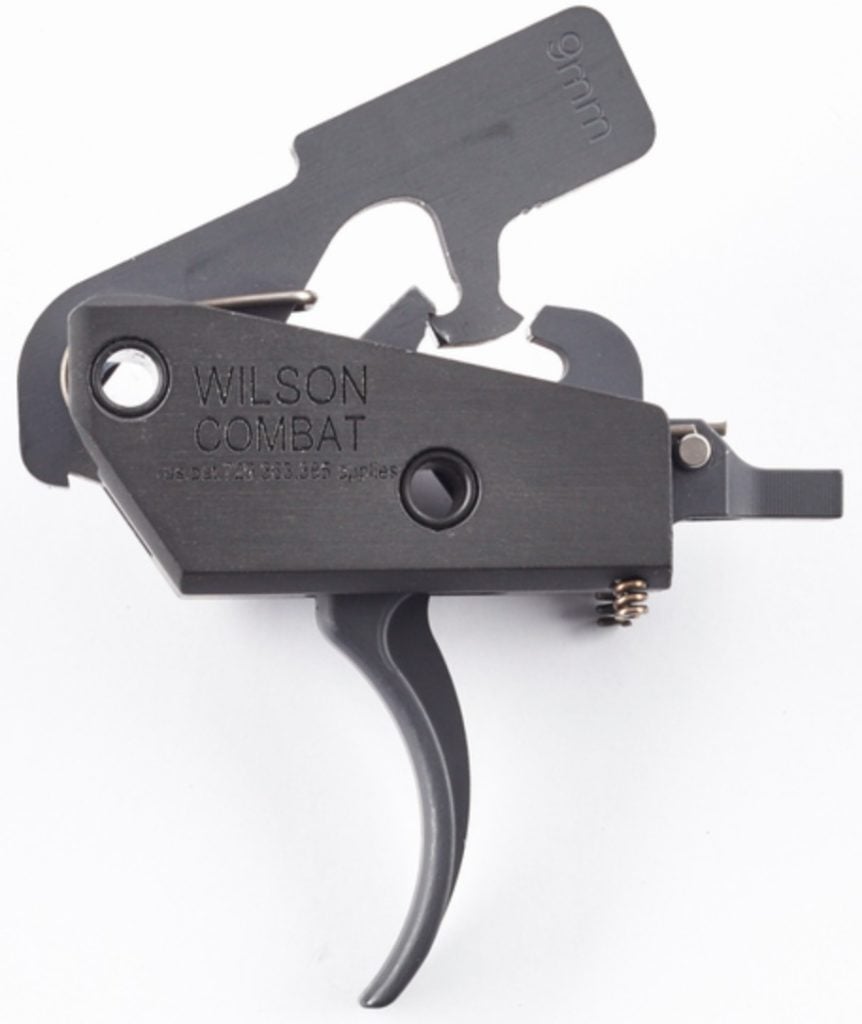 Tactical Trigger Unit, Two Stage has an ergonomically designed curved trigger shoe that minimizes fatigue during long shooting sessions.
It also facilitates a reduced, positive trigger reset, so you can make quick follow-up shots while staying on target.
Unfortunately, there isn't a straight shoe alternative at this time. If any Wilson Combat reps are reading this blog, hook us up!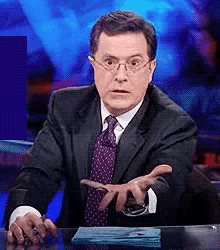 Tactical Trigger Unit, Two Stage has a smooth pull without any grittiness, sponginess, or creep—just a nice, crisp break.
The trigger, hammer, and disconnector are manufactured from borderline indestructible H13 steel and have been heat-treated for long-term durability.
They also benefit from hardened steel bushings that eliminate stress and wear on the receiver pins and pinholes.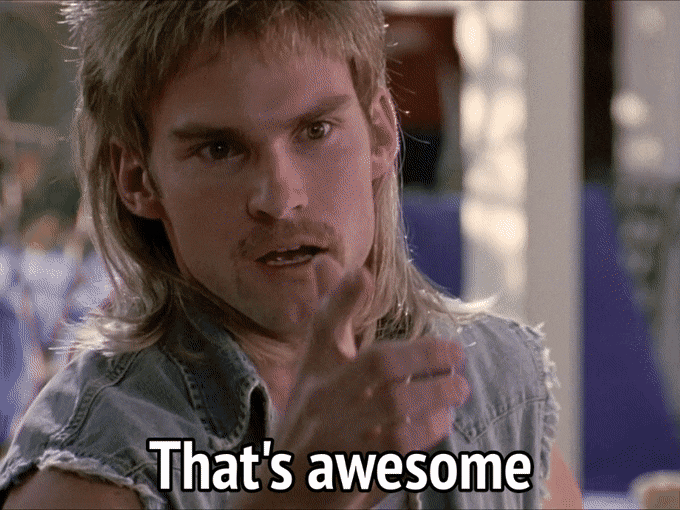 This Wilson Combat trigger also boasts "unique hammer geometry" that enables reliable ignition with military and surplus ammunition.
And hey, that 1911-style half-cock notch exceeds mil-spec for drop safety!
Overall, the Tactical Trigger Unit, Two Stage is plenty durable and reliable enough to last you a long time, even in a PCC.
162
at Optics Planet
Prices accurate at time of writing
Prices accurate at time of writing
A word of warning: Some users claim that the springs are a little weak, but that's a cheap and easy fix you can complete yourself.
Personally, I don't consider it a huge risk or a deal-breaker, but it's still an important factoid that deserves mentioning.
3. CMC Single Stage Drop-In 9mm PCC Trigger
CMC is another company that frequently catapults its way to the top of our trigger and upgrade recommendation lists.
Over the years, this company has earned a stellar reputation in the tactical community for producing innovative, reliable, and easy-to-install trigger groups for the AR-15.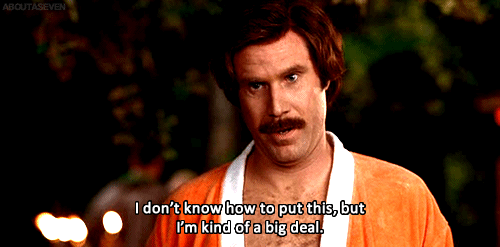 Pistol caliber carbine rifles finally got their chance to sit at the cool kids' table after the release of the CZ Scorpion [Review] and the SIG MPX.
CMC was paying attention and decided to launch their 9mm PCC Drop-In Trigger, a high-quality upgrade that's available in two easy-to-install models: curved and flat shoe.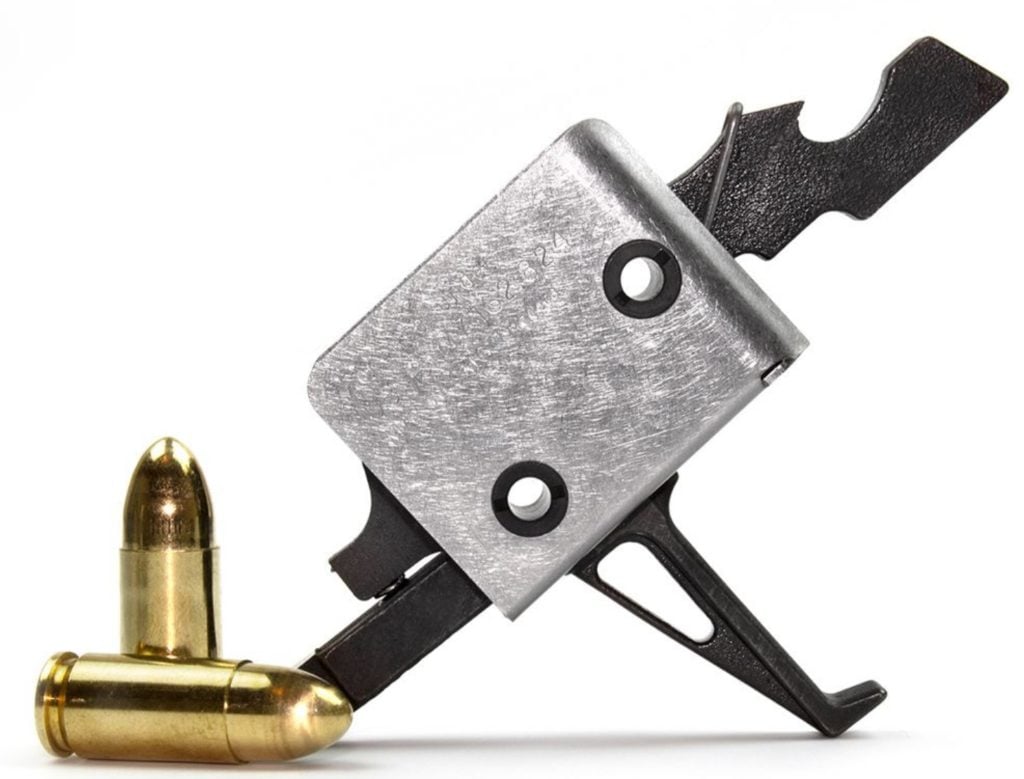 The curved trigger is nice and ergonomic with a classic shape, while the flat shoe has a finger stop at the bottom that keeps your finger from slipping, which is awesome.
Both models are designed to ensure your comfort and minimize fatigue during long shooting sessions.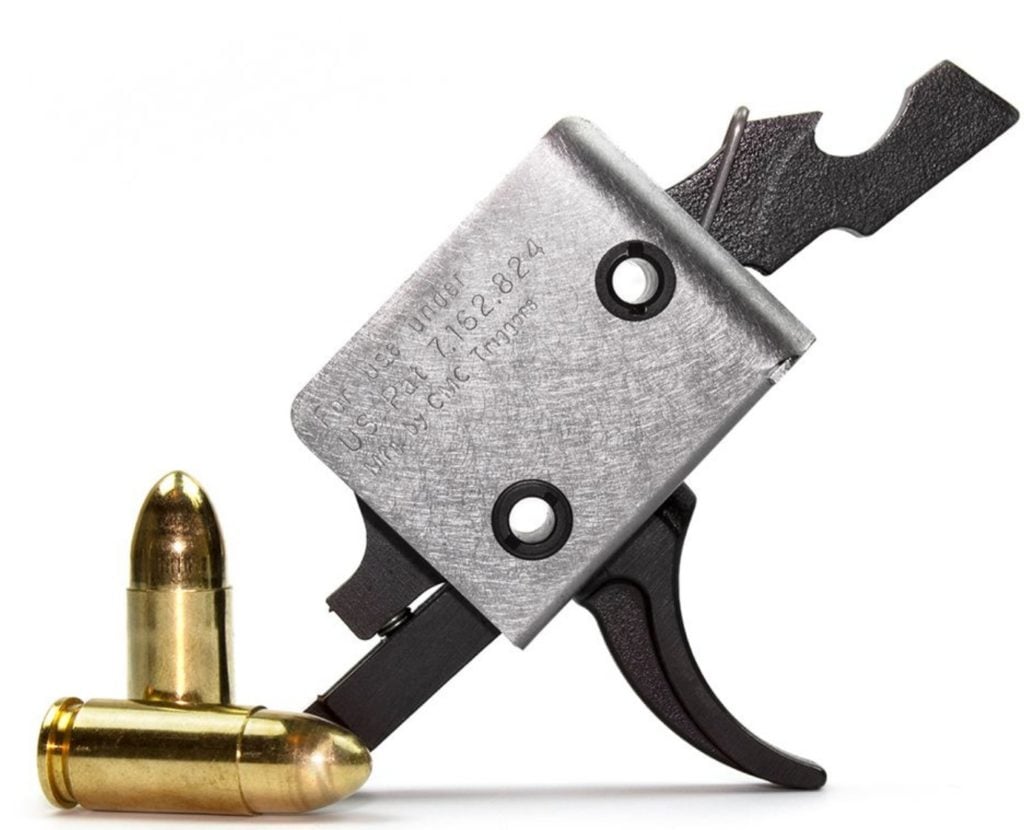 You can't go wrong with this trigger assembly, which is made from Alloy 8620 and S7 tool steel.
CMC also uses a proprietary machining process that delivers a 1-2 RMS surface finish—talk about smooth!
In fact, this is one of the key features that separates the CMC 9mm PCC Drop-in Trigger from its competitors.
Other manufacturers use EDMing to produce that perfect trigger feel, but this process only achieves a surface finish of 32 RMS.
For the sake of comparison, a mirror has 0 RMS finish. So, who do you think wins?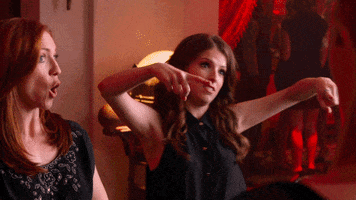 The CMC 9mm PCC Drop-in Trigger has an easy 3.5-pound pull weight and a crisp break with no creep, grittiness, or travel to speak of. It also has a great reset for quick, accurate shots.
What about compatibility, you ask?
Well, this shiny boy is compatible with mil-spec AR-15 and AR-10 style rifles and, of course, is specifically intended for use with 9mm PCCs.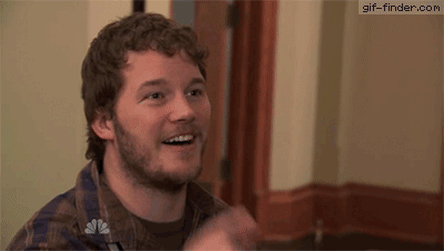 Unfortunately, I do have one minor complaint with this trigger. Aesthetically speaking, the CMC 9mm PCC Drop-in Trigger lacks the visual flair of our first two picks.
Okay, fine. I think it's boring and ugly.
But aesthetics are a subjective concept, and appearance should always come second to functionality.
The CMC 9mm PCC Drop-in Trigger has its merits and totally nails the functionality aspect. You'll have no complaints if you decide to try this nifty little trigger upgrade.
168
at Brownells
Prices accurate at time of writing
Prices accurate at time of writing
4. Velocity MPC 9mm/PCC Trigger
Velocity Precision Engineering sells magazine releases, bolt carriers, and other parts and accessories to upgrade your AR-15 into a beast of the range.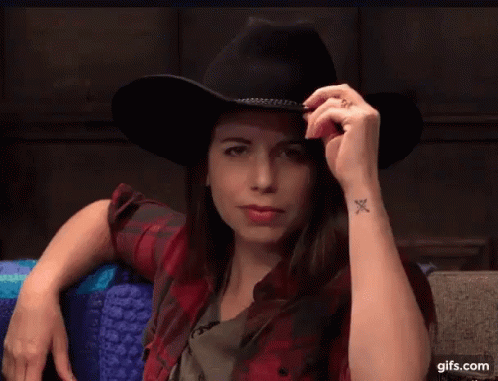 But the company's claim to fame has always been their precision-engineered drop-in triggers.
Velocity triggers are the darlings the competitive shooting world, so when the company released their 9MM/PCC Trigger, it sparked some earworthy buzz.
The 9MM/PCC Trigger is based on the company's Marksman Performance Choice trigger line.
In incorporates many of the features that make this line so remarkable, including the ⅜" wide trigger that delivers a more "tactile" feel.
Another noteworthy detail is that mighty 4-pound pull weight. But don't worry; it doesn't impact the 9MM/PCC Trigger's overall performance.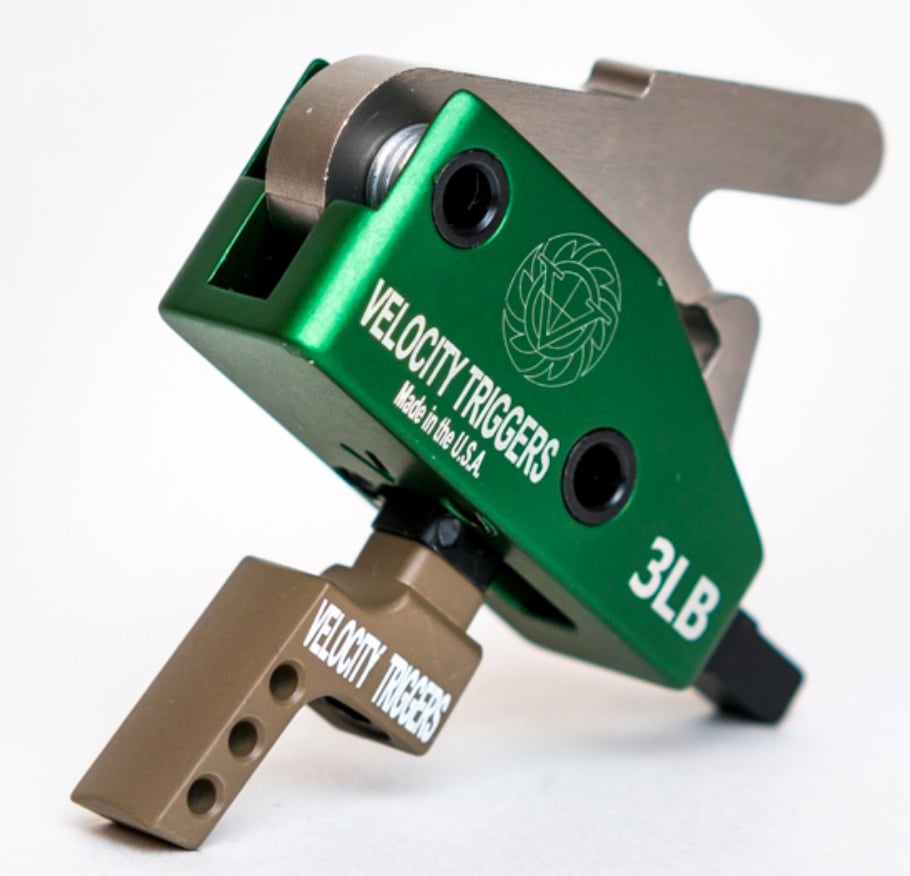 There's not much overtravel or creep to speak of, and it's hard to beat that positive reset and its smooth, crisp break.
How does Velocity achieve this? The internal mechanisms are coated with nickel Teflon, so they are protected from friction, corrosion, and wear.
Talk about reliability! This durable trigger will keep up with your hardcore shooting schedule for a very long time.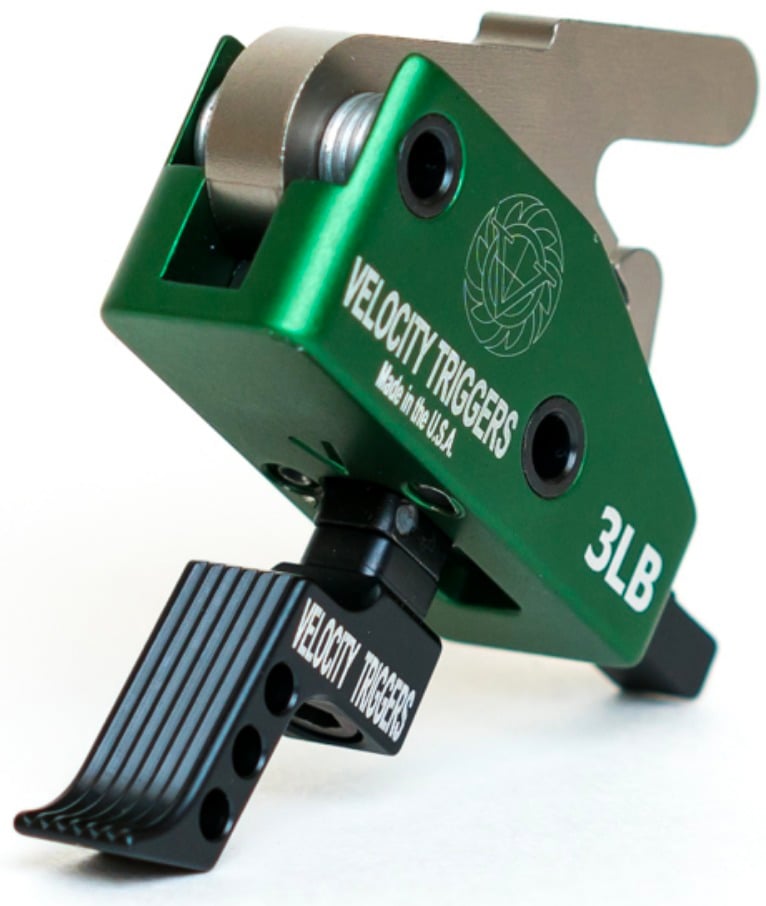 Can I tell you about my favorite feature?
Like other triggers in the Marksman Performance Choice line, the 9MM/PCC Trigger has a virtually unparalleled degree of customization.
You can choose between curved, straight, and straight with a finger stop shoe shapes, smooth with radius and flat serrated shoe textures, and ten different shoe colors.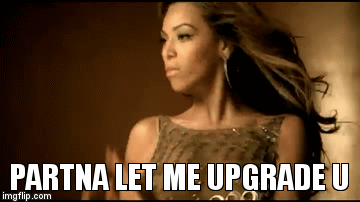 Admittedly, some colors are better than others. But let your imagination sally forth! This is your upgrade.
You can also purchase the different shoes individually and swap them out whenever the whim strikes you.
The best part? No matter what combination of features you decide to go with, the 9MM/PCC Trigger looks sharp as hell.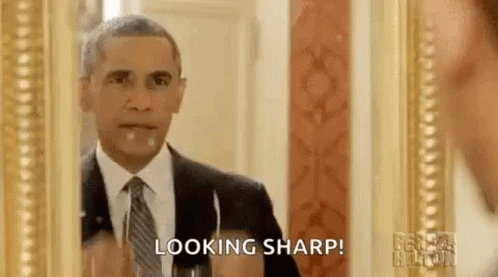 Again, functionality trumps aesthetics (blah, blah), but if I were to choose a trigger based solely on its appearance, it would hands-down be the 9MM/PCC Trigger. No question.
So, it's a good thing the functionality is top tier, too.
170
at Brownells
Prices accurate at time of writing
Prices accurate at time of writing
5. Stern Defense H2S Hybrid 2 Stage
One of the best PCC triggers, as the name should tell you this is a 2-stage trigger that is ultra-crisp.
The pull weight is a little heavy 2lb for the first stage and 4lb for the second stage, but this is by design since the Stern is not only for competition and training — it is also designed for home defense applications.
When your stress and adrenaline levels are at an all-time high, the chances of accidentally bumping your trigger are higher than normal. If you have a light trigger, this can lead to negligent discharges.
NDs are never good, but in a home defense situation, they can be truly tragic. That is the logic behind the H2S's heavier trigger. And we dig that.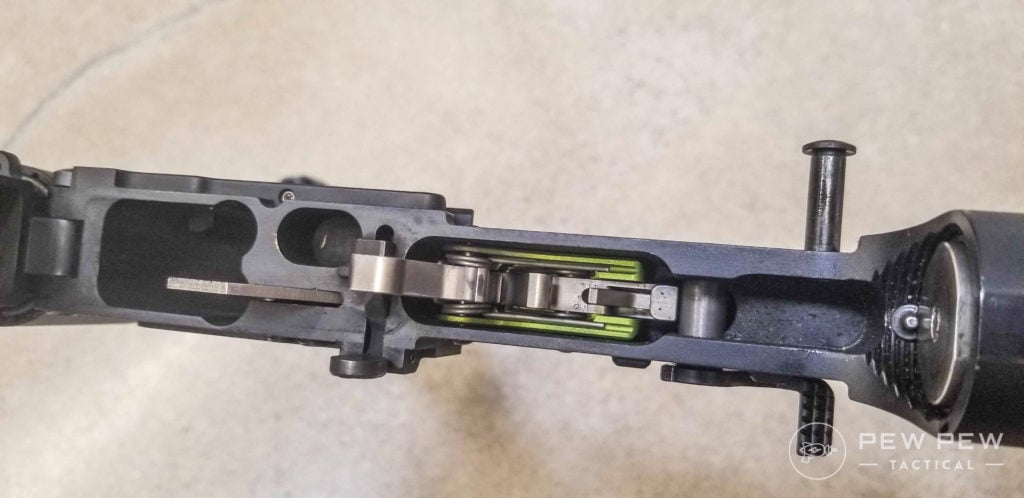 Plus, they've put the design through a 250,000+ round endurance test without failure, so that's cool!
137
at Optics Planet
Prices accurate at time of writing
Prices accurate at time of writing
If you want a lighter trigger, the H2S does come with a replacement spring that lets you step the second stage down to a 3lb pull.
What's your take on the Stern Defense trigger?
Parting Shots
Whether you're using a pistol-caliber carbine for self-defense or target shooting, you need a trigger that is designed to withstand the blowback action of your firearm.
Unfortunately, most standard rifle triggers tend to suffer malfunctions or parts breakage over time.
But you can bypass these problems entirely by swapping out that standard trigger with a drop-in upgrade manufactured specifically for PCCs.
Any of the triggers on this list will vastly improve your PCC's overall performance, but they are by no means your only options.
Have any favorites? Or do you have experience using non-PCC specific triggers in a pistol caliber carbine? How does it compare? Please share your comments and questions below!
And, if you're still looking for the perfect parts for your ultimate PCC build, check out our recommendations for Best 9mm AR-15 Uppers: It's PCC Time and Best 9mm AR-15 Barrels: PCC Ready. Also, grab yourself a trigger pull gauge to install your PCC triggers. Check out our recommendations for the Best Trigger Pull Gauges.