If you're a lady in the world of guns or considering becoming one, you've probably wondered which firearms are best for women.
Unequivocally, women are capable of shooting the same guns as boys. But there are certain models that some women tend to prefer.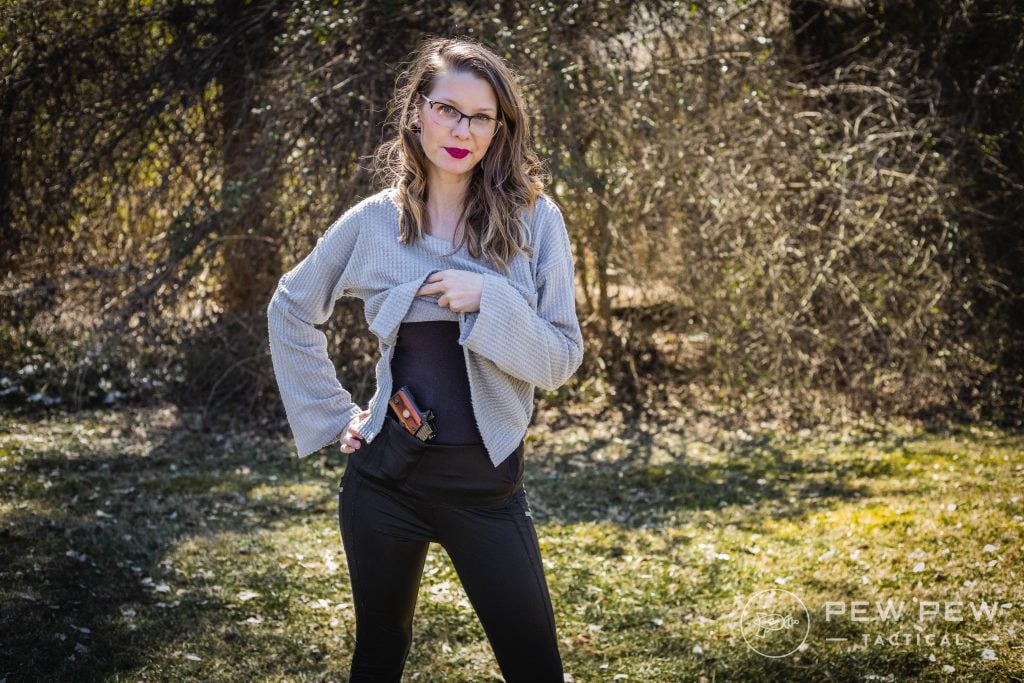 And that's the topic of today's chat…What are the best handguns for women?
Spoiler alert, they're not all pink .22 LRs, the gun shop would have you think. (But if Barbie pink is your jam, there's always Cerakote…)
In this article, we'll go over some things to consider when choosing a gun – stuff like handgun size and caliber.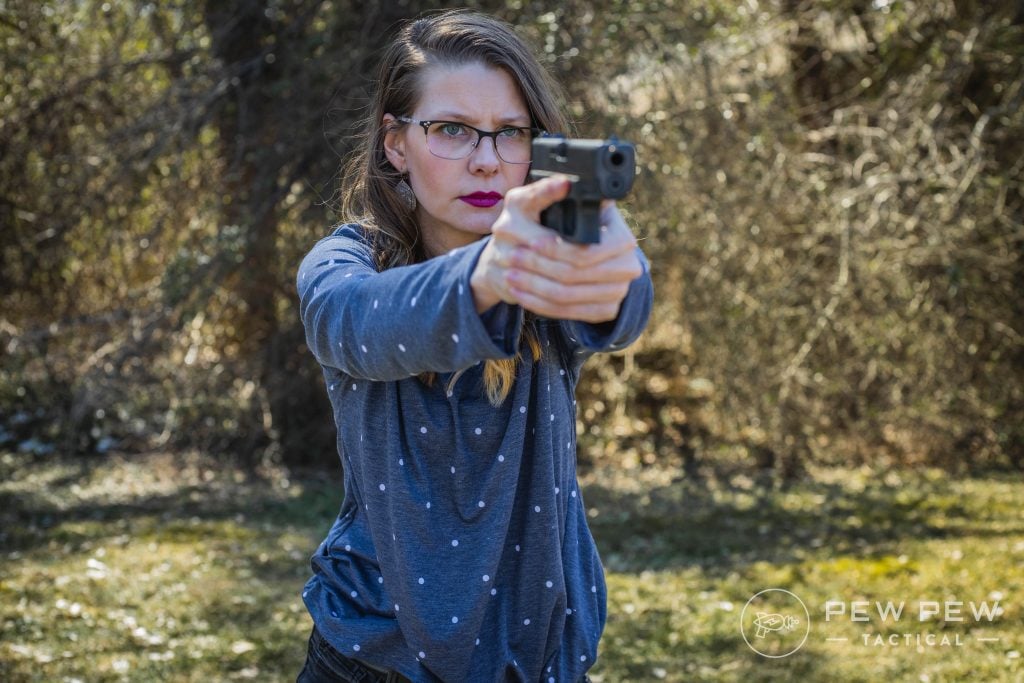 And remember, as well-meaning as your boyfriend, husband, or significant other is, you should always be the one to decide what handgun you buy. (And ideally, try one out at the range before purchasing.)
Also worth mentioning, this is a list curated for the ladies by the ladies. Yep, the women of Pew Pew Tactical have had hands-on time with every gun on this list.
So, with that said, let's dive into our top pics!
Summary of Our Top Picks
Table of Contents
Loading...
Best Handguns for Women
Without further ado, let's take a look at more than a dozen handguns our female staff know, love, and wholeheartedly recommend.
1. Glock 17/19/43X – 9mm
We gotta start with the biggest name in the polymer game – Glock. Honestly, we wrestled over which model to throw in here, so we decided to mention three of our faves.
Coming in with a full-size design, the Glock 17 was the OG.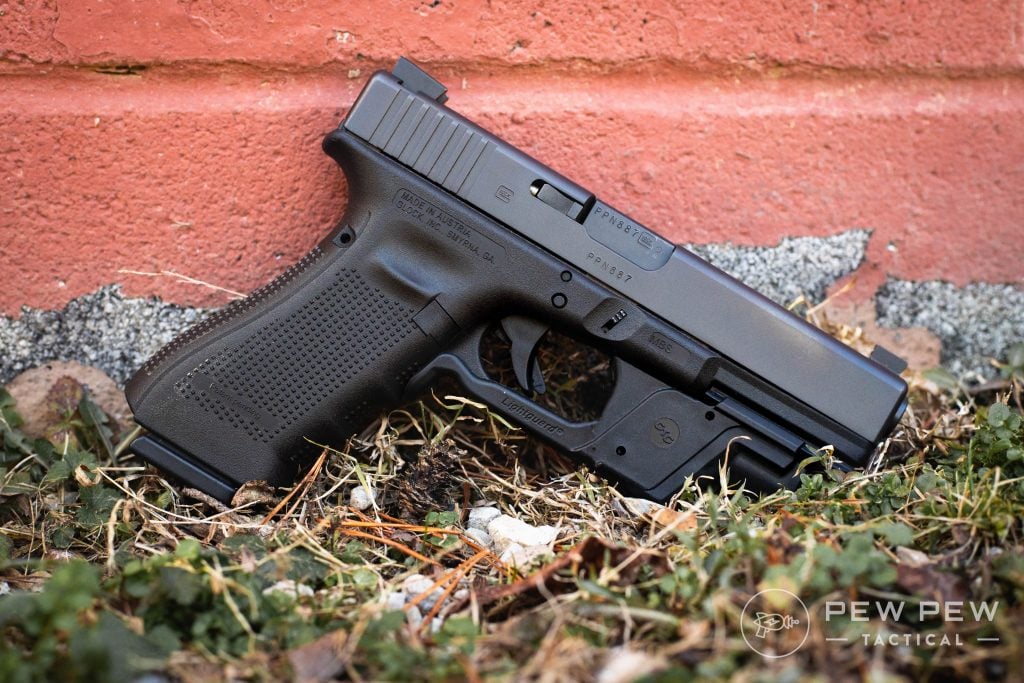 It offers a proven system that has outfitted police units across the world.
Reliable and durable, The G17 also boasts a pretty simplistic design. Nothing fancy here, just the basics.
Tried and True
539
at GrabAGun
Prices accurate at time of writing
Prices accurate at time of writing
Alternatively, the Glock 19 is recognized as one of the most popular concealed carry pistols of all time.
Almost identical to the G17, outside of some smaller dimensions, the G19 brings a bare-bones approach to CCW.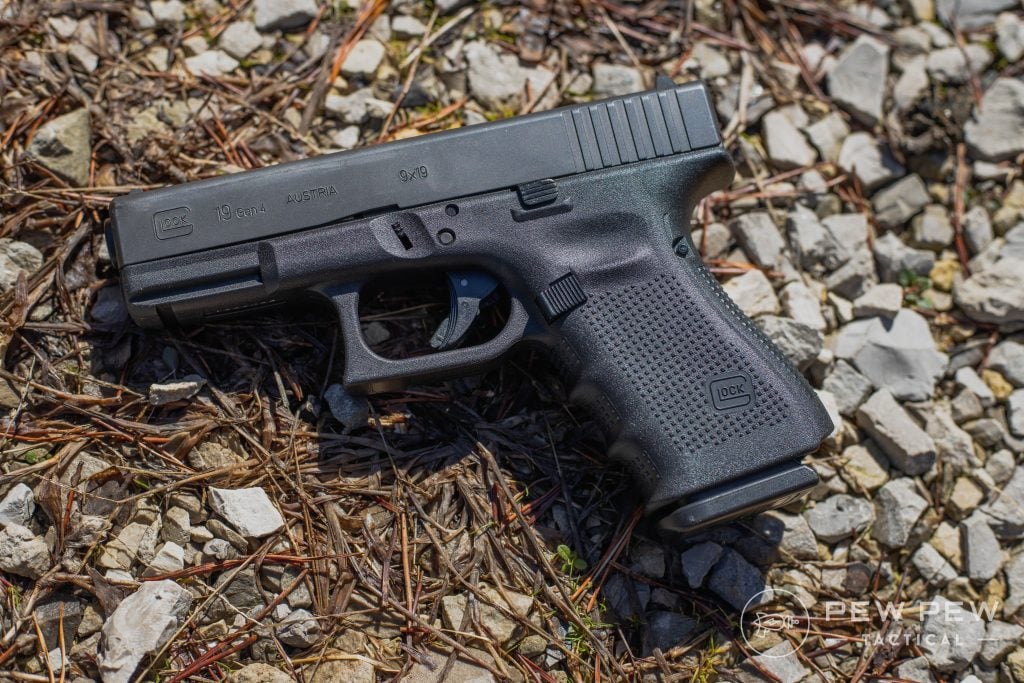 If you want a gun that just works, this is it.
However, both the G19 and G17 are double-stacked pistols, meaning they're a little bigger around the grip. Also, some women might not like the way these guns feel in hand.
While I prefer the reliability of Glock, it doesn't work the greatest with my hand, and I find myself overcompensating ever-so-slightly, which throws my shots to the left.
Best CCW Glock
539
at Palmetto State Armory
Prices accurate at time of writing
Prices accurate at time of writing
If you need something a tad slimmer, check out the Glock 43X.
This single-stack brings a more compact look and feel but with the same reliability Glock is known for.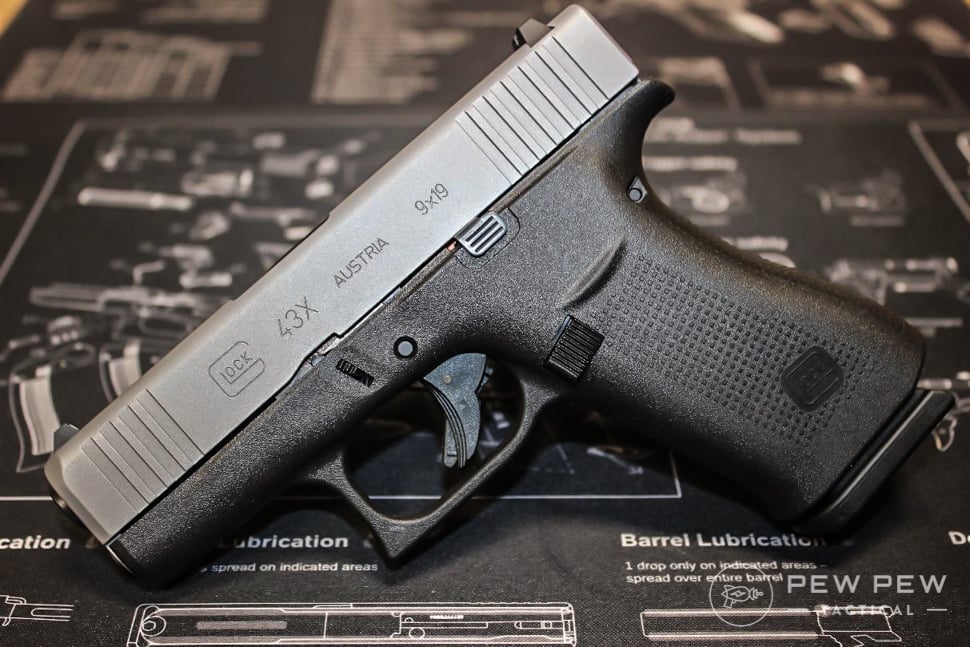 Glocks do not come with an external safety, instead opting for its SAFE action system – a trio of independently operating mechanical safeties.
The benefit to any Glock is that it comes with a large aftermarket, meaning you can fine-tune it to suit your wants and needs. I highly suggest grabbing a better pair of sights for your Glock, at the very least.
Best Compact Gun
448
at Kentucky Gun Co.
Prices accurate at time of writing
Prices accurate at time of writing
We have more Glock suggestions, if needed, in our Best Glocks article!
2. Sig Sauer P365 – 9mm
The Sig Sauer P365 revolutionized the concealed carry world, offering a double-stack design in a small, compact package.
This pistol brings various models to satisfy any concealed carrier. From red dot affixed variants to snag-proof to XL for a little more room – the P365 series has you covered.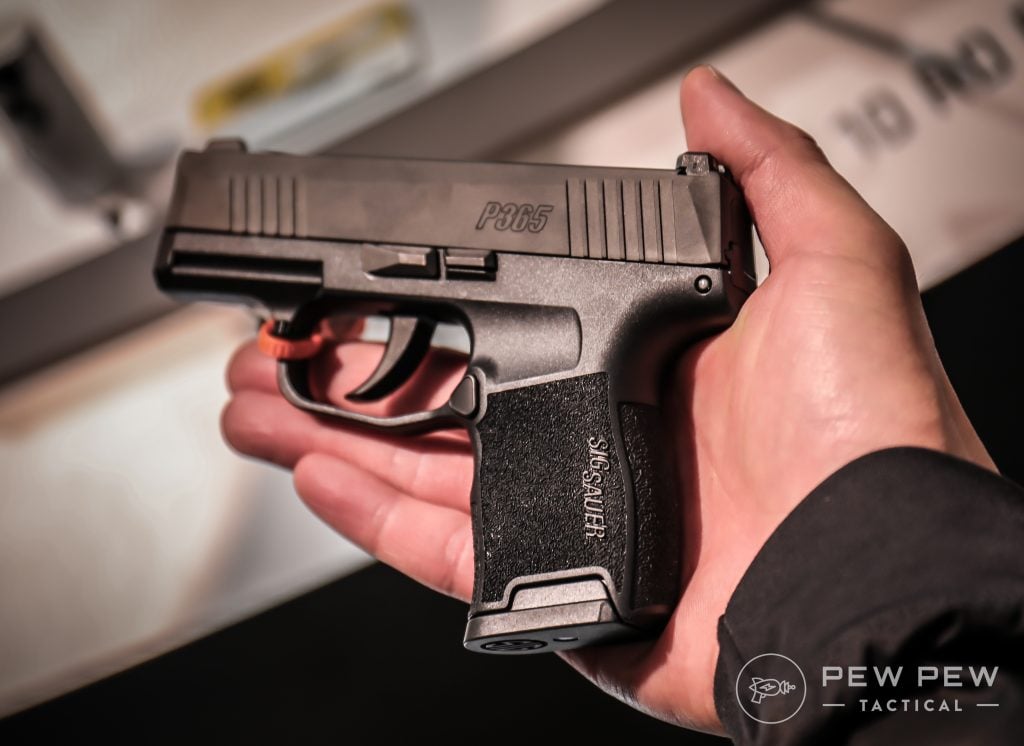 It boasts decent ergonomics that we find work for a variety of hands. Not to mention, it has a crisp, clean-breaking trigger.
We like that you can pack 10+1, 12+1, or 15+1 rounds in such a concealable pistol. And the aftermarket options are pretty cool. (Check out some upgrades we've done in the past here.)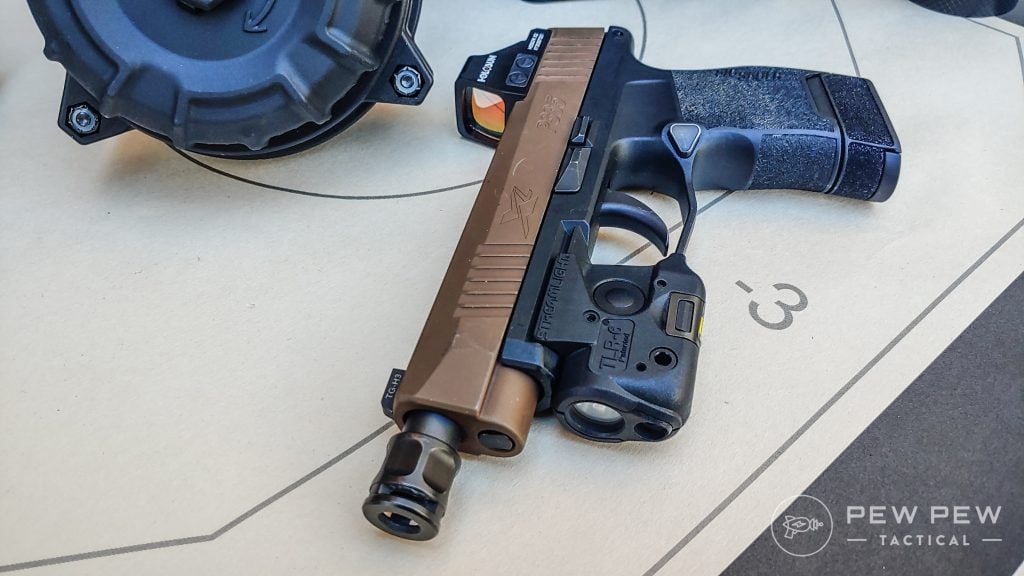 All in all, the Sig Sauer P365 stands as the industry's newest fave concealed carry pistol, and we can see why.
It perfectly blends concealment with capacity, making it a winner for CCW.
499
at Kygunco
Prices accurate at time of writing
Prices accurate at time of writing
Go read our full review on the Sig Sauer P365 here.
3. HK VP9 – 9mm & .40 SW
Want to be one of the cool kids? Then you need an HK!
At least, that's what internet memes tell me.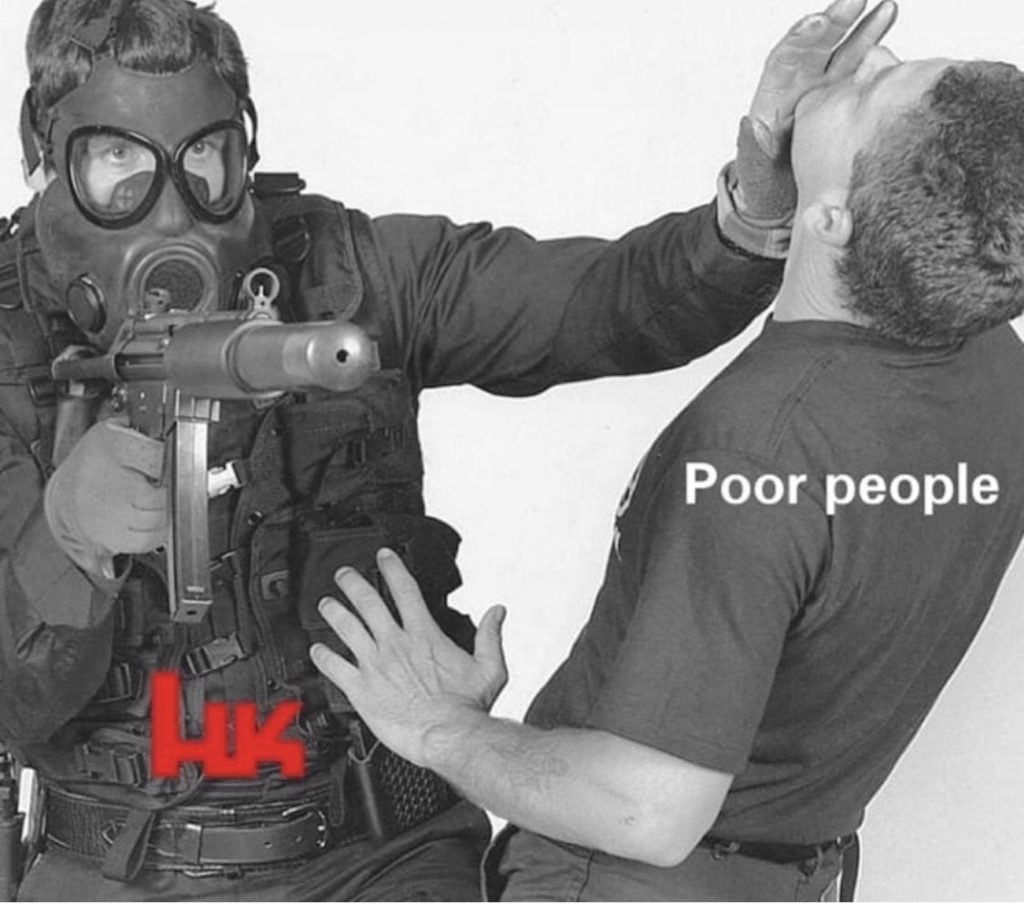 The HK VP9 offers a striker-fired pistol chambered in either 9mm or .40 SW.
It brings a magazine capacity of either 10-, 15, or 17-rounds.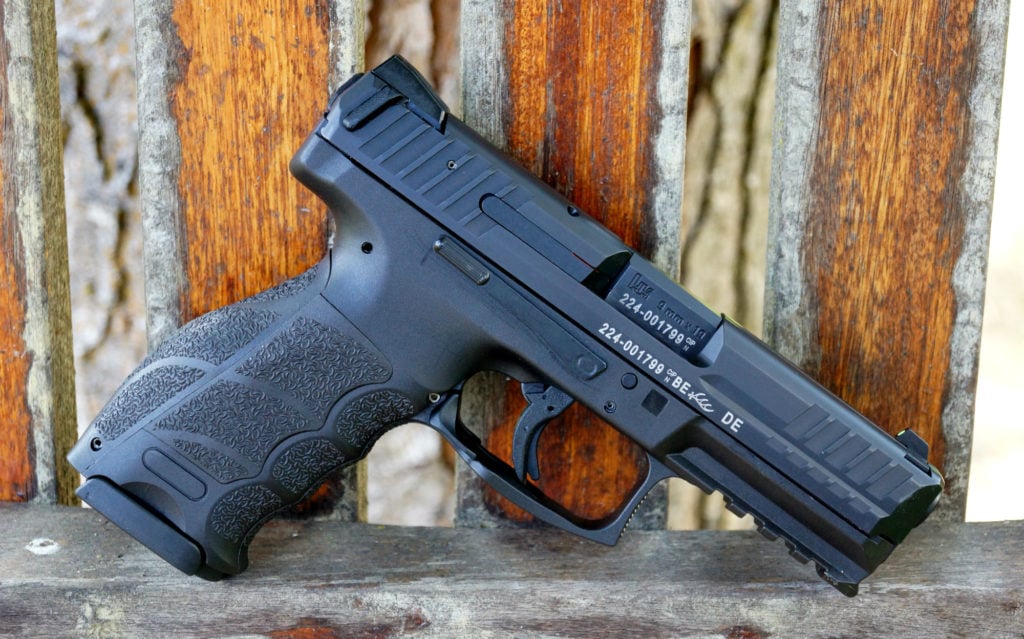 There are a few variants on the VP9 lineup, including an optics-ready model – so throw on a red dot if you must.
I've shot the HK VP9 a few times, and ergonomically, I liked what it offered. It filled my hand without feeling too cumbersome.
Controls were easy to access and manipulate, and it shoots pretty flat.
My only complaint is that moving from a gun with a button-style mag release to the VP9 with a paddle release took some time to get accustomed to.
But if you're starting out, you likely won't have this issue.
Also Good
689
at Kygunco
Prices accurate at time of writing
Prices accurate at time of writing
Ready for more details on the VP9? See our review here.
4. CZ 75 P-01 – 9mm
CZ pistols have quite the cult following, and for good reason. These guns just work.
And out of the many models available, one of our favorites is the CZ P-01. In fact, our editor Allison said she could wax poetic on this model all day long.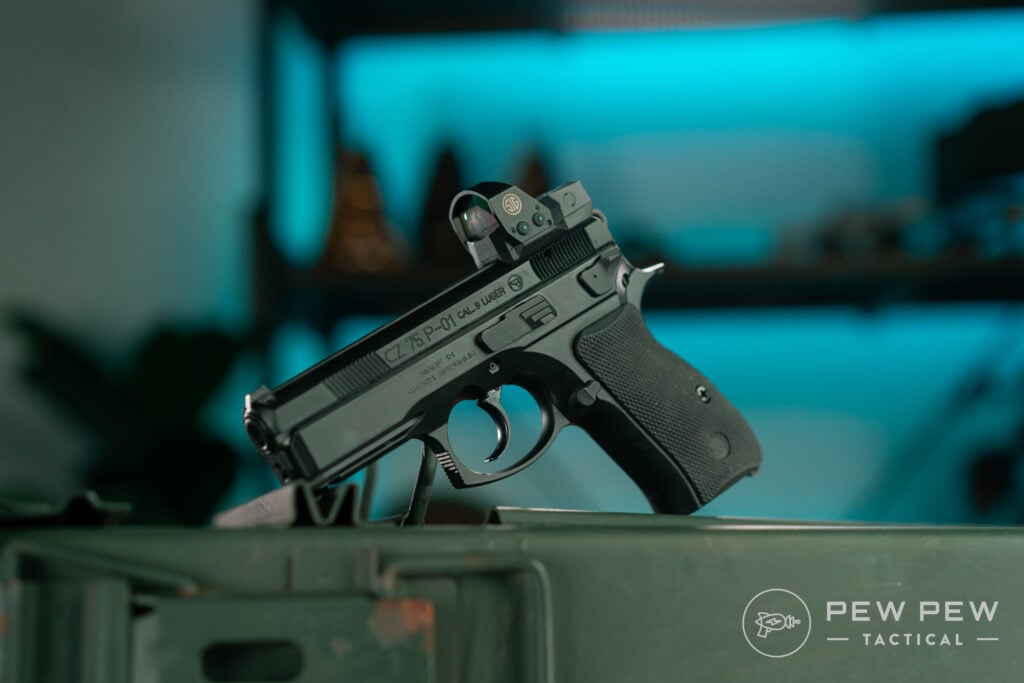 The CZ P-01 serves up a compact design chambered in 9mm. Though created for LE and military use, its smaller stature makes it a perfect 9mm for concealed carry.
Equipped with a decocker, this hammer-fired pistol sports an integral 1913 Picatinny rail for accessories and a 14+1 capacity.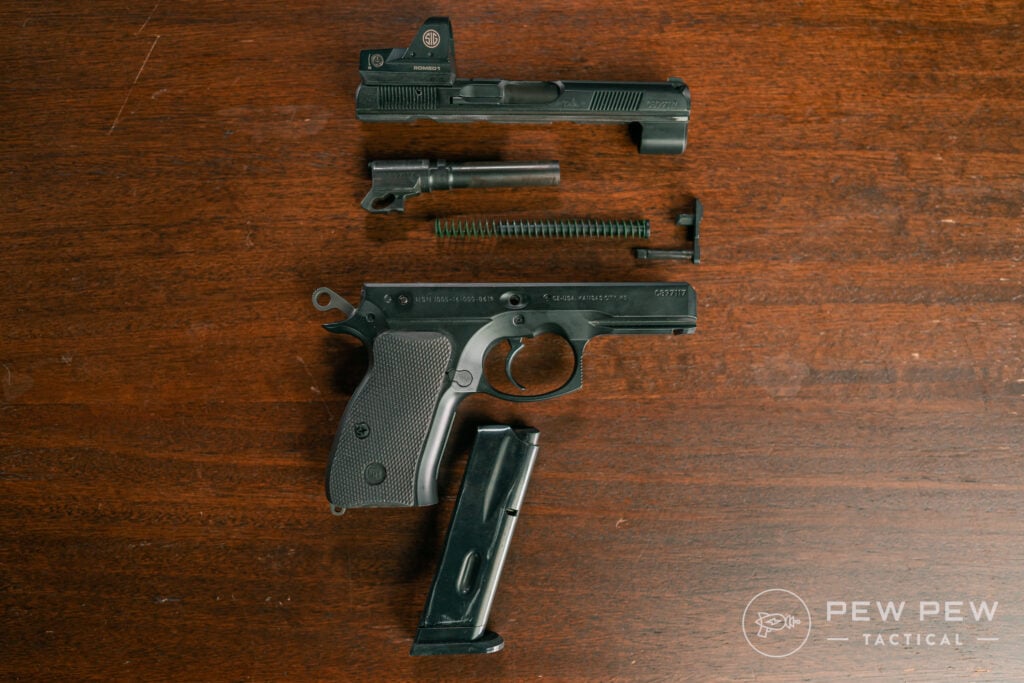 Ask anyone with a CZ, these things are reliable and rugged, and the P-01 is no exception.
In fact, during U.S. Army testing, the P-01 suffered an average of 7 stoppages per 15,000 rounds! (Basically, meaning it boasts a failure rate of 0.05%.)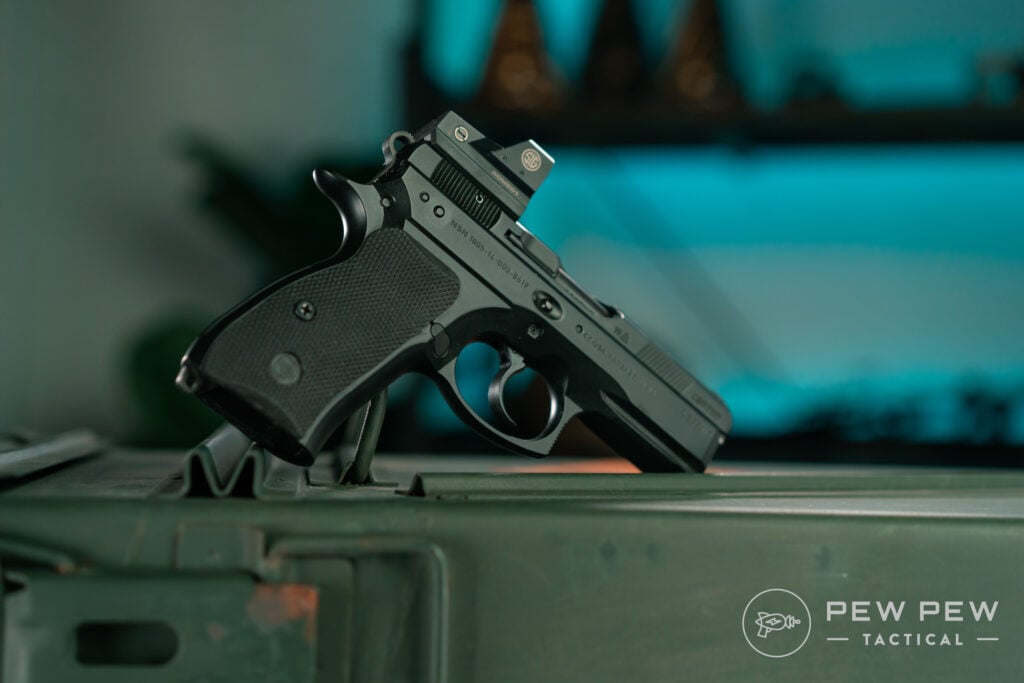 Yes, CZ pistols can sometimes run a little pricier than your stock Glock, but trust us, they're worth the extra coin.
MOST RELIABLE
730
at Brownells
Prices accurate at time of writing
Prices accurate at time of writing
We went hands-on with the CZ P-01, so check out our review!
5. Shadow Systems MR920 – 9mm
If you like the Glock but want something a tad more boujee…check out the Shadow Systems MR920.
This 9mm pistol adopts the basic polymer frame but jazzes it up a bit with an optics cut slide, tritium front sight, extended beavertail, and oversized mag release.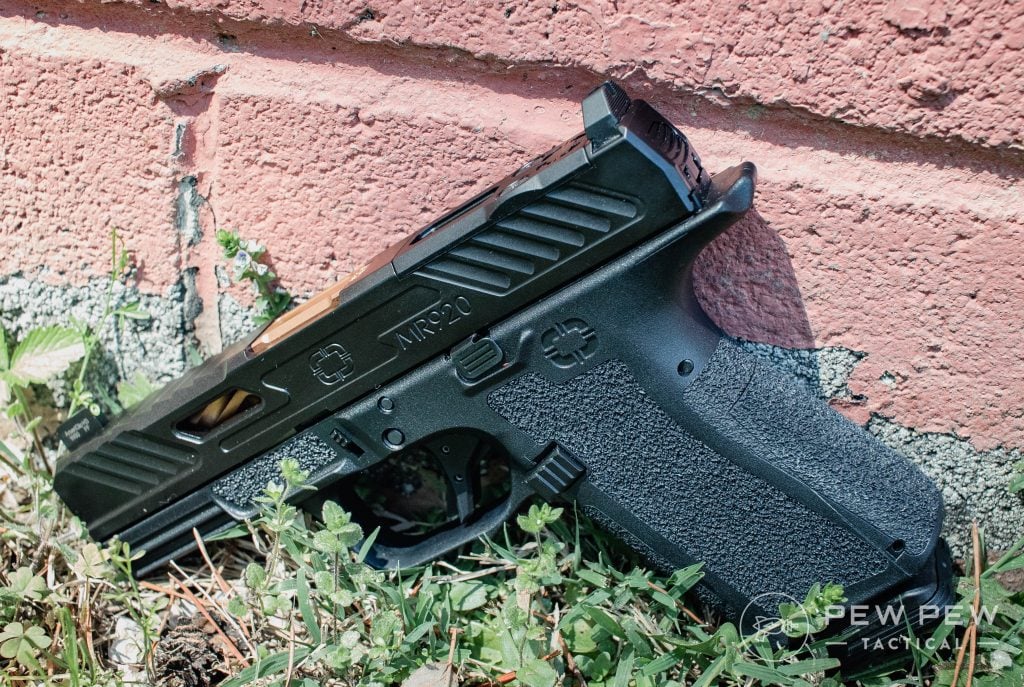 Again, like a Glock, there's no external safety, but the MR920 brings internal safety features that make for a solid pistol.
I personally love Shadow System's pistols. (I carry the older, now discontinued MR918 as my EDC.)
They run clean right out of the box, shoot smooth, and that trigger…*chef's kiss* is perfect. Downside is all the looks, and features do come at a price.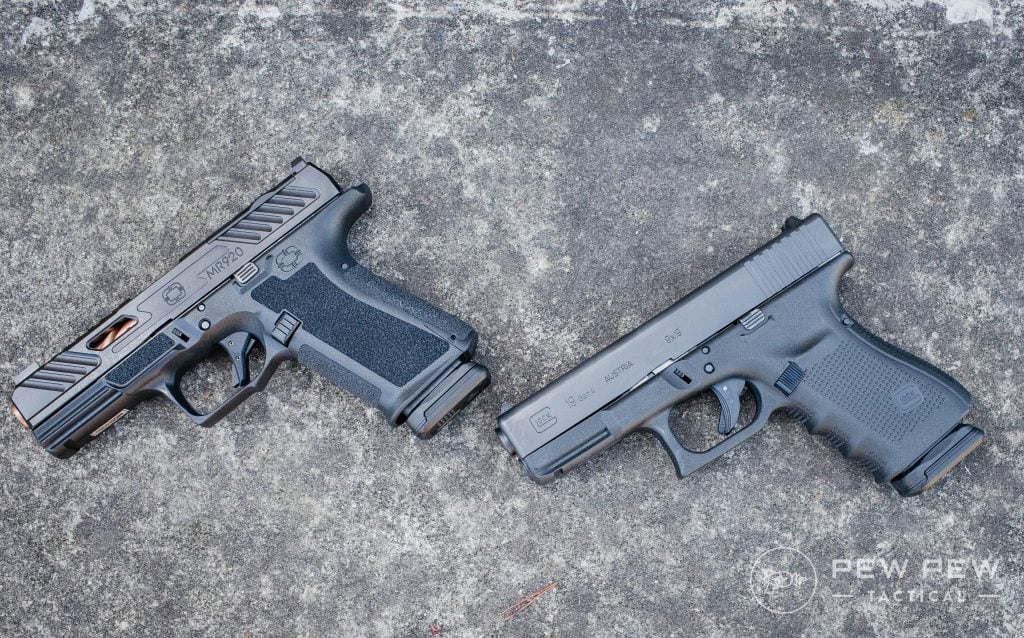 At close to $1K, this is a pistol you really gotta be committed to buying.
That said, if you want an optics-ready pistol that can take on the most popular red dots on the market, go with the Shadow Systems MR920. You won't be disappointed.
OPTICS-READY PISTOL
989
at GrabAGun
Prices accurate at time of writing
Prices accurate at time of writing
6. Ruger SR1911 — .45 ACP, 9mm, 10mm
We'd be remiss not to include a tried-and-true 1911 in our list.
While some naysayers might question women and 1911s, we say…well, it did win two World Wars, right?
All kidding aside, the 1911 is a fine platform for women and even beginners.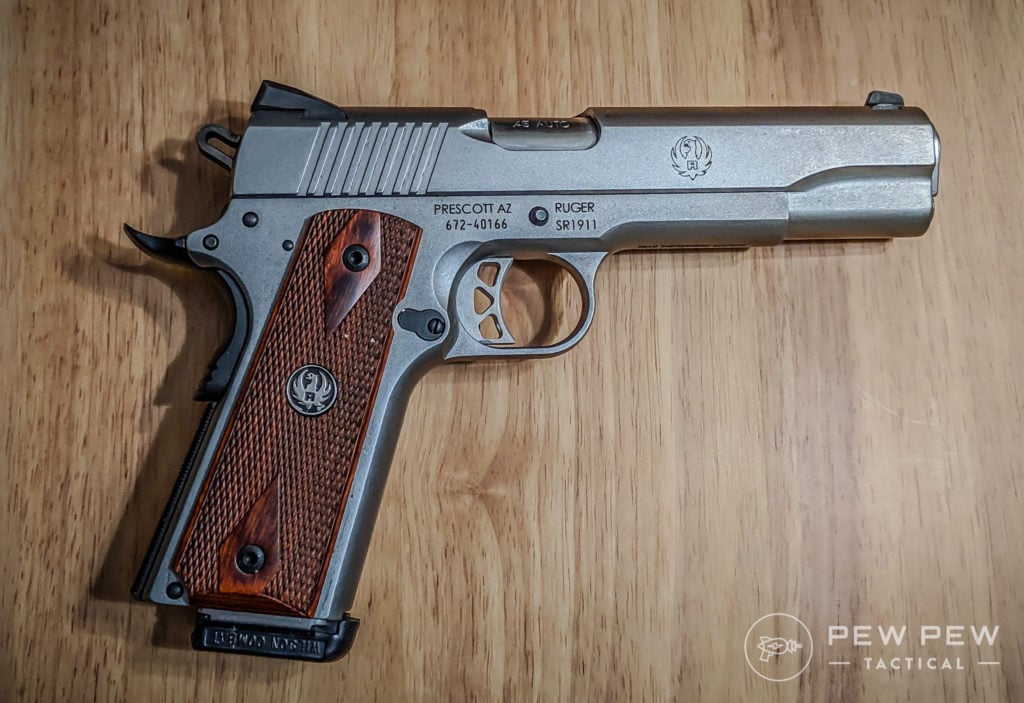 With enough practice, you'll be slinging lead like a pro.
Chambered in .45 ACP, 9mm, or 10mm, the Ruger SR1911 offers a single-stack platform with smooth shooting performance. It's a full-size gun, but those extra measurements offer plenty of room to grip and control.
This hammer-fired gun does come with an external thumb safety and a bonus grip safety. You might initially find the grips too thick, but they easily swap out for slimmer grip panels.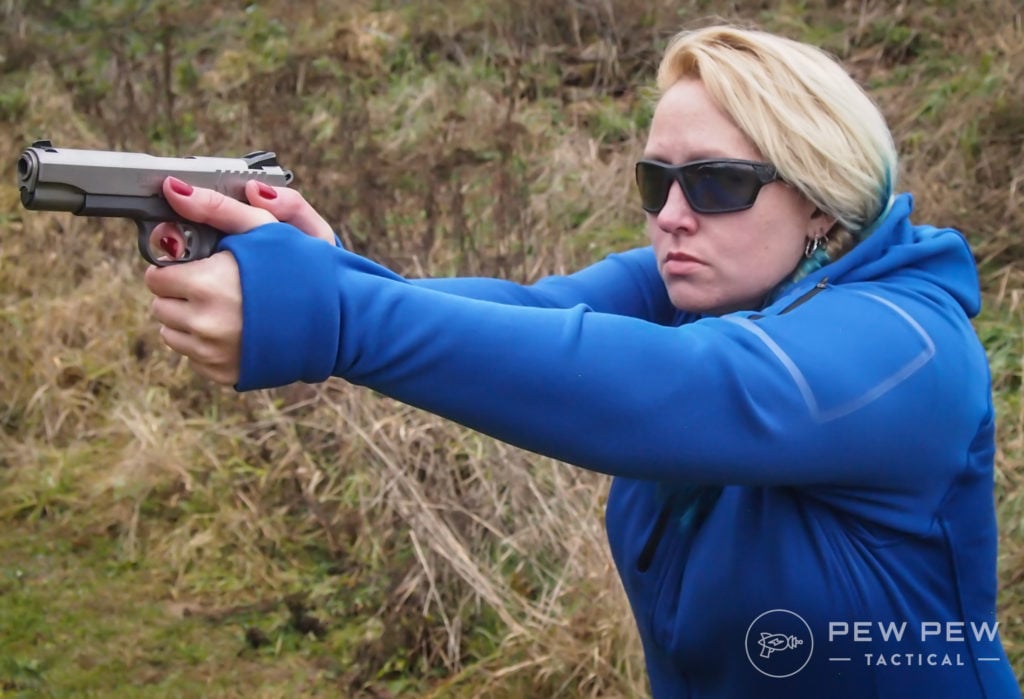 And that brings us to why 1911s are so versatile for female shooters. Those swappable grip panels give you greater latitude to thicken up or slim down.
While all models of the SR1911 work great, I love a classic .45 ACP 1911 model.
BEST 1911 OPTION
859
at Guns.com
Prices accurate at time of writing
Prices accurate at time of writing
7. Sig Sauer P226 Legion – 9mm, .357 Sig, .40 SW
Offering a little variety in the way of calibers, the Sig Sauer P226 Legion is a full-size semi-auto, double-action/single-action pistol.
What we dig about the P226 Legion are its sweet features. It offers a kickass trigger, contoured beavertail, aggressive front strap checkering, and an X-Five undercut on the trigger guard.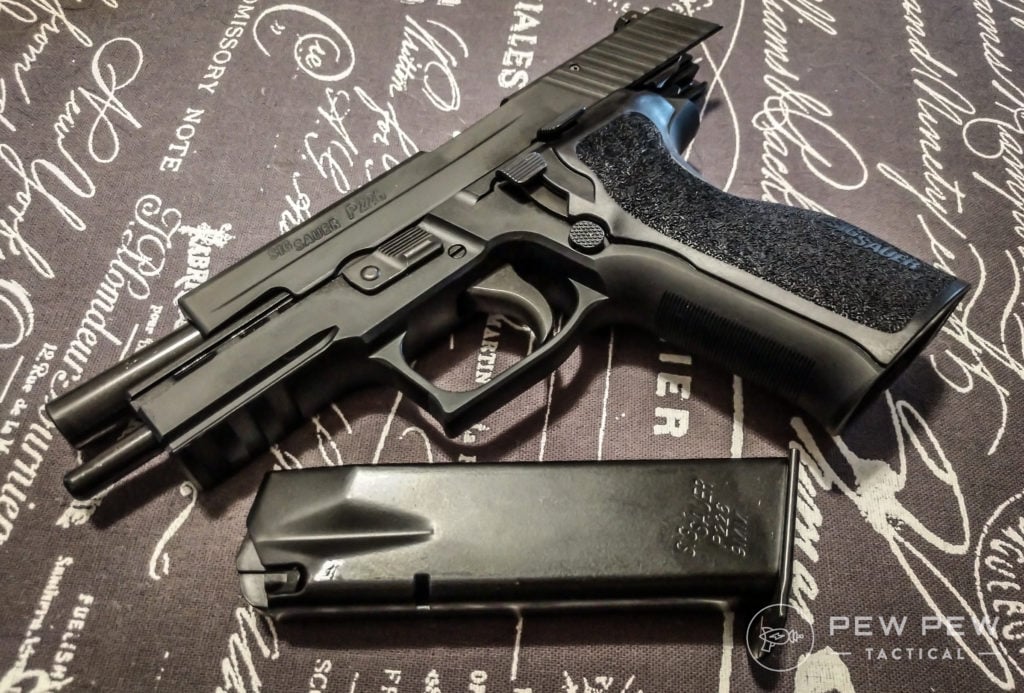 Oh, and it also sports a decocker. The decocker and slide catch lever – Sig's words, not ours – bring a low-profile design that reduces snagging while carrying.
And yeah, we'll admit, the P226 is mighty large. Maybe too large for concealed carry on some body types. But under a winter coat or during open carry, it does the trick.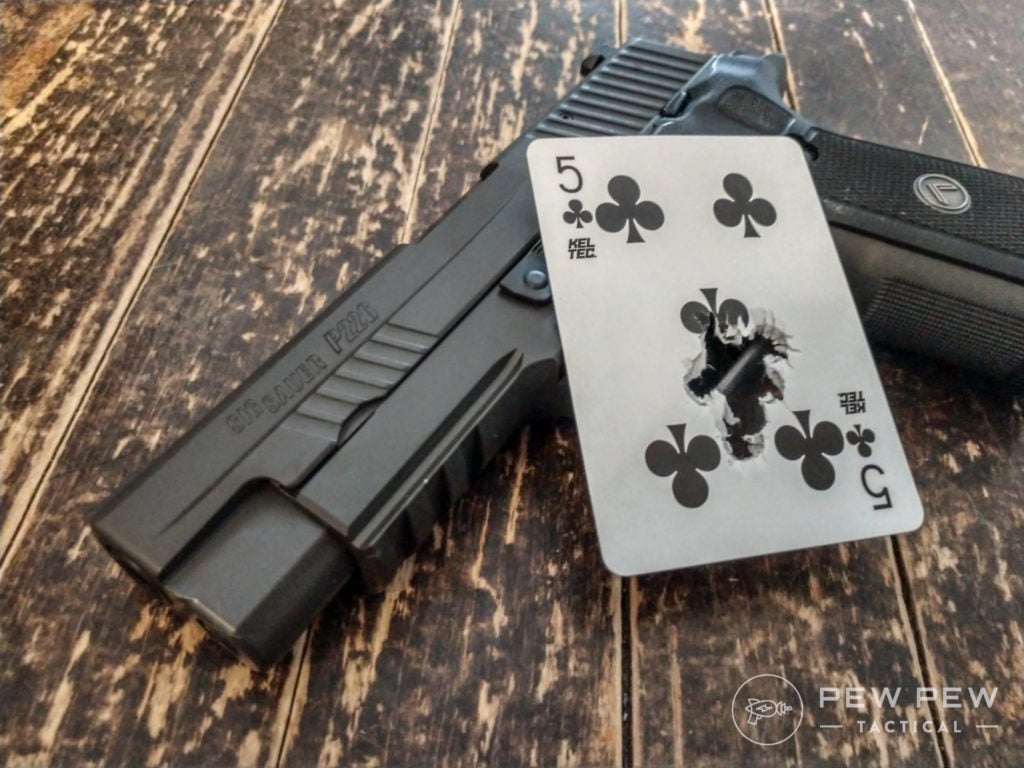 We also like the fact that you can go with 9mm or shake things up and get a .357 Sig or .40 S&W model. (Though those calibers tend to stray a bit northwards price-wise.)
All in all, if you want the safety features of a 1911 without an actual 1911, then the Sig Sauer Legion P226 delivers a nice compromise.
HIGH CALIBER PICK
1299
at Palmetto State Armory
Prices accurate at time of writing
Prices accurate at time of writing
To read more on the Sig Sauer P226, check out our review here!
8. Sig Sauer P238 – .380 ACP
The Sig Sauer P238 is one of my favorite micro-compact handguns.
It is my go-to in a dress or skirt where I'm using a non-traditional holster set-up like a belly band or thigh holster.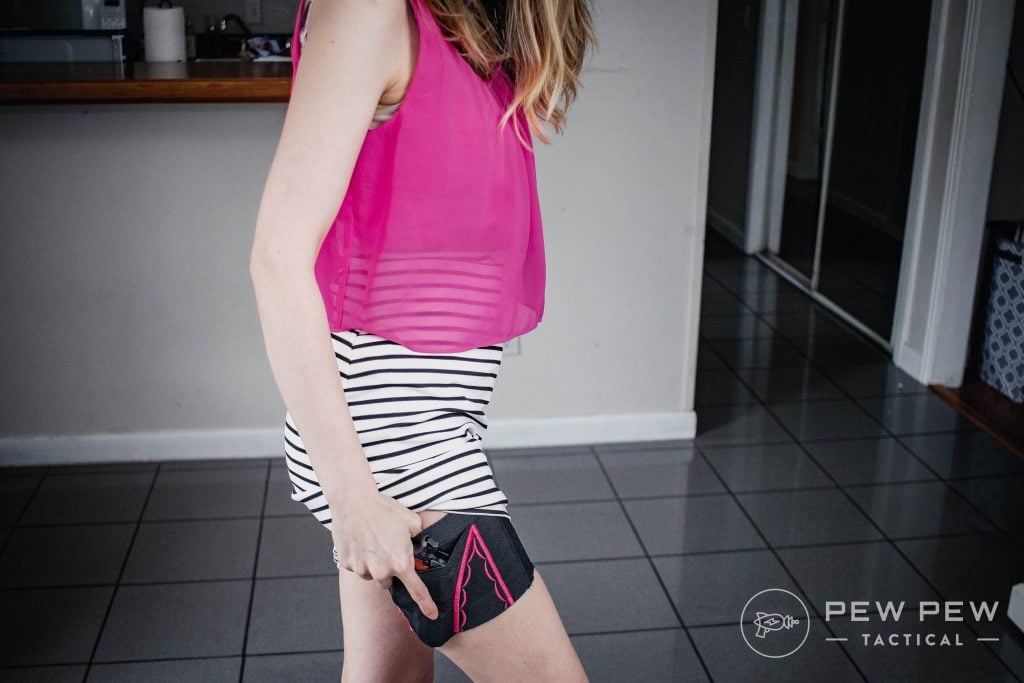 This Sig comes chambered in .380 ACP, so it can easily work as a backup gun, too, if you like to double up.
Its lightweight hammer-fired design is easy to carry and use. And it sports an external safety, so if that's a must-have on your carry gun, you're covered.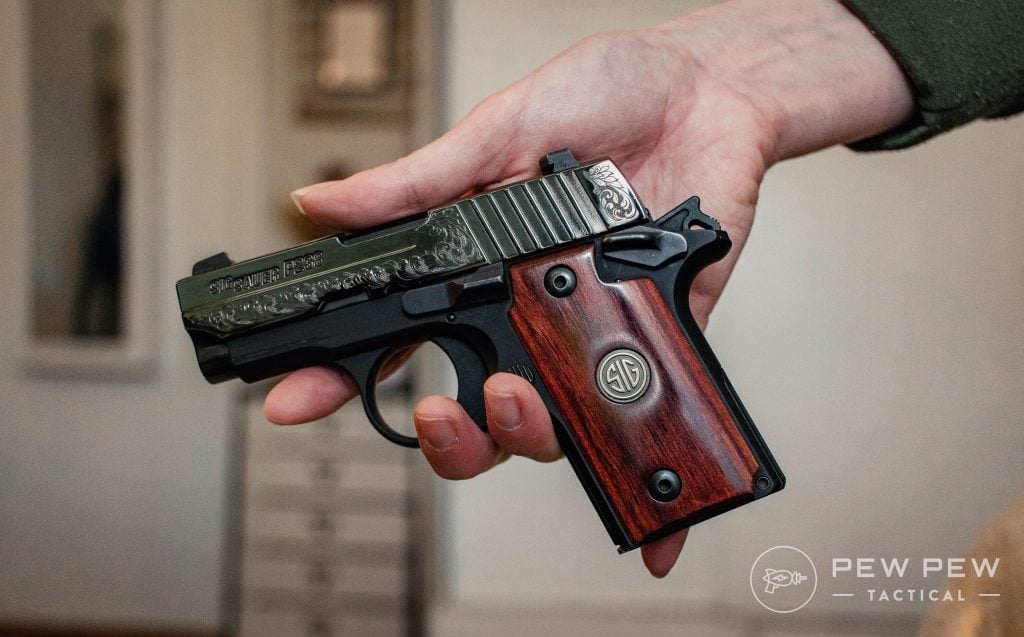 On the range, this gun brings a smooth shooting experience and is a great little plinker.
If you want the look and feel of the P238, but in a slightly large caliber. Take a look at the Sig Sauer P938. It's very similar but boasts a 9mm chambering.
MICRO-COMPACT PICK
618
at GrabAGun
Prices accurate at time of writing
Prices accurate at time of writing
What do you think of the Sig Sauer P238? Rate it below!
9. Smith & Wesson Shield – 9mm, .40 S&W, .45 ACP, & .380 ACP
The Smith & Wesson Shield is my go-to when a Glock 19 or Shadow Systems just won't do. Slim and trim, this gun tucks nicely into a belly band or works alongside tighter CCW outfits.
Controls are easy to reach and use, which is great! No fumbling required.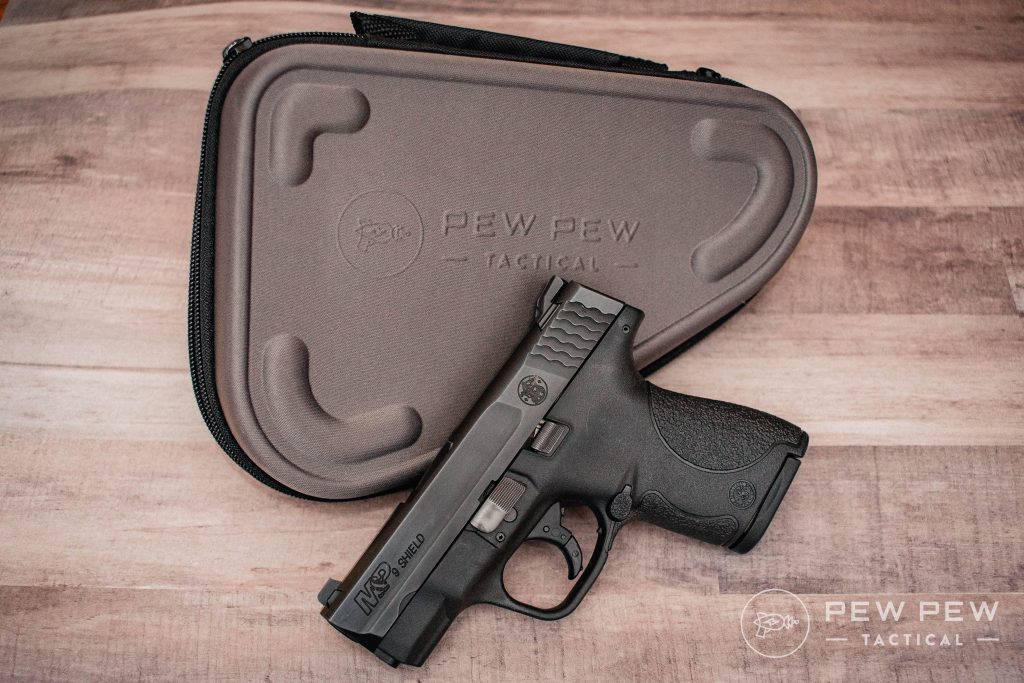 The single-stack design limits capacity to 7+1 or 8+1 depending on caliber, so you might want to stock up on spare magazines.
It's fairly lightweight and compact, but the tradeoff is a little snap while shooting. It's not terrible — definitely controllable — but something to be mindful of.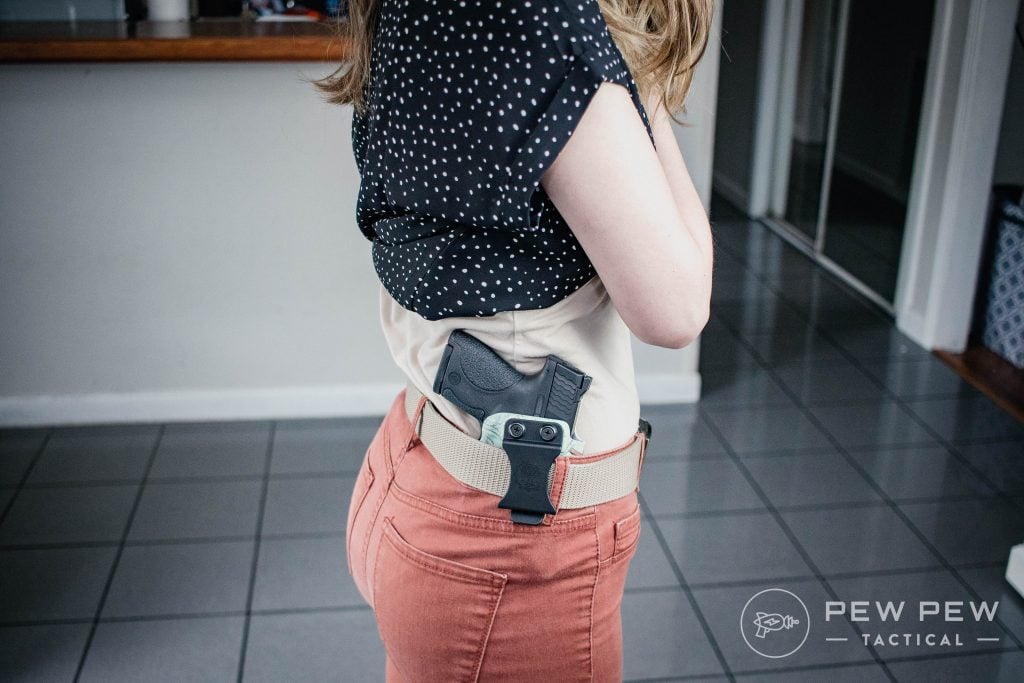 I also like that you have some options in terms of models. There's the standard Shield that comes in 9mm or .40 S&W and is your bare-bones model.
The Shield M2.0 adds .45 ACP into the mix as a potential caliber. It also comes in an optics-ready variant.
If you struggle with arthritis or hand strength issues due to injury, the Shield EZ is a great option! It features an easy to rack slide and a grip safety.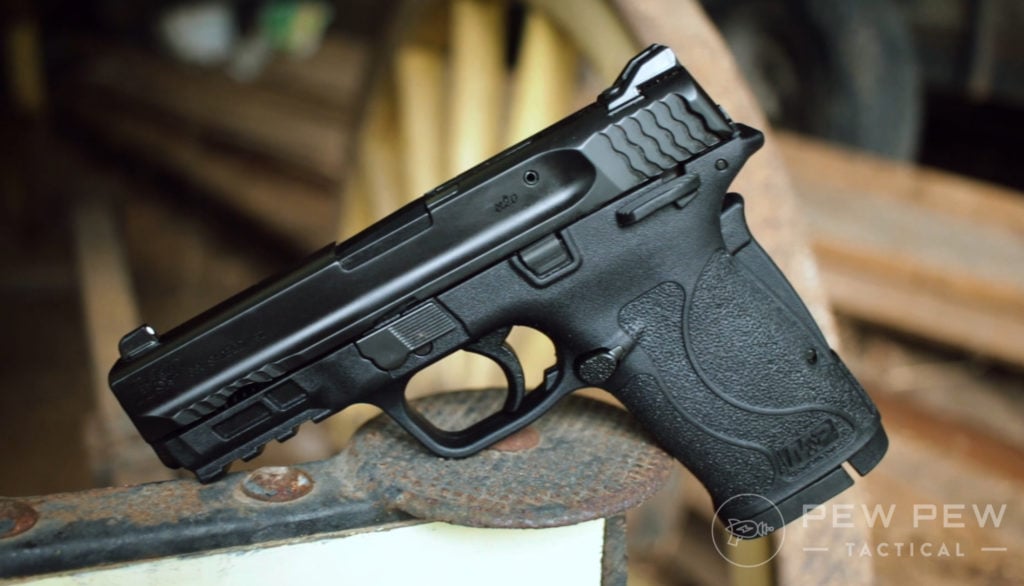 There are a lot of choices, and we like when a company brings some options to its lineup.
GREAT VALUE (SUB-COMPACT)
319
at GrabAGun
Prices accurate at time of writing
Prices accurate at time of writing
Read up on the Shield M2.0 with our review here!
10. Smith & Wesson 642 — .38 SPL
The Smith & Wesson 642 is one of those models that you either love or hate. Some people find it uncomfortable to shoot, while others, like me, think it fits the hand pretty darn well.
Regardless, the 642 is a decent little snubbie for when you want something lightweight and concealable.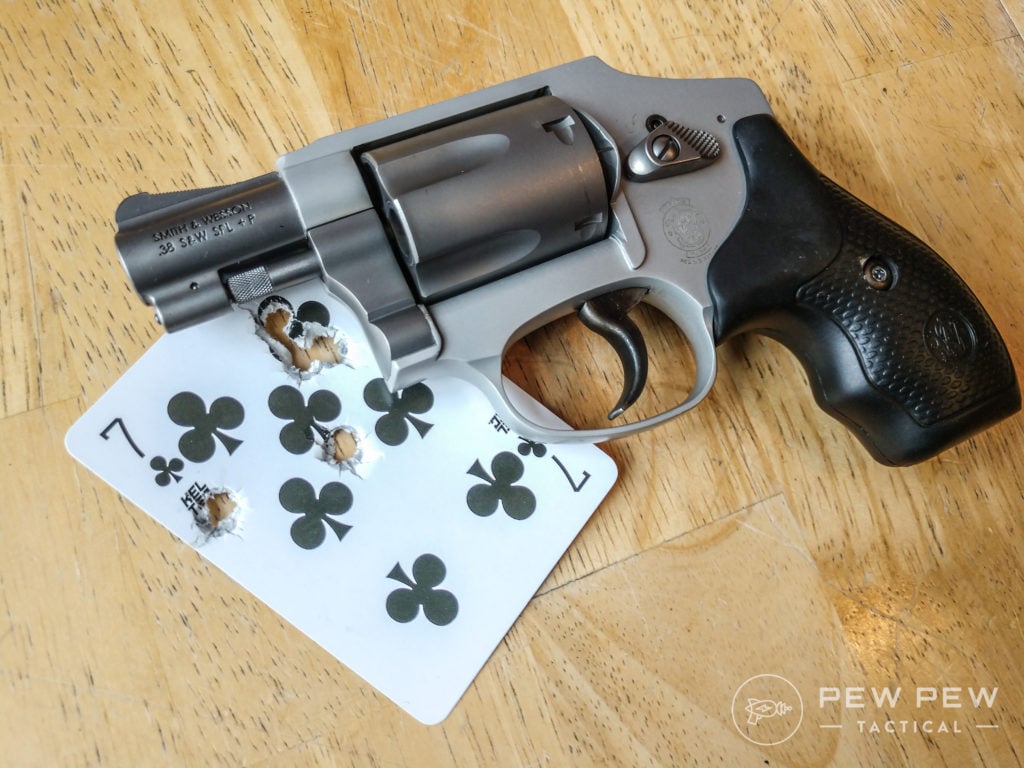 Chambered in .38 SPL, the 642 boasts a stainless-steel frame paired with a synthetic grip. What it has going for it is that it can handle +P loads.
So, if you want a little extra oomph, this wheelgun can handle it. Loading with +P rounds, though, might make your wrist a little sore.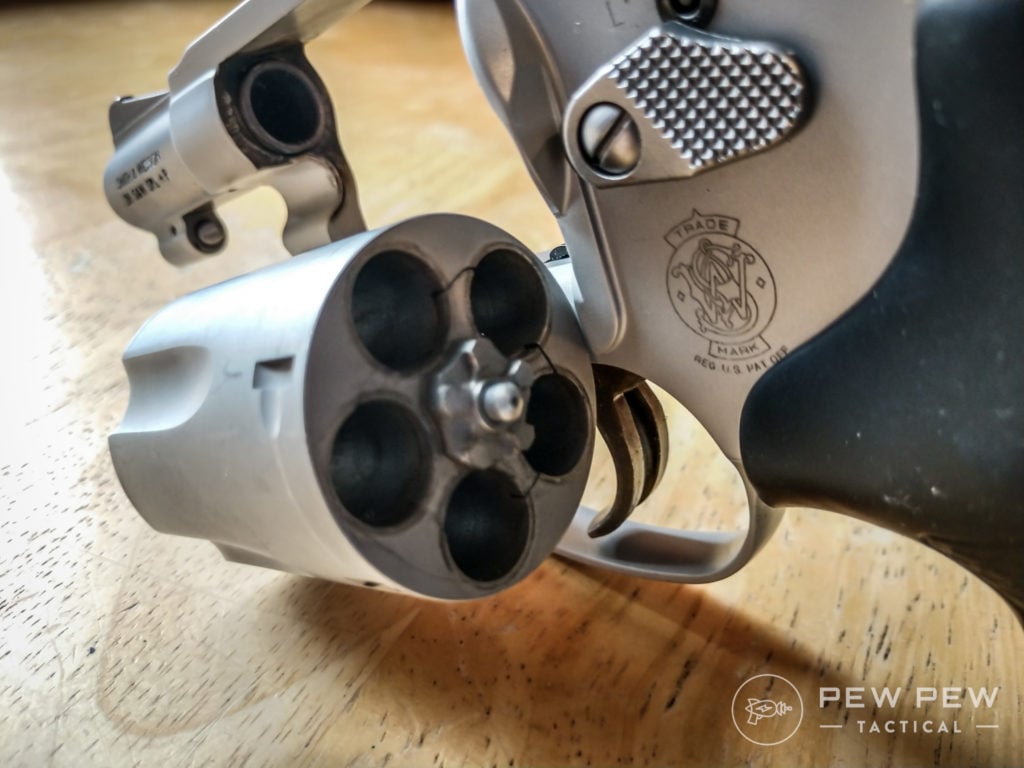 While I don't recommend plinking at the range with this one – gotta watch out for that snappy recoil on this snub-nosed revolver – it would work well as a backup gun or if you just prefer to carry a revolver.
BEST BANG-FOR-BUCK CCW REVOLVER
519
at Kygunco
Prices accurate at time of writing
Prices accurate at time of writing
Want to know more? See our review here!
Choosing the Right Caliber
Though, yes, some of us started on .22 LRs, that doesn't mean that every woman automatically needs to start there.
If you feel comfortable with the idea of a .22 LR, rock on, sister! Just don't feel beholden to that particular round.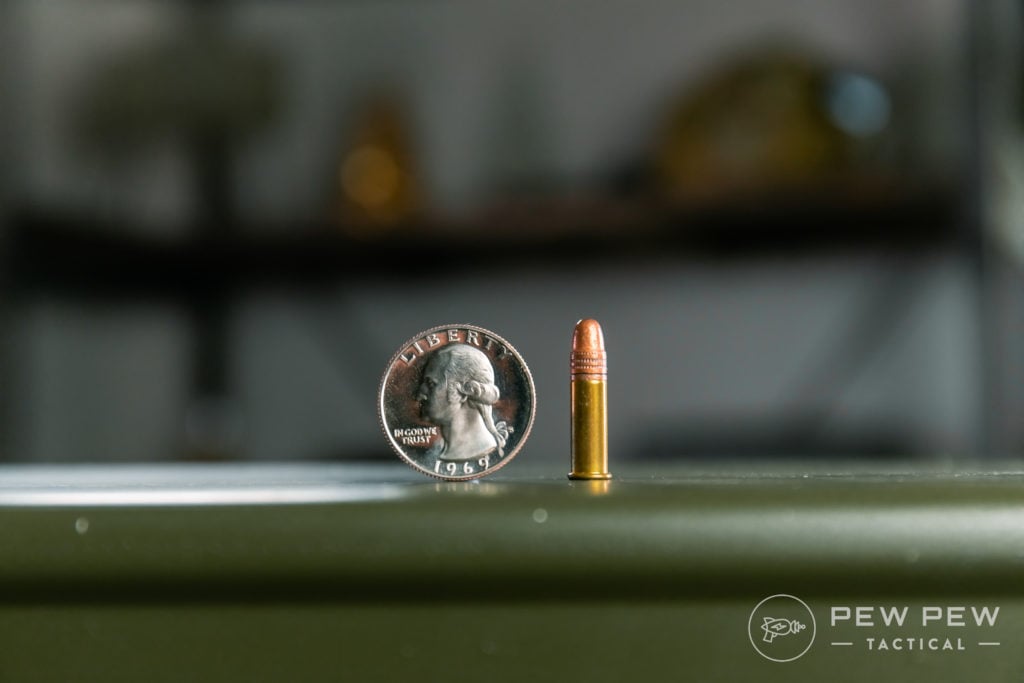 Same goes for .380 ACP.
9mm is not a terrible round to start on. It offers mild recoil, especially when paired with a full-size or mid-size gun.
Also, if that is the round you intend to carry later on, no time like the present to start training with it.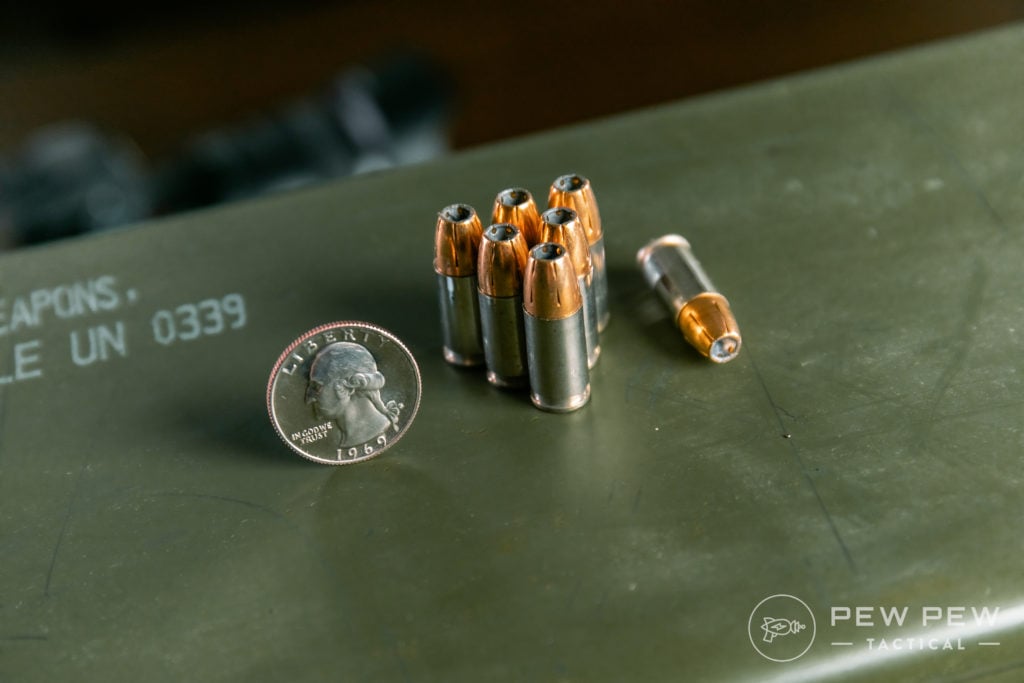 At the end of the day, decide where your comfort level lies. If .22 LR or .380 ACP seems less intimidating to start, go that route. No judgment.
If you want to start with something a little larger, like a 9mm or even a .45 ACP, that's cool too.
My only word of warning: stay away from BIG calibers in small guns. .45 Long Colt out of a pocket pistol…take it from me, that takes some getting used to.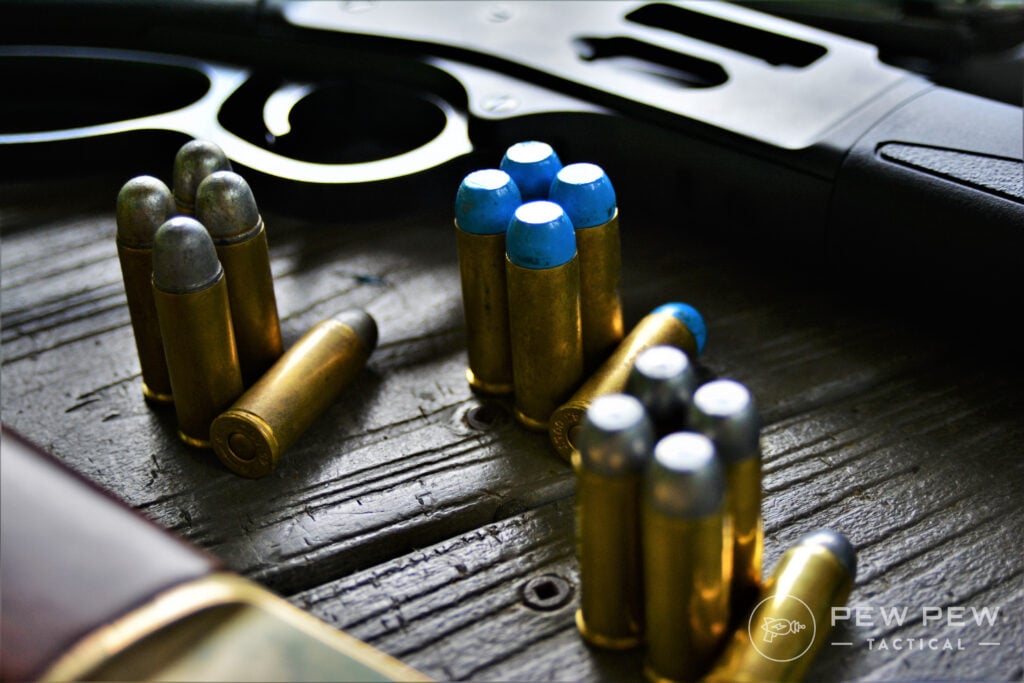 For a complete breakdown of calibers, check out our Caliber Guide.
Get a Grip…Handgun Grip That Is
Size matters…when it comes to fit of a handgun, that is.
Choosing a gun relies on much more than just what it looks like in the case. First, you need to take into consideration your body.
More importantly, your hand size and shape play a major factor in whether a gun feels comfortable when shooting.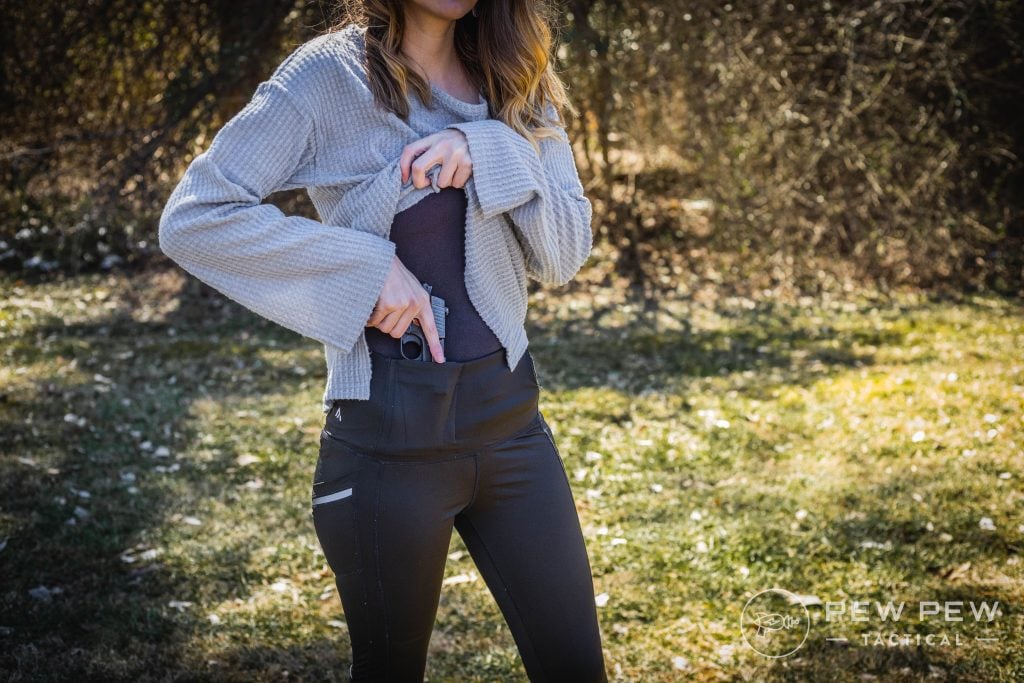 For instance, my palms are slightly smaller than the average males, BUT I have very long fingers.
So, a gun sporting wider grips across don't work for me. That said, more girth front to back, I can work with.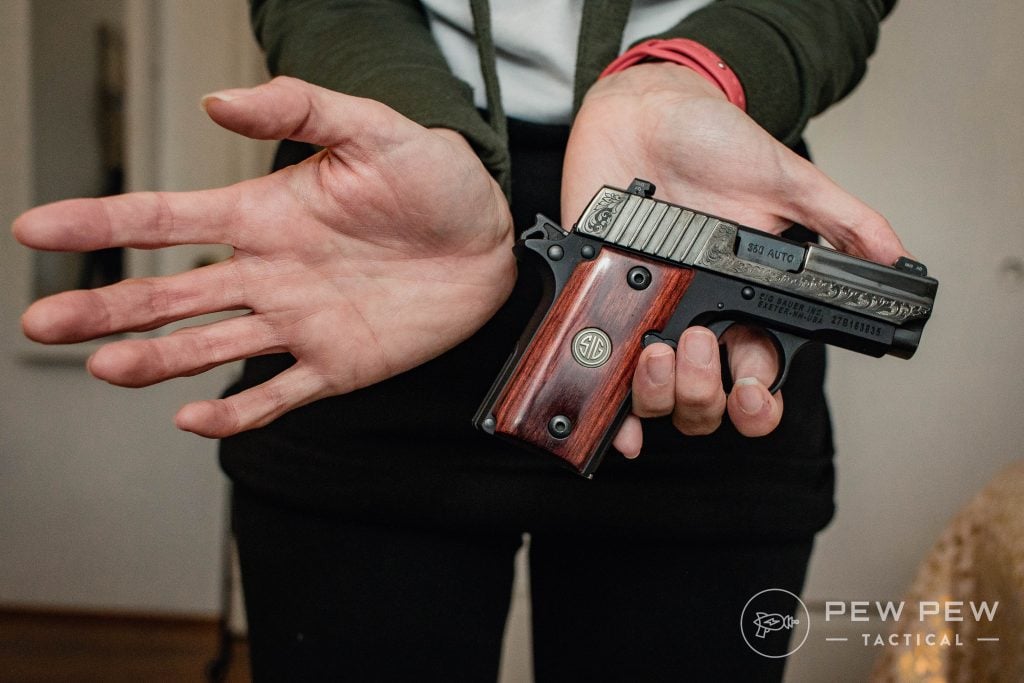 A gun that is too big for your hands will require constant adjustment, while a gun that is too small can feel uncomfortable. So, you really want to evaluate your hands and match them with the right gun.
So how do you do this?
By trying out various guns, of course!
Gripping Your Gun
When you pick up a handgun, the palm of your hand should have full contact with the backstrap.
More importantly, your wrist and arms should be aligned with the gun's frame when in a firing grip. This helps manage recoil and improves control.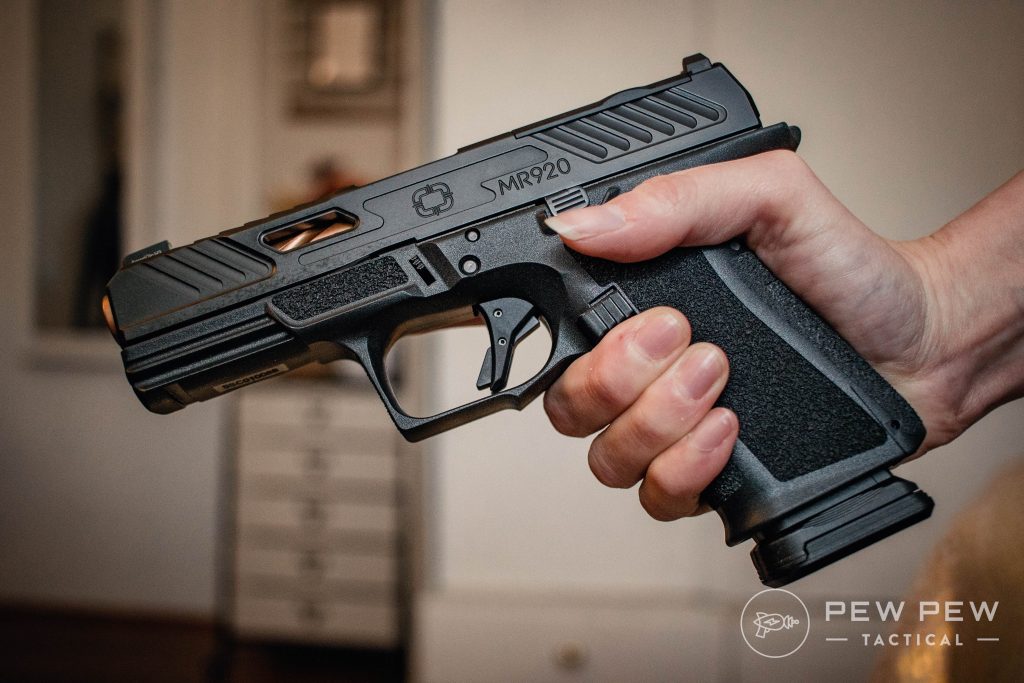 If you find yourself canting to one side or at an upward/downward angle, your firing grip is off. Most likely, you're compensating for the gun.
To learn more about achieving a proper grip, check out our guide on How To Grip a Pistol.
Trigger Reach
Also, consider where your trigger finger falls.
You really want a consistent trigger press, and to achieve this, I try to center the pad of my trigger finger on the trigger.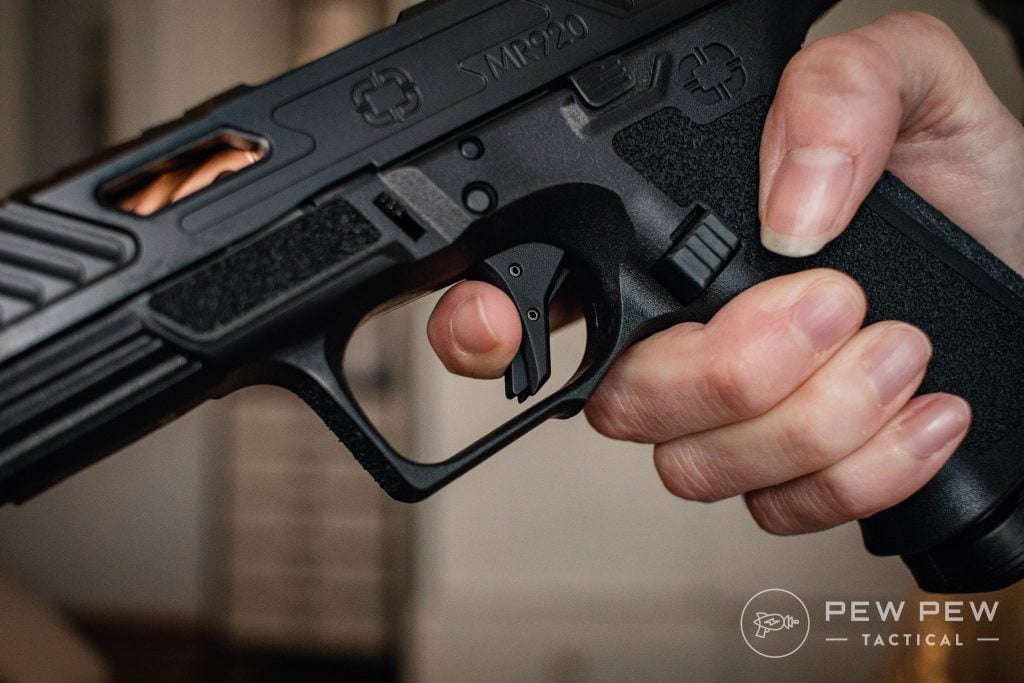 This allows me to apply nice, even pressure and prevents any jerking to one side, throwing off shots.
So, as you're testing out new guns, be aware of where your trigger falls.
If you find you can only get a fingernail on the trigger, the gun is too big for your hands. If the middle part of the trigger finger wraps around the trigger, the gun might be too small.
Like Goldilocks, we need it just right.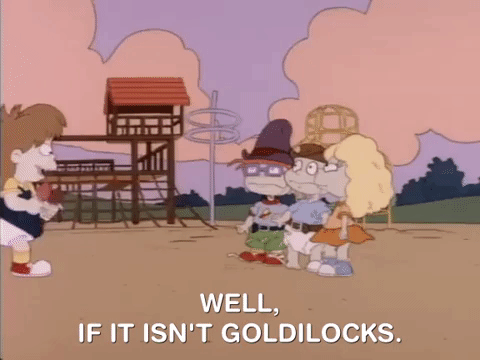 To work on your technique, check out our tips here!
Controls
Finally, when gripping the gun, all controls should be within reach without any major adjustments to your grip.
I'm talking safety, decocker (if your gun has one), and mag release.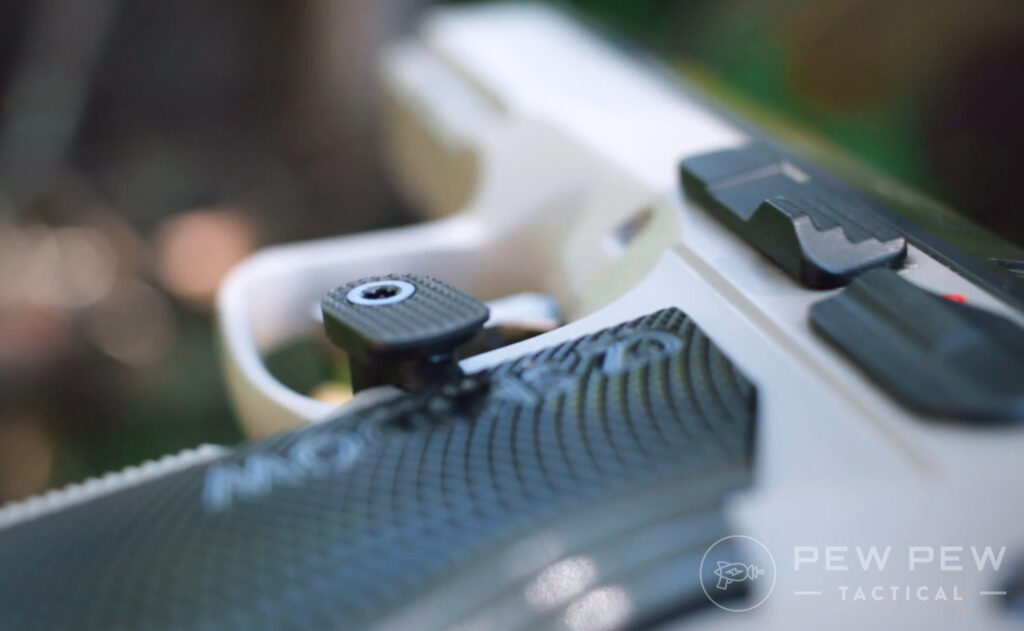 Shifting your grip to work any of these controls ultimately reduces your accuracy and speed.
Busting Gun Myths: Small Guns & Revolvers
I've been a gun owner for well over a decade now. It never fails that when I walk into certain gun stores, I am immediately ushered over to the teeny-tiny guns.
Unfortunately, this is a bad habit among some dealers and even well-meaning boyfriends.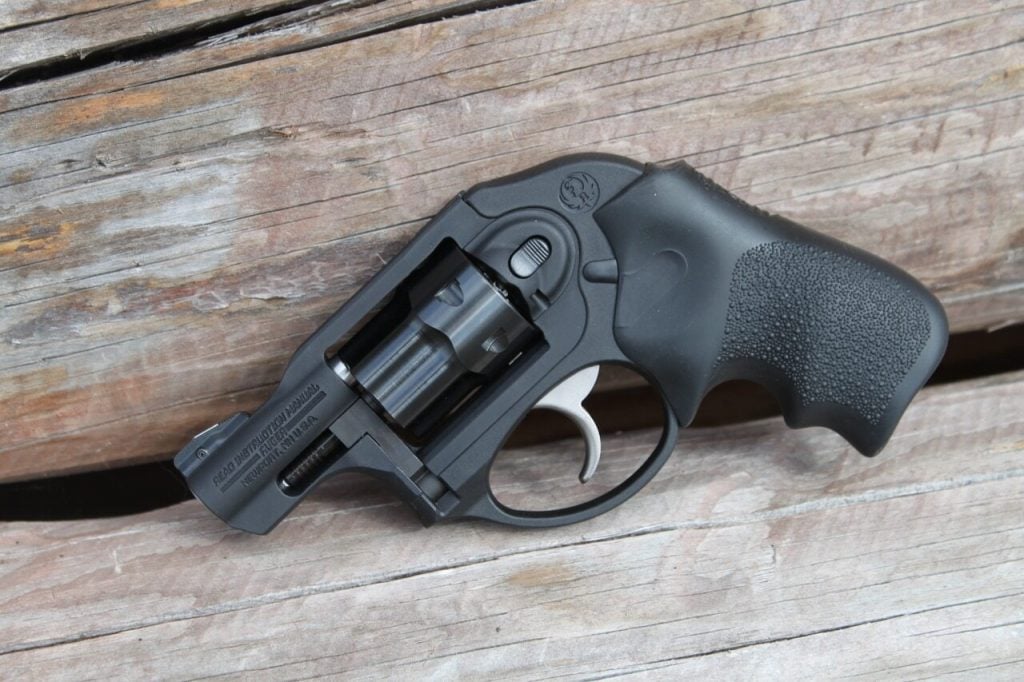 Smaller does not mean more comfortable to shot. Even further, smaller guns with certain calibers are actually more difficult to shoot.
Pocket pistols tend to introduce far more muzzle rise than their full-size counterparts.
Straight up, I shoot a full size 1911 much better than I do a pocket pistol in 9mm.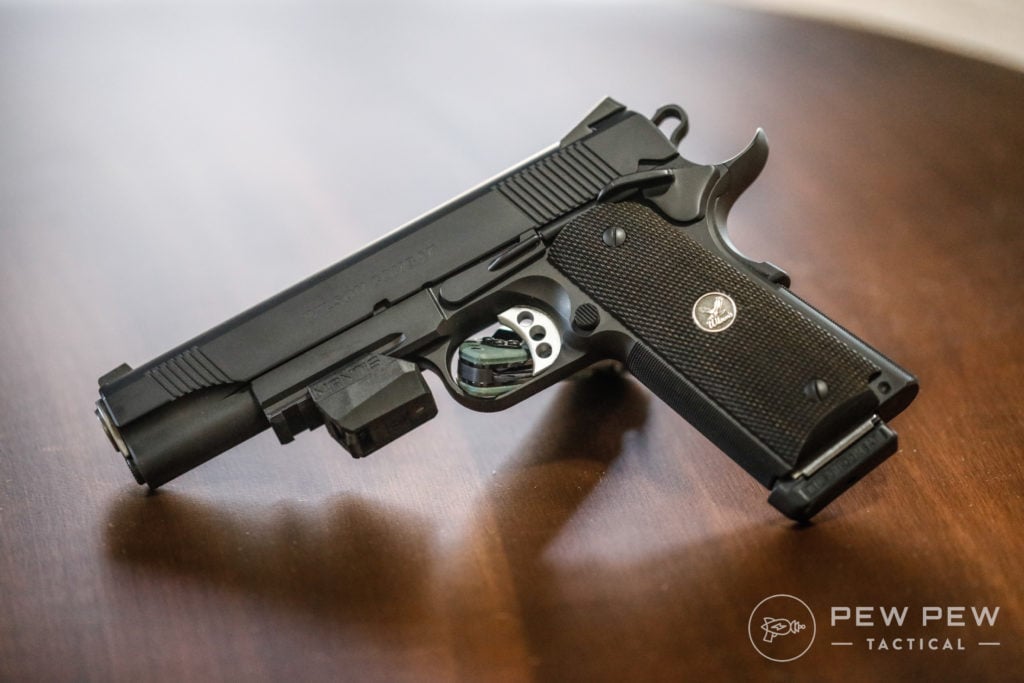 Doesn't mean you can't shoot pocket pistols, just be aware of that going in.
Also, some dealers like to force revolvers on women, touting them as "foolproof" and simple. While, yeah, revolvers feature fewer moving parts than semi-autos, a Glock is pretty simplistic and just as easy to learn.
The reality is any gun can fail at any time. Nothing is foolproof.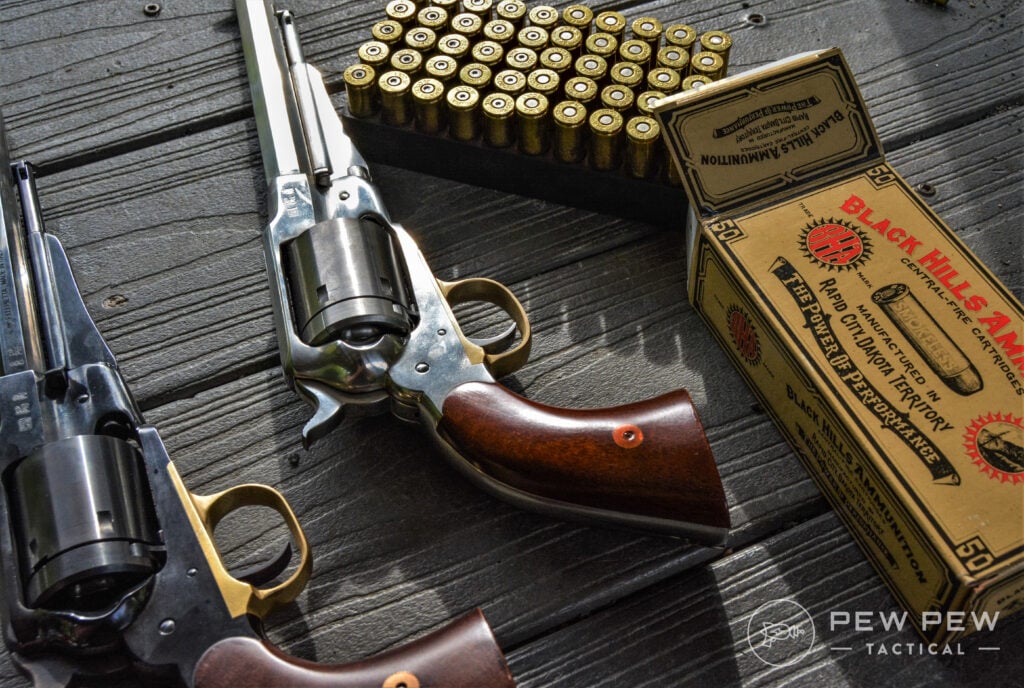 So, choose the gun that speaks to you and don't feel pressured into one that's "perfect for the ladies."
Conclusion
Finding the right gun is a lot like finding the right bra – you have to try a few before you land on the one that fits just right.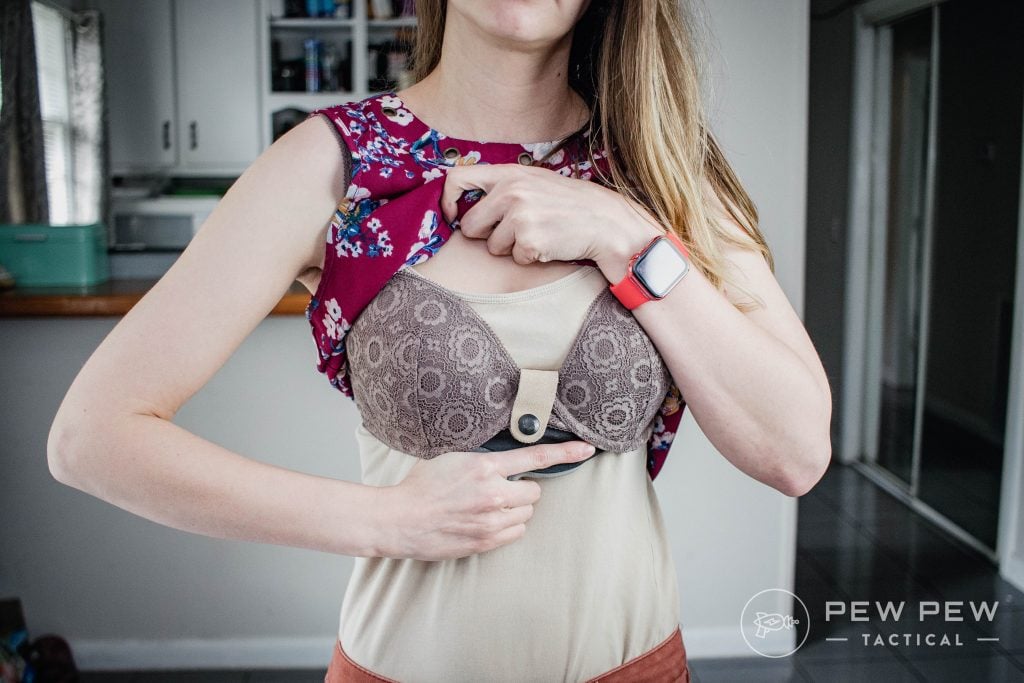 Our suggestion? Find a local range that rents guns and test some out. You'll quickly figure out what works and what doesn't.
While this list is not exhaustive, and there are plenty of other suitable guns for the ladies, we hope we've given you a starting point in your pistol purchasing journey.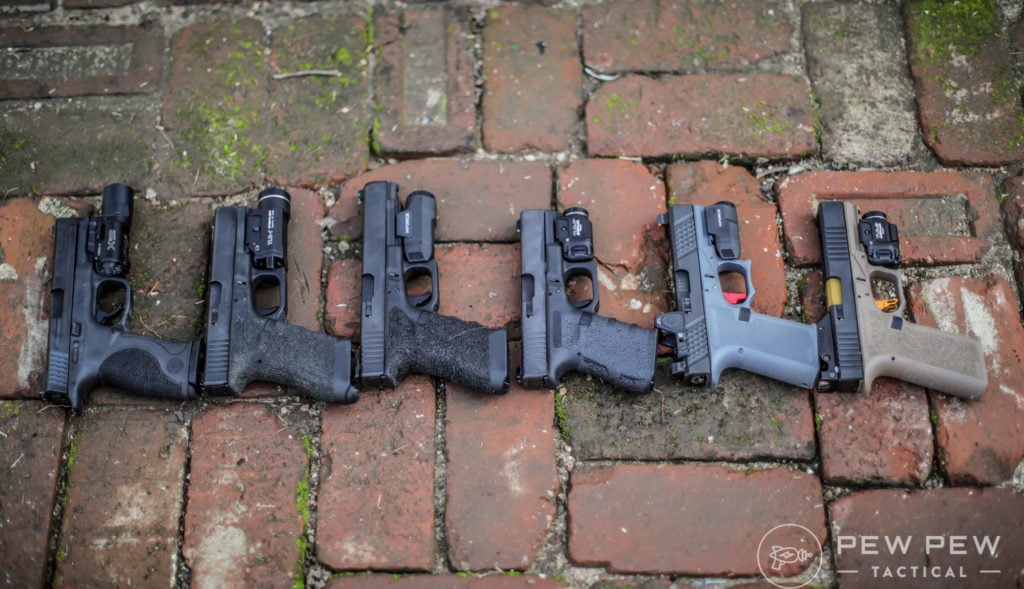 Ladies, what's your go-to handgun? Let us know in the comments below. Also, if you're looking for tips on CCW, check out the Best Way to Concealed Carry for Women or head to our Women's Category to see all our female-centric articles.