Everyone here already knows that Glocks are famous for two things: dependability and hardiness.
But there's a third reason why avid firearms enthusiasts like Glocks…customizability.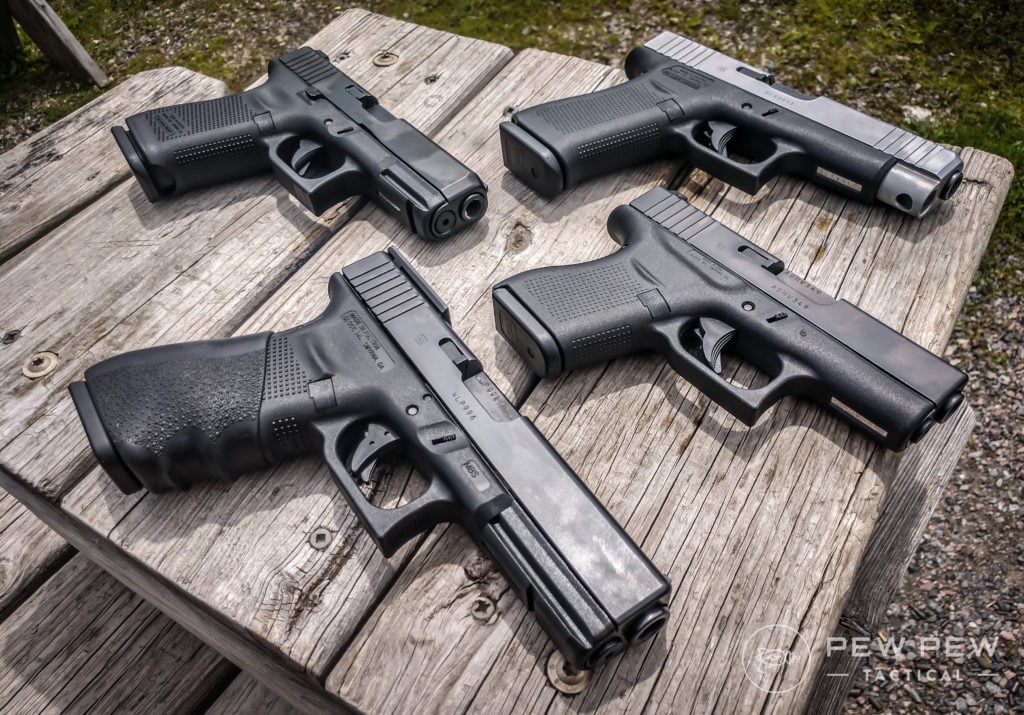 Think of Glocks as the AR-15 of handguns. You can take any Glock straight from the box, break it down, and rebuild it into a different gun altogether.
But what companies should you be shopping with when deciding on Glock parts? Well, we've tracked down some of the best parts makers that specialize in…you guessed it, Glock parts.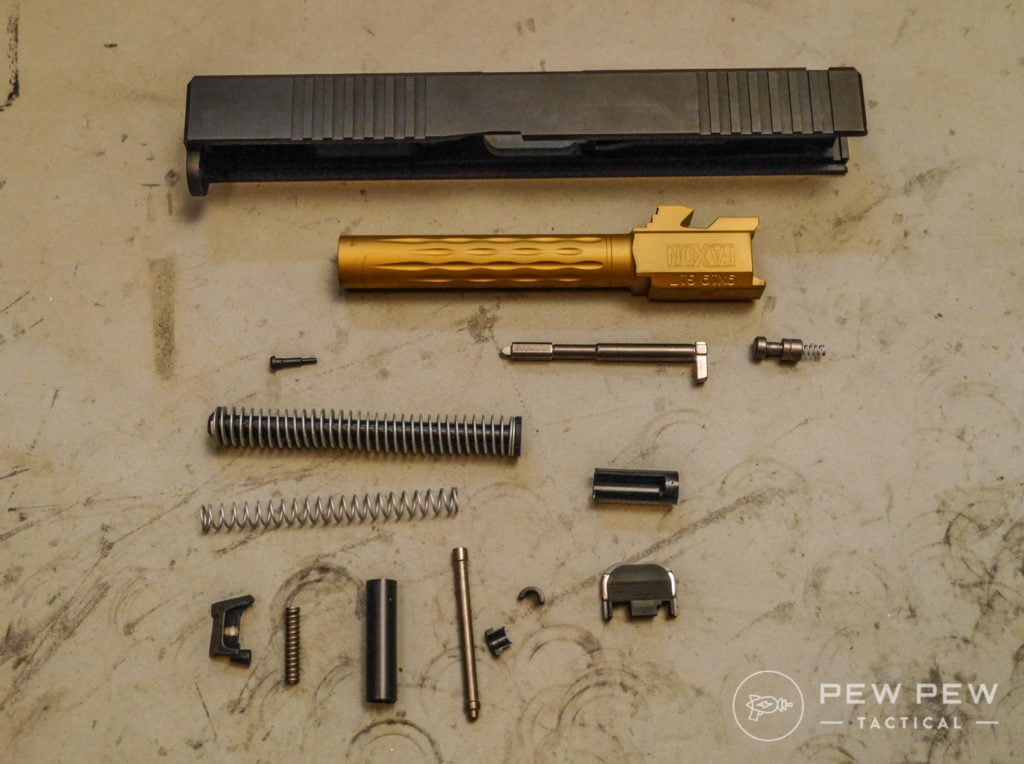 Each of these companies has a competitive range of products that will turn your factory model into the Gucci Glock of your dreams.
Let's get started.
Best Aftermarket Glock Companies
1. Lone Wolf Distributors
Lone Wolf is one of the most popular and widely used aftermarket Glock companies in the industry. Anyone who's half of a Glock enthusiast will be able to recognize their iconic "dire wolf" logo at first glance.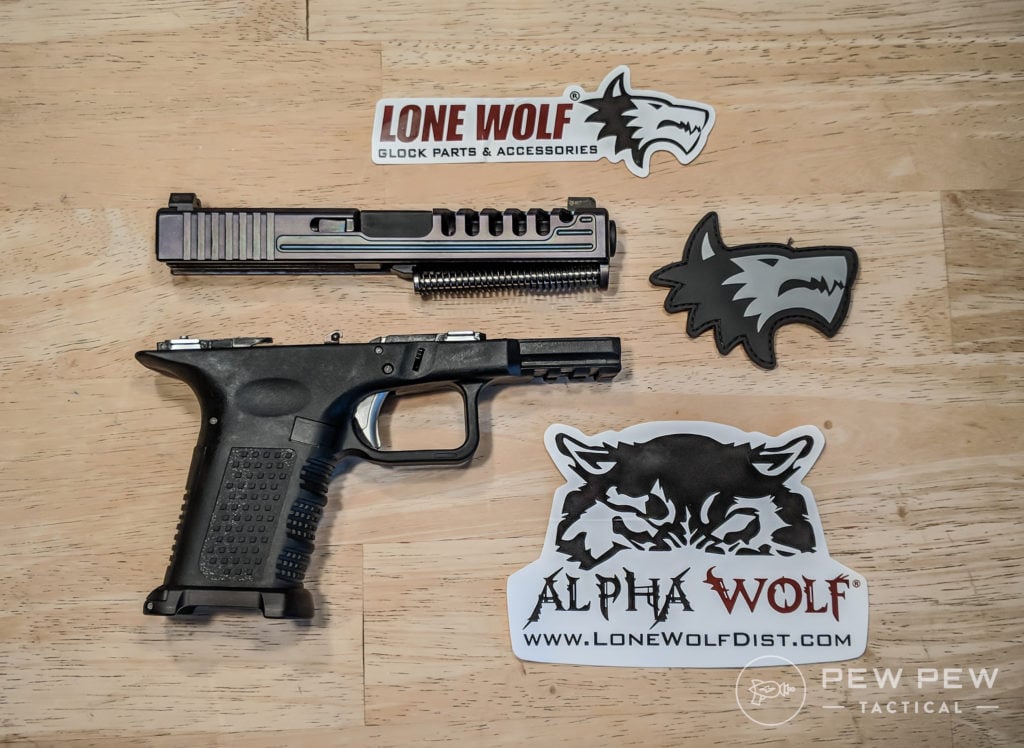 Needless to say, when it comes to standard Glock parts, Lone Wolf has you covered.
You might also be happy to know that they've got a whole range of unorthodox Glock parts to help you build something far beyond the average handgun.
They've got everything from aggressive slide cuts to loud color schemes, so finding a setup that's your style won't be hard at all.
12
at Brownells
Prices accurate at time of writing
Prices accurate at time of writing
2. Grey Ghost Precision
Grey Ghost Precision offers slides and barrels for your Glock 17 and 19 models that really help give your gun an intimidating look.
Nice as they look, what I like most about Grey Ghost is their quality. Every slide is made in-house to ensure that they meet the company's stringent durability and aesthetics standards.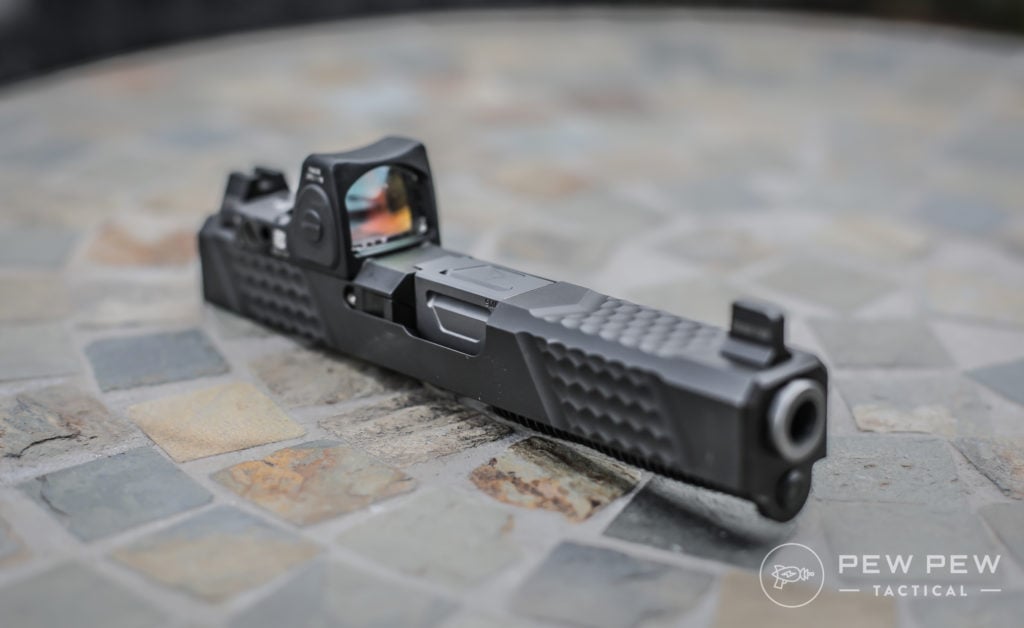 They're also made from high-quality 17-4 billet stainless steel, which gives the gun a nice finish but also keeps it operating as smoothly as it would with a factory slide.
In the end, Grey Ghost's approach to designing products places them a step above other aftermarket Glock manufacturers out there.
402
at Brownells
Prices accurate at time of writing
Prices accurate at time of writing
3. Zev Technologies
When it comes to slides, magazines, and barrels, Zev pulls out all of the stops. Their parts are known for aggressive cutouts and flashy colors, giving them a real Hollywood-like look.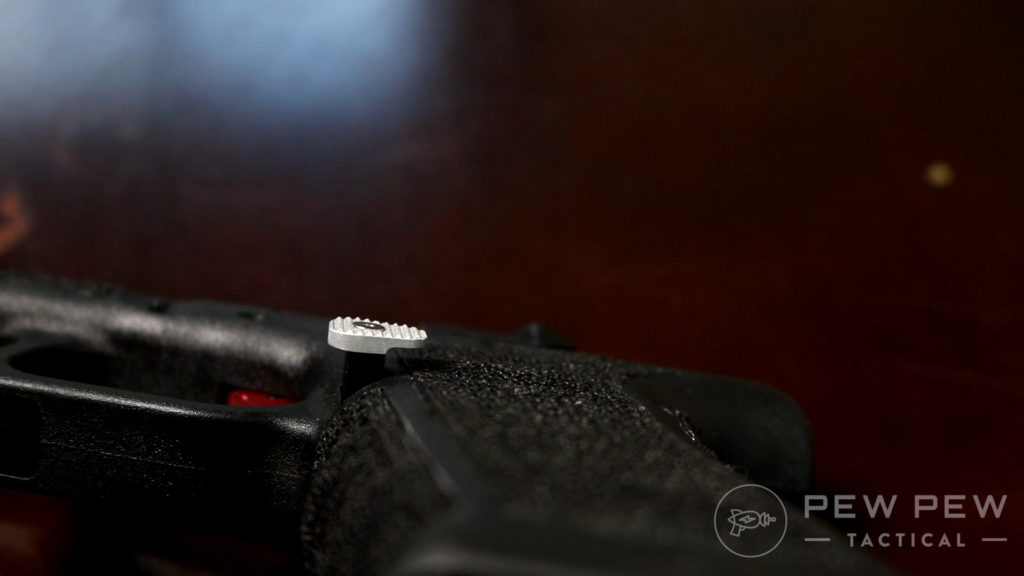 One of the things that I love the most about Zev is they can completely transform the way your gun looks. But they actually do it so well that I feel like my Glock becomes too pretty to shoot.
If flashiness isn't your thing, they've got traditional-looking parts as well. Some of the components you can get are strikers, springs, barrels, sights, guide rods, and mag releases.
But the best part about Zev isn't their superficial upgrades…it's their triggers.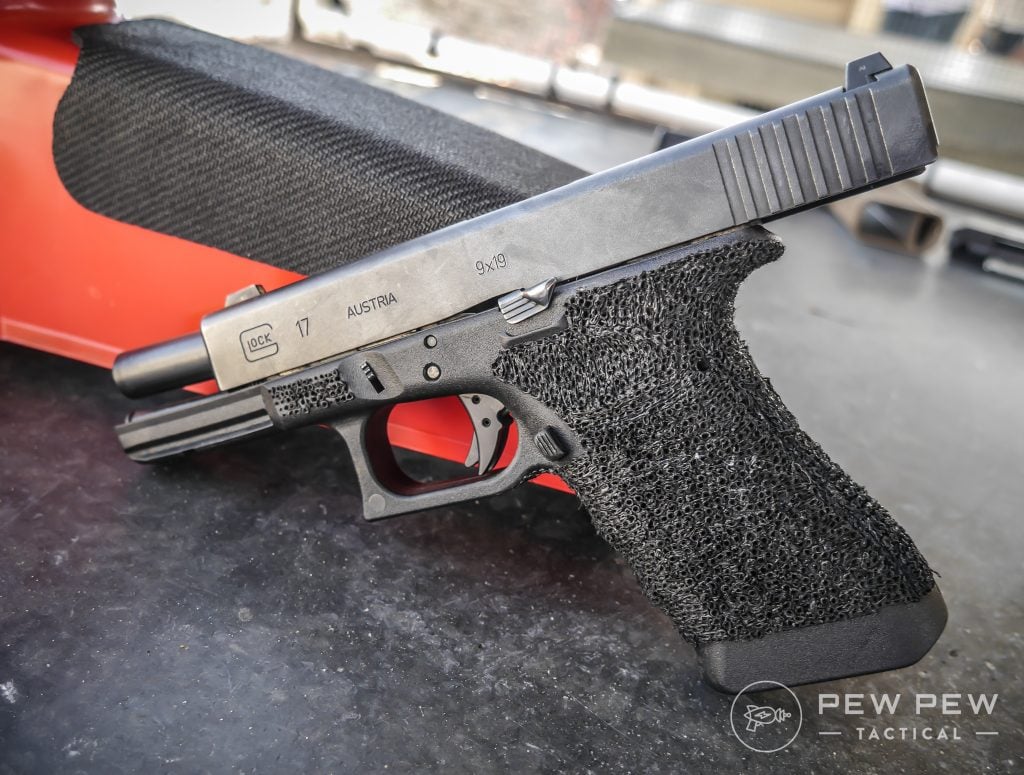 While I personally like Glock's factory trigger system, some people feel that Glock triggers feel spongey. Zev fixes this problem by developing a range of triggers designed with competitive shooters in mind.
What you get when you switch to their system is a smoother trigger stroke with minimal reset.
217
at Palmetto State Armory
Prices accurate at time of writing
Prices accurate at time of writing
What do you guys think of Zev? Rate them below.
4. Faxon Firearms
Faxon is newer to the Glock game, but their barrels have taken the game by storm! We've reviewed a lot of Faxon barrels, including their very popular AR-15 Gunner and Pencil profile barrels.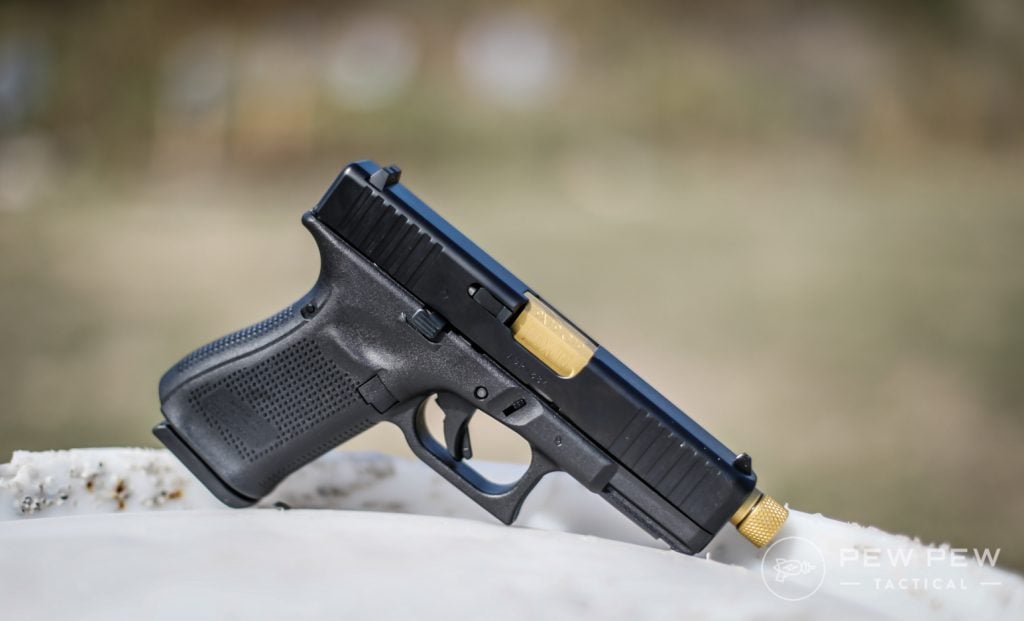 We've also done an in-depth review of their Glock barrels and we have to say…these are nice!
If you're looking for an fancy barrel, a match-grade accurate barrel, or one rugged enough to stand up to duty use — Faxon is what you're looking for.
179
at Faxon Firearms
Prices accurate at time of writing
Prices accurate at time of writing
5. Adams Arms
Adams Arms, the piston AR gurus, have their hands all in the Glock pie.
They've produced their own Glock, the AA19, and also create several Glock parts. The AA19 is everything I've always wanted out of a Glock 19. Not to mention, the parts and pieces they shove in it make it a fantastic off-the-shelf option for shooters who want something Gucci without the work.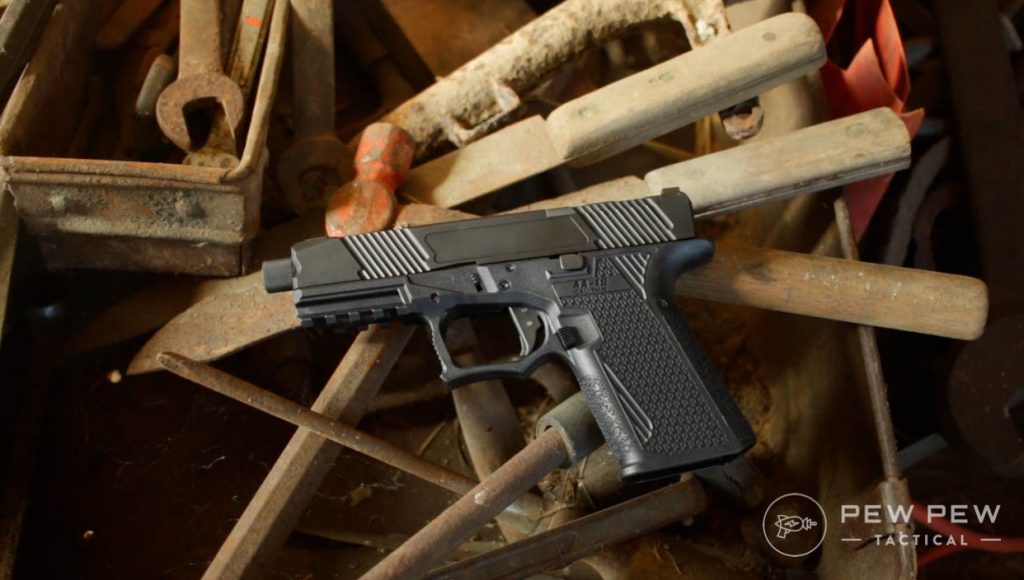 Adams Arms also produces several custom slides that come stripped, complete, and more. These slides feature all the fancy optic cuts, lightening cuts, aggressive serrations, and more to make them 21st-century options. They range in features, and the VDI Enforcer is a downright affordable custom option.
Adams Arms also produces a cool slide adapter that allows you to mix Gen 1 through 3 slides onto Gen 4 frames.
319
at OpticsPlanet
Prices accurate at time of writing
Prices accurate at time of writing
They've also produced some incredible threaded barrels that give you match-grade accuracy and threading to make your gun full gamer.
Adams Arms is known mainly for their ARs, but if they keep it up, they'll be a Glock company before they know it.
6. Agency Arms
Agency Arms is a custom pistol company that embraces the Sig Sauer P320, FN 509, Smith & Wesosn M&P, and Glock.
They started as a Glock custom shop, sitting firmly in their roots. If you want to take your Glock from plain to outstanding…Agency Arms has you covered.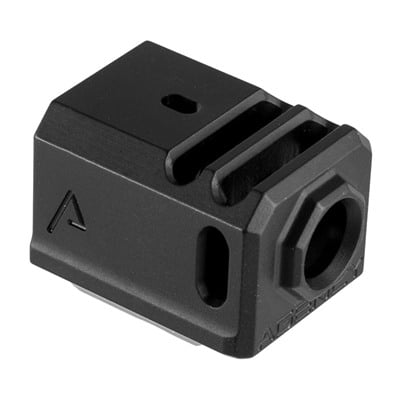 This company offers fancy slides, amazing triggers, magwells, barrels, compensators, and innovative optics mounts that change the game.
One of my favorite parts and accessories is the 417 Compensator. Comps are a dime a dozen, but the Agency Arms 417 lets you move your front sight forward and mount directly to the compensator. This extends your sight radius and makes the front sight easier to track, at least for me anyway.
200
at OpticsPlanet
Prices accurate at time of writing
Prices accurate at time of writing
Beyond their comps, they offer some downright beautiful slides and are worth a peek if money isn't a big deal.
7. Wilson Combat
Wilson Combat is one of those legacy 1911 gunsmith companies that wisely evolved as the times changed.
They dove into the Glock world by producing both custom Glock pistols and accessories to make your own Glock a custom rig.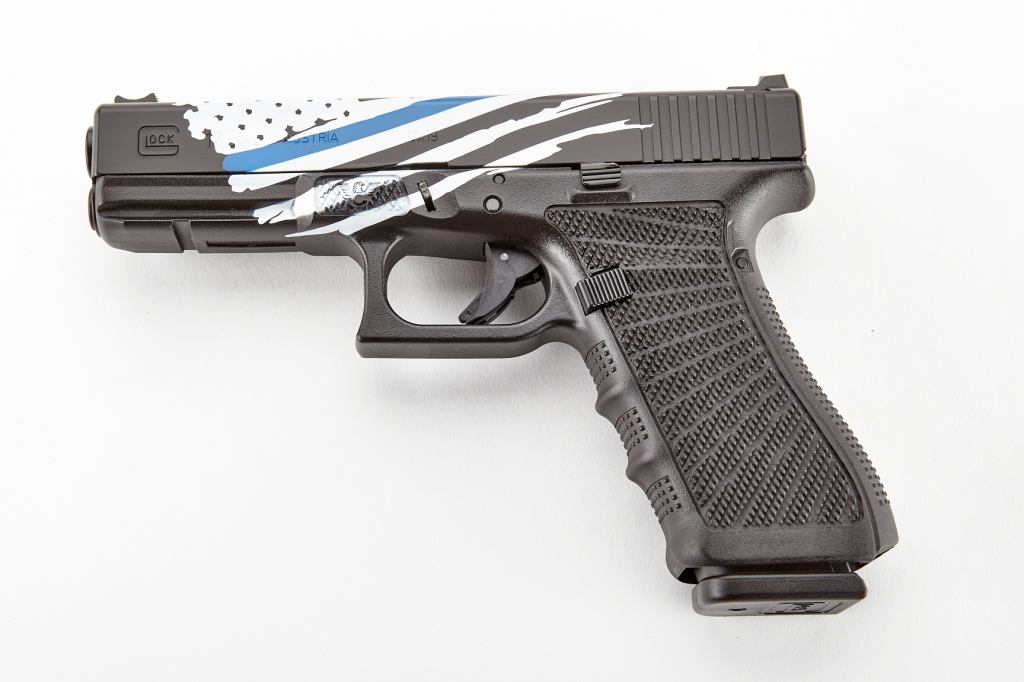 Unlike the 1911, the end-user can very efficiently work on the Glock, and Glock's simplicity makes it easy for Wilson to sell all the parts and pieces you'll ever need.
If you feel that a lot of the custom Glock slides are just a little extra, then Wilson Combat might satisfy your needs. These custom stainless Glock slides can be coated with all the tactical colors you could ever want. But I like the simple stainless look. These slides keep things classy and, clearly, 1911-inspired.
Beyond a few slides, the Wilson Combat Performance triggers provide a clean trigger pull with an awesomely ergonomic trigger shoe.
27
at OpticsPlanet
Prices accurate at time of writing
Prices accurate at time of writing
Combine those triggers with the Wilson Combat match-grade barrels, and you'll drive accuracy to the top. Oh, and don't forget the Wilson Combat sights to make things run smoothly.
8. Battle Ready Arms
Battle Ready Arms is ready to provide you with about everything you need for your Glock.
You can build your own Glock, address the frame, slide, sights, trigger, all that from the ground up. Alternatively, you can send your Glock in for work.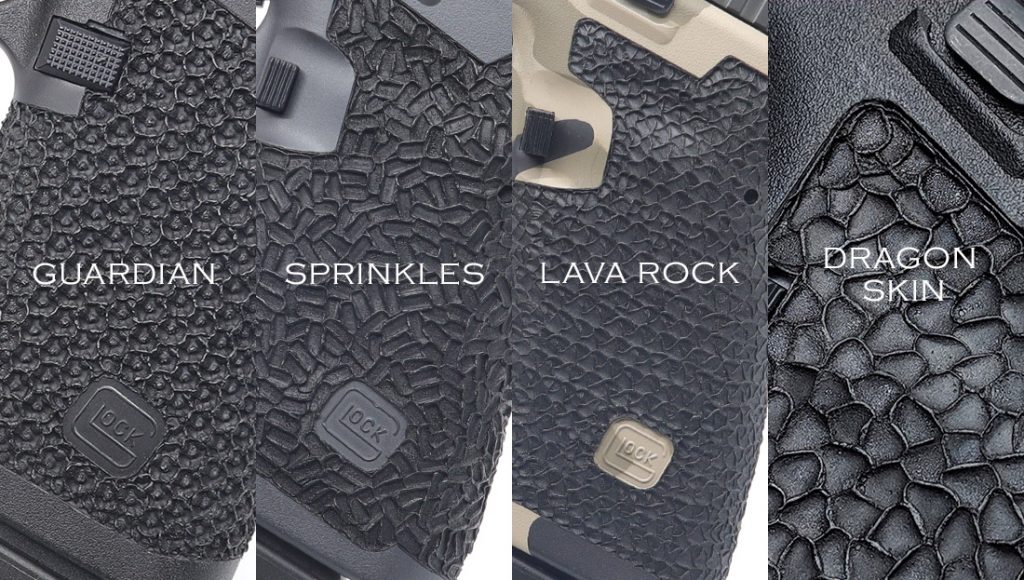 These parts and pieces include high-tech custom slides that cut a beautiful profile. The Guardian slides also come optics ready. They deliver aggressive slide serrations and specifically targeted lightening cuts to increase the cool while decreasing the weight.
Battle Ready Arms slides are built for Gen 3 through Gen 5 Glocks. They are made from stainless steel and feature a rich DLC coating.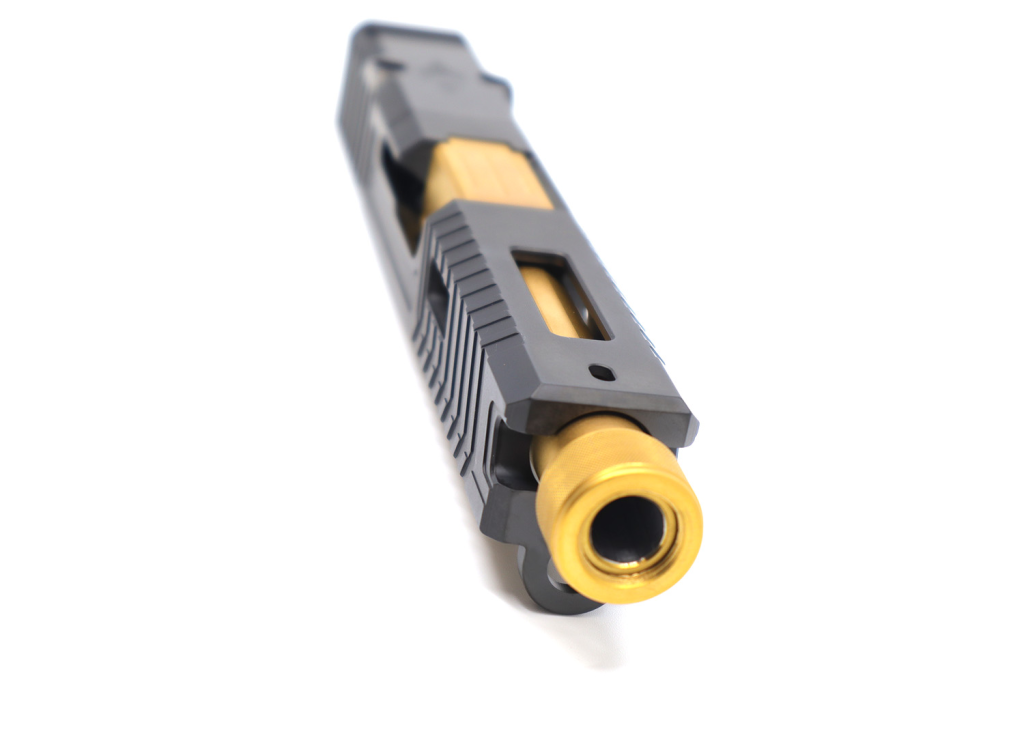 Battle Ready Arms also produce matching barrels threaded for your favorite accessories. These barrels are match-grade and 416R stainless steel with a DLC coat to match your next custom slide.
While Battle Ready Arms isn't one of the big boys, I think the 4 to 6-week lead time proves they are the Glock aftermarket company to watch.
Final Thoughts
Part of owning a Glock is being able to take advantage of all the aftermarket parts available. If you're new to the whole gun scene or you've never been big on modding before, you might want to check out our comprehensive guide on gunsmithing to help you get an idea of what you're in store for.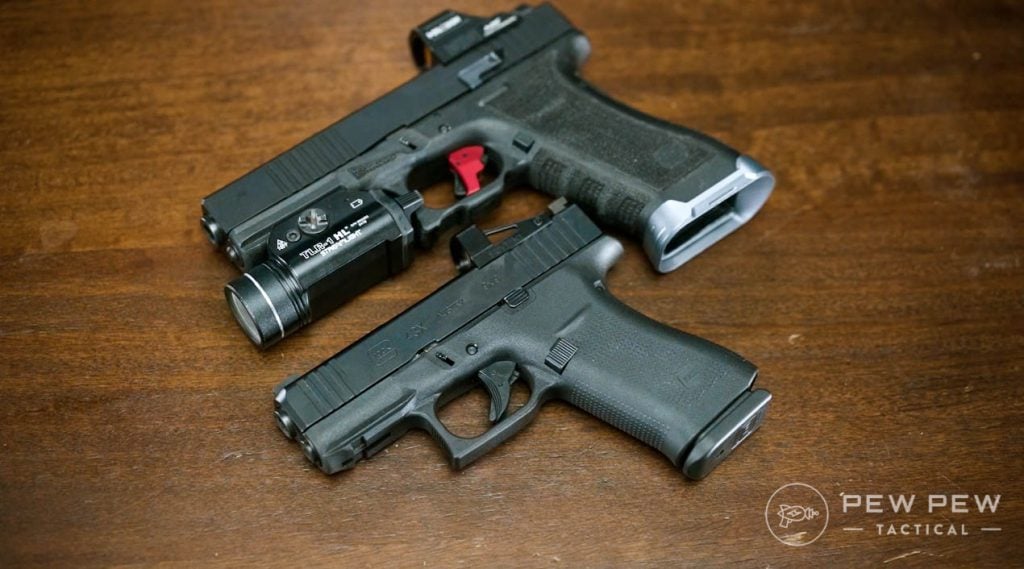 You might also be interested in the following Glock reviews when shopping around for custom pieces for your pistol:
With all the companies out there making aftermarket Glock parts, you can easily design a one-of-a-kind handgun that nobody else has.
What's your favorite Glock parts company? Let us know in the comments below. Or if you want to ditch Glock entirely, check out the Best Glock Clones.