The AR in AR-15 stands for "Armalite Rifle" after the original designing company.  It does not stand for "assault rifle" but is instead a semi-automatic rifle that shoots one time per trigger pull.
Follow us as we go over what it doesn't stand for…plus what is exactly an AR firearm and our favorite picks.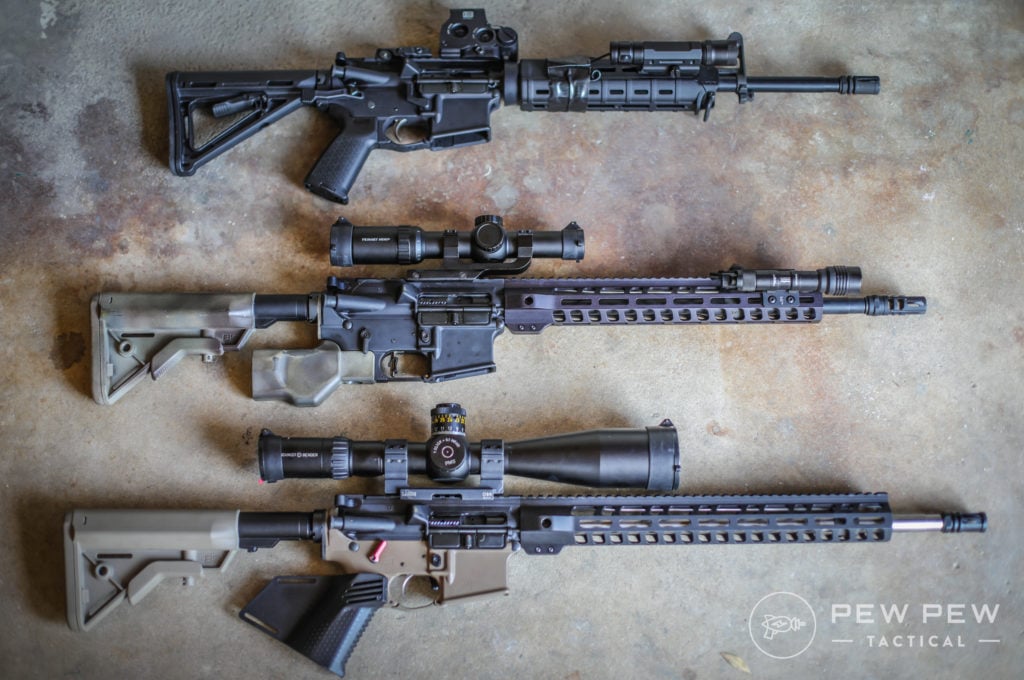 Or if we already answered your question…how about The Complete AR-15 Guide or our Beginner's Guide to Guns?
Table of Contents
Loading...
What AR
Doesn't

Stand For

A common misconception is that AR stands for "assault rifle," but that's not the case.  And no, it doesn't stand for "automatic rifle" either.

For the record, the way states legally define "assault rifles" varies dramatically between states, and journalists have a tendency to basically use "scary looking" as their definition or to act like there's not a standardized definition at all.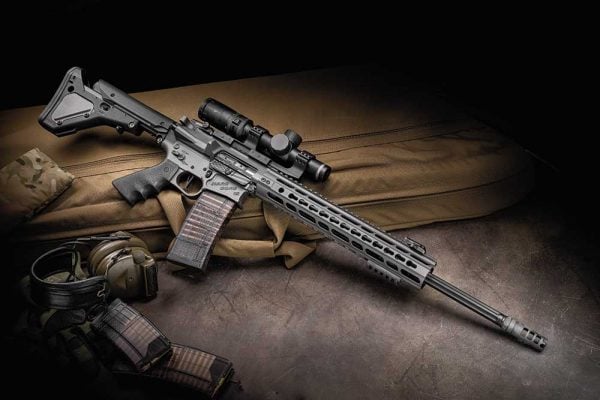 The easiest definition is that an assault rifle lets you choose between semi-automatic and fully-automatic modes of fire.
Semi-auto: one trigger press = PEW
Full-auto: one trigger press = PEW PEW PEW (until you let go)
The US Army also has a standard definition if something meets all the following conditions:
It is capable of selective fire;

It has an intermediate-power cartridge: more power than a pistol but less than a standard rifle or battle rifle

It has ammunition must be supplied from a detachable box magazine

It has an effective range of at least 300 meters (330 yards).
Rifles like the AR-15, which is widely cited as an example of an assault rifle, fundamentally fail to meet this definition in that they don't have selective fire capabilities – they can't be set to shoot automatically as well as semi-automatically.  Only one trigger press = one shot.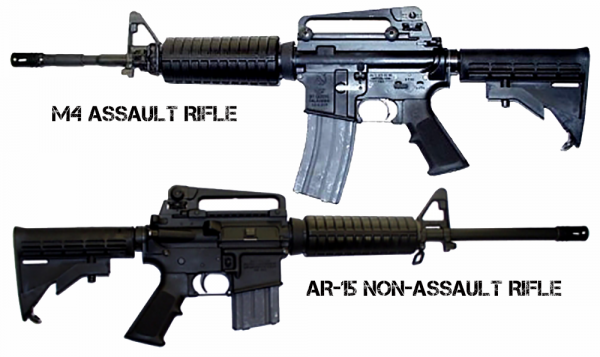 Furthermore, new fully automatic firearms have been banned in the United States since the Firearm Owners' Protection Act of 1986, and they aren't easy to get ahold of illegally for anyone except well-connected career criminals.  
Ones produced before the ban are still legal, but they command a high cost (think tens of thousands of dollars) and are closely monitored by the ATF.
So What Does AR Stand For?
In reality, AR stands for ArmaLite rifle.  ArmaLite is the company that originated the design for the AR style of rifle back in the 1950s.
And while we're decoding ARs, the number simply refers to the model number of the rifle, not to a barrel length, capacity, or anything else.
A Brief History of ARs

The first widely produced AR rifle was the AR-5, a .22 Hornet survival rifle.  It was adopted by the US Air Force as the MA-1 Survival Rifle.  Shortly after, the AR-7, the semi-automatic civilian version of the AR-5, was released, chambered for .22 LR.  
Both of these guns are still produced today by several companies, including a takedown version of the AR-7 produced by Henry Repeating Arms.
269
at Palmetto State Armory
Prices accurate at time of writing
Prices accurate at time of writing
In the 1950s ArmaLite began designing and producing the AR-10 (shooting the larger 7.62×51)  in small numbers, and in the following decade started producing what is probably the most well known of the AR series of rifles, the AR-15.  
Colt now owns production rights for both the AR-10 and AR-15.  Learn more in AR-10 vs AR-15.

Next ArmaLite began production on the less expensive AR-16, and AR-17 shotgun and a smaller AR-18 to meet a variety of different needs, but by the 1970s the company ceased rifle production and in 1983 closed completely.

In 1996 rights to the Armalite company were sold and rifle development and production resumed, leading to the introduction of the AR-10, AR-20, AR-50, and more.  In 2013 the company was again sold, this time to Strategic Armory Corps, who also owns AWC Silencers, Surgeon Rifles, Nexus Ammo, and McMillan Firearms.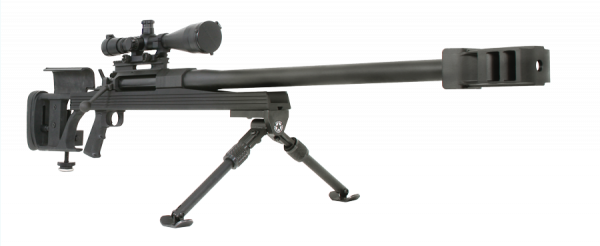 So Now You Know
Now going forward you know better than to believe people who say that ARs are all assault rifles, and you know what an assault rifle actually is.  
Want to learn more?  Check out our Definitive AR-15 Resource or straight to The Best AR-15s.
Or if you want to start with handguns…check out our Beginner Handgun Course.
What other misinformation surrounding firearms you like to see set straight?  What questions do you have that you would like answered? Let us know in the comments.