Want to make your Browning Buckmark even better?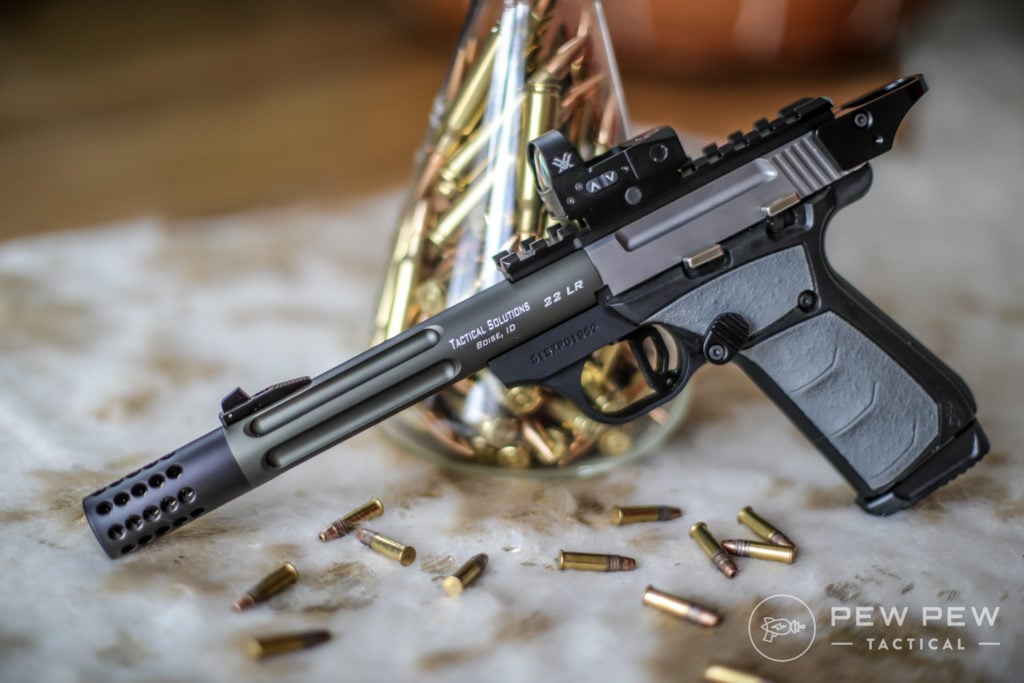 After some easy and affordable ones in our Best Buckmark Upgrades…you'll want to consider a barrel swap.
See if switching your stock barrel for a Tactical Solutions Trail-Lite is worth it in accuracy, weight distribution, and looks.
Look & Feel
I got to try out the 5.5″ Trail-Lite Threaded Barrel in Matte OD Green, Fluted, and with a compensator.
199
at Brownells
Prices accurate at time of writing
Prices accurate at time of writing
For states that have rules against threaded pistol barrels…TacSol offers permanent install for $25.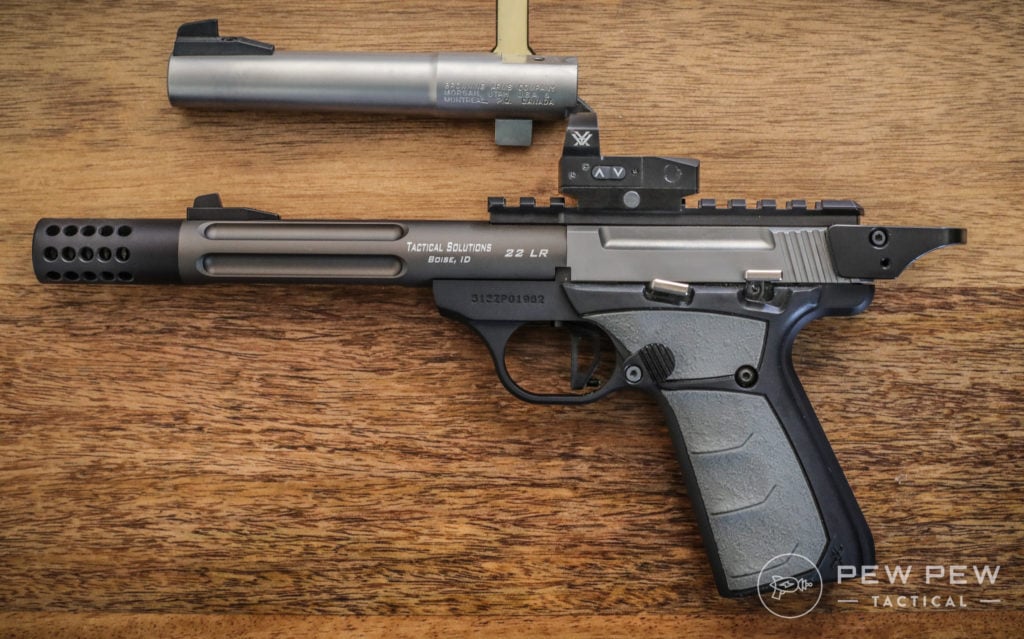 Now…back to it…
It looks and feels SEXY.
The weight is reduced almost half from 12.9 oz of the stock barrel (with no compensator) to 6.5 oz with the comp.
This makes the overall weight distribution of the pistol so much better.
How Does It Shoot?
With the 5.5″ barrel you get more velocity which means less drop-off at distance.
And since the weight goes down and the gun is more balanced…you get faster target acquisition.
With my low-mounted Vortex Venom (Best Pistol Red Dots)…it was almost cheating.
Super fast shooting on steel up close…and even 50%+ on 100 yard plates…TING!
The compensator wasn't super necessary since I wasn't shooting hot rounds where the excess gas could vent better…but it felt like a wash compared to the much heavier stock barrel.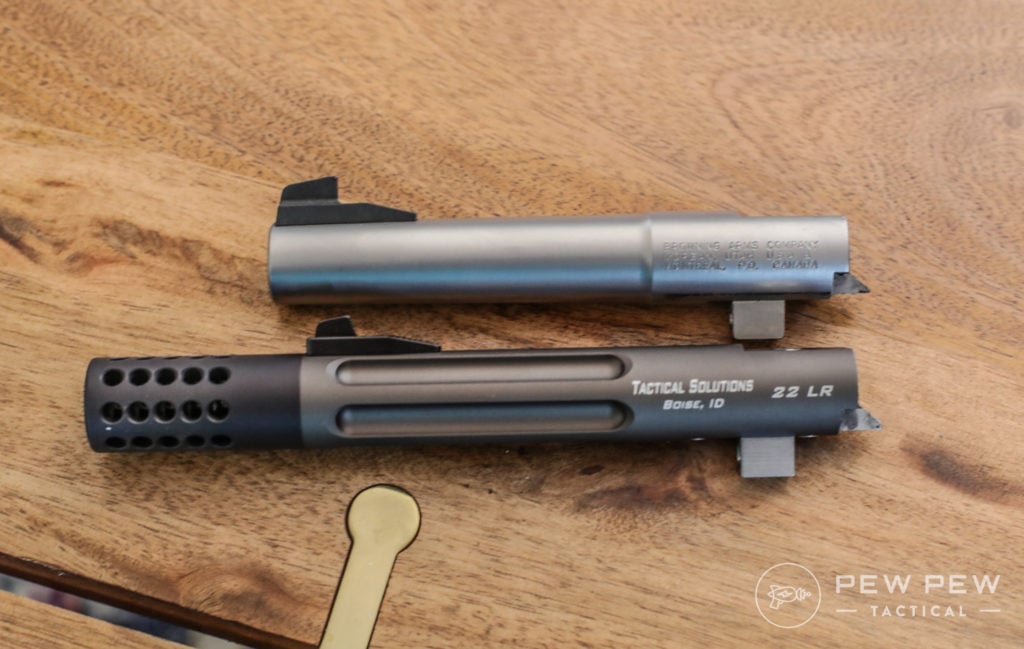 Overall…I can't wait to use it at my next Steel Challenge match.
Not sure what that is?  Check out our Competition Shooting Guide.
Accuracy
If I was able to hit 100 yard plates…the barrel is probably pretty accurate.
I tested it with some of my favorite ammo (Best .22LR Ammo for Plinking & Accuracy).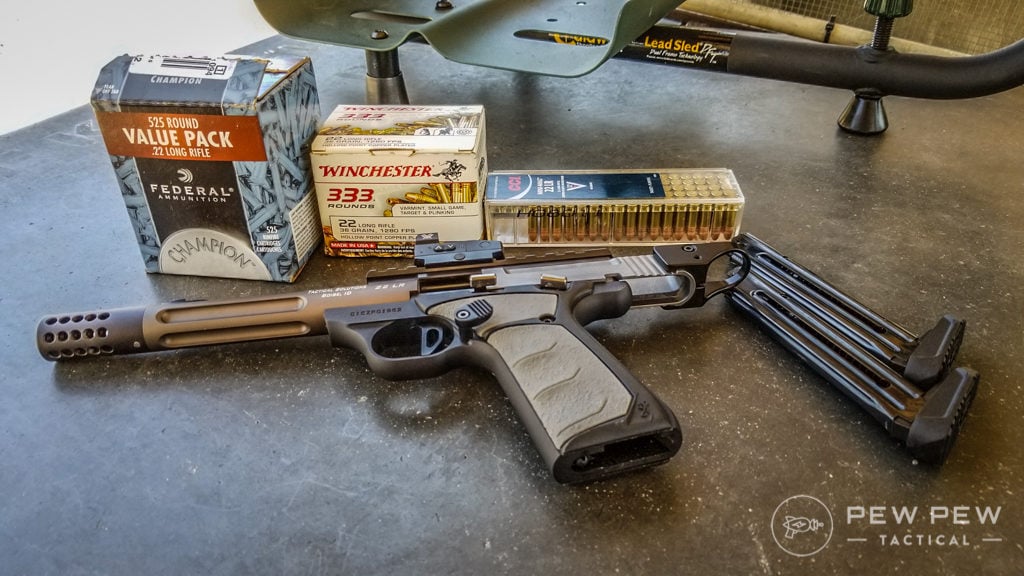 And moved the target out to a far 25-yards (for rimfire).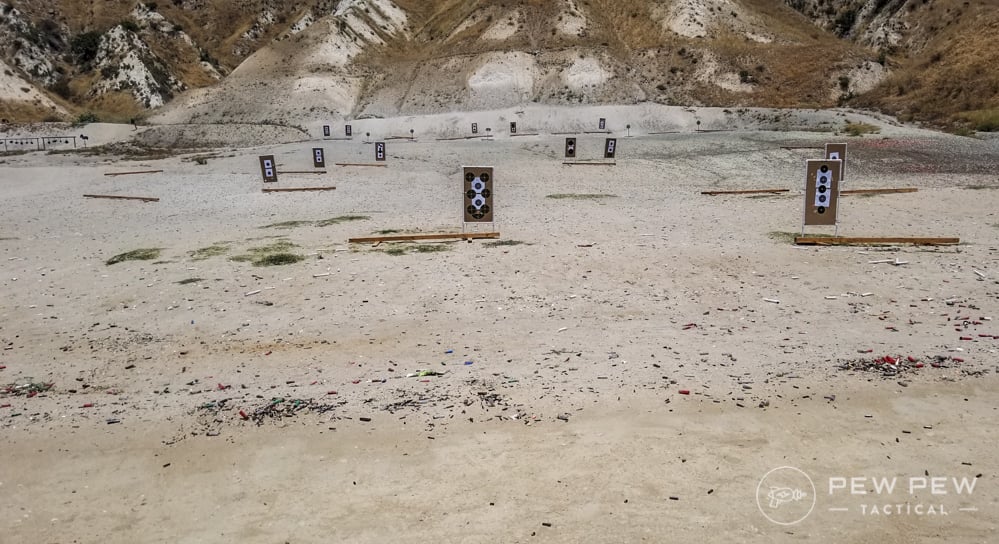 The left column is the Tactical Solutions Trail-Lite and the right column is the stock barrel.  All on the same Buckmark with the same trigger and everything.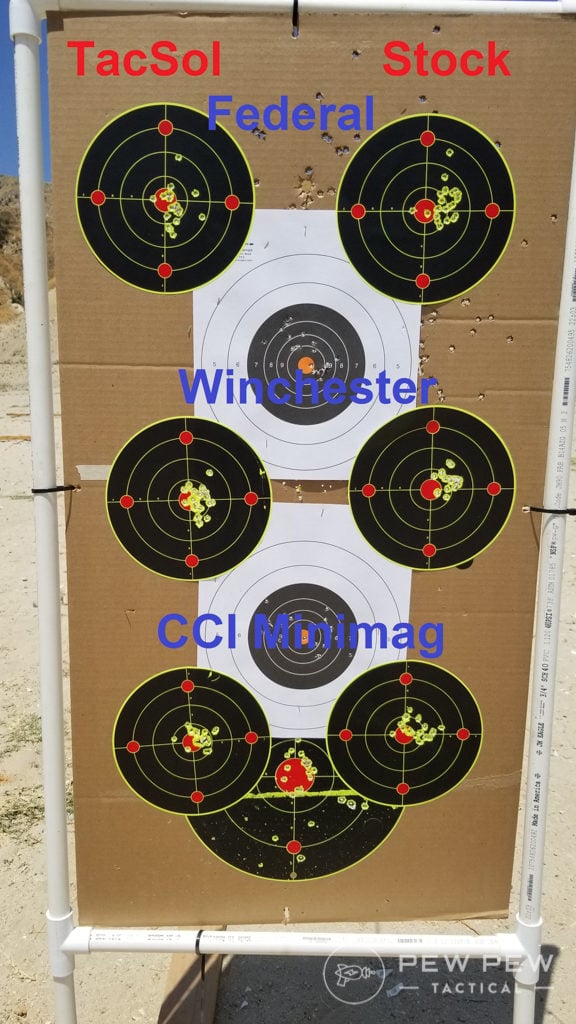 It actually had more flyers for Federal but was about a wash for Winchester…and where it really closed up was for the more accurate (and pricey) CCI Minimag.
If you're shooting more premium ammo in your Buckmark…you'll definitely wring some more accuracy with the TacSol.
Install
Install is easy…you probably don't need a gunsmith.
Just unscrew the front rail screw and loosen the rear one.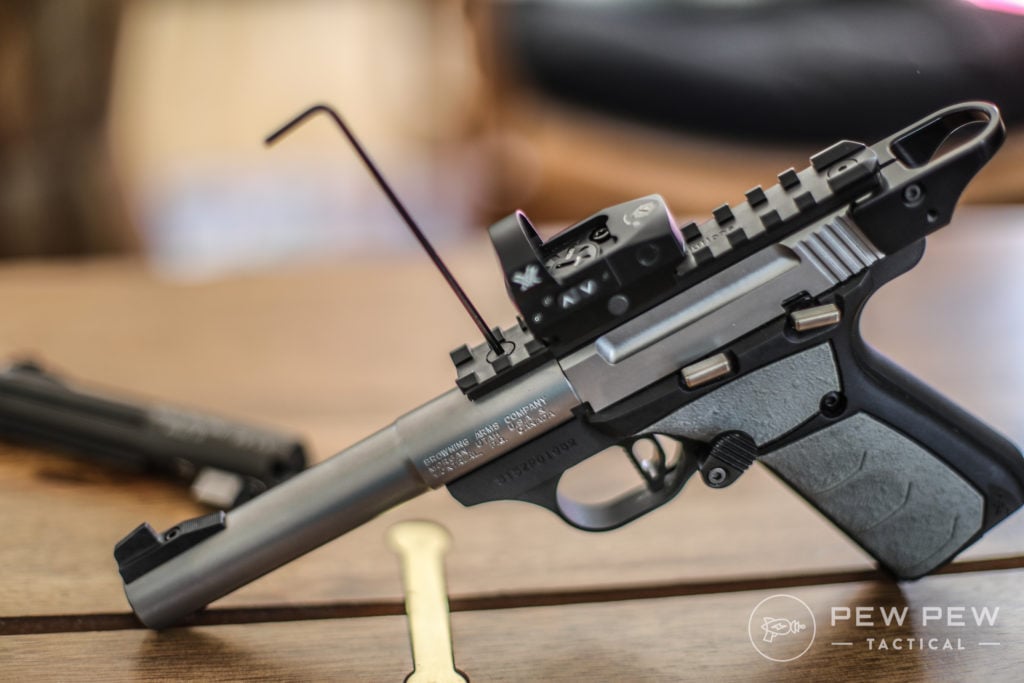 And also the barrel screw of your stock barrel.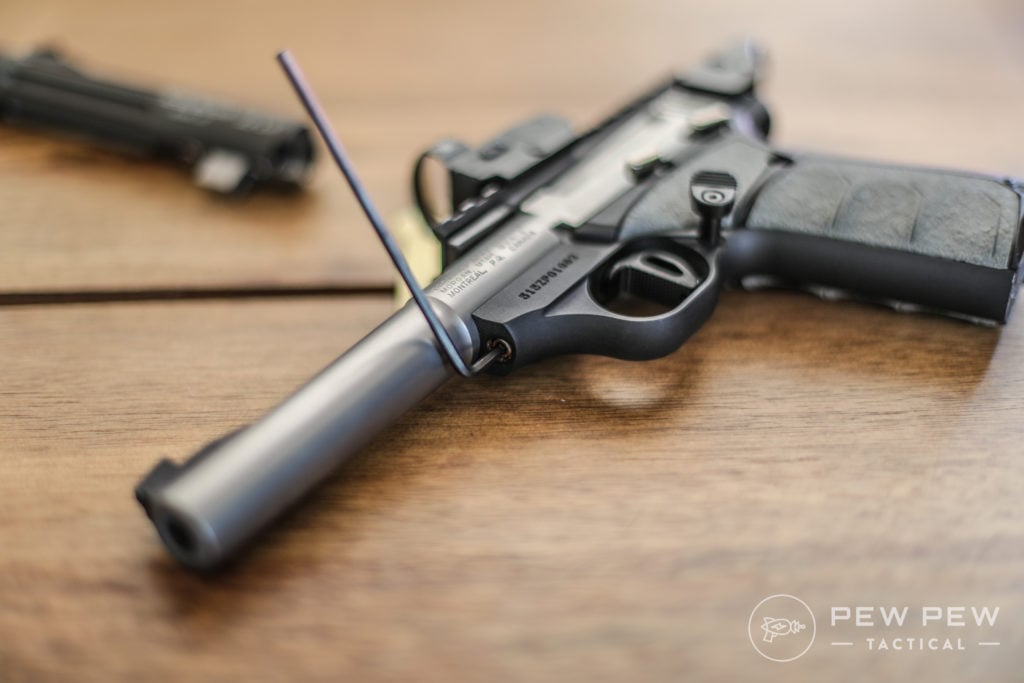 Pop out the stock barrel and place your new TacSol in there…and screw everything tight.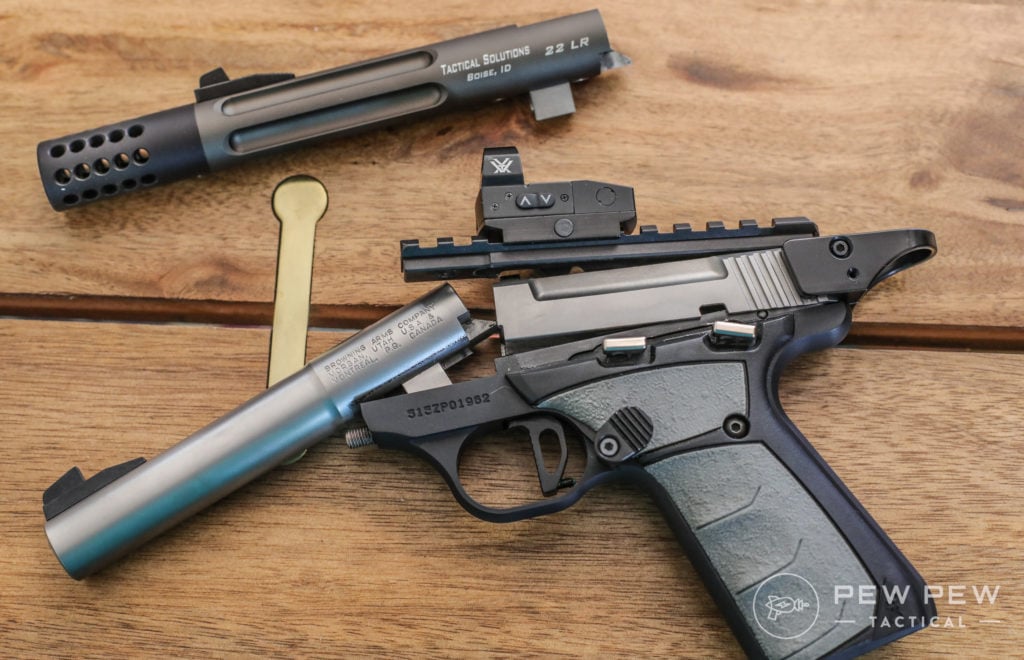 I found that I needed to put a little more elbow grease into the barrel screw so that the rail screw would match up.
Conclusion
My best recommendation comes from me ending up buying the barrel from Tactical Solutions since I liked it so much!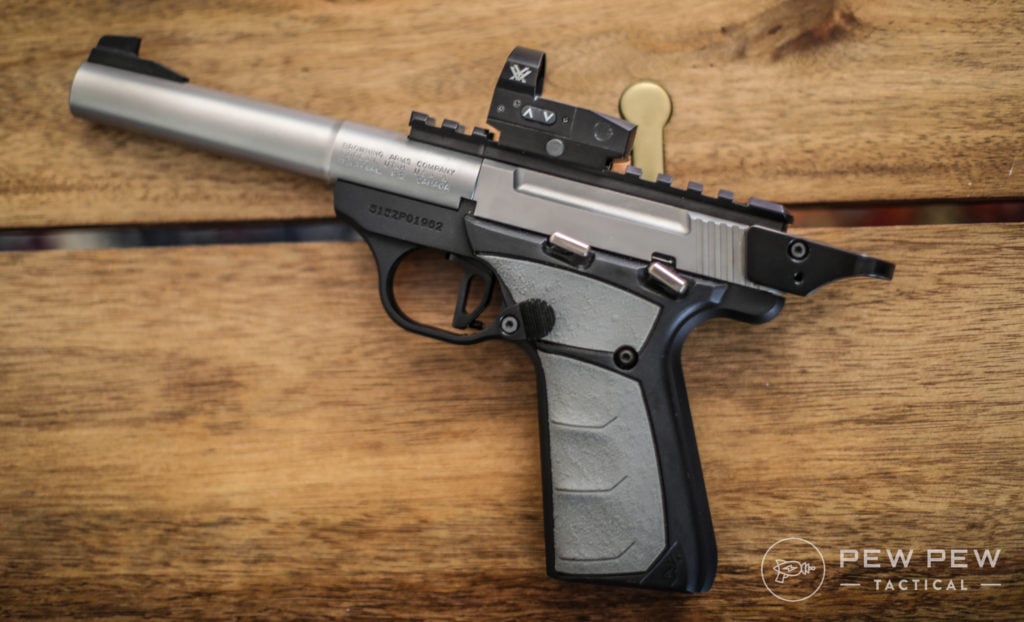 If you're looking for a clean and sexy look, faster target acquisition, and better accuracy for your Buckmark…you can't go wrong with the Tactical Solutions Trail-Lite barrel.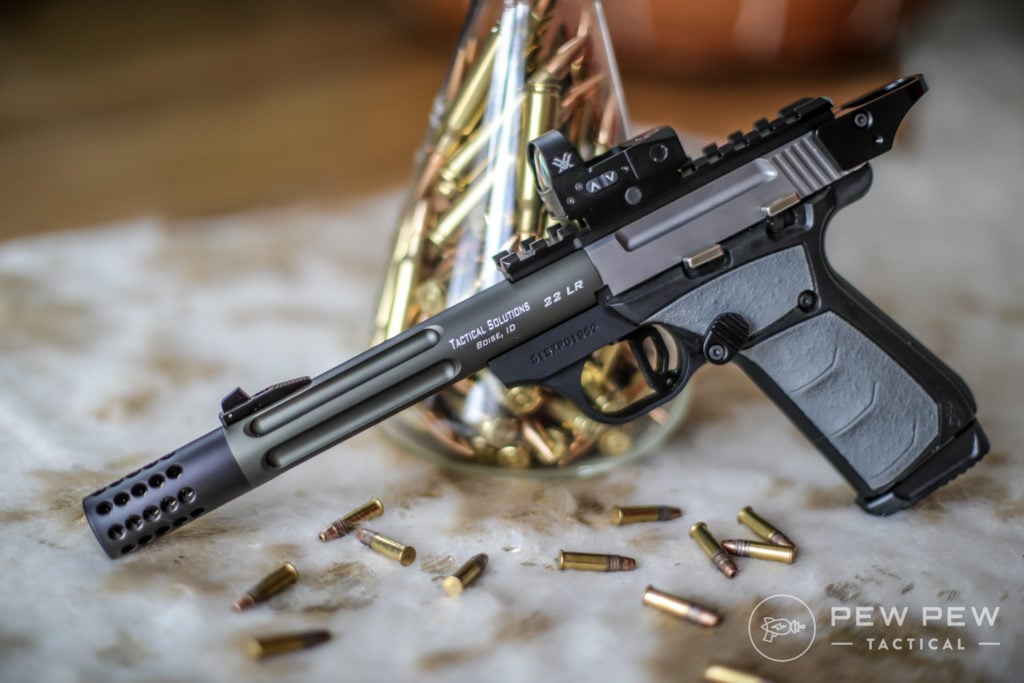 They have plenty of colors and even a shorter 4″ length.  Plus it's threaded so you can add on a compensator.
199
at Brownells
Prices accurate at time of writing
Prices accurate at time of writing
What do you think about the TacSol barrel?  Want to mod your Buckmark more?  Be sure to check out our other favorite Buckmark Upgrades.