SOG had an impressive rebranding recently and the new knives they released are really cool.
I got to check out a few of them over a period of several months and have collected some thoughts to share on each model.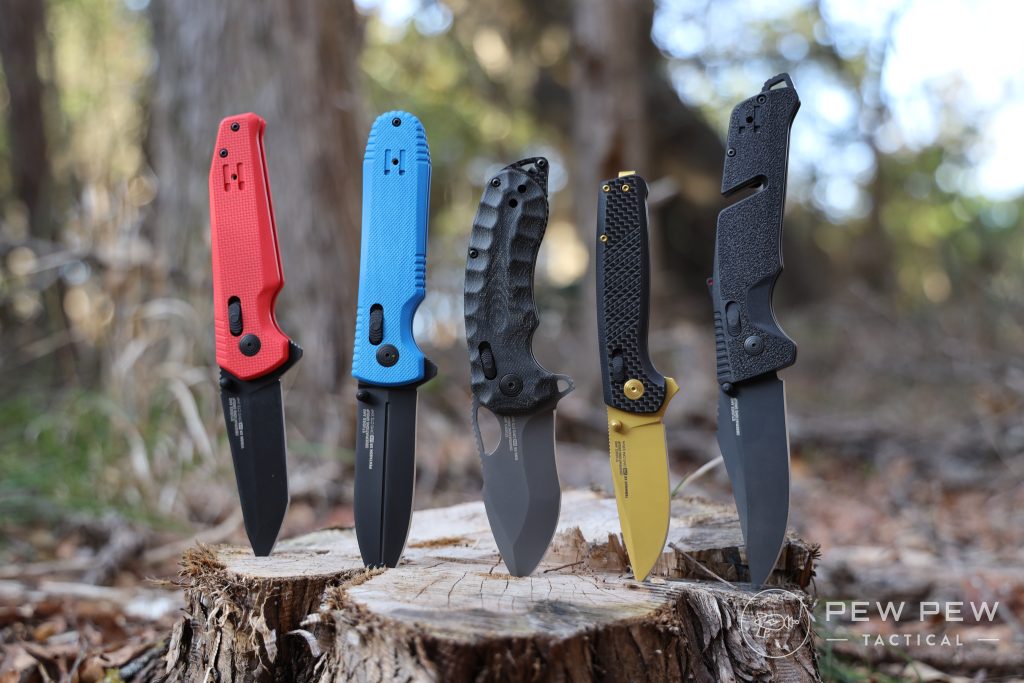 Having a good knife is critical, it's one of the most tactical and utilitarian tools there is.
After using these knives for a while, I found there are great options for a lot of different applications. Check out each section below to learn which might be best for you.
Table of Contents
Loading...
Trident AT
I took a crack at the Trident AT first. SOG marketed this toward first responders and with good reason.
The 3.7-inch clip point blade is made from D2 — an awesome tool steel — and it's cryogenically heat treated to make it durable.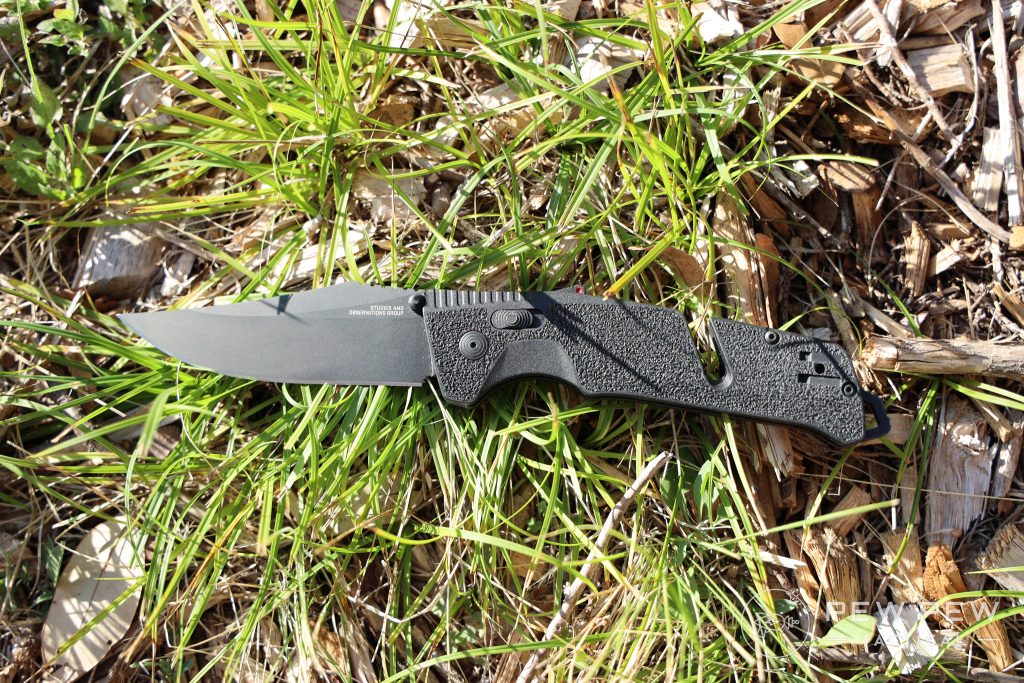 The grip texture is aggressive, meant to keep the Trident in your hands regardless of conditions. The handle also features a line cutter and glass breaker, both of which are functional.
Thanks to the AT-XR lock, the blade has an assist that springs it open once you push on the thumb stud. There is a safety on the spine to secure the blade from opening it though. Overall weight is 5.15 ounces.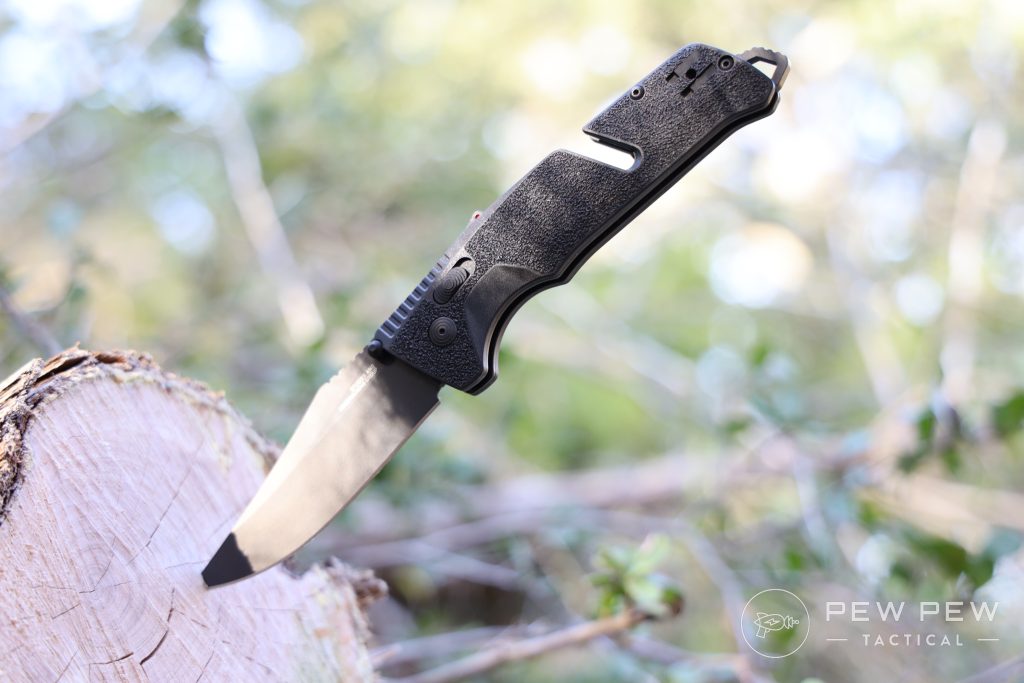 The only issues I had with this knife were minimal. It's a little rough on the hand when you reach for something in your pocket, and you have to adjust your clipping procedure to not catch your pocket on the line cutter.
All in, this is a tough knife with a lot to offer.
99
at SOG
Prices accurate at time of writing
Prices accurate at time of writing
Terminus XR
Compared to the brutish utility of the Trident, the Terminus is a refined, nay, well-heeled EDC option of the lightweight variety.
The version I tested was the XR LTE (light edition) in carbon and gold and man is it a great little knife.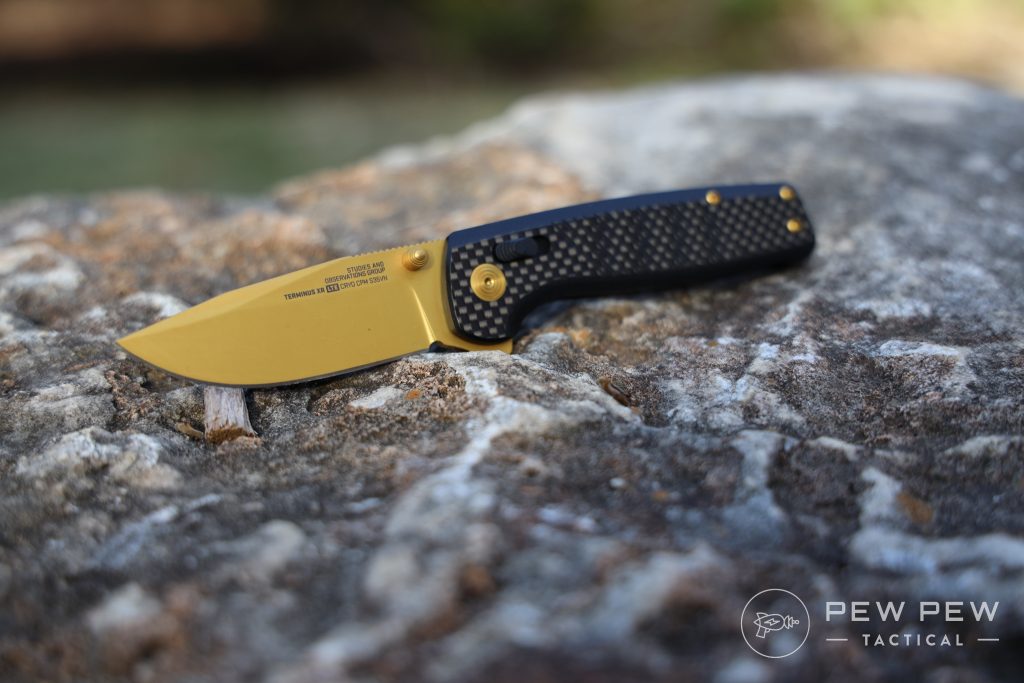 The clip point blade is just under 3 inches so it shouldn't offend anyone in polite company. It's also made from S35VN comes with a gold TiNi finish.
The blade is secured with the XR Lock and can be deployed with either a thumb stud or a flipper "kick" mounted on the spine.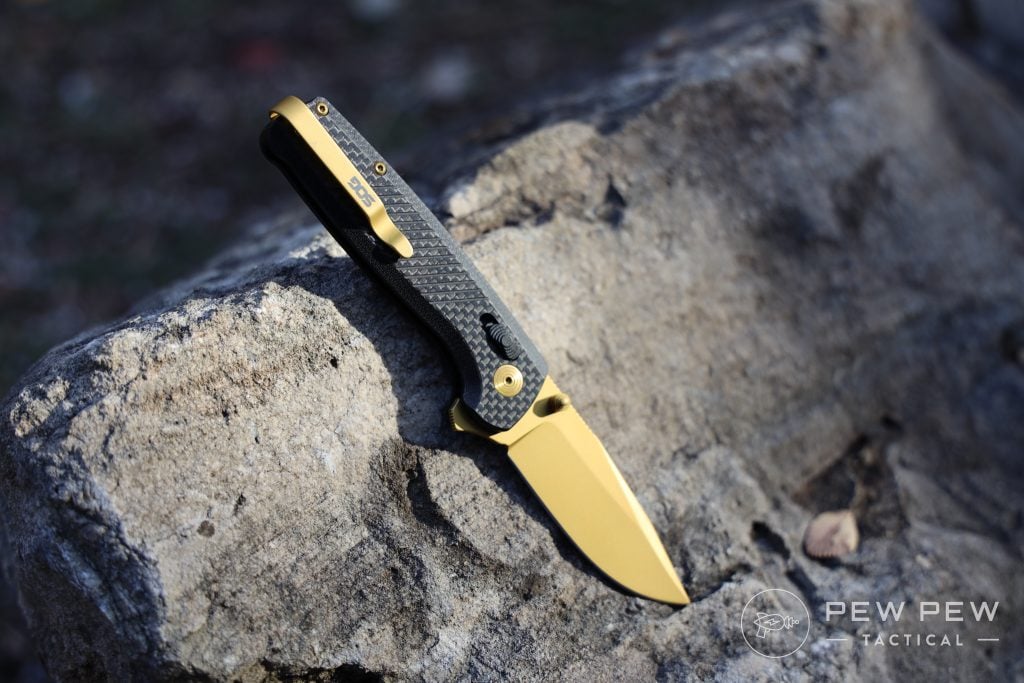 Combined with the G10 and carbon fiber handle, the overall look is elegant. The feel is extremely light, coming in at just 2.2 ounces.
The gold, reversible, clip is a nice accent and holds the knife securely in the pocket. It's easy to forget the Terminus is in your pocket due to the weight, but when you need it the cutting power is there.
144
at SOG
Prices accurate at time of writing
Prices accurate at time of writing
Kiku XR
The striking shape of this knife had me wanting one at first glance. Its aesthetic is an artfully done bulldozer, compact, strong, and beautiful.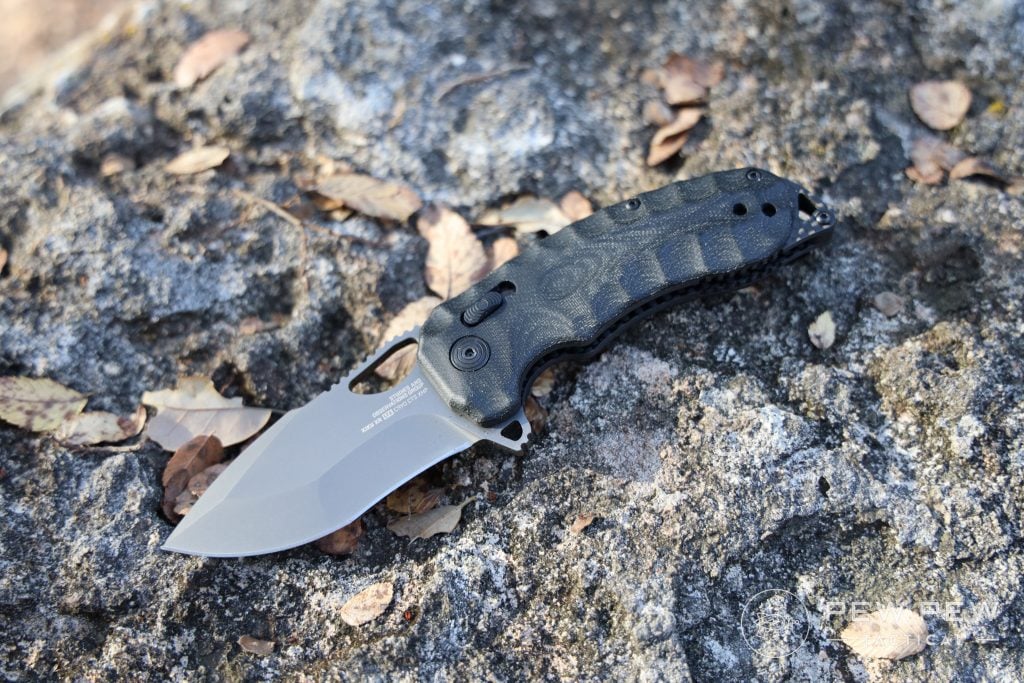 The Kiku XR is a collaboration between SOG and famed knifemaker Kiku Matsuda.
Its 3.02-inch blade shape is a relaxed tanto, accented with a tall swedge and bevels. The handle looks chitinous like it was designed by your favorite decorator in the Alien movie series.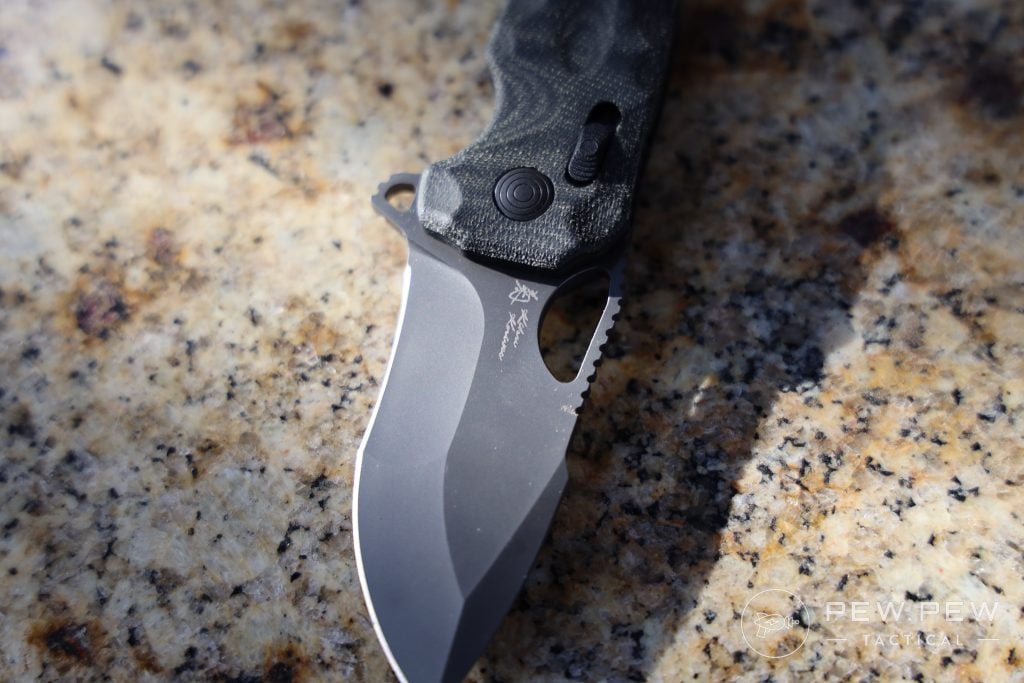 The result is a stocky, powerful, knife that is as good at cutting as it is visually appealing. I tested was the LTE or light model.
The blade of the Kiku is made from CTS XHP steel and opens with a thumb hole or flipper kick. Jimping along the spine of the thumb hole adds more surface for gripping.
229
at SOG
Prices accurate at time of writing
Prices accurate at time of writing
It secures, once deployed, with the XR lock also. The grip of the LTE version is made of black micarta and carbon fiber.
It looks, otherworldly, but the dimpled pockets provide excellent grip and the knife feels very comfortable in hand.
Pentagon XR
This knife reminded me of the old CIA letter openers with its spear tip and rounded pommel. It has been one of my favorites and while I'm sure there are some sentimental feelings, it is also just a great knife.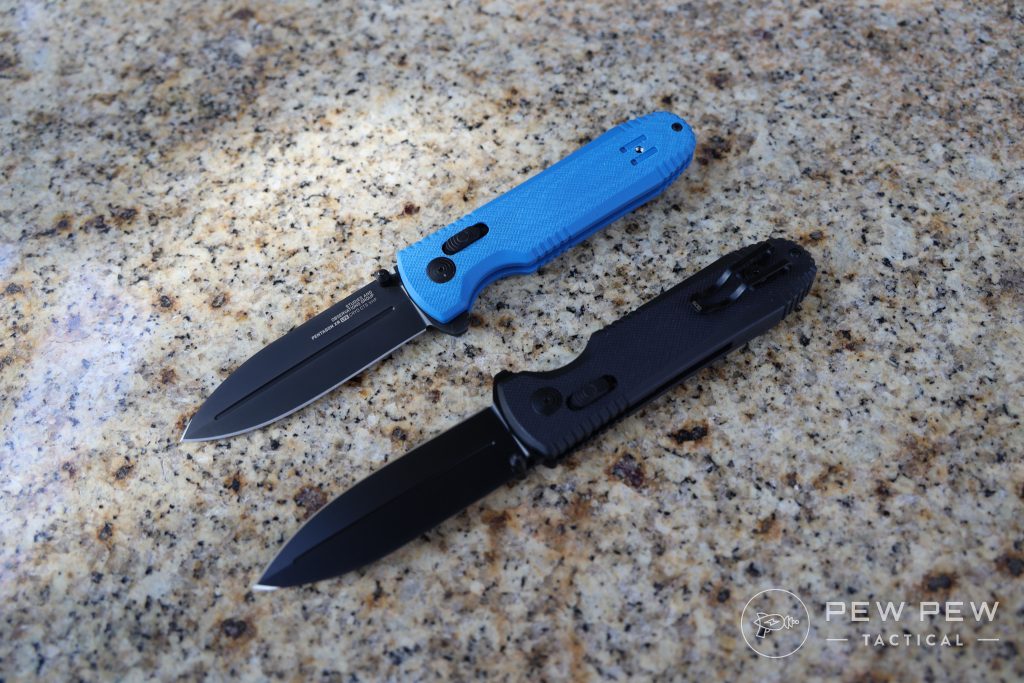 The spear point blade measures 3.6 inches long and is made from CTS XHP steel. It locks into place with SOG's XR mechanism.
The handle is made of G10 and has a light texture that strikes a good balance between being grippy without tearing up your hand. A single finger well near the pivot aids grip and comfort.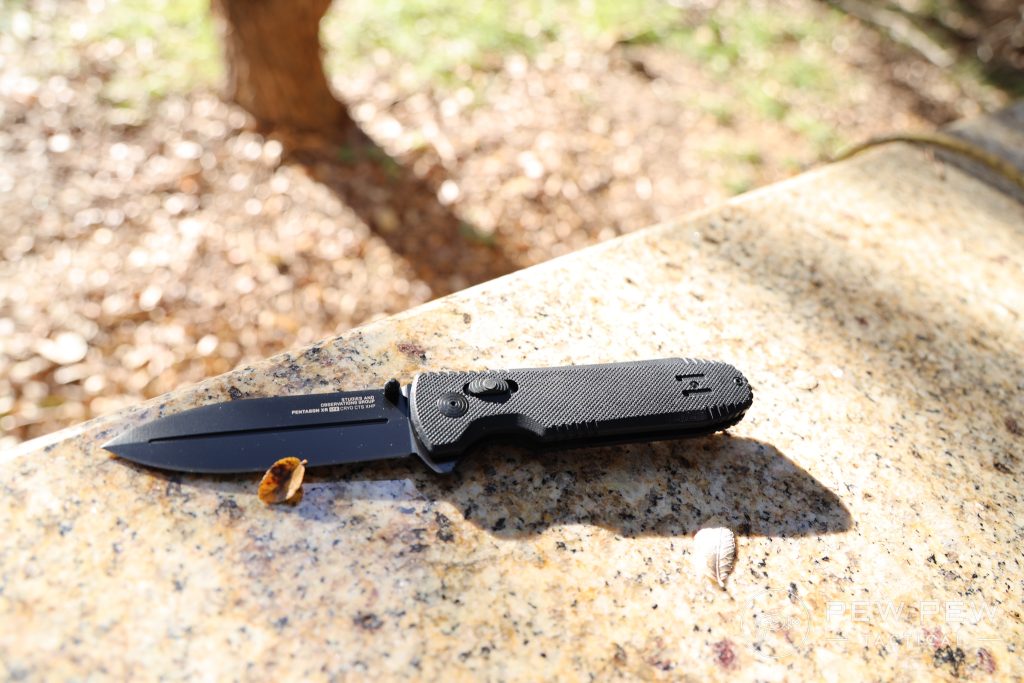 Intelligently, the flipper also serves as a small quillion when the blade is deployed – an important consideration on a knife designed for thrusting and piercing. Despite this, the Pentagon does extremely well with day-to-day cutting tasks too.
The thumb stud is present on both sides and the clip is reversible so this knife can be adjusted to the user's preference. And the Pentagon comes in black, OD Green, and FDE.
179
at SOG
Prices accurate at time of writing
Prices accurate at time of writing
What do you think of the Pentagon XR? Give it a rating below!
Vision XR
In some ways, the Vision is similar to the Pentagon but the blade is a tanto configuration, and the grip is sloped in the rear, with a retention notch underneath.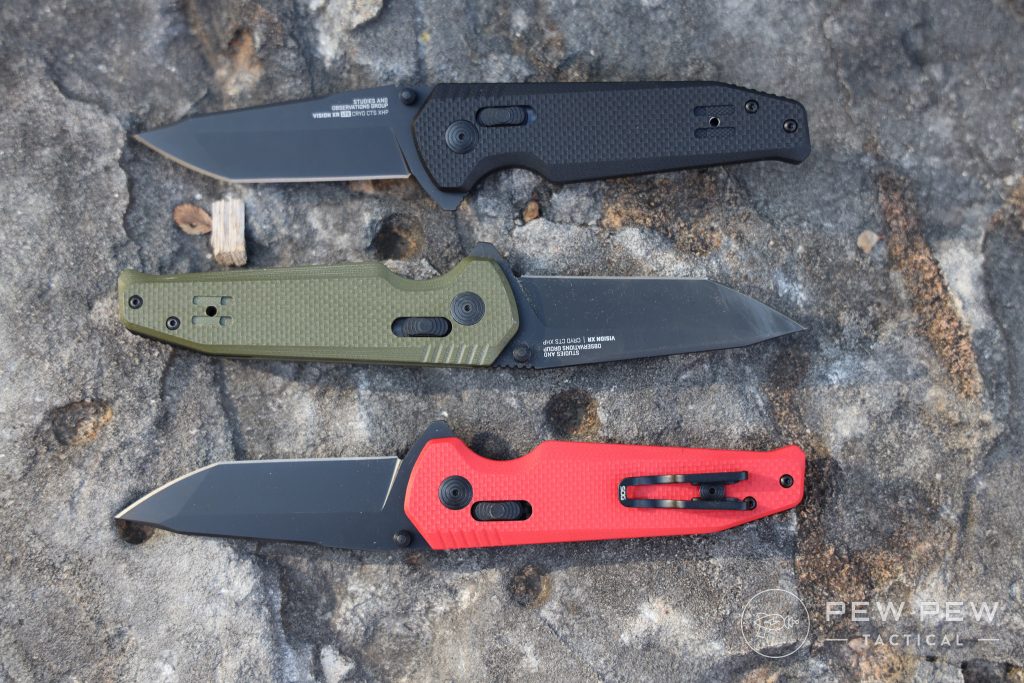 The 3.36-inch blade is also made of CTS XHP steel and locks up with the XR like the other models. A G10 grip compliments the knife with a similar texture to the Pentagon.
The flipper/quillion idea is repeated here with the finger well and the grip also has a slight, downward, curve at the pommel which makes it fit the hand nicely.
154
at SOG
Prices accurate at time of writing
Prices accurate at time of writing
SOG's Vision has been a staple of the line for many years. The latest version carries that heritage forward and is a great choice for a daily carry.
Pentagon FX and Pentagon FX Covert
The Pentagon is also available in the traditional fixed blade variety.
SOG's Pentagon FX is almost 10 inches long, while the Pentagon FX Covert has an overall length of 7.5 inches.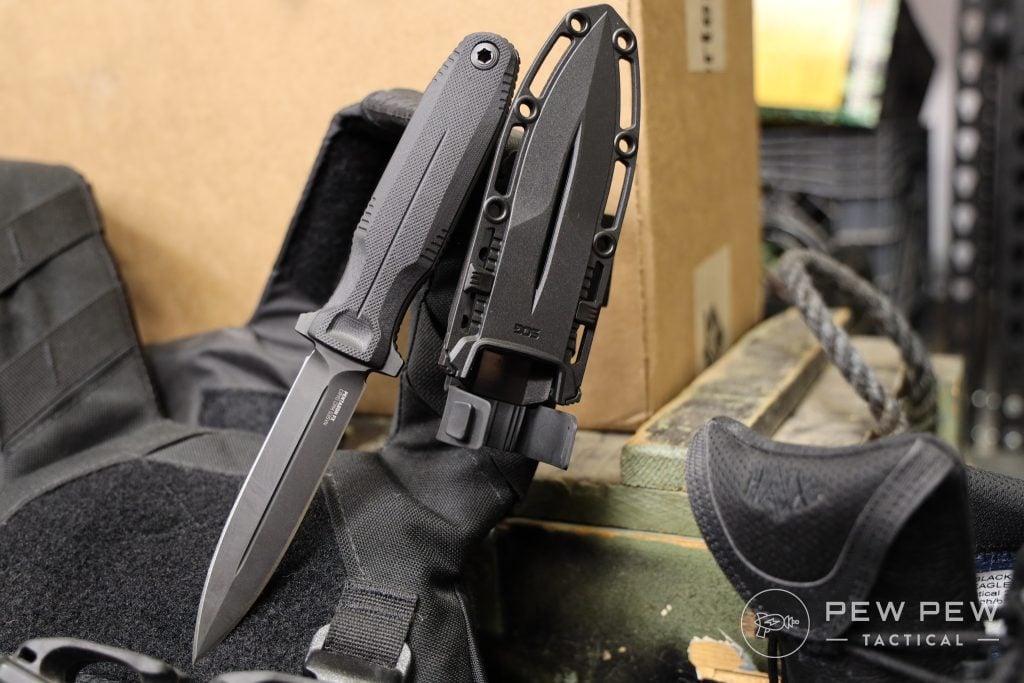 The blades are 4.77 inches long for the FX and 3.41 inches long for the Covert. They are made of S35VN steel and feature a black titanium nitride finish.
It is noteworthy that the folding version of this knife is not sharpened on both sides of the blade. On the fixed version, you get a true spearpoint side, down to the hilt.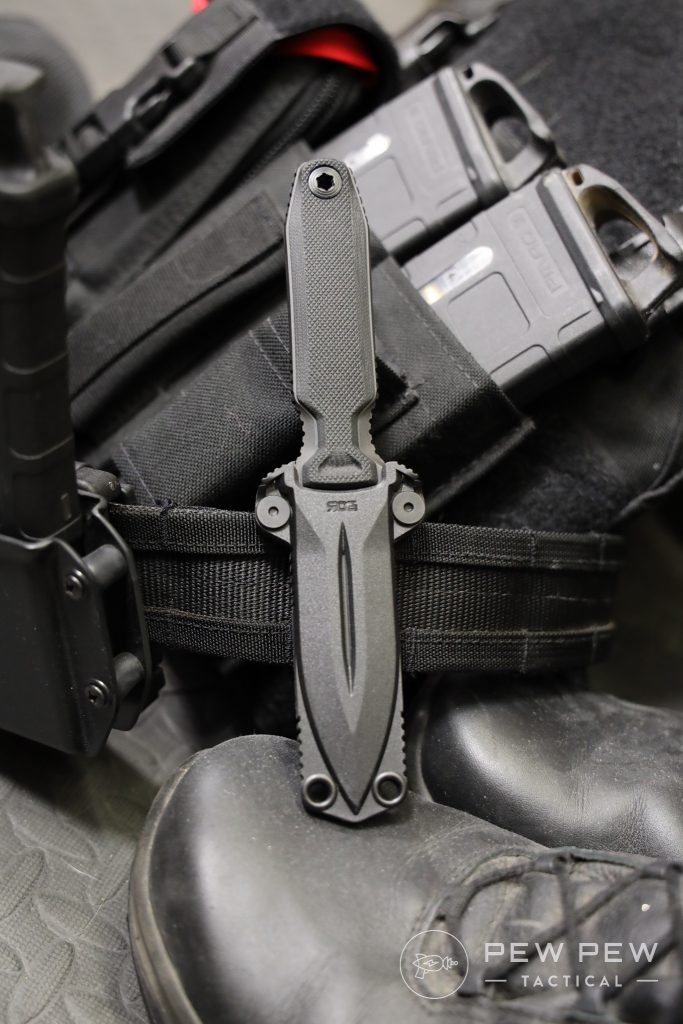 Both handles are made of G10 and follow the traditional outline of the CIA Letter Opener with a rounded pommel and slight quillion near the blade. They have excellent texture plus a ridge and divot for the thumb while using a foreword grip.
One of the more noteworthy items for the FX versions of the Pentagon has to be the sheath. I've lost knives over the years due to poor attention to detail on this critical accessory.
189
at BladeHQ
Prices accurate at time of writing
Prices accurate at time of writing
Not so with this sheath! Not only does it mount up to just about any piece of kit you'd like to affix it to, but it also has solid retention that is adjustable to user preference — SOG did a great job here.
Both of these knives performed extremely well when I tested them for piercing. They also cut extremely well though there is some limited capability here due to the lack of spine for safe thumb pressure.
189
at SOG
Prices accurate at time of writing
Prices accurate at time of writing
Conclusion
I've used most of these knives for over a year and found their actions to be smooth and features to be high value. Some are more inclined toward certain users (Trident AT, Pentagon FX) though all have great utility.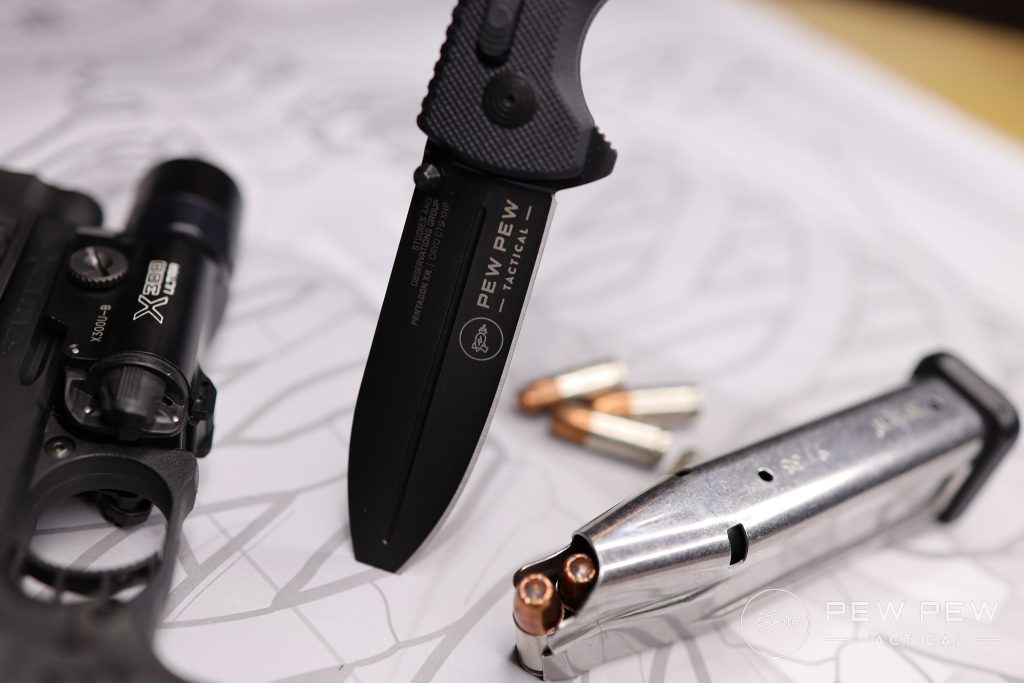 The quality of materials and craftsmanship has been solid, nothing has broken. The LTE (lightened) versions are still really strong and easy to forget you are carrying because of the weight.
When I've had to touch up the knives for sharpness, I had zero issues getting them back to hair-shaving. I'm really impressed with SOG's rebranding and I think their recent offerings are worthy of any knife lover's attention.
Did you know SOG also makes multitools? Let us know in the comments below and be sure to check out our 6 Best Multitools for more knowledge!