Every gun has a story to tell.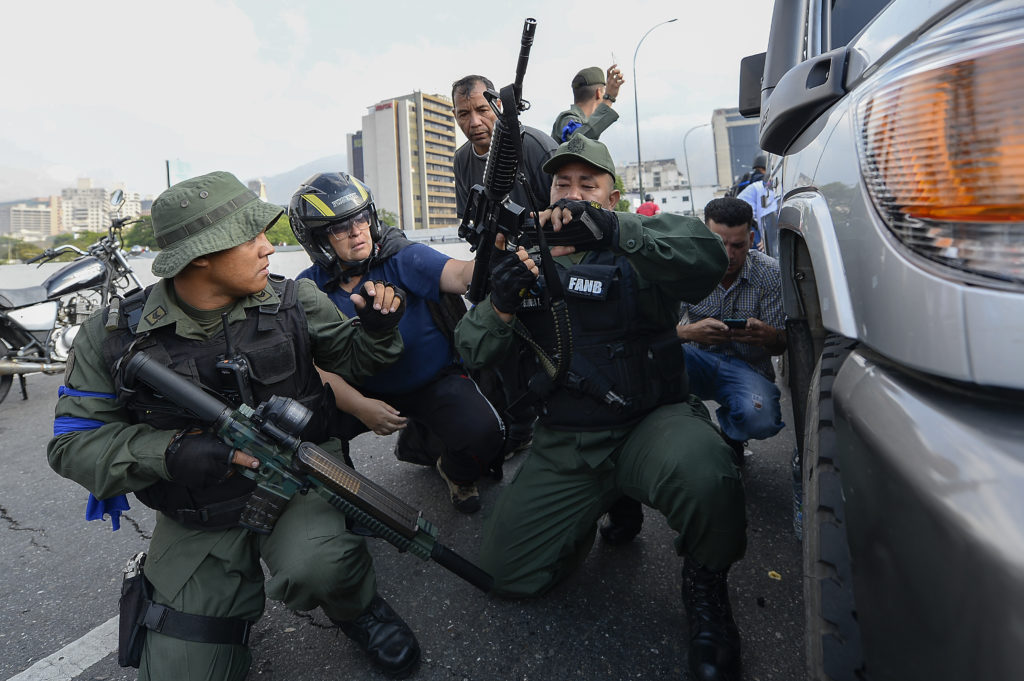 Completely removed from the factors that lead to conflict, the small arms strewn throughout war zones the world over often provide their own unique perspective – if you know what to look for.
From fabled caches of StG44s in Syria to the iconic DIY work of indigenous gunsmiths, the individual firearms found in the hands of both state and non-state actors often says a lot about the logistics of the fight at large.
It's also intensely nerdy.
While as of this writing Venezuela had not descended into a full civil war quite yet, tensions flared Tuesday as military forces loyal to separatist figurehead Juan Guaidó seized territory in Altamira – an upscale and culturally significant neighborhood of Caracas.
Internet gun dorks soon noticed a very unusual rifle in apparent use with one of Guaidó's soldiers in a firefight on an overpass.
Let's look at that first pic again…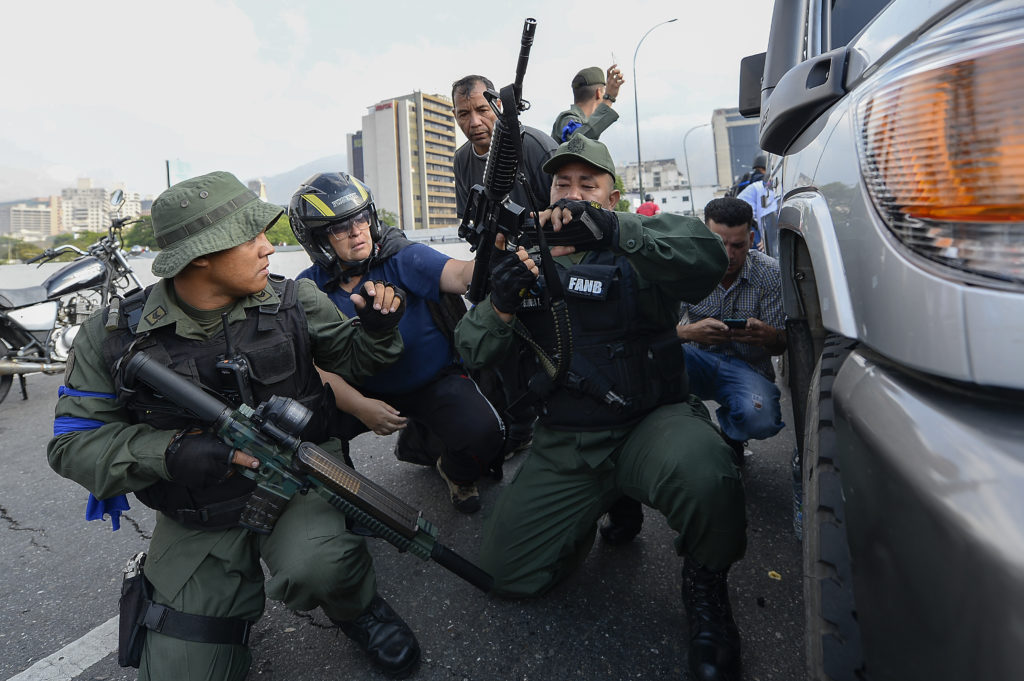 No, your eyes don't deceive you. That's a P90 magazine on the top of an AR platform – an AR57 to be exact.
The AR57 is an upper receiver conversion kit that allows the gun to utilize P90 mags to fire FN's proprietary 5.7x28mm cartridge. The upper also mimics the P90's distinctive downward ejection pattern – expelling spent casings through the normal AR-15 magazine well.
…Which makes the presence of an AR-15 magazine in the mag well a bit confusing at a glance.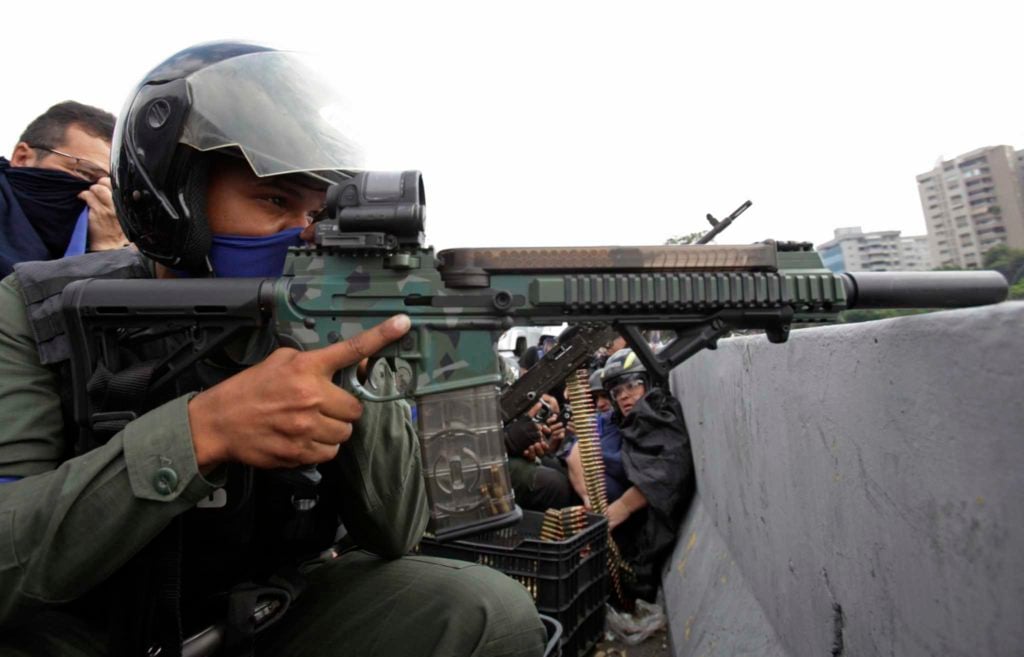 However, the practice is apparently common among users of this odd duck – cutting the feed lips off of an AR mag creates a tidy way to catch all of your brass for reloading purposes. An odd consideration during civil strife to be sure, but the entire platform is absolutely bizarre for this region of the world, and almost certainly has a weird story behind it.
The AR57 is fielded by no security forces in the world – so where did it come from? It's obviously hard to tell, but this thing is not cheap.
Kitted with a suppressor, fancy Cerakote paintjob, a select-fire third pin hole, and what appears to be a Trijicon SRS up top, the AR57 stands in stark contrast to every other comparatively basic weapon in this photoset.
Whether this was a personal build or a seizure from a local criminal kingpin that was then pressed into service is impossible to ascertain, but Venezuela does equip some of its armed forces with the P90 and does likely have a decent supply of magazines and 5.7 rounds on hand, making this perhaps not quite the logistical nightmare it appears to be on the surface.
Other Notable Guest Appearances
While it's asinine to think that intelligence agencies from states both East and West have no level of involvement behind the scenes in Venezuela, many less than informed folks have been pointing out the early model Colt 727s and M4A1s dotted throughout the Venezuelan armed forces as proof of a CIA backed coup.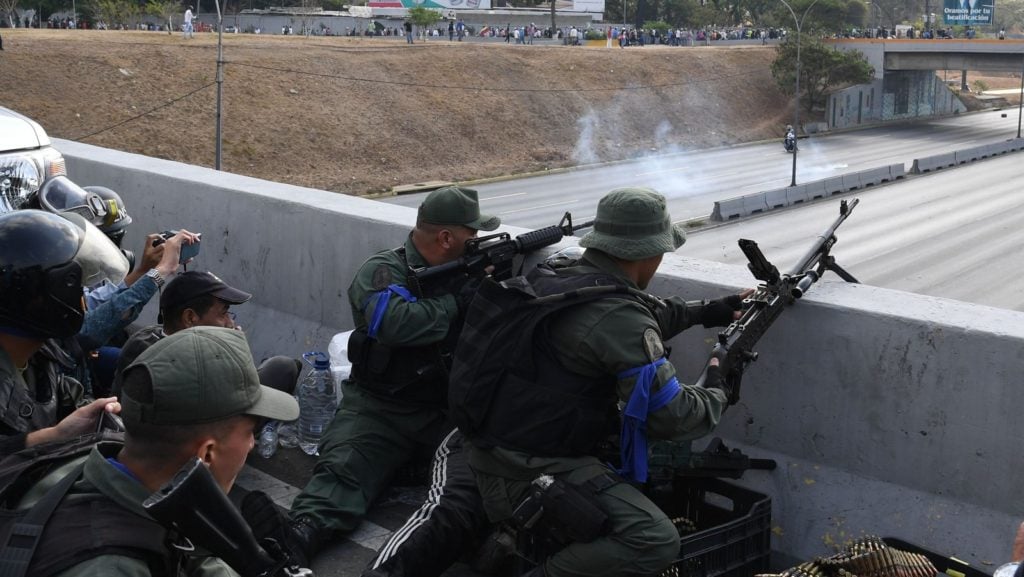 However, the early 2000s saw Venezuela solicit bids for a new standardized infantry rifle to replace an arsenal of aging FN FALs – with the country's own internal arms study recommending a rifle chambered in 5.56x45mm.
It appears a sizable amount of Colt rifles were acquired for trial sometime during this period, and remain scattered throughout various units of the armed forces to this day.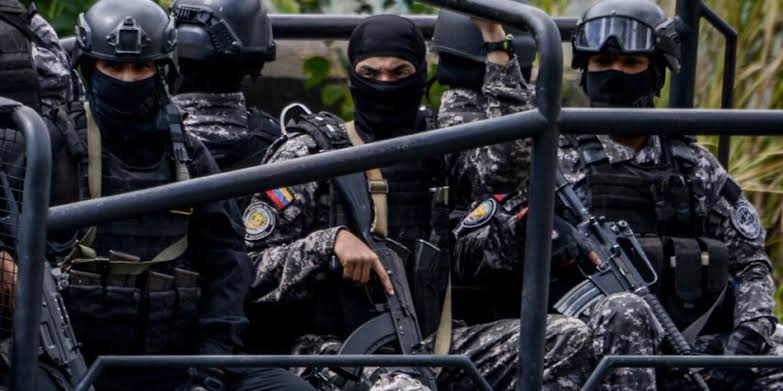 Eventually, an agreement was reached with Russia's Izhmash allowing Venezuela to produce contract AK103 pattern rifles in-country, with additional Russian made AK103s filling the gaps in manufacturing power.
The AK103 is a modernized, AK74M type 100 series Kalashnikov rifle – featuring polymer furniture, a side mounted optics rail, and side folding stock.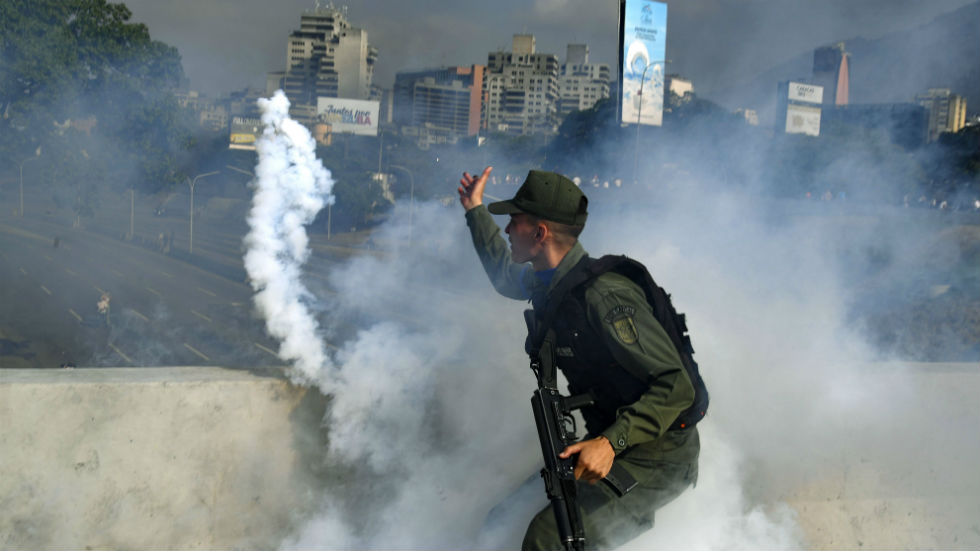 However, the gun is still chambered in the older 7.62×39 cartridge like the original AK47. Venezuela at one point aimed to be the largest producer of 7.62×39 in Latin America, though it's unclear if indigenous manufacturing has been able to meet that lofty goal.
Additionally, it appears that the state weapons plant that was set to produce contract-made AK103s began operation in 2012 without all of the necessary machinery – with full scale production pushed back to 2019.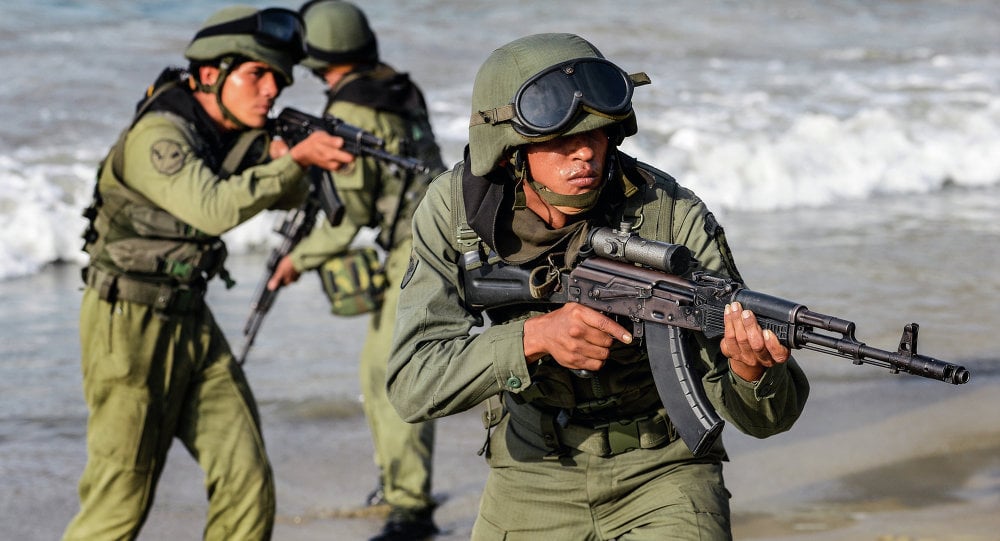 While it remains to be seen whether the country will slide further into conflict given the apparently limited scale and scope of Juan Guaidó's calls for mass military defections to oust Maduro, we expect there are probably more weird small arms waiting to be spotted in the wild down the road.
What Do You Think? 
Do you want to see more write ups on unique guns in modern conflict zones? More detail? Less? Let us know in the comments section below! For more stuff that you can actually get…check out our favorite guns & gear in Editor's Picks.