---
To those familiar with the process of buying a suppressor, it can be a bit of a hassle, not to mention a long wait.
It makes a lot of sense to make the most out of your suffering.
What if you could buy a can that handled all your guns – everything from the smallest plinker all the way up to the ridiculous-sized calibers in your safe?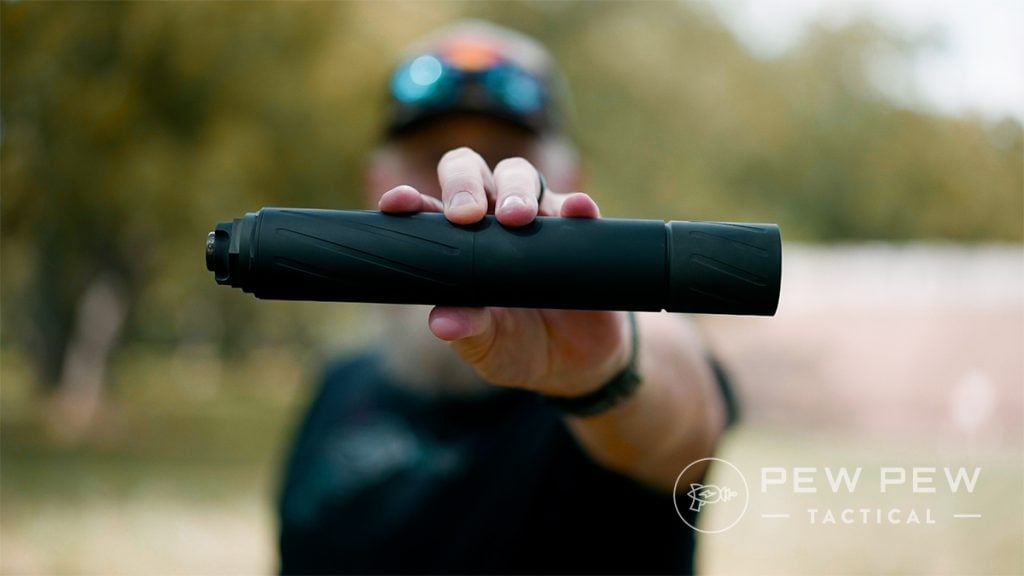 Silencer Central made a can to do just that, and it's called the Banish 46.
We got one in and tested it on a variety of guns. Can a jack of all calibers be a master of any? Stay tuned as we walk you through the specs, features, and take this suppressor to the range with a variety of guns.
Table of Contents
Loading...
Pros & Cons
Pros
Wide variety of calibers from 5.56 up to .338 and .45-70
Excellent noise reduction
3 attachment methods
User serviceable
Adjustable length
Cons
Larger than caliber dedicated cans
More expensive
The Bottom Line
The Banish 46 is a diverse suppressor that does a good job of taming noise for most applications. It is a large can, though, with a diameter of 1.73 inches and a length of either 10 inches or 7.9 inches if you remove the extension.
And it comes from Silencer Central…one of our favorite purveyors of suppressors where you don't need to even go into an FFL to get everything done. And at the end…they ship your can to your doorstep.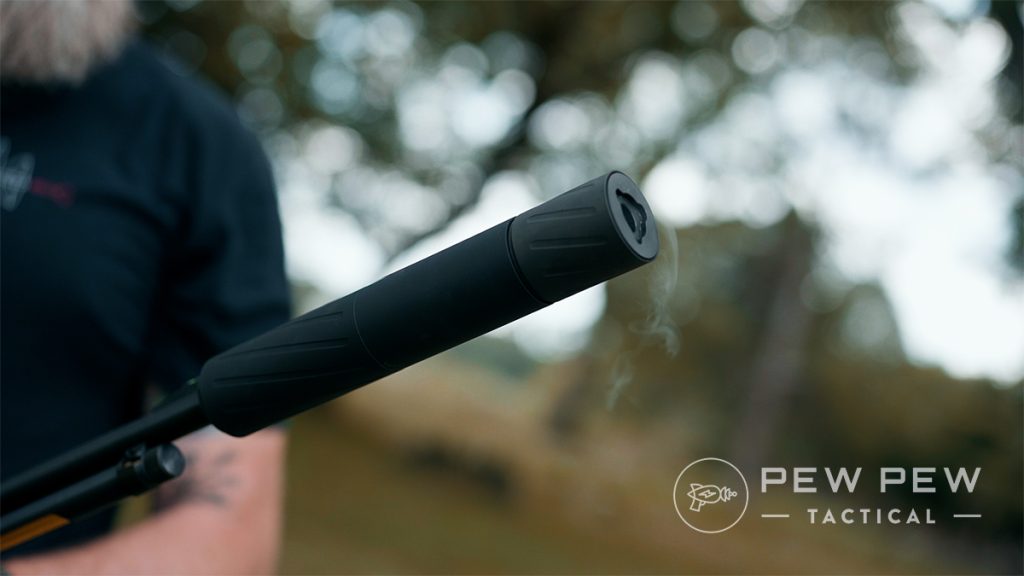 Specs & Features
Specs
Caliber: 5.56mm – 11.63mm
Length: 7.9" or 10" (with extension)
Diameter: 1.73"
Weight: 16.3 oz. or 20.4 oz.
Sound reduction: 34.5 dB
Features
User serviceable
Multiple mounting options – direct thread, muzzle brake QD, or pistol piston
Adjustable length
Source: Silencer Central
1249
at Silencer Central
Prices accurate at time of writing
Prices accurate at time of writing
Background
We tested the Banish 46 on a variety of guns using 9mm, 5.56, .300 BLK, and .45-70 using three different attachment methods. These guns ranged from pistols to pistol caliber carbines, AR-15 pistols to AR-15 rifles, and a lever-action .45-70.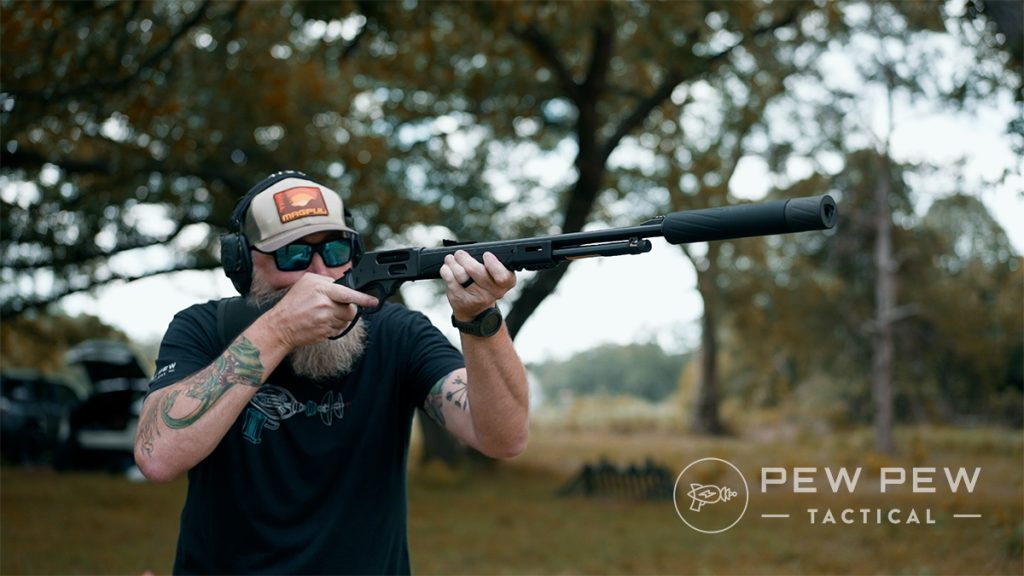 The Banish 46 is made of Inconel and titanium, so even at 10 inches long, it's only 20.4 oz. in weight. These materials and the black Gun Kote on the exterior also make it pretty durable.
For our testing, we did not use a decibel meter but made notes of our impressions when testing.
Who Is It For?
Anyone wanting to suppress a number of different calibers should be taking a hard look at the Banish 46. If you wanted to get the most bang for your buck, a can that can handle most of the arrows in your quiver would be a good way to go.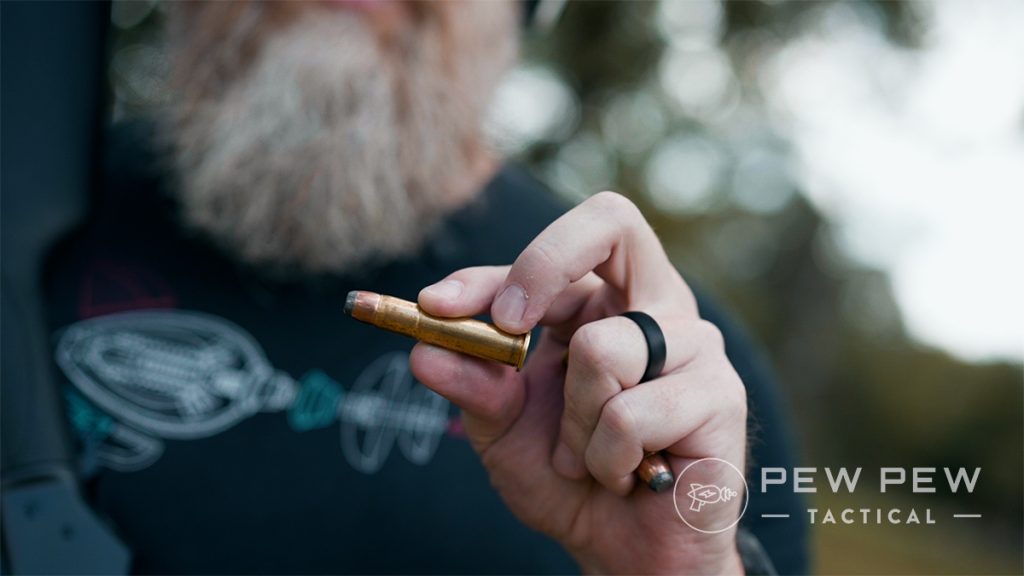 Let's face it, suppressors can be expensive, and the tax stamp is an additional cost to consider. If you're not familiar with the process, check out our guide.
Even though the cost is slightly more than a dedicated caliber suppressor, you'd only need to buy one in theory. This would save money in the long run.
Fit & Feel
For me, the Banish 46 felt like the old D cell flashlights from back in the day though not nearly as heavy. The overall appearance is well done, and the black Gun Kote provides an even color.
There are a lot of threads on this suppressor! They are located at the very end cap, the extension, and of course, through the various attachment methods.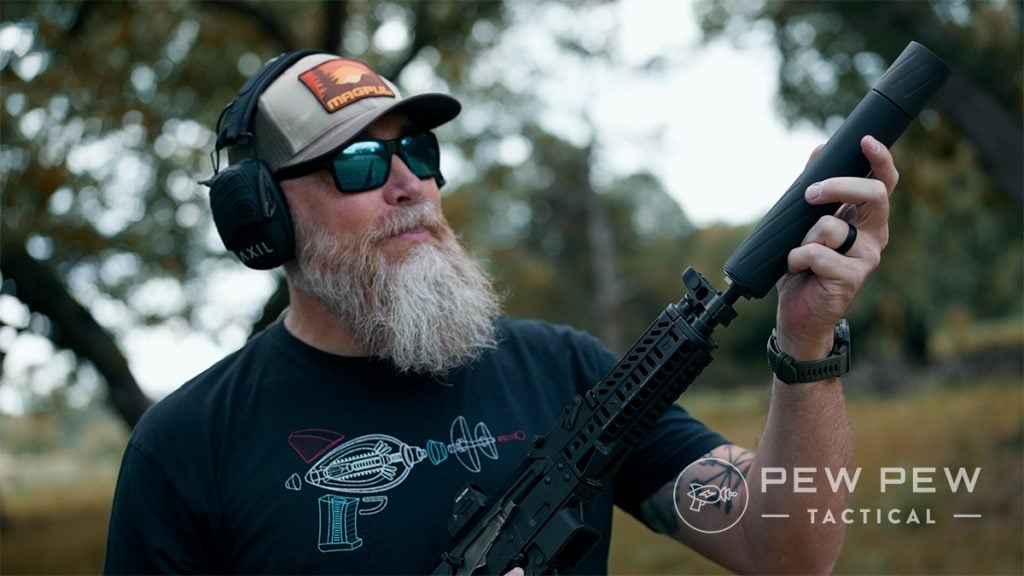 All the threads were fine enough that it took a couple of tries to get them started, but there was no real fear of cross-threading when assembling various configurations. The attachments, whether direct thread or muzzle brake, were also well machined and connected smoothly.
During disassembly, I noticed the included tool assisted greatly. In addition, all the baffles were uniform and easily configurable, depending on which length we chose to shoot.
Putting it back together was easy with indexing cuts and one baffle that looks different at the top of the stack.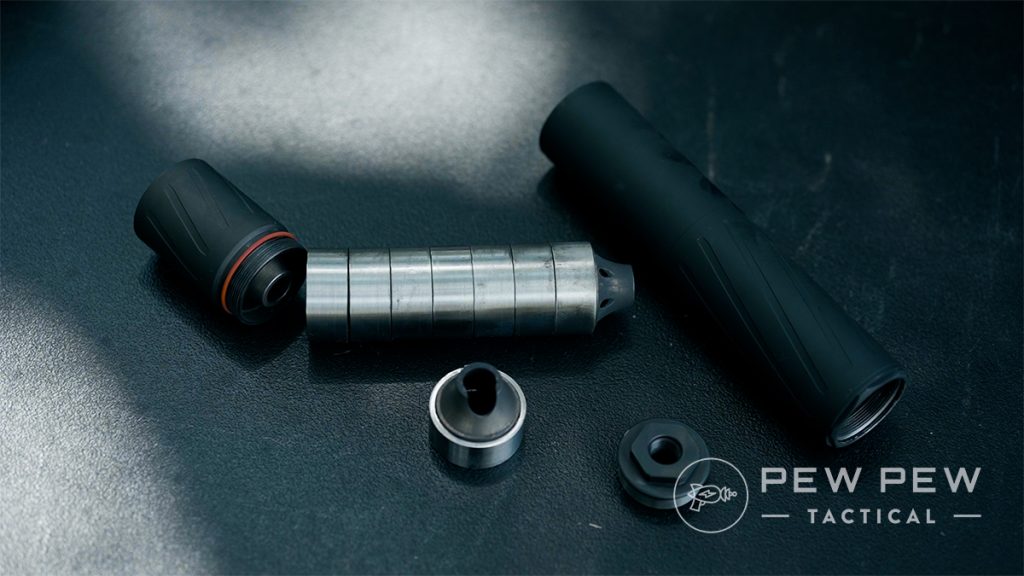 Knurled grooves in the exterior of the can also make it a bit easier to grasp when installing on a gun or disassembling.
How Does It Shoot?
Attaching the Banish 46 was a snap. We simply used the right thread pitch for the direct thread, then screwed it onto the gun.
We tested both the 1/2×28 for smaller applications and the 5/8×24 for the .45-70 Henry Model X. The direct threads worked perfectly with no difficulty.
In addition, we tried the muzzle brake attachment. This is an actual muzzle device that mounts on the end of your rifle, and you screw the Banish 46 over it when you want to attach.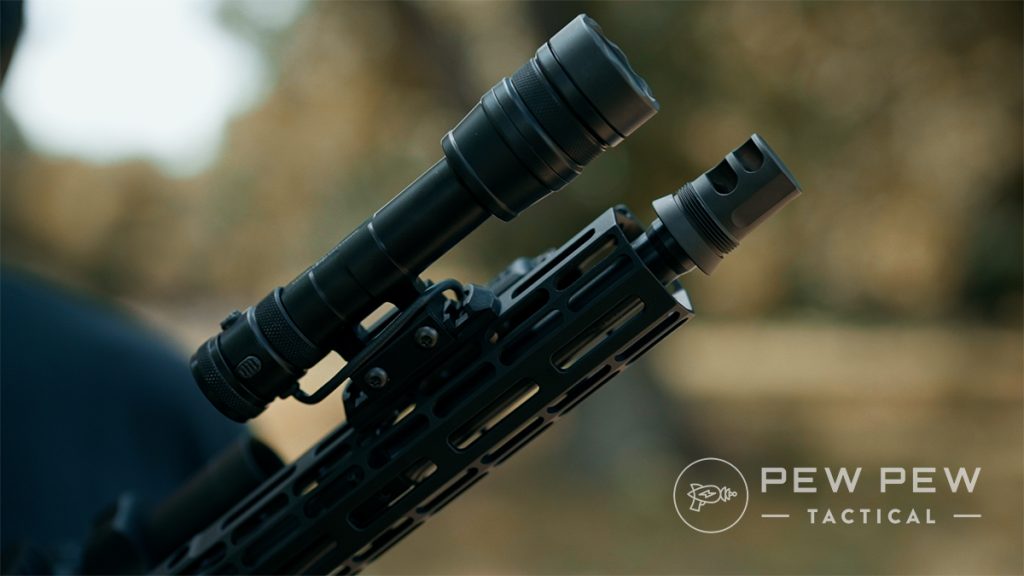 The system was pretty slick, not as convenient as a quick detach, but very secure.
With the 9mm pistol, we noted the can felt pretty long and looked slightly ridiculous. So we tried to remove the extension and used the shorter version for testing.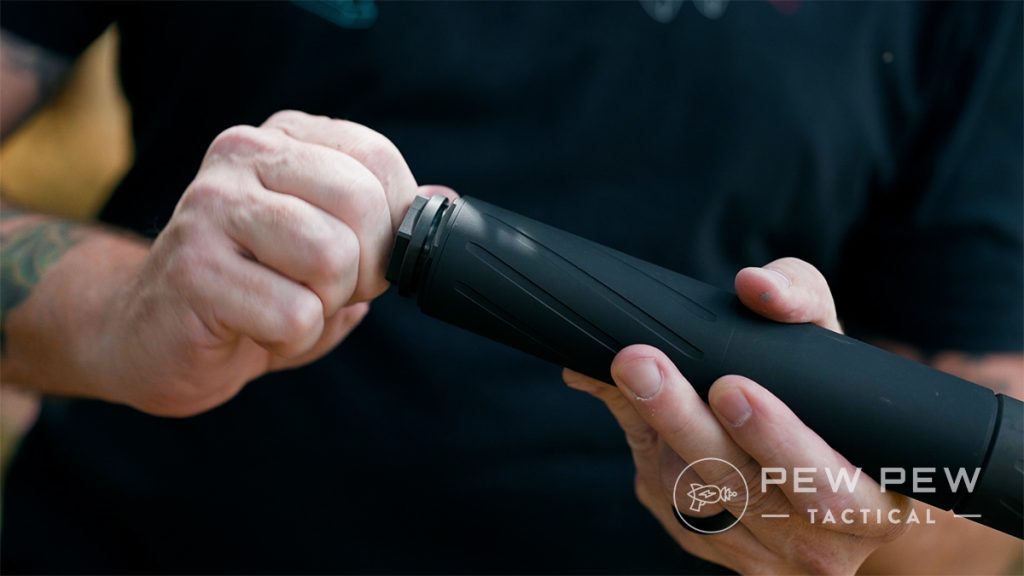 Although this increased the sound slightly, the overall balance was improved. Use of the Banish 46 on all platforms reduced the report of the shot but also reduced recoil to some extent.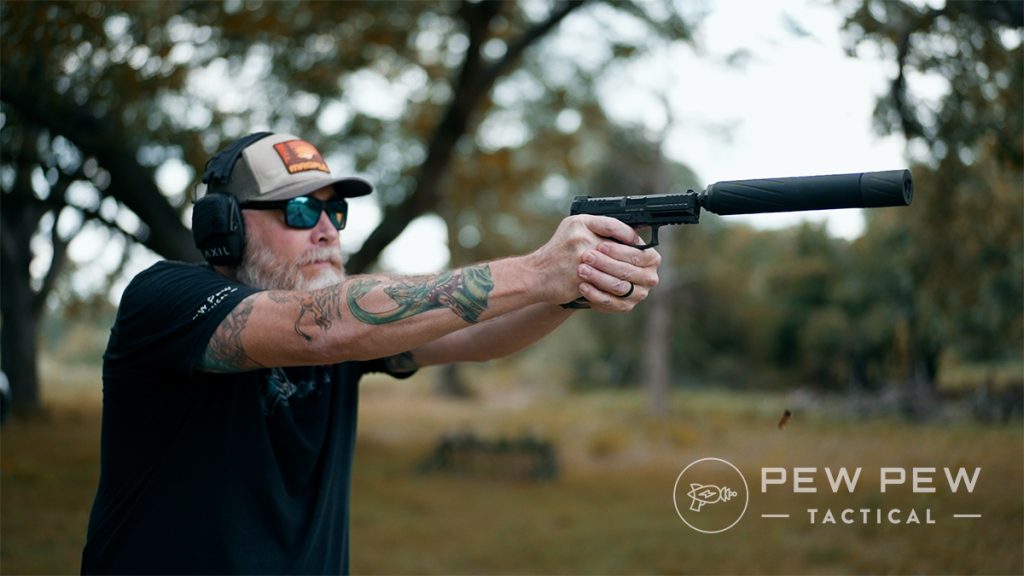 On the pistol and Henry X, blowback was minimal to non-existent. However, with the semi-auto platforms, I got more gasses to the face when using the can.
What Sets it Apart?
A couple of important distinctions set the Banish 46 apart from most.
First, it is a multi-caliber suppressor and capable of tamping down the noise on a wide range of guns.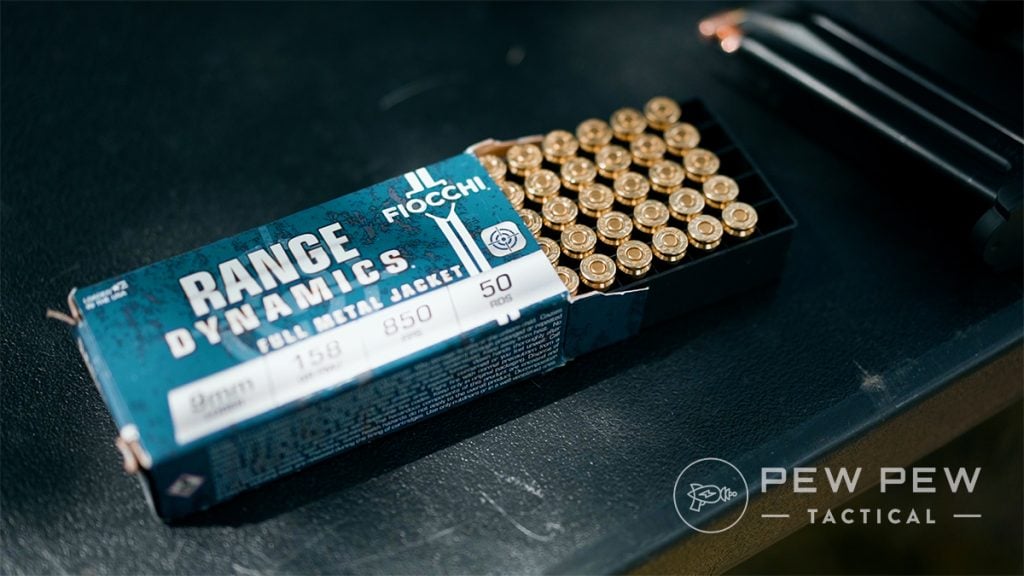 In addition, while there are a few multi-caliber suppressors out on the market, only a handful go all the way up to .46 calibers.
By The Numbers
Sound reduction: 5/5
Even without a decibel meter, we were able to tell the significant sound savings between using the can and not. In the video, you'll be able to hear the difference too. The subsonic 9mm and .300 BLK were very quiet, but I was most impressed with the very manageable reduction of the mighty .45-70.
Ease of use: 4/5
Using the three different mounting systems, I noticed how well-machined the threads were. At times, starting the threads took some getting used to, but this got easier with practice. This also applies to opening the can for cleaning or shortening it. The keyed wrench was very easy to use, and the grooves on the outside of the Banish 46 made it more grippy.
Customization: 3/5
Typically, this category isn't even applicable to suppressors, but because you can shorten the Banish 46's overall length by 3 inches, we rated it. This is completely useful for pistols where the 10-inch length borders on ridiculous.
Value: 4/5
At a retail price of $1,249, the Banish 46 is a bit more expensive than smaller caliber cans (don't forget the $200 tax stamp). But because its top caliber is so large, you can use it for everything smaller.
And since it's from Silencer Central who is licensed in all states where suppressors are legal, they can set you up from the comfort of your home and even ship direct when the ATF process is all done.
Overall: 4/5
1249
at Silencer Central
Prices accurate at time of writing
Prices accurate at time of writing
Final Verdict
While we didn't use a decibel meter to get hard numbers on the Banish 46, we could certainly tell from shooting that there were big savings in the sound when we threaded it onto various guns.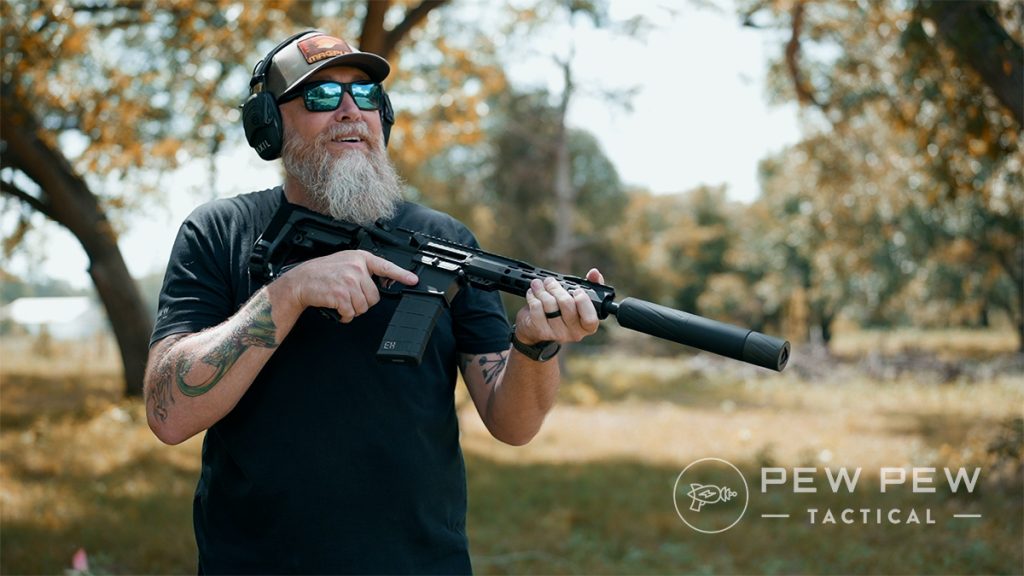 The can also helped with recoil to some degree and was a breeze to use with the various mounting options. While the direct threads were cool, I preferred the muzzle brake as a long-term option.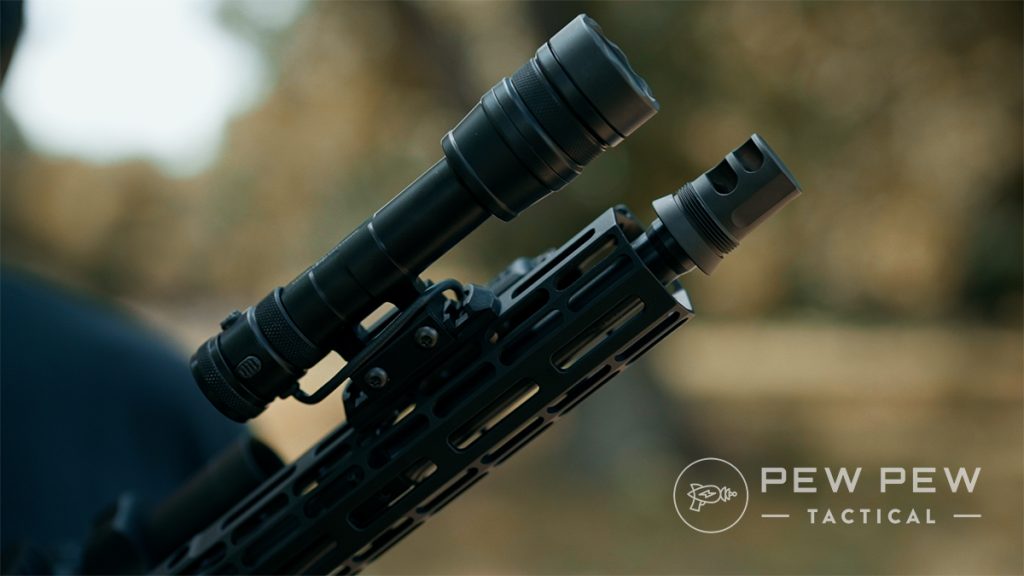 Having a suppressor that can handle anything from a .22 all the way up to .458 SOCOM (while handling big loads like the .338 Lapua) is pretty high on the cool factor, especially when you can configure it for smaller applications.
Paying for only one tax stamp? That's just smart!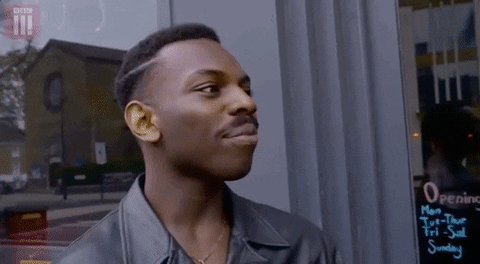 1249
at Silencer Central
Prices accurate at time of writing
Prices accurate at time of writing
Will you be picking up a Banish 46 for your guns? Let us know in the comments below. For more on how to buy, check out Best Places to Buy a Suppressor: Online & Off.