The name Savage is synonymous with quality hunting rifles in many firearms enthusiast's minds.
But recently, the company jumped feet first into the handgun market with an unexpected pistol…the Stance.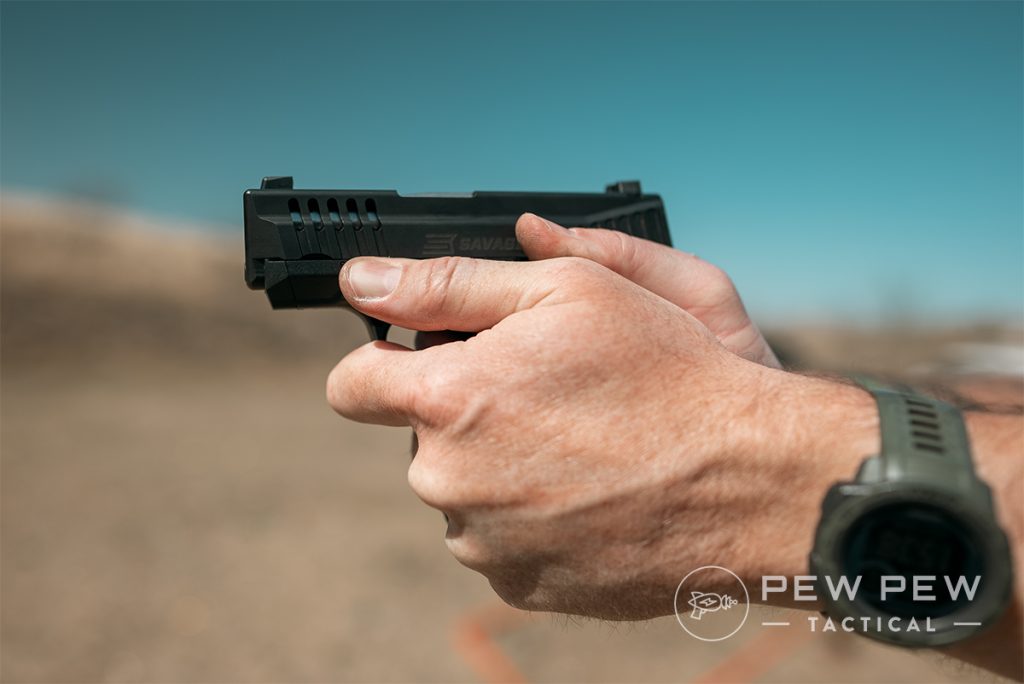 We can agree concealed carry is an important market and the micro compacts are really hot right now, but how does the Stance stack up?
399
at Gunprime
Prices accurate at time of writing
Prices accurate at time of writing
We took it out to the range and put it through its paces so you don't have to. In this article, we'll cover the specs, features, and how it performed.
By the end, you'll have the info to decide if this is worthy of swapping into your CCW rotation.
So, keep reading.
Table of Contents
Loading...
Stance Specs & Features
The Stance is a tiny guy measuring 6.2 inches in length and standing 4.6 inches tall.
It is .96 inches wide and weighs 1.38 pounds empty.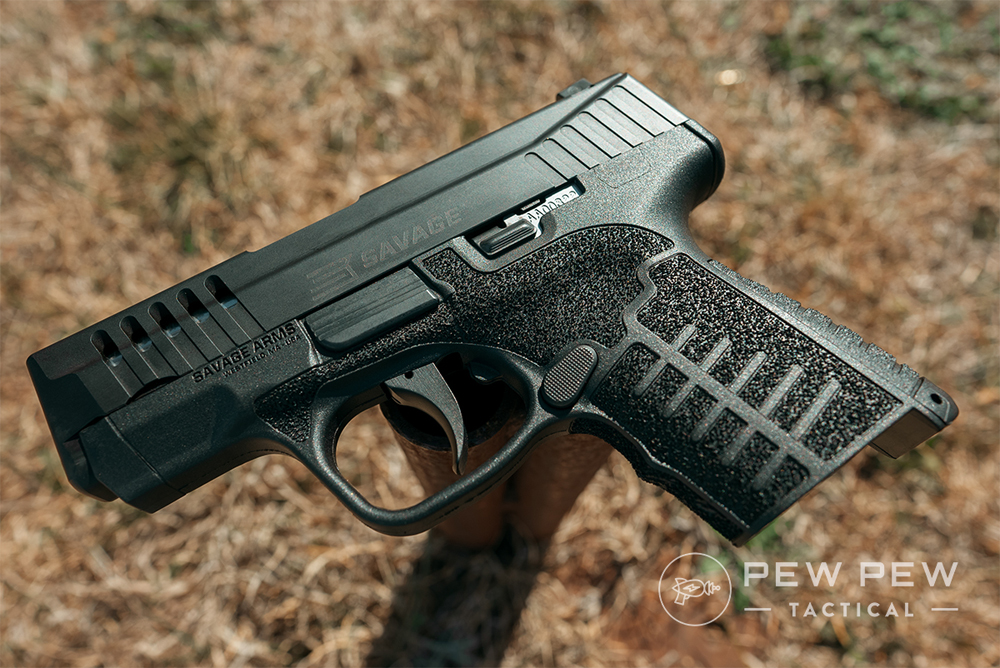 In essence, it is a striker-fired, micro, single-stack 9mm, with a 8+1 capacity and it has some outstanding grip texture.
Additionally, it takes points for being a handgun from a company traditionally known for long guns.
Savage's First Handgun?
Despite the surprise move, this is not Savage's first handgun.
The company offered small caliber pistols in the early 1900s. Savage even owned a .45 caliber model that competed for the U.S Army trials — it came in second to the Colt 1911.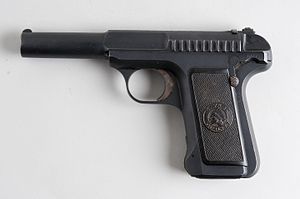 In December 2021 — over 100 years later — Savage introduced the Stance in a move likely calculated to take advantage of strong micro compact interest.
The micro compact arena is a pretty crowded field, full of gun manufacturing juggernauts like Glock, Sig Sauer, and Springfield Armory.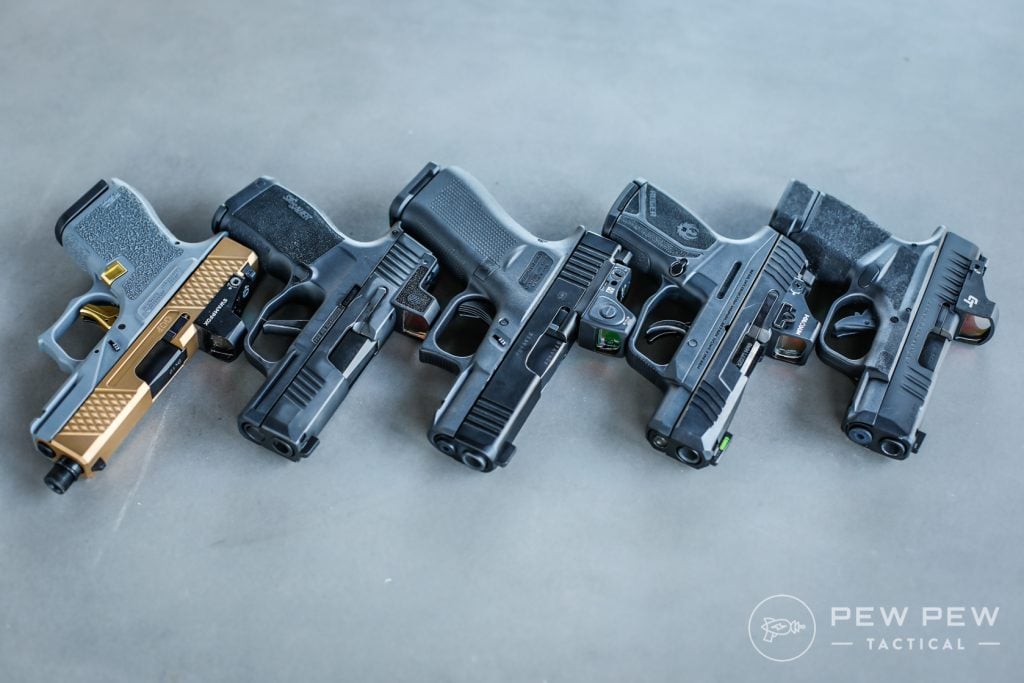 So the question is…can Savage compete?
(To see more micro compact, check out our round-up here.)
First Impressions of the Stance
Pulling the Stance out of the box I was immediately struck with the aggressive texture on the grip.
While rough, this is a good thing when you launch a 9mm out of a smaller framed-pistol.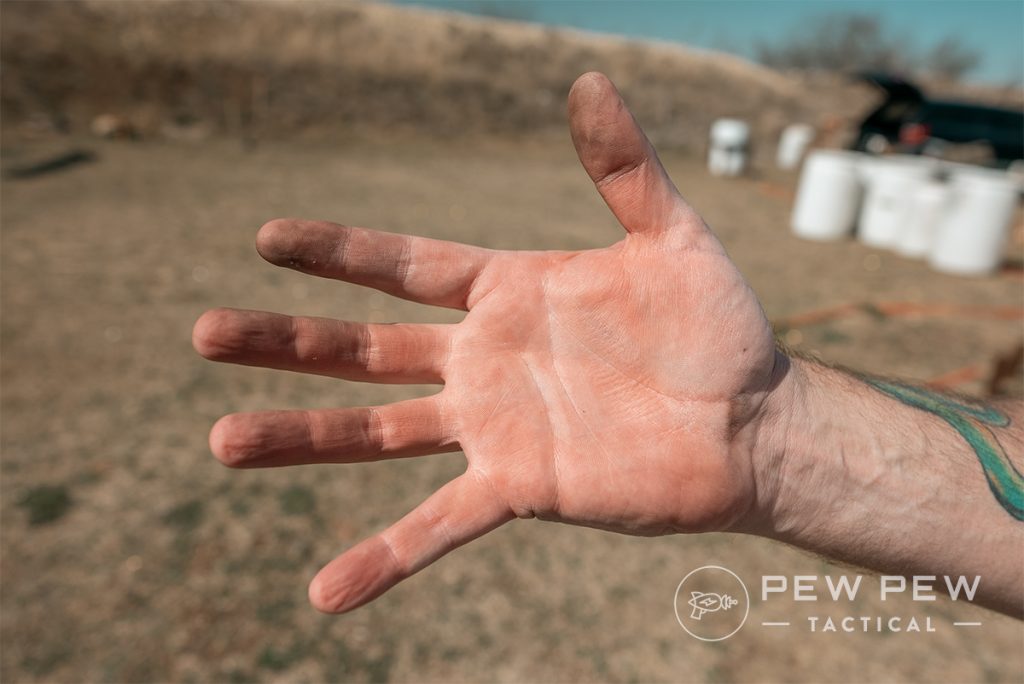 The single-stack magazine allows for a slim profile, about an inch wide. This lends itself to concealed carry making it easily concealable.
Shipping with the gun are two mags — an 8-rounder and a 7-rounder.
The 8-round magazine is roughly a half-inch longer with a collar around its base. That collar effectively extends the grip.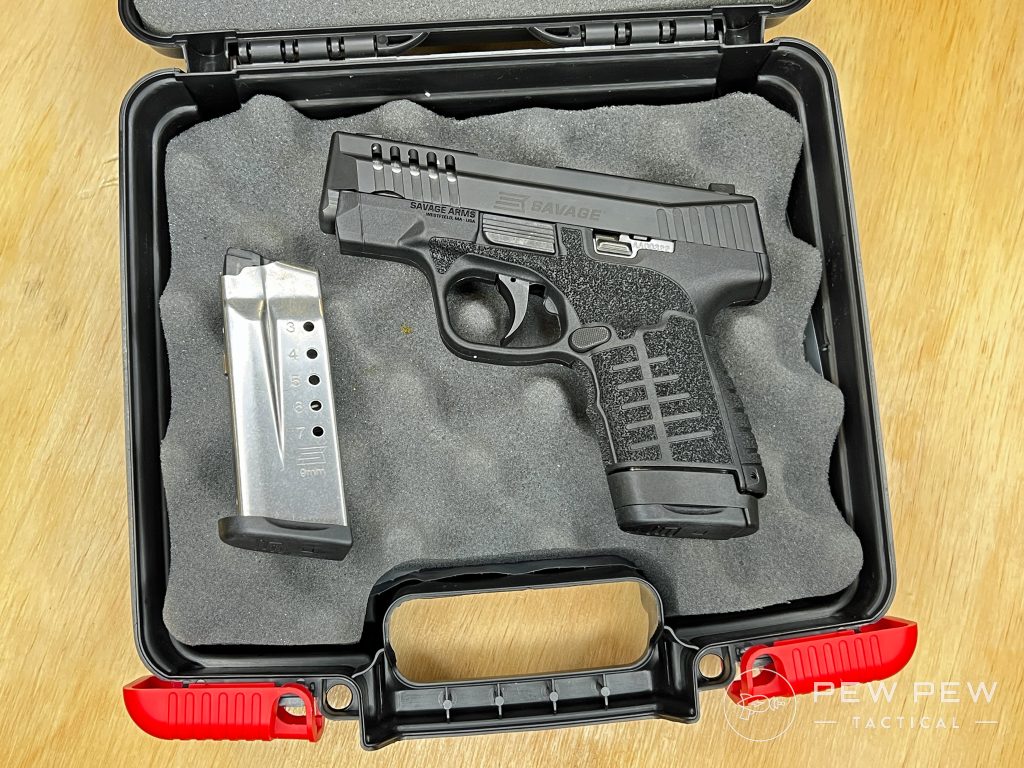 I'm always a little concerned when trying out small guns because my hands are big.
But with the 8-round magazine, I was able to establish a full grip. That said, the 7-round magazine left my pinky hanging loose.
Editor's Note: Petite shooter and PPT Editor Jacki tried out the Stance prior to handing it off to Sean. In her smaller hands, the Stance fit a lot better with no picky hanging free.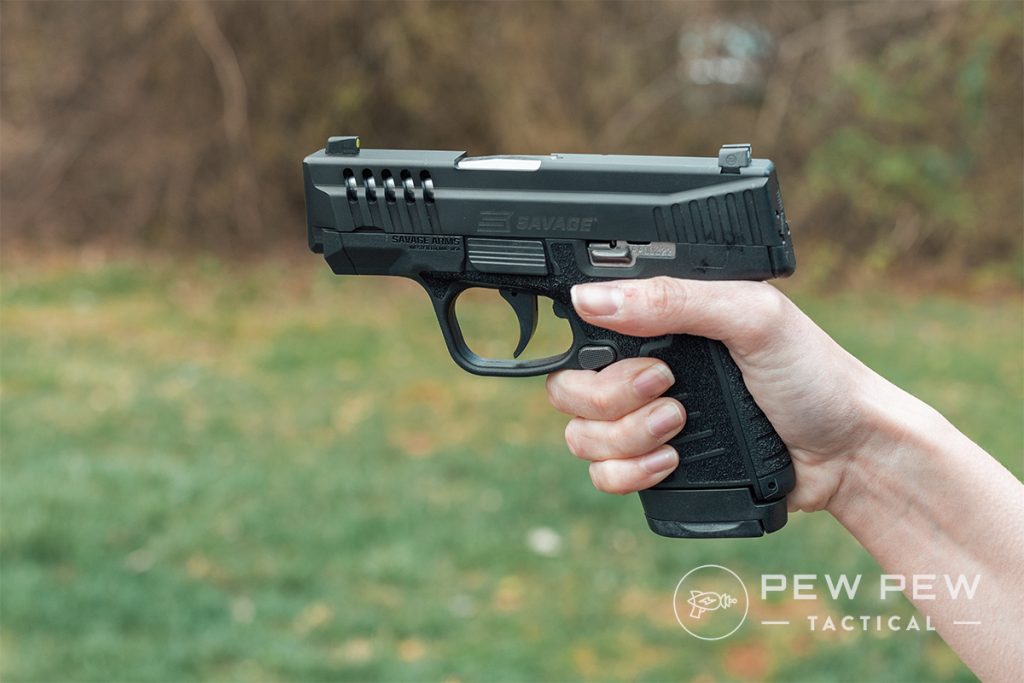 So, this gun might be best suited for those with tinier paws.
Now back to regularly scheduled programming…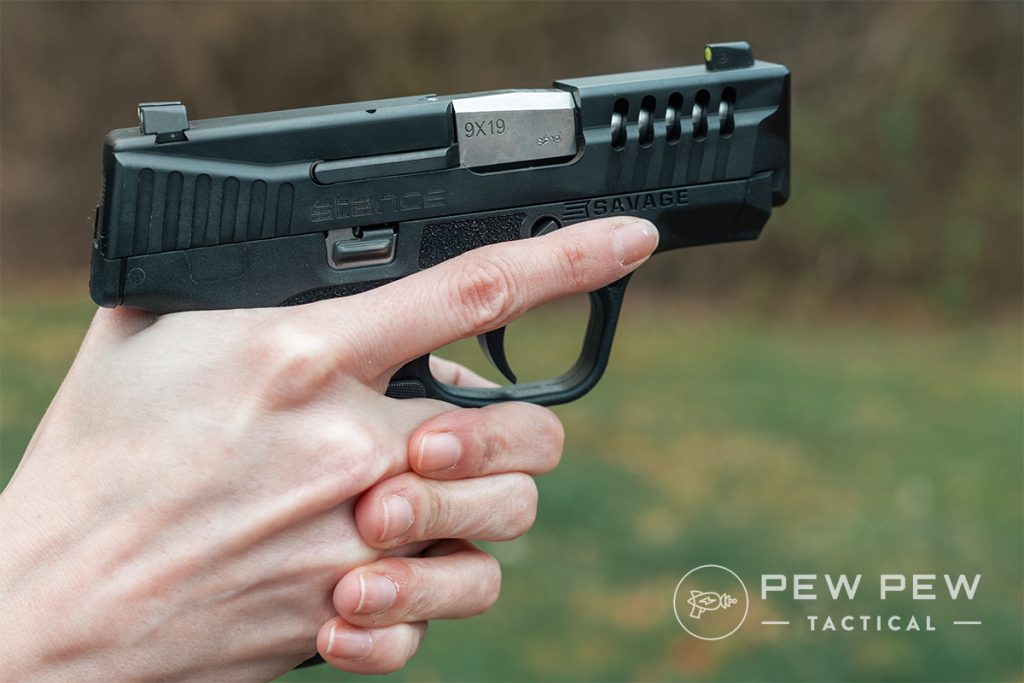 The model Savage sent included TruGlo night sights and these were stellar with a three-dot configuration — green dot up front and two white dots in the rear.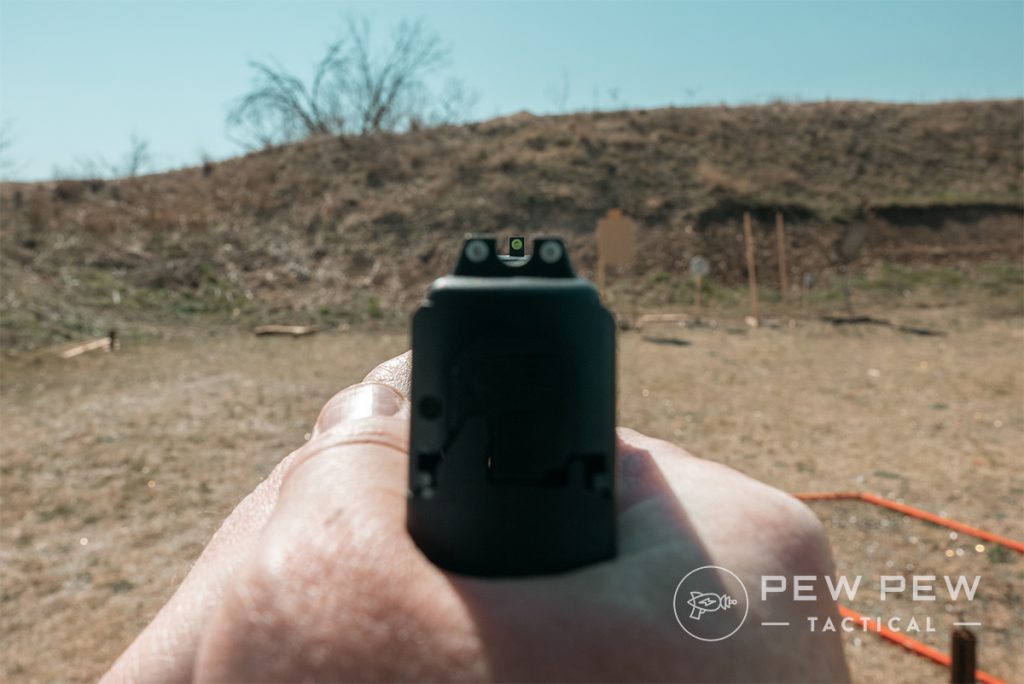 A few dry fire trigger presses confirmed I was dealing with a striker-fired gun.
There was a small amount of takeup, a defined wall with building pressure, then a crisp break and audible reset.
The trigger averaged around 6 pounds on my Lyman Digital gauge.
Range Time
At the range I was happy the Stance did not bite the web of my hand as it cycled.
The gun comes with two options for backstraps, I kept it stock, pleased the beaver tail was deep enough to protect my hand.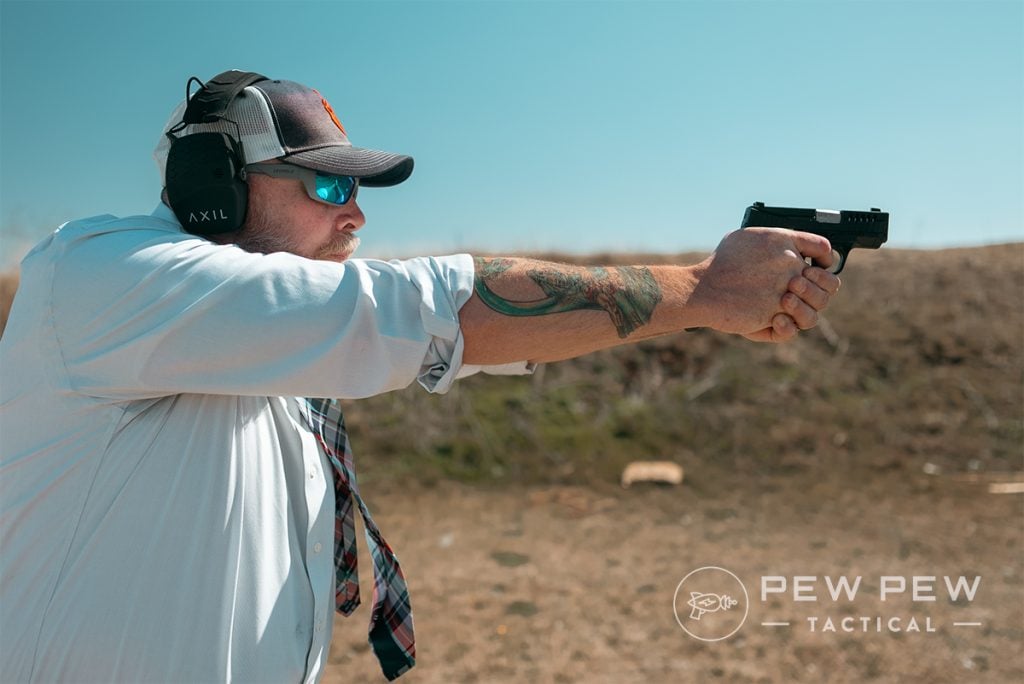 I started out with a large plate at about 25 yards and rang steel through both magazines.
Encouraged by this, I noted the grip texture really kept the Stance firmly in my grip even during those shots when my pinky was left hanging.
During several courses of fire, I made some observations about the controls. First, the model I tested has no external safety (though a model with one is available) and second, the slide stop lever is tiny.
It's so small you really can't get a thumb on it in order to pull it down and release the slide when locked back.
This means reloads consist of pulling the slide back manually in order to get the gun in battery again.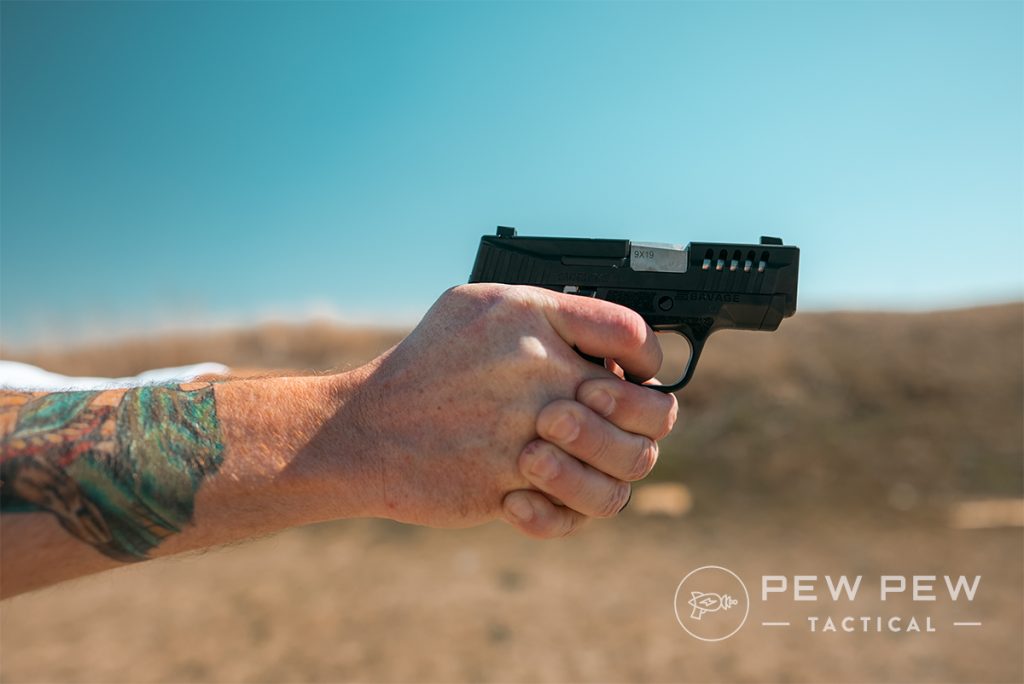 I'm not certain if that will loosen up over time…
Occasionally, with an aggressive reload, the slide would also drop on its own when seating the magazine.
The magazine release button is ambidextrous, a good size, and located ergonomically. Magazines dropped freely, entered easily, and seated well upon insertion.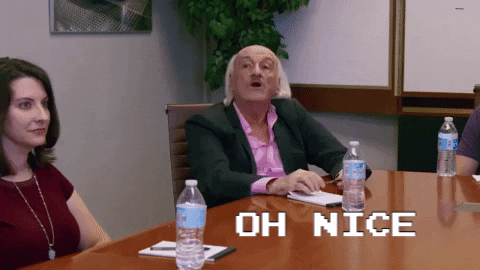 Things proved more interesting when I switched to paper targets and tested for accuracy. To be fair, I just came off a hammer-fired gun and had gotten used to that trigger.
Starting out at 7 yards, I focused on establishing a good, tight group.
What I accomplished could not be categorized as "tight." This reminded me that steel can give you good feedback, but unless it's small, you can't measure accuracy.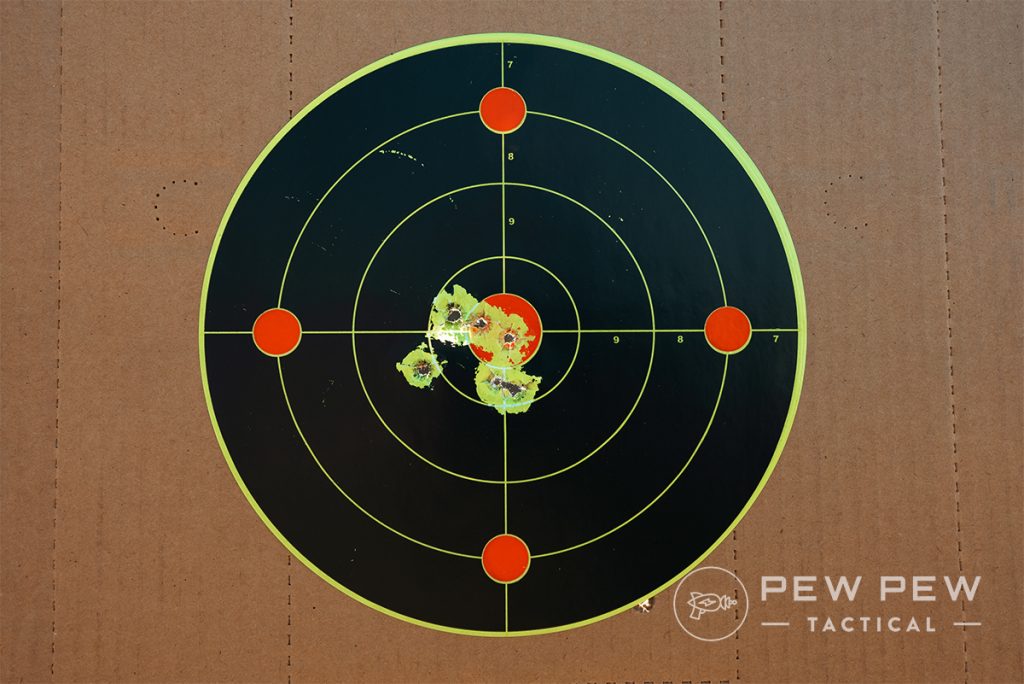 Keeping in mind the 3.2-inch barrel and shorter sight radius, I kept working with the gun. I focused on my grip and an even trigger press.
After a couple tries, I was able to condense my shots down to a smaller group but it took a lot of focus and time.
By the Numbers
Reliability: 5/5
The Stance performed well without malfunction over the course of 200 rounds of Remington UMC 115 grain 9mm. It fed and ejected reliably without fail through the brief test.
Ergonomics: 4/5
The ergonomics of the Stance are good. The grip texture is powerful and the slide is serrated front and rear for easy manipulation. I found handling the pistol easier with the longer magazine.
Accuracy: 2.5/5
While the sights on the Stance are great, I struggled at first to group shots well with it. I asked two other shooters to try the gun and they had similar experiences.
I really think it has much to do with the trigger. Practice showed I was able to tighten my groups significantly but at the expense of time.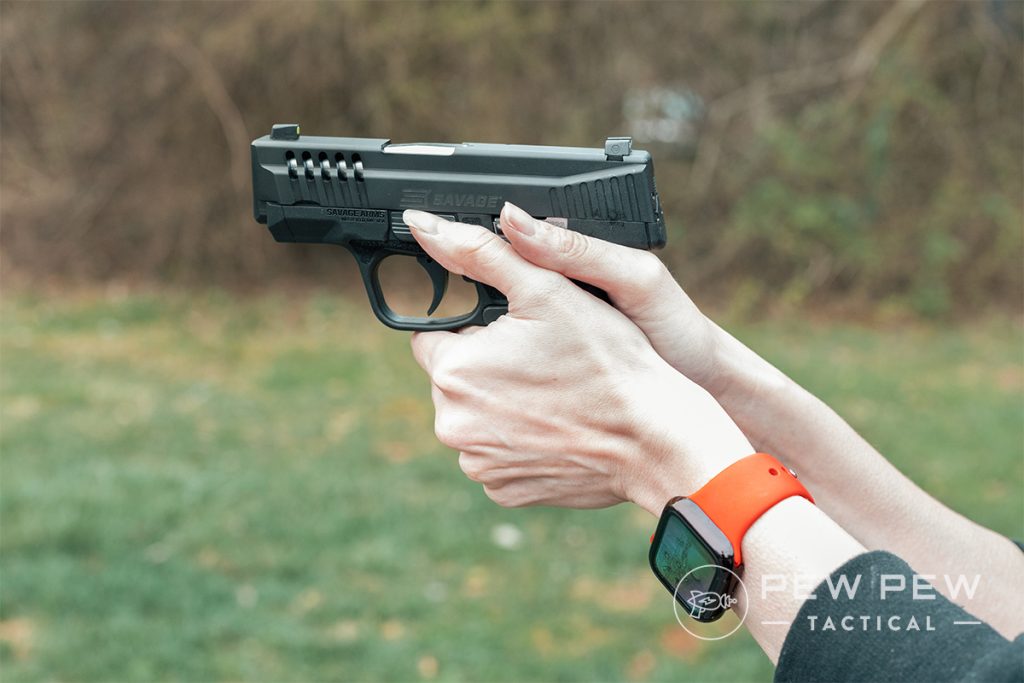 Customization: 3/5
There are a few options for accessories available to the Stance. Savage has a number of holster choices lined up as well as laser options from companies like Crimson Trace and Viridian.
At the time of this review, there is not yet a weapon light for the Stance. There is also not currently an option to add a red dot. The Stance is also available in black, gray, or FDE.
Value: 3/5
The Stance has an MSRP of $548, though I saw them at online retailers for as low as $419. By comparison, the Sig Sauer P365 is about the same size and has a capacity of 10+1 at a price around $500.
399
at Gunprime
Prices accurate at time of writing
Prices accurate at time of writing
Overall: 3.5/5
The Stance is a decent option as a concealed carry gun. Its strengths lie in its concealability, grip texture, and reliable performance.
Field Strip & Reassembly
Conclusion
Savage made a bold dive into a crowded marketplace with the Stance. Their first entry into the handgun world (in over 100 years) is a great start.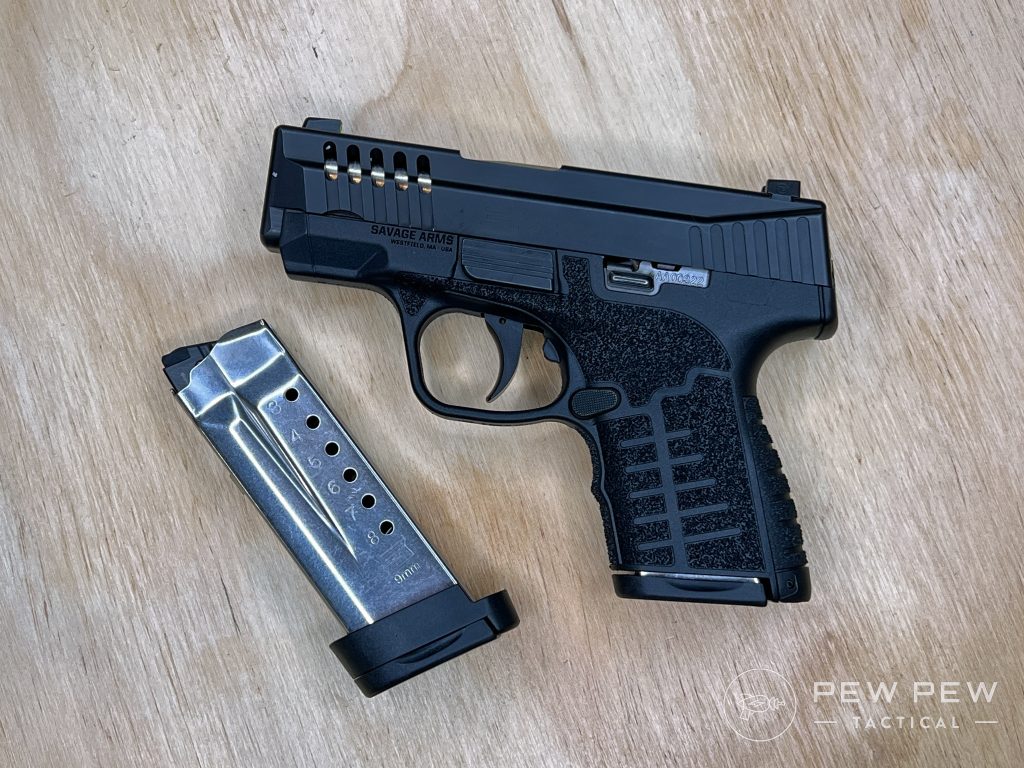 I'm curious to see how competitive Savage is going to be in this field. If they push the boundaries in their refinements moving forward, we all stand to benefit.
I could easily imagine a red dot option and increased capacity in the future. Whichever direction they go, it's a Savage, and that alone is pretty cool.
What are your thoughts on the Savage Stance? Let us know in the comments below. Be sure to check out our 12 Best Concealed Carry Guns for more EDC info!