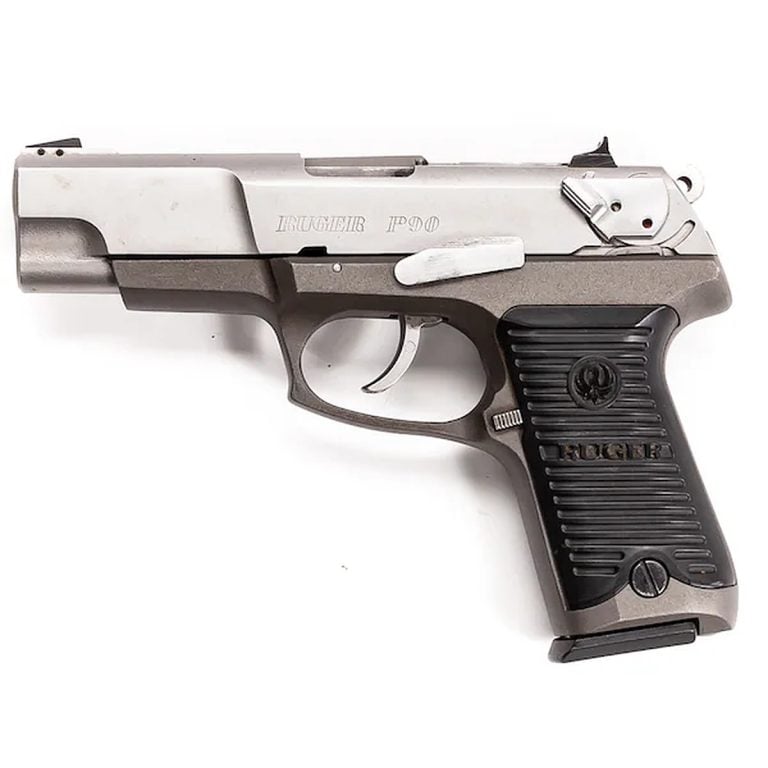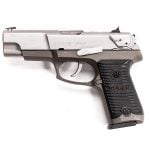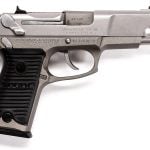 4
Safety-decocker combo

Easy to rack
Discontinued

Low capacity for its size
Editor's Note:
The Ruger P90 is an upscaled version of Ruger's solid P89 platform but chambered in .45 ACP. It utilizes a SIG P220-style locking system with a 1911-style tilting barrel. Features include an ambidextrous decocker/safety combo, a 4.5-inch stainless steel barrel, and a 7 or 8+1 standard capacity. The frame is investment cast aluminum, with most of the internal parts being constructed from stainless or carbon steel. Ruger set out to produce an affordable, rugged service gun, and the P90 accomplishes that.
Ruger P90 For Sale - Compare Prices
Ruger P90 Specs
Action
Short-recoil, semi-automatic
Magazine Capacity
8 round
Sights
Fixed front and rear sights
Safety
Ambidextrous manual safety
Ruger P90 Features

7 or 8+1 capacity

Ambidextrous decocker/safety combo

DA/SA trigger

Stainless steel barrel

Fixed 3-dot sights
By The Numbers - Ruger P90
Accuracy
Accuracy is solid at typical combat distances. I get my best groupings with 230gr ammo.
Reliability
The Ruger P-series of firearms are known for being reliable, and my P90 is no exception.
Customization
You can still get aftermarket sights, grip panels, and a few magazine based accessories, but there isn't much else.
Ergonomics
This a tough one to score. It looks and feels and bit unwieldy, but the controls are fairly easy to access and once you begin firing the gun, the ergonomics make more sense.
Overall
The P90 is an outdated, thick, single-stack .45 ACP gun. But if shop around, you can get a durable, easy-to-shoot, relatively accurate all metal gun for a very affordable price.
Hands-On Reviews & Related Post
Ruger P90 Variations & Comparables
Ruger P90 Upgrades & Accessories
final verdict
It may be oversized, and it may be a bit on the ugly side; the capacity is low, and sure…the frame might be cast. While that doesn't sound like the makings of a good gun, it couldn't be further from the truth. Ruger set out to make a series of affordable firearms for the everyman, and they nailed it with the P-series. The P90 is easy to operate, shoots relatively soft, has a solid control scheme, and is downright reliable. These guns have gained a reputation for being tanks, with many still being found in great condition today. Finding an all-metal DA/SA .45 ACP gun that doesn't break the bank still isn't an easy task, making the P90 still oddly relevant in a weird, niche way. The Ruger p90 is a gun that is greater than the sum of its parts and is definitely worth grabbing if you can snag a clean one for $450 or less.
Community reviews
There are no reviews for this product yet.
Add your own rating and help other Pew Pew users pick the right guns